This healthy, pan-seared, crispy-yet-tender salmon is your perfect 30 minute quick-fix restaurant meal at home. The maple glaze is crazy you guys. Also, pistachios!!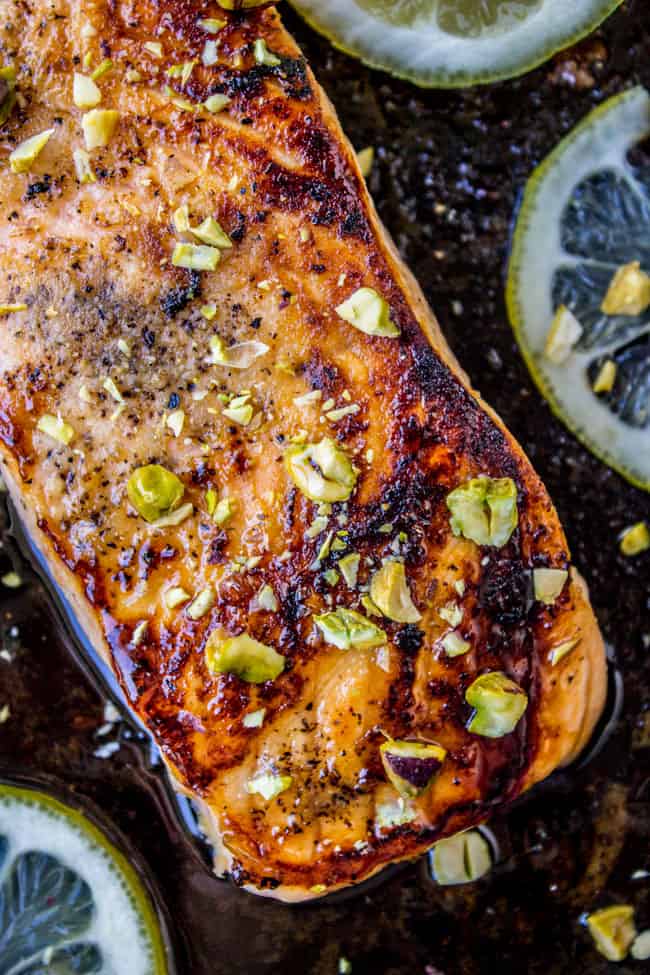 Years ago I got a text from my best friend Sarah about a recipe she had fallen in love with for Ahi Tuna. She raved about it so much that somehow it got lodged in my long-term memory.
Fast forward to last year when I went to visit her in Texas. She meticulously planned out our menu  of course, because what is there to do in a sleepy border town in Texas besides eat like kings. She asked if I had any requests and I said YES, I want to try that Ahi Tuna that you told me about once upon a time. I had never had Ahi Tuna, but if Sarah freaked out about it via text with 11 exclamation points, it had to be good.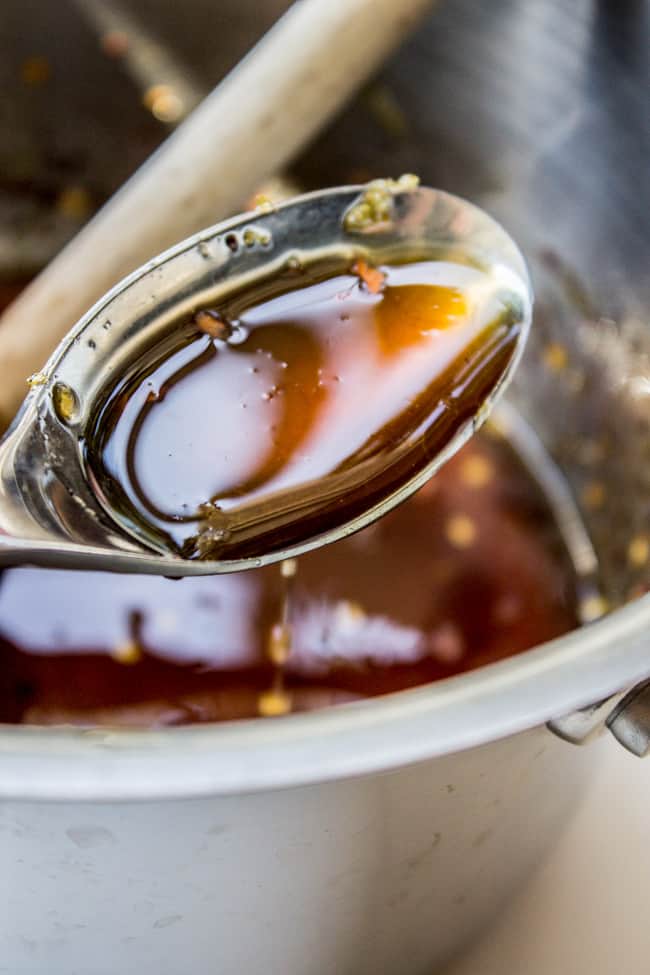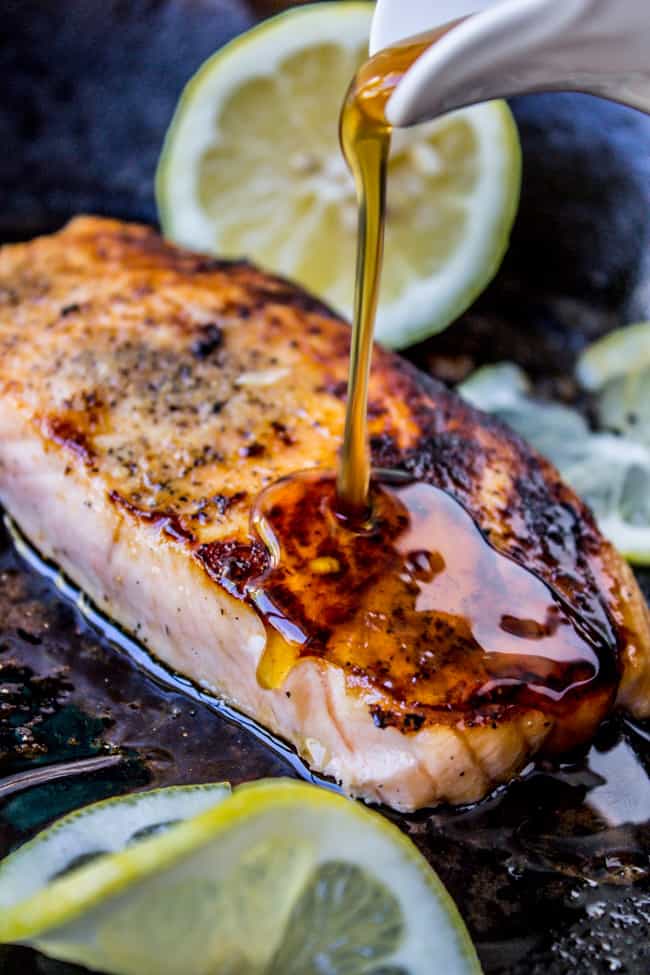 So when I saw the tuna in the fridge, I thought, whoa, 27 dollars. That's a lot of cash for one tuna. (I'm new to expensive seafood, okay. I grew up on chicken and ground beef.)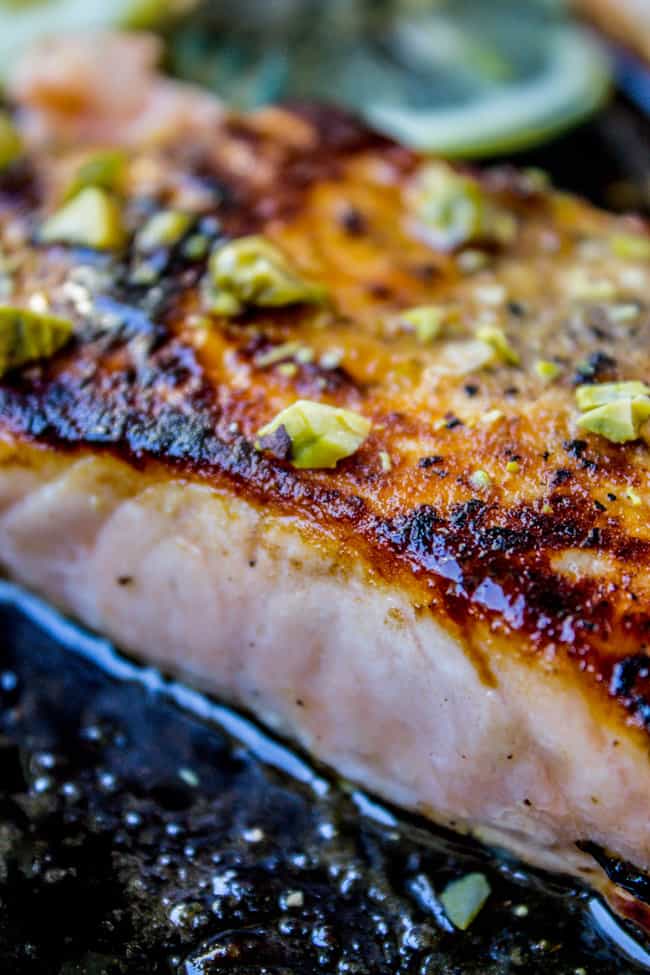 Later she was instructing her husband on how to cook it on the grill. "Just cook it long enough to kill the bacteria, about 30 seconds per side." And I started to get a little nervous.
They brought it in and sliced it. And it was red on the inside. Completely red.
When it was time to eat I put a few slices on my plate. I choked a few bites down. Then when no one was looking I stuck it in the microwave until it wasn't red anymore.
That's right. I MICROWAVED a 27 dollar piece of tuna.
I don't think the foodie in me has ever been more ashamed. (I feel like now is a good time for my sushi-hatred admission. Every time I stuff a too-big-roll in my mouth my brain starts screaming at me, THIS COULD HAVE BEEN PIZZA.)
But that's not what my brain says when I stuff this Maple Salmon in my mouth. The reason I told the Ahi Tuna story is because I'm SO proud to report that this salmon is seared on the outside and kind of not so much cooked on the inside. AND IT'S AMAZING.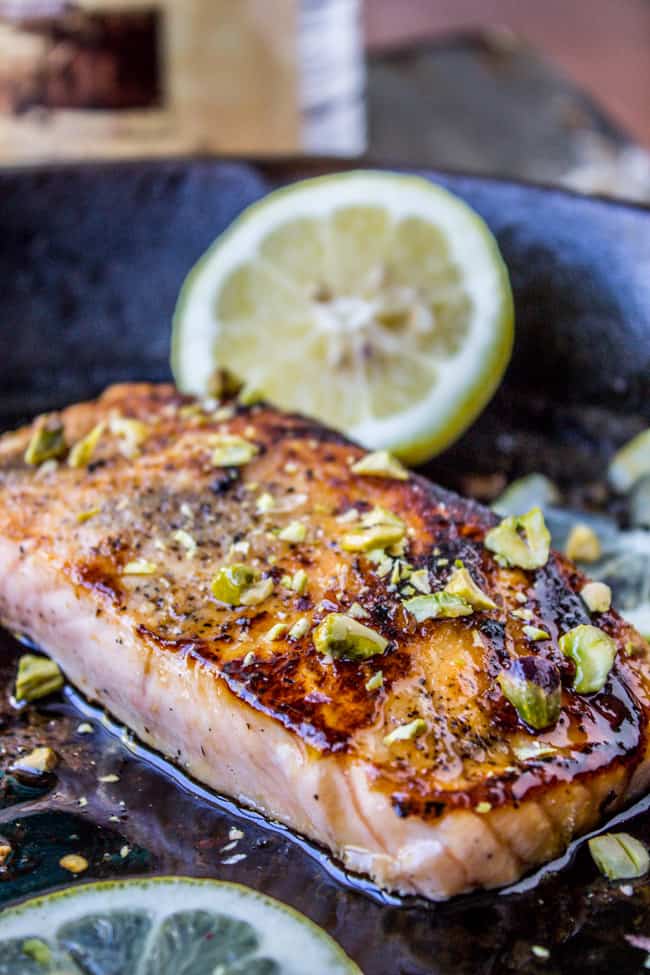 You sear it over high heat for 1-2 minutes, flip, and then turn the heat off. It gives you the most tender, deliciously moist salmon you ever did see. As I was researching this recipe I read that salmon is NOT supposed to flake. If you fork it and it flakes then it's overcooked. Who knew? I've been flaking for years.
I served this with polenta, which was an awesome choice if I do say so myself!

Pan-Seared Salmon with Maple Glaze and Pistachios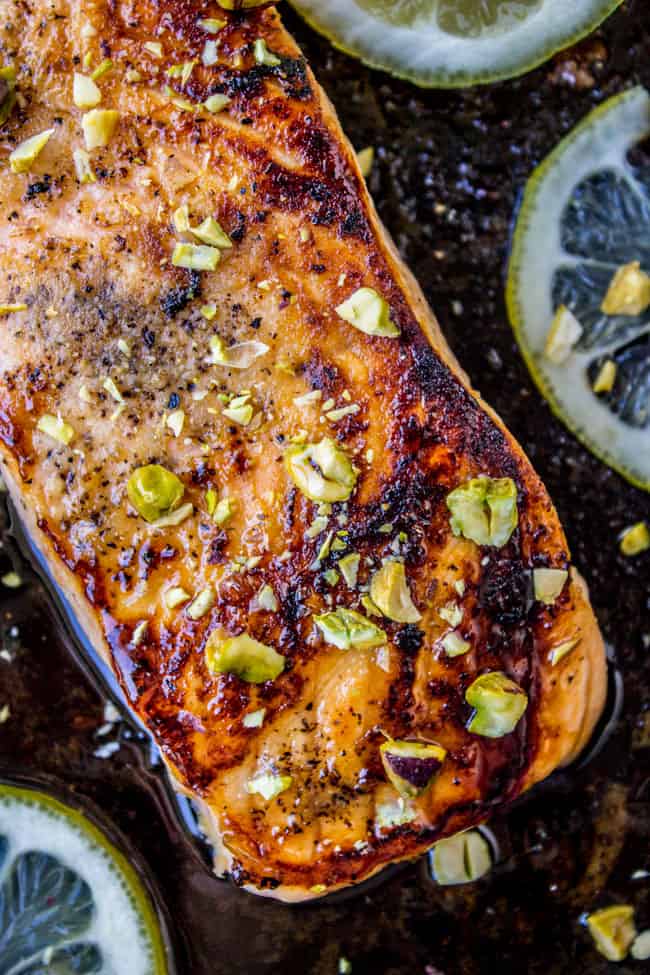 This healthy, pan-seared, crispy-yet-tender salmon is your perfect 30 minute quick-fix restaurant meal at home. The maple glaze is crazy you guys. Also, pistachios!!
Ingredients
3/4

cup

maple syrup

4

teaspoons

lemon juice

,

fresh, about half a lemon

1/4

teaspoon

ginger powder

1

dash

crushed red pepper

,

up to 1/4 teaspoon

1

teaspoon

soy sauce

1

teaspoon

lemon zest

1

tablespoon

corn syrup

1-2

tablespoons

olive oil

salt and pepper

flour

2

pounds

salmon filets

,

fresh, skin on

pistachios

,

chopped, to garnish
Instructions
In a small saucepan, combine maple syrup, lemon juice, ginger, crushed red pepper, soy sauce, lemon zest, and corn syrup. Cook and stir over medium-high heat until it just starts to boil and thicken, then turn off the burner.

Heat olive oil in a large skillet. Pat salmon filets dry and sprinkle the skin side with salt and pepper. Dust each filet with about a half teaspoon flour. Drizzle each with about 1-2 teaspoons of the sauce in the pot.

Place salmon filets skin side down in the hot skillet. (Don't crowd the pan, you don't want them to steam. Do it in batches if you don't have room.)

Cook over high heat for 1 1/2 to 2 minutes, or until there is a nice sear on the bottom. Sprinkle the top with salt and pepper, flour, and another drizzle of sauce, then flip. Cook for 30 seconds to 1 minute and then turn off the heat. Let sit in the pan for another couple minutes.

Serve with the maple glaze. There may be extra glaze, it's great drizzled over vegetables!
Nutrition
Serving:
1
filet
|
Calories:
534
kcal
|
Carbohydrates:
45
g
|
Protein:
45
g
|
Fat:
18
g
|
Saturated Fat:
3
g
|
Polyunsaturated Fat:
6
g
|
Monounsaturated Fat:
7
g
|
Cholesterol:
125
mg
|
Sodium:
203
mg
|
Potassium:
1258
mg
|
Fiber:
1
g
|
Sugar:
41
g
|
Vitamin A:
98
IU
|
Vitamin C:
2
mg
|
Calcium:
95
mg
|
Iron:
2
mg
Salmon for daaaays:
Honey Salmon with Browned Butter Lime Sauce <<this is a family fav!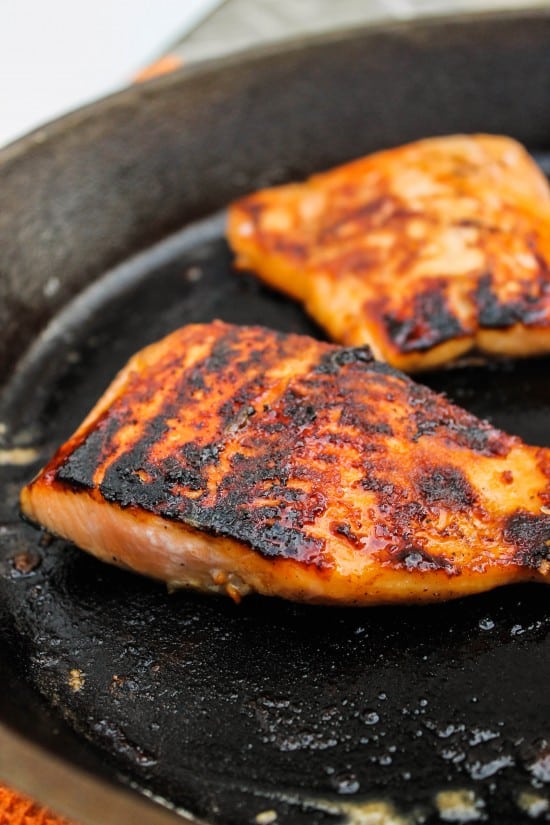 Caramelized Salmon << 4 ingredients. Unreal.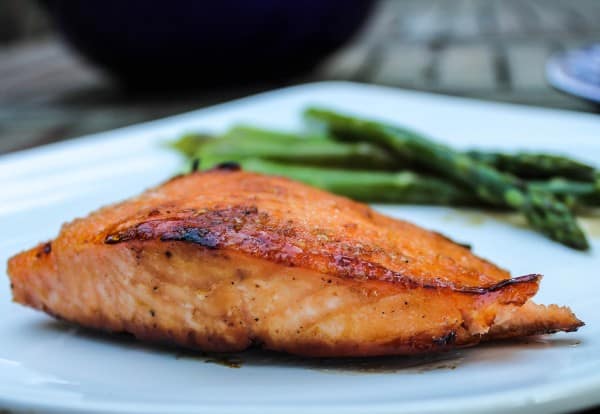 Almond Crusted Honey Dijon Tilapia: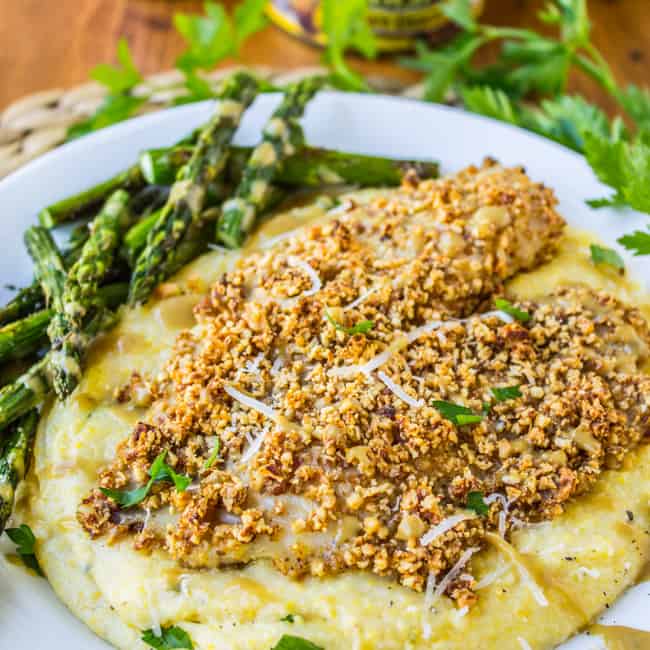 More skillet salmon!
Pan-Seared Salmon with Dill Butter from Tastes Lovely
Honey Garlic Salmon from The Cooking Jar
Cast Iron Skillet Seared Salmon from Foodness Gracious