These Pork Chops with Apples are such an easy weeknight dinner! They are done in just a few minutes, and finished off in a delicious apple cider glaze. The cinnamon-spiced roasted apples and sweet potatoes will have your house smelling like autumn in no time.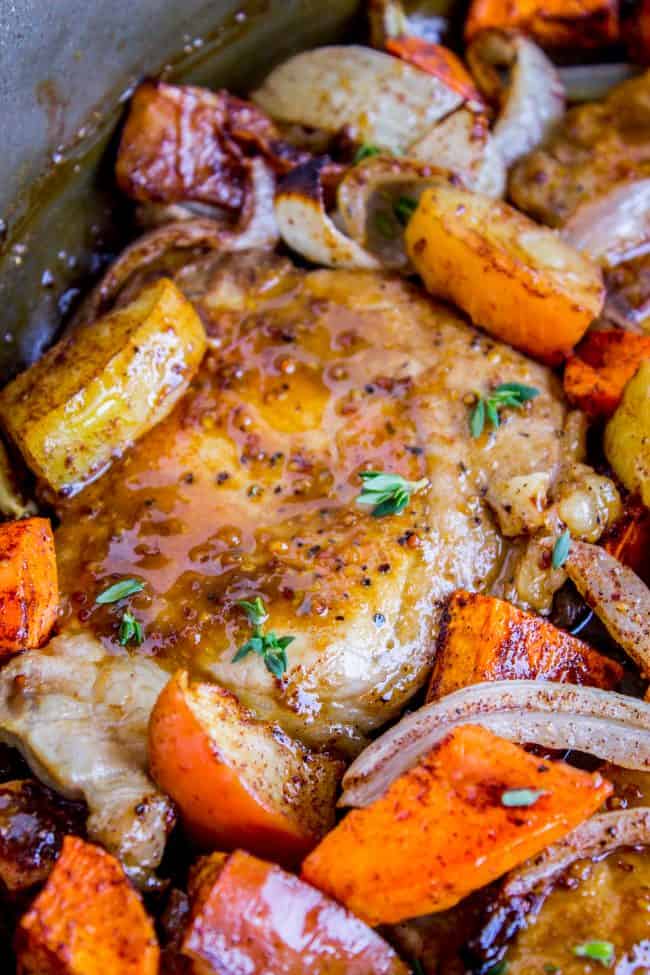 Originally posted October 2, 2018
I'm now accepting any and all ideas for genius kid's Halloween costumes that are cheap and easy (read: sewing is neither cheap nor easy.) My kids are still young enough that they are strongly open to suggestion, so I always try to get them to choose something that is creative but doable.
I'm like a roller coaster when it comes to Halloween costumes: half the time I'm totally gung-ho about it (memories! Fun times!), but there is this other Scrooge-y part of me that is incredibly cheap and can't handle spending tons of money on something my kids are only going to wear once.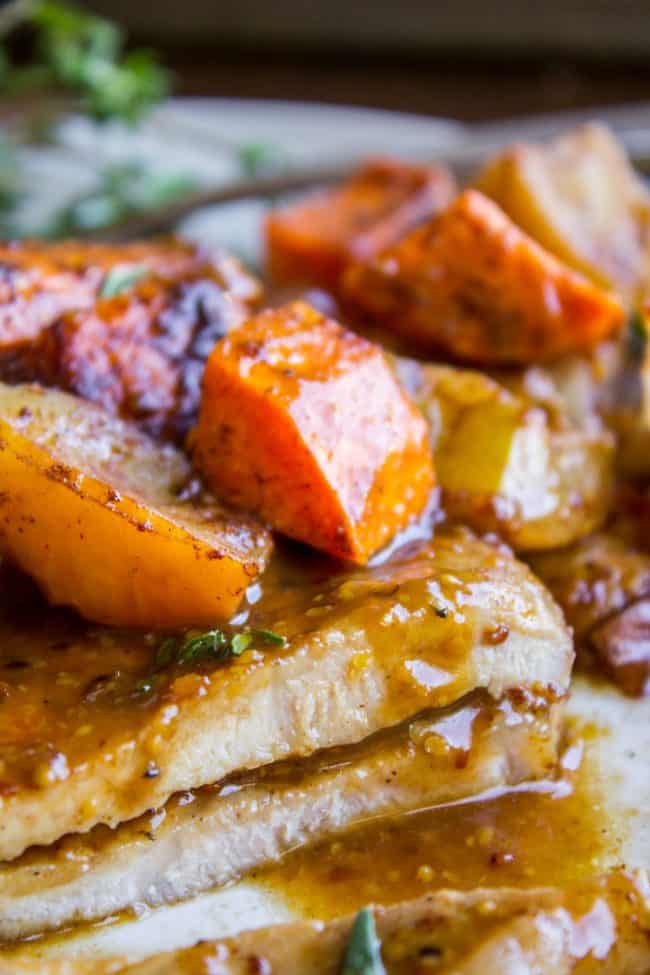 Truman said he wants to be a chameleon. Nothing says cheap and easy like having to sew a chameleon costume. (Have YOU seen any chameleon costumes at Costco?? Also I mentioned that I know less than zero about sewing right?)
Wish me luck. A part of me wants to make them all be bags of Jelly Belly's. I've pulled that one a couple times myself. (Wear a clear plastic bag with multicolored balloons inside.)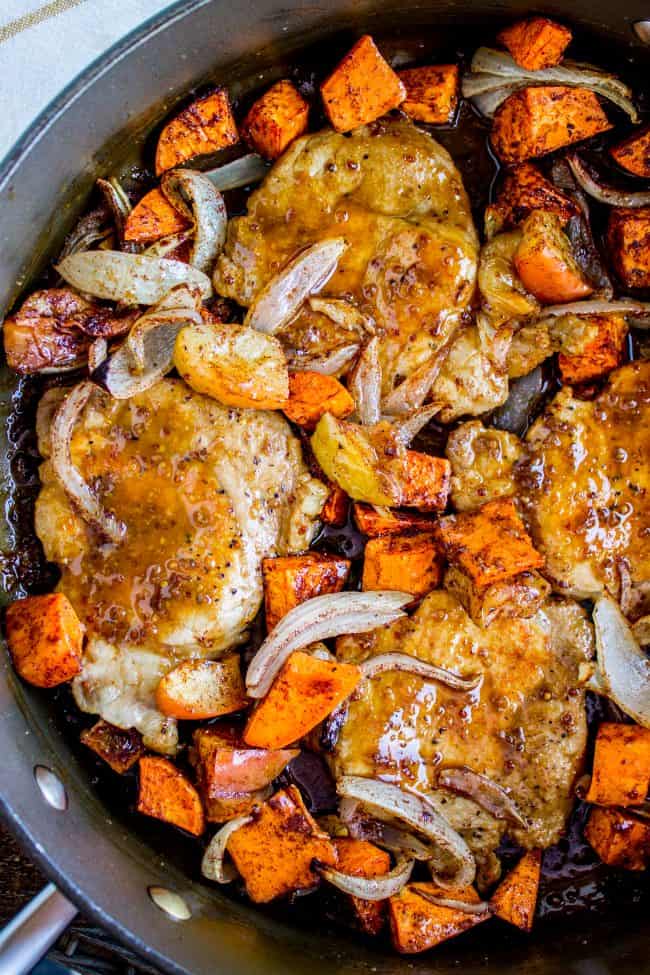 To get in the fall spirit, we headed up to Apple Hill last weekend, which is kind of like the pumpkin patches you've been too, but it's all apples and orchards instead of pumpkins and vines. They have the BEST apple cider there, and also amazing apple cider donuts that are to die for. I also bought 8 ounces of caramel for $12, which sounds crazy, but since then I've made multiple batches of (failed) caramel to try and recreate it. The kind at Apple Hill makes the best caramel apples. Stay tuned, I WILL CONQUER! I will go broke spending that much on caramel, I'm addicted and I need a home remedy.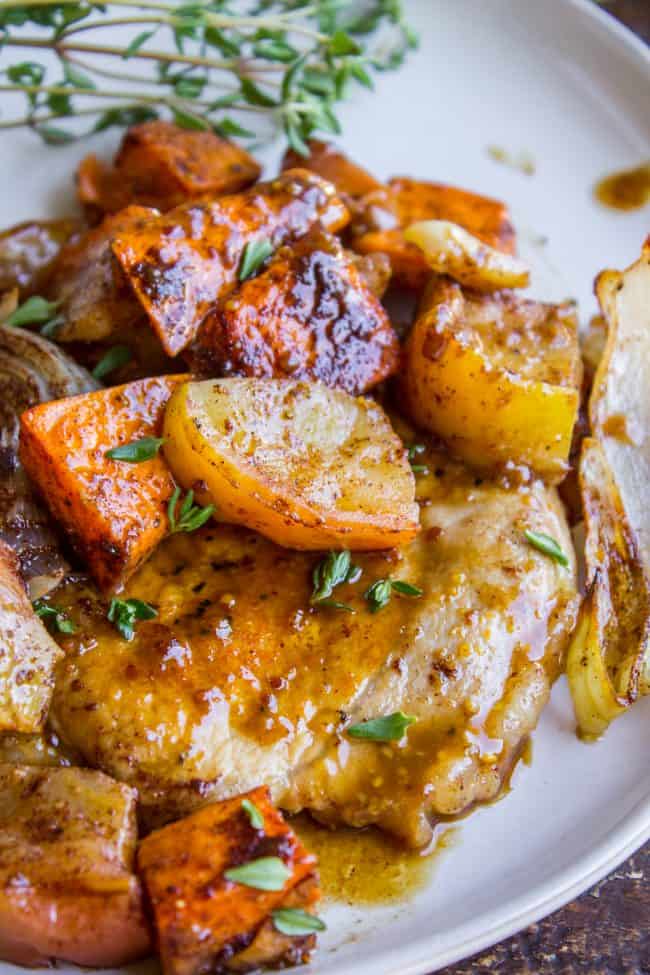 How to make Glazed Pork Chops with Apples
I used the apple cider and apples we bought to make these fall-inspired pork chops. I roasted the apples with sweet potatoes and onions. Pork chops and apples just go together, right? And roasted sweet potatoes are my favorite. This recipe for Roasted Sweet Potatoes and Brussels Sprouts is one of the most popular recipes on my blog.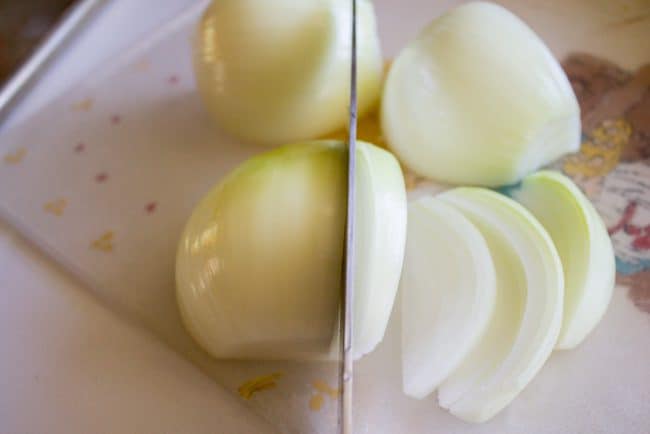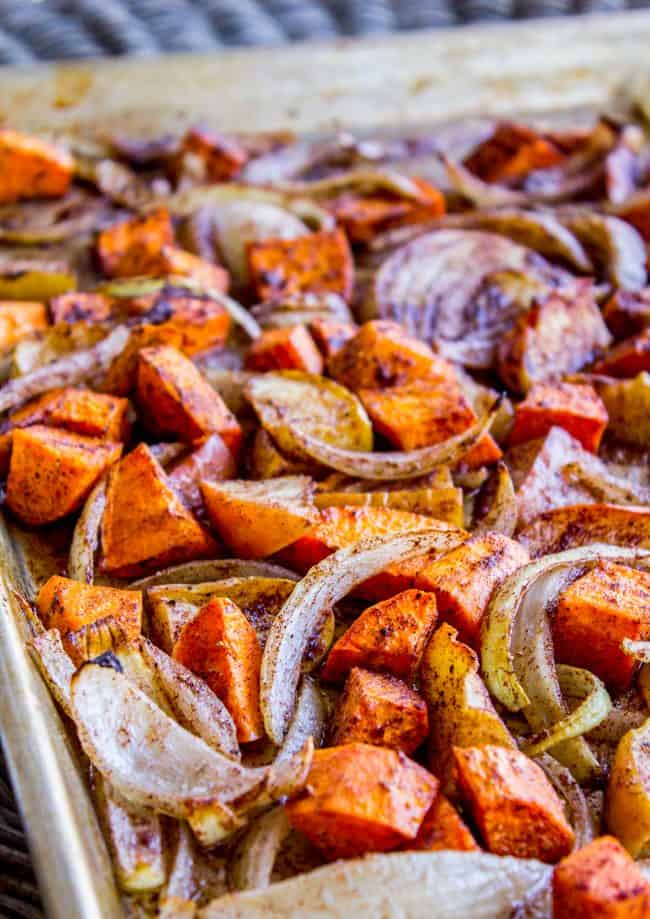 Today's recipe calls for cinnamon on the roasted veggies and apples, and also a bit of brown sugar. It gives it just a little touch of sweetness that makes you want to eat it like candy. I was this close to posting these roasted sweet potatoes and apples with cinnamon as a whole separate recipe. You could serve it with lots of different main dishes, and it's so good!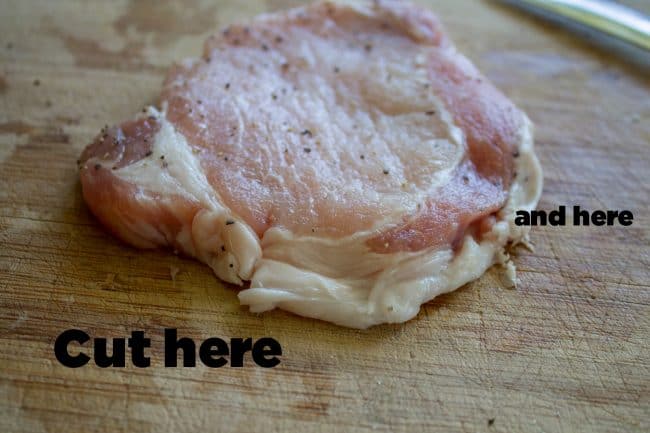 While researching this pork chop apple recipe, I picked up a tip in my Cook's Illustrated book. When you pan sear pork chops, they tend to curl up a bit because of the line of fat on the out edge. Here's how to snip the edges of your pork chop to avoid that. It's not the end of the world if you skip this step, but it is nice to be able to cook your pork chop evenly. Sometimes they curl up so much that they don't sear well. If you forget to do it ahead of time and notice them curling, you can snip them even after the initial sear (I've tried it).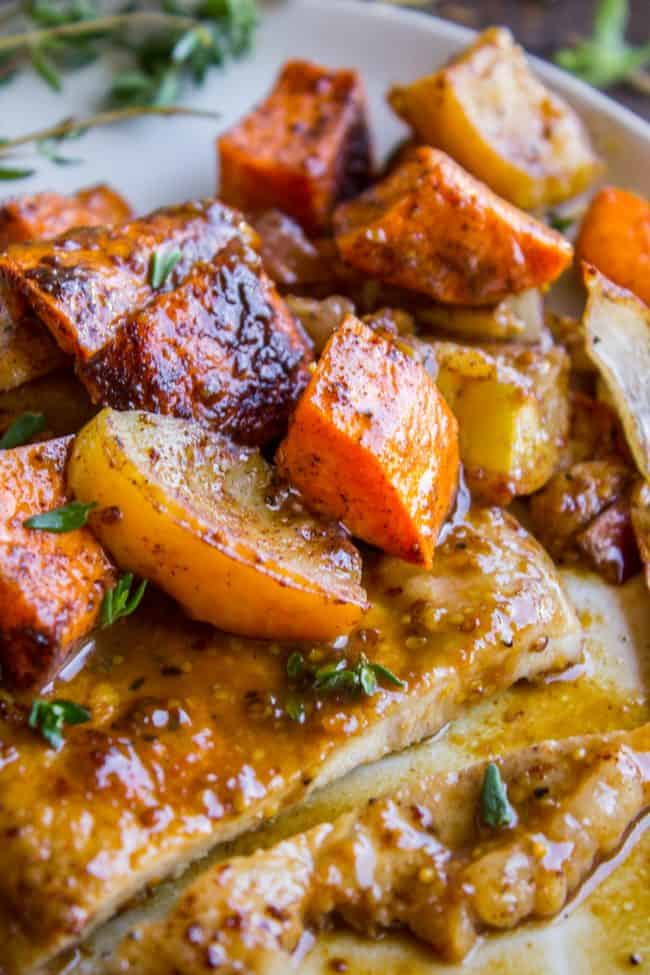 If you are working quickly and don't have any toddler's thwarting you, you can get these apple cider pork chops done and on the table in about 45 minutes, and most of that time is just waiting for the veggies and apples to roast. Let me know if you try it out! You guys know I love seeing pictures of what you're making from the blog, right?? Tag #thefoodcharlatan so I can tell you how awesome you are that you made dinner for your family :)
More easy dinners you will love!
Pan Seared Chicken and Broccolini in Creamy Mustard Sauce << huge reader favorite!
Oven Baked Greek Chicken with Veggies
Saucy Pork Chops << this was my favorite meal as a kid. My mom made these pork chops on special occasions. It's really simple, but it's so good!
Pan Seared Chicken in Lemon Basil Cream Sauce
Juicy Grilled Pork Chops with Spicy Peach Glaze from Noble Pig
Easy Pressure Cooker Pork Chops in Mushroom Gravy from Pressure Cooking Today
Braised Pork Chops and Vegetables from The Noshery
Facebook | Pinterest | Instagram

Pan Seared Pork Chops with Apple Cider Glaze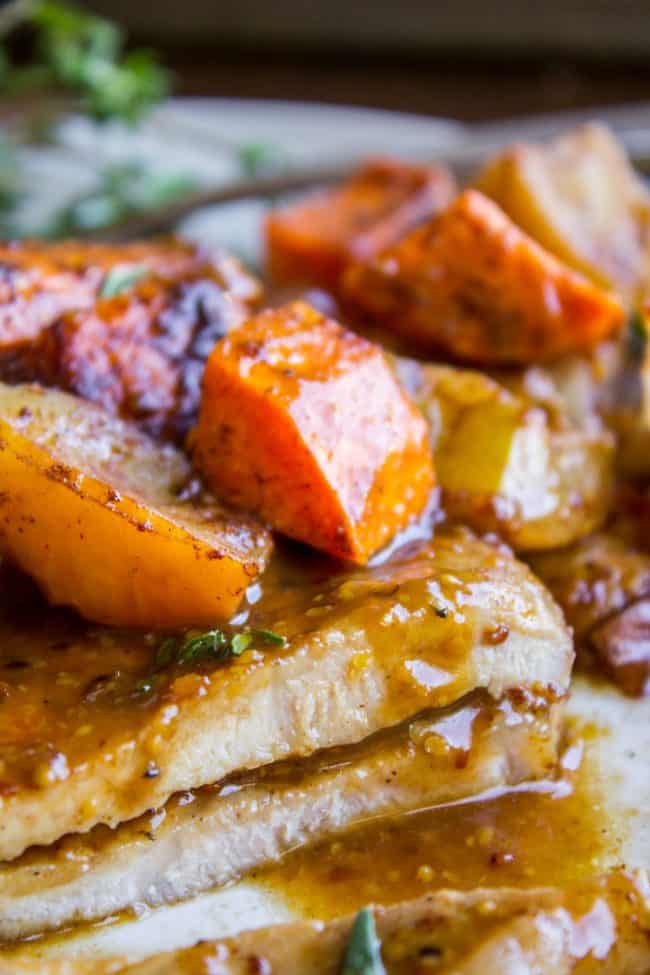 Pan Seared Pork Chops are such an easy weeknight dinner! They are done in just a few minutes, and finished off in a delicious apple cider glaze. Pair it with cinnamon-spiced roasted apples and sweet potatoes, and it will smell like autumn in your house in no time. 
Ingredients
For the roast
1

large

sweet potato

,

peeled

1

medium

onion

2

large

apples

,

cored and sliced

2

cloves

garlic

,

smashed

1/3

cup

olive oil

1

teaspoon

cinnamon

1/2

teaspoon

garlic salt

1

teaspoon

kosher salt

1/2

teaspoon

pepper

,

or to taste

2

tablespoons

brown sugar
For the pan sear
4-5

pork chops*

salt and pepper

1

tablespoon

olive oil

2

cups

apple cider

1

cup

chicken broth

1 & 1/2

tablespoons

apple cider vinegar

2

tablespoons

dijon mustard

3

tablespoons

whole grain mustard

1

tablespoon

soy sauce

3

tablespoons

butter

fresh thyme

,

or rosemary to garnish
Instructions
Preheat your oven to 400 degrees F. Line a large baking sheet with foil or parchment paper.

Chop the sweet potato into 1 or 2 inch chunks. Peel the onion and slice into wedges. Core the apples and cut into about 8 slices each (leave the peel on the apples). Smash the garlic with the side of a chef's knife.

Add sweet potato, onion, apples, and garlic to the pan. Drizzle with 1/3 cup olive oil.

In a small bowl, combine cinnamon, garlic salt, kosher salt, pepper, and brown sugar. Sprinkle over the pan and then use your hands or a wooden spoon to mix it all together. Make sure everything gets coated with oil and the spices, then spread it all out on the pan in one layer.

Roast at 400 for about 30 minutes, or until you can slide a fork into the sweet potato and apples. Remove from the oven and keep warm.

Meanwhile, prepare the pork chops. Pat dry with a paper towel and sprinkle with salt and pepper. Use a sharp serrated knife to make 2 slits in the line of fat on the edge of the chop. See photo. This will keep your pork chop from curling up when you sear it. (which then makes it uneven and difficult to cook properly.)

Heat a large skillet over medium high heat. When hot, add about 1 tablespoon olive oil.

When the oil shimmers, add the pork chops one at a time, with plenty of space in between. Sear over medium high heat for about 2 minutes until golden brown, then flip each pork chop and sear the other side. If you have more pork chops, work in batches. Don't add more than about 4 to the pan, otherwise they will steam and not get a golden sear.

Remove the pork chops to a plate and set aside.

In the same skillet, add apple cider, chicken broth, apple cider vinegar, dijon mustard, whole grain mustard, and soy sauce. Bring to a boil, then lower to a simmer (it should still be bubbling slightly.)

Simmer for about 5 minutes, until slightly thickened. Add 3 tablespoons of butter and continue simmering until melted.

Return the pork chops and any juice to the pan. Cover and continue to simmer for another 5 to 15 minutes. How long you cook at this stage depends on how thick your pork chops are. I used thin-cut pork chops, so it was done pretty quickly. If you have thicker pork chops, cook for longer. The pork should just reach 145 degrees. I would definitely use

a meat thermometer

, over cooked pork is the worst. (If you are using thin pork chops, you may want to remove the chops as soon as they are cooked, so that your sauce can thicken a bit more without the pork becoming tough.)

Serve the pork and the roasted veggies with the apple cider glaze drizzled over the top. Or you can dump the veggies into the pan you cooked the pork in, whatever works for you.

Garnish with fresh thyme or rosemary.
Notes
*I bought thin cut pork chops for this recipe, it was probably about a pound of meat total. If you buy thick cut pork chops, that will work fine too. Sear for the same amount of time, but you will need to cook it in the apple cider mixture longer, until it reaches 145 degrees.
Nutrition
Serving:
1
g
|
Calories:
694
kcal
|
Carbohydrates:
60
g
|
Protein:
28
g
|
Fat:
39
g
|
Saturated Fat:
11
g
|
Polyunsaturated Fat:
4
g
|
Monounsaturated Fat:
22
g
|
Trans Fat:
1
g
|
Cholesterol:
99
mg
|
Sodium:
1699
mg
|
Potassium:
1087
mg
|
Fiber:
7
g
|
Sugar:
35
g
|
Vitamin A:
12400
IU
|
Vitamin C:
15
mg
|
Calcium:
84
mg
|
Iron:
2
mg