20 Minute Pan-Seared Salmon with Arugula Pesto
This easy 20 minute dinner is the perfect healthy back-to school meal! I've managed to convince my kids that salmon is delicious; I highly recommend you do the same. The quick arugula pesto is not traditional (no oil! no nuts!) but it totally packs a punch!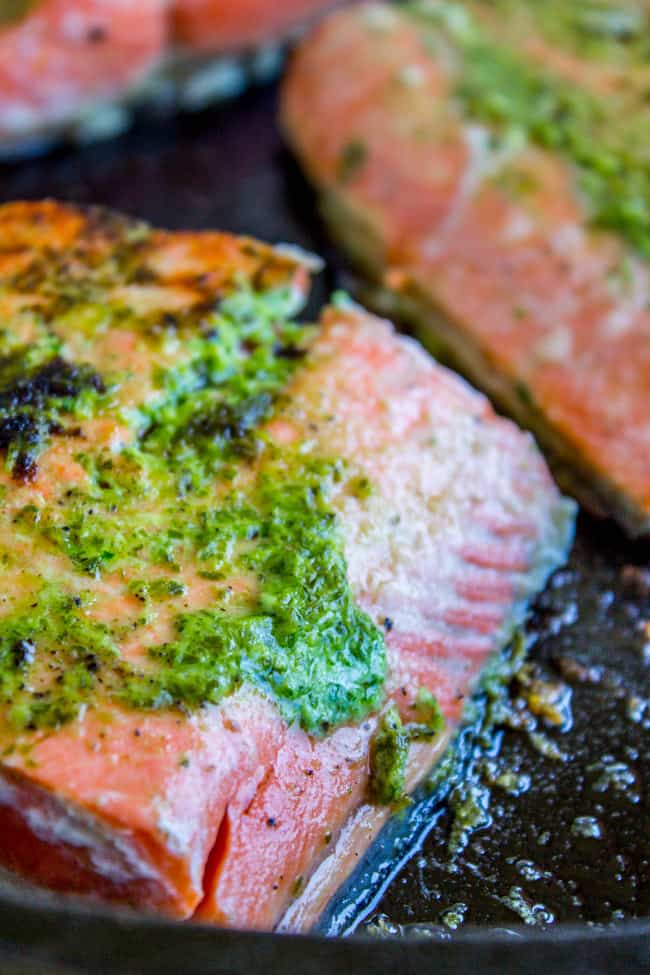 I have been defeated by a 3 year old. A completely oblivious 3 year old, who never even figured out that there was a battle raging. The fact that he was completely unaware that I was potty training him led him to clinch the victory.
2 and 1/2 days of my life, down the drain. Or should I say, down the leg. (TMI? Sorry. No, actually, I'm not sorry, because you didn't have to clean it up.)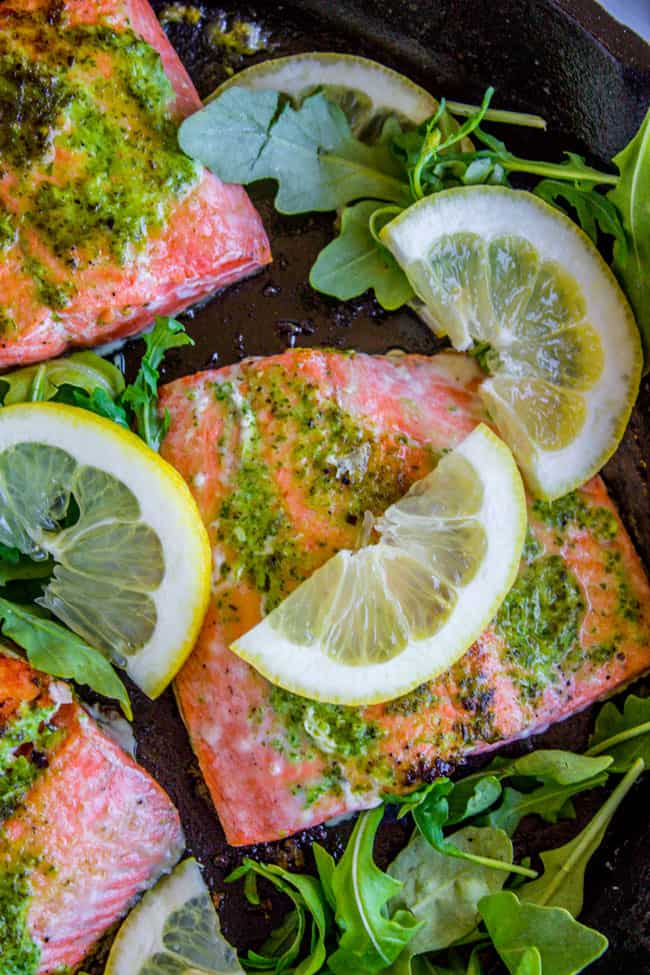 After 2 days, I appealed to Facebook for guidance. (If the Facebook gods can't solve my problems, who can?)
"Okay parents of boys. POTTY TRAINING. HALP. He just doesn't seem to get it, and I don't know how to explain sphincters to a 3 year old."
Here's some feedback.
"If you find the answer let me know."
"I wish I knew!"
"Ain't no shame in giving up for a while."
"Yeah, little boys are kinda dumb."
"Sooo many accidents. So I got on Facebook and everyone's advice was wait a little longer."
"I promise it will click for him one day."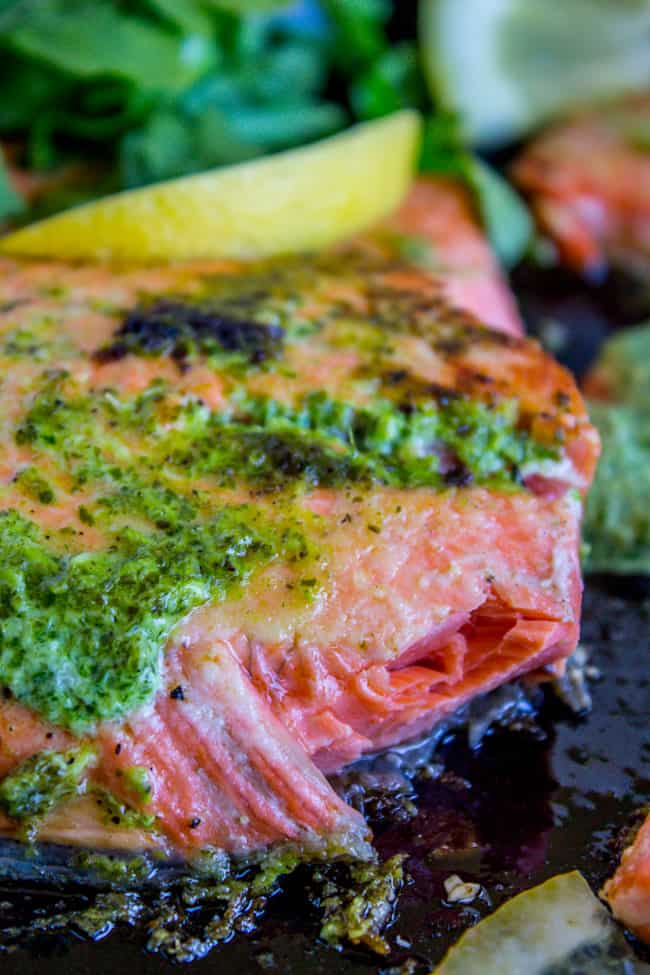 Here's my favorite:
"I stopped rewarding him and started rewarding myself for each day I stuck with it. They don't need those rewards as much as you do, you're the one cleaning up accidents all day." << I definitely took this one to heart.
So. I gave up. When I put his diaper back on him after being naked for days on end, he gleefully danced around the room for 10 minutes. I'm not kidding. It was a victory dance, pure and simple.
Maybe I'll try again when he's a teenager.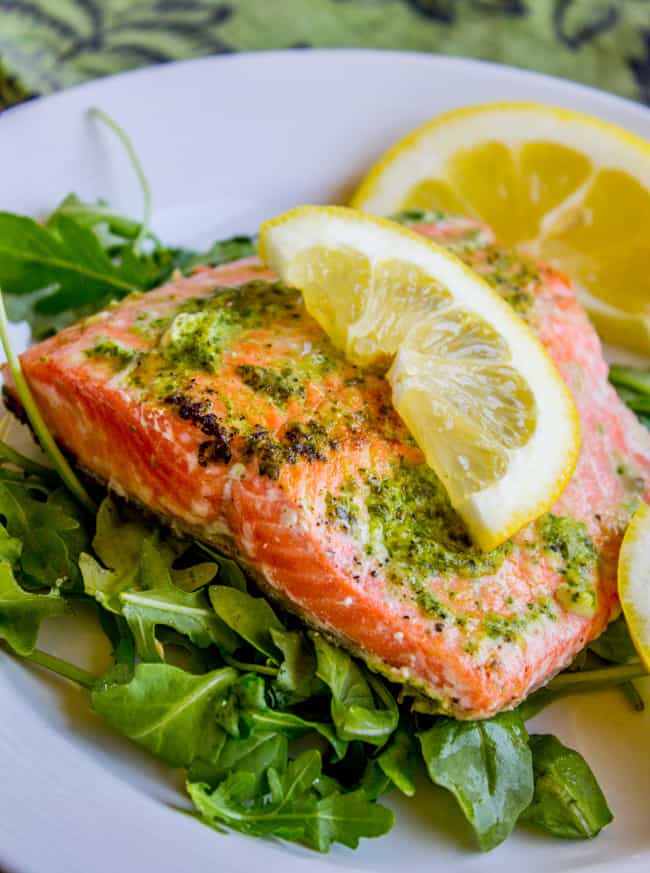 A few months ago my brother told me about some salmon he had made with arugula pesto. Here's what he told me, "Blend raw arugula, raw scallion and water. Mix with spices, a teensy bit of mayo, and sour cream." That's basically it. Nathan is all about the minimalist recipes, whereas I'm over here like WHAT DO YOU MEAN TEENSY BIT OF MAYO. #Charlatan
So I did my best Nate. Hope it's kind of like what you made. Actually, I know it's not, because you are way more health conscious than I am, so a teensy bit of mayo to you is probably not 2 tablespoons. Don't judge.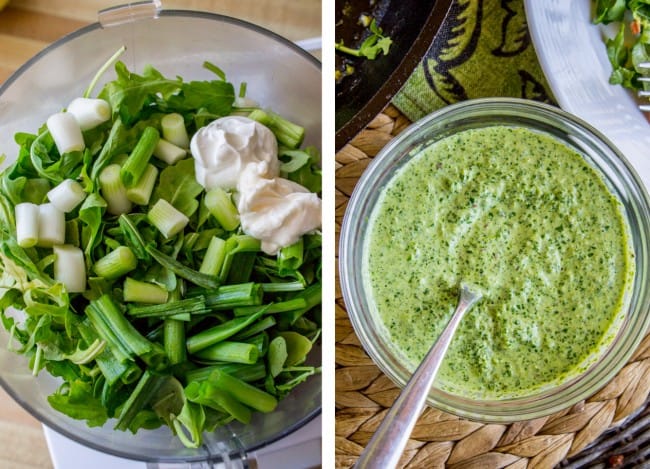 Still though, even with the mayo, this recipe is pretty darn healthy. No oil in the pesto, no cheese. In fact, it might not even be technically classified as a pesto, but what else should I have called it? Deliciously blended arugula?
Pan-searing is my favorite way to cook salmon. It's just so fast! And you don't have to turn on the oven, huge summer plus. Put this on the back-to-school menu, my kids loved it! (See, proof.)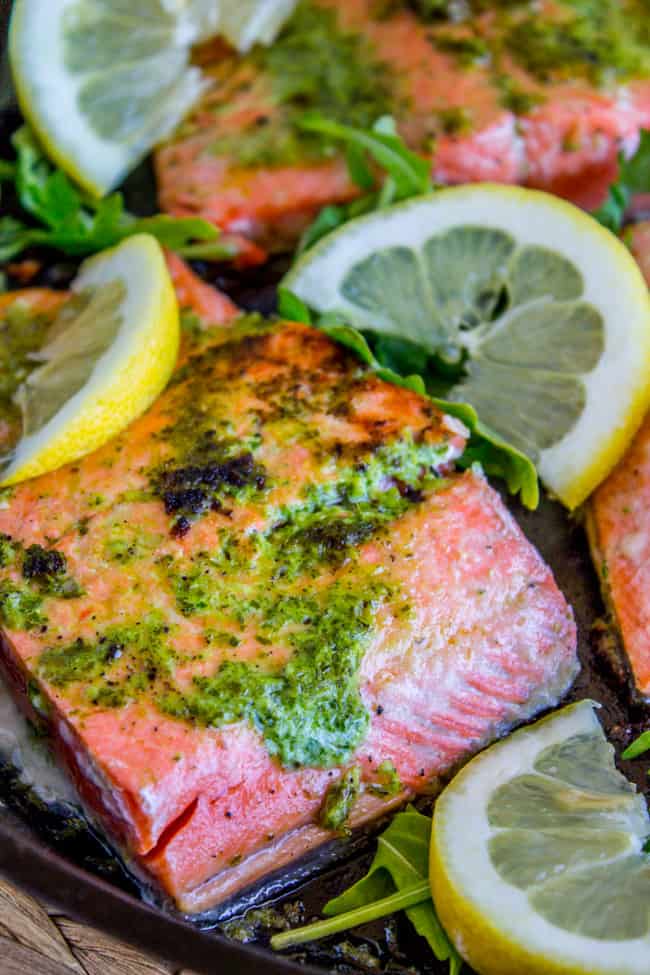 Facebook | Pinterest | Instagram | Twitter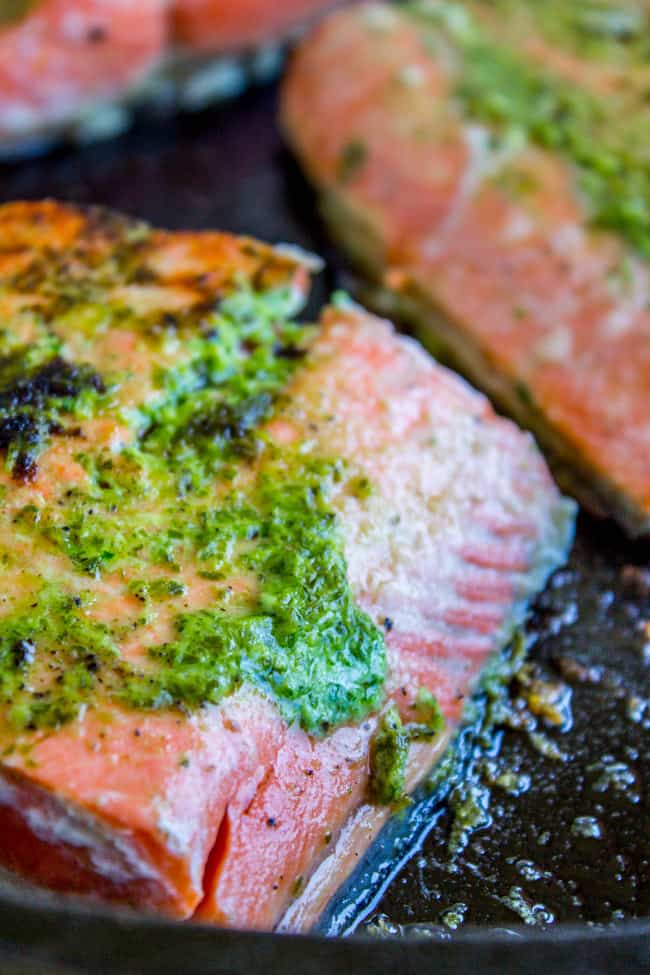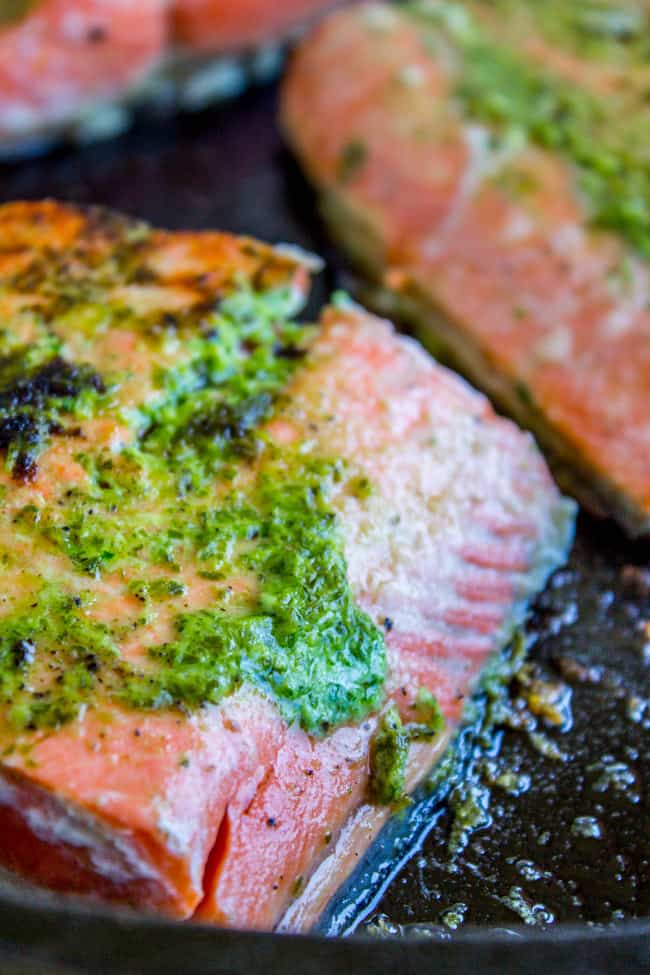 print
Did you make this recipe?
Leave a review »
20 Minute Pan-Seared Salmon with Arugula Pesto
Serves 4-6
adjust servings
Ingredients
3

cups arugula, packed

top half of one bunch of green onions, roughly chopped*

2

tablespoons lemon juice

2

tablespoons water

2

tablespoons sour cream

2

tablespoons mayonnaise

1

clove garlic

1/8

teaspoon pepper, or more to taste

1/4

teaspoon salt, or more to taste

1/2

teaspoon dried basil

pinch red pepper flakes, use at least 1/8 teaspoon if you want a kick

4-6

salmon filets

salt and pepper

1/2

teaspoon flour PER filet

1

tablespoon olive oil

fresh lemon wedges, for serving

more arugula, to serve with
Instructions
First make the pesto. Add arugula, green onions, lemon juice, water, sour cream, mayonnaise, garlic, pepper, salt, basil, and red pepper flakes to a food processor. Pulse until smooth. Taste it and see what you think!
Pat salmon filets dry and sprinkle the skin side with salt and pepper. Dust each filet with about a half teaspoon flour.
Spread each with about 1 teaspoon of the arugula pesto.
Heat olive oil in a large skillet over high heat.
When the oil is very hot, place 2-3 salmon filets skin (and pesto) side down in the hot skillet. (Don't crowd the pan, you don't want them to steam. Do it in batches if you don't have room. I used a 12-inch skillet and only did 3 at a time.)
Cook over high heat for 1 1/2 to 2 minutes, or until there is a nice sear on the bottom. Sprinkle the top with salt and pepper, flour, and another teaspoon of pesto, then flip.
Cook for 30 seconds to 1 minute and then remove from heat. Let sit in the pan for another couple minutes.
Serve on a bed of arugula, with a fresh squeeze of lemon and a few spoonfuls of the pesto.
This is really great with a green salad, crusty bread, roasted potatoes, or even some simple pasta.
by The Food Charlatan

If you make this recipe,
share it on Instagram
 using the hashtag
#TheFoodCharlatan
so I can see it!
Source: this recipe is from my brother Nathan. Kinda. Here is a copy of his exact email: "Blend raw arugula, raw scallion and water. Mix with spices, a teensy bit of mayo, and sour cream. It should be fairly runny–not thick. Serve with fresh lemon over salmon." The recipe above is my translation of this :)
More quick salmon recipes you will love!
Pan-Seared Salmon with Maple Glaze and Pistachios << tastes like it's from a restaurant.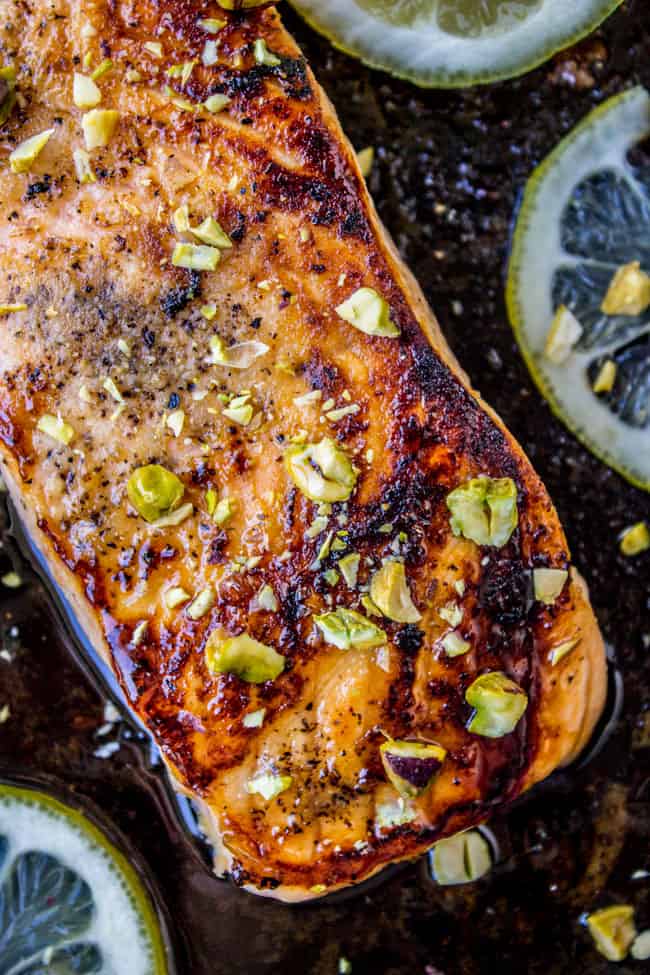 Honey Salmon with Browned Butter Lime Sauce << this is a HUGE favorite around here! We make it all the time!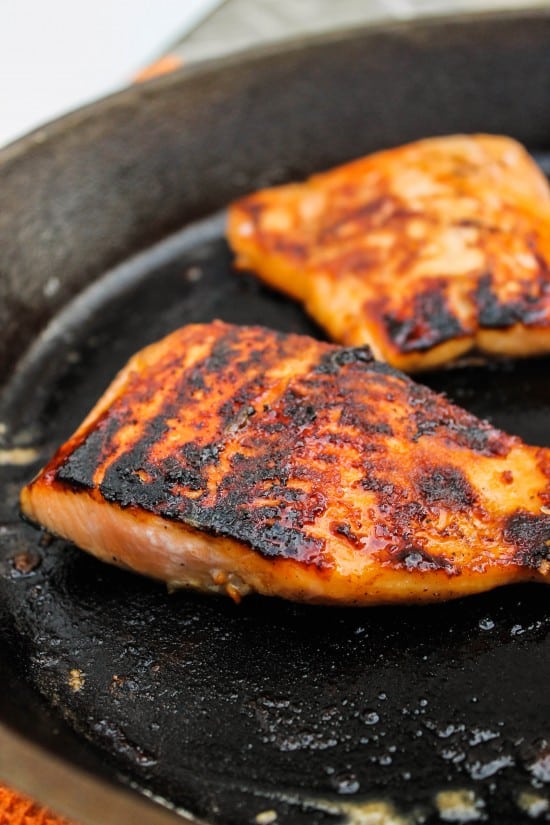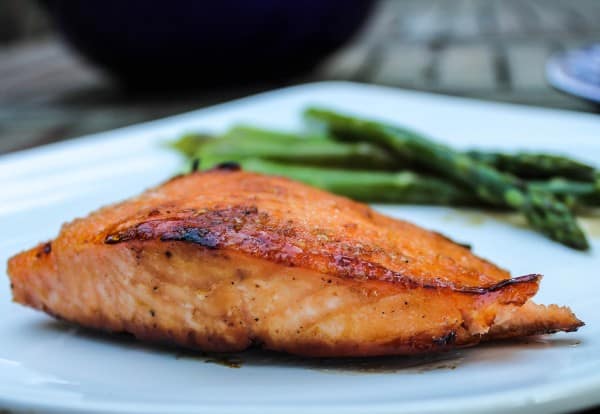 Other easy salmon recipes from awesome bloggers!
Chili Garlic Salmon and Broccoli Bowls from Maebells
Brown Sugar Salmon from Bitz and Giggles
Dijon Maple Glaze Salmon from Joyful Healthy Eats
We are a participant in the Amazon Services LLC Associates Program, an affiliate advertising program designed to provide a means for us to earn fees by linking to Amazon.com and affiliated sites.