Pan Seared Chicken in Lemon Basil Cream Sauce
Here's an easy 30 minute dinner idea for you! Pan Seared Chicken in Lemon Basil Cream Sauce is super easy to throw together, and uses up some of that fresh garden basil. Chicken tenderloins are quick to cook on the stovetop, and the sauce has such bright lemony flavor!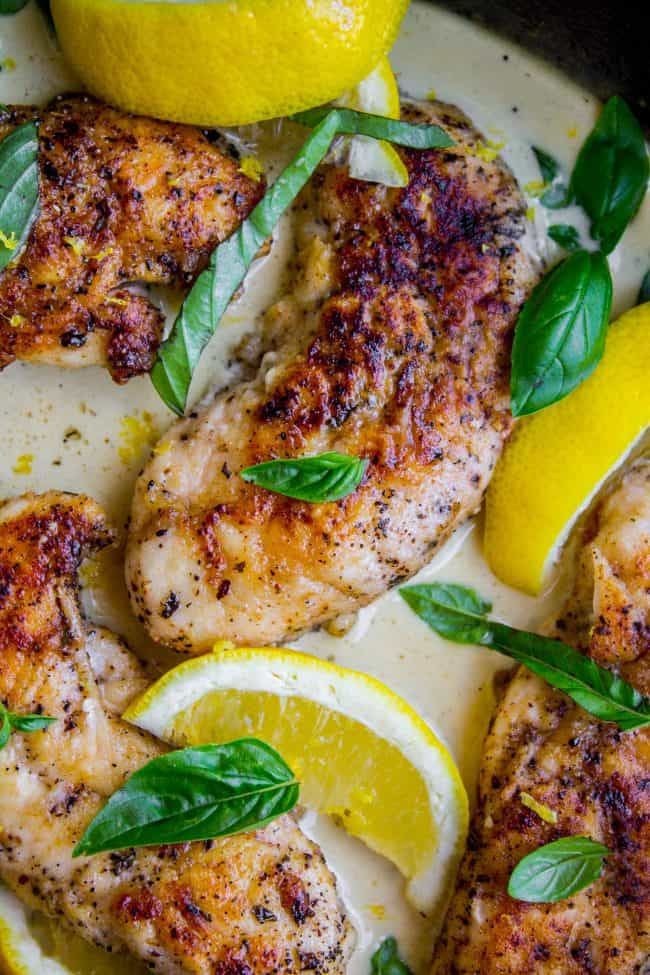 Yesterday I heard Charlotte say casually from the other room, "Valentine has a cup of water." I finished applying my mascara before heading over to take the cup away from her (she would dump it eventually), and that was when Charlotte mentioned that it was full of toilet water. WHAAAAAT
I've been trying to teach my older kids about the level of emergency they should have in their voice for things that are actual emergencies. They always get it backwards.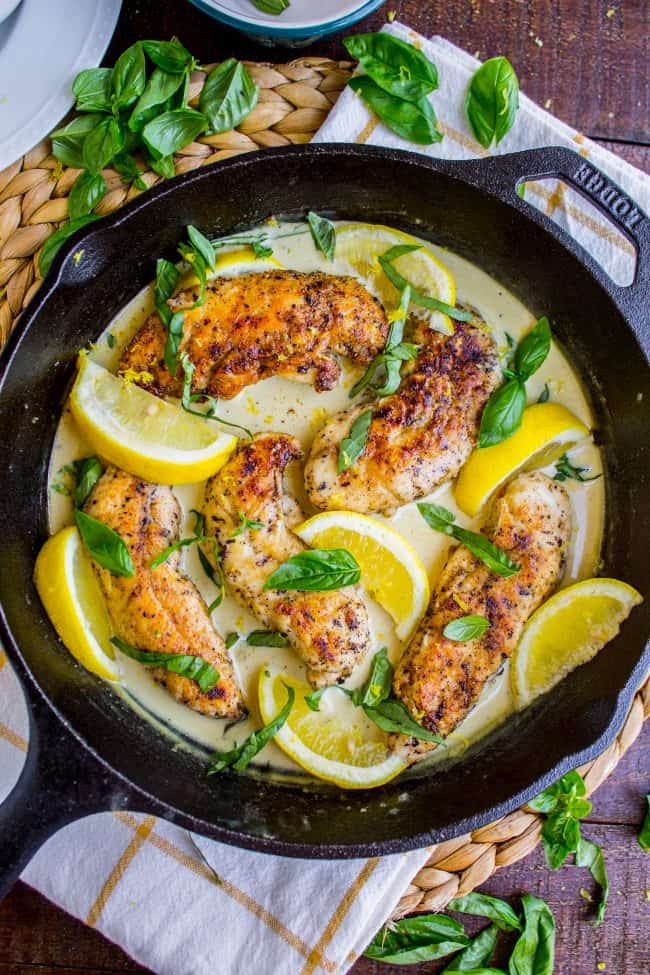 Like, every time the baby does something like flood the bathroom (that happened last week, she had the faucet on full blast and flooded the floor with a half inch of water while she happily dumped Clorox wipes into the toilet), the older kids barely look up from reading their book to tell me about it. But when someone has not shared a toy or scraped their knee, it's like a 3 alarm fire going off.
How's your summer going? I'm typing this at 9:22am and my older kids are still asleep. Summer is the BEST! (Although in between typing this sentence and the last one I had to go pull Valentine away from dumping random items in the toilet AGAIN. Why, why??? And where are the older children to nonchalantly tell me that the baby is misbehaving? Lazy bums.)
Summer time around here means sleeping in and pool days and tons of basil in the garden. That's what inspired this lemony basil pan seared chicken! I was not feeling like spending a ton of time on dinner (who is?) and pan seared chicken is always fast and easy.
How to make pan seared chicken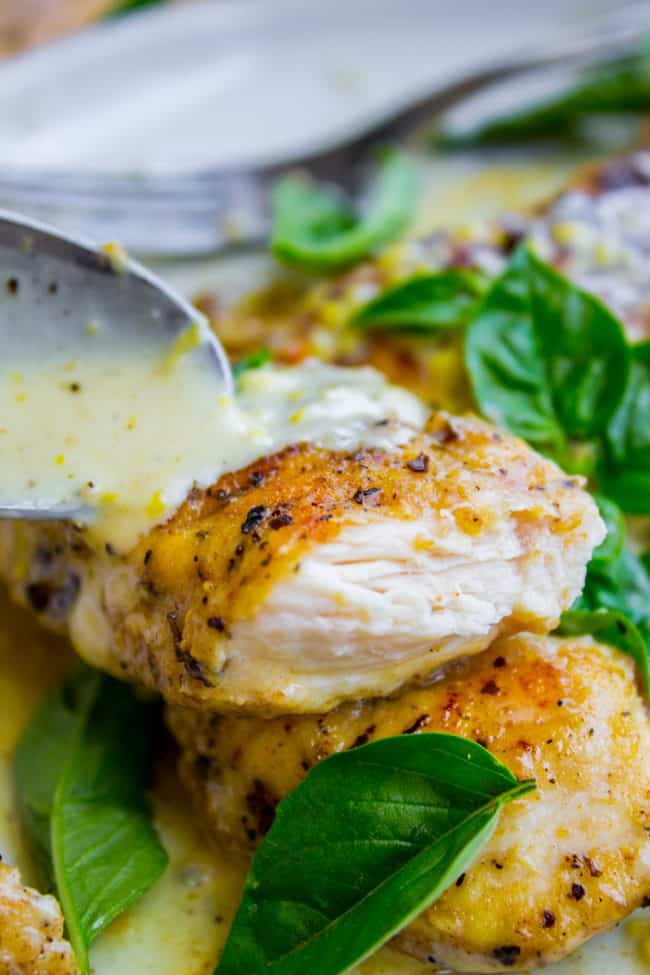 The sauce has TONS of flavor because we're using 1/3 cup of lemon juice and a bunch of zest. You will probably need 2 lemons. I think it's perfect, but if you are not seriously into bright lemon flavor, you might want to skip the zest or cut the juice down to 1/4 cup. But I'm in it for the win so bring on that lemon flavor.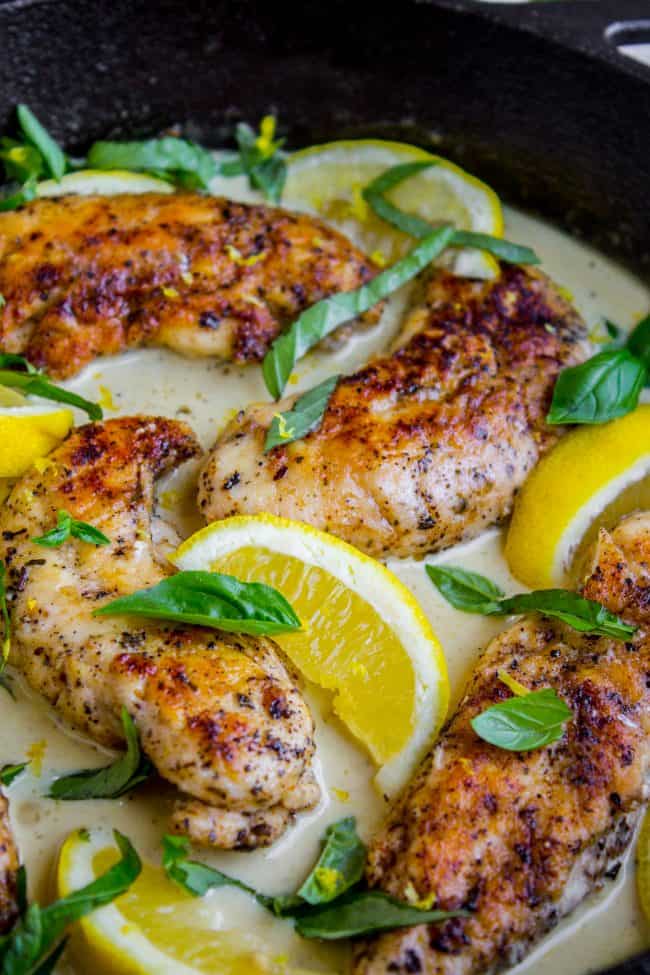 I wanted the sauce to be lemon-basil flavor, so I added some chopped basil to the sauce while it was still cooking, which I already knew was a bad idea. You're only supposed to add fresh herbs AFTER you turn off the heat. But I was like, how bad could it be?
Guys, don't do it. The basil turns a nasty shade of brown. I don't know why I always feel the need to try out this stuff that I've read in books 100 times. Like the one time I tested out whether or not you REALLY need to dissolve corn starch in cold water? Can't you just do it in hot water? Everyone says you can't but let's just try it….NOPE lumpiest gravy ever. When will I learn??
So anyway, don't be like me, add the basil after you take the pan off the stove. Even though you probably already knew that.

Here's how to chiffonade fresh basil. Except I think you're supposed to roll the basil leaves lengthwise instead of how I did it here. So I messed that up too. What is it with me and the basil failures today??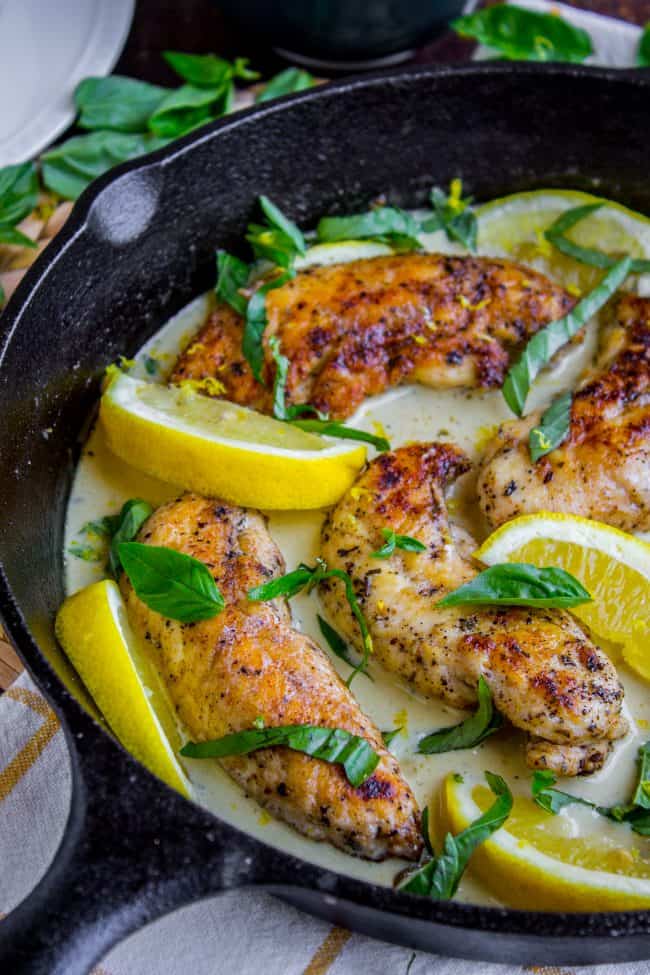 I think this lemony pan seared chicken would go really well over pasta, rice, Creamy Mashed Potatoes, or 3 Ingredient Roasted Potatoes with Crunchy Onions. Or maybe just alongside a nice big salad. Like maybe this Apple Gorgonzola Salad? Ooh or maybe this super easy Green Salad with Feta and Beets!
Facebook | Pinterest | Instagram
One year ago: Blue Cotton Candy Lemonade
Four years ago: Cream Cheese Chicken Chili (Slow Cooker)
Six years ago: Cherry Pie Crumble Bars
Pan-Seared Chicken in Lemon Basil Cream Sauce
Here's an easy 30 minute dinner idea for you! Pan-seared Chicken in Lemon Basil Cream Sauce is super easy to throw together, and uses up some of that fresh garden basil. Chicken tenderloins are quick to cook on the stovetop, and the sauce has such bright lemony flavor!
Ingredients
2

pounds

chicken tenderloins

,

thawed

1/4

cup

flour

1

teaspoon

dried basil

1

teaspoon

salt

3/4

teaspoon

black pepper

1/4

teaspoon

cayenne pepper

1

teaspoon

garlic powder

1/2

teaspoon

onion powder

1

tablespoon

butter

1

tablespoon

oil

1 & 1/4

cups

chicken broth*

1/3

cup

fresh lemon juice

,

2 lemons-zest them first!

1/2

cup

cream

1-2

tablespoons

lemon zest

,

to taste**

1/4

cup

fresh basil

,

chiffonade

fresh basil

,

more to garnish
Instructions
Dry the chicken tenderloins with a paper towel.

On a plate or shallow dish, mix together the flour and spices: basil, salt, pepper, cayenne, garlic, and onion.

Dredge the chicken in the flour mixture to coat both sides.

Heat a large skillet to medium high heat. When it is hot, add 1 tablespoon butter and 1 tablespoon oil, and swirl to coat.

Add about half the chicken tenderloins. Don't add them all at once or they will steam, not sear, and that won't get you those nice crispy brown edges. Leave about an inch in between each piece of chicken.

Sear for about 4 minutes. Keep an eye on it and make sure it's not cooking too quickly. Turn the heat down to medium if necessary.

Flip the chicken and cook for another 2 minutes or so, until brown.

Remove the chicken to a plate and sear the other batch, adding more oil if the pan gets dry.

When the chicken is done and out of the pan, add the chicken broth and lemon juice. Keep the heat on medium high. Scrape up the browned bits with a wooden spoon.

Bring to a boil and simmer for about 3 minutes.

Add the cream. Bring to a simmer again and continue simmering for 5-8 minutes until the sauce has thickened some.

Remove from heat and add fresh basil and lemon zest. Return the chicken to the pan.
Notes
*I always use water and Better Than Bouillon Chicken Base to make my broth at home. I love this stuff!
**My favorite kitchen tool is my microplane grater. It makes zesting lemons SO EASY. It is the best 12 bucks you will ever spend on a kitchen item.
Nutrition
Serving:
1
g
,
Calories:
460
kcal
,
Carbohydrates:
10
g
,
Protein:
50
g
,
Fat:
24
g
,
Saturated Fat:
10
g
,
Polyunsaturated Fat:
2
g
,
Monounsaturated Fat:
8
g
,
Trans Fat:
1
g
,
Cholesterol:
193
mg
,
Sodium:
1151
mg
,
Potassium:
984
mg
,
Fiber:
1
g
,
Sugar:
1
g
,
Vitamin A:
758
IU
,
Vitamin C:
18
mg
,
Calcium:
53
mg
,
Iron:
2
mg
More easy chicken recipes for summer!
Garlic Lime Chicken << this is so easy and so good. Oldie but a goodie.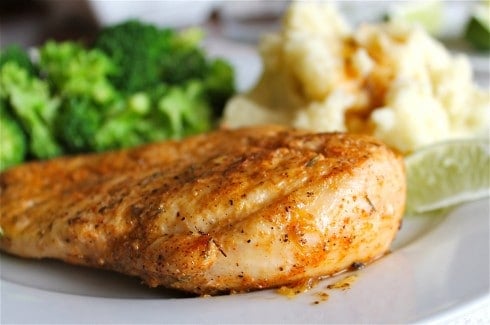 Lemon Tarragon Grilled Chicken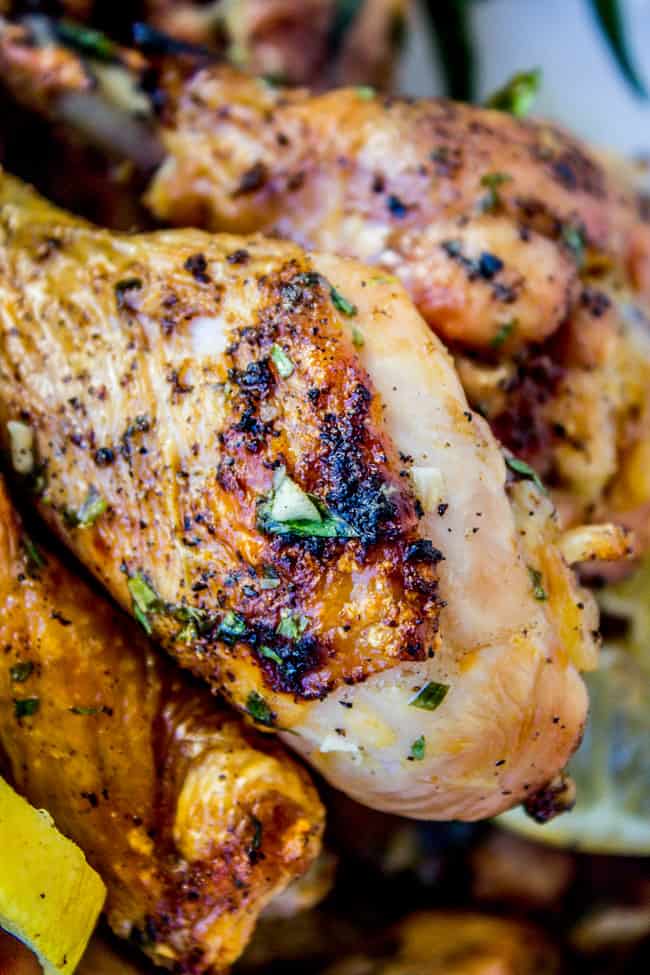 Pan-Seared Chicken and Broccolini in Creamy Mustard Sauce << this one is really popular!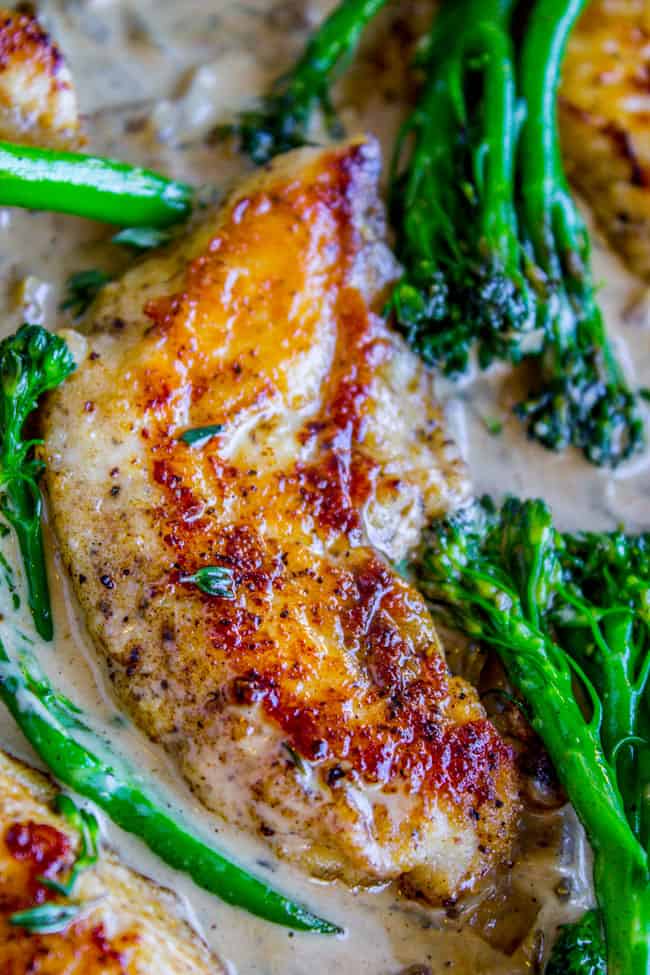 More lemon chicken recipes you will love!
Sheet Pan Garlic Lemon Chicken and Mushrooms from Nutmeg Nanny
Honey Lemon Chicken Skillet from All Mindful Mom
Skillet Lemon Chicken with White Wine from Cookie Rookie
We are a participant in the Amazon Services LLC Associates Program, an affiliate advertising program designed to provide a means for us to earn fees by linking to Amazon.com and affiliated sites.