Lemon Tarragon Grilled Chicken
Summer is here and it's officially don't-turn-on-the-oven season. Easy and fast grilled chicken is the way to go! Try this recipe that's jazzed up with lemon and tarragon, it's sooooo good. Feeds a crowd!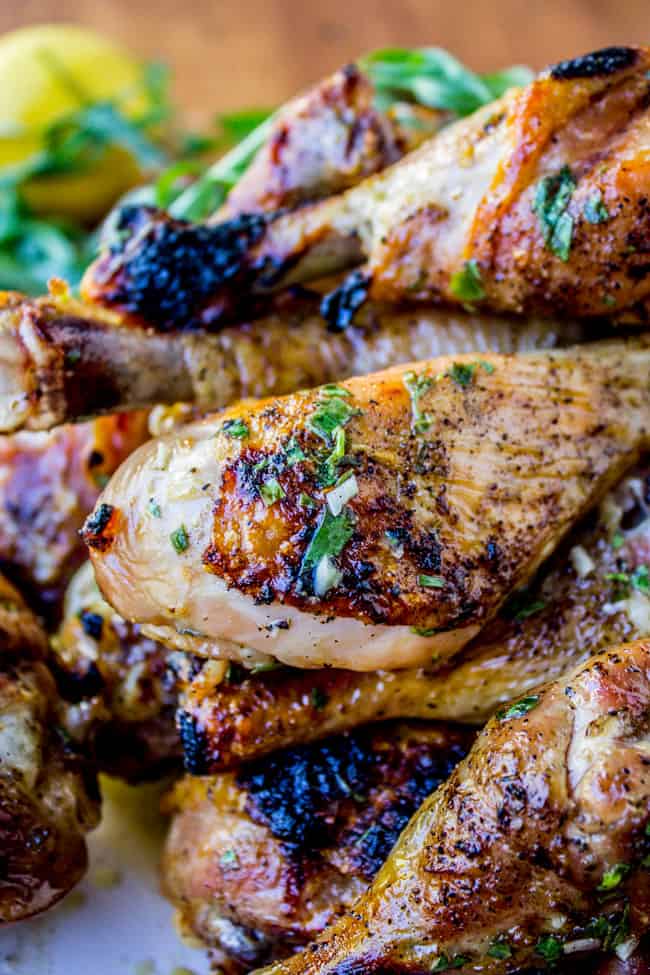 Are you guys show re-watchers? Book re-readers? I'm guilty of both. As I type, Eric and I are re-watching Leslie Knope win the election on Parks and Rec. It's still hilarious.
Just like Harry Potter is still the most awesome person to have ever not actually existed. Yes, I reread the whole series while I was pregnant-sick. Don't judge me. I started with the 7th one in the hopes that I would feel a sense of closure at the end, and not pick up the other 6 books. It didn't work.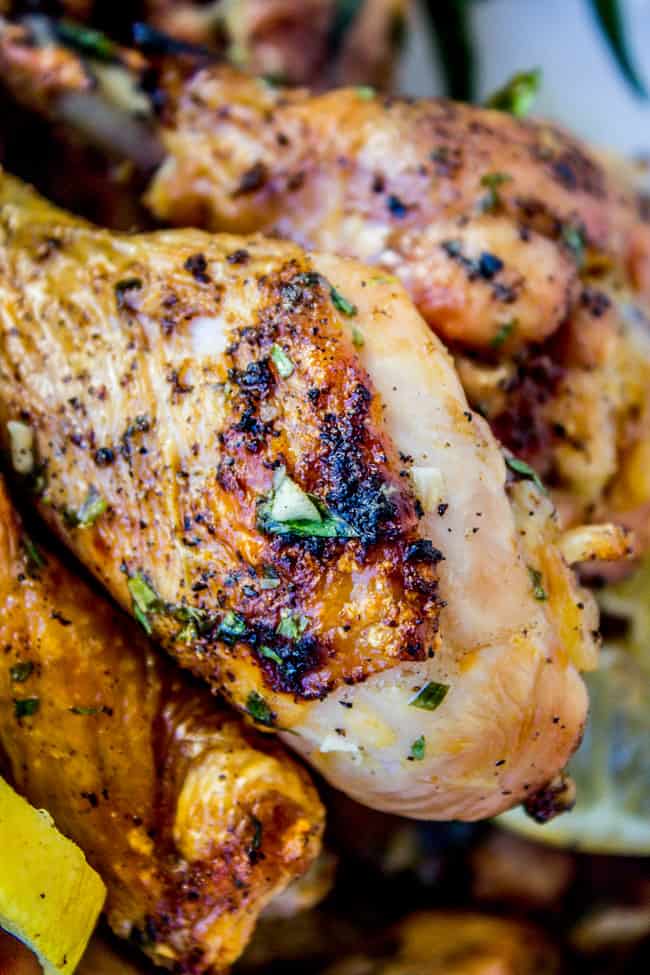 The other day I started telling my favorite Harry Potter quote* to a friend of mine (yes, really) when she told me that she hadn't read any of them (yes, really). I have never been at such a loss for words in my entire life. I've never tried to sell Harry Potter to anyone before, because there's never been a need. Everyone has read them. Like, where do you even start?
Now I suppose you're going to tell me that some of you weirdos haven't read it either. Well hop to it. You're still alive, aren't you? No time to lose.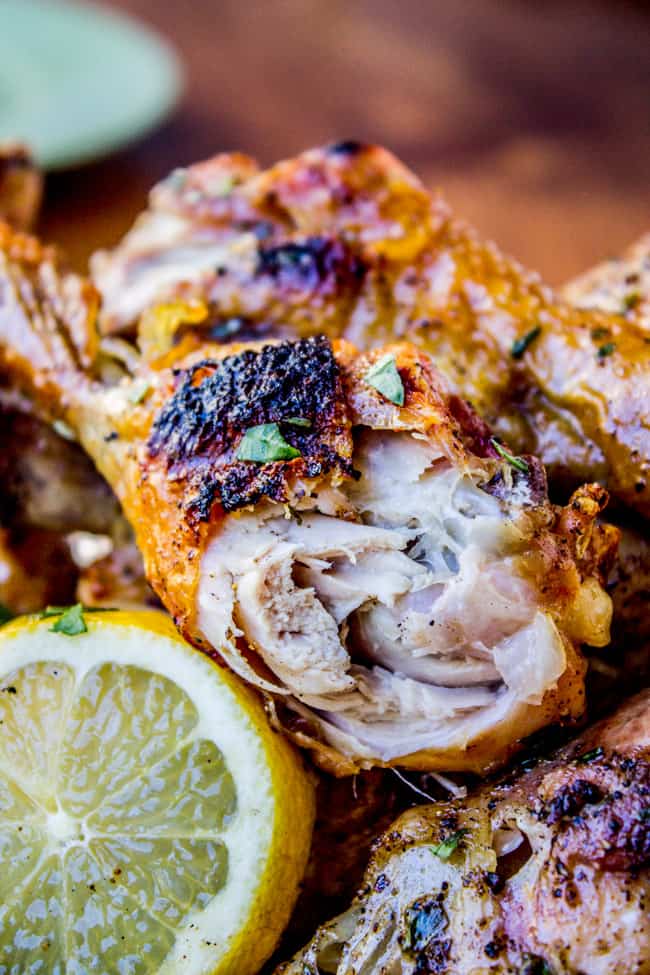 It is officially summertime around here, which means that my oven is officially off-duty. I mean, not really, because cookies don't just bake themselves. But there are no baked casseroles going on over here these days, that's for sure.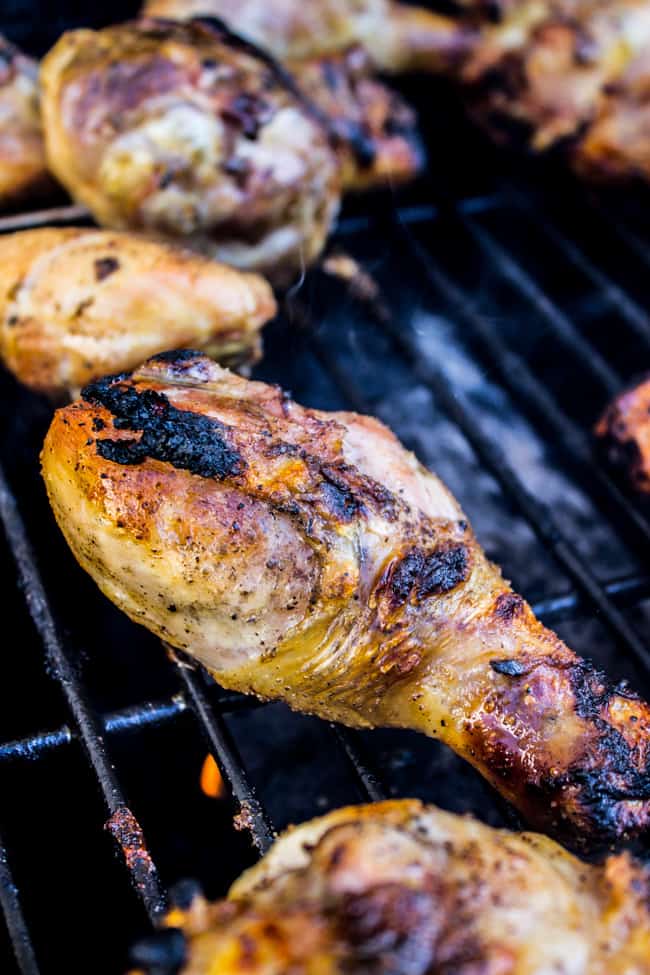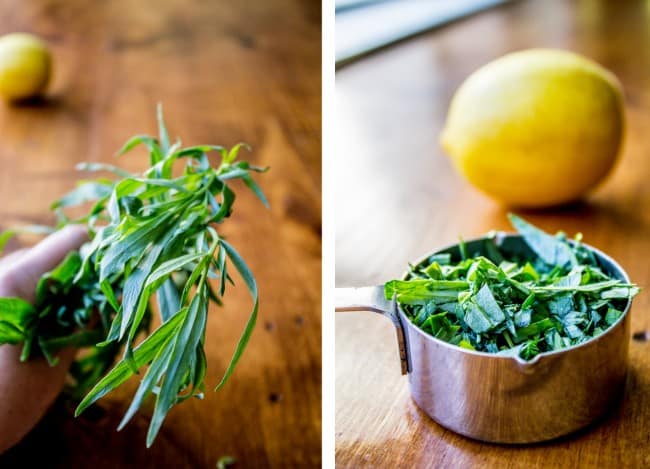 Instead we are eating grilled chicken day and night. Like this Lemon Tarragon Grilled Chicken. Have you ever had fresh tarragon? It's not an herb I reach for all that often, but it goes phenomenally with lemon in this recipe. (The other dish I love tarragon in is this Lemon Tarragon Pasta Salad. It's my favorite pasta salad, ever!)
It you are dubious you could sub another herb I suppose, like basil. But I promise it's amazing. Just like Harry Potter. But don't take my word for it.
Let me know if you try out the recipe!
Facebook | Pinterest | Instagram | Twitter
Lemon Tarragon Grilled Chicken
Summer is here and it's officially don't-turn-on-the-oven season. Easy and fast grilled chicken is the way to go! Try this recipe that's jazzed up with lemon and tarragon, it's sooooo good. Feeds a crowd!
Ingredients
12

chicken drumsticks

,

4-5 pounds

6

chicken thighs

,

bone in (about 5 pounds)

2

tablespoons

salt

,

to season the chicken

2

teaspoon

pepper

,

to season the chicken
For the sauce:
1/4

cup

fresh lemon juice

,

1 large lemon

1/4

cup

fresh tarragon

,

finely chopped

2

cloves

garlic

,

finely minced

1 & 1/2

teaspoons

salt

1/2

teaspoon

pepper

1/3

cup

olive oil

fresh lemons

,

to garnish
Instructions
Set all the burners on your grill to high heat. Use paper towels to pat the drumsticks and chicken thighs dry. Use a sharp knife to remove any extra fat. Sprinkle with lots of salt and pepper on all sides.

Turn off one burner and grease the rack above it. Arrange the drumsticks on the rack that is over the turned-off side (you are grilling them over indirect heat). Grill for 20 minutes. Flip each drumstick, then grill for another 20 minutes or until a meat thermometer reaches 165 degrees F. If you would like to char the outside of the drumsticks, turn the burner directly underneath the chicken on to high heat and grill until nicely browned, flipping once.

Meanwhile, in a large bowl combine lemon juice, tarragon, garlic, salt and pepper. Add the olive oil in a thin stream while whisking constantly to make sure it emulsifies. When the chicken is done add it to the bowl with the sauce and turn to coat. Cover with foil and keep warm.

Repeat the process for the chicken thighs. High heat, then turn off one burner. Grease the rack above the turned off side and then put the chicken thighs on. Grill for about 15 minutes per side or until they reach 165 degrees F. Turn the burner on to high heat for the last couple minutes to get a nice char.

Add the thighs to the bowl with the sauce and turn to coat. Serve hot.
Notes
This recipe was originally posted by me on I Heart Naptime. I was a contributor for Jamielyn's blog last year, but I figure you guys want the recipes too!
Nutrition
Serving:
1
g
,
Calories:
535
kcal
,
Carbohydrates:
2
g
,
Protein:
39
g
,
Fat:
41
g
,
Saturated Fat:
10
g
,
Polyunsaturated Fat:
8
g
,
Monounsaturated Fat:
20
g
,
Trans Fat:
1
g
,
Cholesterol:
218
mg
,
Sodium:
2380
mg
,
Potassium:
549
mg
,
Fiber:
1
g
,
Sugar:
1
g
,
Vitamin A:
221
IU
,
Vitamin C:
4
mg
,
Calcium:
44
mg
,
Iron:
2
mg
More grilled chicken! So you never have to turn your oven on again!
Balsamic Grilled Chicken with Spicy Honey Bacon Glaze: << this is an old Pioneer Woman recipe that I can't find on her site anymore. I'm so glad I saved it! It's killer!!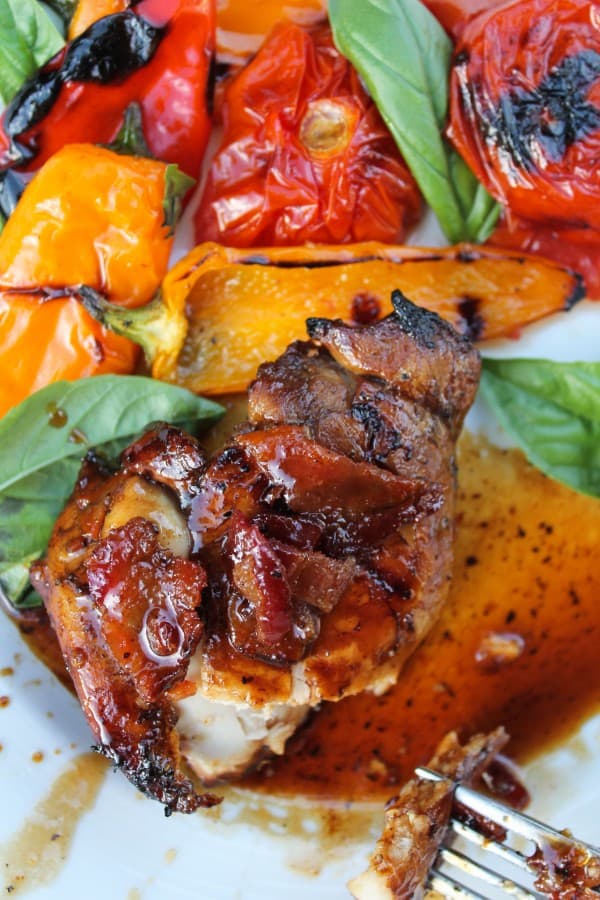 Slow-Grilled Mustard Chicken << I just made this again the other night. It is a staple around here! It's so easy and so delicious!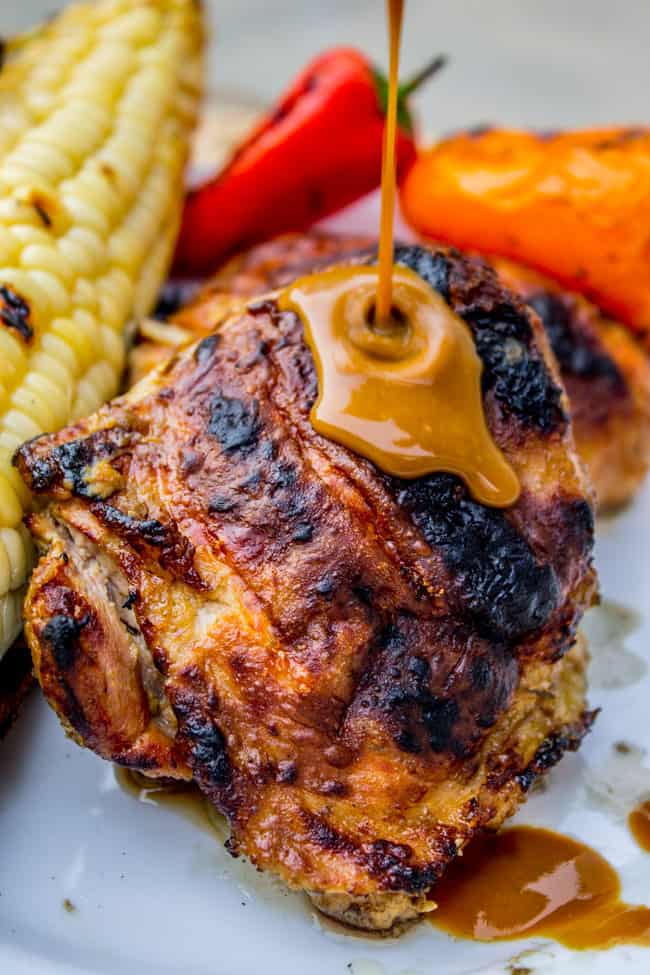 Blackberry Balsamic Glazed Chicken: << Readers have told me that they have subbed other fruit in this recipe. Try it out!
More grill recipes from great bloggers!
The Best Grilled Chicken Recipe with Spice Rub from Joyful Healthy Eats
Cilantro Lime Grilled Chicken w/ Mango Avocado from Chelsea's Messy Apron
Grilled Chicken with Pesto Corn Salsa from Lemon Tree Dwelling
*Here's the quote:
Hermione, talking about Cho: "Well, obviously, she's feeling very sad, because of Cedric dying. Then I expect she's feeling confused because she liked Cedric and now she likes Harry, and she can't work out who she likes best. Then she'll be feeling guilty, thinking it's an insult to Cedric's memory to be kissing Harry at all, and she'll be worrying about what everyone else might say about her if she starts going out with Harry. And she probably can't work out what her feelings towards Harry are anyway, because he was the one who was with Cedric when Cedric died, so that's all very mixed up and painful. Oh, and she's afraid she's going to be thrown off the Ravenclaw Quidditch team because she's flying so badly."
A slightly stunned silence greeted the end of this speech, then Ron said, "One person can't feel all that at once, they'd explode."
We are a participant in the Amazon Services LLC Associates Program, an affiliate advertising program designed to provide a means for us to earn fees by linking to Amazon.com and affiliated sites.