Rhubarb Shortbread Bars are a dream come true! A thick and buttery shortbread crust, topped with a layer of simple rhubarb filling, then sprinkled with even more glorious shortbread crumble. There is a secret ingredient in this recipe that makes these rhubarb bars bright ruby red, and it's not food coloring. It works like a charm! Originally posted May 20, 2020.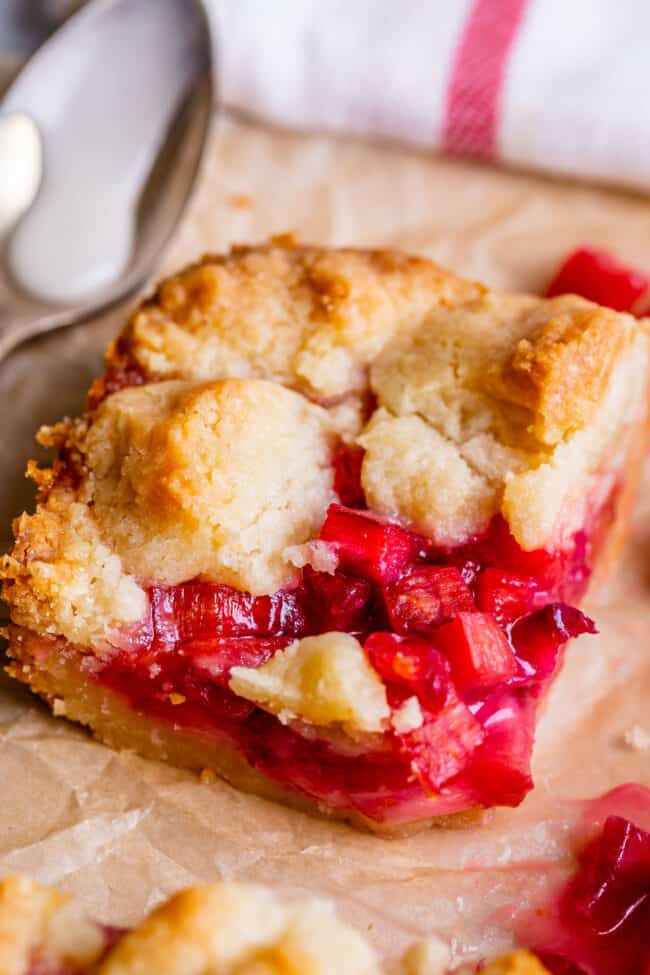 Charlotte is sitting next to me at the table doing her math homework. She was in the middle of a larger problem, talking out loud to herself and said, "13 minus 8 is…" and before she figured it out I volunteered, "Five." She was completely flabbergasted. "REALLY??" Yes, really. Then I saw her discreetly count it out to make sure. "Huh. You're right," she said.
I don't get no respect around here. Since we started this whole "distance learning" business, Charlotte has figured out that I am not the adult in the house to come to when there is a math problem to be solved. Now apparently she thinks I don't even know how to subtract. I may not be a rocket scientist but SHEESH Charlotte!! Give your old mom a break!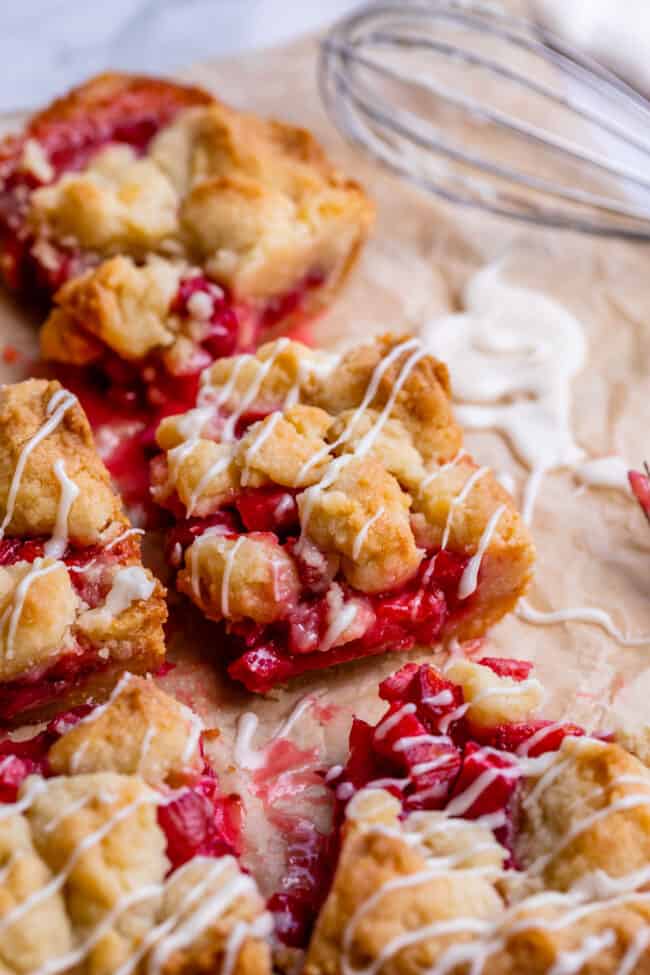 Rhubarb + Shortbread Pastry
In other news, it's rhubarb season!!! If this is not triple-exclamation-point worthy info for you, then you are missing out. Eric's parents are in town for a visit, and I just asked them if they have any old family jokes about rhubarb that I could talk about here on the blog. Kris, my mother-in-law said, "I don't know Karen, rhubarb is a subject we don't joke about in our family. We take rhubarb pretty seriously around here."
Ha! We mean business when it comes to rhubarb. Before marrying into Eric's family, I had never even heard of it, and now I'm duly obsessed just like everyone else. Eric's dad just told me that when he was a kid he and his buddies would steal rhubarb stalks from the neighbor's yard and eat them raw. No thank you! I like my rhubarb with sugar, in a pie preferably! Or these rhubarb shortbread bars!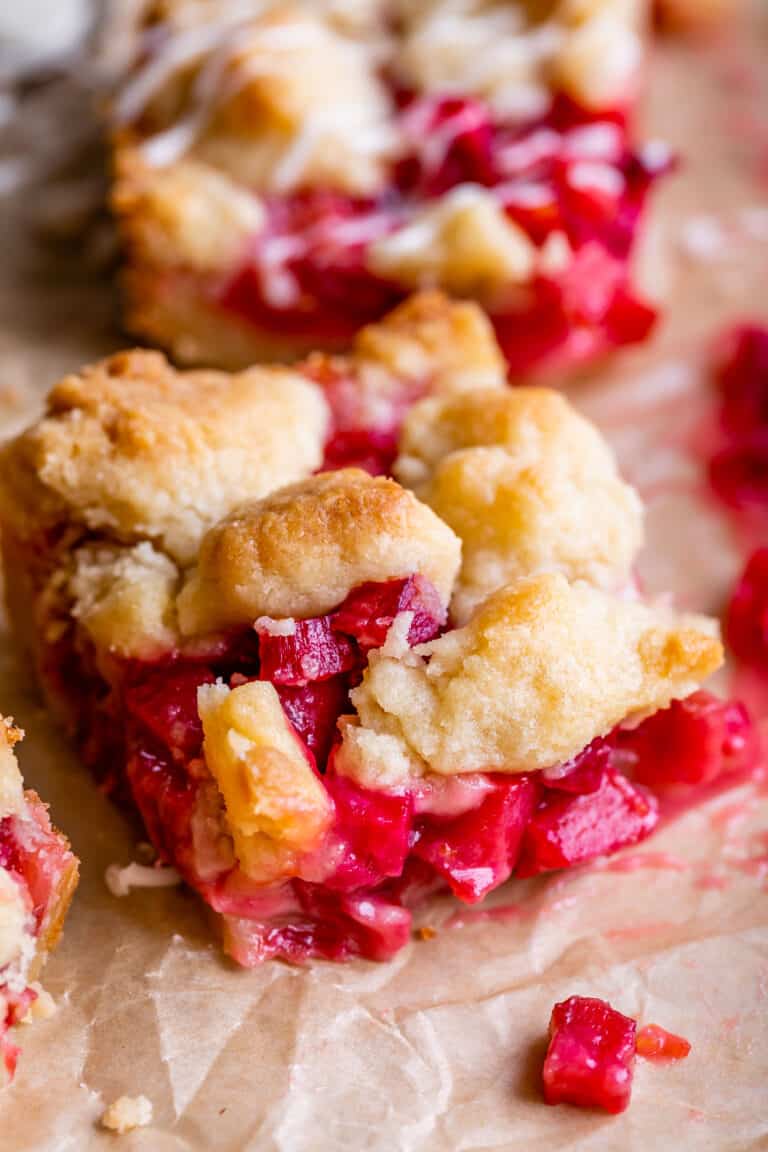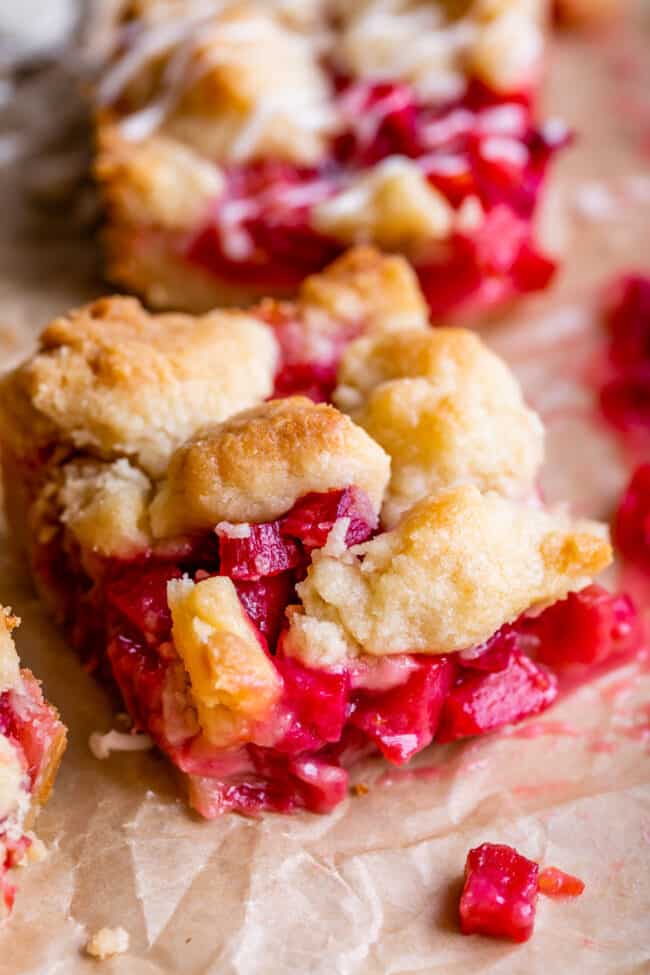 Kris has been making her Grandmother Prudy's Rhubarb Dream Bars for years and years, and I will get around to posting them someday (they are very similar to these Rhubarb Meringue Layers, just without the meringue), but with this crop of rhubarb I wanted to try out some simple shortbread bars. I've been obsessed with shortbread bars lately; see evidence in the Cherry version, apple version, cranberry version… there is just something amazing about fresh fruit and buttery sugary shortbread. It's my favorite!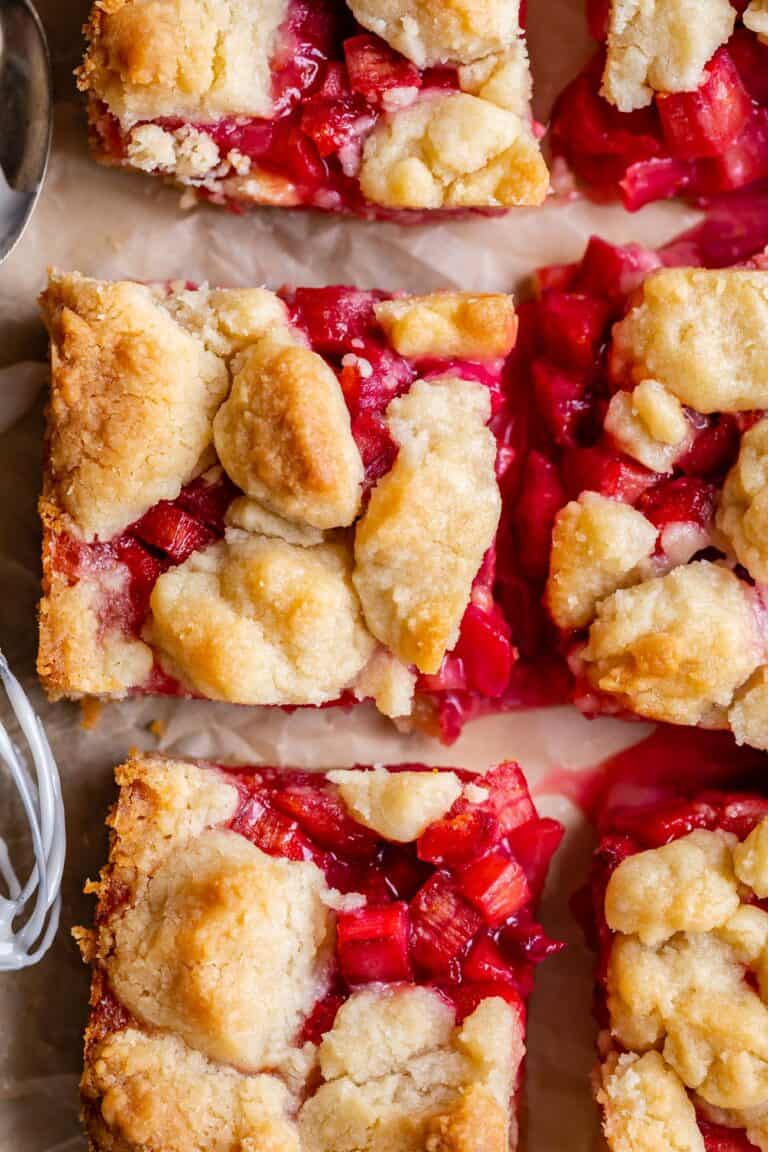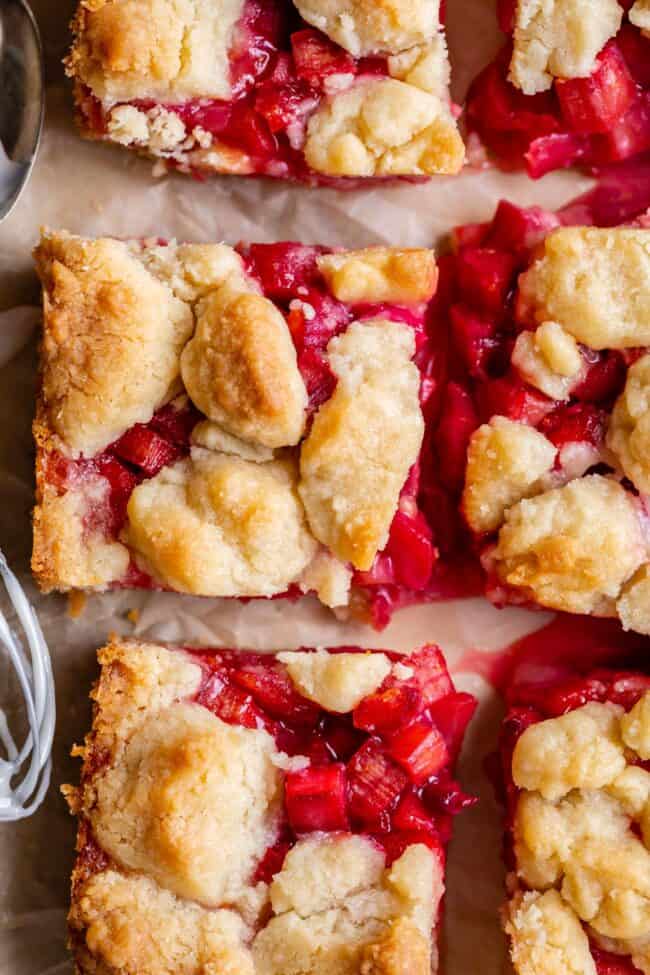 Rhubarb Bars Recipe
The reason I love shortbread bars so much is because they are not too sweet. Shortbread compliments the natural tartness of the rhubarb so well. Sure there is some sugar in there, but we are not topping our rhubarb bars with a crumble made primarily from sugar; instead it's extra buttery crust going on top. Just like a pie!! I should have called these Rhubarb Pie Bars! Let's dive in a bit on Shortbread. This stuff is gold:
Shortbread Pastry: everything you need to know!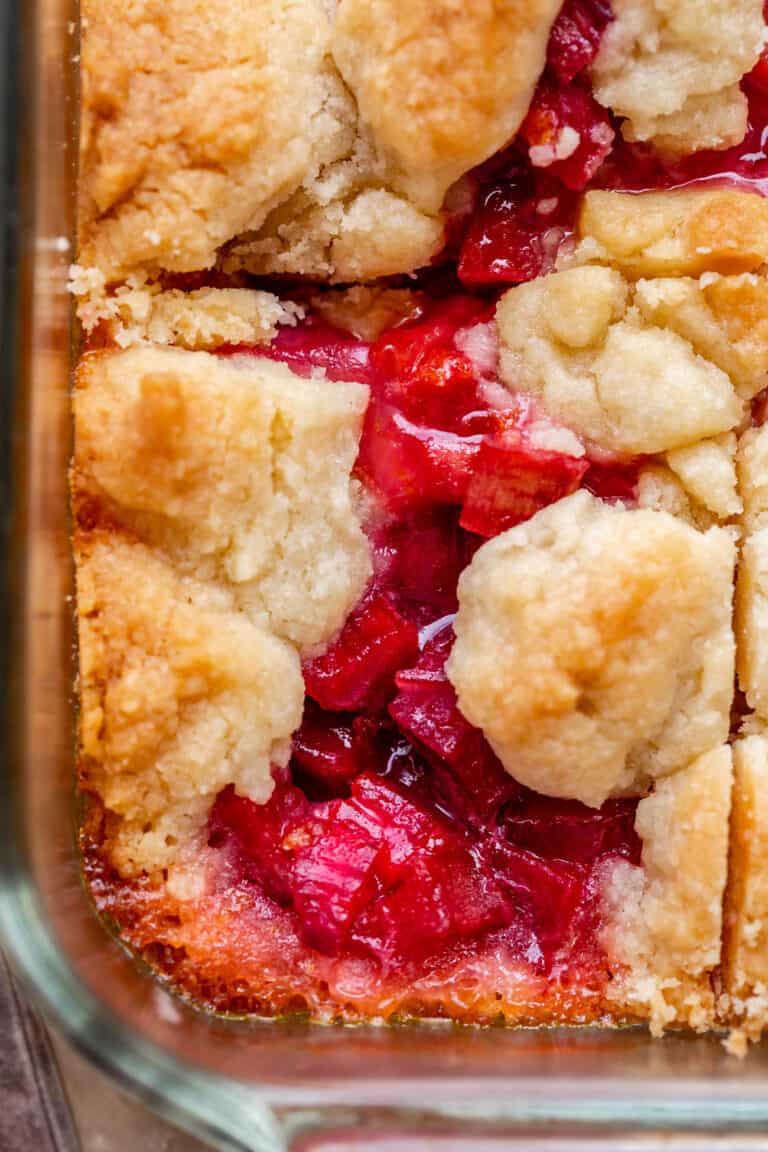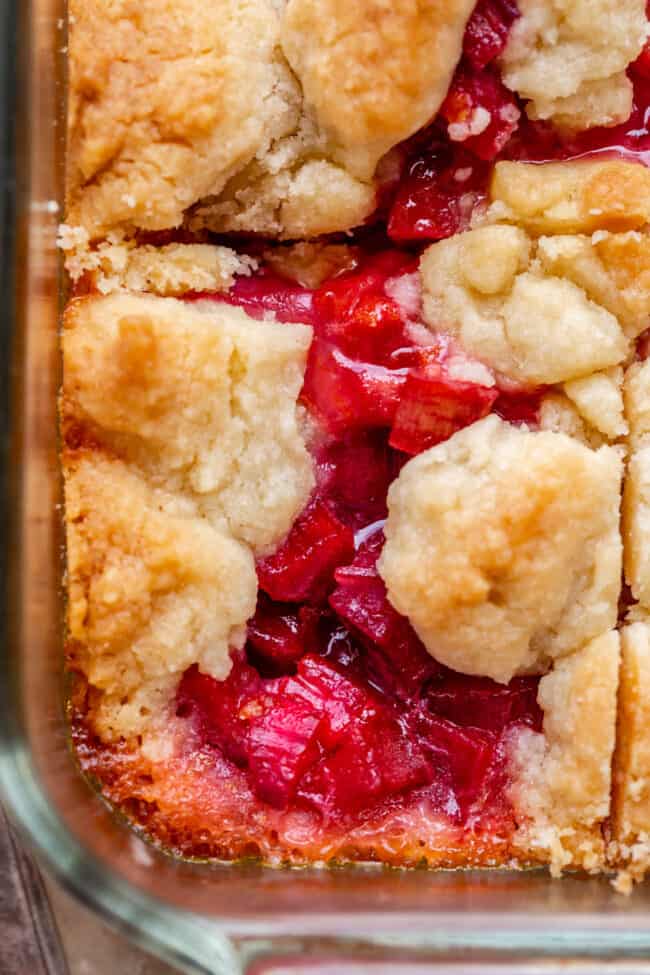 Shortbread Crust Recipe Ingredients
Here are all the ingredients you're going to need for this glorious crust:
Butter (lots!!)
Granulated sugar
Vanilla
All-purpose flour
Kosher salt
Back to the basics, yo. This stuff is so simple and so good.
What is shortbread texture?
Shortbread has the word short in it because there's no rise time and therefore no waiting. With less time (and more butter!) the long gluten proteins that hold bread together can't form, making a delicious, crumbly texture.
What's the difference between shortcrust pastry and pie crust?
Not much! It has the same ingredients, only when making shortbread you add much more sugar and you don't roll it out. Instead we are pressing it into a pan to make perfectly square hand-held pie bars!
How to Make Shortbread Crust
It's so easy! Be sure to check out the recipe below for more details and tips!
Beat the butter in your mixer.
Add sugar and beat again.
Add vanilla and beat well.
Add flour and salt, mixing only until the mixture has come together and formed a ball. If you over mix, it will become tough!
Bake it up and set aside to cool.


Making Rhubarb Dessert Bars with Shortbread Crust
Now that we've got our crust all done, it's time to make the filling. These rhubarb bars are suuuper easy to put together!


Start by chopping up your rhubarb. I like to slice the rhubarb lengthwise and then chop it.
How to prepare rhubarb so that it's bright red for Rhubarb Bars
And here's where the magic happens.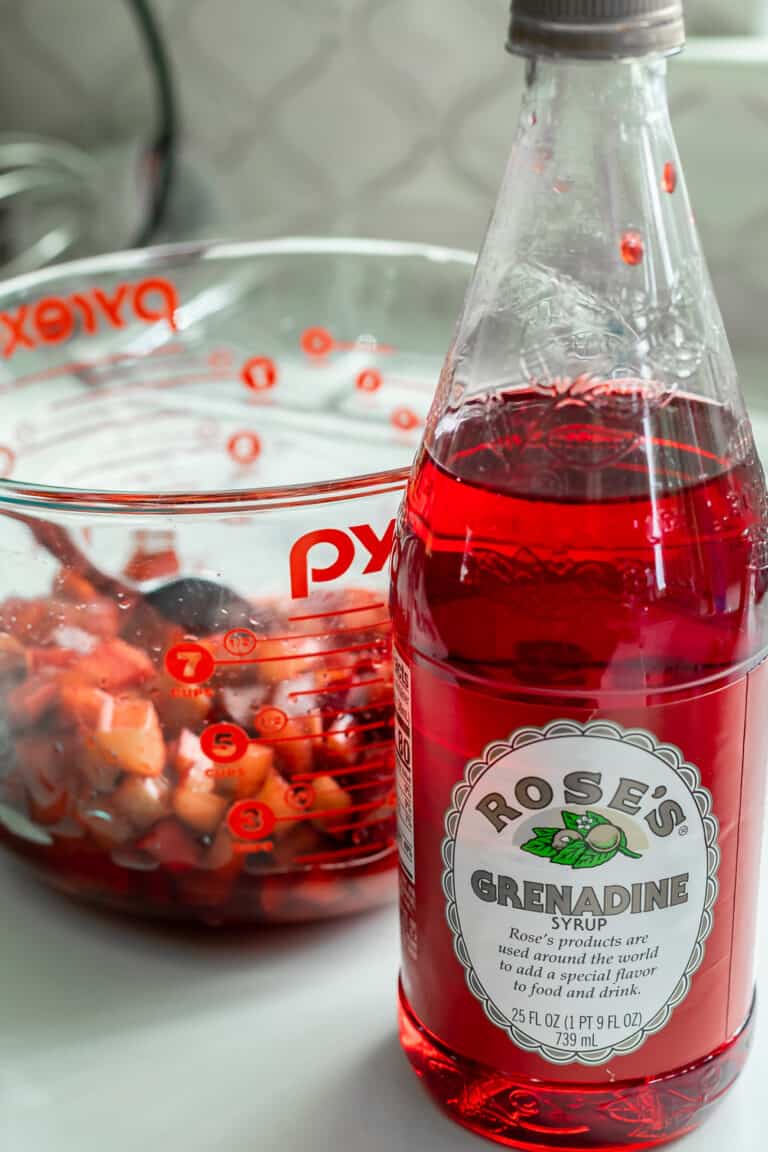 Ta-da! Grenadine syrup! This is a super easy hack for getting your rhubarb to bake up bright red instead of that ugly green-brown color it can turn to in the oven. It makes it so pretty! We are soaking the rhubarb in grenadine for an hour or two, then draining.
If you don't have grenadine or can't find it (it was at my local store on the liquor aisle, next to the vodka) you can skip this step. Add a couple extra tablespoons of sugar to the rhubarb filling and you will be good to go.
Look at this bright red rhubarb! No strawberries necessary. I have nothing against strawberries, but I just love rhubarb all by itself and don't want to have to depend on strawberries for consistent color. Why is rhubarb such a weird color?? It is like the only dessert fruit I can think of that bakes ugly. Grenadine and rhubarb for the win!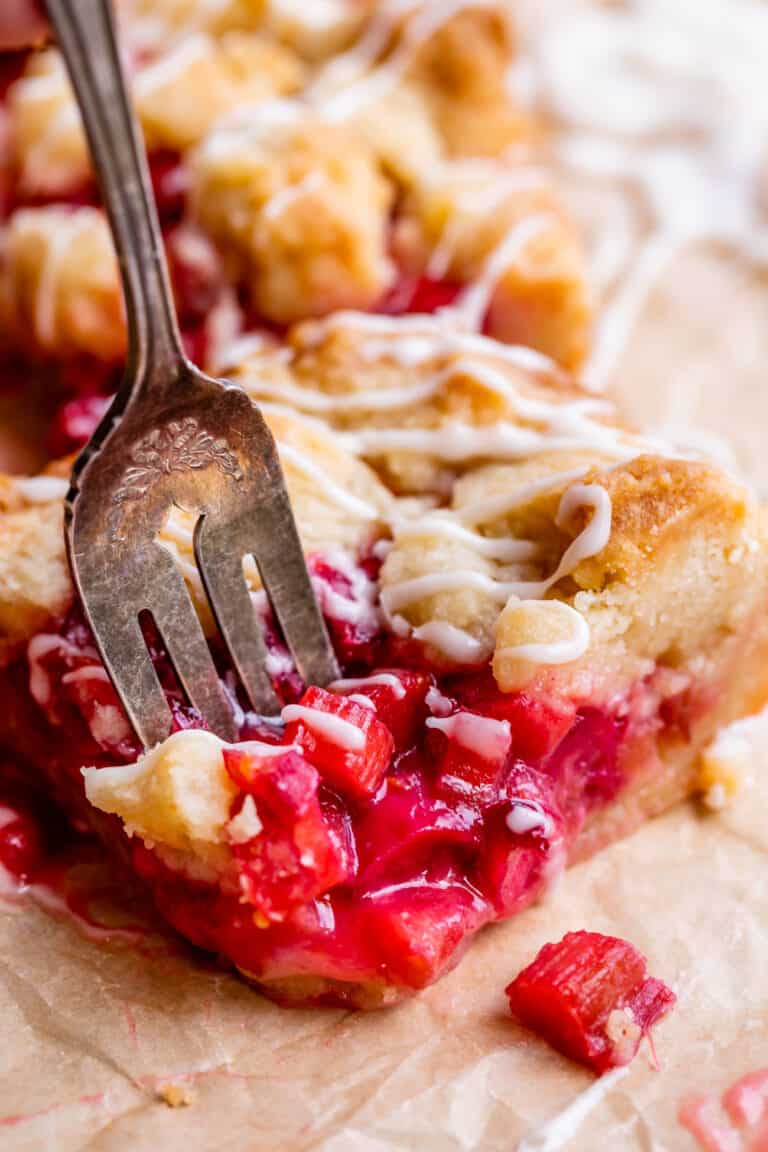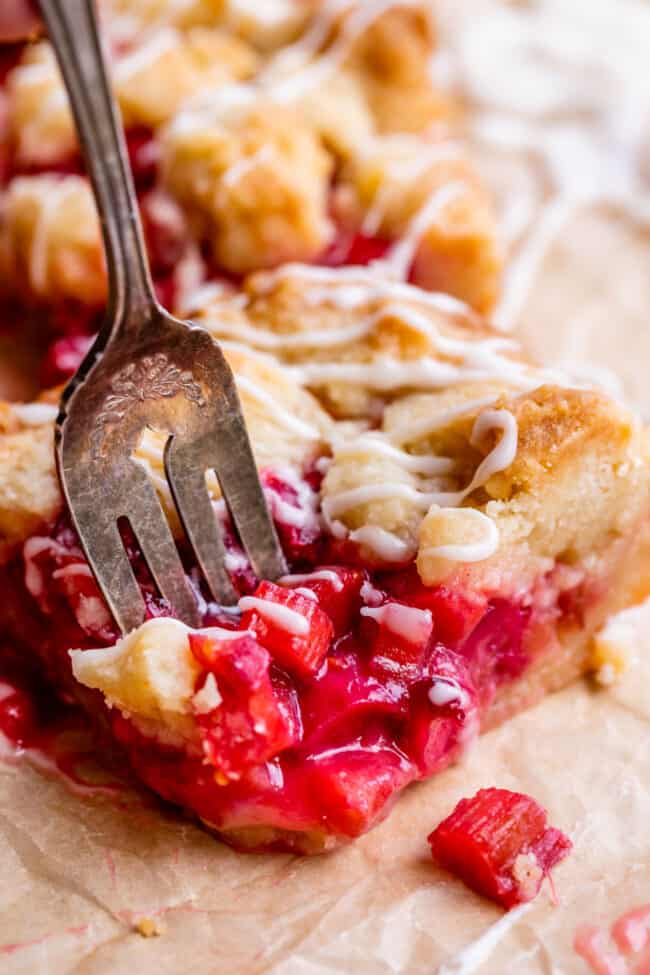 Now for some FAQ!
Why is my shortbread crust so hard?
Some bakers have commented that their shortbread crust ends up too hard. No thank you! Here are some tips.
Do not add too much flour. It's very important to measure precisely when it comes to shortbread. Too much flour and your crust will end up dry, or won't even come together. Spoon the flour into your measuring cup, then level the top off with a knife.
Once you add in the flour, do not over mix the dough. This will start to create gluten in your dough, which is great for bread that you want to be nice and sturdy, but terrible for shortbread. We want it to be light, tender, and flaky. Once all the white streaks of flour are gone, stop mixing.
Don't over bake! You will cook all the moistness from your butter right out of your shortbread if you bake it too long.
Chill the dough for a few minutes, 20-30 minutes is best. Cold dough going into a hot oven makes for very tender shortbread.
How do I make my shortbread crust less crumbly?
A little crumble is what we're going for, but if you need to take it down a notch, try adding a tablespoon less butter. And make sure you spoon and level your flour so you aren't accidentally adding too much.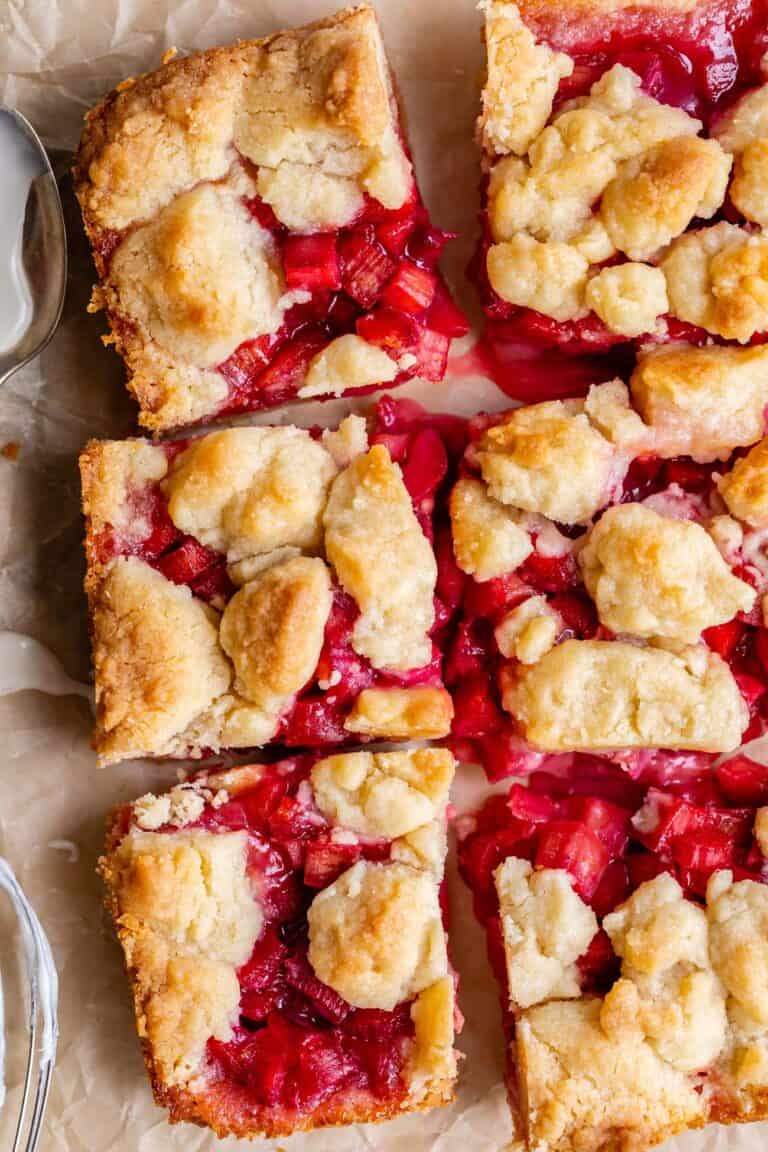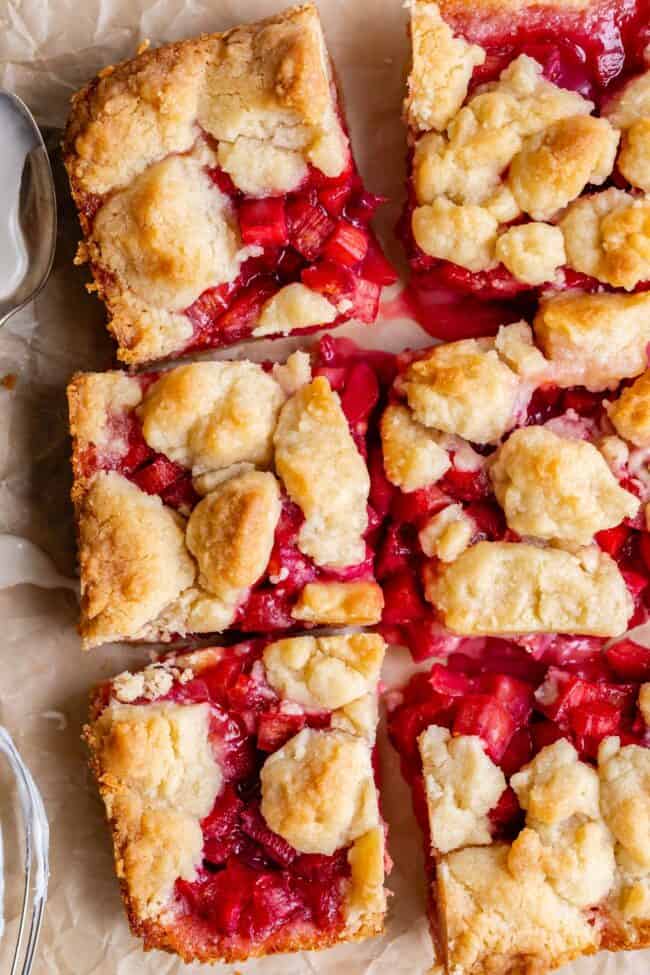 How to store and freeze rhubarb shortbread bars
I like to store Rhubarb bars on the counter, covered with a lid or plastic wrap. After 1-2 days, transfer it to the fridge, where it will last another 5-7 days. (how could it last so long?? I basically eat nothing else until these are gone 😂)
These bars freeze really well. Once cool, seal in an airtight container or in a ziplock and stick em in the freezer. They will last for 3-4 months. Let cool in the sealed container either in the fridge or on the counter.
More rhubarb recipes you are going to love!
More shortbread bar recipes you are going to die for!
I'm a little obsessed with shortbread bars you guys. They are just the best! I will make a version of shortbread bars with every single fruit in existence someday before I die. There, bucket list item, proclaimed!!
Facebook | Pinterest | Instagram

Rhubarb Bars with Shortbread Crust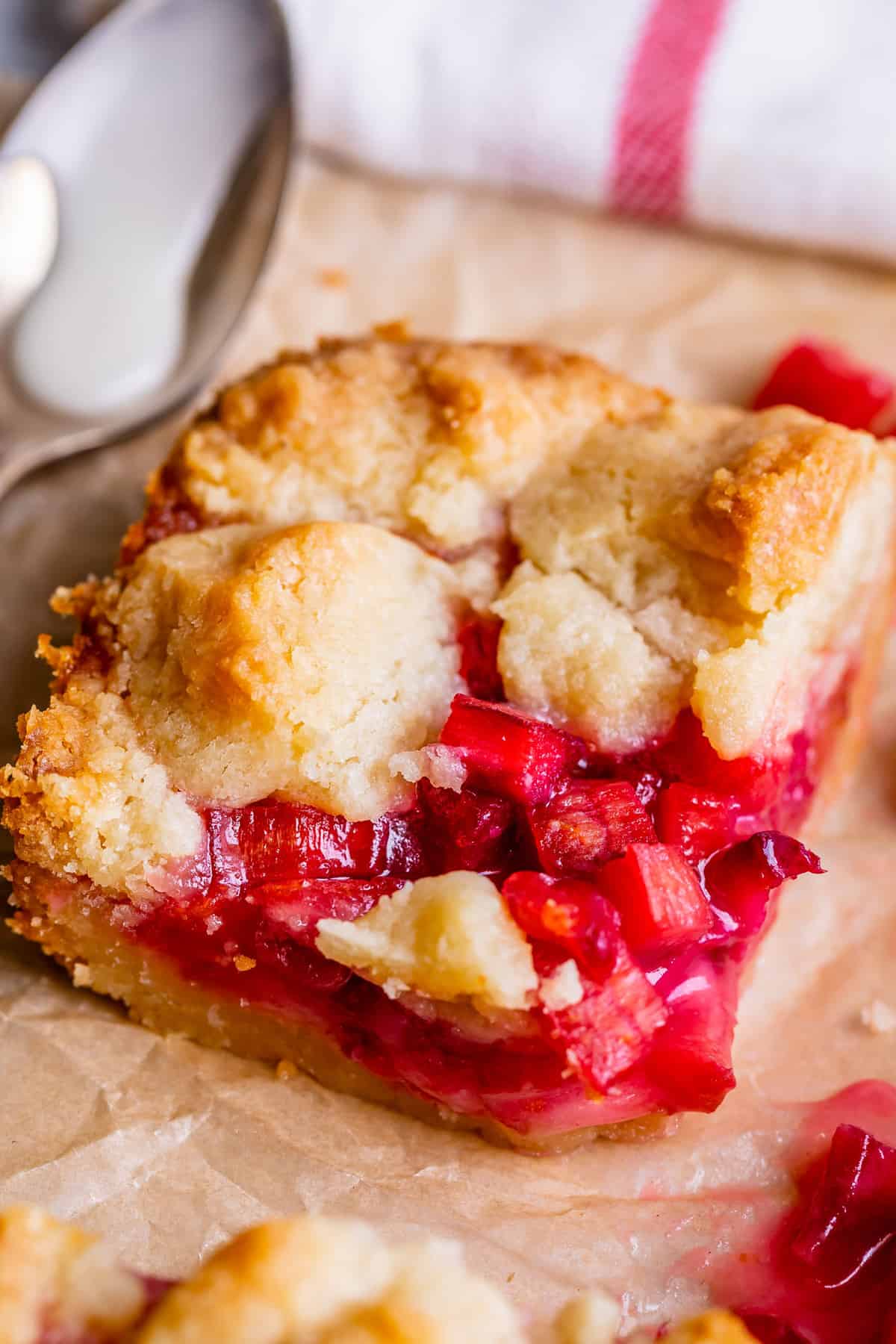 Rhubarb Shortbread Bars are a dream come true! A thick and buttery shortbread crust, topped with a layer of simple rhubarb filling, and topped with even more glorious shortbread. There is a secret ingredient in this recipe that makes these rhubarb bars bright ruby red, and it's not food coloring. It works like a charm!
Ingredients
For the crust/topping
1

cup

butter

,

softened (2 sticks)

3/4

cup

granulated sugar

1 & 1/2

teaspoons

vanilla

2

cups

all-purpose flour

,

spooned and leveled

3/4

teaspoon

kosher salt
For the rhubarb filling
3

cups

rhubarb

,

chopped (about 5 stalks)

1/2

cup

grenadine syrup

,

to be drained eventually*

3/4

cup

sugar

1/4

cup

all purpose flour

1

tablespoon

lemon juice

,

optional

1

teaspoon

lemon zest

,

optional
For the glaze
1

cup

powdered sugar

2-3

teaspoons

milk

,

more or less to taste

1/2

teaspoon

vanilla

pinch

salt
Instructions
Begin by prepping the rhubarb: chop the rhubarb into bite size pieces. I like to split each stalk at least in half lengthwise (if not thirds) so that you don't get any huge chunks. After slicing, chop into 1/2 to 1 inch pieces.

Add all the rhubarb to a bowl, along with 1/2 cup

grenadine syrup

. Stir it all together so that the rhubarb is coated. Let sit for 1-2 hours on the counter stirring occasionally, or even overnight (put it in the fridge, covered, if you go overnight.) This is to get the rhubarb a nice bright red color. It is not a necessary step but it sure is pretty!* When you are ready to make the rhubarb bars, drain the rhubarb in a colander.

While the rhubarb soaks, prepare the shortbread crust. Preheat the oven to 375 degrees F.

In a large bowl or stand mixer, add 1 cup (2 sticks) softened butter. Beat until smooth and creamy, making sure to scrape the sides and bottom of the bowl.

Add 3/4 cup granulated sugar and beat again for at least 1-2 minutes, stopping to scrape the sides and bottom, until the mixture is light and fluffy.

Add 1 and 1/2 teaspoons vanilla extract and beat.

Add 2 cups of flour, spooned and leveled, and 3/4 teaspoon kosher salt.

Beat in the flour and salt until the mixture has come together and has formed a ball. Scrape sides as necessary. Do not over mix; beat just until the flour is combined and then no more (otherwise your shortbread will be tough).

Divide the dough into two, one with a little more than half the dough. (Cover the smaller piece of dough and put it in the fridge.)

Press a little more than half of the dough into the prepared square pan. Getting your hands a little damp can be helpful. I like to leave the edges raised a half inch or so, so that you have a bit of crust on the edge pieces, but pressing it all flat will work too. If you have time, chill the dough for a few minutes, 10-20 minutes is best. Cold dough going into a hot oven makes for very tender shortbread.

Bake the crust at 375 for about 15 minutes, or until light brown on the edges. My shortbread puffed up in the middle even though I had made a raised crust, so I gently pressed the center back down with the back of a spoon, when it was very hot from the oven still.

Set the crust aside and let cool for a few minutes.

Leave the oven on but lower the temperature to 350 degrees F.

Meanwhile, prepare the rhubarb filling:

drain the rhubarb

in a colander

or strainer. Add your red rhubarb to a medium bowl.

Stir in 3/4 cup sugar (add a couple extra tablespoons if you skipped the grenadine soak*).

Add 1/4 cup all purpose flour and stir.

At this point you can add 1 tablespoon lemon juice and

1 teaspoon zest

, but it is optional. It brightens up the flavor of the rhubarb, but you can definitely taste the lemon. Feel free to add just the juice and skip the zest for a milder hint of lemon. If you are a rhubarb purist, skip the lemon entirely.

Pour the rhubarb filling over the baked crust.

Use you fingers to break off medium pieces of shortbread from your stash in the fridge. Check the photos to see the size we're talking. I like big ol chunks. You don't have to cover the rhubarb entirely.

Bake the rhubarb bars in the oven at 350 for about 45-50 minutes. The bars are done when the shortbread on top is golden in several spots across the top. A fork should also slide easily into a piece of rhubarb; it should be completely tender.

Let the bars cool completely. I stuck mine in the freezer to speed this up.

If you would like to top with a vanilla glaze, in a medium bowl combine 1 cup powdered sugar with 2 teaspoons milk, 1/2 teaspoon vanilla, and a pinch of salt. Whisk until smooth. Drizzle over the top of the cooled bars and let the glaze set up for 20-30 minutes before slicing and serving.
Notes
*If you don't soak the rhubarb in grenadine (the recipe will still work fine), add 2 extra tablespoons sugar to the rhubarb filling (3/4 cup plus 2 tablespoons.)
Nutrition
Serving:
1
g
|
Calories:
535
kcal
|
Carbohydrates:
85
g
|
Protein:
4
g
|
Fat:
21
g
|
Saturated Fat:
13
g
|
Polyunsaturated Fat:
1
g
|
Monounsaturated Fat:
5
g
|
Trans Fat:
1
g
|
Cholesterol:
54
mg
|
Sodium:
386
mg
|
Potassium:
167
mg
|
Fiber:
2
g
|
Sugar:
55
g
|
Vitamin A:
674
IU
|
Vitamin C:
4
mg
|
Calcium:
49
mg
|
Iron:
2
mg