No Bake Salted Caramel Cheesecake with Caramelized Bananas
This easy no bake salted caramel cheesecake has such amazing flavor! Caramelized bananas, hello. The almond crust lends great texture and means that this dessert is gluten free!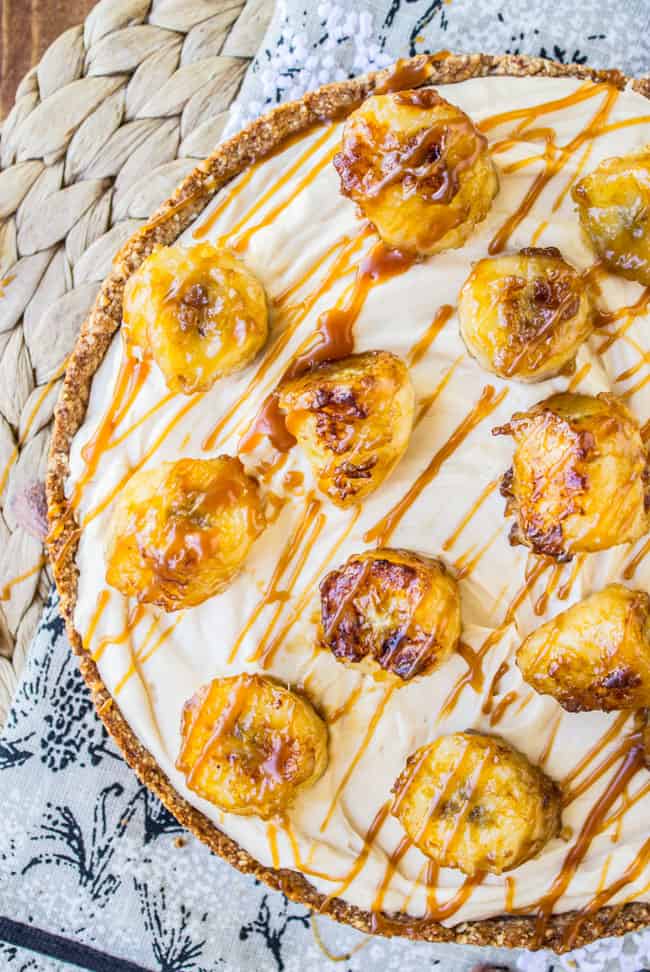 Originally posted August 27, 2015
Last Sunday I was sitting in church when I felt something tickle my arm. I paused for a moment and congratulated myself for not immediately freaking out and swiping away whatever creepy crawly my brain immediately fabricated.
My hair has been long for a while now. It's gotten to the point that when I wear it down, I notice it all the time on my arms. And since I maybe kinda have arachnophobia, I'm always checking, just to make sure that it's not a spider this time.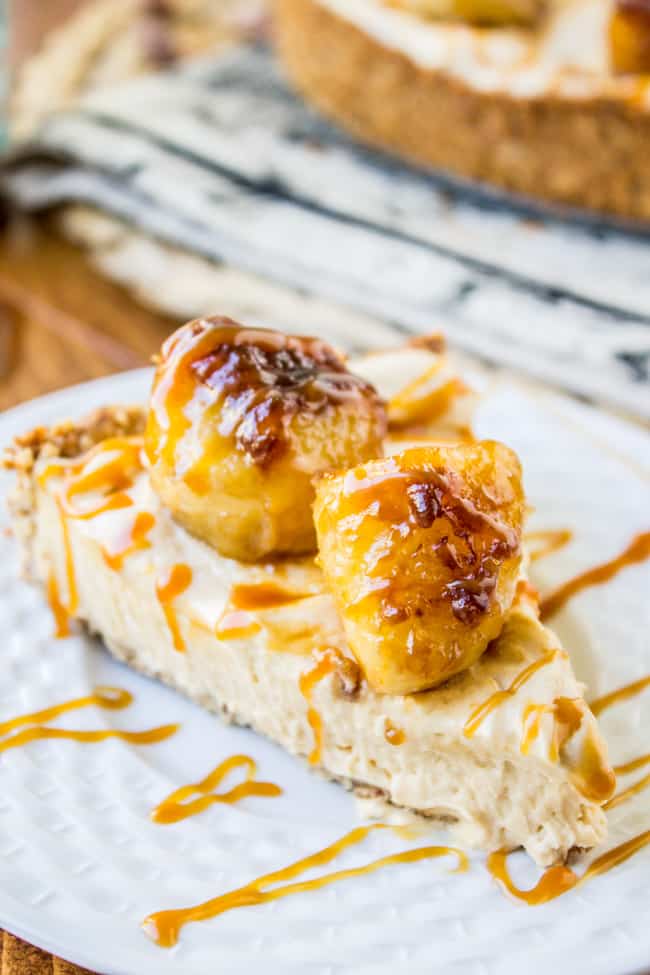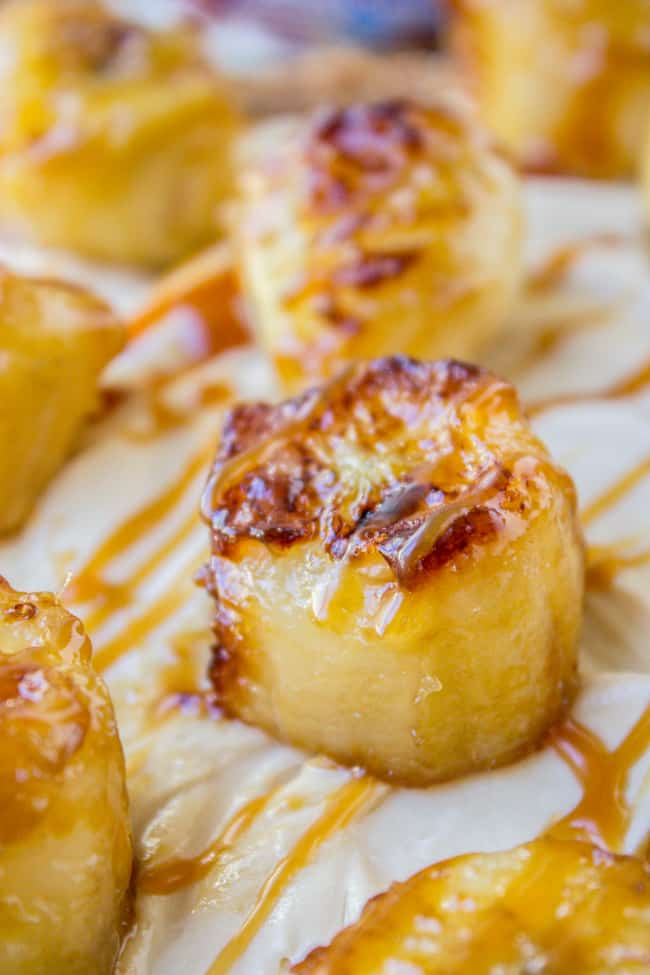 WELL GUESS WHAT. Apparently I was lulled into a false sense of security, because that day in church when I managed to control the girly swiping I looked down at my arm and THERE WAS A SPIDER. Just hangin out. Right there on my arm. GAH!
Rest assured that I will be flipping out at every brush of hair from now on. Let the girly swiping ensue.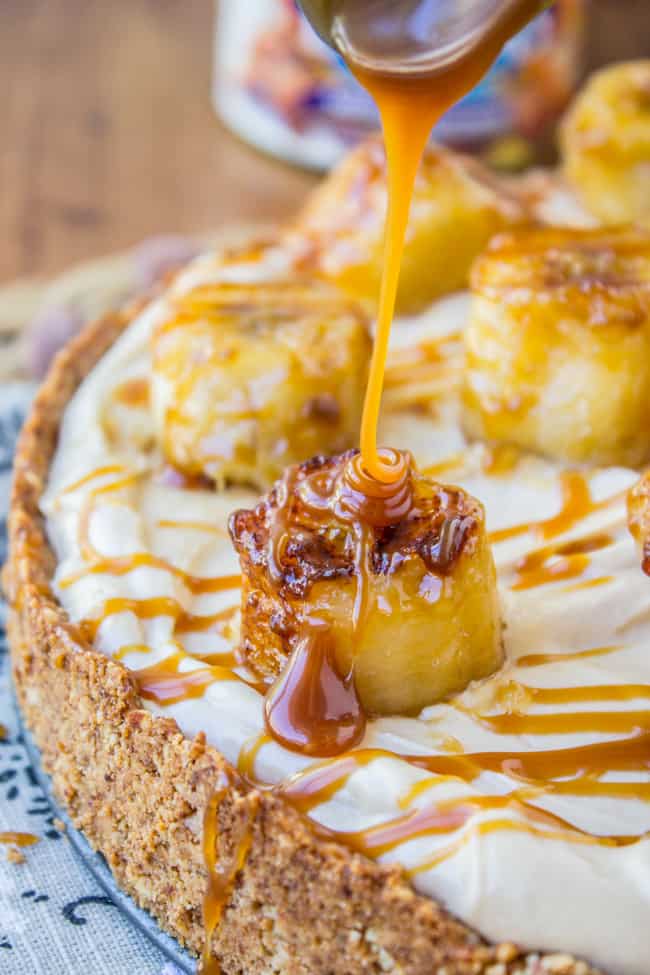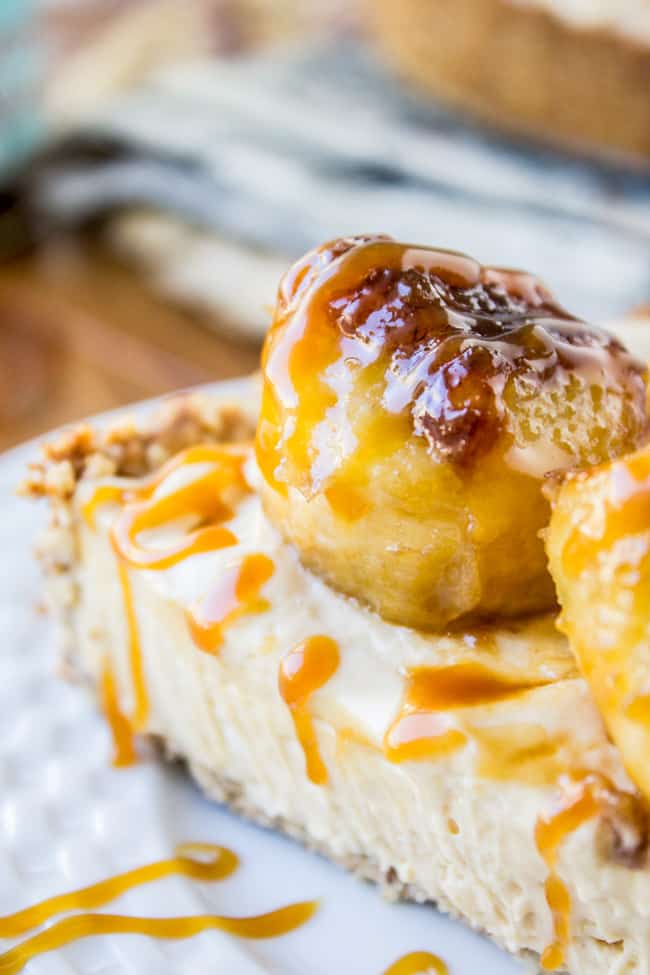 How to make Salted Caramel Cheesecake with Caramelized Bananas
Recipe time! You ready for this? Today I'm that super annoying food blogger with an over the top recipe title like No-Bake Salted Caramel Cheesecake with Caramelized Bananas. That's right, I said caramel, TWICE. Go ahead, get all your hate out. I don't even care. I'm just going to pretend I can't hear you and keep eating this delicious slice of heaven.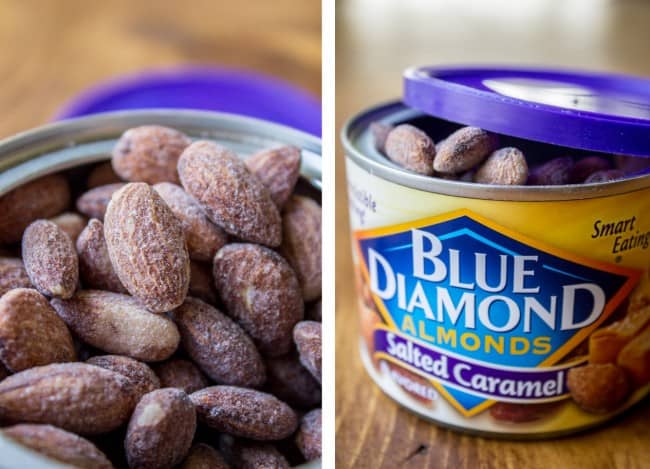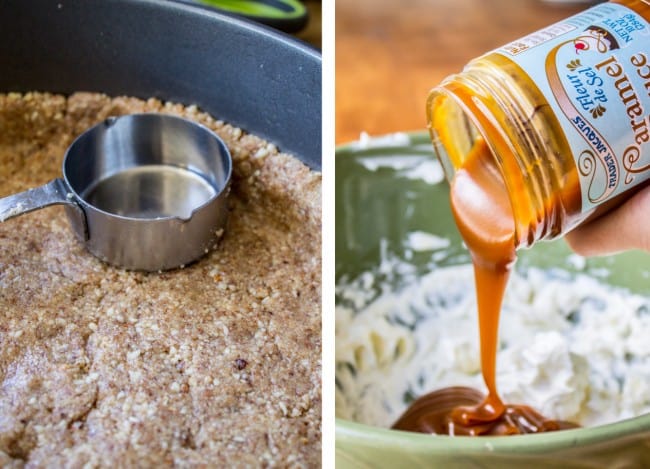 Did I mention the Salted Caramel Almond crust? I'm lucky I even made it to the crust part, because I was popping these almonds like candy. You will need to buy 2 cans for the recipe. DO IT. They are amazing!
Facebook | Pinterest | Instagram | Twitter
One year ago: 10 Minute Sautéed Zucchini and Squash Side Dish
Two years ago: Nana's Fall-Off-The-Bone Ribs and "Barb"-ecue Sauce
Three years ago: Cauliflower Rice Skillet with Zucchini and Kielbasa


print
Did you make this recipe?
Leave a review »
No Bake Salted Caramel Cheesecake with Caramelized Bananas
Serves 8-12
adjust servings
Ingredients
For the crust
For the cheesecake
For the bananas
Instructions
Preheat the oven to 350 degrees F.
Add the almonds to a food processor and pulse until ground (see photos).
Add the sugar and melted butter and pulse once or twice to combine. Don't let the food processor run or you will end up with almond butter.
Press the mixture into a 9-inch springform pan. Press the crust at least 1 inch up the sides of the pan. I like to use a measuring cup to press it evenly.
Bake at 350 for 10 minutes. Remove from the oven and immediately press the crust down again, as it will have puffed up while baking. Place in the freezer to cool.
Once the crust is not hot anymore, make the cheesecake filling. In a large bowl, beat the cream cheese until smooth. Add the jar of salted caramel and beat well.
In another bowl, beat the cream until soft peaks form, about 2-3 minutes. Beat in the powdered sugar and vanilla.
With a rubber spatula, stir about one-third of the whipped cream into cream cheese mixture, then fold in remainder. It should be fully incorporated, but try hard not to overwork it.
Scrape the mixture into the cooled crust and even out the top. Refrigerate until chilled, at least 2-3 hours.
Caramelize the bananas. In a large saucepan over medium-high heat, add the butter and brown sugar. Continually stir the sugar so that it doesn't scorch. Cook until the butter and sugar have melted together.
Add the bananas and cook for 1-2 minutes. You want the edges to caramelize and coat in the sugar but you don't want them to get too soft. Gently turn the bananas so that each side gets caramelized. Turn off the heat and remove to a plate to let cool. I stuck mine in the freezer to speed it up.
Once the cheesecake and the caramelized bananas are cold, arrange the bananas on top of the cheesecake. Drizzle with more salted caramel sauce. Enjoy!
by The Food Charlatan

If you make this recipe,
share it on Instagram
 using the hashtag
#TheFoodCharlatan
so I can see it!
MORE cheesecake please!
No Bake Dulce de Leche Cheesecake with Caramelized Peaches: (this is legit guys.)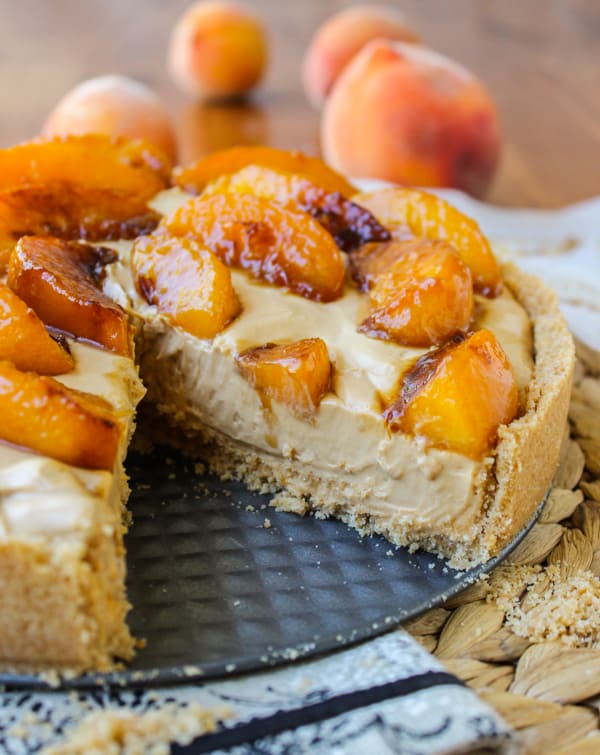 Maple Cheesecake with Roasted Pears: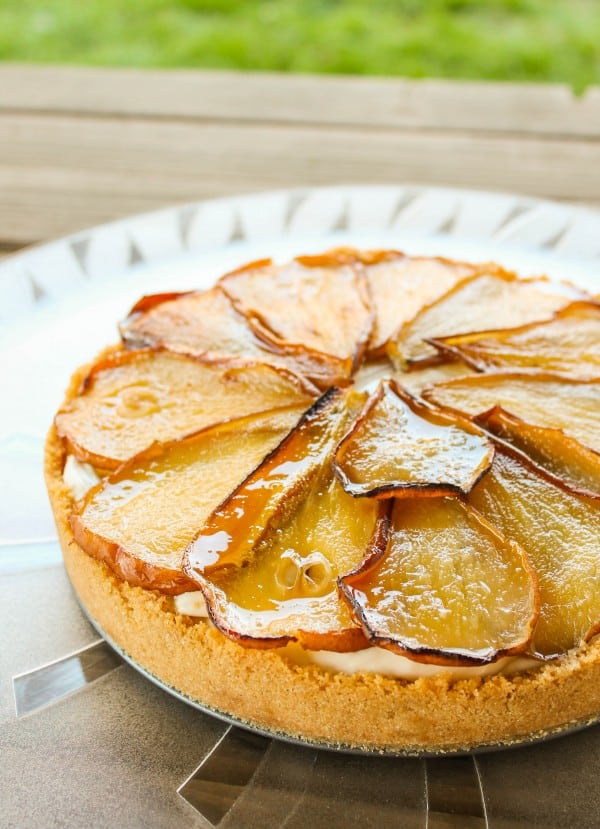 Blackberry Lemon Cheesecake Bars: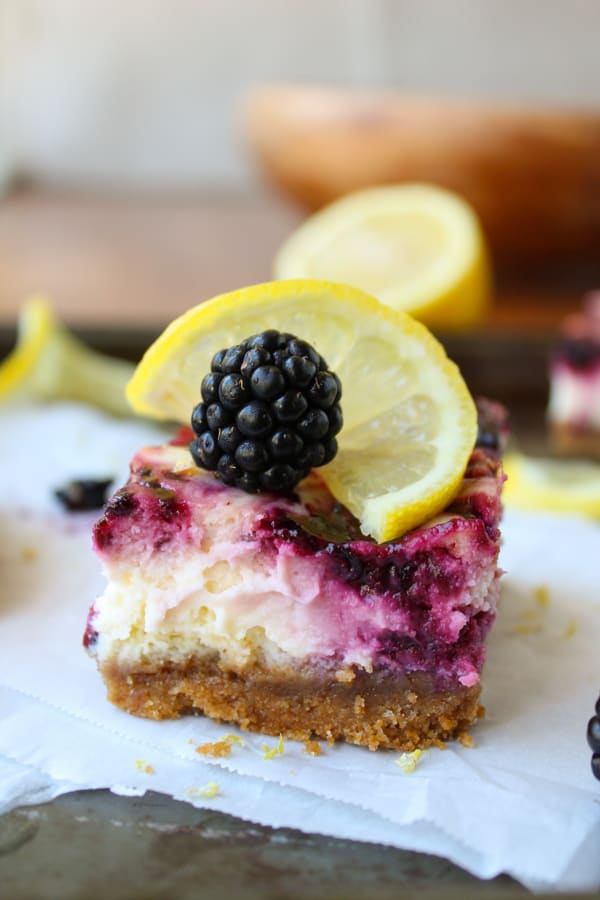 No Bake Cheesecake Parfait Bar: (This is the best dessert for parties and showers. THEE BEST.)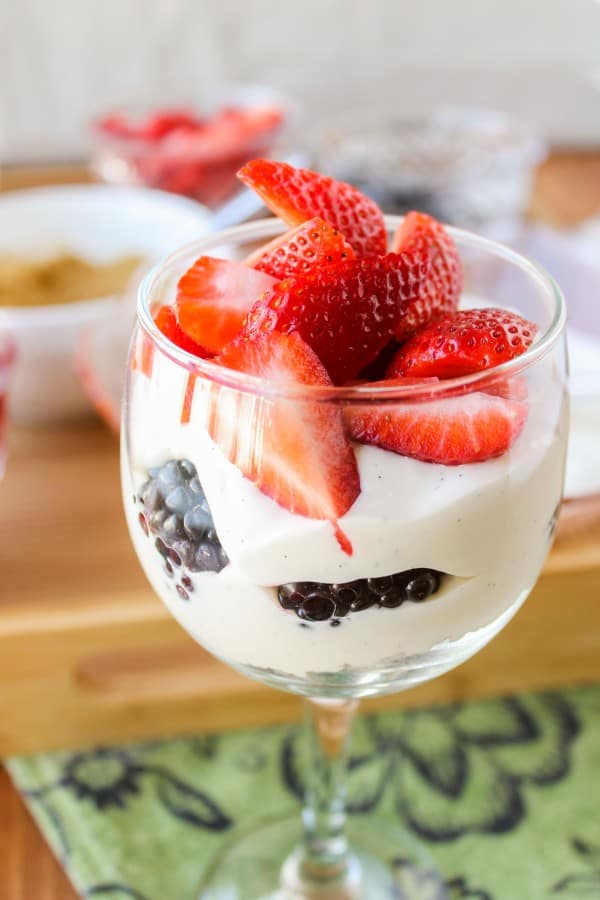 More salted caramel goodness from friends:
Pecan and Salted Caramel Cheesecake from Bake or Break
Salted Caramel Chocolate Cheesecake Cake from Shugary Sweets
Salted Caramel Oreo Ice Box Cake from Inside BruCrew Life
This post is sponsored by Blue Diamond Almonds. I love this brand so much! My grandpa used to grow almonds for them, so cool right? (You can read about it here.) Thanks for supporting the brands that keep The Food Charlatan up and running!
We are a participant in the Amazon Services LLC Associates Program, an affiliate advertising program designed to provide a means for us to earn fees by linking to Amazon.com and affiliated sites.