Apple Cobbler is Apple Crisp's more sophisticated, cooler cousin. Perfectly spiced apples are topped with a biscuity cake-like topping, made with buttermilk. It is tender and moist, with a perfect golden crunch on the top edge of the cobbler. There is no better way to use a fresh bushel of apples! (Adapted from my Apple Pie and Peach Cobbler recipes.) Originally published October 16, 2022.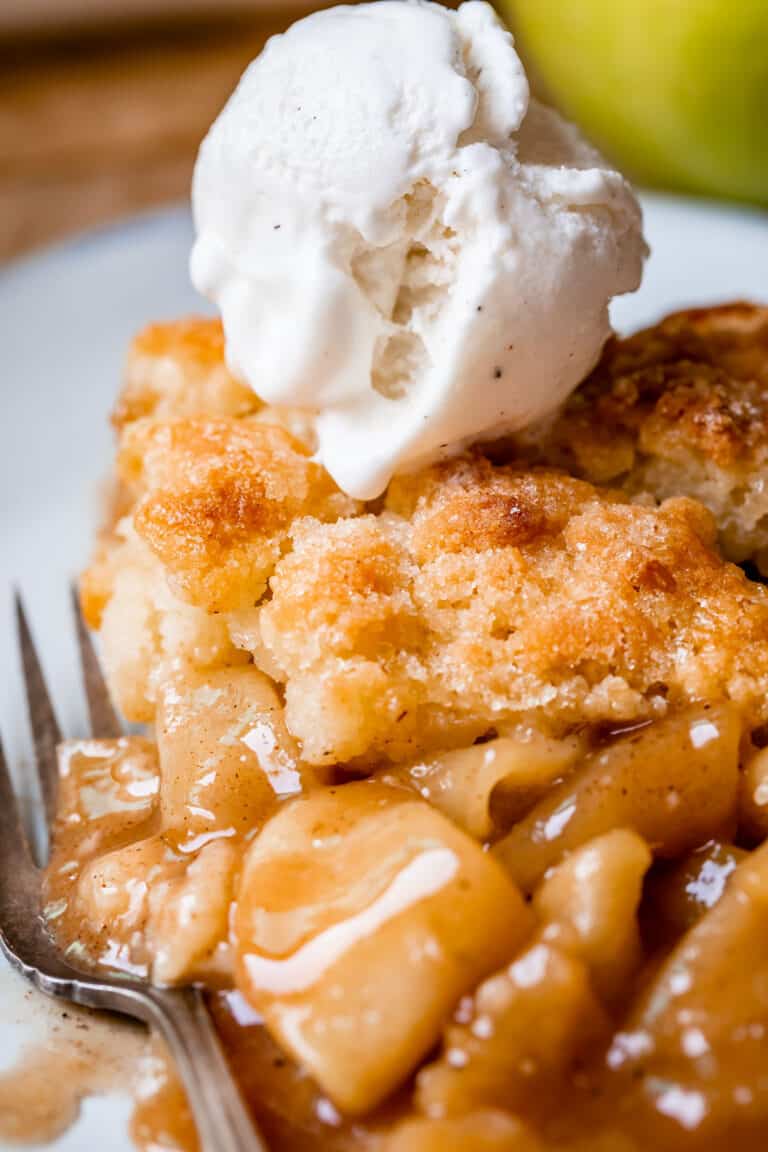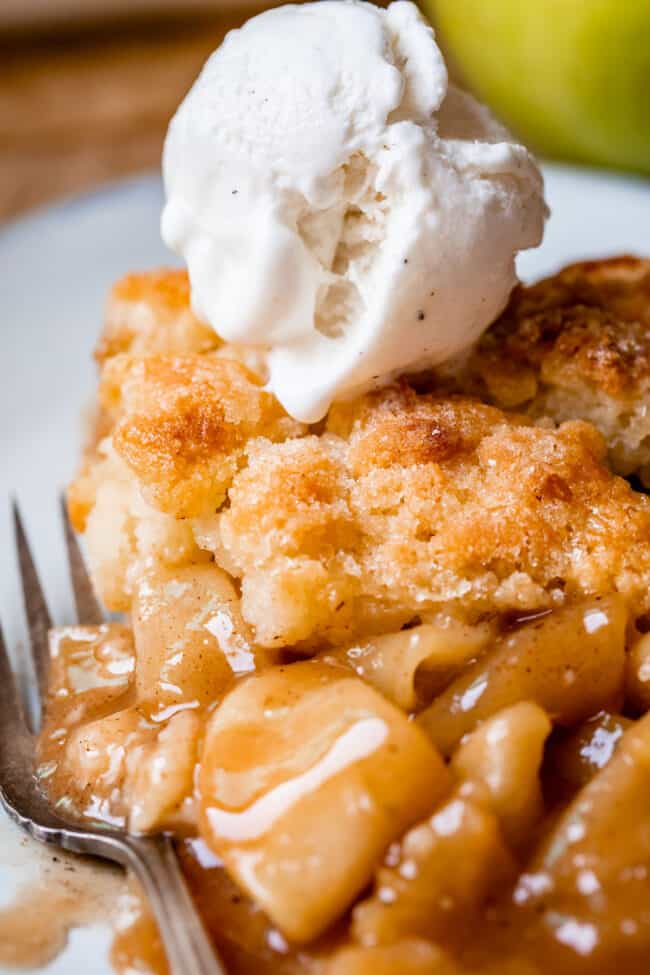 Table of Contents
I brought a glass of water upstairs today, and realized there were already 4 empty glasses on my desk. I never remember to take them back to the kitchen. Does anyone else do this??
I'm not as bad as my sister-in-law Reesy though. One time her roommate commented that they seemed to have lost many of their drinking glasses. Reesy went upstairs and realized she had FIFTEEN empty glasses scattered throughout her bedroom. Every day after work she would get a glass of water from the kitchen and take it up to her bedroom with her, always forgetting to bring it back downstairs.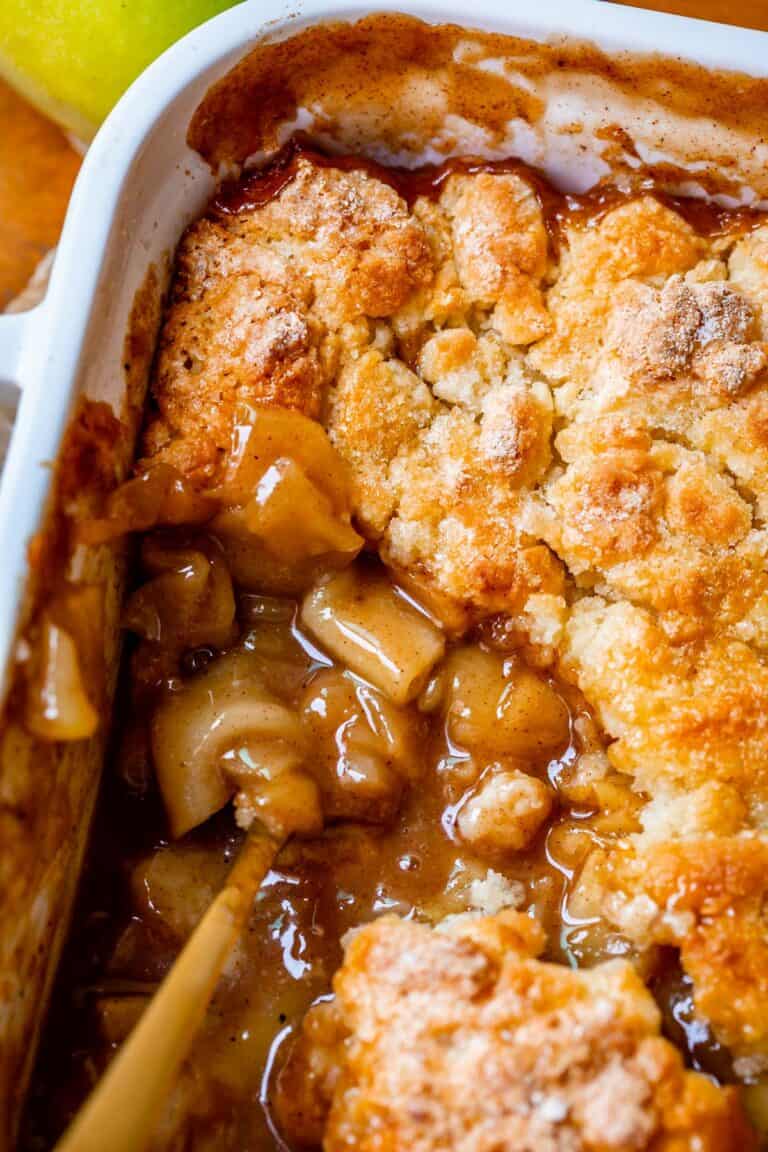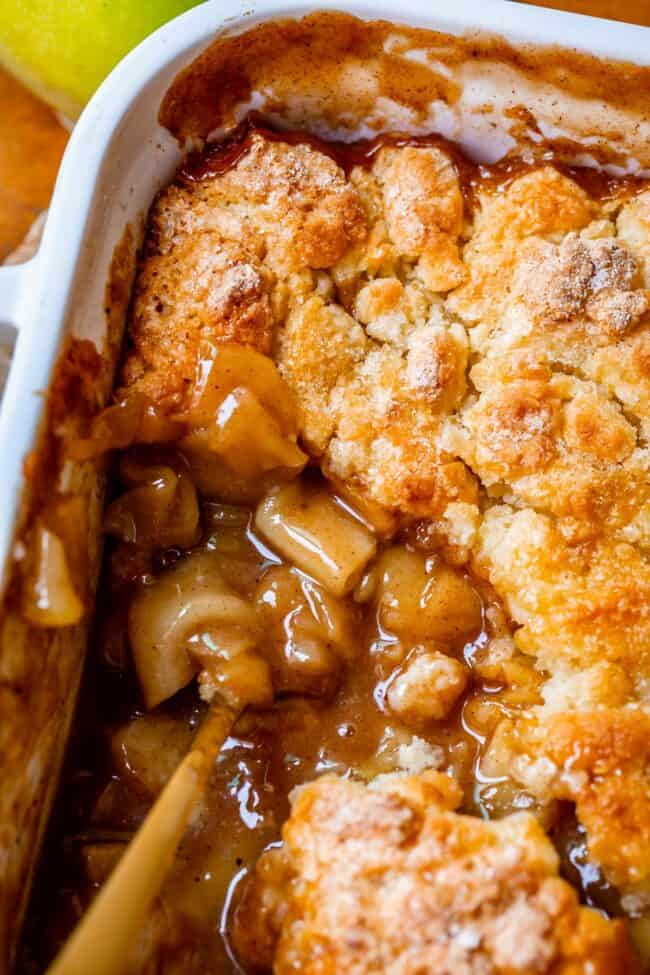 I'm sure none of you have this problem though. I'm sure you have some fancy-pants insulated water bottle that never leaves your side. It is outfitted in enough metal and tech that it could be sent to outer space. If you drop it on your foot, your toe will likely need to be amputated. Or at least your kids will learn all the swear words you've been keeping from them.
What is it with our society's obsession with hydration, anyway? Our elementary school is always sending out reminders about making sure no one forgets to bring their own personal water bottle.
I remember when I was a kid, I would drink from the fountain at recess. Maybe. I mean, if I was thirsty. I might conceivably go a whole school day without a single gulp of water. WHAT? This is practically child negligence!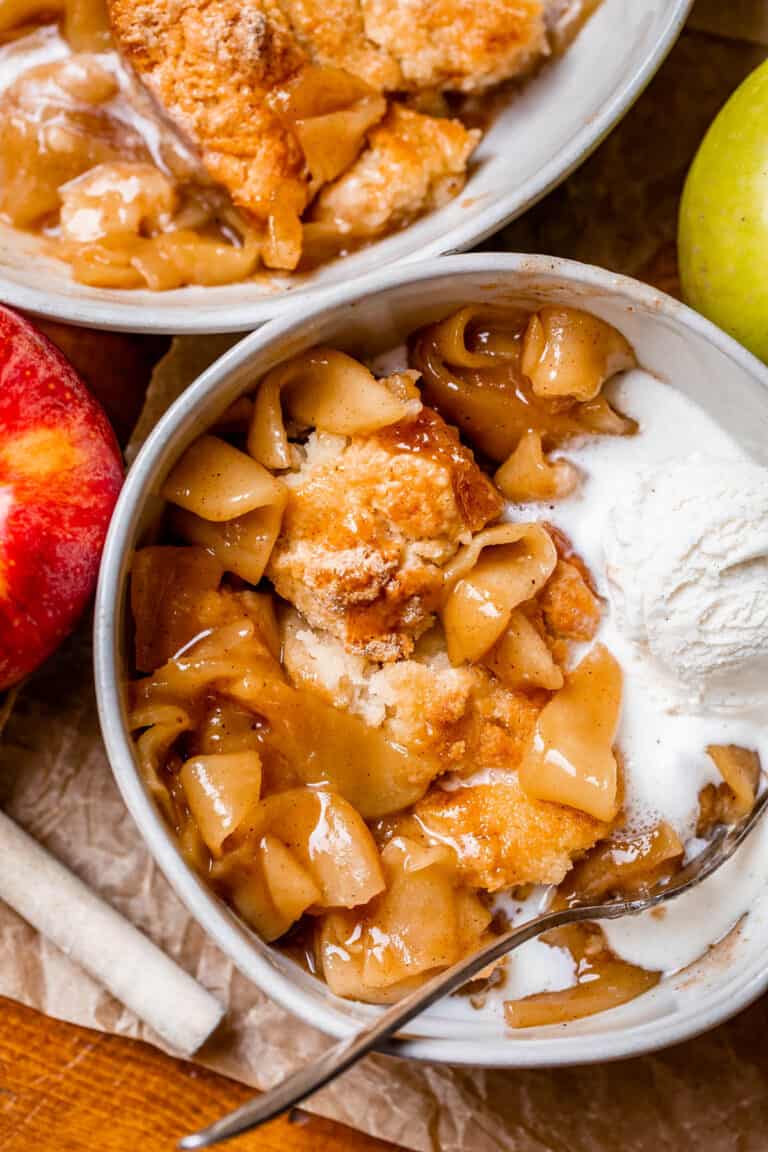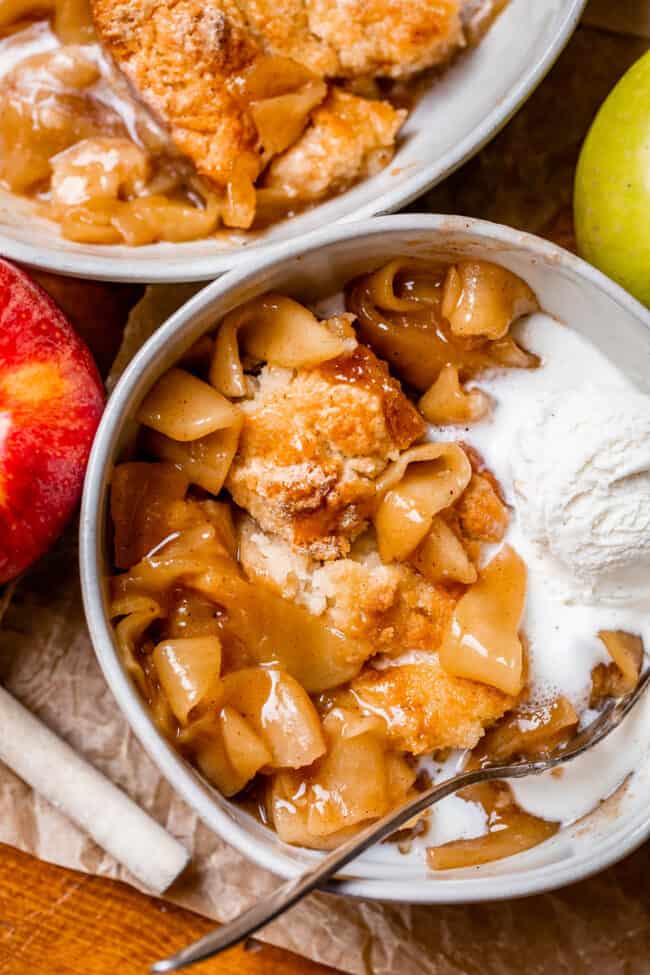 My son has a friend who carries not one, but two water bottles to school every day. I thought he just got REALLY thirsty. I asked his mom about it, and she told me that he actually brings them because when he has a water bottle in each pouch on the sides of his backpack, he feels like he's wearing a jet pack.
I can't argue with this level of dedication. Live your dreams, kid, rocket on. I feel like maybe I should try the jet-pack-water-bottle approach to life. If you can't beat em, join em. "I see you have a water bottle, there. YEAH, WELL I GOT TWO."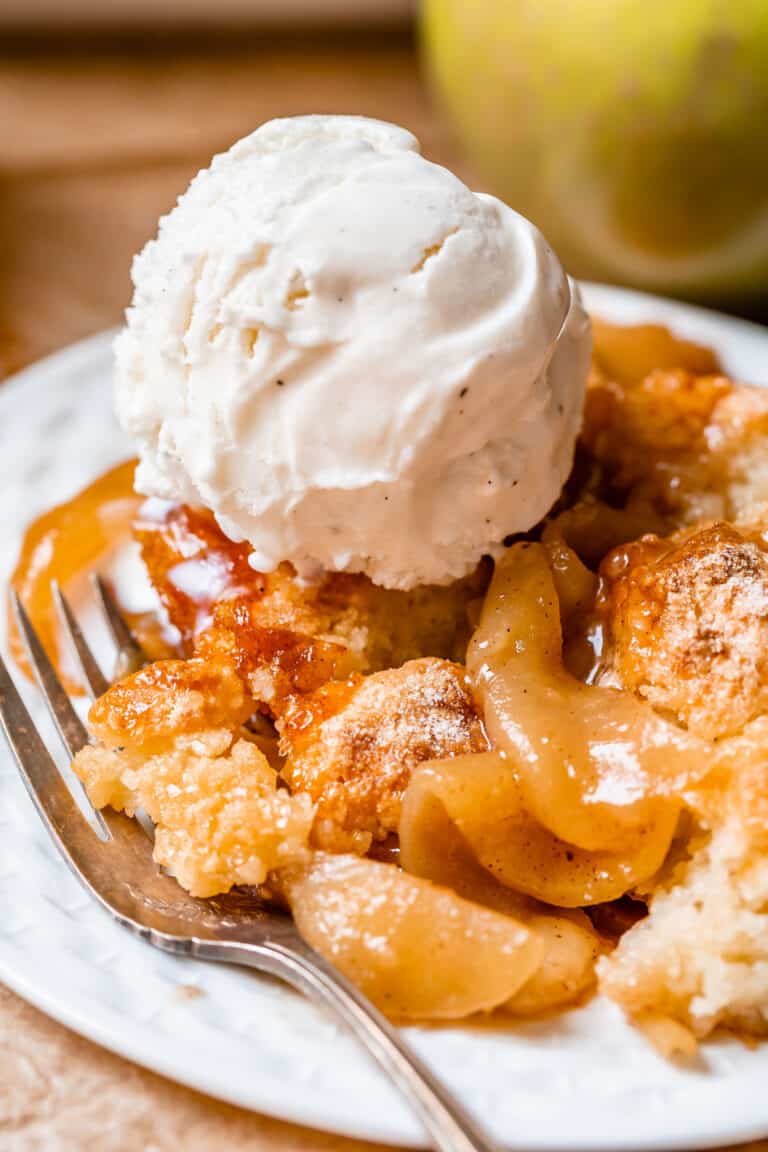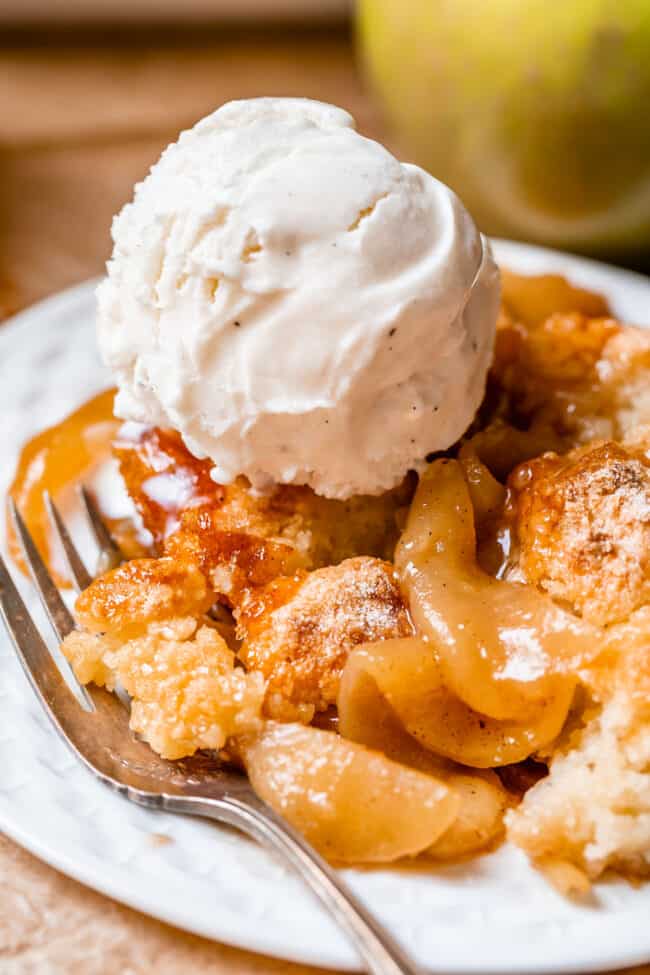 You will love this Easy Recipe for Apple Cobbler
Have you been to the apple orchard yet? Did you pick a bushel yourself, wearing too-hot flannel? We've all been there.
There is really no wrong way to apple, but this one is special. I'm soooo excited to share today's recipe with you guys! I posted my Peach Cobbler recipe last year and it has shot up to become one of my top 5 visited recipes of all time, which is insane. Ya'll love your cobbler, apparently. I knew I wanted to create an apple version, so I made an Apple Cobbler baby from the Peach Cobbler and my favorite Apple Pie, which is also a reader favorite. I mean how can we go wrong with this mash up?
But wait, Karen. You already have an Apple Crisp on your site, the one with a ridiculous amount of streusel. Aren't cobbler and crisp, like, the same thing??
Aw heck naw. Are you ready for an edumacation? LET'S DO THIS
What is a cobbler?
A cobbler is a dessert made of juicy fruit and a thick, biscuit-cake topping, with no bottom crust. For Apple Cobbler, the apples are seasoned with cinnamon and other spices (nutmeg! Cardamom! yes please!) Add this to a casserole dish, and then a sweet biscuit/cake-like dough is added on top.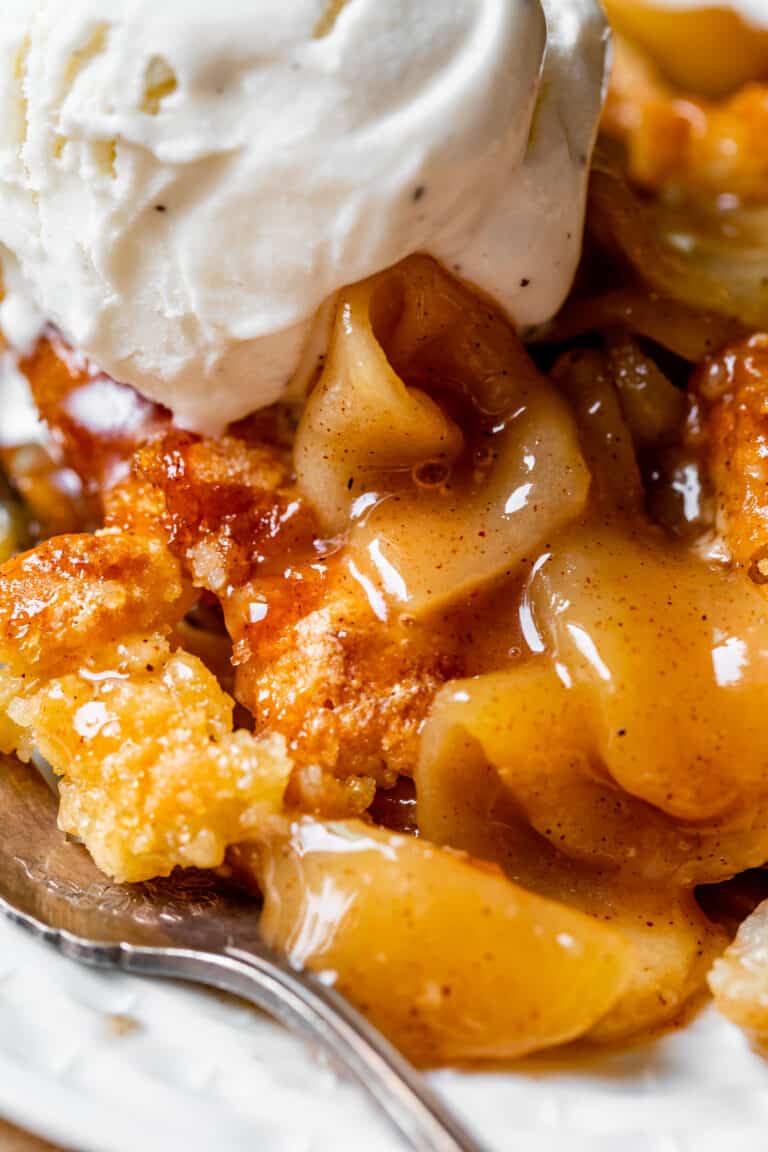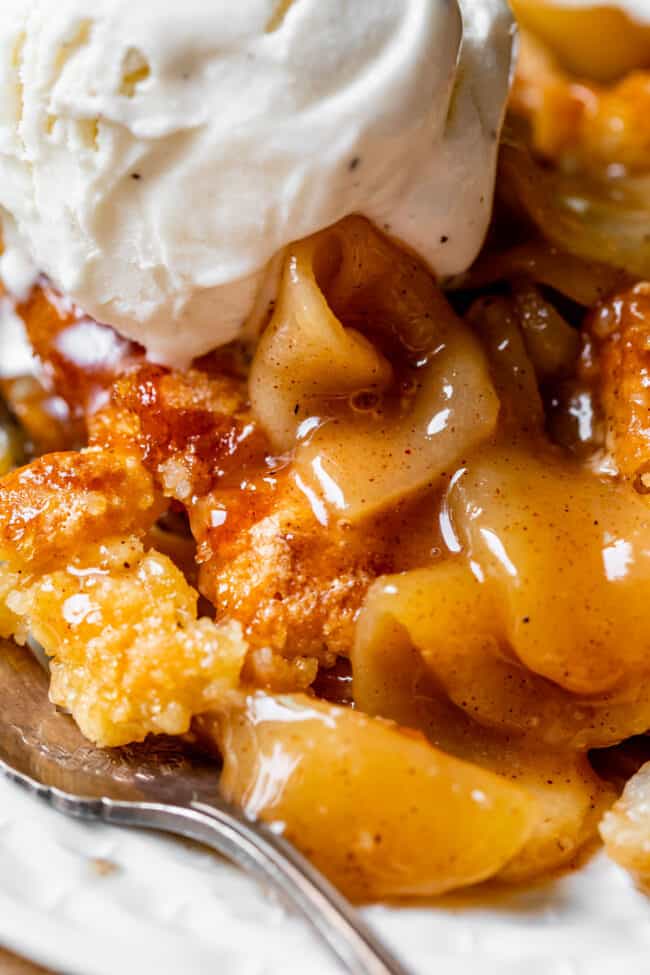 This recipe is my favorite (ever, ever) because we are cooking the apple filling before adding the topping. Yes yes, I know this is a pain, it's so much easier to just throw those raw apples in the oven! But I researched this extensively for my Apple Pie recipe, and have found that I much prefer pre-cooked apples in my desserts. (Apples have so much water. We need to cook some of it off. Lose the liquid; keep the flavor.) Also, I don't want half baked apples, which is really easy to do when you are throwing raw apples in the oven. Cooking ahead of time is the best way! More details below! But first:
What is the difference between apple crisp and apple cobbler?
Apple crisp has apples on the bottom and a not-so-thick streusel topping with oats, flour, and brown sugar. Although I personally fixed that "not-so-thick" part when I posted this recipe for Apple Crisp, with a Ridiculous Amount of Streusel. Go big or go home, man.
Apple cobbler, on the other hand, has no streusel. Instead the apples are topped with a shaggy biscuit dough, sweet as cake, that puffs up and forms this crisp-on-the-edge, tender-in-the-center biscuit-y cake of deliciousness, with a caramel-y layer of apples on the bottom. It's called a "cobbler" because the top looks cobbled, meaning rough, thrown together quickly, or patchy. (You say cobbled, I say gorgeous.)
Okay, whew! Now that we are clear on all our apple dessert definitions! Let's get on with making Apple Cobbler.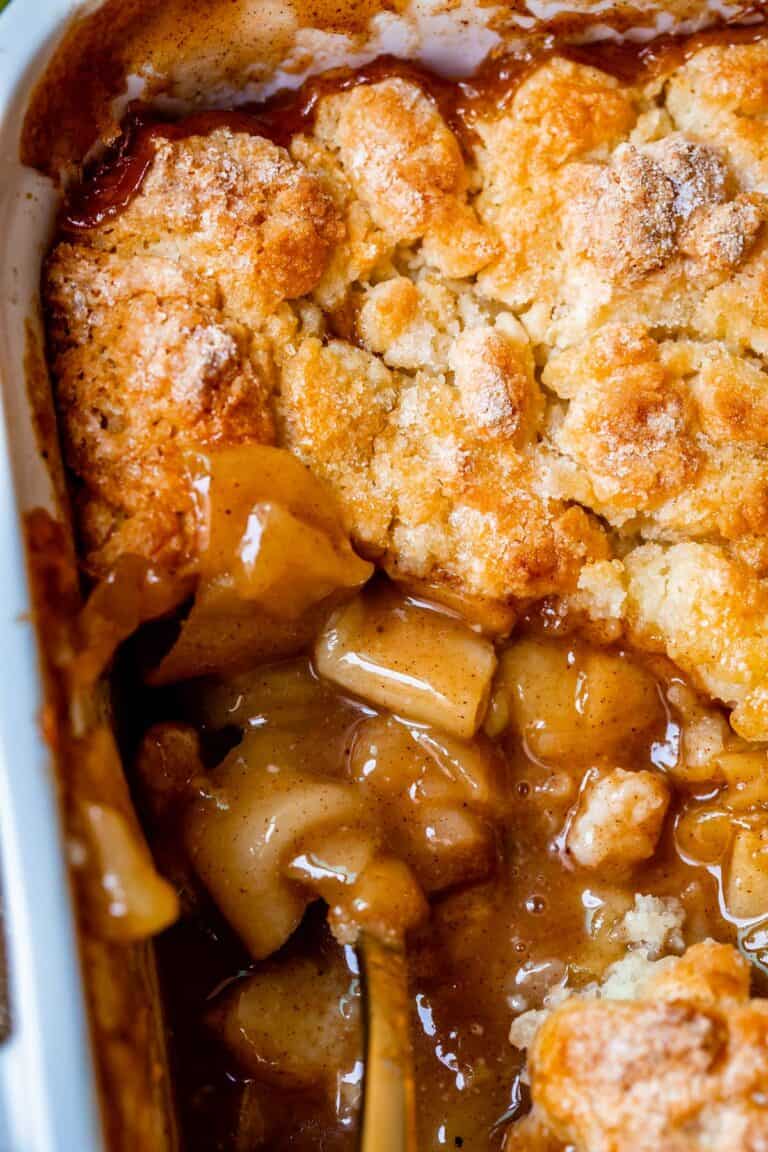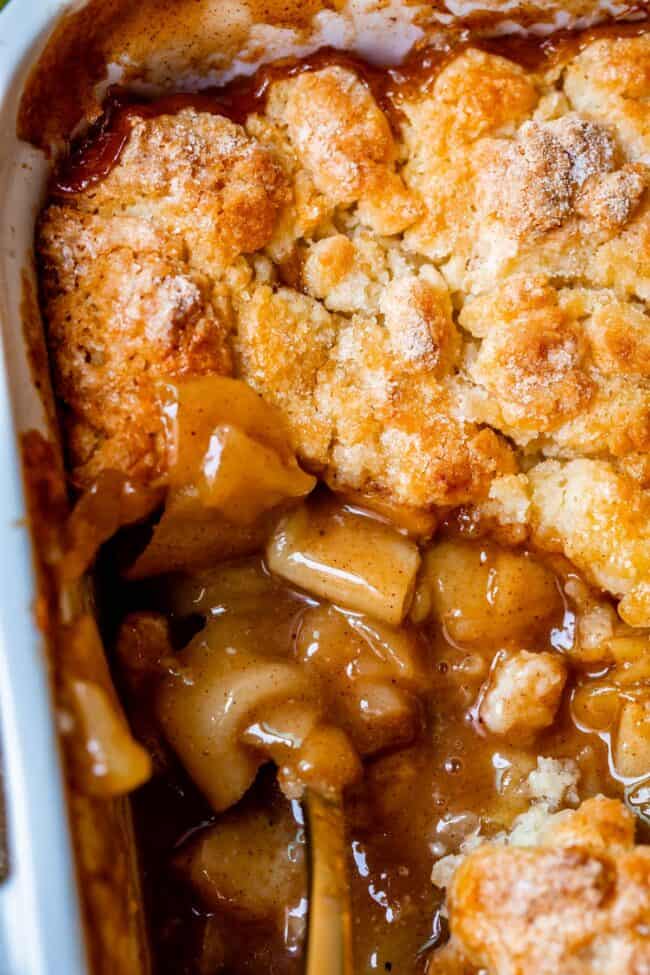 Apple Cobbler Recipe ingredients
This is an overview (you can use it as a shopping list!), the full recipe is at the bottom of the post.
apples
lemon (zest & juice)
granulated sugar
brown sugar
all purpose flour
cinnamon
nutmeg
cardamom
kosher salt
vanilla extract
baking powder
buttermilk
egg
cold butter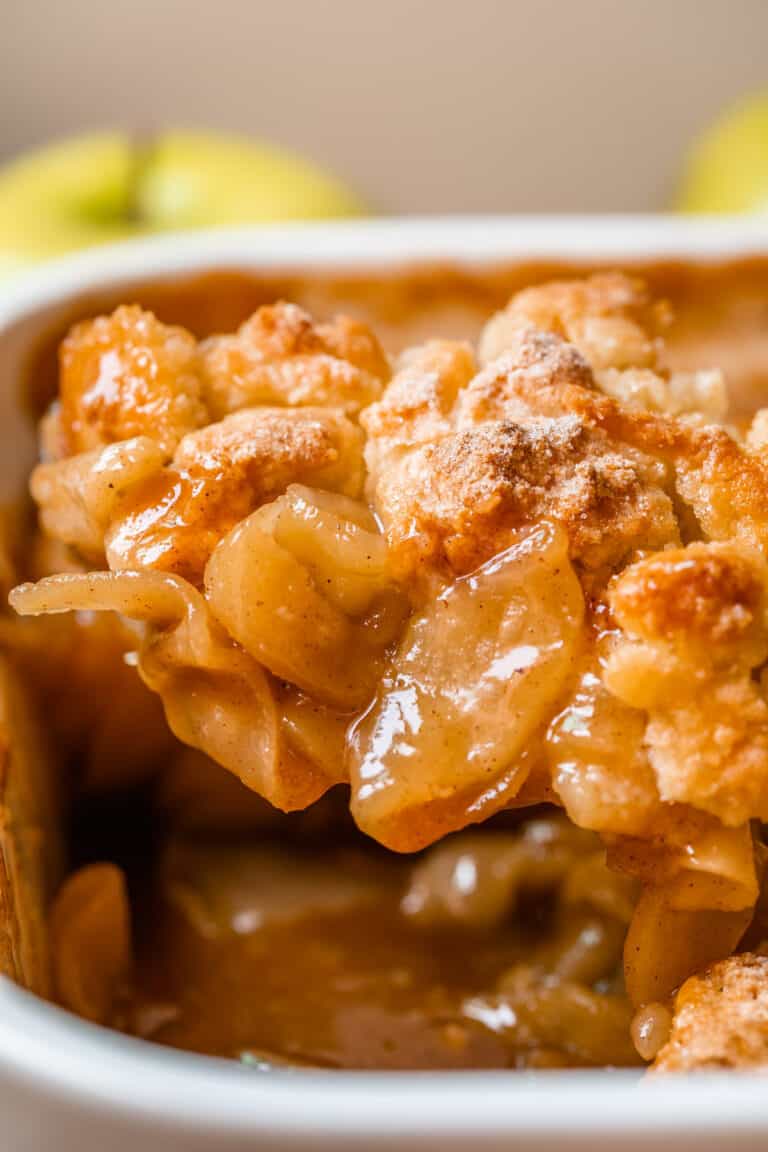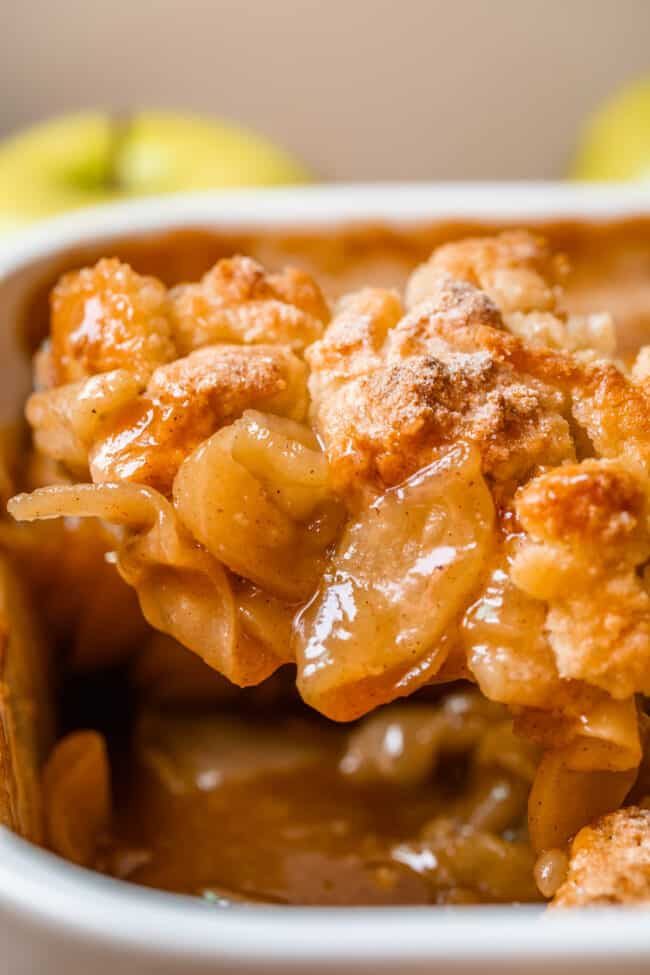 How to make Apple Cobbler
First things first, we gotta pick our apples. Put on your flannel-iest of flannels. The air is so CRISP out in the orchard guys. (Okay, so maybe it's just the grocery store air conditioning.)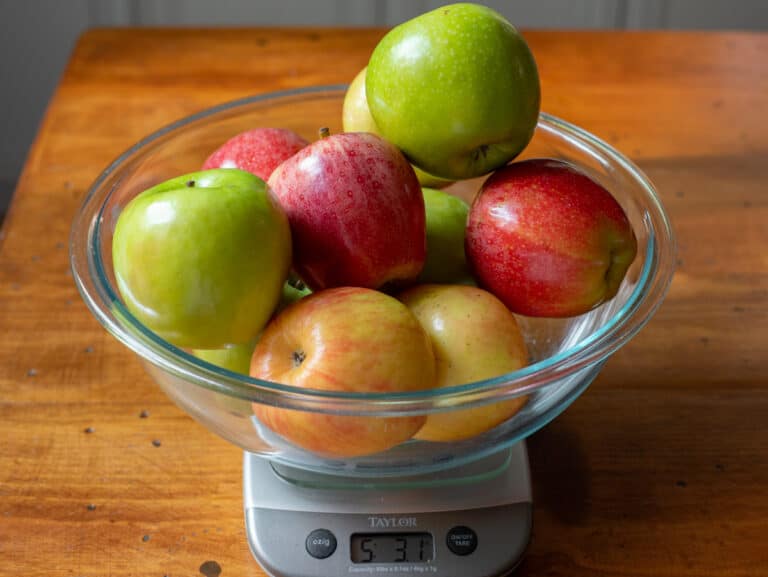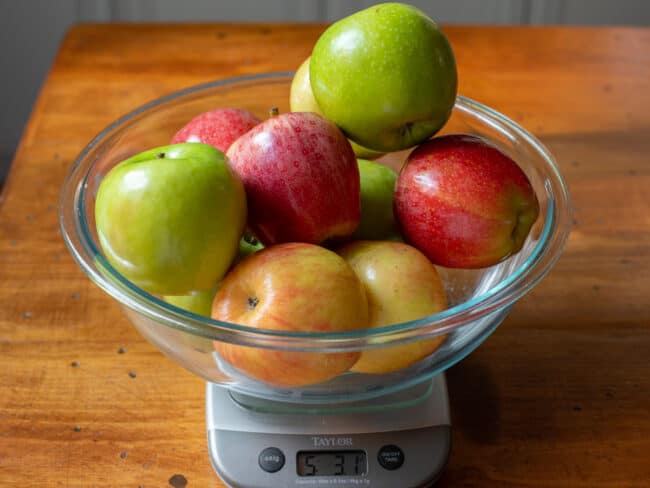 I've said it before and I'll say it again, I feel like using a variety of apples is the way to get the best flavor for any apple dessert you're making. Using only one type of apple gives you only one flavor profile. Using a blend means your cobbler will land somewhere perfectly in the middle of tart and sweet. For today's recipe, I used Gala, Granny smith, and HoneyCrisp. Get them all peeled, either with a potato peeler or one of those fancy apple peelers! Lifetime goals, amiright?
Peel your apples and slice them mega thin

Guys, nobody wants to be gnawing on a thick chunk of apple that didn't get cooked all the way. Be kind to your guests, slice your apples thin. I usually aim for about 1/8 inch. Here's how I slice: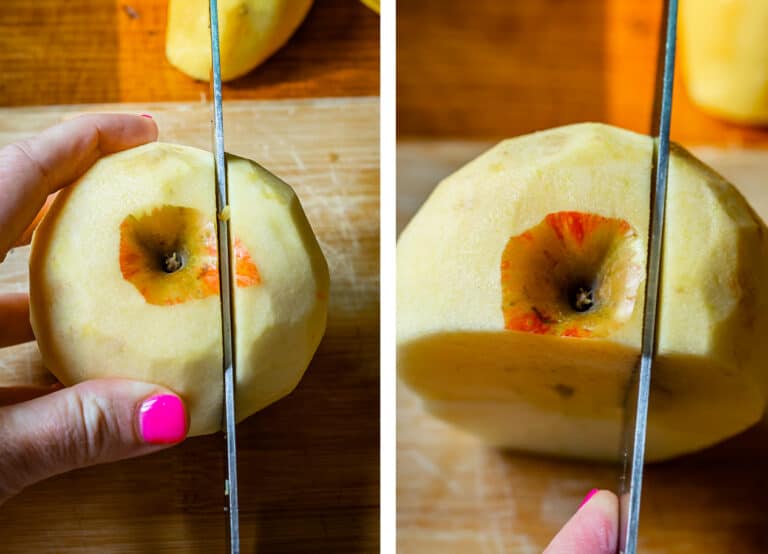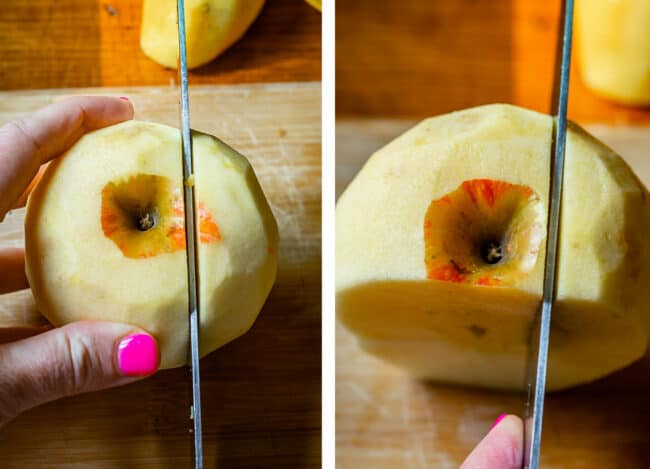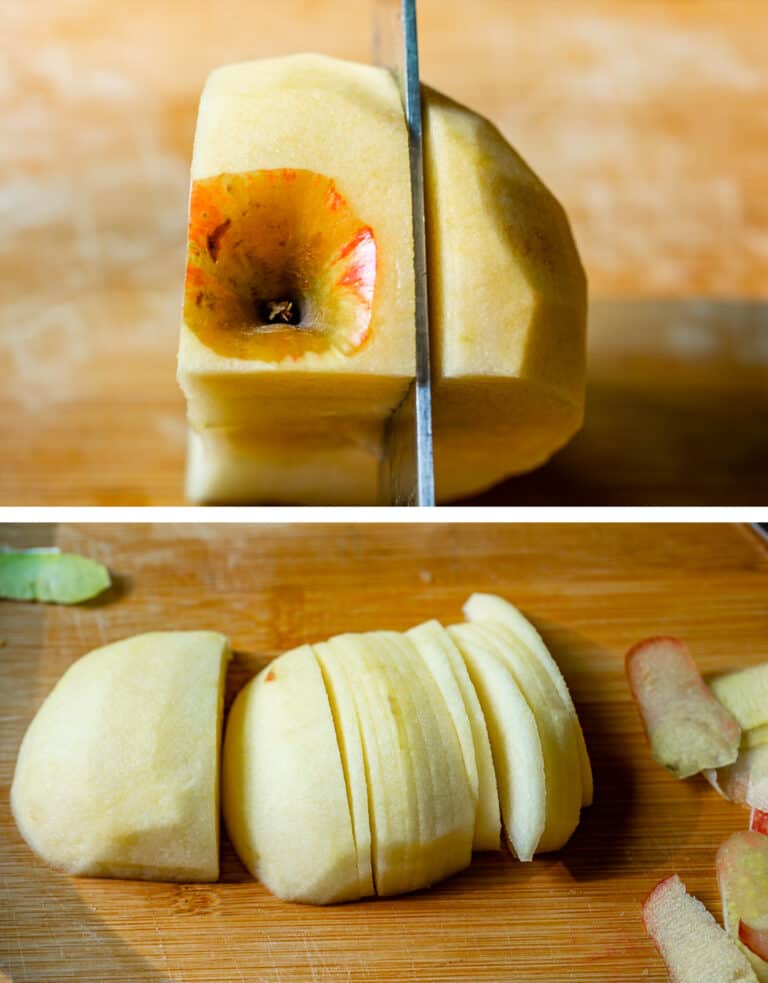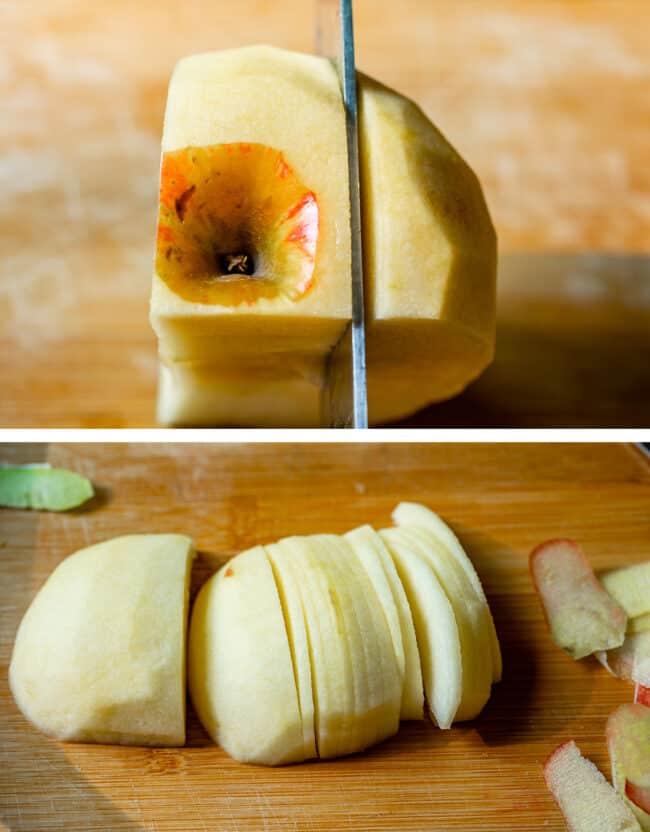 As you slice, toss the apples in lemon juice to keep them from browning. And don't forget a little zest too! Mix them up in a large high-sided skillet, so that you will be ready to:
Cook your apples.

Yes, we are cooking these apples before they even go in the oven, and I will tell you why.

Something magical happens when you gently cook the apple filling over a longer period of time. The pectin in the apples is converted to a heat-stable form. That means when you cook the apples again in the oven, the apples won't become mushy. Whatever level of "al dente" they are at when you finish cooking them on the stove, that's how it will taste in your cobbler. So you can adjust the cooking time a bit to reach your level of apple perfection. Cook longer if you like softer apples; shorter if you like them more firm. You don't have to calculate for further cooking in the oven. Crazy, right? Science!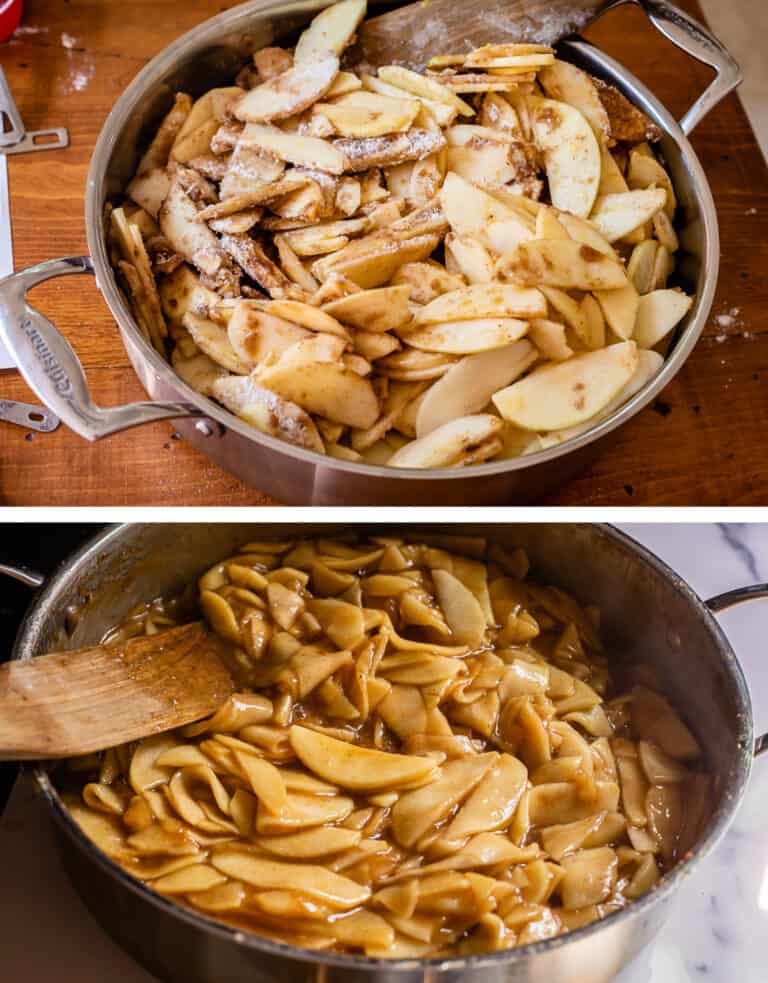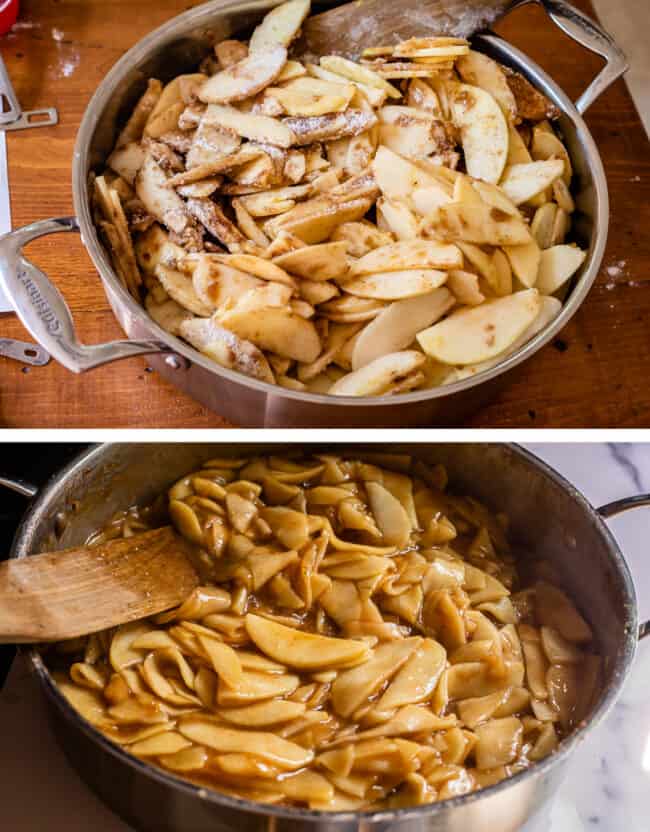 So once you've added your flour, sugar, and spices to the apples, place the pan over medium heat and let cook for about 20 minutes.
Cover the pan, but stay nearby because you're going to have to stir the mixture every couple minutes, replacing the lid each time. This keeps the steam in and helps cook the apples. You are going to get this glorious caramel-y sauce going.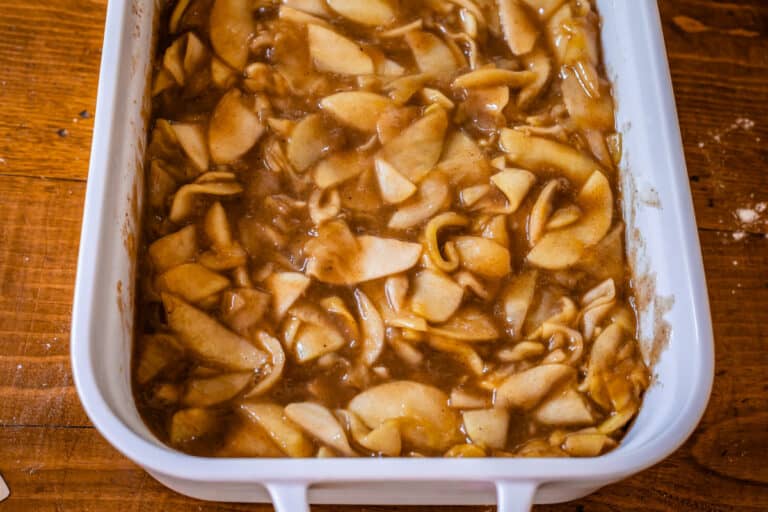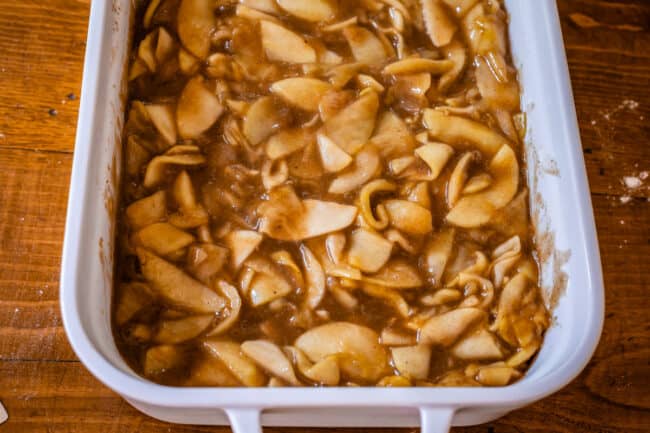 Once they are cooked and you've added the vanilla, transfer to a 9×13 inch pan.
Or don't cook your apples
PLOT TWIST, YA'LL.
You don't, technically, have to cook your apples before tossing them in the oven. It's just a lot tastier that way, in my humble opinion. Let's have a look see:
Cooked apples:
By cooking off the excess moisture, we get apple-flavor-maximum
The apples are ALL cooked perfectly al dente, not too hard, definitely not mushy
You get a deep caramel-like sauce that I would happily bathe in
BUT, it's an annoying step. More time, more pans to wash.
Raw apples:
more watery, less caramel-y sauce
the apples are not as flavorful (too much moisture!)
The apples on the edges of the pan will be more cooked (and appear translucent) than the apples in the center of the pan (center apples will still look white)
BUT, it's way faster, I mean come on.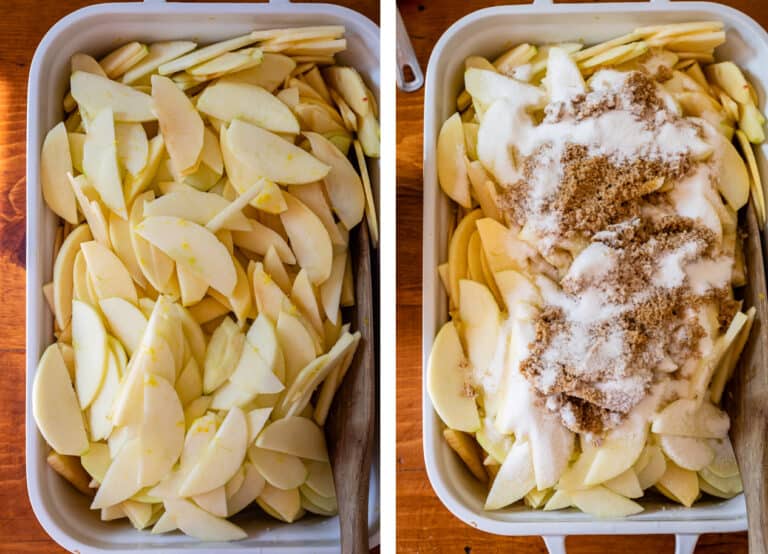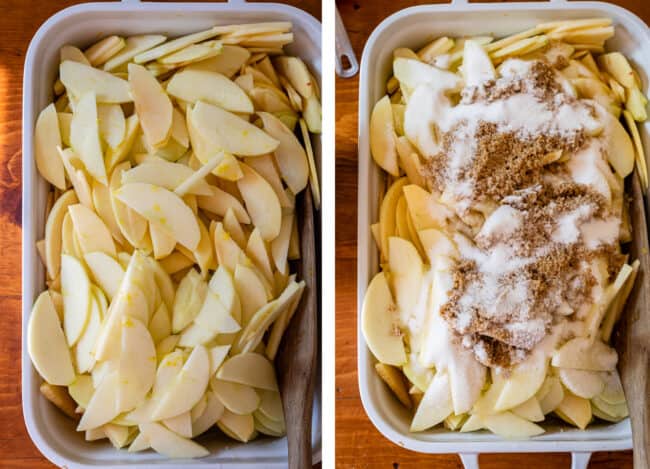 Look at these beauties. You can mix it right in the pan. It's stupid easy.
At the end of the day, you are going to have a gorgeous apple cobbler that everyone will ooh and ahh over, so don't sweat this decision too much. I just want you to be ARMED WITH INFORMATION!! or something like that.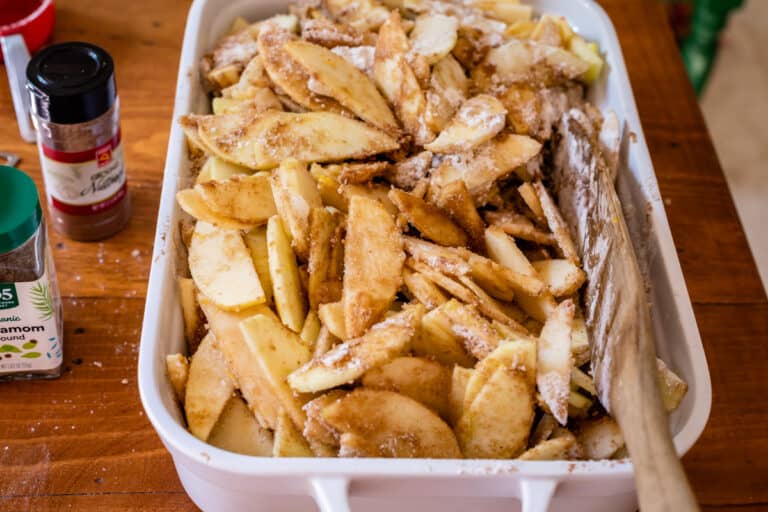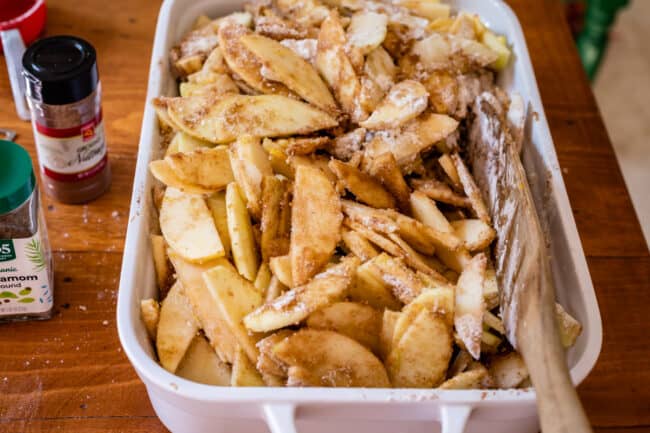 How to thicken this recipe for Apple Cobbler
Whether you cook your apples or not, it's important to add flour to help absorb moisture from the apples as they cook. You want to make sure you get the ratio just right to soak everything up without making it gummy. This flour amount is the ONLY ingredient difference between the cooked-apples version of this recipe and the uncooked-apples version.
Cooked apples: use 5 tablespoons flour
Raw apples: use 1/2 cup flour
All of this is included in the details of the recipe, don't worry about taking notes!
Topping for this Easy Apple Cobbler
Now it's time to make the magic happen. We start with a bowl of flour and sugar and salt, what else? This is the holy trinity, in my book. (I mean, not like the ACTUAL Holy Trinity, I just mean it's not carrots/onions/celery like some soup masters say. Jesus is King. And then it's butter and flour and sugar and salt. ok ok I'll stop)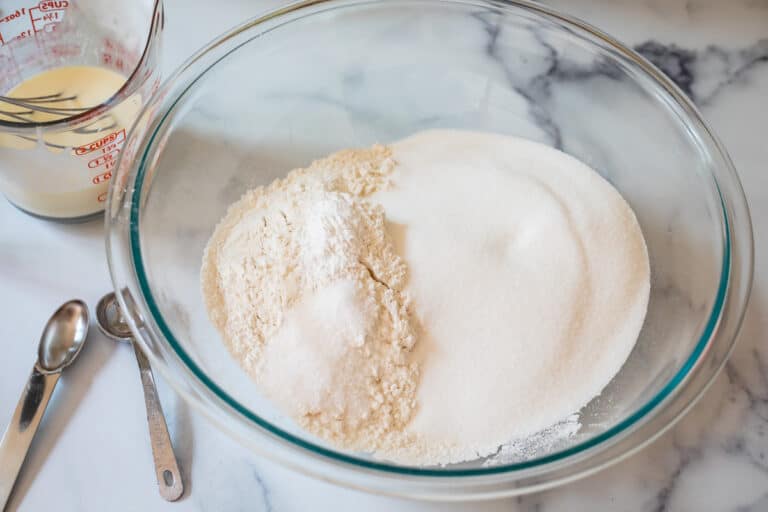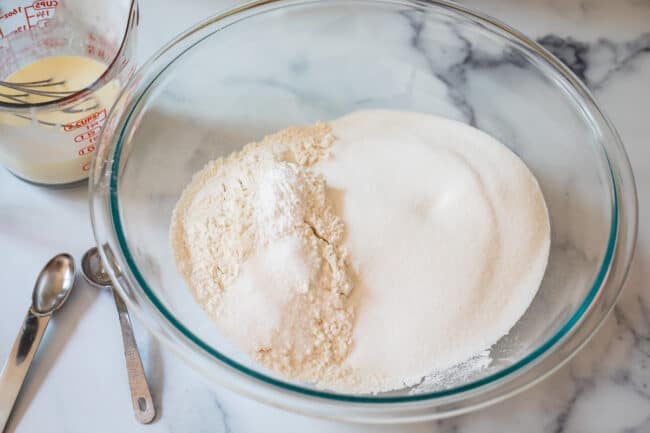 Next we mix up an egg with some buttermilk. I LOVE me some real legit buttermilk, you cannot do better for flavor, but in a pinch, cheater buttermilk made with lemon juice will do. See recipe notes!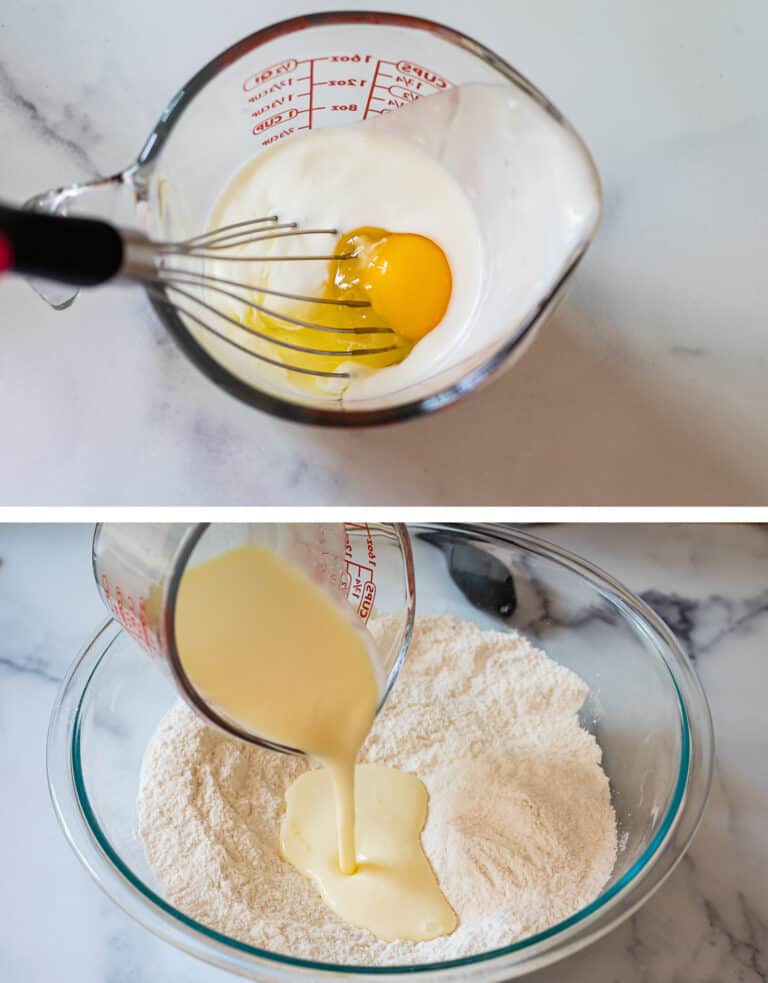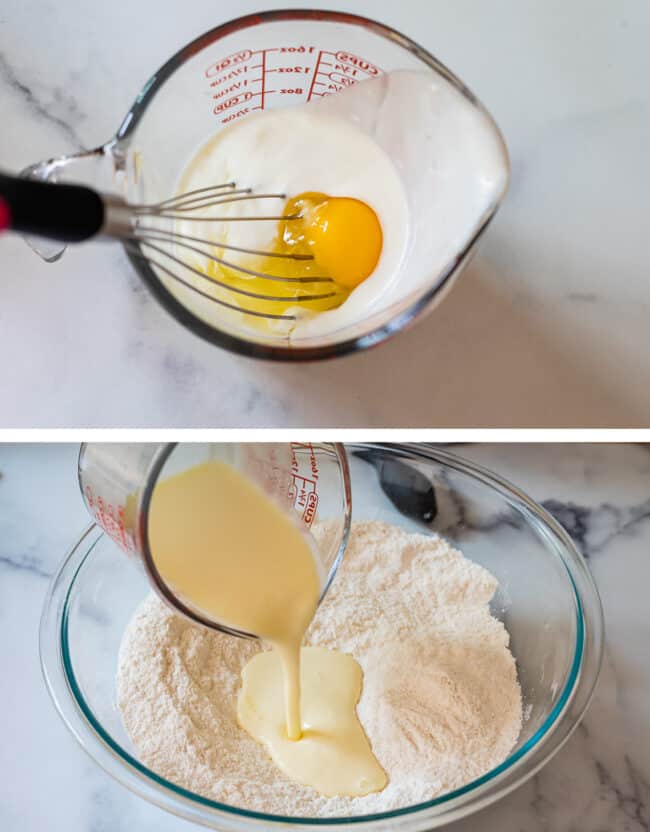 Now here's the secret technique. Use a pastry cutter, not a spoon or spatula, to CUT the liquid into the flour mixture.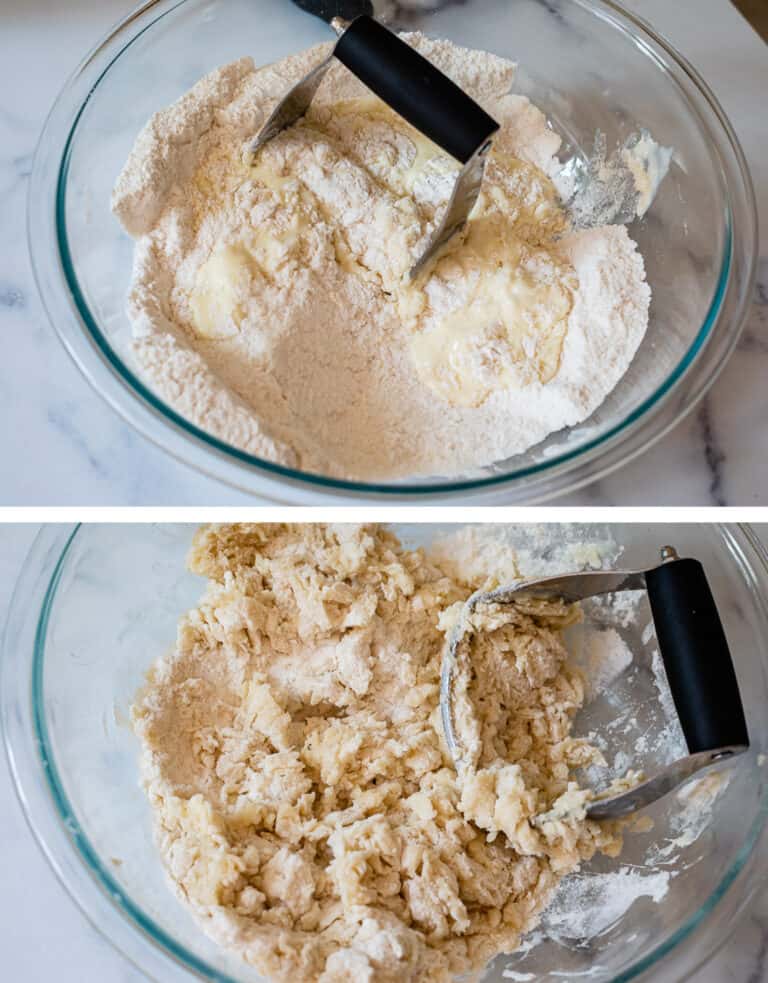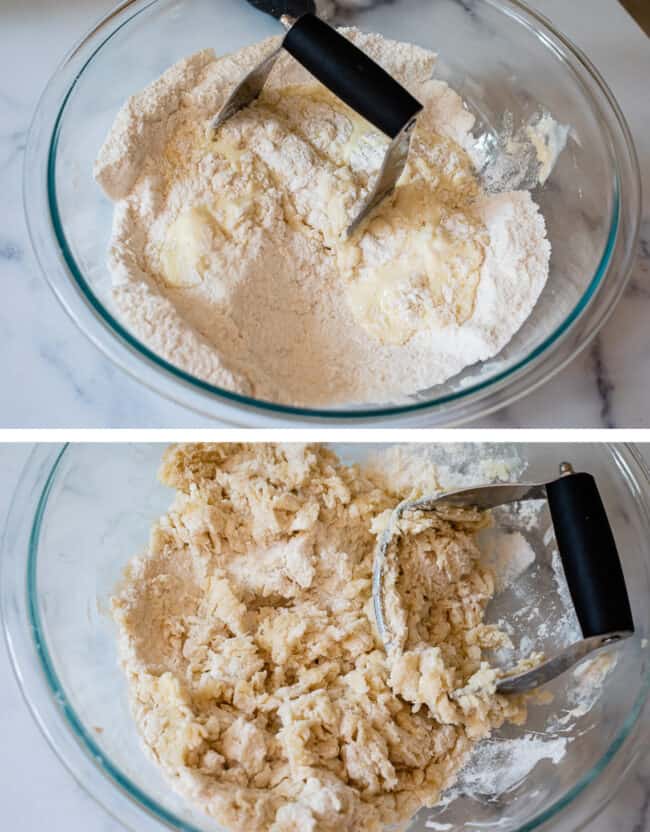 Can you see how choppy and shaggy it is? Stop now! You're done! a little bit of un-moistened flour is a-ok.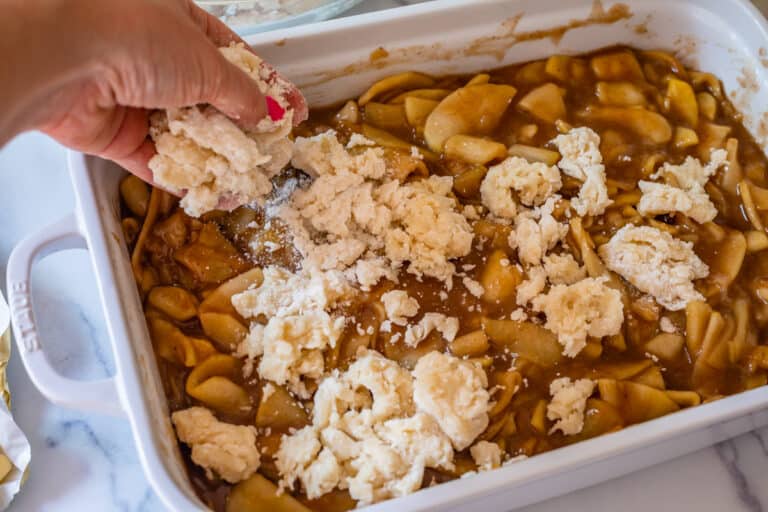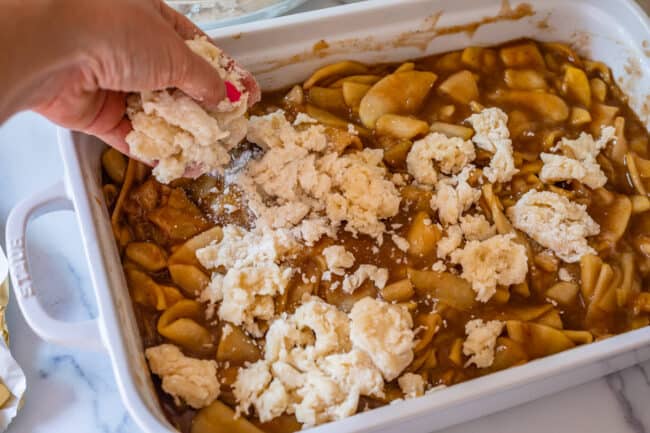 Now dump it on top of your apples, use your hands or just scrape it from the bowl, whatever works.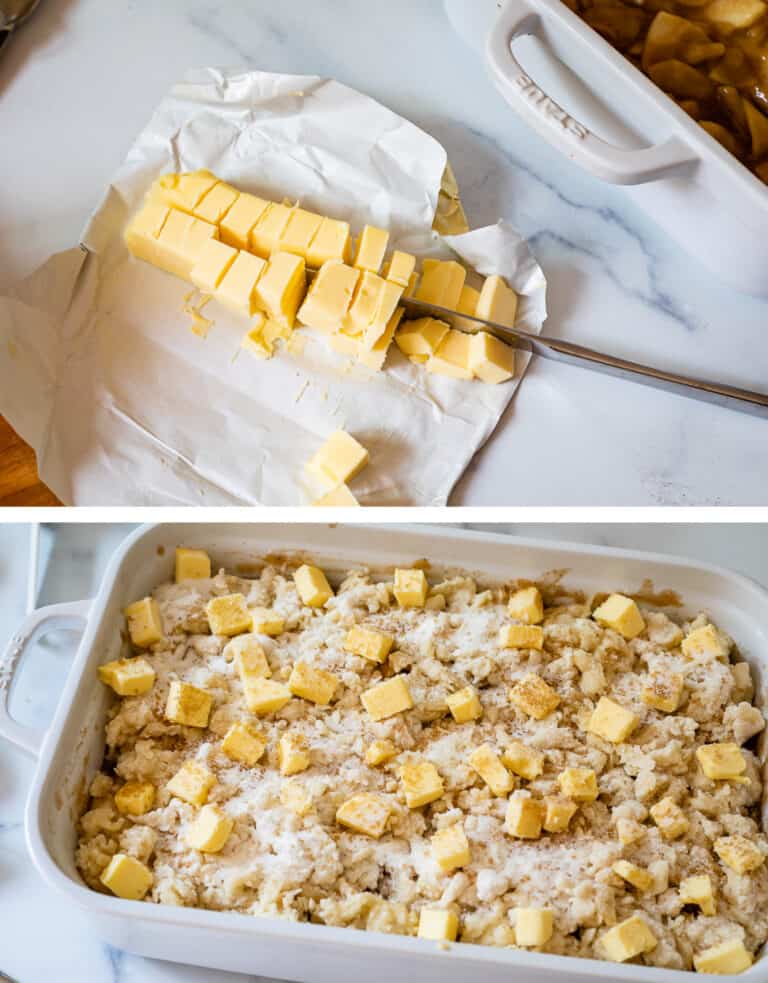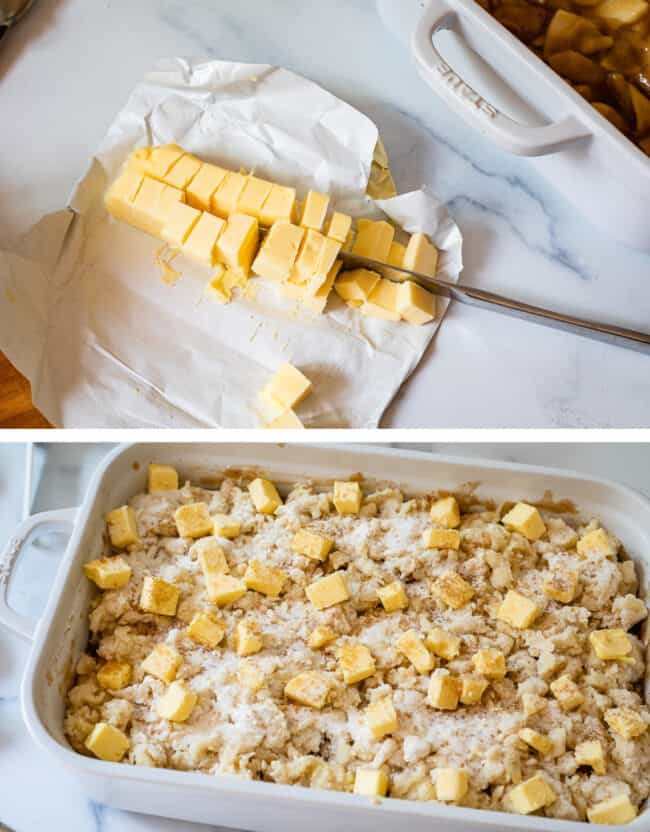 Then chop up a stick of butter and scatter it over the top. Letting the butter melt solo on top of the cobbler dough is what gives you that gorgeous crispy edge.
Sprinkle the whole thing with a little sugar and voila! She's ready for the oven! Bake for about 45 minutes.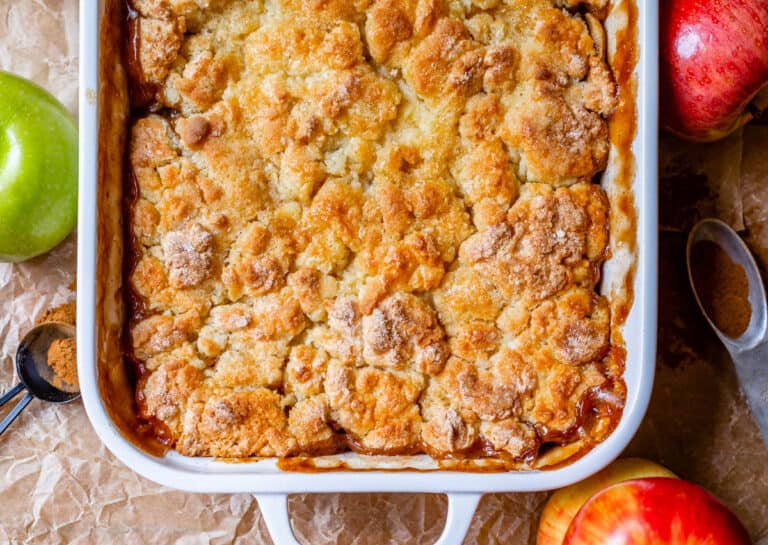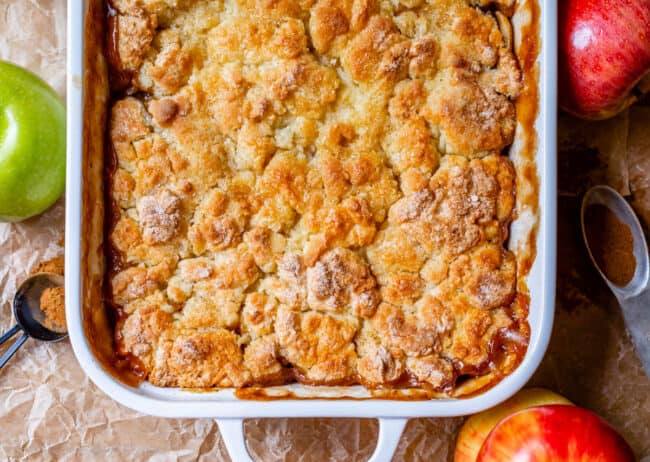 How to know when Apple Cobbler is done
You will know your cobbler is done when the filling is bubbly all around the edges of the pan, and the top of the cobbler is a nice golden color, with spots of darker brown. If you want it extra crisp on top, turn your broiler on for the last 1-3 minutes of baking. Be careful! Don't walk away!
If you used uncooked apples, you might consider covering your cobbler with foil in the last few minutes of cook time, to decrease browning on the top, while giving the apples as much time as possible in the oven to soften up.
Then, it's go time. Give it a couple minutes to rest (so that you don't burn your tongue on lava-level-hot-apples), then DIG IN.
How to serve this Easy Apple Cobbler Recipe
Please, for the love of everything I hold dear, serve this with vanilla ice cream. IT'S BASICALLY A CRIME NOT TO. Whipped cream will also do.
If you're serving this on day 2, I recommend warming it up in a 350 degree oven so the topping can re-crisp a bit. Because of the moist, delicious filling, it will get soggier after day 1 and you've got to compensate. (This doesn't mean you can't microwave it…I'm just sayin' do as I say, not as I do.)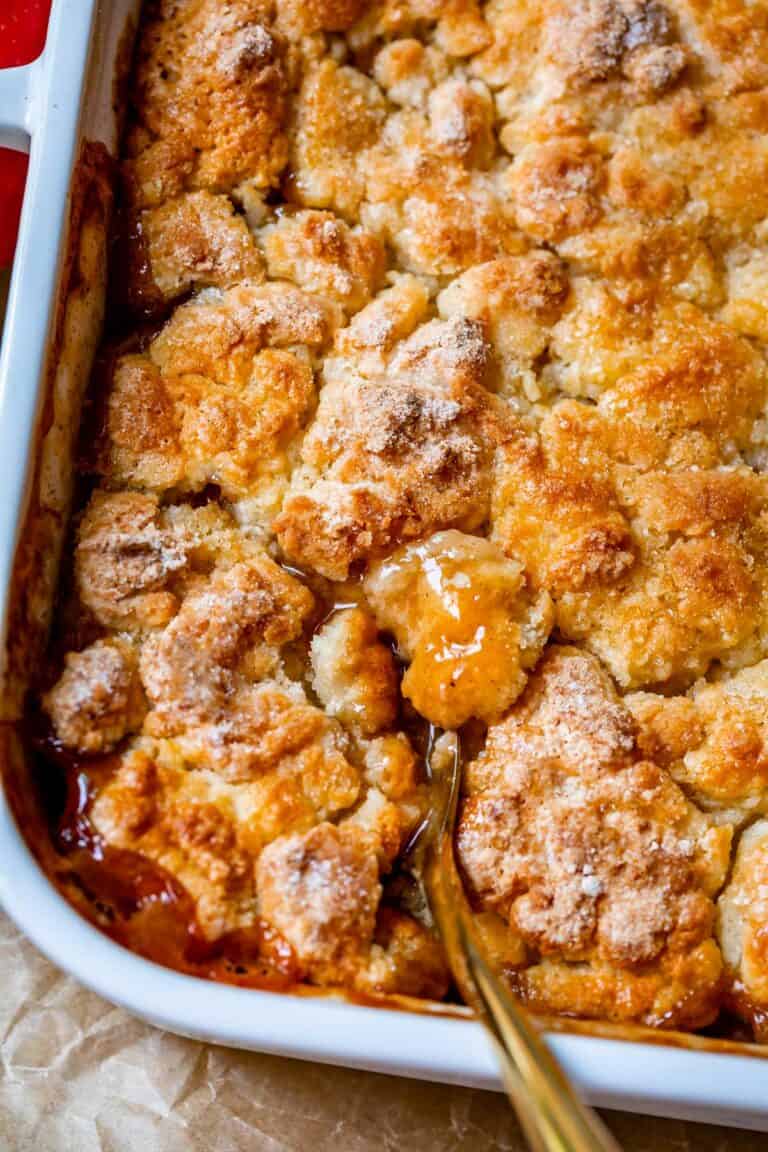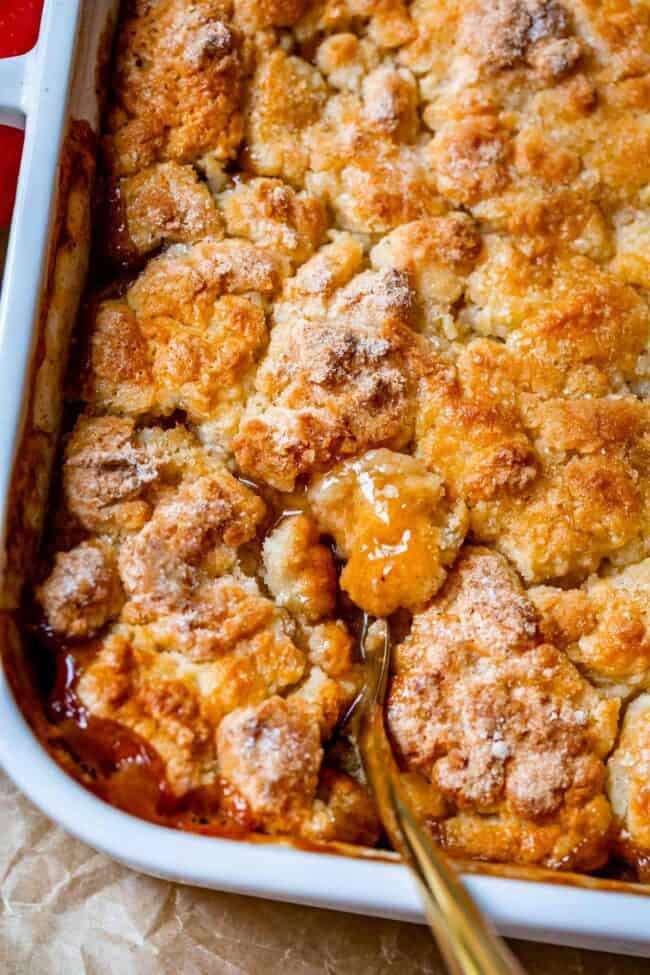 How to store leftover Apple Cobbler
Cobbler is best served on the day it is made, but it can stay out on the counter for about 2 days after baking. Lightly cover with plastic wrap or foil. If you still have some after two days, invite me over to finish it for you, or place it in the refrigerator for up to two more days.
Can this Easy Apple Cobbler be frozen?
I mean, you can, but I wouldn't recommend it. It will impact the texture of the cobbler topping (read: mushy.) What will work is making the cooked apple filling ahead of time (don't try this with raw apples). Add cooled apple filling to a freezer ziplock bag and it will keep for 3-4 months. To use, thaw the filling overnight in the fridge or out on the counter for several hours. Make the topping, and bake like normal.
And if you really want to, you can freeze a whole baked cobbler for up to 3 months. After baking, let cool completely, then add a double layer of plastic wrap and a layer of foil over the cobbler. Thaw overnight in the refrigerator, and then warm in the oven. The cobbler topping will have absorbed a lot of the apple liquid, so it won't be as great as when it was fresh. Also, remember to freeze in a disposable pan, so you're not holding one of your dishes hostage in the freezer for months.
You can also freeze individual portions. This is my least favorite method, since you'll likely warm it in the microwave vs the oven, and the topping can get a bit more soggy.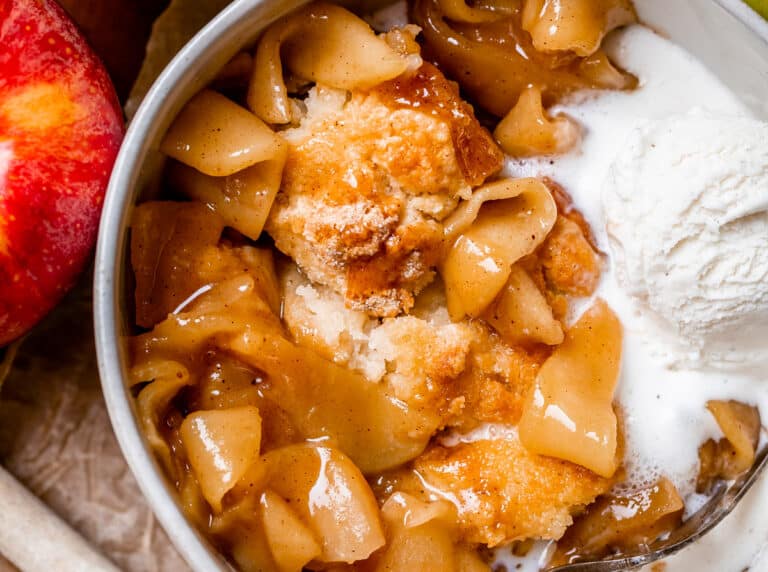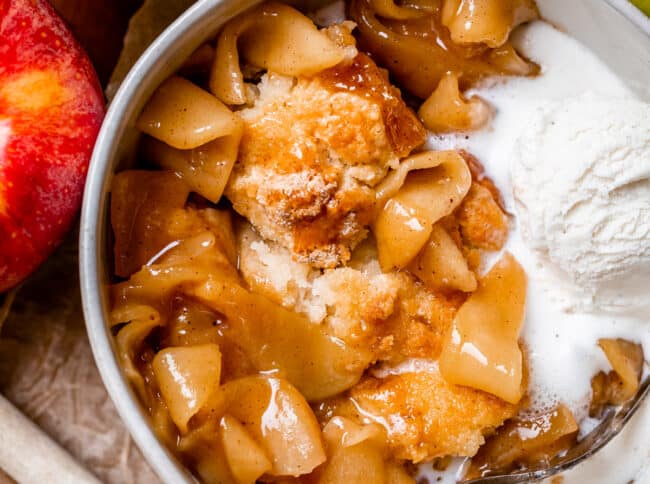 Apple Cobbler Recipe FAQs
Why is my cobbler gooey?
Covering the cobbler, and especially storing it in the fridge, will make cobbler topping become soggy or gooey. What gives, cobbler! This happens after the cobbler has been cut into, as the moisture from the apples seeps up into the biscuit topping. This is why cobbler is best served on day one. Putting the whole pan back in the oven at 350 for a few minutes really helps crisp up the topping for re-serving.
Is apple cobbler the same as apple crumble?
Are you ready for even more nuance? A crumble is basically a crisp, but without the oats or nuts: just flour, butter, and sugar in similar proportions. Just like a Dutch Apple Pie but without a bottom crust. A cobbler on the other hand, has leavening added to it, usually baking powder to lift to the dough as it bakes.
What is the difference between Apple Brown Betty and apple cobbler?
An Apple Brown Betty has apples that are layered a few times between sweetened bread crumbs, then topped with a lemon sauce or whipped cream. The sauce gives the dessert more of a bread pudding texture and is sometimes called apple pudding.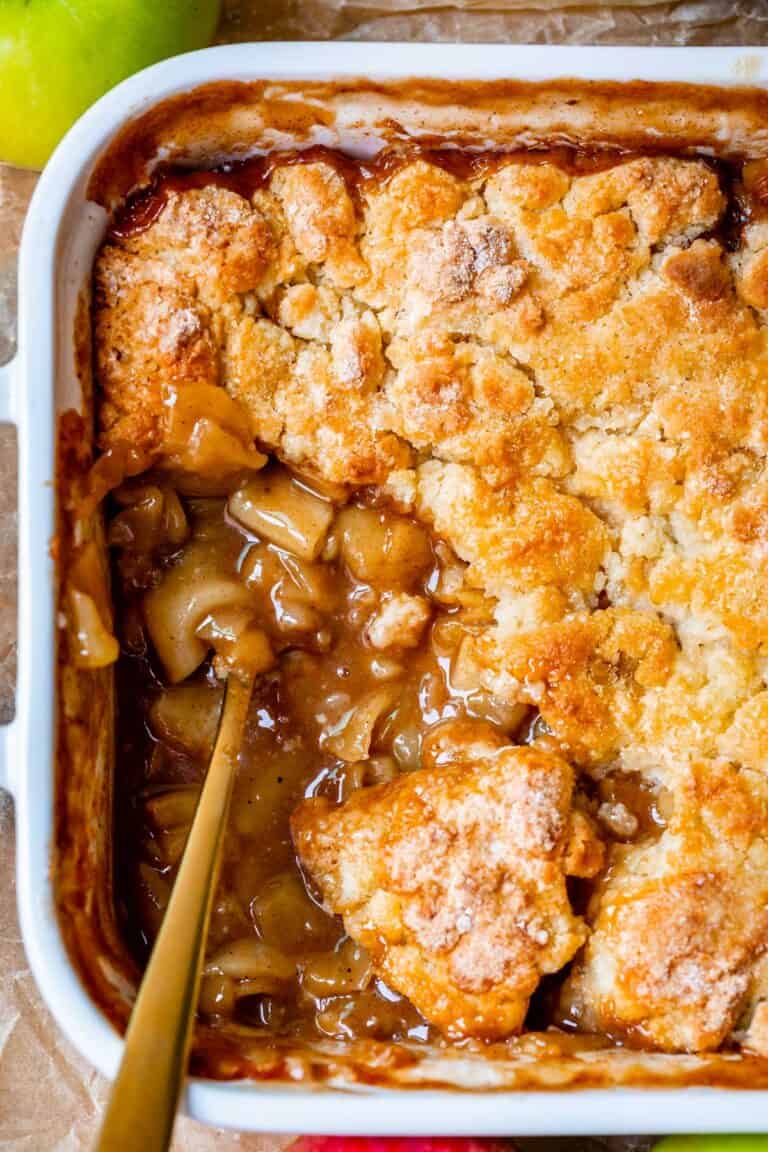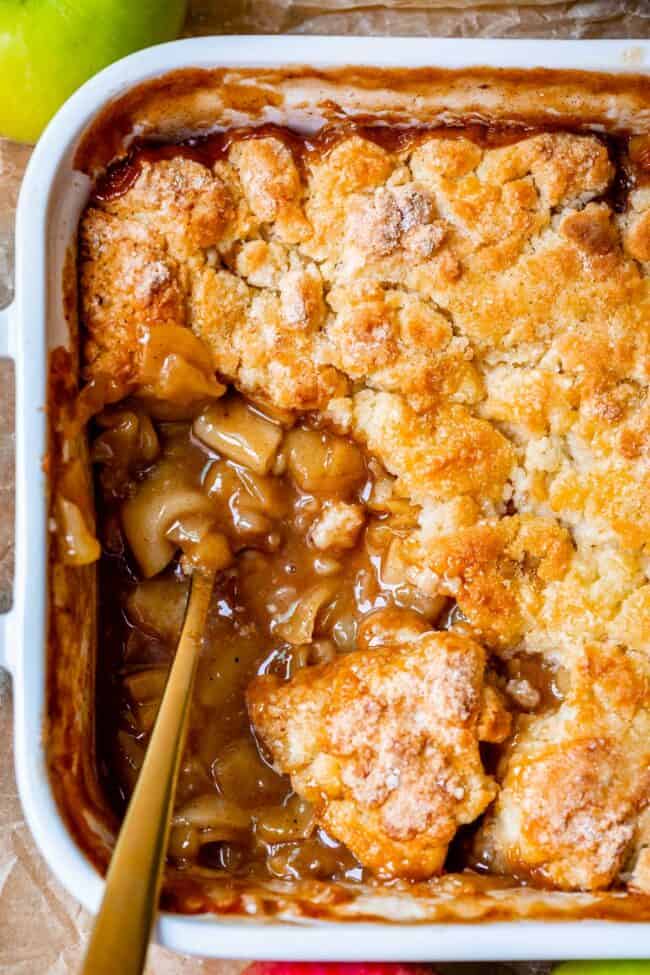 More apple recipes to love!
Apples really are the all-American fruit! So many ways to apple. Try these recipes:
Facebook | Pinterest | Instagram

Apple Cobbler Recipe (Easy!)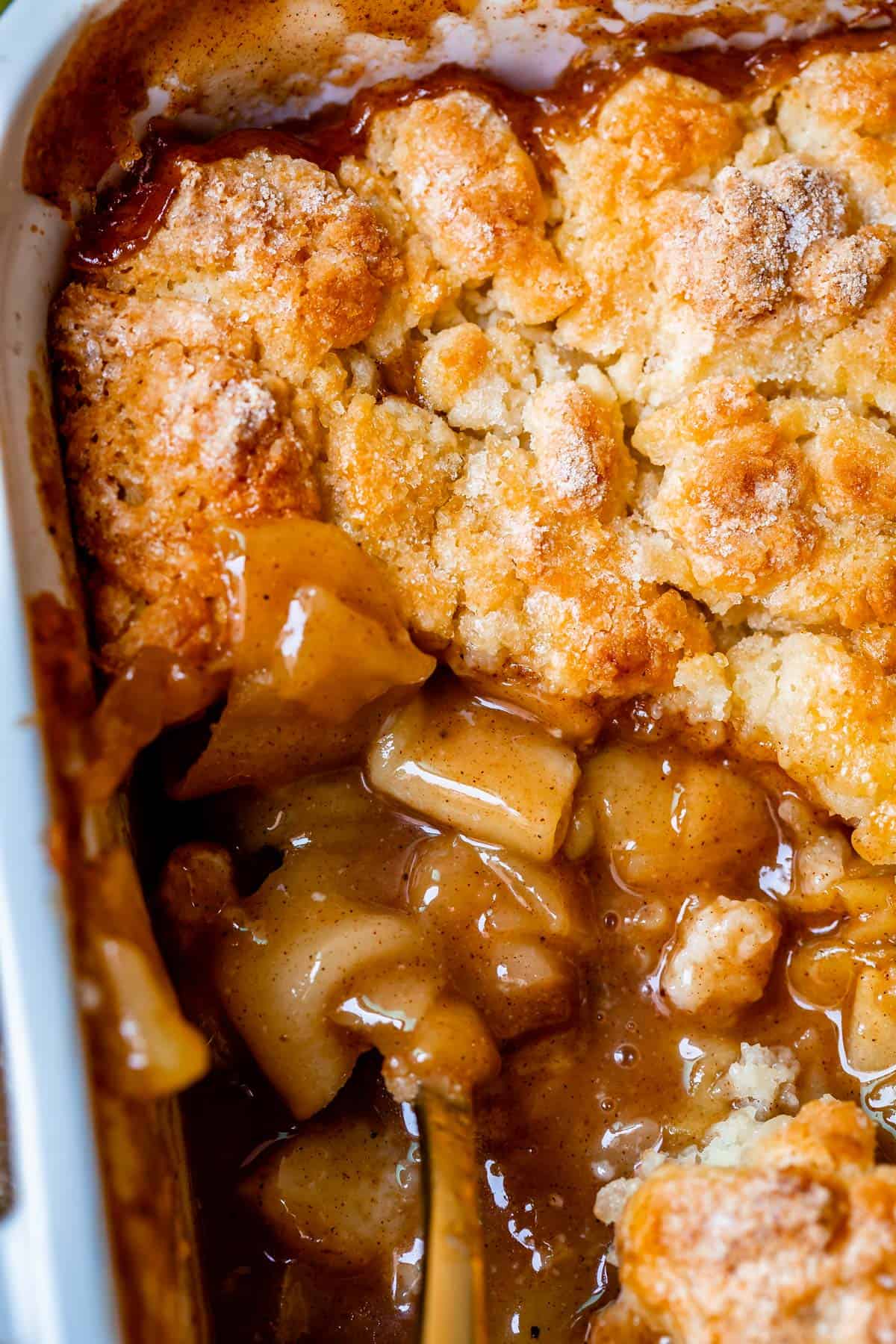 Apple Cobbler is Apple Crisp's more sophisticated, cooler cousin. Perfectly spiced apples are topped with a biscuity cake-like topping, made with buttermilk. It is tender and moist, with a perfect golden crisp on the top edge. There is no better way to use a fresh bushel of apples!
Ingredients
For the apple filling
5

pounds

apples

,

peeled, about 9-11 large apples; use a variety of flavors

1/2

teaspoon

lemon zest

,

from 1 small lemon

3

tablespoons

lemon juice

,

from 1 small lemon

3/4

cup

granulated sugar

3/4

cup

brown sugar

,

packed

5

tablespoons

all purpose flour*

,

See notes if you are making this without cooking the apples

1 & 1/2

teaspoons

cinnamon

3/4

teaspoon

nutmeg

1/2

teaspoon

cardamom

,

optional

1/4

teaspoon

kosher salt

1

teaspoon

vanilla extract
For the cobbler topping
2 & 1/2

cups

all purpose flour

,

spooned and leveled

1 & 1/2

cups

granulated sugar

1

teaspoon

kosher salt

1

teaspoon

baking powder

1/2

cup

buttermilk**

,

cheater version okay, see notes

1

egg

1/2

cup

cold butter

,

chopped into chunks

2

tablespoons

sugar

,

granulated or raw sugar or both

vanilla ice cream

,

for serving, not optional ;)
Instructions
Make the apple filling: Choose your apples. You need 5 pounds of apples for this recipe, which is about 9-11 large apples. I like to use a mix of apples for the best flavor, like Granny Smith, Gala, and Golden Delicious.

Use a microplane grater to zest 1/2 teaspoon lemon peel into a high-sided 12-inch skillet. (SEE NOTE for instructions on how to make this without cooking the apples first; you can skip the skillet and place raw apples directly in the baking dish.) Slice the lemon in half and squeeze the juice into the pan, about 3 tablespoons.

Peel all the apples with a vegetable peeler, or one of those handy apple peelers. Slice the apples very thin, about 1/8 inch, see photos. You should end up with about 9 cups of sliced apples. Add your apples to the skillet with the lemon. Toss the apples with the lemon juice occasionally as you peel, so the apples don't brown.

Cook the apples. (Remember this is optional! See notes!) Once you have all the apples peeled and sliced in the pan, set it over medium heat on the stove.

Add 3/4 cups granulated sugar and 3/4 cup packed brown sugar over the top of the apples in the pan. Sprinkle 5 tablespoons flour, 1 and 1/2 teaspoons cinnamon, 3/4 teaspoon nutmeg, 1/4 or 1/2 teaspoon cardamom (optional but delicious), and 1/4 teaspoon kosher salt on the apples. Stir it together gently so you don't break all the apples.

Once the mixture is all moistened and you don't see patches of flour or cinnamon, set a timer for 20 minutes. Cover the mixture with a lid but don't walk away. Stick around and stir the mixture every 3 minutes or so, replacing the lid each time. Cook for 20 minutes, until the apples are fork tender but still hold their shape. The apples will not soften more while baking in the oven, because of the magic of pectin. So have a taste and see if you want to cook a longer or shorter time. Only you can know your apple al dente perfection level.

Once it's off heat, stir in 1 teaspoon vanilla. Scrape the cooked apples and all the caramel-y-ness into a 9×13 inch casserole dish. Set aside to cool for a couple minutes.

Make the cobbler topping:

Preheat your oven to 375 degrees F.

In a large bowl, add the dry ingredients: 2 and 1/2 cups flour, 1 and 1/2 cups granulated sugar, 1 teaspoon kosher salt, and 1 teaspoon baking powder. Whisk it together.

In a small bowl, whisk together 1/2 cup buttermilk* and 1 egg. Pour it into the bowl with the flour, then use a pastry cutter to cut it into the flour, making a shaggy dough. You can use a spoon or fork if you don't have a pastry cutter, be sure to use a cutting motion rather than stirring. It's okay if there are still some dry spots of flour, see photos. Pour or spoon the flour mixture on top of the apples in the 9×13 pan, and spread around evenly.

Chop a stick of butter into 1/2 inch pieces. Scatter evenly over the top of the flour mixture.

Sprinkle 2 tablespoons sugar over the top. I used half granulated sugar and half demerara (raw) sugar to give it extra crunch.

Bake at 375 for 45-55 minutes. The top should be turning light brown. Once it is light brown all over the top (not just in a few spots) and it's bubbling like crazy, it's done.

If you like an extra crispy top, broil the cobbler for 1-3 minutes at this point. No need to move the oven rack up. It gives it an extra crisp browning that I just love. Who doesn't want a crispy crunchy top? But don't walk away! Keep an eye on it, I can't tell you how many things I've lit on fire in my broiler. Check it every 60 seconds.

You are supposed to let it cool completely. Hogwash! Wait 15 minutes to let the juices set up and then dig in! Vanilla ice cream is just not even optional for serving.

Store leftovers loosely covered on the counter; transfer it to the fridge after 2 days.
Notes
*How to make Apple Cobbler without cooking the apples first:
I do prefer cooked apples for this cobbler, but I know it's a lot of extra steps and sometimes you just need to git er done! It's so easy (and still very tasty) to make this with raw apples:
Follow all instructions as given, but instead of mixing the lemon and sliced apples in a skillet, place them directly in a 9×13 inch casserole dish. Add all the ingredients called for in the filling directly on top of the raw apples in the pan, with only one change: *use 1/2 cup all-purpose flour instead of 5 tablespoons.* This will help thicken our sauce as it cooks in the oven.
Add 1 teaspoon vanilla. Gently stir the mixture together, being careful so your apples don't go flying everywhere. Your apples should have a light sauce clinging to them, with no obvious patches of flour or sugar. Press the apples down gently in the pan.
Top as instructed in the recipe with the cobbler dough.
Bake as directed, keeping in mind that the longer these apples are in the oven, the better they will be. Take it out of the oven when the cobbler topping is as browned as you can take it! You can even top with foil in the last few minutes of baking if you want, to slow the browning process while still giving the apples plenty of time to soften.
**Cheater buttermilk: in a glass measuring cup add 1 teaspoon vinegar or lemon juice (lemon juice is better). Fill to the 1/2 cup line with milk, preferably whole milk. Stir and let sit 5 minutes, then use as directed in the recipe.
Can you freeze? I don't recommend freezing apple cobbler. I mean you can, it's just going to be a bit soggy after thawing! What you can do is make the cooked apple filling ahead of time and freeze it for a rainy day. Seal in a ziplock. Thaw at least halfway, then add to your 9×13 pan, top with freshly made cobbler dough, and voila! Easy dessert.
This recipe is super easy to halve! Just cut all the ingredients in half and bake in an 8×8 or 9×9 square pan. (how to halve an egg? whisk one egg in a bowl and use only 2 tablespoons of it. OR just use the yolk and discard the white.)
Hungry for Apple Crisp? Here's my favorite Apple Crisp Recipe, it's so easy to throw together!
Nutrition
Serving:
1
serving
|
Calories:
492
kcal
|
Carbohydrates:
102
g
|
Protein:
4
g
|
Fat:
9
g
|
Saturated Fat:
5
g
|
Polyunsaturated Fat:
1
g
|
Monounsaturated Fat:
2
g
|
Trans Fat:
0.3
g
|
Cholesterol:
35
mg
|
Sodium:
361
mg
|
Potassium:
280
mg
|
Fiber:
6
g
|
Sugar:
73
g
|
Vitamin A:
376
IU
|
Vitamin C:
10
mg
|
Calcium:
67
mg
|
Iron:
2
mg
Who apple?
This has nothing to do with anything, except that it made me laugh. Here is a comment from my sister Laura, who helps me research what The People of The Internet are googling about whatever recipe I'm working on, (which is how I create my FAQ section for each recipe):
"H2 idea: Who apple? K, not sure how you could use this but I just thought this as a highly-ranked apple cobbler heading was really funny, lol. I keep saying it to myself – who apple?!?!?!"
Who apple? Apple cobbler, ya'll. 😂😂