Y'all, this is the BEST Banana Cream Pie I have ever had! Dreamy creamy homemade vanilla custard with a crunchy graham cracker crust, loaded with banana slices and piles of fluffy whipped cream. This easy pie is rich and perfect when done right, but cloyingly sweet and mushy when done wrong. Follow my tips to make your pie epic! (And please, look beyond the instant pudding!) Originally published March 31, 2022.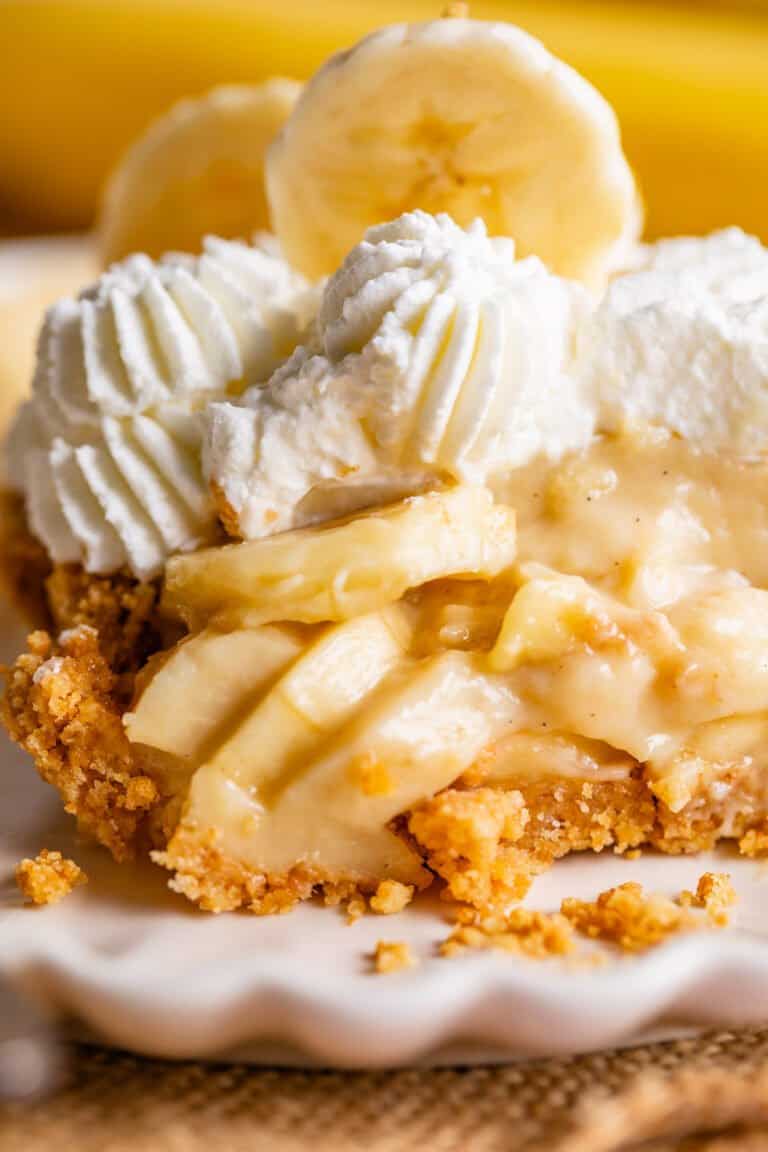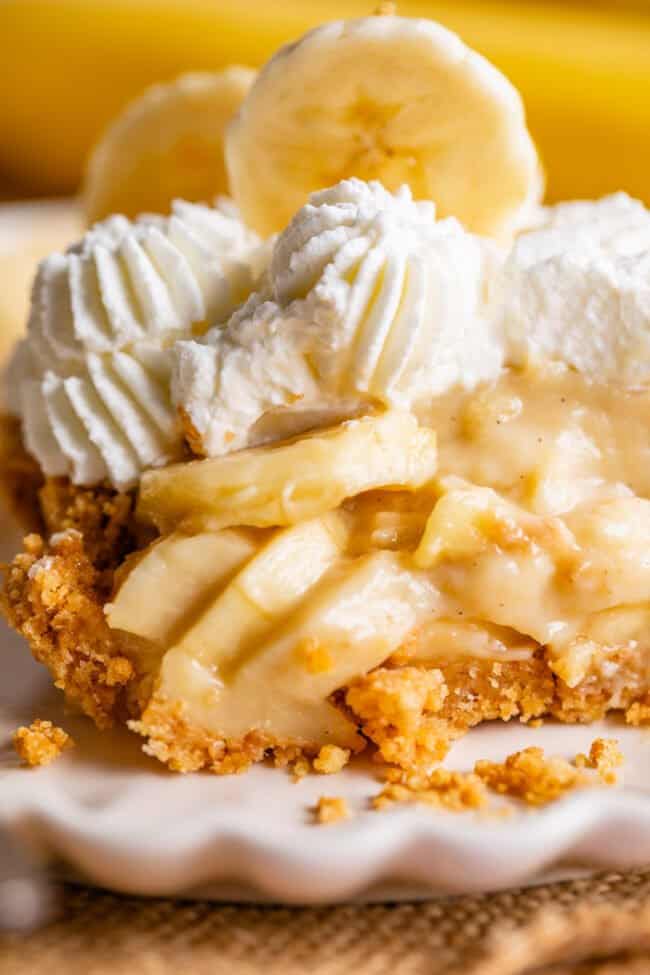 Table of Contents
Do you have strong towel opinions? Apparently I do. I didn't know this about myself until recently when I looked around and realized my house was full of the grossest oldest bath towels known to man.
There's the purple one that my mom bought me when I left for college. There's the greenish yellow ones that our old neighbors randomly gave us one time. There are the oversized white ones (not white anymore) that I use every day, that have long twisted threads hanging from the edges that I have been too lazy to cut off.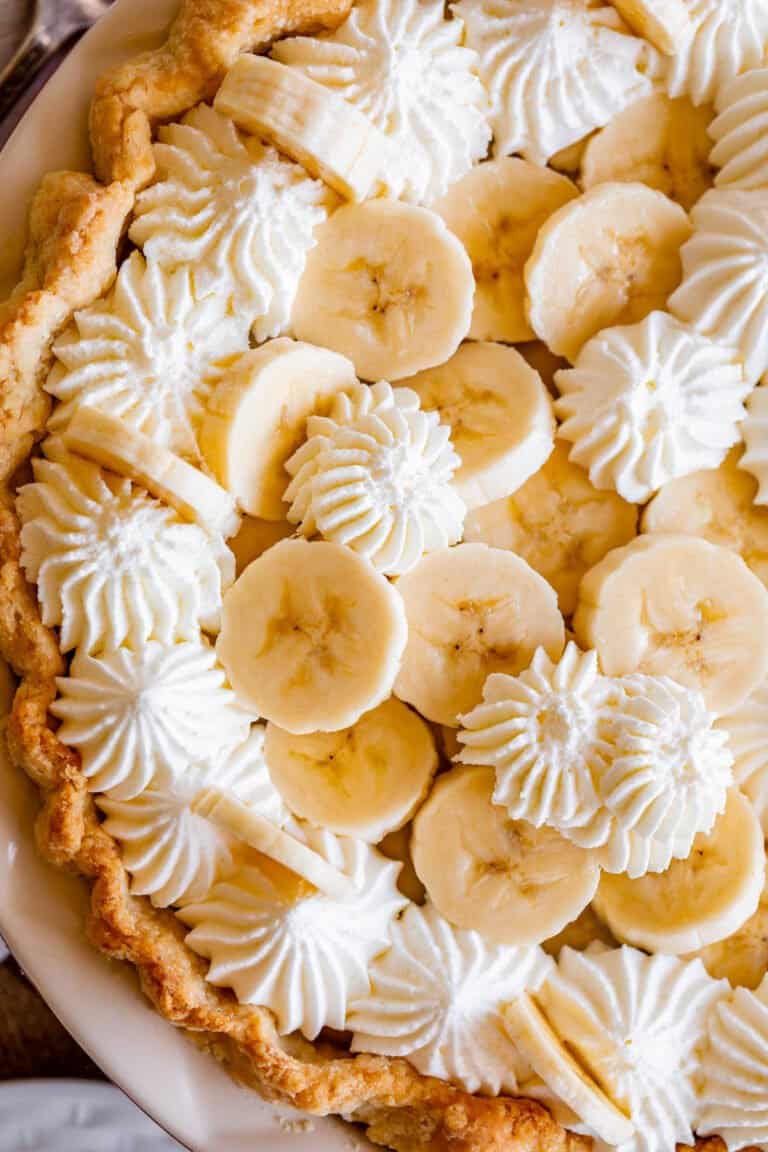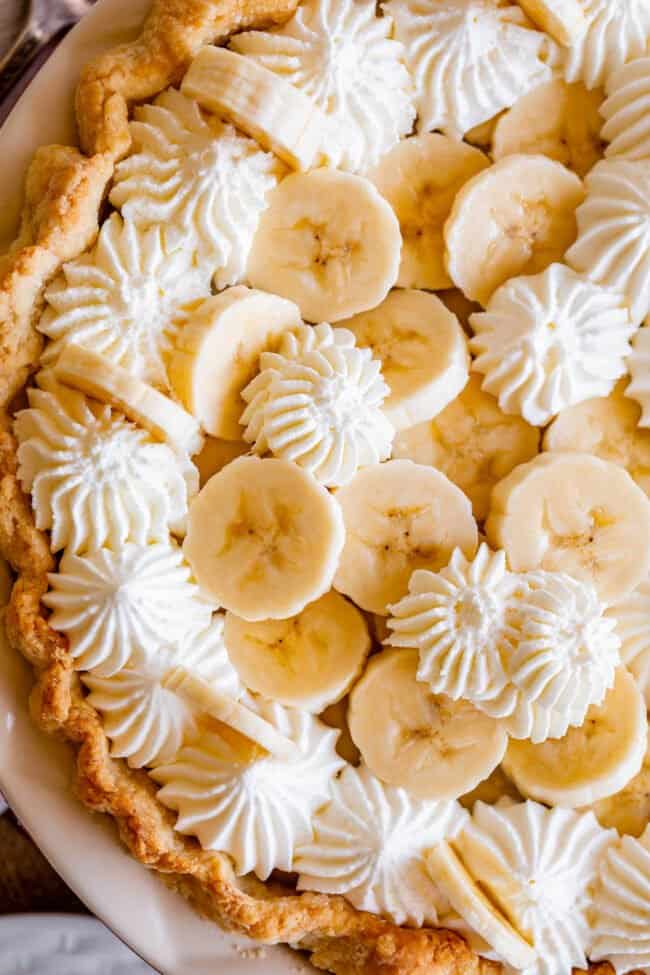 My BFF Sarah told me about an article she read titled "How to Tell if You Are Low Class," and the first instruction was to walk around your house and see how many colors of towels you have. Yup, I definitely qualify.
So I bought some new ones (all one color!) that were highly rated. Paid a pretty penny for them. They arrived in a big box that I moved into my garage. I couldn't get myself to open it for several weeks, because I knew exactly what I would find inside…new, soft, fluffy towels.
And that's when I realized what I already secretly knew…that I absolutely hate fluffy new towels. Who even am I??
The thing about old towels is that they get the job done. They dry you off like nobody's business.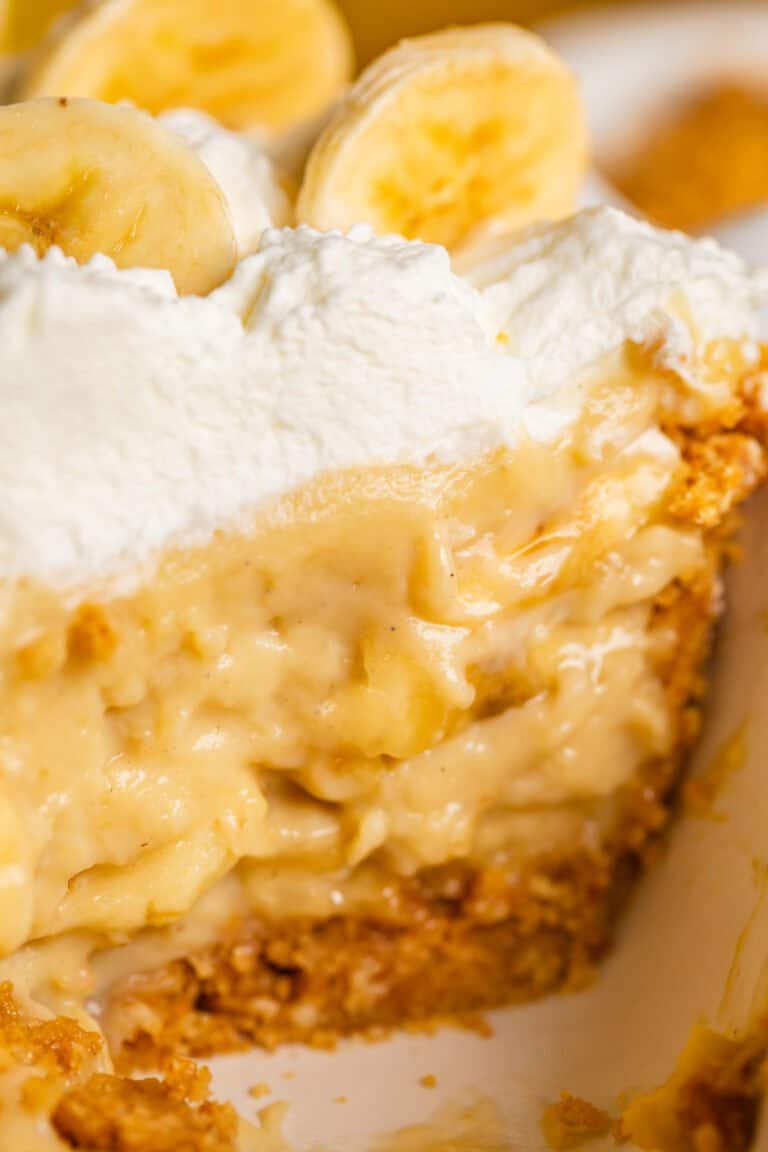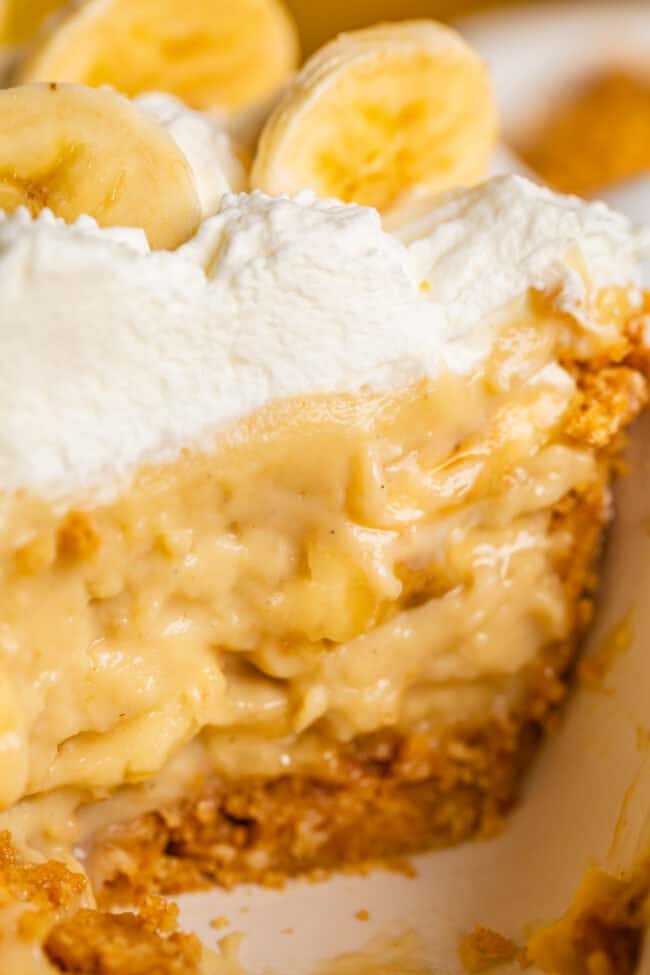 But, new towels? I finally opened the box and used one of them this week. I felt like I was drying off with a plush blanket. It was soft, but also not absorbent? Like, at all? How is this a top rated towel on the market if it doesn't actually dry you off? I want to get on with my day, not snuggle in for a post-shower nap. Am I the only one?? (Maybe don't answer that.)
I may have unacceptable towel opinions, but when it comes to desserts for Easter, I'm your girl. Ain't nothin low class about this Banana Cream Pie. It's my new favorite obsession!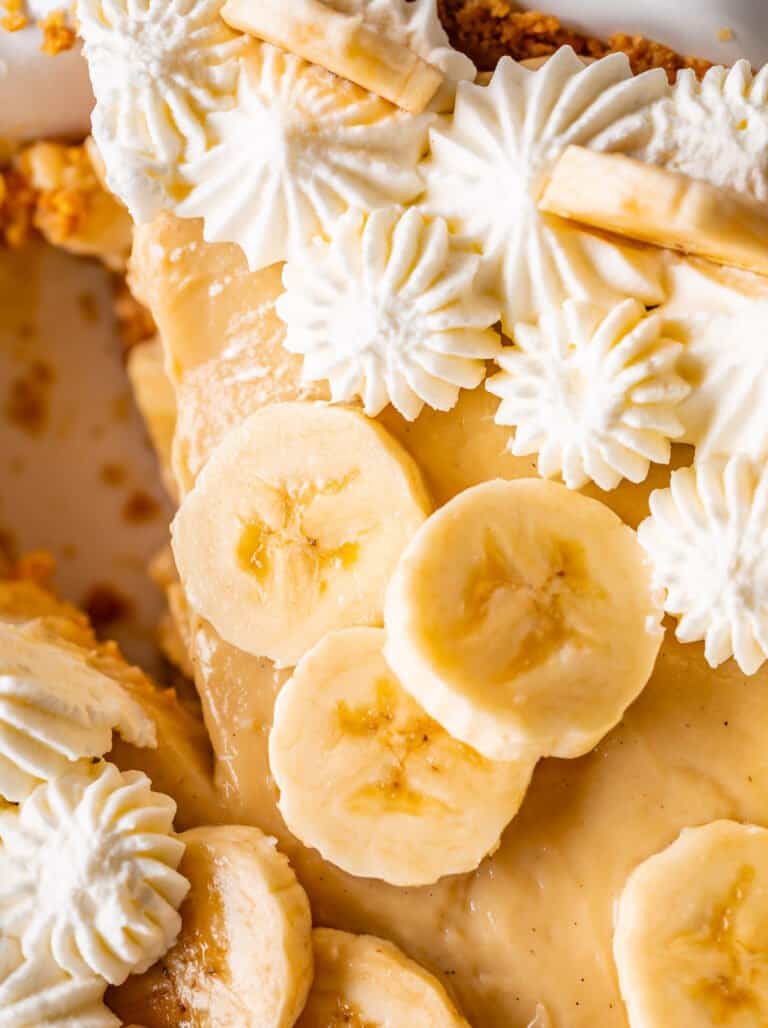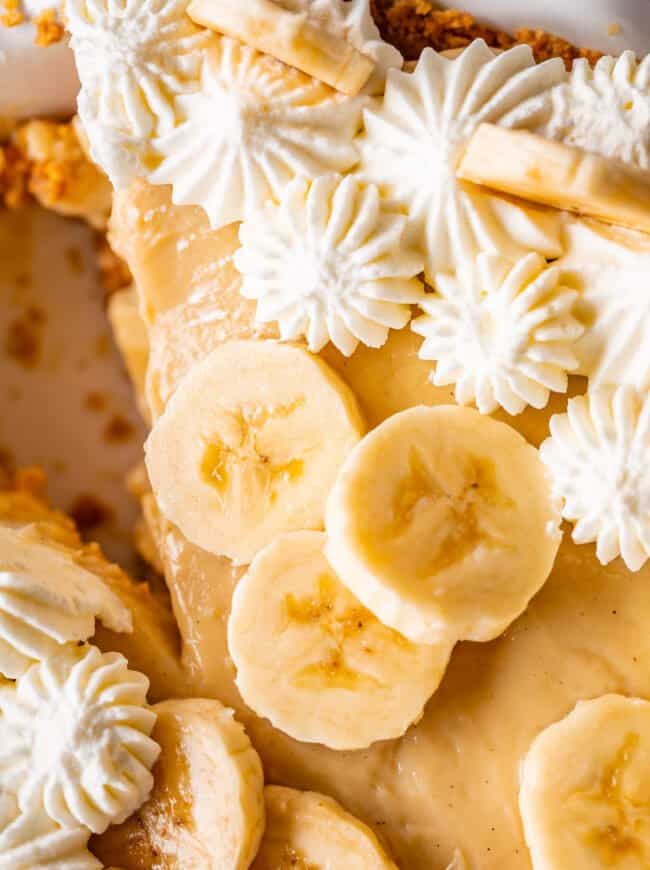 Homemade Banana Cream Pie can go oh so very wrong
I will tell you the truth, guys, I NEVER pick Banana Cream Pie first. You know, at Thanksgiving or Easter or Pi Day, whenever you are in a situation when pies are lined up, competing for your attention. Which one do you slice into first? (I always go for Key Lime Pie or maybe the Chocolate Honey Chiffon.)
Banana Cream pie has never been at the top of my list because there are just so many ways for it to turn to the dark side.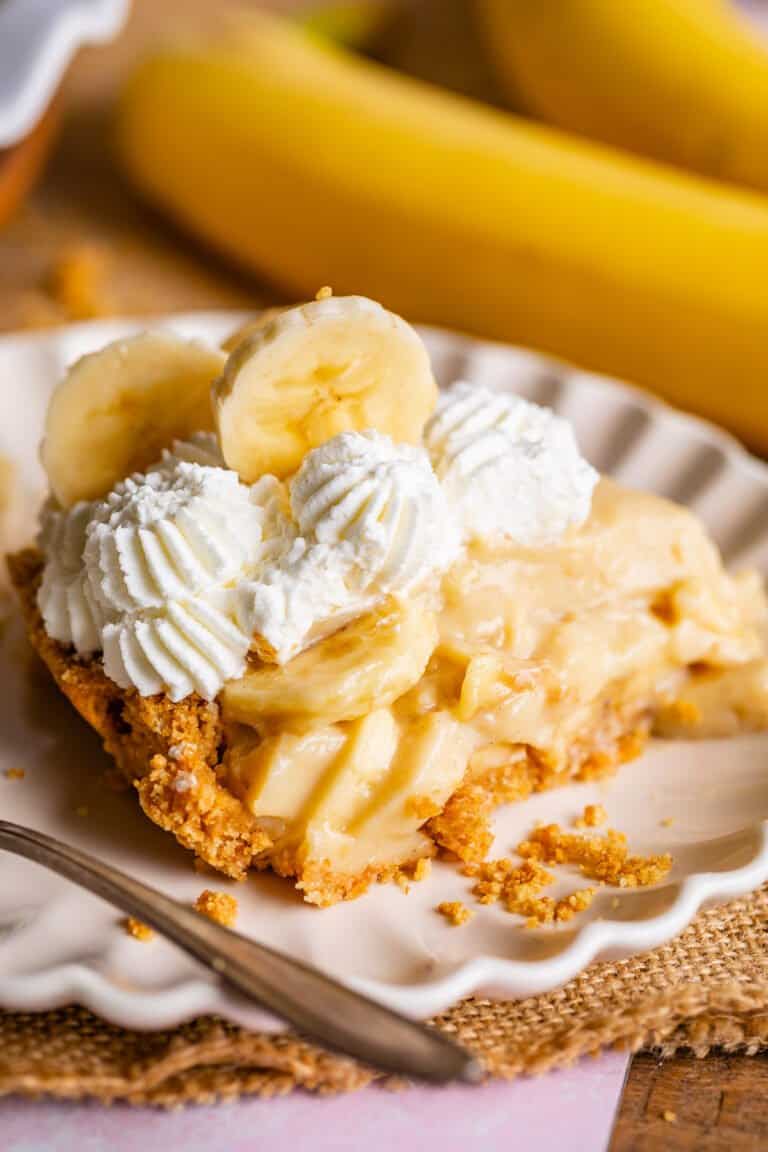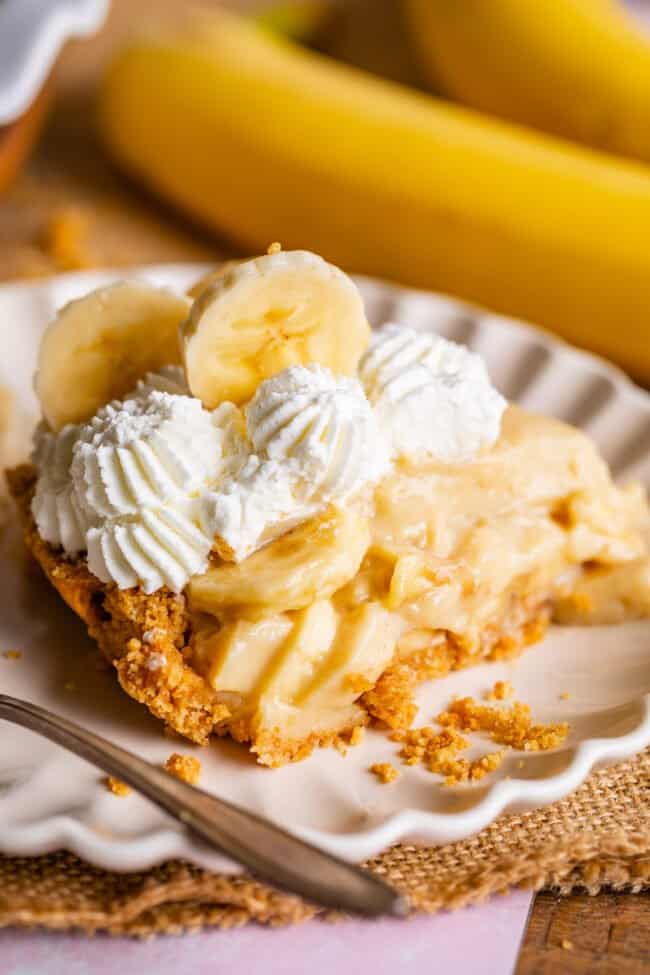 First of all, there are never enough bananas and I want my banana cream to GIVE ME THE GOODS. Don't be stingy now.
Second, most of the time people are making this pie with instant pudding and Cool Whip. Now I'm no pudding hater, folks (just try this Golden Oreo Pudding!), but Banana Cream Pie is supposed to be made with CUSTARD, which is way richer and creamier than pudding. You know when you serve up this pie and instead of staying in a neat slice, it turns into puddle on your plate? That's instant for ya.
But I have found it! Only five pies in and I found THE ONE. The Banana Cream Pie that made me change my mind about it all. Converts, unite!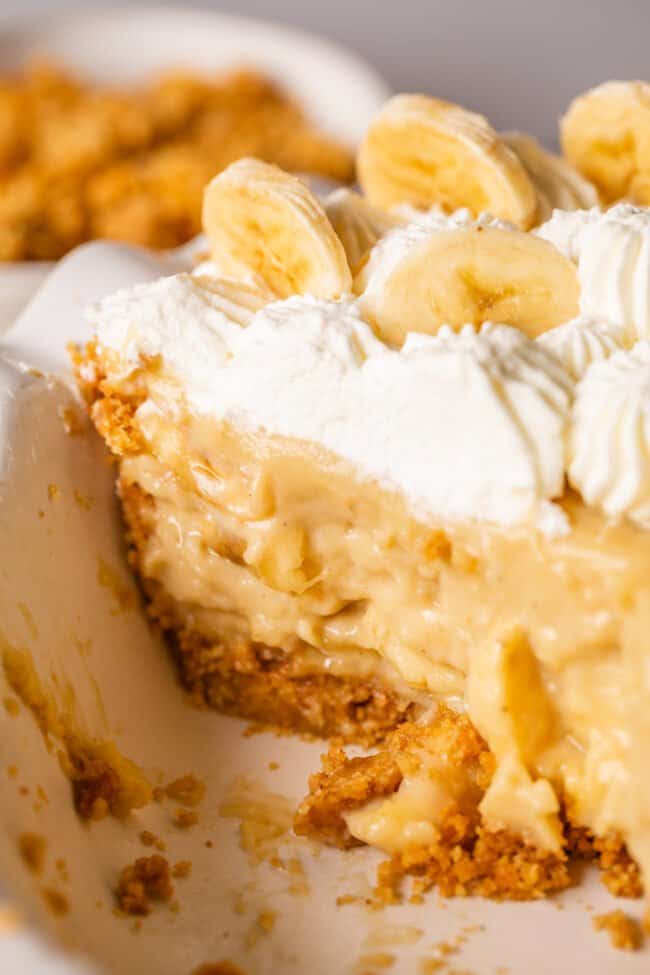 What is Banana Cream Pie?
Let me tell you what a true, old fashioned, from-scratch, straight-outta-Grandma's-binder pie is like:
We start out with a homemade crust, I prefer a graham cracker crust, more on that later.
Top it with a layer of tender banana slices. Perfectly ripe! If you wouldn't peel and eat right now, then it is not the banana for your pie! (Save your brown ones for Banana Bread.)
Use a LOT of bananas, at least 3 or 4. My favorite tip: layer the bananas with the custard to get the Ultimate Banana Effect. Give me banana in every bite please. Don't make me hunt for the star of the show here people!
We are making a homemade vanilla custard, which is what really sets this pie apart from all the other ones you've tried. It is super creamy and rich thanks to the addition of several egg yolks. It's easy to make, 10 minutes, max! We are also using a little bit of browned sugar instead of all white sugar, as is traditional. I LOVE the butterscotch flavor this adds, but you can use all white sugar if you are a purist.
Then top the whole thing with a mile high layer of sweetened homemade whipped cream. Get that Cool Whip outta here. Guys, it's a cream pie, it's literally in the title, we can do better than this.
My last tip is unconventional but oh-so-good: top the pie with a drizzle of Caramel Sauce and a sprinkle of more graham cracker crumble! Heresy, you say? Just look at this!! ↓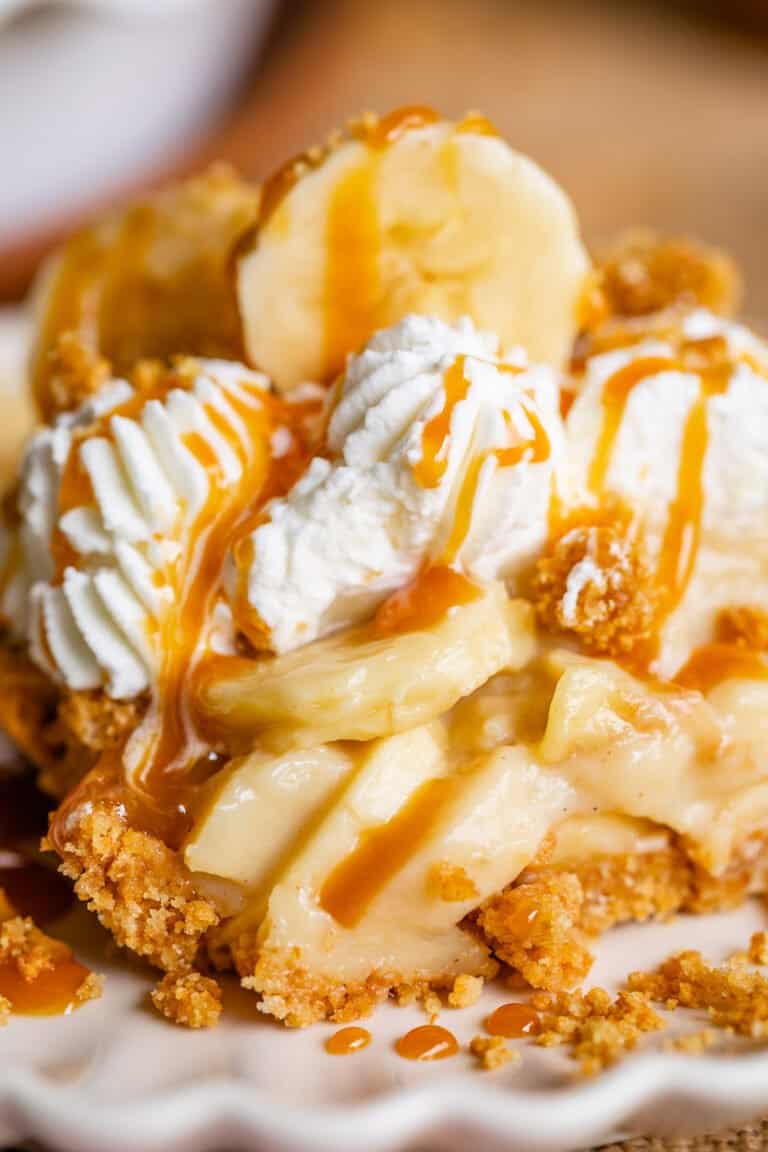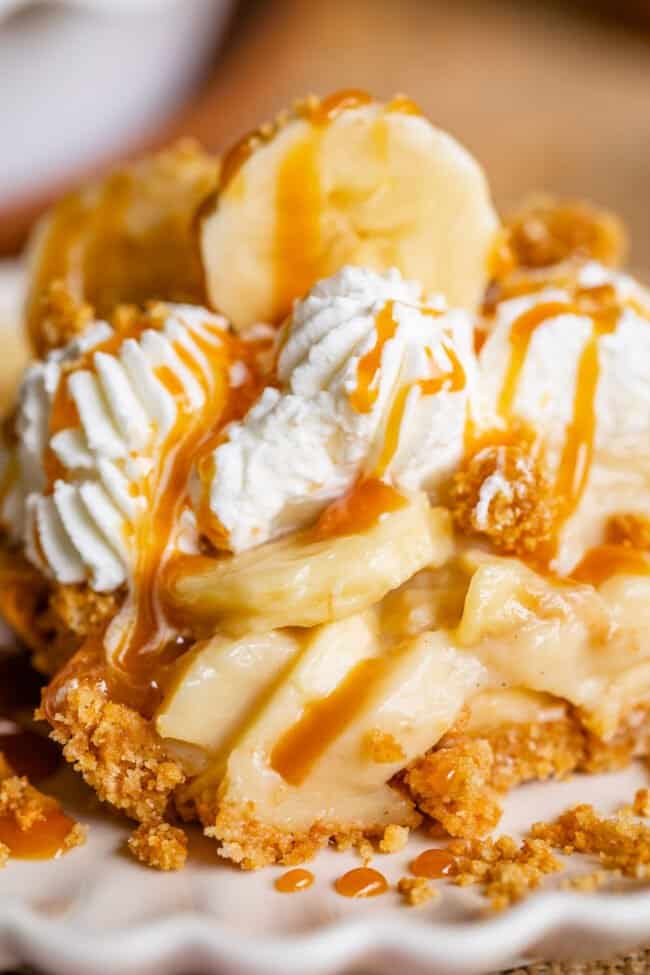 Banana Cream Pie Recipe Ingredients
Here's a quick shopping list to help you gather your ingredients. See the recipe card below for the full ingredients and instructions!
Graham cracker crumbs (2 ¼ cups or 13.5 full graham sheets)
Granulated sugar
Butter
Brown sugar
Flour
Cornstarch
Whole milk
Heavy whipping cream (2 ½ cups total, NOT coffee creamer!)
Eggs (4, just the yolks)
Vanilla bean paste (or vanilla extract)
Bananas (3-4)
Powdered sugar
Caramel sauce (optional, to garnish)
Now about that crust.
I think Banana Cream Pie tastes best with a graham cracker crust. I said what I said, people.
Traditionally Banana Cream Pie is made with a regular Flaky Pie Crust made from flour and butter. I think it's totally boring, to be honest. Of course I had to try it both ways: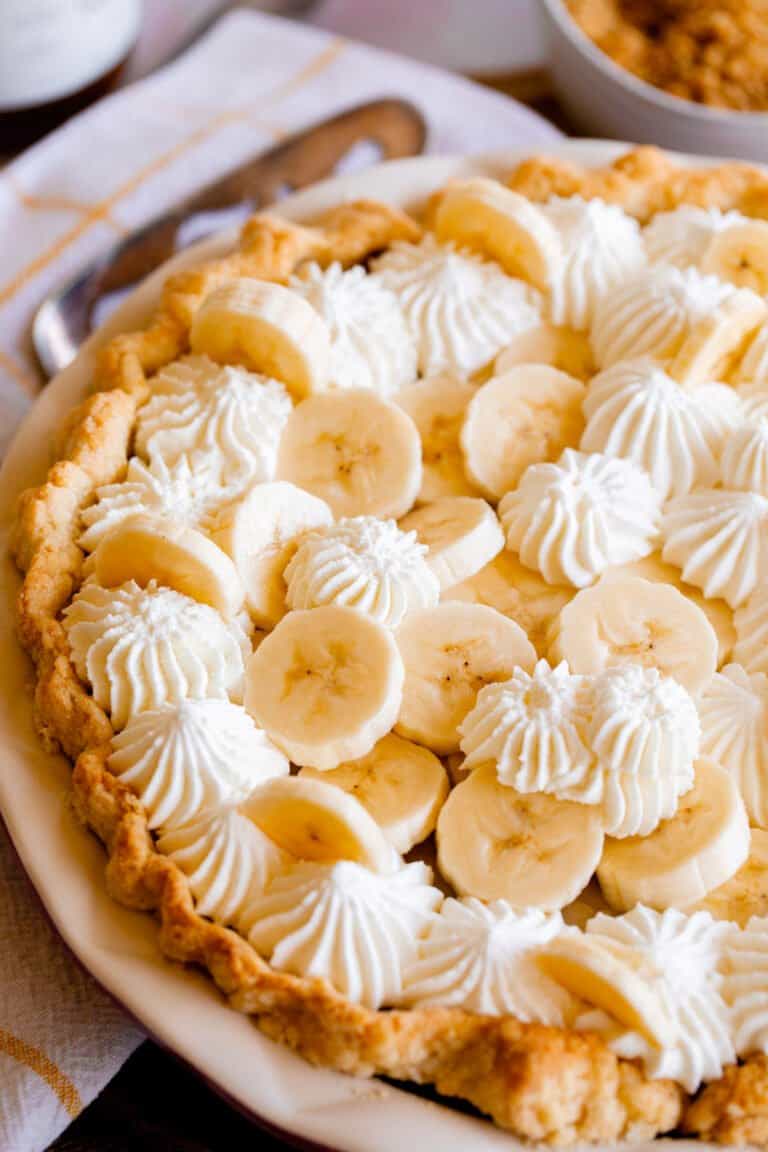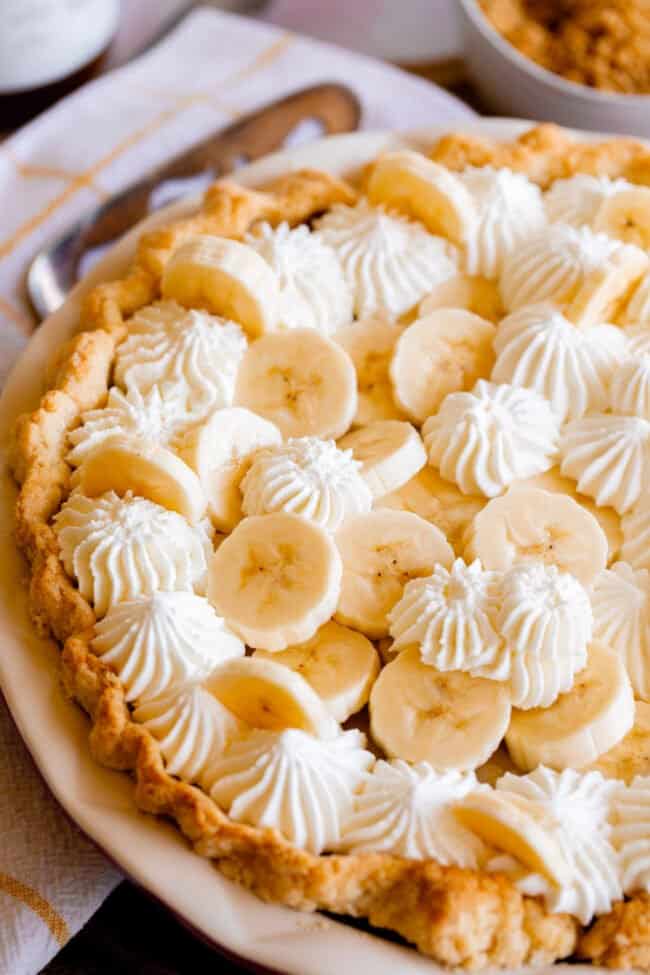 First of all, there is not enough crunch. A graham crust gives me the exact crispy texture contrast that I need to stand up against the soft and smooth creaminess of the custard and bananas.
Second, flavor. A pastry pie crust is meant to be a neutral, buttery-flavored support to a sparkling pie filling, which is the star of the show.


But the thing is, vanilla custard is a pretty subtle flavor (one reason I never add chocolate-anything to my Banana Cream Pie, more on that later). And bananas themselves are not popping with flavor the way cherries or apples are. They are not tart. They don't grab your attention and shake you by the neck. They are the cool calm collected member of the fruit basket, you know?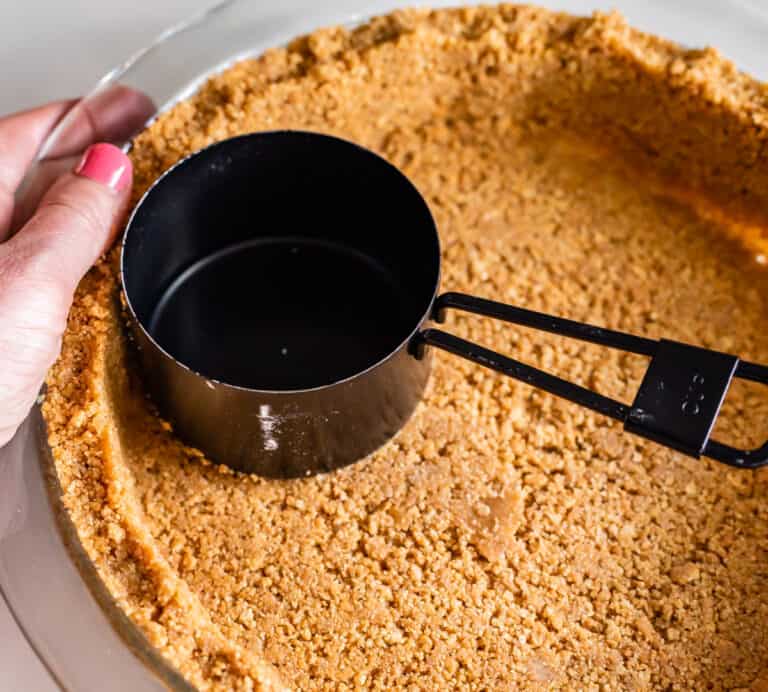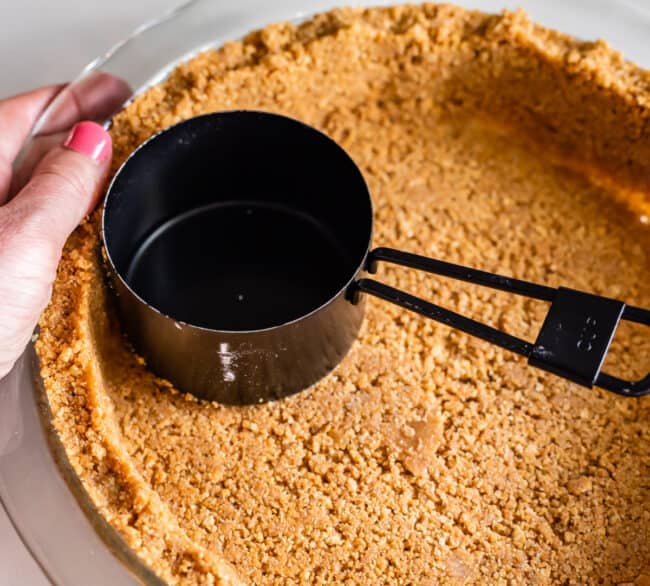 A graham cracker crust adds the exact bit of interest and contrast a Banana Cream Pie needs. It has that caramel-y molasses-y flavor going on, that deepens our pie a bit and makes it more interesting. This recipe makes a THICK crust, it delivers. Be sure to press it into the pan really well with a measuring cup. Then bake it for about 10 minutes to ensure ultimate crispiness!
How to make Banana Cream Pie (that's not boring!)
Once you have baked your graham cracker crust (or, if using a regular pastry shell, once you have Blind Baked your crust) it's time to fill er up with this totally stand-alone, snack-on-it-with-a-spoon vanilla custard.


Add your dry ingredients right into a pot:
White sugar and brown sugar. A regular Banana Cream Pie uses all white sugar, but this ain't no regular pie ;) I love the butterscotch flavor that the brown sugar adds, I think it's so much deeper and more interesting! But you can use all white sugar if you want.
Flour and cornstarch. These both help thicken the custard. Many pies use cornstarch only. I use both, because while cornstarch is a more powerful thickening agent, I think it tastes weird if you add too much. Flour tastes better than cornstarch.
Kosher salt, every sweet pie needs a hint of salt to balance the flavors.


Add in your wet ingredients. We are doing all this mixing off the stove!
Milk and cream make up the liquid base of our custard.
Egg yolks are what make this pie filling a custard instead of a pudding. They have tons of rich flavor (unlike egg whites. When was the last time you had an egg white omelette? Boooring.) Egg yolks help thicken the custard even more because they are full of protein.
Whisk your wet ingredients really, really well. The texture of Banana Cream Pie is meant to be super smooth and creamy, with no lumps at all. If you don't mix it well (before it even hits the stove), the heat will curdle any bits of egg that have not been whisked into submission. Do you see in the above photo how there are little bits of yellow yolk still visible? That's no good. Whisk with all your might for at least 2 minutes.


Then, after you've done your best, lift out your whisk and see if you can find any rogue egg proteins like this one here on the left. Pinch them off and discard. These will harden into little lumps once you get them on heat, so it's worth it to try to get them out while the mixture is still cold.
The picture above on the right is about halfway through the cook time. Set your pot over medium heat and stir CONSTANTLY. Do not walk away, or you will get a lumpy custard.
I highly recommend using a flat whisk for this custard recipe, as shown in the photos. The flat edge can get into the corners of your pot much better than a traditional whisk. If you don't get into the corners, you risk lumping. See recipe notes for advice on how to make this recipe with a regular whisk.


Once your custard reaches a boil, let it bubble and simmer for one minute, whisking constantly.
Remove from the heat, keep whisking occasionally to make sure it doesn't form a film on top. After the mixture has calmed down a bit, add a little butter and vanilla. I used half vanilla extract and half vanilla bean paste. I love the extra flavor boost the paste adds! You can use all extract though, no problem. (Paste is expensive and omg inflation, amiright???)


Now it's time to add it to our pie! Slice up your first banana and layer it on the bottom of your pie crust. Add about 1/3 of your custard. Add more bananas, more custard, rinse repeat. I like to do 3 layers. (You can totally add all the bananas at the bottom if you want.) Make sure custard is your top layer, not bananas, you don't want them getting brown.
Press plastic wrap directly onto your custard (otherwise the custard forms a film on top) and refrigerate for 3 to 24 hours.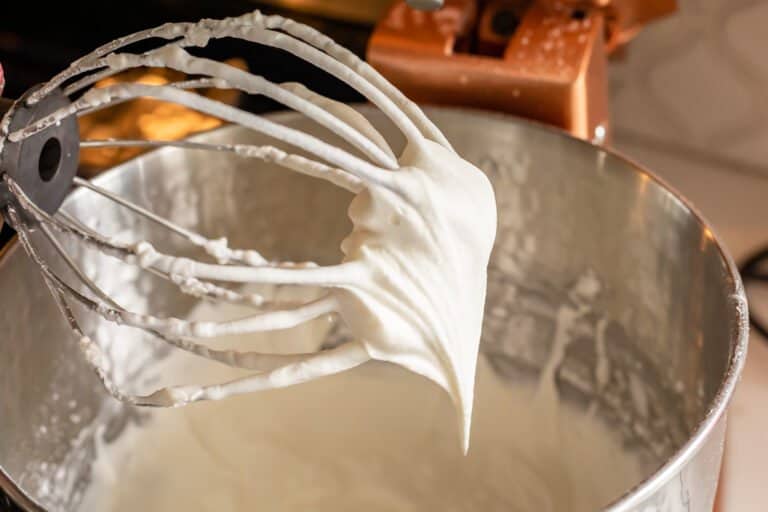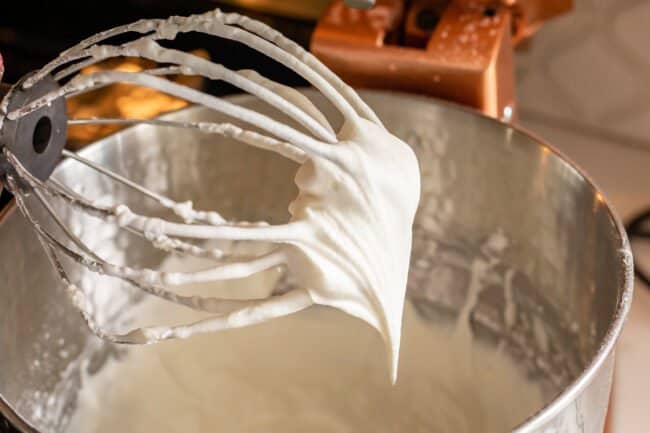 Now it's time for the glorious whipped cream! Beat your cold cold cream (the colder it is the higher it will whip) with a little bit of powdered sugar, salt and vanilla for extra flavor. Don't overbeat! I have this terrible habit of walking away from my stand mixer when I'm beating whipped cream, and I always return exactly 10 seconds after I should have, so my whipped cream is textured, too stiff, full of air bubbles, and on it's way to turning into butter. Don't be like me! Stop when it is smooth and creamy, but still stands up well when you turn the beater to the side like this.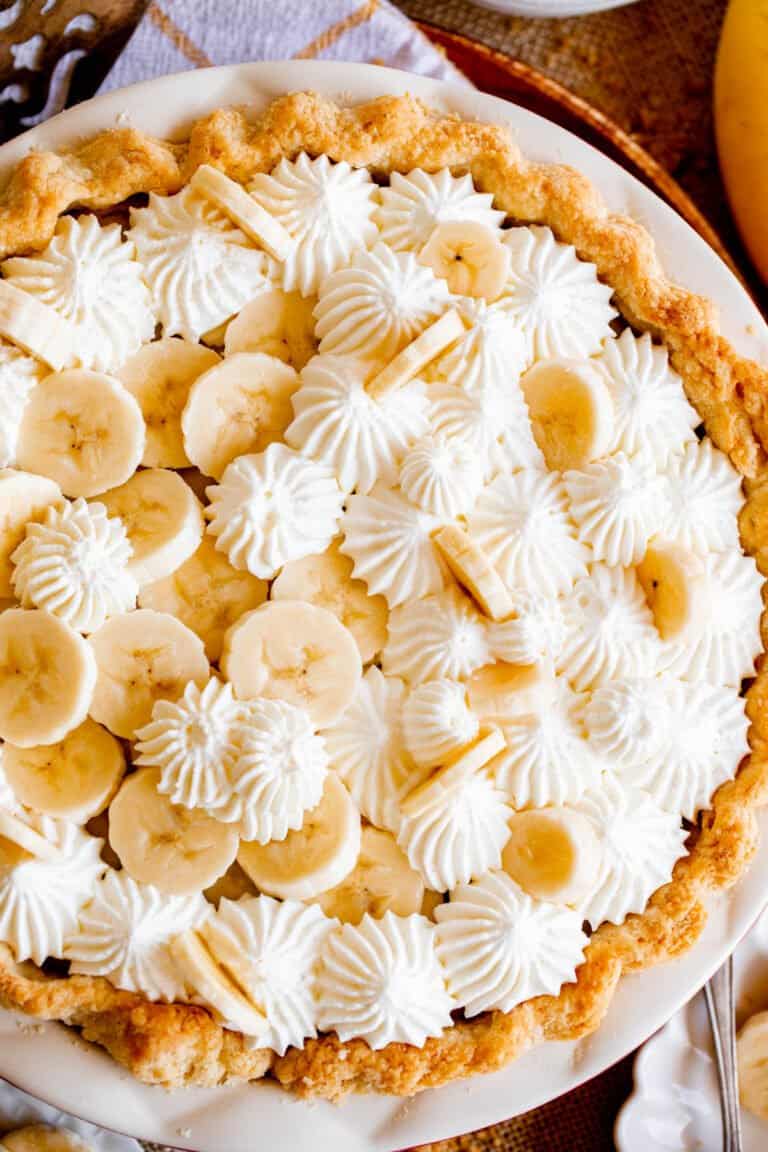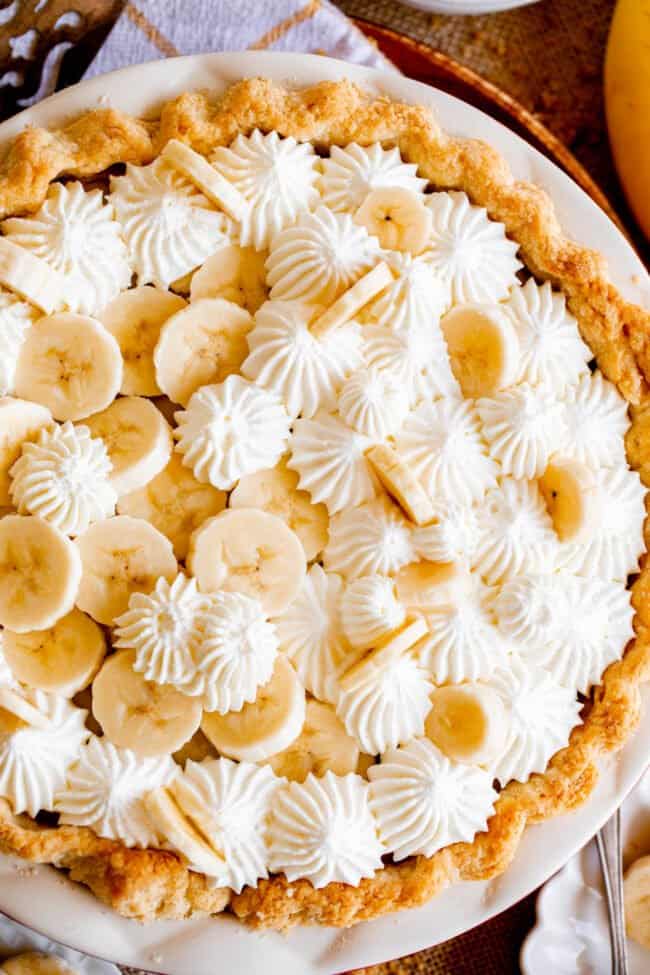 Then spread the cream all over the top, or use a piping bag to pipe the whipped cream into a pretty pattern. Don't forget to add more sliced bananas on top!
Best Banana Cream Pie Recipe variations and substitutions
This pie is totally stand alone, as is, don't get me wrong. It's a classic for a reason.
But…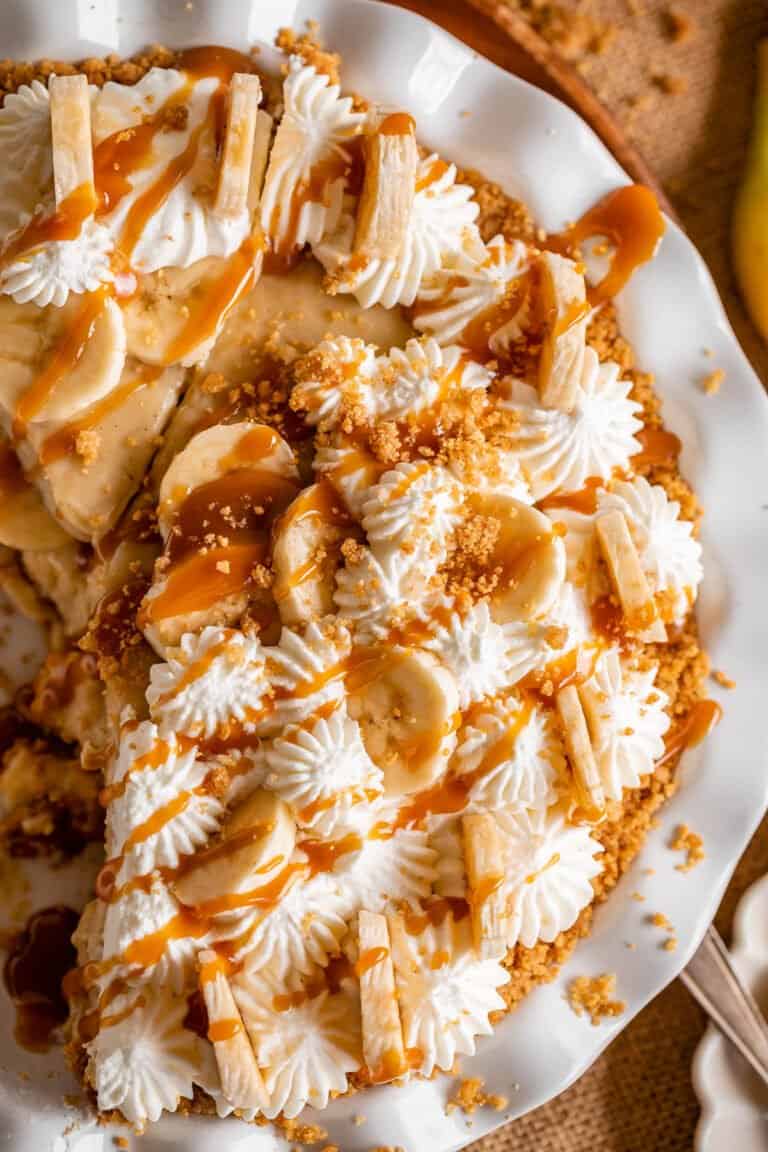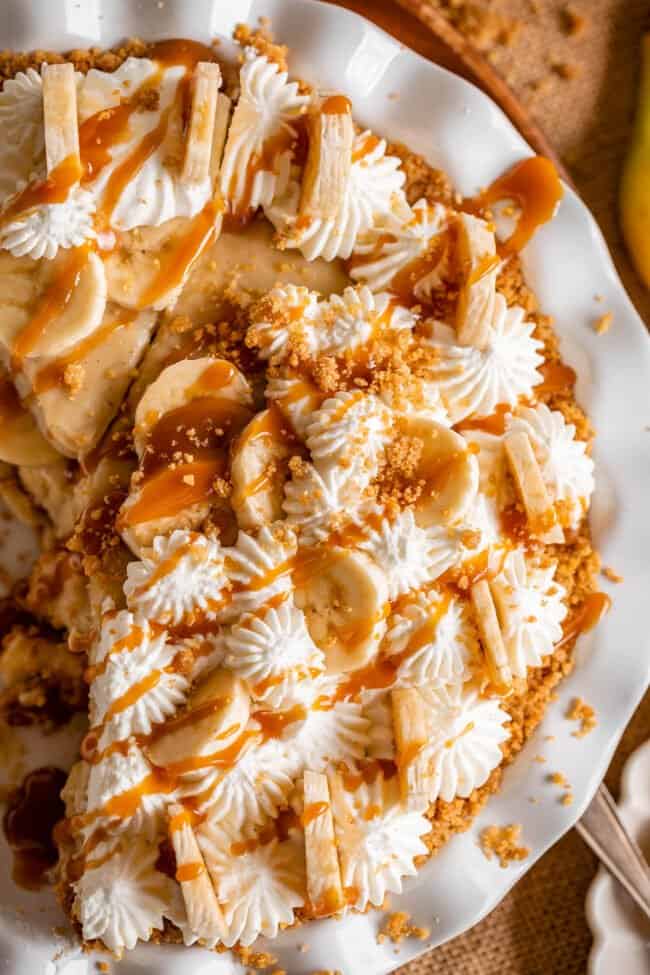 I mean come on. Look at this gorgeousness! I love to add a drizzle of Caramel Sauce and even MORE graham cracker crumble on top of my pie. I'm a bit of a crust fanatic, what can I say. This combination compliments the butterscotch flavor of the brown sugar we put in the vanilla custard. I love it!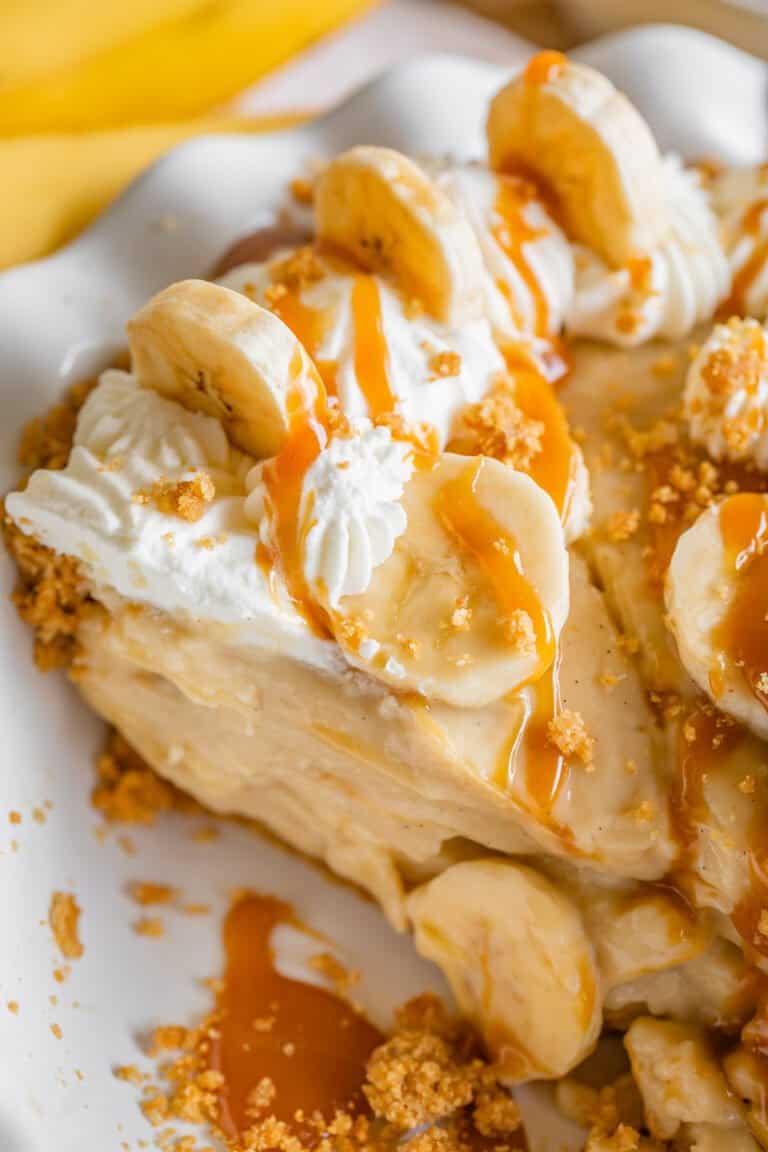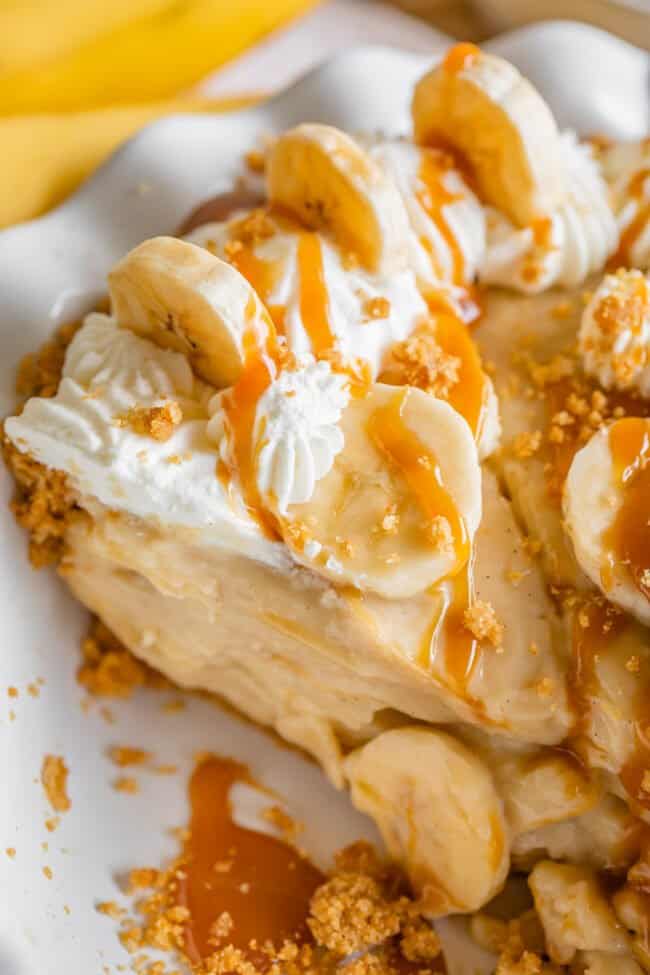 But if you are looking for other flavor options, here are some ideas:
Sprinkle layers of bananas with cinnamon or nutmeg
Add a layer of PEANUT BUTTER on the bottom crust. Or Biscoff spread?? OMG!!
Use Nutter Butters or Nilla Wafers instead of graham crackers for your crust
Add a layer of Dulce de Leche on the bottom crust. OOh this idea might be my favorite!!
I love all these flavors above because they take the pie in a molasses-caramel-butterscotch direction. I don't like to add chocolate to Banana Cream Pie. Have you ever gotten a double scoop of ice cream, one salted caramel, the other chocolate? You can hardly taste the caramel. It's too subtle. Chocolate takes over. Same goes for this pie. But this is just me!! I know so many people love this combo! Here are some ideas:
If you are making a regular pie crust (not graham cracker), my biggest tip is to bake your other sheet of pie crust. Blind bake your first pie crust as usual, but then take an entire other sheet and lay it flat on a baking sheet. Use a pizza cutter to cut the dough into 1-inch squares. Sprinkle with sugar. Bake until crispy, then use these pie crust squares to decorate the top of your pie! I've done this before, it's so pretty, and I love the extra crunch it adds.
Banana Pie FAQs
How do you thicken banana cream pie filling?
The thick texture in this pie comes from a few things. First, eggs! Unlike a pudding, which only uses flour or cornstarch, eggs give custard a thickening boost (not to mention tons of rich flavor). Cream mixed with either cornstarch or flour, or in this recipe both, also thicken the custard. I use a mix here because too much cornstarch starts to taste weird and makes the pie take on a more gelatinous (rather than creamy) texture.
Why is my banana cream pie runny?
Slop pie got you down? The main reason for a pie turning out runny is because your custard was not fully cooked. You have to allow it to cook long enough to let the starches chemically bond to the fats in the cream for the custard to set. If the mixture is not cooked long enough at a sustained temperature, they will not combine and you'll be left with a runny mess. Boil for a full minute once it starts bubbling, and make sure to do the spoon test included in the instructions!

Another potential problem could come from using bananas that are too old. The slices will get gummy and cause the custard to get watery where it touches the bananas. Gross. Remember when I said no brown bananas?? Save them for Easy Banana Cake with Cream Cheese Frosting!
How do you keep bananas from browning in banana cream pie?
Bananas brown when they come into contact with oxygen. If you slice the bananas immediately before layering them with custard, you can keep them from browning. Once you cut a slice of the pie, any banana edges that come in contact with the air could begin browning–so don't slice until immediately before serving. I don't recommend using the traditional method of dipping the fruit in lemon or orange juice, because the flavor will come across in the pie.
Why did my banana cream pie not set?
It's important to cook the custard long enough for it to thicken properly. A spoon inserted into the custard should have a thick coating on it, and if you run your finger down the center, it will leave a trail. You also need to use the correct ingredients. Note that this recipe calls for whole milk and heavy whipping cream. If you try to save some calories by using skim milk and half and half instead, your custard is NOT going to be the correct consistency. I know it's sometimes hard to make a pie and see all the fat that goes in it, but that's what makes pie taste so good!
What thickener is used in cream pies?
The thick texture in cream pies comes from a few things. First, eggs! Unlike a pudding, which only uses flour or cornstarch, eggs give custard a thickening boost (not to mention tons of rich flavor). Cream mixed with either cornstarch or flour, or in this recipe both, also thicken the custard.
Is flour or cornstarch better for pie filling?
I like using both! Too much cornstarch starts to taste weird and makes the pie take on a Jello-like texture (and we don't want that, we want creamy).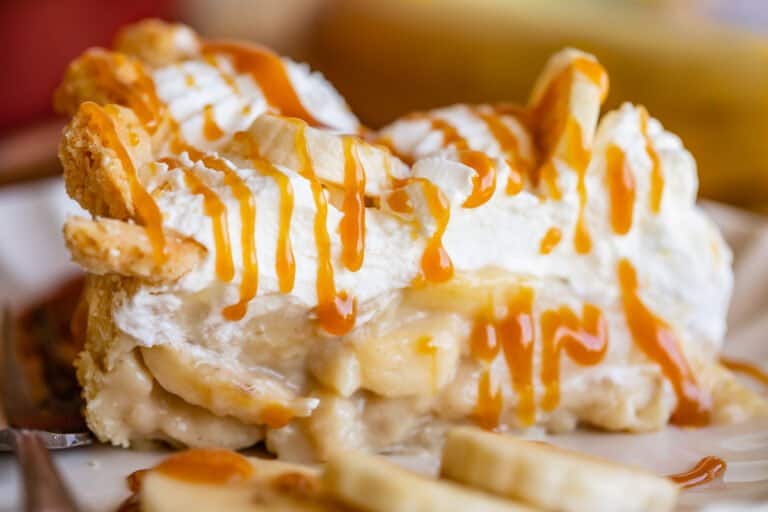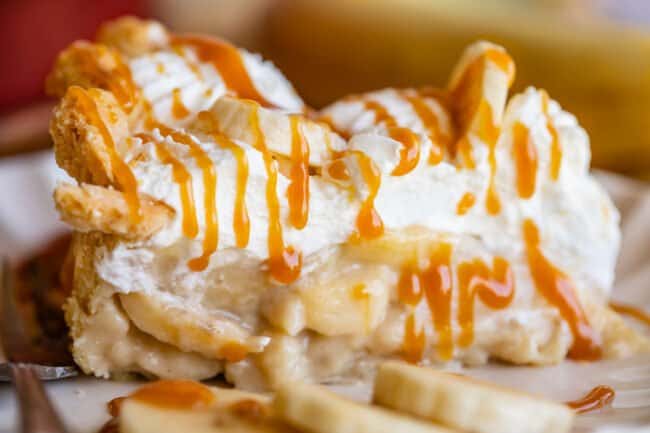 Banana Pie Recipe storage
Because of the high oxidation rate of the bananas, this pie is best within the first 2-3 days, max. After the first day, the bananas will slowly begin to brown and get soggy, no thank you. You can get around that by dipping each slice in lemon juice before placing if you REALLY need it to last, but it will slightly affect taste, and will only last a day or two more. If you're wanting to make it ahead of time for an event, I suggest making the crust and custard in advance (both will be fine well-sealed for 1-2 days ahead of time) then slice the bananas, make the whipped cream, and assemble the pie the day you need it. Voila!
Does banana cream pie need to be refrigerated?
Yes, definitely. Banana cream pie has a dairy-based custard and will spoil if you leave it at room temperature. Plus, it needs to be served chilled, so you want it in the fridge anyway.
How long does a banana cream pie last?
Banana cream pie is best on day 1. It's still good on day 2; on day 3, you need to get those leftovers eaten. The bananas go downhill, even with the sweet custard helping to preserve them. This is a good pie to make when you're having company over or going to a potluck or gathering where it will be quickly enjoyed.
Can banana cream pie be frozen?
Hallelujah yes! You can freeze it for up to two months. Wrap the pie well in plastic wrap a few times, then cover in foil to help prevent freezer burn. Or, you can fit the whole pie in a 2 gallon freezer bag, I love those things. When you're ready to eat, be sure to thaw for several hours or overnight in the refrigerator. Slice and serve as normal once thawed.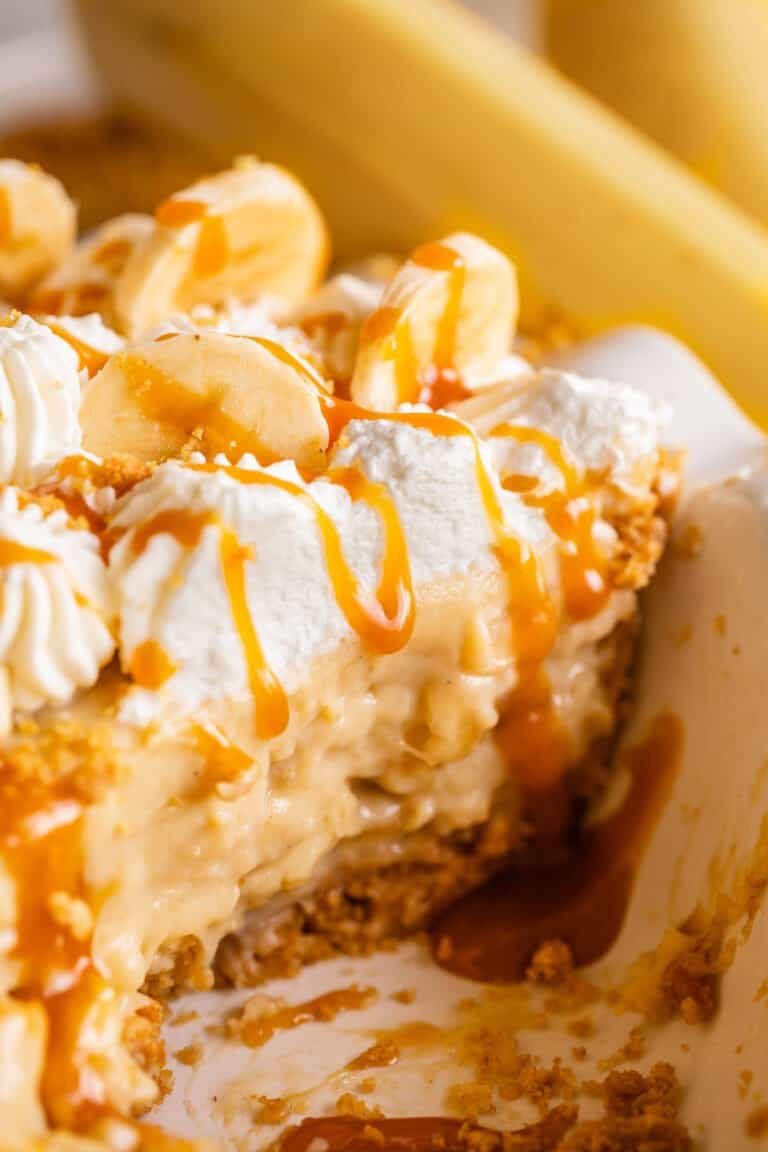 I hope you get to try out this pie for Easter! Or how about this weekend?? Is it ever the wrong time for pie?
Bananas for bananas? Try these recipes!
More pie to try!
Is it pie time? Here are some more pies to love!
Facebook | Pinterest | Instagram
If you try this recipe, be sure to leave a rating below, that helps me out so much! 🖤

Banana Pie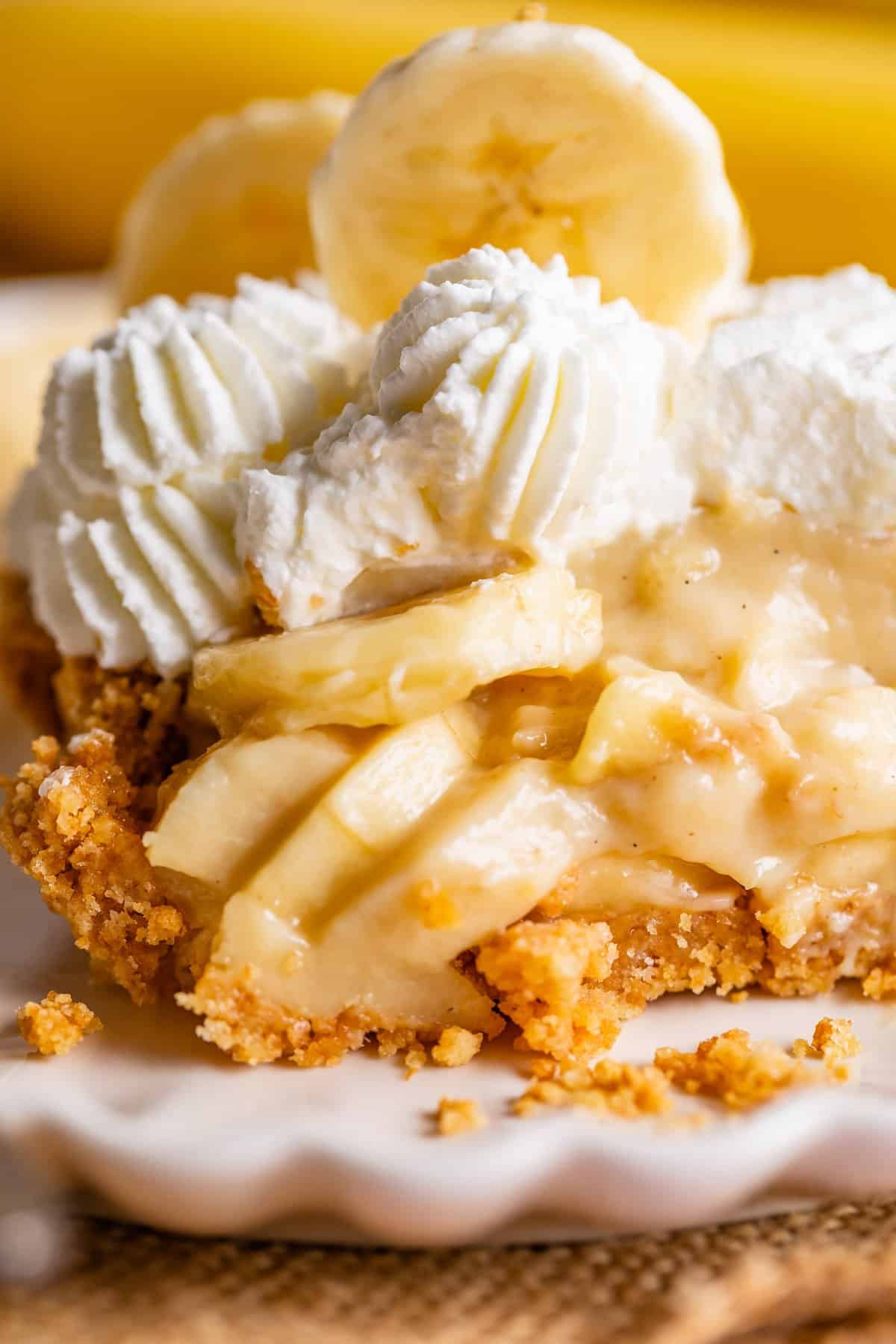 Y'all, this is the BEST Banana Cream Pie I have ever had! Dreamy creamy homemade vanilla custard with a crunchy graham cracker crust, loaded with banana slices and piles of fluffy whipped cream.
Ingredients
For the graham cracker crust
2 & 1/4

cups

graham cracker crumbs

,

1 & 1/2 packages, or 13.5 full graham sheets

2

tablespoons

granulated sugar

1/4

teaspoon

kosher salt

7

tablespoons

butter

,

melted
For the vanilla custard
3/4

cup

granulated sugar

1/2

cup

brown sugar*

,

packed, see note

3

tablespoons

all purpose flour

2

tablespoons

corn starch

1/2

teaspoon

kosher salt

2 & 1/4

cups

whole milk

1/2

cup

heavy whipping cream**

4

large

egg yolks

3

tablespoons

butter

1

tablespoon

vanilla extract

,

or vanilla bean paste
For assembly and whipped cream
3-4

large

bananas

,

more or less to taste

2

cups

heavy whipping cream

1/3

cup

powdered sugar

,

or less

1

teaspoon

vanilla extract

1/4

teaspoon

kosher salt
Caramel Sauce,

optional

graham crumble

,

optional
Instructions
First things first, decide if you want your pie to have a traditional pastry pie crust, or a graham cracker crust. If you want a pie crust, see my How to Make Flaky Pie Crust post, then follow the instructions for How to Blind Bake a Pie Crust. You only need one sheet of pie crust, and it needs to be baked before you add the Banana Cream Pie Filling. If you want a graham crust (which I prefer), read on:

Make the graham cracker crust. Preheat the oven to 350 degrees F. Crush 13.5 full size sheets of graham crackers in a large food processor until fine, to make 2 and 1/4 cups.(You can also add the graham crackers to a ziplock and crush with a rolling pin.)

Add 2 tablespoons sugar and 1/4 teaspoon salt to the food processor (or add it all to a bowl and combine). Add 7 tablespoons melted butter to the food processor and pulse to combine throughly, scraping the sides. (or add butter to the bowl and combine.)

Press the graham mixture into the bottom and up the sides of a 9 inch pie pan. I like to use a glass or a measuring cup to press the graham mixture into the corners. Make sure the crust around the edge goes up all the way to the top of the pie pan.

Bake the crust at 350 for 10 minutes. Let cool while you make the custard. (You can also skip baking entirely and just chill the crust in the fridge/freezer for 30 minutes. I much prefer a baked crust, it is crispier and more flavorful.)

Make the vanilla pudding: In a medium saucepan, add the dry ingredients first: 3/4 cup granulated sugar, 1/2 cup brown sugar, 3 tablespoons flour, 2 tablespoons cornstarch, and 1/2 teaspoon kosher salt. Whisk it together and try to break up any brown sugar lumps.

Add 2 and 1/4 cups whole milk, and 1/2 cup heavy cream. Next add in 4 egg yolks.

Use a flat whisk*** to beat the mixture vigorously for at least 1 minute. Stop whisking and wait 10 seconds to see if any egg floats to the top. If you can see lots of yellow yolk floating at the top, whisk for another minute. If you take your whisk out and egg protein is sticking to it, refusing to be beaten, pinch it off and discard. We want to make this mixture as smooth as possible before we even turn on the heat, for a creamy silky smooth pudding.

Once your mixture is beaten well, turn the heat on to medium. You can't leave the stove for the next 5-10 minutes so get ready.

Stir the mixture constantly with the flat whisk until it comes to a low simmer. This could take anywhere from 6-10 minutes depending on how hot your burner is. Once your pudding is bubbling and popping at you, turn the heat down to medium low (enough to maintain a low simmer) and cook for 1 minute, stirring constantly. Be sure to scrape the sides and corners of the pan well. If you don't have a flat whisk, see note. The custard should be quite thick at this point, and should coat the back of a spoon. (A spoon inserted into the custard should have a thick coating on it, and if you run your finger down the center, it will leave a trail.)

Remove the pudding from heat and continue whisking until the mixture has calmed down a bit. Add 3 tablespoons butter and 1 tablespoon vanilla extract (or vanilla bean paste is so delicious). Stir until the butter is melted. Set this mixture aside, coming back every 1-2 minutes to whisk again, so it doesn't form a film on top.

Assemble. Meanwhile, slice 3-4 bananas. How much you add is really up to you! Make sure they are nice and ripe, but definitely not brown at all or overripe. You want bananas that look perfect for eating right now.

Layer about 1/3 of your banana slices on the bottom of the pie crust. Whisk your pudding really well one more time, then pour about 1/3 of the mixture over the bananas. Add another layer of bananas and pudding, then another layer. (If you want you can add all the bananas at the bottom, then add all the custard on top. I like it mixed to guarantee Banana In Every Bite. You do you.)

Chill. Press a sheet of plastic wrap directly on top of the pudding and over the edges of the pie, getting out any air bubbles. Chill in the refrigerator for at least 3-4 hours, or 8 hours or overnight is even better. (You can make this ahead and chill for 24 hours!)

Make the whipped cream. When you are ready to serve your pie, make the whipped cream. Chill your bowl and whisk attachment (or beaters) in the fridge for a few minutes if you have time.

Add 2 cups heavy whipping cream to the chilled bowl and beat on high speed. Add 1/3 cup powdered sugar, 1 teaspoon vanilla extract, and 1/4 teaspoon kosher salt. You can start with even less powdered sugar (try 2 tablespoons) if you prefer your pie less sweet.

Beat for 1-3 minutes, depending on how powerful your mixer is. Keep an eye on it and don't walk away. Over beaten whipped cream is so sad (I accidentally do this all the time). You want to stop beating when your whipped cream is still very smooth. You should be able to hold a beat horizontally and the whipped cream stays up. Don't beat it so much that you can see air bubbles. It should not look textured.

Spread the whipped cream over your banana pie, saving some out to pipe on top if you like. Decorate the top of your pie with even more freshly sliced bananas. Serve immediately!

Serving: This is totally optional and not traditional, but I like to serve Banana Cream Pie drizzled with Cramel Sauce (any high quality store bought ice cream topping will be fine). Graham Crumble: I also like to serve this pie with extra graham crumble: Crush 4 full sheets of graham cracker and mix with 1 tablespoon butter. Sprinkle over the finished pie, or over individual servings.

Store any leftovers in the fridge. It's best on day 1, okay by day 2, and I would invite the neighbors over if there is any left on day 3.
Notes
*Note about brown sugar: brown sugar will give your pie a little more butterscotch flavor that is not traditional. I think it tastes amazing and am all over it, but if you want a strong vanilla flavor, use 1/2 cup granulated sugar instead of brown sugar.
**Cream is what rises to the top when you milk a cow. It is sold in the dairy section near the milk and is sometimes labeled "heavy cream", "whipping cream" or "ultra heavy whipping cream". They are all the same thing. The different names refer to different fat content levels. Any type will do for this recipe. (The high the fat content, the richer your pie will be.)
***

I highly recommend

a flat whisk

for this recipe. It can get into the corners of your pan way better than a regular whisk. If you are using a normal whisk: when your pudding comes to a boil, remove it from heat and use a rubber spatula to scrape the bottom corners of your saucepan. Whisk in any lumps that might be lurking, then return to heat immediately and boil for the 1 minute as usual. You are doing this just to make sure there are no lumps in the corners that your whisk can't get to. Repeat if necessary. The pudding should simmer on heat for a total of 1 minute, even if there are interruptions.
Nutrition
Serving:
1
serving
|
Calories:
625
kcal
|
Carbohydrates:
66
g
|
Protein:
7
g
|
Fat:
38
g
|
Saturated Fat:
23
g
|
Polyunsaturated Fat:
2
g
|
Monounsaturated Fat:
10
g
|
Trans Fat:
1
g
|
Cholesterol:
177
mg
|
Sodium:
491
mg
|
Potassium:
349
mg
|
Fiber:
2
g
|
Sugar:
48
g
|
Vitamin A:
1438
IU
|
Vitamin C:
4
mg
|
Calcium:
146
mg
|
Iron:
1
mg