Blueberry Lime Oatmeal Muffins
Charlotte made these muffins. That's right, a 2-year-old. Although, I have to admit, she is my daughter, so baking comes naturally.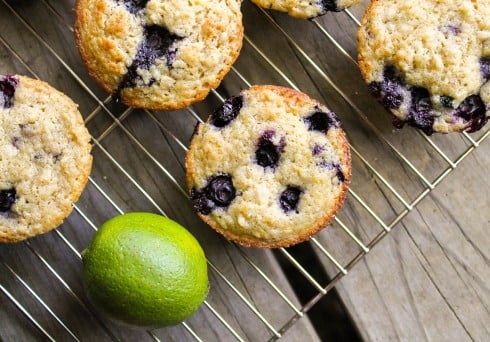 It was so refreshing to finally bake something. It's been too long. (At least a few days.) We're still living with my brother and his family. Sandi ate one of these muffins and after telling me that they were delicious, commented that she's almost afraid to compliment me too profusely because she doesn't want me to feel pressure to bake. That was when I admitted to her that I actually miss baking. Since coming to live here I bake less than half as much as I normally do. (I'm trying to cater to all the lame people on diets.) Which still comes out to multiple times a week. Life is so hard.
A few days ago when I made the Butterscotch Pudding with Roasted Banana Whipped Cream in the middle of the afternoon, my brother asked, "What did you make that for?" I just looked at him. Stupid question.
These muffins are soooooo good. They were gone in just a few hours. The oatmeal gives them just the right amount of thickness without being dense. And the lime is just a hint; I love citrus and may add even more next time.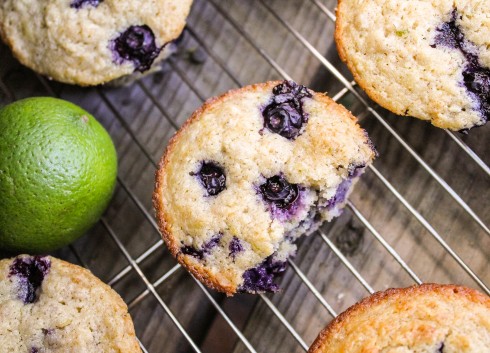 print
Did you make this recipe?
Leave a review »
Blueberry Lime Oatmeal Muffins
Makes 12 muffins
adjust servings
Ingredients
1

cup quick-cooking oats

1

cup regular or light sour cream

4

tablespoons butter

1/4

cup vegetable oil

2

large eggs, beaten

1/2

granulated sugar

1/4

cup brown sugar

1/2

teaspoon vanilla extract

1

tablespoon lime zest (or more if you want)

1

cup all-purpose flour

2

teaspoons baking powder

1/4

teaspoon ground cinnamon

1/4

teaspoon ground nutmeg

1/4

teaspoon kosher salt

1

cup fresh or frozen blueberries (if frozen, do not thaw)
Instructions
Line a muffin tin with paper liners, or spray with nonstick spray. Preheat oven to 400 F.
In a large bowl, stir together the oats and sour cream and allow to sit for five minutes to soften the oats. Melt the butter in a small bowl in the microwave, then add to the sour cream mixture.
Add the oil, beaten eggs, granulated sugar, brown sugar, vanilla extract and lime zest. In a medium bowl, stir together the flour, baking powder, cinnamon, nutmeg and salt. Add the dry ingredients to the wet ingredient and mix until the flour is just about 2 or 3 stirs from being mixed in. Add some blueberries, reserving some to poke into the top of the muffins if you want. Do not overmix the batter. Once you don't see huge streaks of flour anymore, you're done.
Fill the muffin cups 3/4 full and bake for 20-25 minutes or until lightly browned on top and when a knife inserted into the muffin comes out clean. Serve warm.
by The Food Charlatan

If you make this recipe,
share it on Instagram
 using the hashtag
#TheFoodCharlatan
so I can see it!
Source:
Homesick Texan
We are a participant in the Amazon Services LLC Associates Program, an affiliate advertising program designed to provide a means for us to earn fees by linking to Amazon.com and affiliated sites.