This fresh pie is so simple that it really lets the blackberries shine. The buttery crust is baked first, then smeared with a thick layer of cream cheese, then topped with a ridiculous amount of blackberries.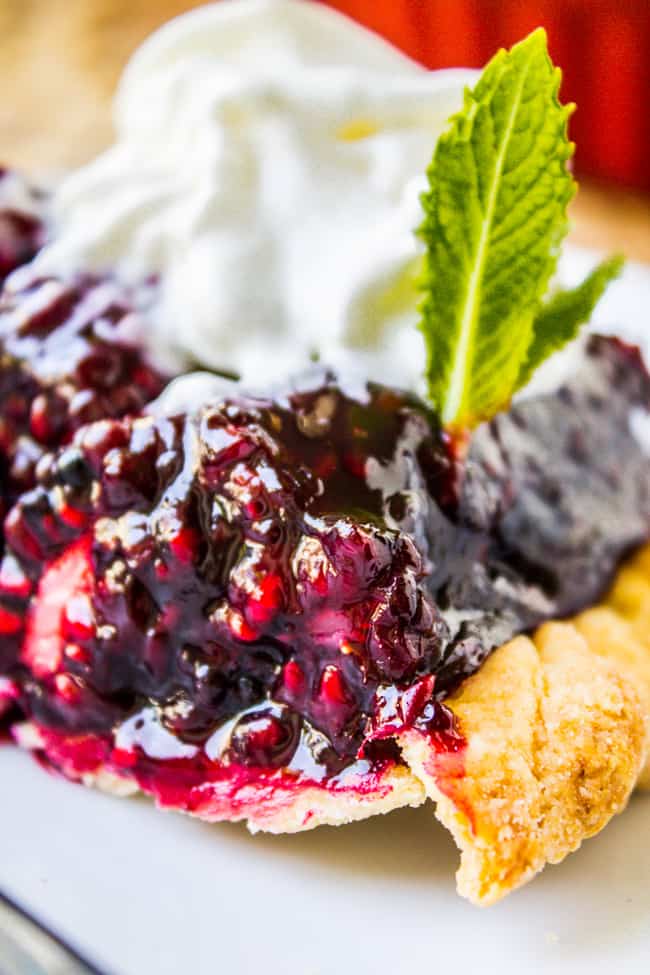 Last week I defeated a monstrous blackberry vine. It was like Karen vs. Nature, and I WON. I have newfound mad respect for people who pick fruit all day, let me just say.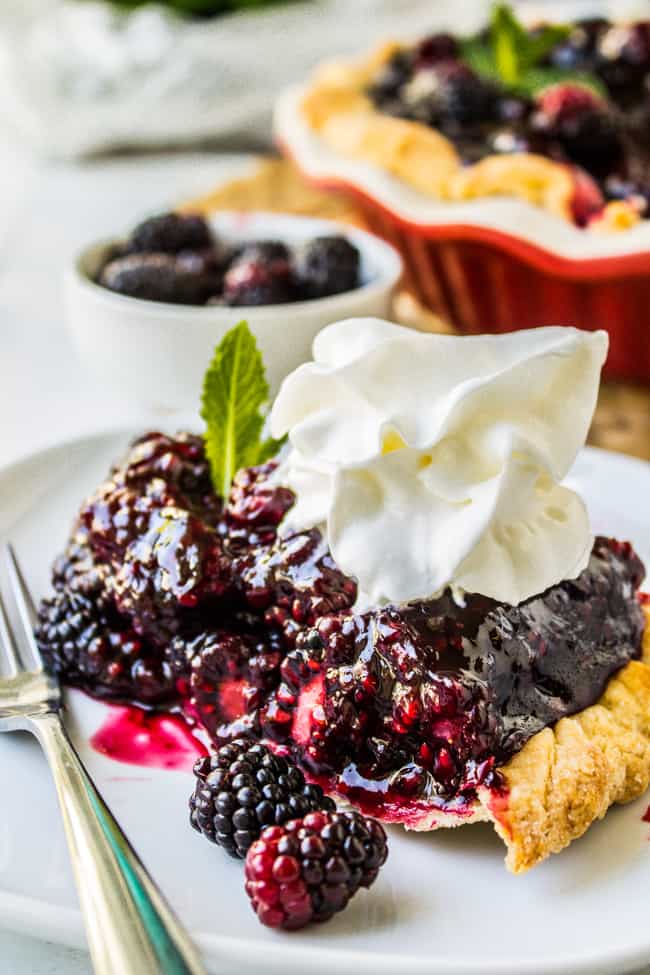 My parents have had the entire back wall of their garden covered in blackberry vines since before I was born. Every May growing up it was the kids' job to help pick blackberries so that my mom could turn them into pie. It was a daunting task back then, or at least it seemed like it, and that was with my whole family picking.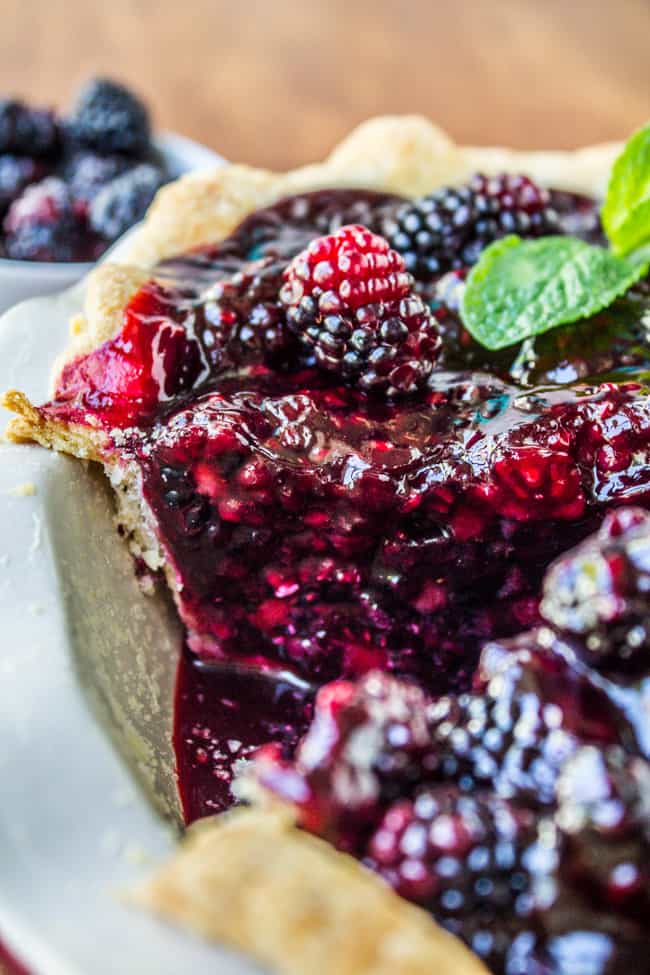 This year my parents planned a vacation that coincided exactly with the blackberry harvest, so they said I could have all the blackberries I wanted in exchange for making the hour-long drive to their house to water the garden, get the mail, etc. And pick berries, of course. For somebody who knows exactly what free FRESH blackberries taste like, as opposed to the SUPER EXPENSIVE NOT FRESH ones at the store, this is pretty sweet deal.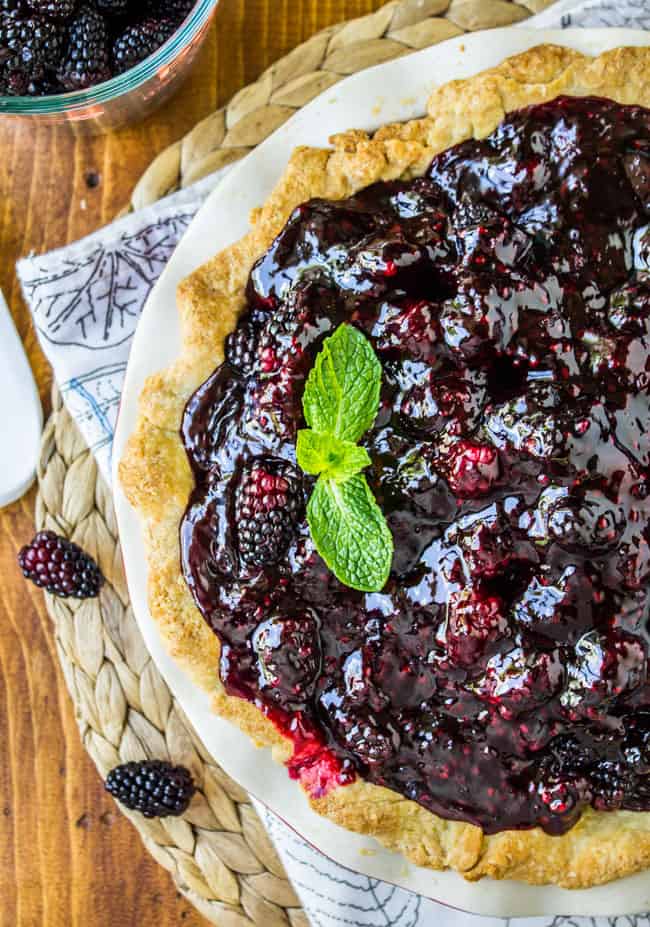 I picked 3 gallons of blackberries all on my own, which may not sound like a lot to you, but that's because you've never battled the Thorns of Death. I BLED for those berries dangit.
Then today Eric and I went down together to pick more berries. I grabbed a pail and started picking, bracing myself for more blood and prickles. Eric, however, got about 30 seconds in before announcing, "I'm going to get us some gloves."
"No," I said. "The berries are too delicate. You will crush them. If that worked, my parents would have given their poor bleeding children gloves to wear for the last 20 years."
"Just take them."
Let me just say, I'm officially disowning my parents. Oh, and Nature? With these gloves, I seriously own you.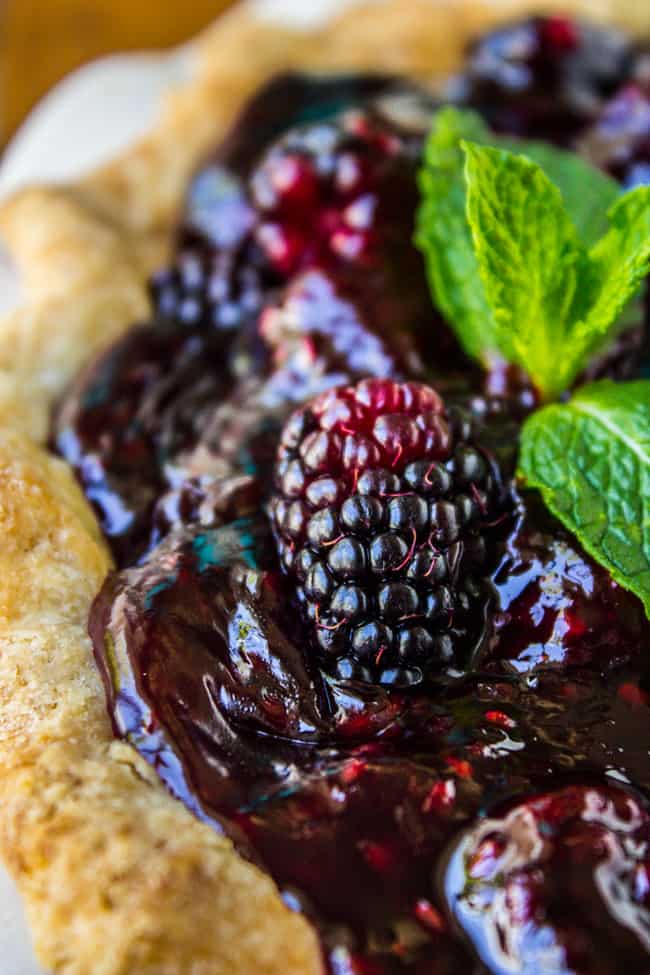 Have you ever had a Strawberry Glace Pie? It is one of my ALL TIME favorite pies ever. Nothing beats a good fresh fruit pie. And the cream cheese layer makes it. I decided to try it out with my bounty of blackberries and am SO happy with how it turned out. My mom has been making this traditional Blackberry Pie for every family occasion as long as I can remember. I love it dearly, but I think this Fresh Blackberry Glace Pie might just be my new favorite. It's super easy! Try it out!

Fresh Blackberry Glacé Pie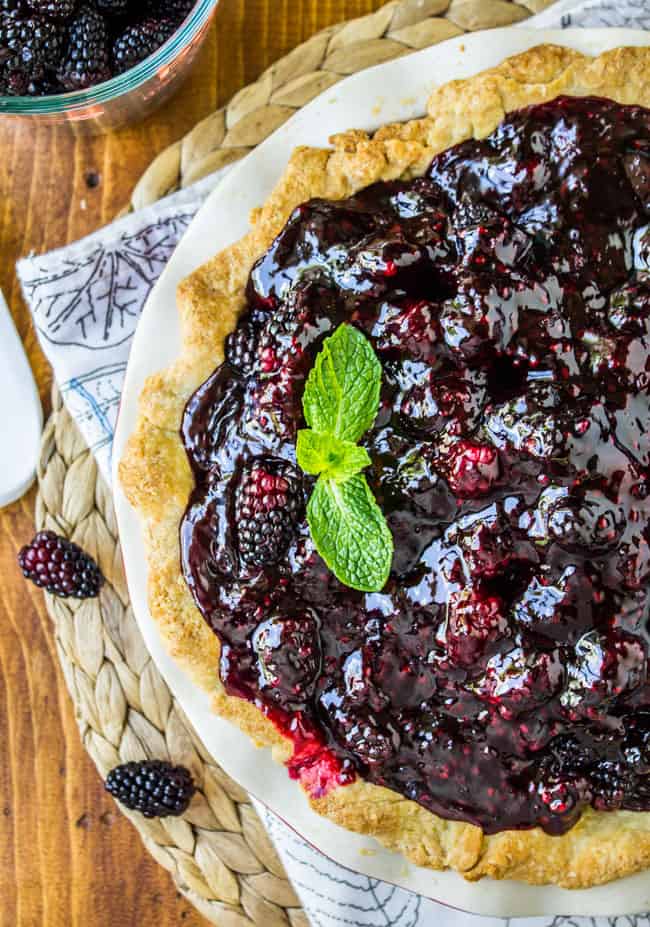 This fresh pie is so simple that it really lets the blackberries shine. The buttery crust is baked first, then smeared with a thick layer of cream cheese, then topped with a ridiculous amount of blackberries.
Ingredients
For the pie crust:
1/4

cup

water

,

very cold

2

cups

flour

,

spooned and leveled

6

tablespoons

butter-flavored shortening

1/2

cup

butter

,

1 stick frozen or cold

1 & 1/2

tablespoons

sugar

1

teaspoon

salt

1/2

beaten egg
For the filling
4

ounces

cream cheese

,

softened

8 & 1/2

cups

blackberries

,

divided

1

cup

sugar

3

tablespoons

cornstarch

1/2

cup

water

,

cold*
Instructions
For the pie crust:
Preheat the oven to 375 degrees F.

Measure out 1/4 cup water and stick it in the freezer.

Mix flour, sugar, and salt in a medium bowl.

Using a pastry cutter or fork, cut in shortening until mixture is the consistency of fine crumbs.

Grate the cold butter with a cheese grater (or cut into pieces) and work it into the mixture with the shortening, using the pastry cutter.

Crack an egg into a small bowl, beat thoroughly and divide in half (just eyeball it. You can save the other half or toss it.) Add the water in the freezer to the half egg. Use a fork and then your hands to work it into a ball. Knead just until it comes together.

Divide the dough in half. Put one half in the freezer and use it in 3 days when you decide that you need to make this pie again.

Place the other half onto a floured surface and roll out carefully into a circle large enough for your pie pan. (About 12 inches).

Use the rolling pin to transfer the pie crust to the pie plate. Tuck the ends in and crimp the edges however you like. (see photos)

Line the pie crust with aluminum foil and add pie weights (or dry beans, spare change, anything that won't be bothered in the oven). Bake the crust for about 16-17 minutes, or until the edges start to become golden. Remove the foil and weights and bake for another 2-3 minutes to crisp the center a little bit.

Let the crust cool completely.

Add the cream cheese to a bowl and beat thoroughly with an electric mixer.

Scrape the cream cheese into the pie crust and spread carefully onto the bottom. Don't tear the crust! Go slow.

Add 7 cups of fresh blackberries on top of the cream cheese, mounding it slightly in the middle.

In a medium saucepan, add sugar and cornstarch and whisk together. Add the cold water and stir until there are no lumps. Turn the heat to medium. Add the remaining 1 and 1/2 cups blackberries and mash them completely. Stir the mixture until it reaches a boil, then boil for 1 minute. Remove from heat and pour over the fresh blackberries, making sure to distribute evenly.

Poke toothpicks all over the top of the pie, then cover with plastic wrap (so that it doesn't stick).

Refrigerate for at least 3 hours or overnight. Serve with whipped cream!
Notes
*if you have liquid from the blackberries, you can use this in place of the water.
Nutrition
Serving:
1
slice
|
Calories:
535
kcal
|
Carbohydrates:
69
g
|
Protein:
7
g
|
Fat:
27
g
|
Saturated Fat:
13
g
|
Polyunsaturated Fat:
4
g
|
Monounsaturated Fat:
8
g
|
Trans Fat:
2
g
|
Cholesterol:
56
mg
|
Sodium:
446
mg
|
Potassium:
309
mg
|
Fiber:
9
g
|
Sugar:
35
g
|
Vitamin A:
887
IU
|
Vitamin C:
32
mg
|
Calcium:
69
mg
|
Iron:
3
mg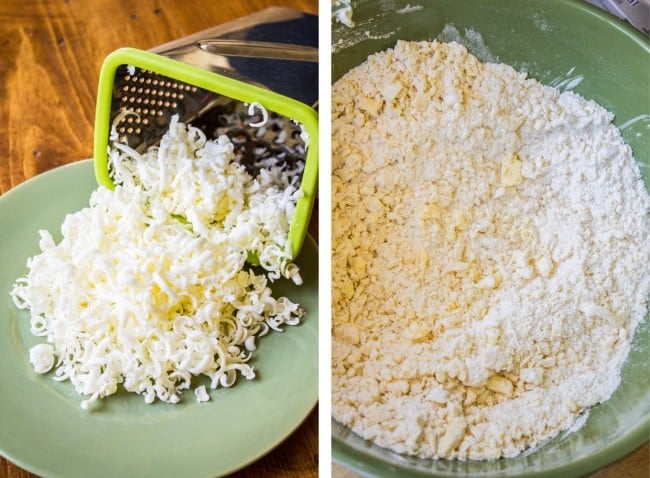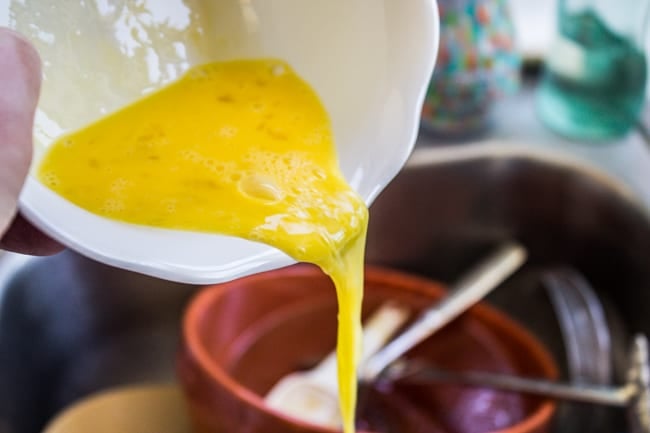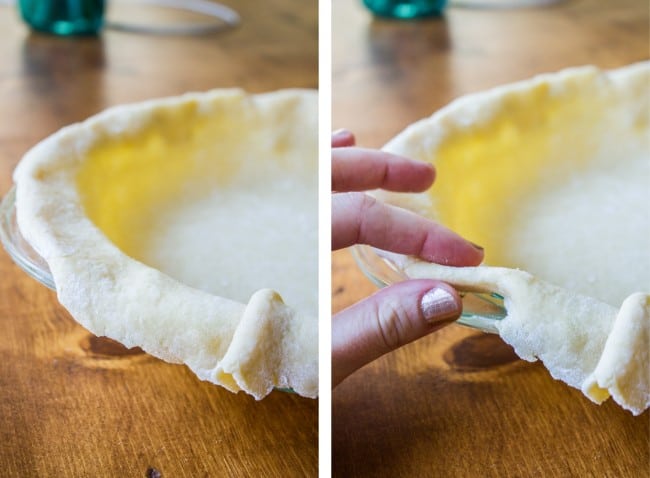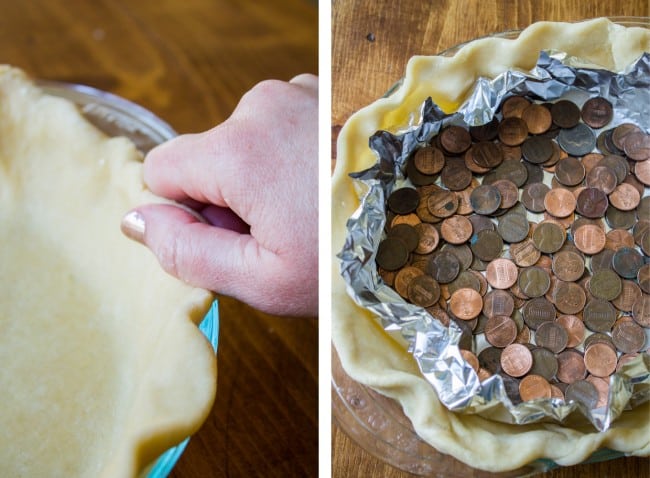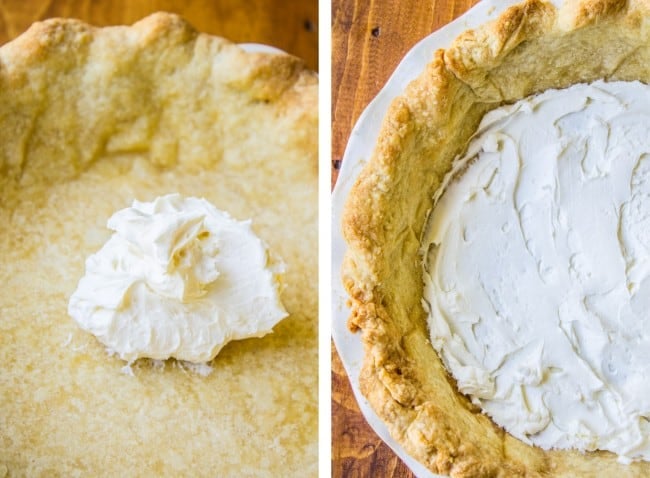 More pie!
My mom's classic Blackberry Pie, served at every family gathering since time immemorial: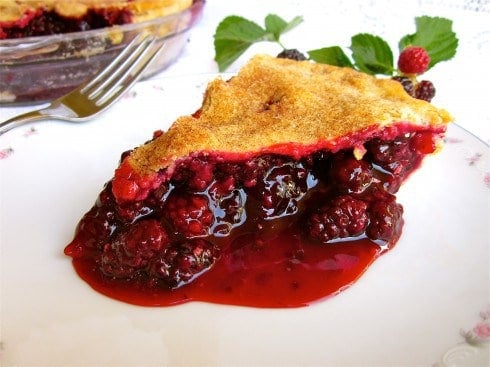 The original Strawberry Glacé Pie << make this!!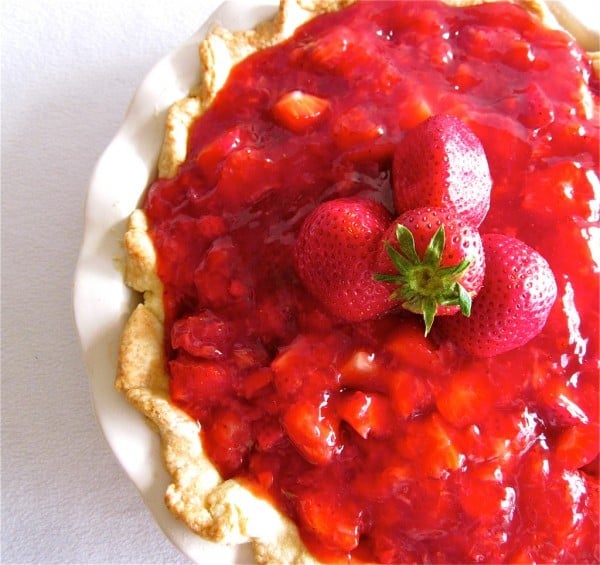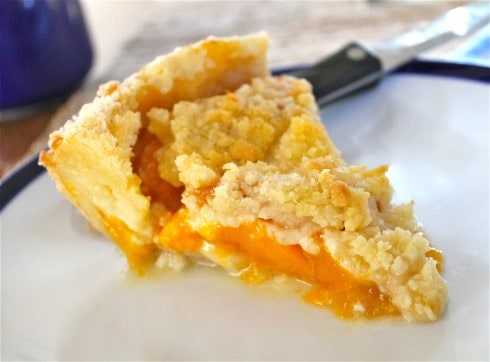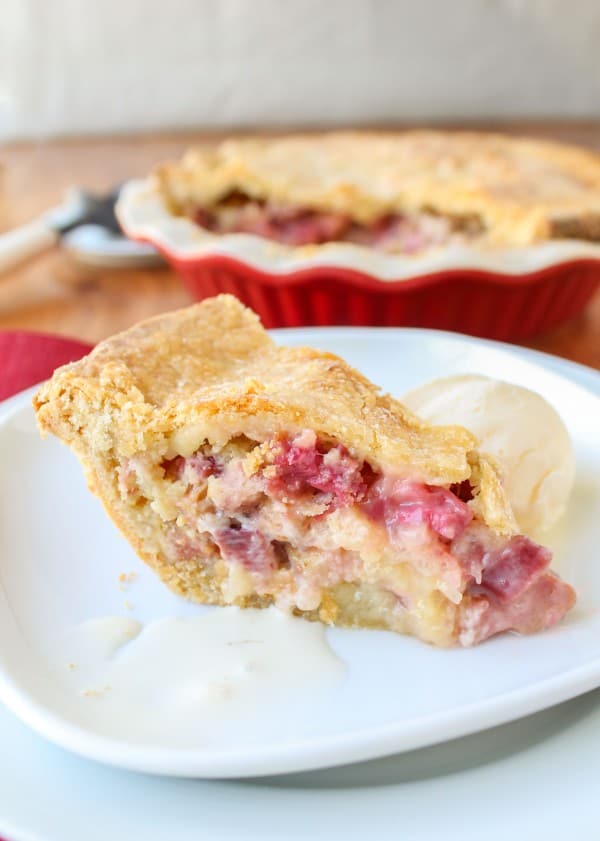 Blackberry Turnovers from Food Apparel
Blackberry Pie Bars from Tracey's Culinary Adventures
Berry Clafoutis from Julia's Album