I secretly love rainy days. If you know me well enough to know my feelings about weather, this may seem odd, because I really really love sunshine. But now the cat's out of the bag. I finally accepted it this morning after years of denial when I caught myself thanking the Lord in my prayer that it was cloudy. What the heck?
Today was a doozy though. (Name that movie.) (Okay, I swear I was not going to waste any more of your time with this, but I just googled the word "doozy" and the first hit is on Merriam Webster, and the example sentence is, "Watch out for that step, it's a doozy." My life is complete.)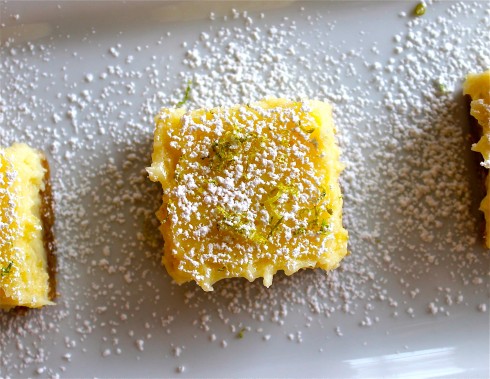 Anyway, today we had some crazy freezing rain. All the crunchy snow that looks perfectly step-able is actually death in the form of ice.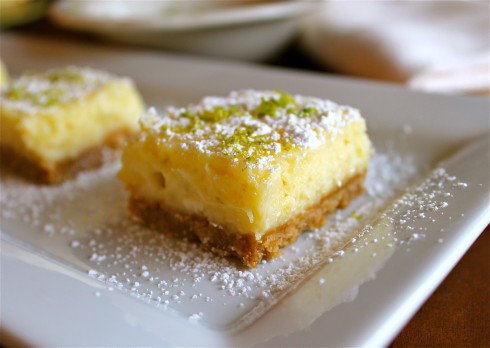 I can't stop eating these lime bars. I'm sitting here trying to write this post, but have to keep taking breaks to eat more and then deal with the subsequent mess on my fingers. (And by "deal with" I mean lick off every delicious speck.) I'm a total sucker for tart desserts, but these lime bars are no joke. I was dubious about the Nilla Wafer crust, but don't be like me. It is amazing. Go make some right now. Good luck waiting the 2 hours they are supposed to cool in the fridge.
Creamy Lime Bars

Source: slightly adapted from Our Best Bites
Note: These can of course be made into creamy lemon bars. Just swap the zest and the juice for lemon.
21 Nilla Wafers, finely crushed
1/2 cup flour
1/4 cup firmly packed brown sugar
1/4 cup (1/2 stick) cold butter
1 8 oz. package cream cheese (I used 1/3-less fat cream cheese)
1 cup granulated sugar
2 eggs, at room temp (you can place eggs in a bowl of warm water for about 10 minutes)
2 tablespoons flour
1 tablespoon grated lime peel
1/4 cup fresh lime juice
1/4 teaspoon baking powder
powdered sugar, for dusting
2 tablespoons grated lime peel, for dusting
Set out your eggs and cream cheese so that they are room temperature when you need them. Preheat oven to 350ºF. Line an 8-inch square baking pan with foil. Spray lightly with non-stick spray and set aside.
In a food processor, pulse Nilla Wafers until they are very fine crumbs. Add 1/2 cup flour and the brown sugar, and pulse to combine. Chop butter into small pieces and add them to the processor. Use one-second pulses (only like 4 or 5) to cut in the butter–don't overdo it. The mixture should look like coarse crumbs. (You can of course do this with a pastry cutter too. If you don't have one, just use a fork until the mixture resembles coarse crumbs.)
Press crumb mixture firmly onto bottom of prepared pan. Bake 15 minutes.
While crust is cooking,beat cream cheese and granulated sugar with electric mixer on medium speed until well blended. Add eggs, 2 tablespoons flour, and baking powder; mix well. Blend in 1 tablespoon lime zest and lime juice. Make sure you scrape the bowl well so that there is no unblended cream cheese. Pour mixture over crust.
Bake 25 to 30 minutes or until center is set. Cool completely. Cover and refrigerate at least 2 hours or overnight. The longer the better. Sprinkle with sifted powdered sugar and remaining 2 tablespoons grated lime peel just before cutting into squares to serve. Store leftover squares in refrigerator.