Make restaurant quality Naan Bread at home! If you have never tasted a fresh, tender, buttery homemade naan, you're totally missing out. I will show you just how easy this recipe is to put together. It gives you the perfect receptacle for cleaning up all the curry on your plate!
This recipe was originally posted on July 6, 2012. I updated the recipe and photos on July 20, 2020. I left the story from 2012, because no one should ever burn the journal entry from when they took their baby into a sketchy bar.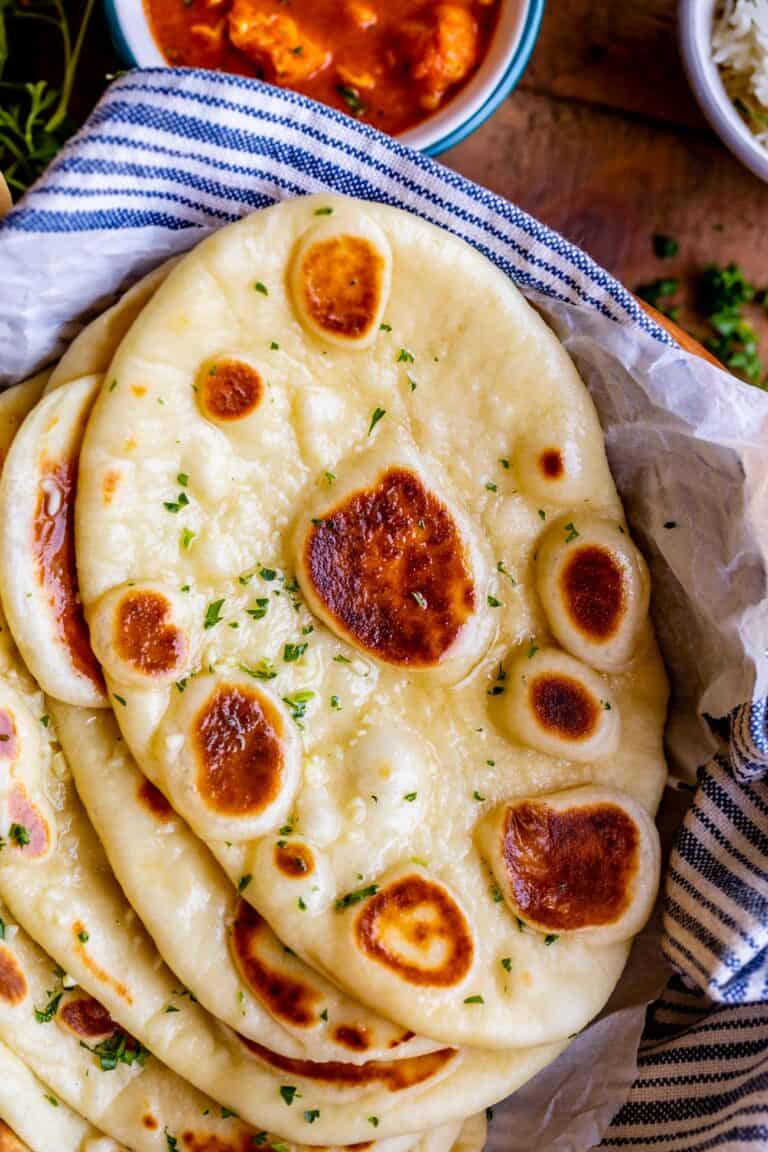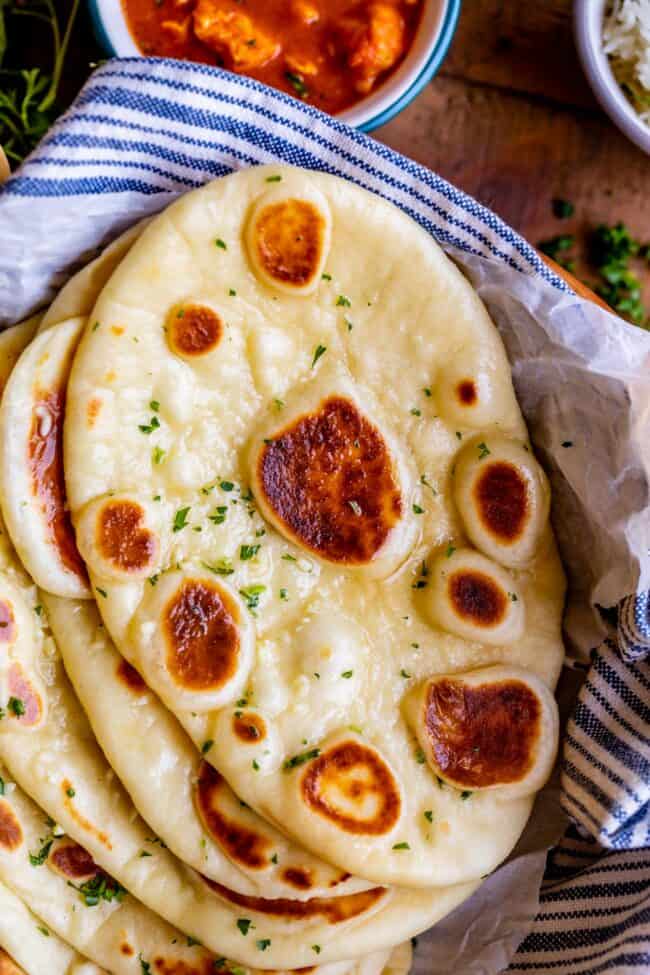 Table of Contents
2012 Karen:
There has been a death in the family. RIP Ethel. She gave up the ghost in Shelby, Montana, last week, and there she will lie forever.
Ethel was our old Buick. You can't really blame her for kicking the can at 220,000 miles, but it sure was inconvenient for us. Eric's dad Chip (we've since dubbed him "Rescue Man Chip") drove 7 hours one way to pick us up.
This left us with a very long, long, long time to spend in Shelby Montana. Poor Ethel was completely useless so we could only go places that were within walking distance. We cruised Main Street (with the stroller) and ended up at the most decent looking place that served food: the Montana Club Bar.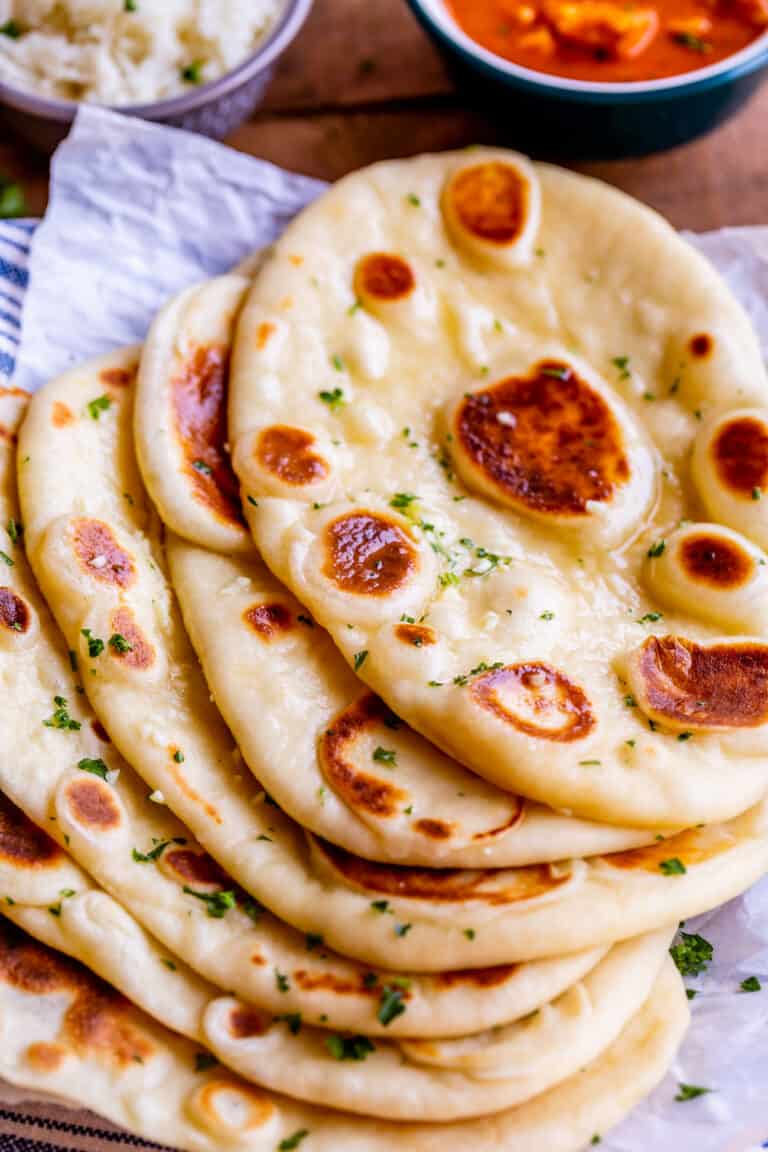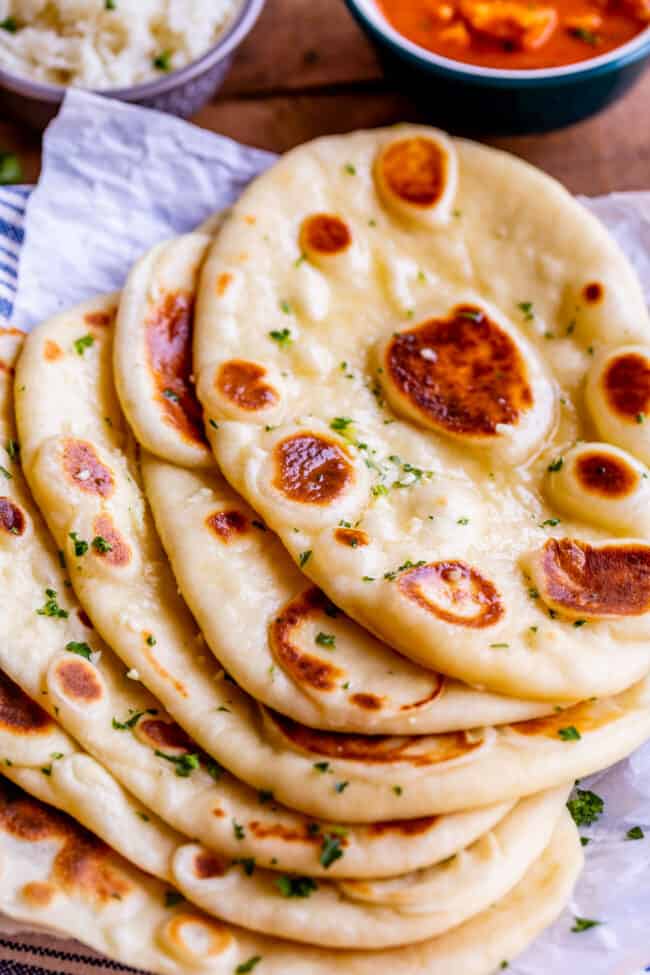 A very tipsy couple meets us at the door (this was at 6pm, mind you). They say things that don't make sense, and Eric and I laugh and pretend to share the joke. I look around to find the most decrepit looking hell-hole I have ever seen. Hazy smoke. Greasy, dirty countertops. Stuffing coming out of the bar stools. Piles of junk and discarded furniture everywhere. Wires protrude from the missing ceiling panels.
Pulling Charlotte a little closer, we walk over to a table. I start looking around for a high chair but have to remind myself that I have brought my 17-month-old baby girl into a bar, so no, there are no high chairs.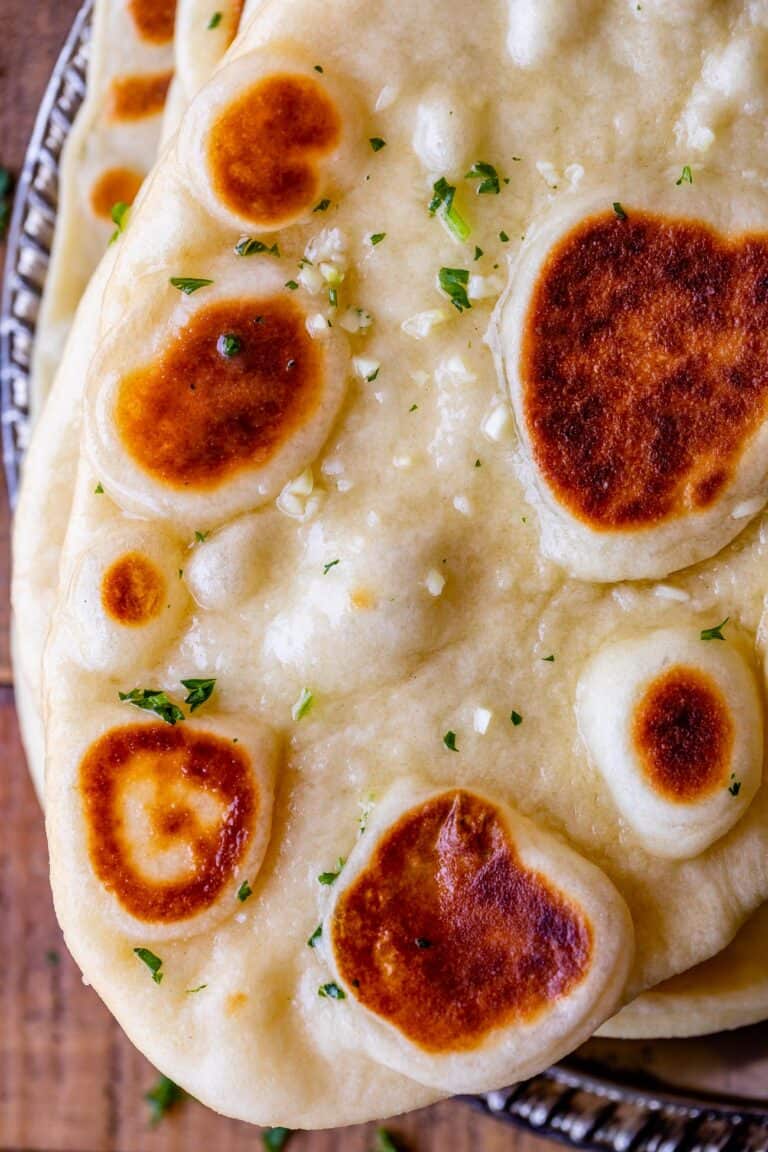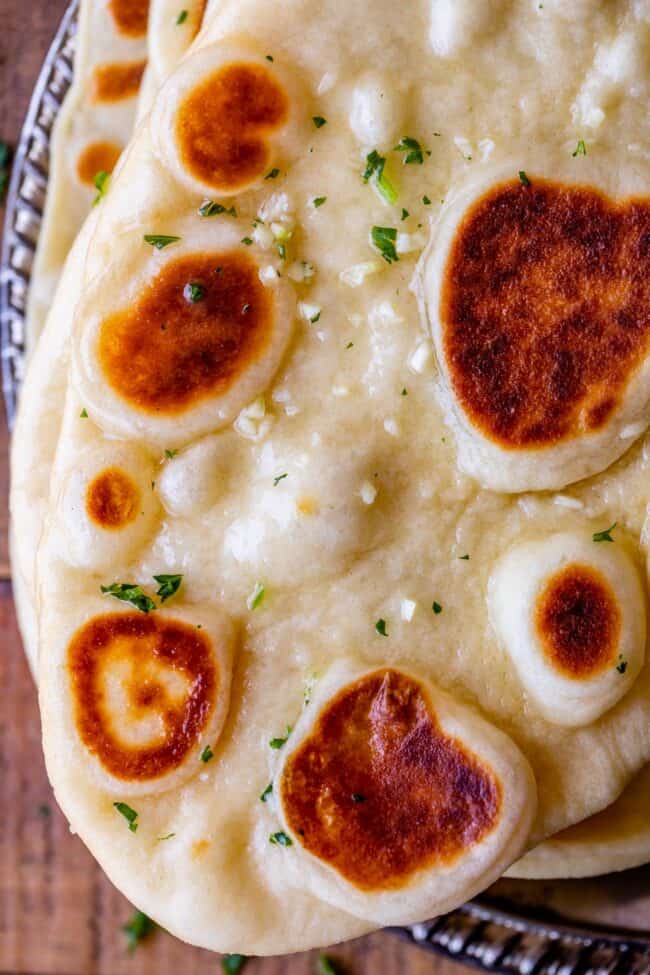 Eventually an old dude with long dirty hair came over to take our order. My first thought was I really hope this man will not be preparing my food, but then realizing he probably would be, I tried to clear my mind and think happy thoughts. I started to ask about the Chicken Ranch Wrap, but before I could even finish he barked a terse "No chicken" and added a wicked glare to boot. I'm not sure if he meant they were out of chicken or if he meant there was no chicken for me.
Fortunately we made it out alive. (After passing the drunk couple at the door again, who yelled after us that it was a shame there was no kids menu.) No kidding.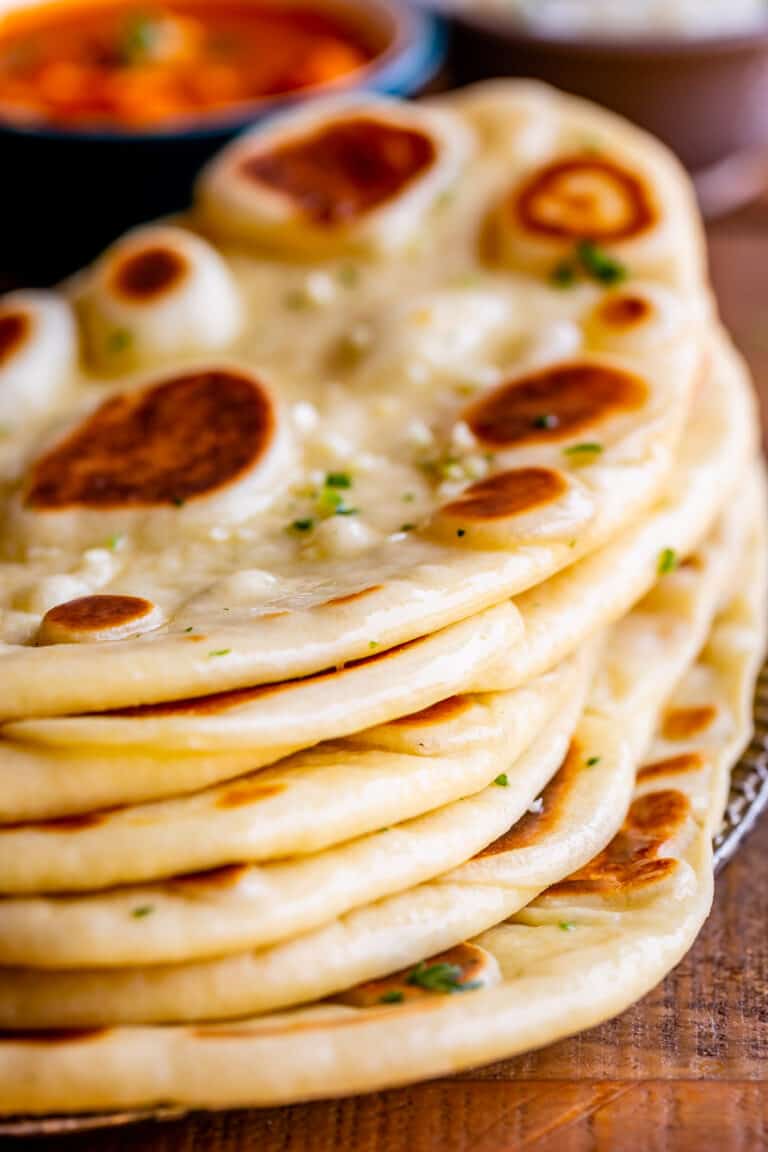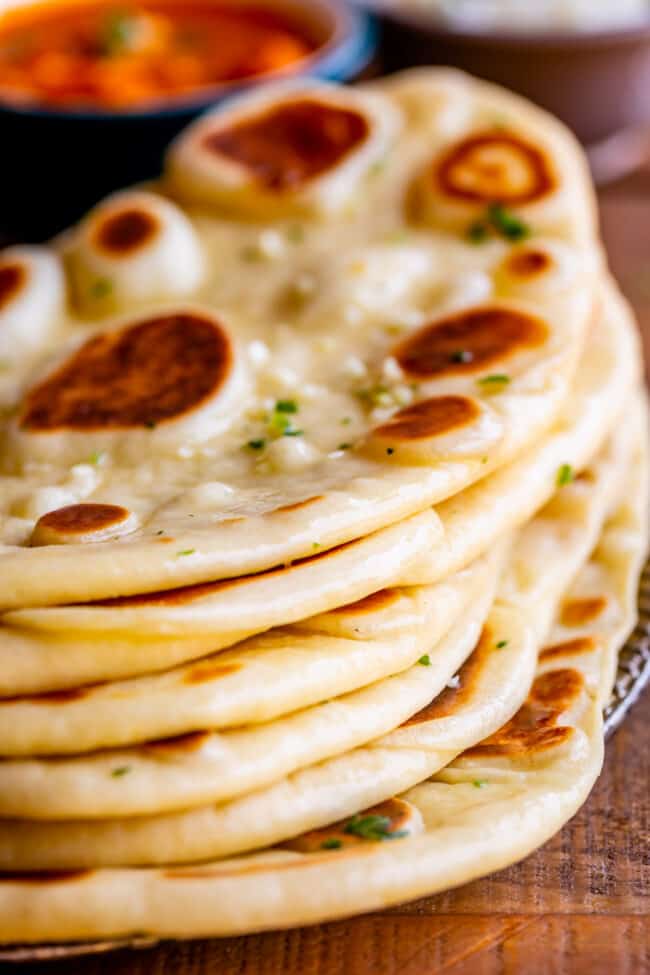 Well. At least we got a surprisingly good Philly Cheesesteak out of the ordeal, and a profound reaffirmation that staying away from alcohol is usually a good idea. Or maybe we just learned that staying away from Shelby Montana is always a good idea.
You'll love this Homemade Naan Recipe
Have you ever had naan at a restaurant? Indian food is not Indian food without naan (at least in my book). It is the most delicious buttery flatbread you will ever eat. Honestly if it was the only thing they served at Indian restaurants I would still go. It's that good. (There were no Indian restaurants in Shelby. Go figure.)
Naan bread is traditionally made in 900˚ Tandoori ovens, but I'm pretty sure you don't have one of those. Neither do I, so our best bet is to use the stovetop. (I've tried doing it in the oven at 500˚ but get poor results every time).
Naan Recipe Ingredients
Check the recipe card below for a full list of ingredients and recipe instructions!
Milk (whole milk)
Sour cream (plain full-fat Greek yogurt will work too!)
Granulated sugar
Active dry yeast
Egg
Oil
All-purpose flour
Kosher salt
Salted butter
Garlic
Chopped parsley
How to make Naan Bread
Start by warming up some milk and sour cream. Oops, did I just admit to using sour cream instead of yogurt?? Yikes. Now I've done it. But guys…I really like sour cream. I love the flavor. I love how thick and fatty it is. And I especially love that it is always hanging out in my fridge.
Yogurt is great too, and is definitely more traditional for naan. You can use either one you like with great results. But please buy full fat yogurt. I feel like it's easier to find non-fat, for whatever reason. But why would we want to give up that gorgeous fat in our naan? So, bottom line: use full fat sour cream OR full fat yogurt, whatever you've got will work great. (If you want to be more authentic, use yogurt.)


ANYWAY. Now that we're past all the sour cream yogurt debate. Add some yeast into your warm-but-not-hot milk mixture. Make sure it's not too hot or it will kill your yeast! Add in a tablespoon of sugar, stir it up and wait five minutes to make sure it looks nice and bubbly.
Then crack in an egg, glug in some olive oil, and stir it up with some salt and flour. Knead for about 5 minutes. Let rise 1 hour.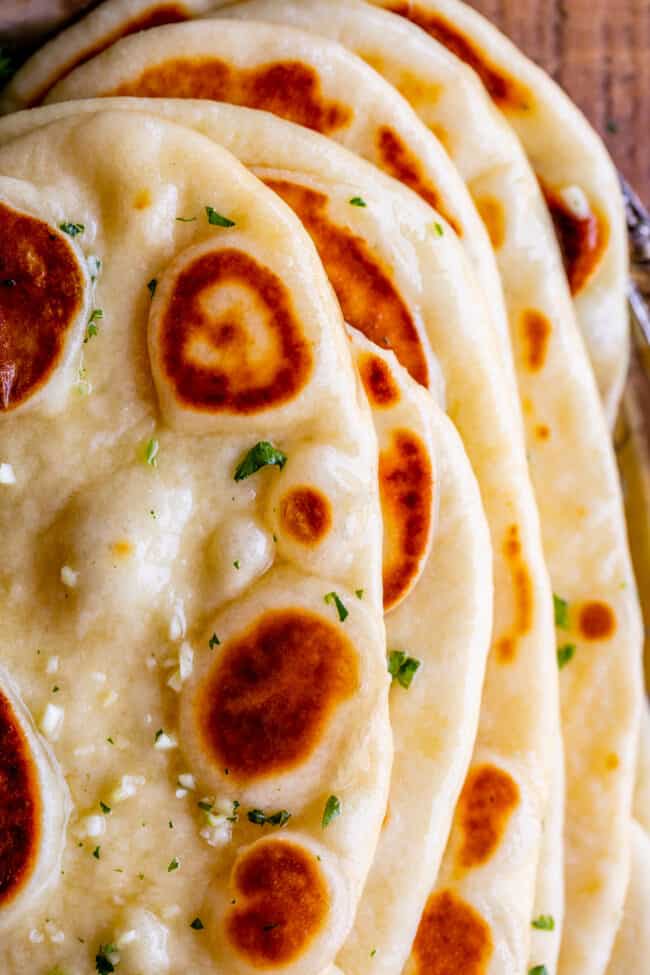 Divide it up. You can shape it into 6 or 8 naans. I actually prefer to do 6 naans, and I roll them out to be a little thicker. Either way will work!

If you have a cast iron pan, use that to cook your naan. They retain heat so well. If not, a heavy skillet will do. Cook it on medium or medium low until these bubbles show up:


Then flip and brown the other side. Brush with garlic butter and voila!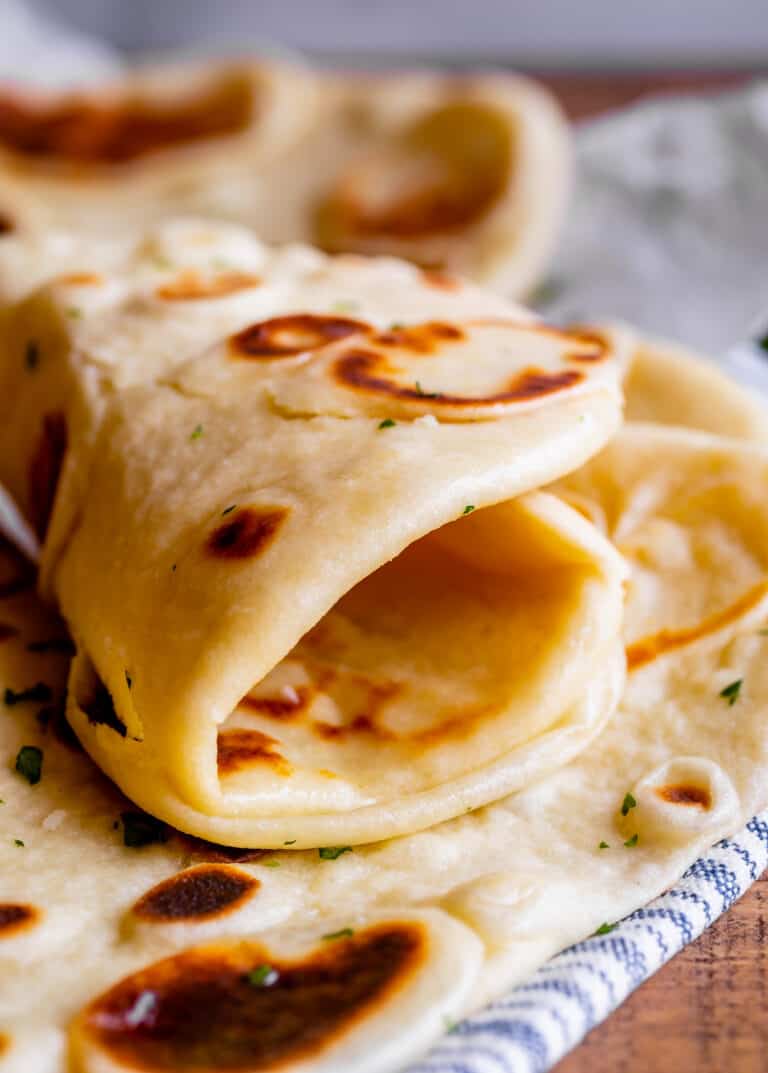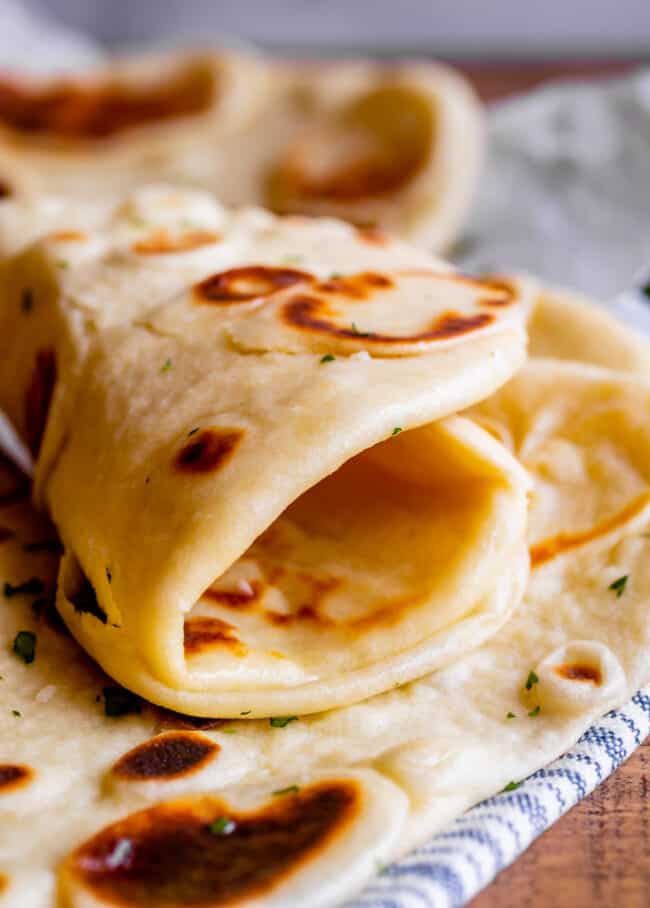 It's so tender and pliable! Love it.
What to serve with Naan
This naan is the perfect date for your Chicken Tikka Masala. or any other Indian dish where there is lots of sauce to mop up. It would be so good with this Slow Cooker Basil Chicken in Coconut Curry Sauce or this Slow Cooker Beef Curry. It's so good with curry!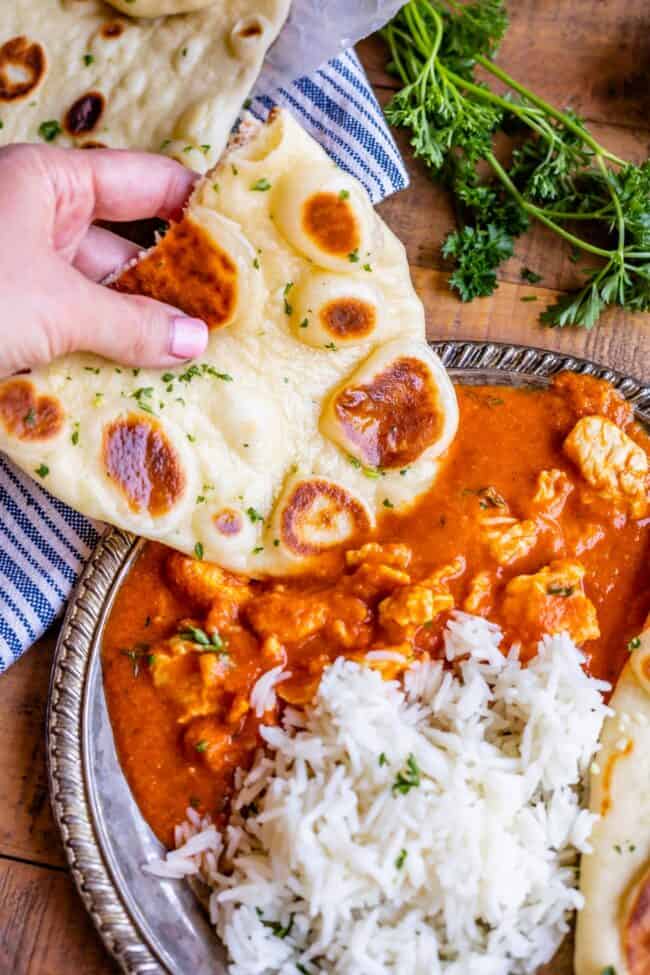 It would also be delicious as the wrap for these Homemade Greek Gyros. Or as the wrap for this Chicken Shawarma! Man now I am craving a wrap!
And just for kicks, here is the old 2012 picture: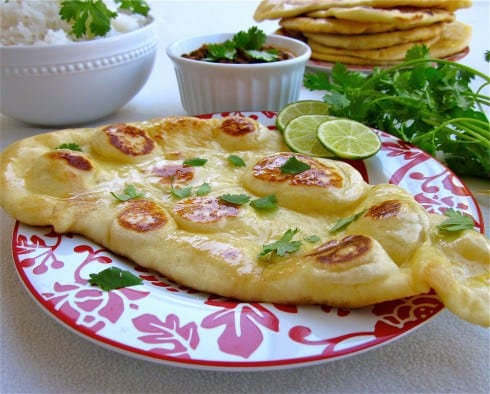 Homemade Naan Storage
This naan will last in a ziplock bag or sealed container for 1-2 days at room temperature or 4-5 days in the fridge. It can also be wrapped tightly and stored in the freezer for up to 2 months.
When you're ready to serve again, thaw at room temperature or in the fridge, then warm in the oven or microwave before serving.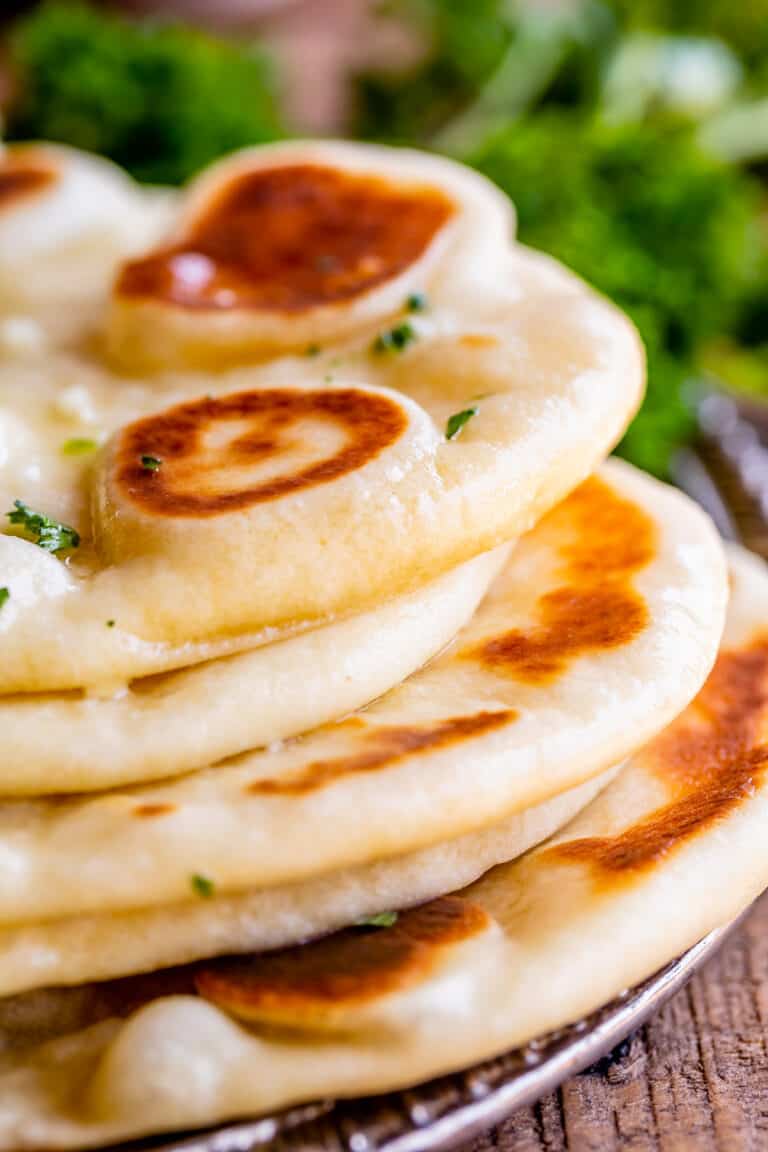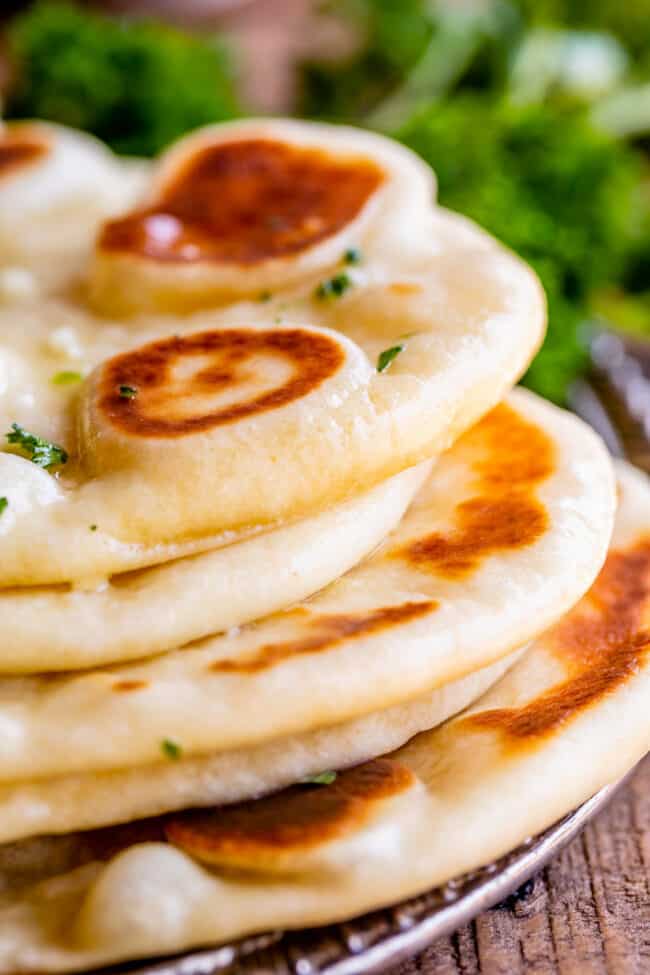 Naan Bread Recipe FAQs
Is naan and pita bread the same?
Naan and pita bread may look similar since they are both flat breads. However, they are different. Pita bread originated in the Middle East and is made with basic bread ingredients like flour, water, and yeast. Naan bread, which originated in India, is made with additional ingredients such as egg and yogurt which create a thicker, fluffier texture.
Is naan Thai or Indian?
Naan is a traditional Indian flatbread that's often served alongside curries and other classic Indian entrees. If you want to make naan to serve with Thai food, I will not stop you. Naan is delicious. Eat it with anything you want.
Can you put naan in the toaster?
If it fits, then yes! (After it's baked, of course.) However, standard pieces of naan are much larger than a regular slice of sandwich bread. So, unless you tear it up into smaller pieces, it likely won't fit in your toaster. A toaster oven would work perfectly.
If you do toast smaller pieces of bread, be sure to watch them closely. Naan is thinner than regular sandwich bread so it's more likely to burn quickly.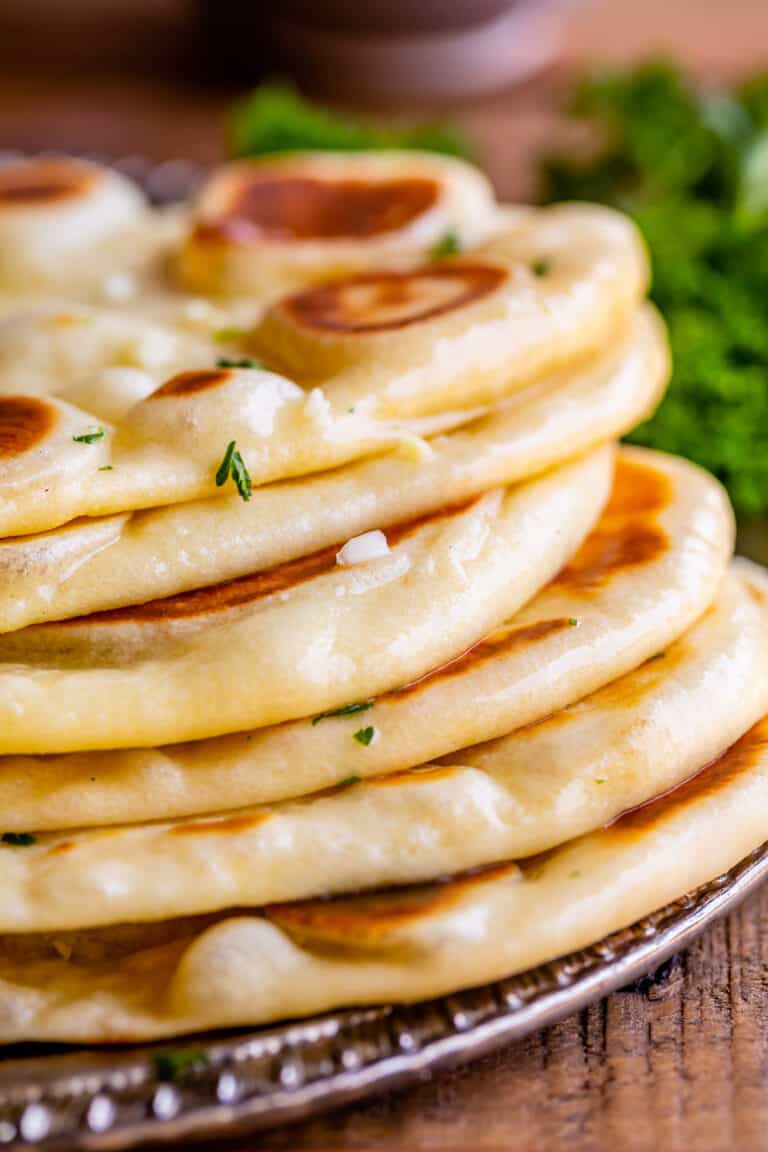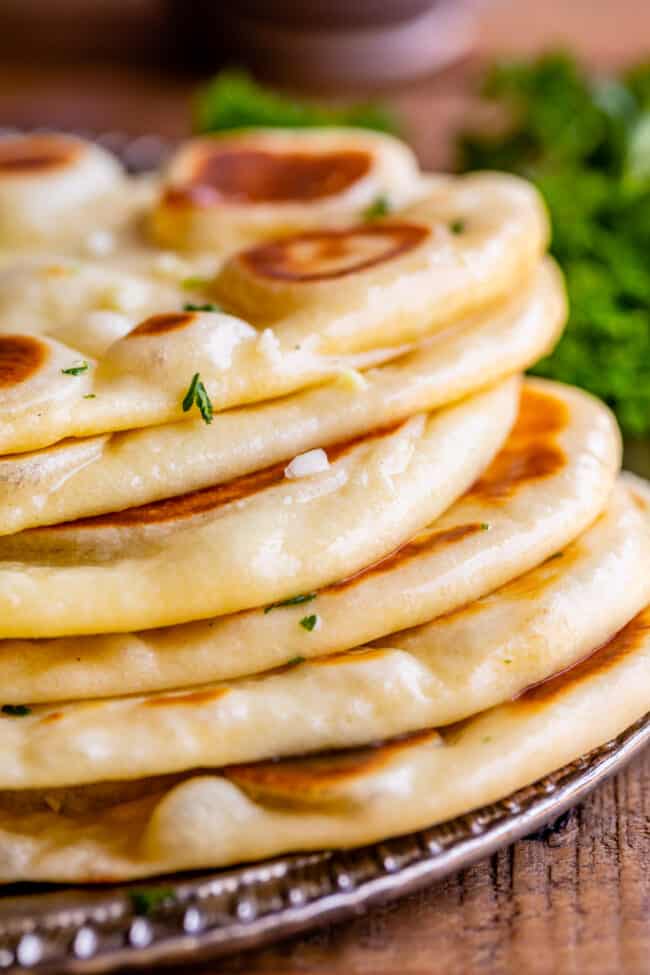 More breads you will enjoy!
Curry to eat with this homemade naan:
Facebook | Pinterest | Instagram

Naan Recipe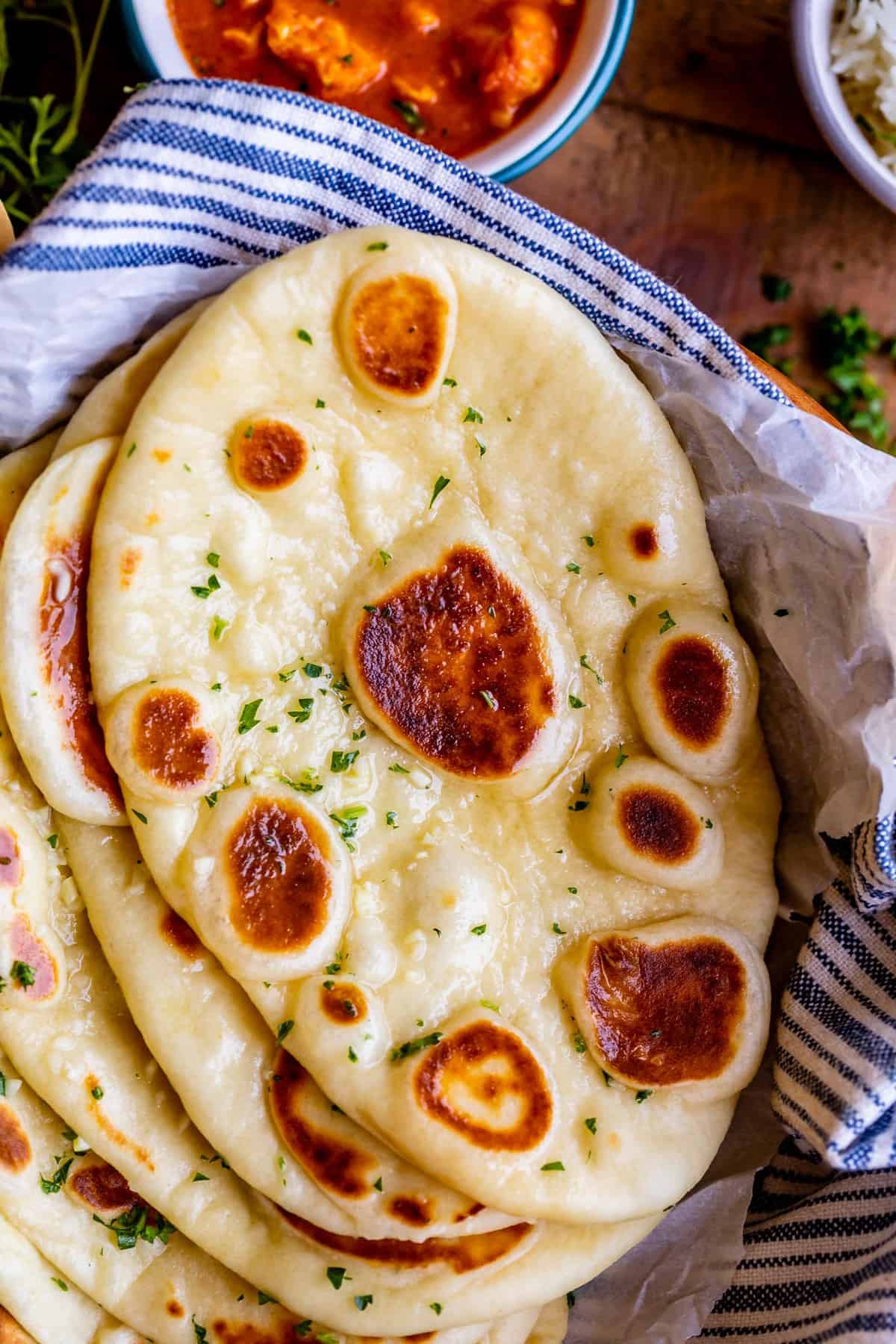 Make restaurant quality Naan Bread at home! If you have never tasted a fresh, tender, buttery homemade naan, you're totally missing out. I will show you just how easy this recipe is to put together and gives you the perfect receptacle for cleaning up all the curry on your plate!
Ingredients
1/3

cup

milk

,

I use whole milk

1/3

cup

sour cream OR plain full-fat Greek yogurt

1

tablespoon

granulated sugar

1

tablespoon

active dry yeast

1

large

egg

3

tablespoons

oil

2 to 2 & 1/2

cups

all-purpose flour

1

teaspoon

kosher salt

1/4

cup

salted butter

,

melted (for brushing)

1-2

cloves

garlic

,

smashed and minced (for topping)

chopped parsley

,

to garnish
Instructions
In a glass measuring cup or small bowl, add 1/3 cup milk and 1/3 cup sour cream or full fat yogurt. Microwave in 20 second increments until the mixture is warm but not hot. You should be able to put your finger in it without any discomfort at all. Like a bath for a newborn baby. The yeast is your baby. Do not scorch it or it will die!! Okay maybe I'm being dramatic. If you overheat your milk, just throw it in the fridge for a couple minutes until it cools down, before adding the yeast.

Add 1 tablespoon sugar and 1 tablespoon active dry yeast. Stir it together and then let it sit at room temperature for about 5 minutes, until you can see bubbles forming from the yeast. If your mixture doesn't look at all foamy or bubbly, you've probably killed your baby yeast. Dump it and start over.

Add 1 egg and 3 tablespoons oil to your foamy yeast mixture. Break the yolk and mix it all up.

In a large bowl or stand mixer, add 2 cups all purpose flour and 1 teaspoon kosher salt. Add the yeast mixture and stir it all together. If you are using a stand mixer, switch to the dough hook. (Or start kneading by hand on a floured surface.) Knead for about 5 minutes. Add another 1/4 cup flour as needed, or up to 1/2 cup of flour. You want to add the minimum amount of flour possible to get a dough that is workable. After 5 minutes, the dough should be smooth, stretchy, and elastic. It might stick a little bit to your fingers but you should be able to shape it into a ball without a mess on your hands.

Spray a large bowl with nonstick spray, or rub with a little oil. Shape the dough into a ball, place it in the bowl, then turn it over so that the top and bottom of the dough are greased.

Cover the bowl with a tea towel or plastic wrap and let rise in a warm place for 1 hour, or 45 minutes in a pinch.

Punch down the dough and divide into 6 or 8 equal pieces. (6 naans will yield thicker bread) Place on a lightly floured work surface (I love to use my pastry cloth for rolling out dough), cover with a tea towel, and let rest for 10 minutes.

Use your hand to flatten out the first ball of dough. Use a rolling pin to roll out the dough into an oval or triangle shape that is about 9 by 5 inches. See photos. It doesn't have to be exact. (At this point, I like to let the naan rest for another couple minutes to get nice and thick naan like you see in the photos. Just roll out the dough and then let it rest for 3-5 minutes before cooking.)

Meanwhile, heat a 12 inch cast iron skillet or cast iron griddle over to medium or medium low heat. Spray the pan with oil or brush with oil (be generous). Add the rolled out dough one at a time. Let cook on the first side for about 1-2 minutes, until bubbles have formed all over the top of the dough. Use a spatula to flip the naan to cook the other side. Pay attention to the heat and adjust between medium and medium low. Everyone's stove is going to be different. If your naan is burning, turn it down a little bit. It will take about 1 minute to cook the second side of the naan.

In a small bowl, melt 1/4 cup butter. Add 1-2 cloves minced garlic. The garlic is optional but so delicious!

After removing each naan from the heat, plate it and brush each naan with the garlic butter. Sprinkle with parsley and serve hot!

If dinner is not ready when your naan is, place the naan on a cooling rack and place in your oven on the keep warm setting (170 degrees F) until you are ready to eat.

Store leftover naan in a sealed container or ziplock for up to 3 days.
Notes
To freeze naan, cook as directed but do not brush with garlic butter. Let naan cool completely and place in a ziplock. Freeze for up to 3 months. Thaw on the counter with the bag sealed so that it can reabsorb moisture. Place on a baking sheet and heat at 350 degrees F for 5-10 minutes until warm. Brush with garlic butter just before serving.
Nutrition
Calories:
375
kcal
|
Carbohydrates:
43
g
|
Protein:
8
g
|
Fat:
19
g
|
Saturated Fat:
7
g
|
Polyunsaturated Fat:
3
g
|
Monounsaturated Fat:
7
g
|
Trans Fat:
0.3
g
|
Cholesterol:
61
mg
|
Sodium:
471
mg
|
Potassium:
114
mg
|
Fiber:
2
g
|
Sugar:
3
g
|
Vitamin A:
383
IU
|
Vitamin C:
0.3
mg
|
Calcium:
46
mg
|
Iron:
3
mg