This six-ingredient, one-pot, one-hour vegetable curry makes for an easy weeknight dinner. Use a jar of Indian simmer sauce to make things go a little faster…cheating never tasted so right.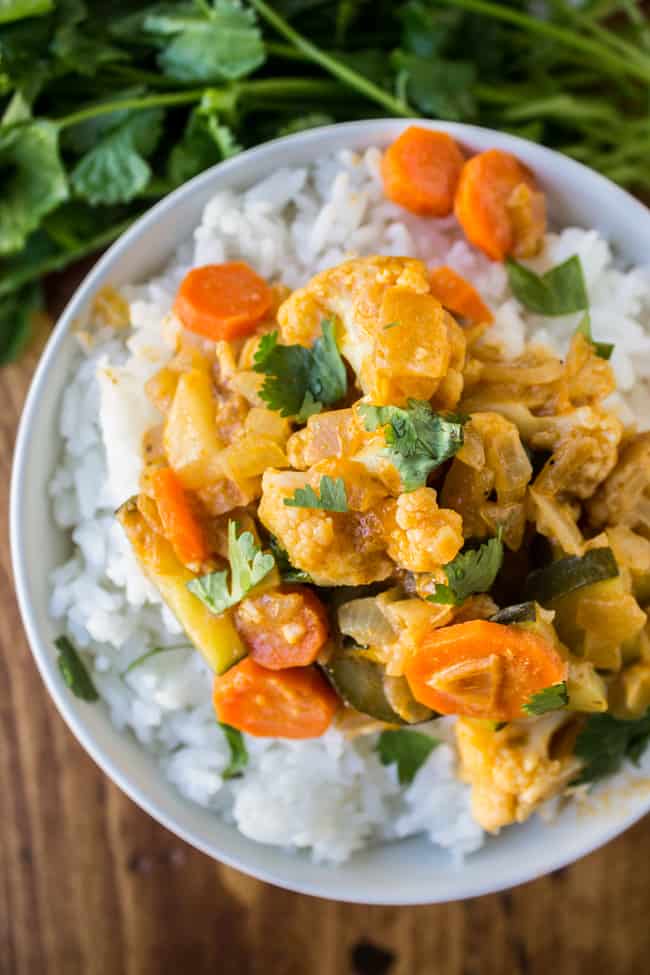 "Karen, do you see this tiny piece? It has SEVEN PERFORATIONS on it. Seven!"
Eric is making a tiny R2-D2 model right now. And by "right now" I mean "the last year and a half." I know, because a year and a half ago he stole one of my tupperwares to store all the pieces in. Every time I go to put away leftovers and there is no tupperware I shake my fist at R2.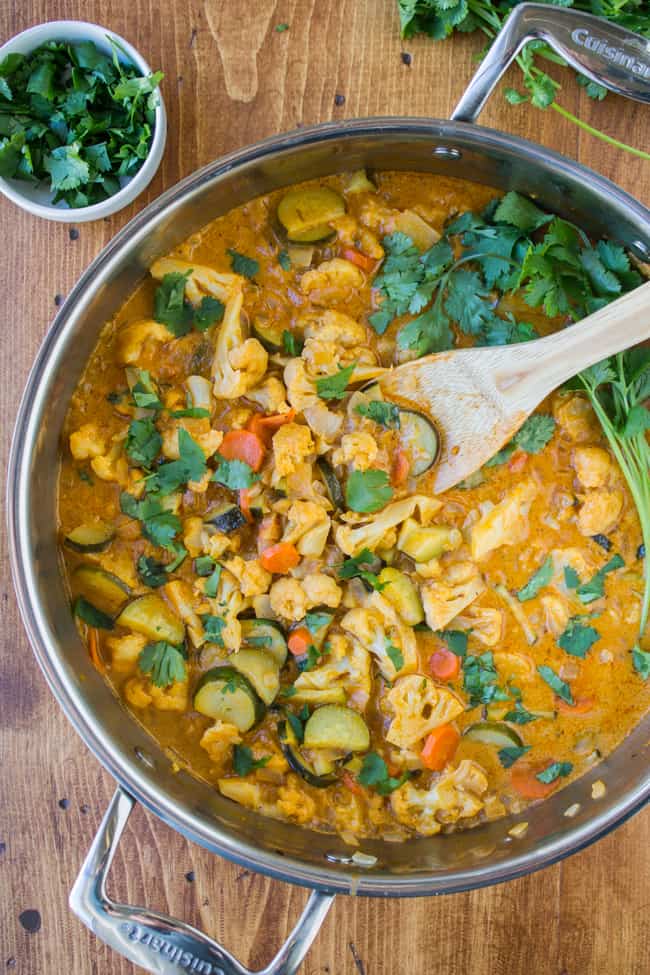 I should add that this happens on an almost-daily basis. It doesn't matter how often I buy tupperware, there is never enough. You know how some houses have sock-elves who steal one sock from every load of laundry? Well I have tupperware elves. They are merciless.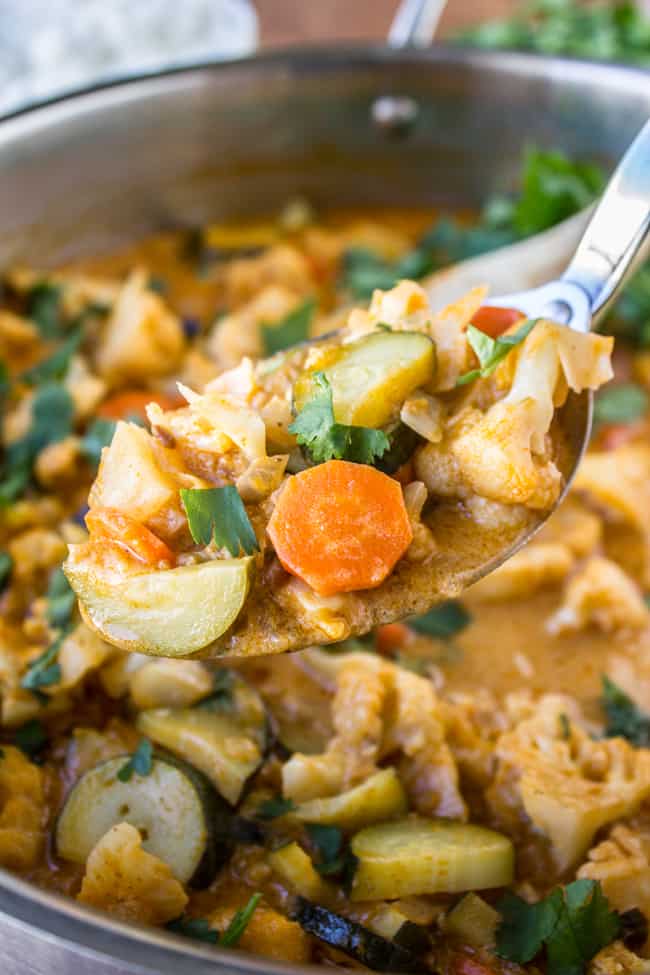 But back to R2D2. After he finished the model Eric pulled out a little stand for it that SPINS using SOLAR PANELS. That's right my friends, I now have a miniature solar-powered rotating droid in my house.
I asked Eric where we were going to put it and he glanced at our piano, which is sadly devoid of Christmas decorations as of yesterday. We've been trying to figure out what to decorate it with, it seems so empty after taking down the holly and nativity set. What do you guys put on your piano/mantel? Oh, you have a mini rotating R2-D2 model? WE ARE SO TRENDY!!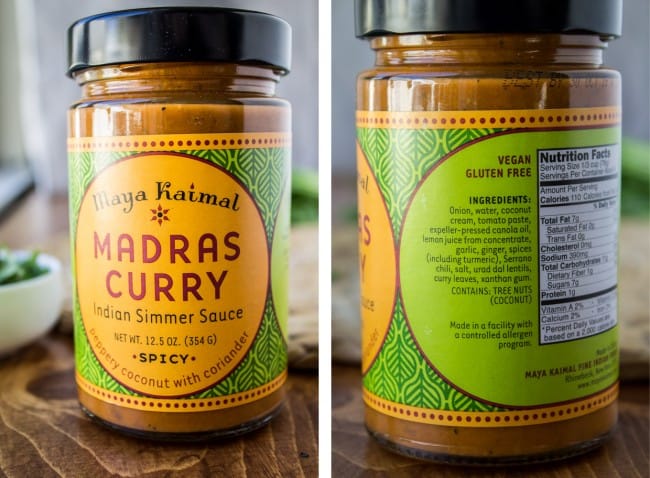 So the other day my brother Nate brought over some vegetable curry he had made and it was DELICIOUS. I asked him what his recipe was and he said, "Vegetables, curry sauce, and coconut milk." Easy enough.
How to make easy Vegetable Curry
I feel kind of silly posting such an obvious recipe (buy a jar, dump it in a pot) but I figure everyone could use fresh ideas, and anything I make this much means I should add it to the blog. The recipe only has 6 main ingredients which makes it pretty quick. Use any kind of Indian sauce that you like; your grocery store should have some. Check in the Asian aisle or by the pasta sauce.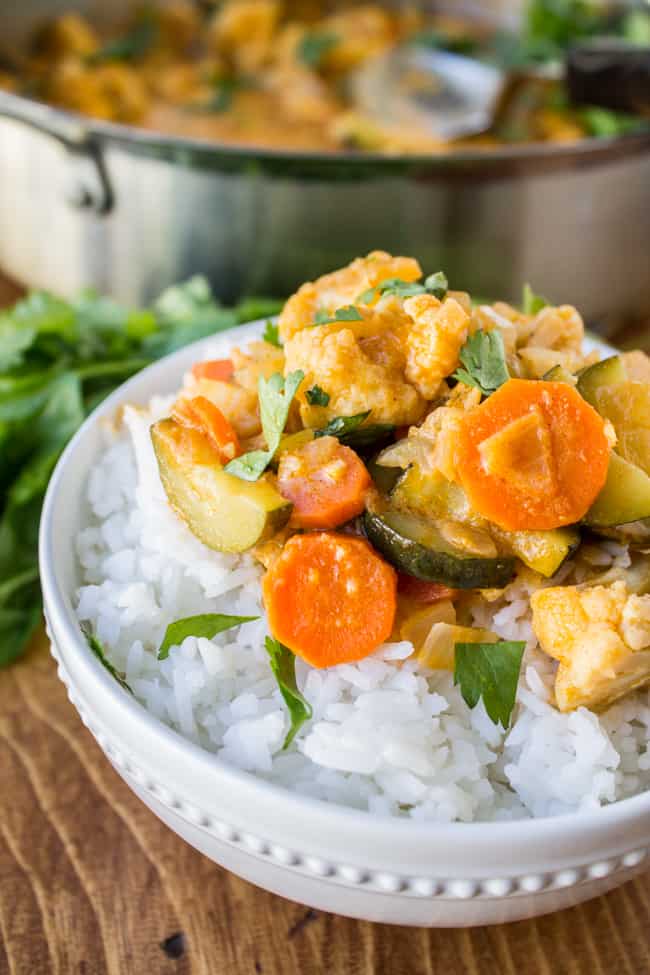 Prepping your cauliflower to make a low-carb side of cauliflower rice is easy. Cut your cauliflower in half, then half it again. Then use a knife to separate the core from the florets. Break or chop the florets into similar size pieces so they cook evenly.

A few other easy weeknight recipes:
Teriyaki Chicken Rice Bowls (Slow Cooker):
 Thai Red Chicken with Cherry Tomatoes:
Chicken Tikka Masala (I know this looks like actual dog food, but I have been making this recipe for years and years and it never lets me down.):
Slow Cooker Thai Chicken Soup by FoodieCrush
One-Pot Coconut Chickpea Curry by Recipe Girl
One Pot Salmon Coconut Curry Pasta by The Culinary Tribune
Facebook | Pinterest | Instagram | Twitter

6-Ingredient One-Pot Vegetable Curry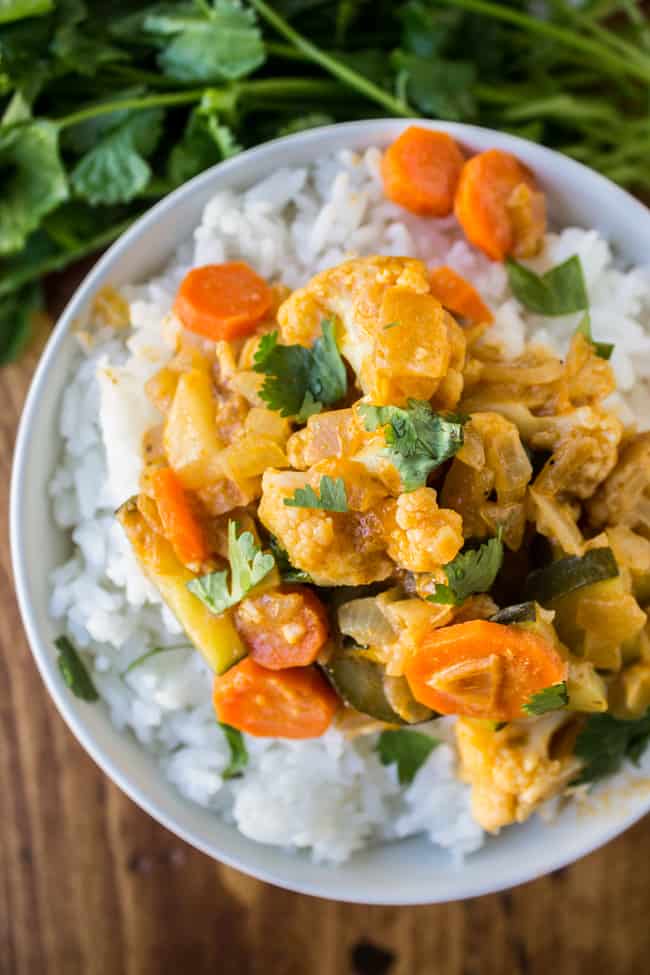 This six-ingredient, one-pot, one-hour vegetable curry makes for an easy weeknight dinner. Use a jar of Indian simmer sauce to make things go a little faster...cheating never tasted so right. 
Ingredients
2

teaspoons

oil

1

medium

onion

,

chopped

1

head

cauliflower

,

chopped

3

medium

carrots

,

peeled and chopped

2

zucchini

,

split lengthwise and then sliced

10-15

ounces

Indian sauce

,

jar pre-made

14

ounces

coconut milk

,

*

salt and pepper

,

to taste
Instructions
Heat oil over medium heat. When it is shimmering but not smokey, add chopped onions.

While the onions cook, chop the cauliflower. See photos. Make sure the florets are roughly similar in size. Add the cauliflower to the onions and stir.

Peel and chop the carrots and add to the pot and stir.

Split the zucchini lengthwise then slice. Add to the pot and stir.

Add the Indian sauce and the coconut milk to the pot. Bring to a boil, then lower the heat to medium low. Cover and simmer for 20-30 minutes, or until the vegetables are tender. Season with salt and pepper.

Serve hot with rice.
Notes
*Light coconut milk works great.
Nutrition
Serving:
1
bowl
|
Calories:
369
kcal
|
Carbohydrates:
34
g
|
Protein:
8
g
|
Fat:
24
g
|
Saturated Fat:
19
g
|
Polyunsaturated Fat:
1
g
|
Monounsaturated Fat:
2
g
|
Trans Fat:
1
g
|
Sodium:
1055
mg
|
Potassium:
1353
mg
|
Fiber:
10
g
|
Sugar:
16
g
|
Vitamin A:
8321
IU
|
Vitamin C:
104
mg
|
Calcium:
101
mg
|
Iron:
5
mg