Slow Cooker Beef Curry
This slow cooker beef curry could not be easier! Thick chunks of slow-cooked, tender beef, in a rich and thick curry sauce that is just waiting to be scooped up with some naan. Serve with this Coconut Jasmine Rice and some Homemade Naan!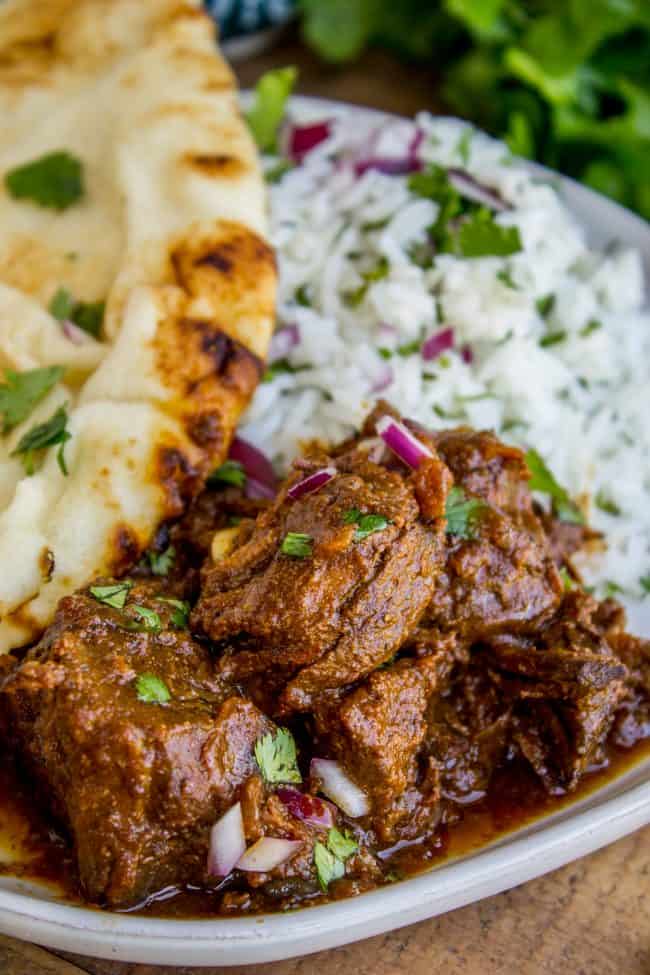 How was everyone's 4th of July celebrations?? We had so much fun. I decided to pretend that my kids are 5 years older than they are, and hosted a giant water fight. I invited a bunch of kids, bought 500 water balloons (I'm not exaggerating. The rapid-fill kind are worth every penny. They were still gone within 10 minutes) and planned relay races and water guns and everything.
The only problem is that my kids and all their friends are still at the age where when someone pelts them with a water balloon, they start screaming that someone threw a water balloon at them. Yeah, kid, that's the point. Try explaining this logic to a 5 year old.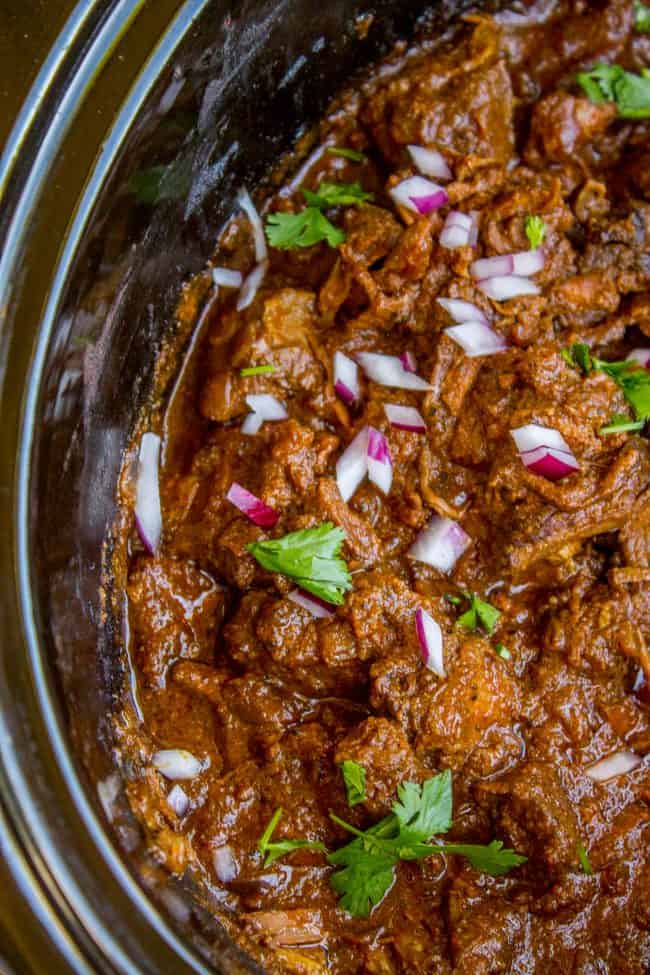 And then 2 hours before the party the kids tore a hole in our blow-up kiddie pool. That's because I always let them play in it, even when the pool is empty, because watching kids play 'pirate ship' in an empty kiddie pool is kind of hilarious. (We have to dump the water out of the pool every time we're done with it, otherwise Valentine (who is not quite 2) would be perpetually wet for the entire summer.)
So we had no kiddie pool, half the kids are screaming, and I had to bribe Truman with Otter Pops to get him to play relay races with me. Also, when I ended up being the only adult in a swimsuit, my entire extended family  decided it was fair game to do water balloon target practice on me. I definitely got more wet than any of the kids.
Ah well. Summertime, right? It was actually really fun. I'm sure this will be a golden memory for my kids 10 years from now. Right? Right???
How to make Slow Cooker Beef Curry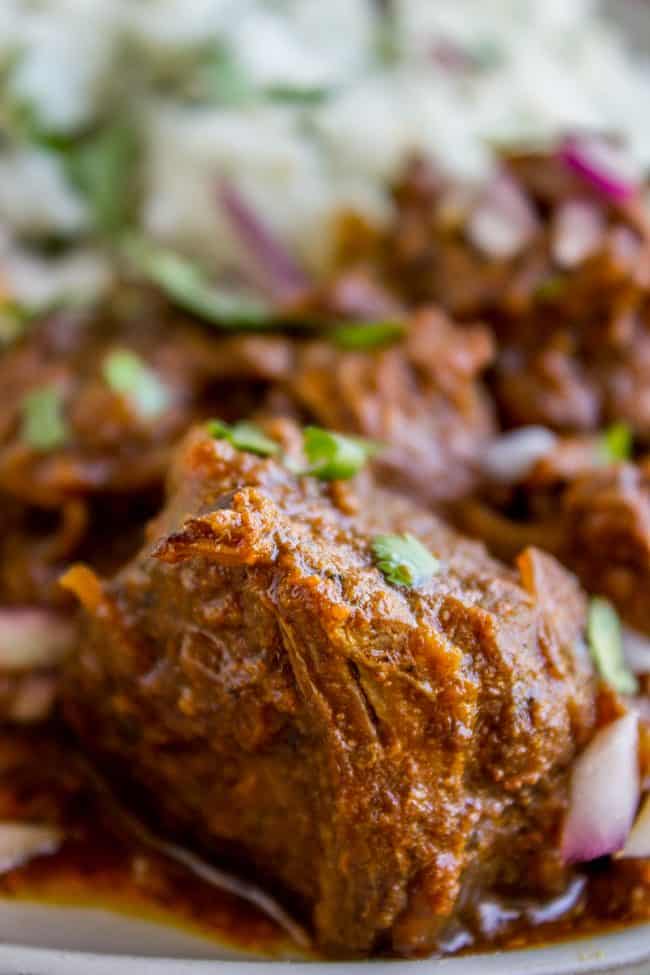 Who's ready for some slow cooking?? Every time I use my slow cooker now, I remember this lady who commented on one of my slow cooker recipes (can't remember which one) with tons of details about how to secure your slow cooker lid if you are using it out on your deck and have large animals. I think it involved using a broom handle to lock it in place under the arms of a deck chair, or something elaborate like that. I never even thought to put my slow cooker outside! But I guess if you really want to keep your kitchen cool, that's the way to go! Just don't let your pooch get into it.
I love this recipe because it's very simple. I'm not going to make you go out and buy fish sauce or lemongrass. It's basic, but you get tons of flavor from just a few simple spices. The one that you might not have is called garam masala. It's a blend of Indian spices, and it adds so much flavor. If you can't find it, this would still be good with just the yellow curry powder called for. You might want to increase the amount a little bit.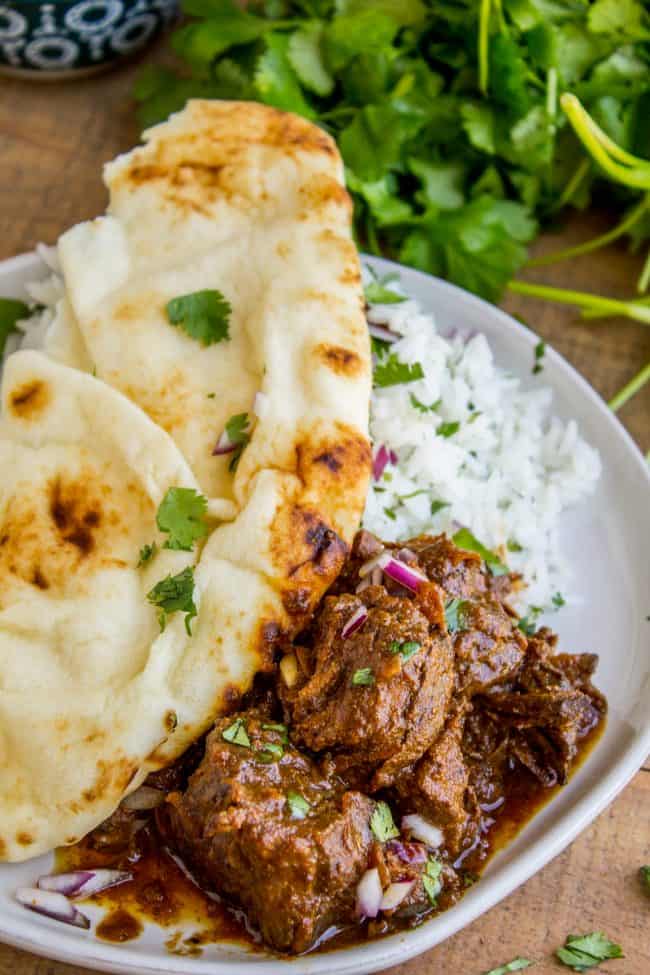 The curry has a little heat but I don't think it's over the top spicy. My kids ate it. If you serve it with rice and/or naan, I think it's perfect. You could also serve it with some plain yogurt, which would help to cool things off.

You'll want to brown the meat in batches. If you throw it all in at once, it will start steaming the meat instead of searing it, which is not what you want. You want it to get nice and brown on the outside, like this: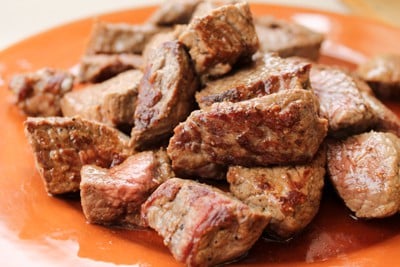 I like to serve this beef curry with Coconut Jasmine Rice with Cilantro and this Homemade Naan. You can also buy naan in the bakery section of your grocery store. If you really want to go all out, make Strawberry Lassis too! YUM.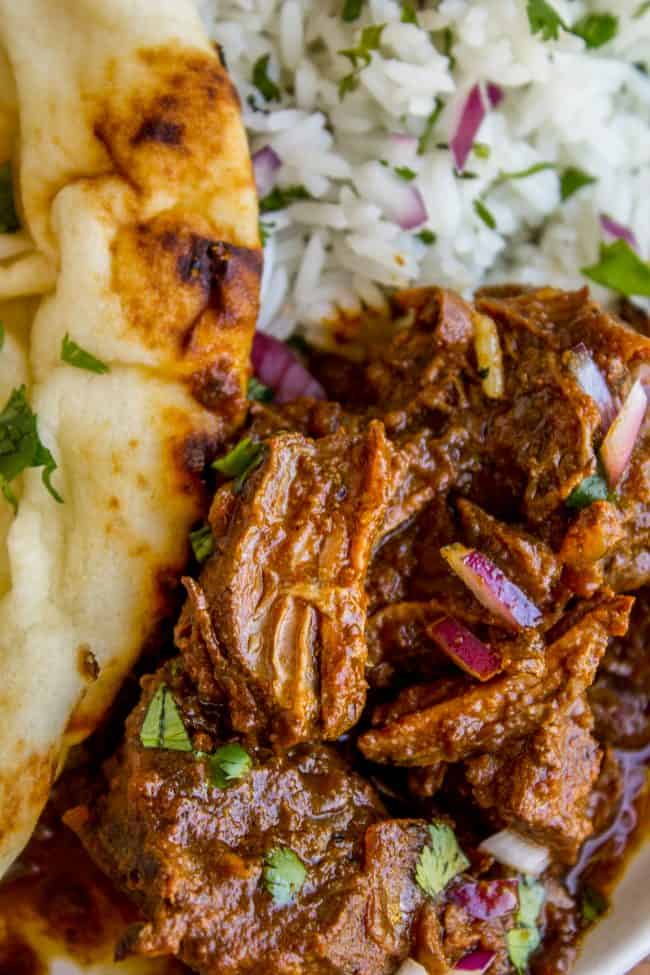 Facebook | Pinterest | Instagram | Twitter
One year ago: Creamy Zucchini Soup with Popcorn Garnish
Three years ago: The Best Lemon Curd
Six years ago: Breakfast Banana Split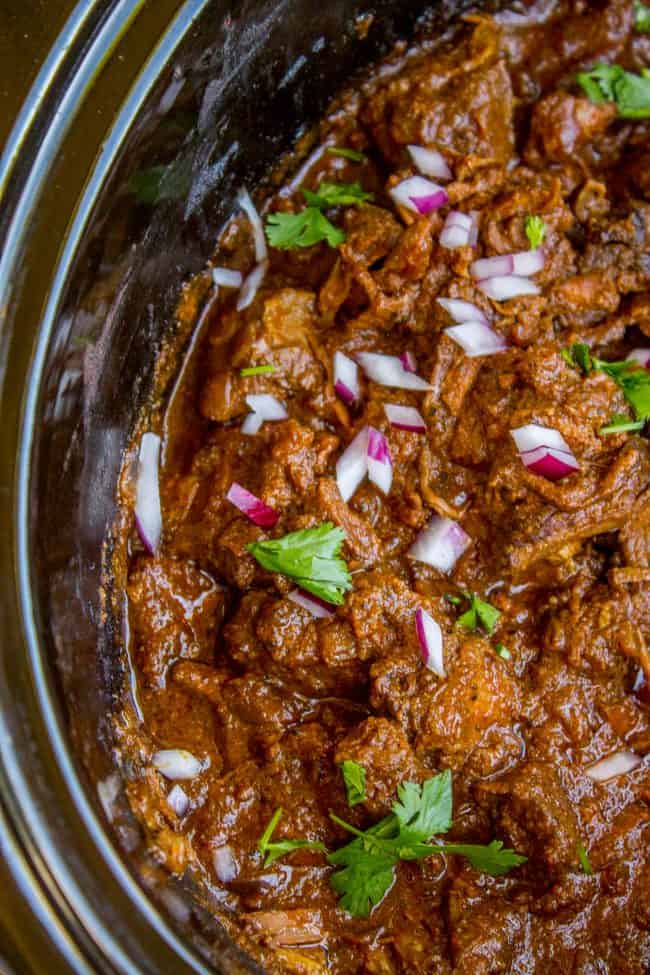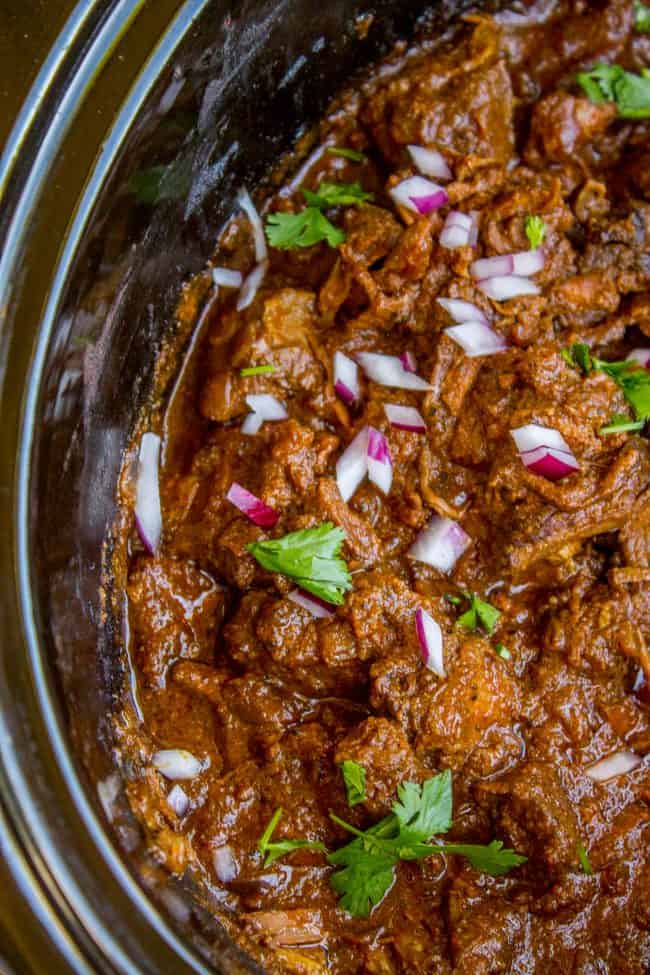 print
Did you make this recipe?
Leave a review »
Slow Cooker Beef Curry
4-6
adjust servings
This slow cooker beef curry could not be easier! Thick chunks of slow-cooked, tender beef, in a rich and thick curry sauce that is just waiting to be scooped up with some naan.
Ingredients
salt and pepper

2-3

tablespoons oil

2-3

pounds cheap steak or roast*, chopped into chunks

1/3

cup water

1

(8 ounce) can tomato sauce

1

tablespoon garlic powder

1/2

teaspoon salt

2

tablespoons good quality beef bouillon**

1/2

teaspoon black pepper

1

and 1/2 tablespoons yellow curry powder

1

tablespoon garam masala

1

large yellow onion, chopped

cilantro, to garnish

chopped red onion, to garnish
Instructions
Heat a large, high-sided skillet (or a wide-bottomed pot), over medium high heat.
Salt and pepper the beef chunks.
Add about a tablespoon of oil to the pan and swirl. It should start to shimmer if the pan is hot enough.
Add 1/3 of the seasoned meat to the pan. Place the pieces of meat so that they are not touching each other (You don't want them to steam--see photos). Turn the pieces with tongs to brown all sides. Remove the beef to the slow cooker and repeat 2 more batches, adding more oil as necessary.
Once all of the beef is browned and in the slow cooker, turn the heat on the pan down to medium. Add the water, tomato sauce, garlic powder, salt, beef bouillon, black pepper, curry powder, and garam masala.
Stir with a wooden spoon until the mixture is bubbly and the bouillon has dissolved. It should thicken up a bit.
Pour the mixture over the beef in the slow cooker.
Add the chopped onion and stir it all together. Cook on low heat for 6-7 hours, until the beef is fork tender
Garnish with chopped cilantro and hot rice!
I love to serve this curry with lots of cilantro, Coconut Jasmine Rice and Homemade Naan! It's the best combo! You could even throw in a Strawberry Lassi to sip with it, if you wanted to get really fancy!
by The Food Charlatan

If you make this recipe,
share it on Instagram
 using the hashtag
#TheFoodCharlatan
so I can see it!
More slow cooker recipes you will love!
Traditional Tejano Carne Guisada (Braised Beef for Tacos) << I based today's recipe off of this one. It's a Texas classic and SOOO good!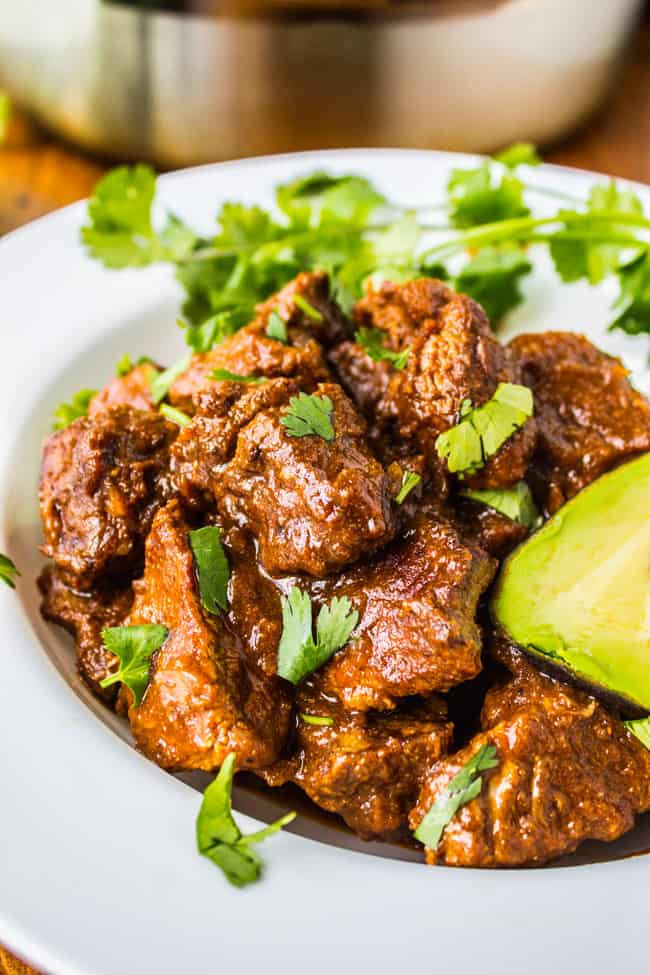 Slow Cooker Basil Chicken in Coconut Curry Sauce <<one of the top recipes on my site!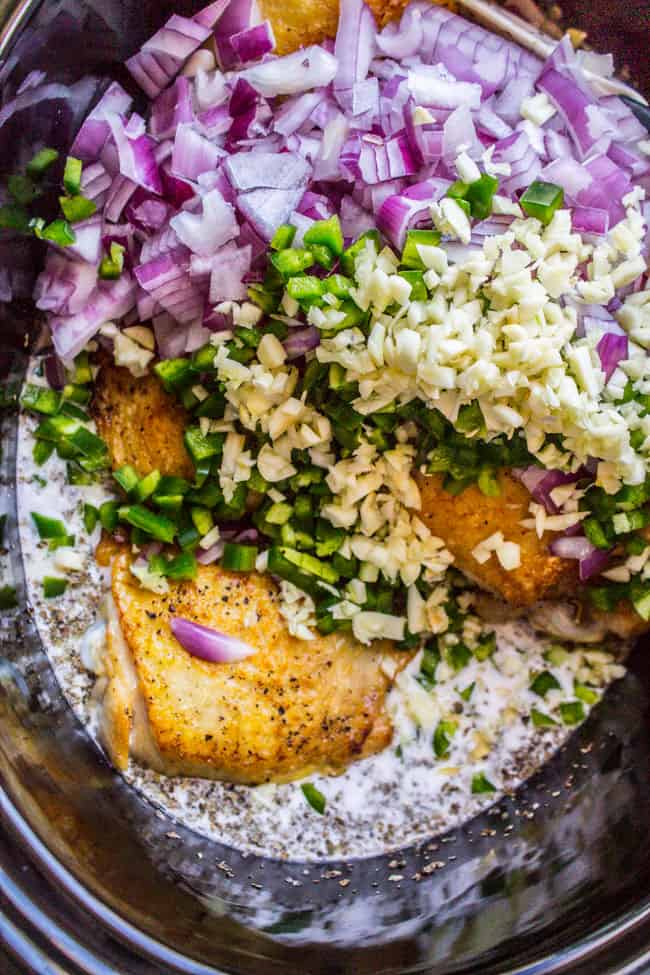 Slow Cooker Chicken Tikka Masala << my favorite, classic Indian dish, made in the slow cooker! You will love it.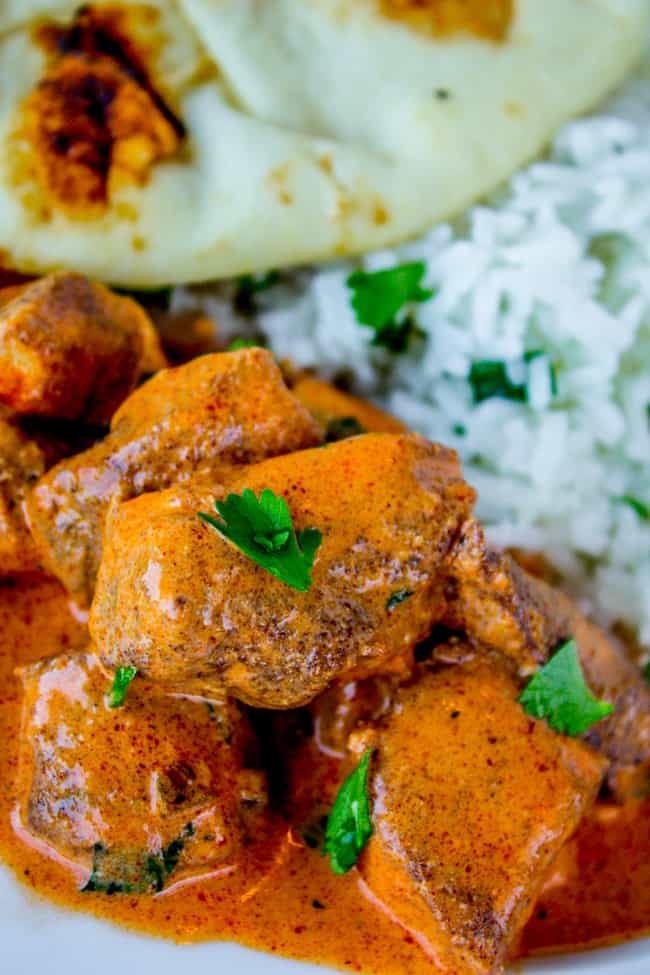 More slow cooker curry recipes you will love!
Slow Cooker Thai Red Chicken Curry with Coconut Milk from Boulder Locavore
Slow Cooker Thai Beef Curry from Foolproof Living
Crock Pot Beef Curry from Wine and Glue
We are a participant in the Amazon Services LLC Associates Program, an affiliate advertising program designed to provide a means for us to earn fees by linking to Amazon.com and affiliated sites.