Roasted Garlic Green Beans with Fried Sourdough
Let's think of a way to make garlicky roasted green beans even more amazing. OH I KNOW. Let's add hunks of fried sourdough bread and sprinkle it with goat cheese that gets all melty and glorious. You win, carbs. This would be a perfect side dish for Thanksgiving in a few weeks!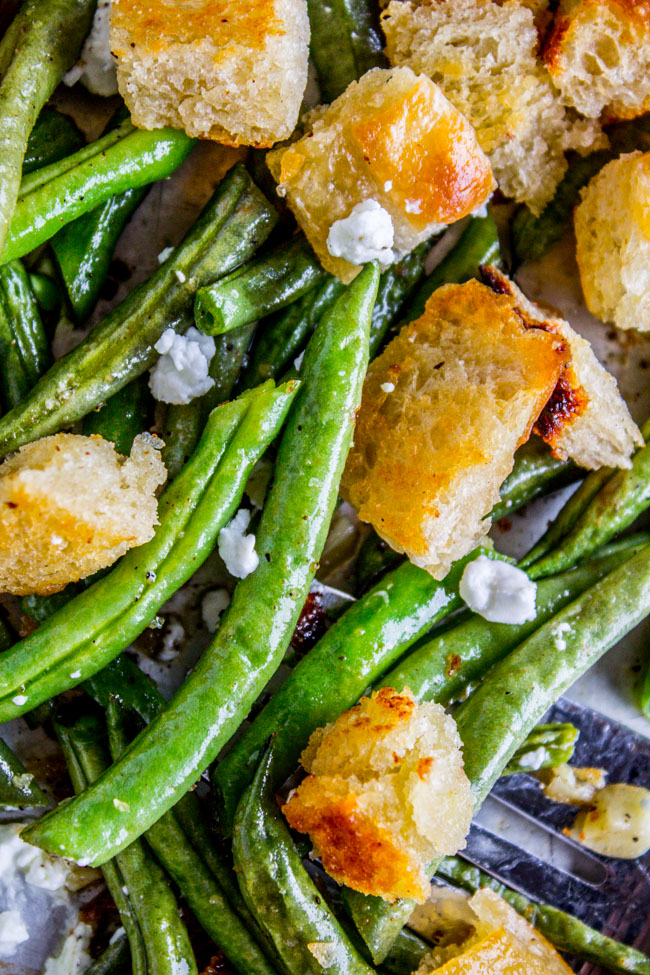 I'm writing this at 6:45 on Halloween night and I feel like I can officially say I'm in the clear. The scariest part of Halloween this year was the fact that it's a week away from my due date, meaning that a Halloween baby was a total possibility. For any other baby this really wouldn't bother me (I'm a Halloween lover!), but I feel like it would be cruel and unusual since our baby's name is going to be…
You almost had me. Sorry, you'll have to wait til she's born to get the name. (Any guesses? Don't comment if you already know :) (UPDATE: Here's what we named her!)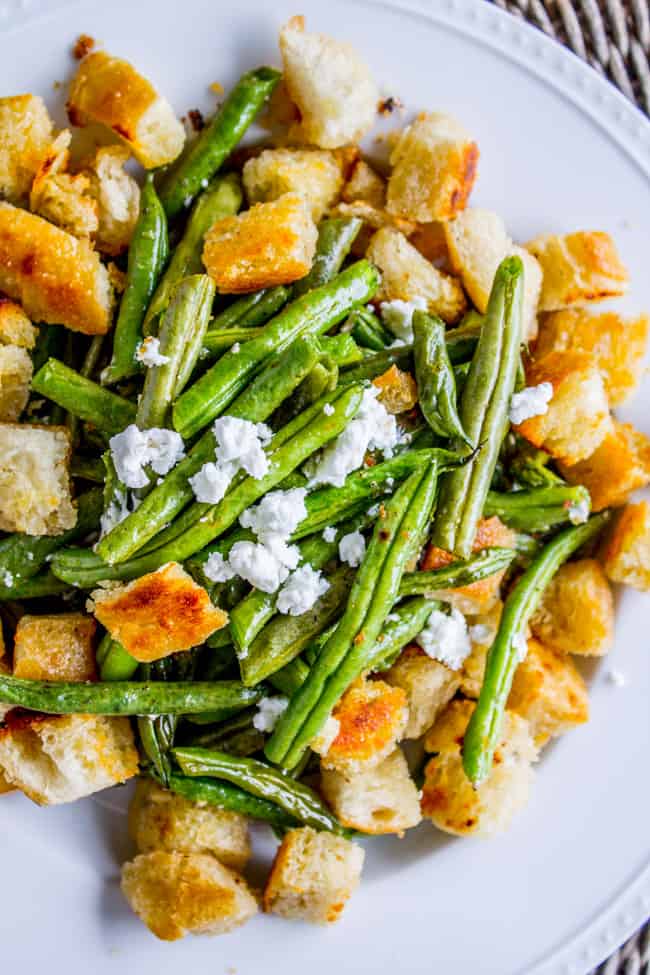 Meanwhile, here are  Some Halloween Truths, according to Karen:
Opening those 2-packs of Starburst and getting TWO PINKS is basically like winning the lottery.
Last year I posted this on Facebook: "My ice cream was taking too long to soften, so I grabbed a Kit Kat while I waited. This is why you shouldn't buy Halloween candy until the day of." Am I alone here?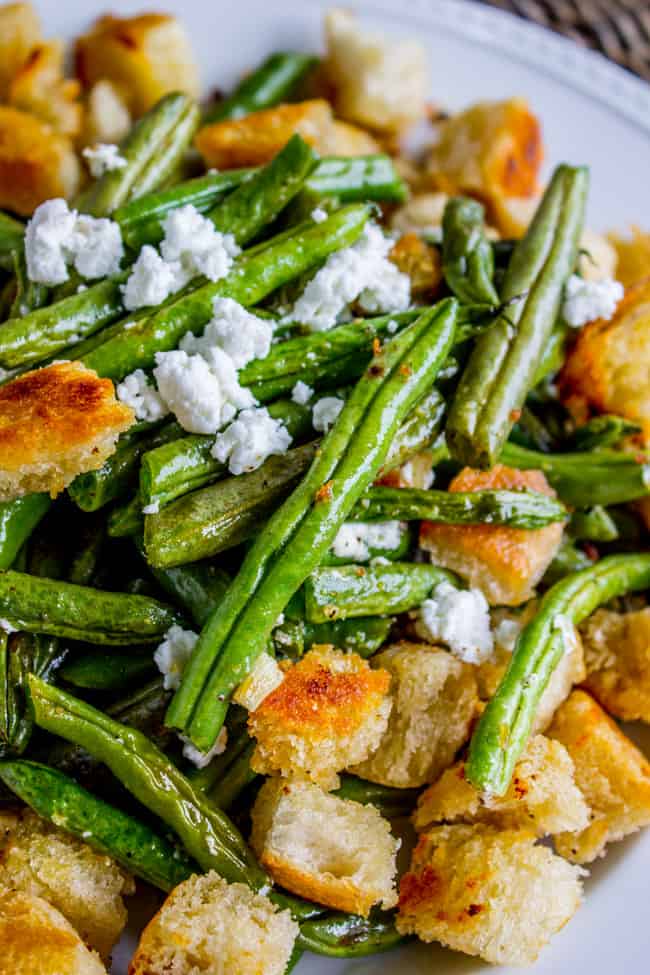 I totally scored in the 3-year-old department this year. His favorite candy currently? Tootsie Rolls. He doesn't bat an eye when I ask if I can have one of his Reese's. Charlotte on the other hand, is getting WAY too candy-savvy.
It doesn't matter if you buy the "lame" candy. You will still only get 5 trick-or-treaters and you will still eat it ALL. And while you eat it you will be thinking, this is not worth it. And then you will reach for another packet of Sour Patch Kids.
Now that Halloween is officially over we can get to the goods: Thanksgiving!!! (I will be saying the same thing about Christmas the day after T-day, just a heads up.)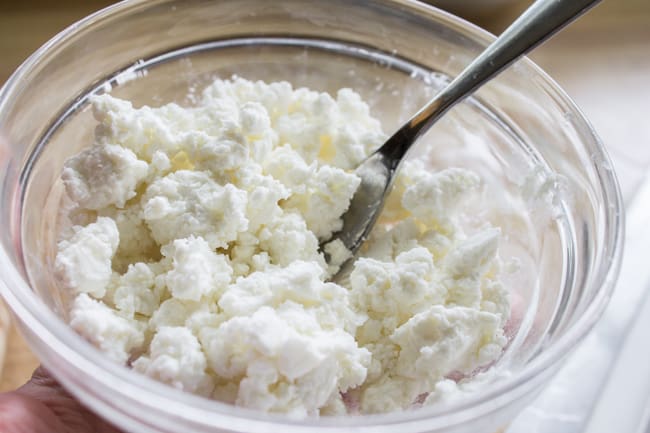 My sister Laura (who seriously comes up with the best ideas. She's such a natural in the kitchen.) told me about this quick side dish she made the other day: dump frozen green beans on a pan with some olive oil, roast them and top with garlic infused fried sourdough.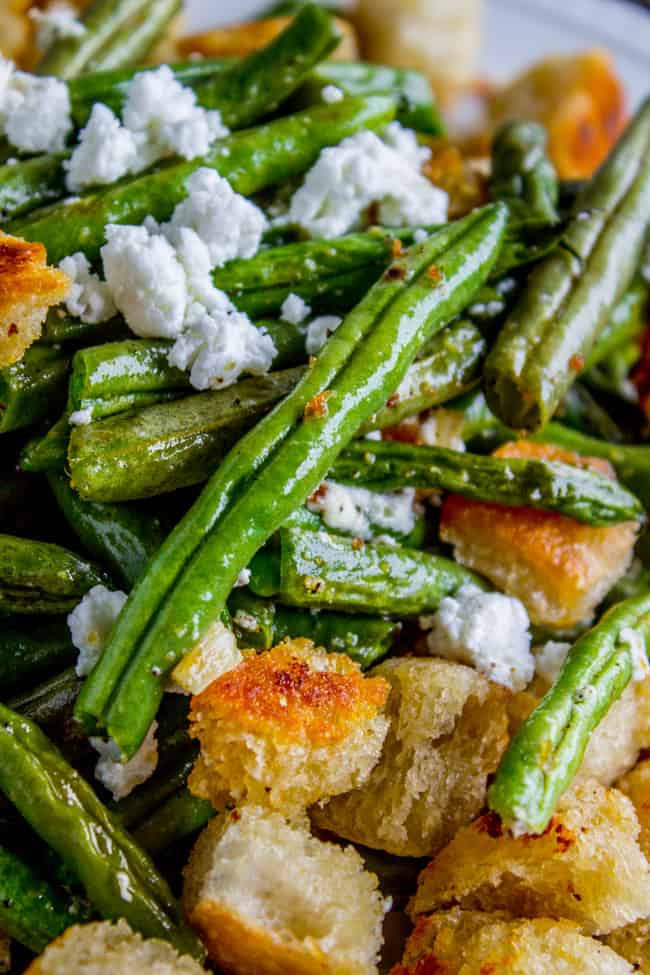 I decided to try it out with fresh green beans and add goat cheese, and it turned out AMAZING. I caught Eric just a few minutes ago snacking on them cold from the fridge. (This may or may not have something to do with the fact that he's started counting calories again and is out for the day. (It's Halloween, hello.) Olive-oil and goat cheesed green beans are calorie free right?)
I think this would make a pretty killer side dish for Thanksgiving! Give the turkey a run for it's money!
Facebook | Pinterest | Instagram | Twitter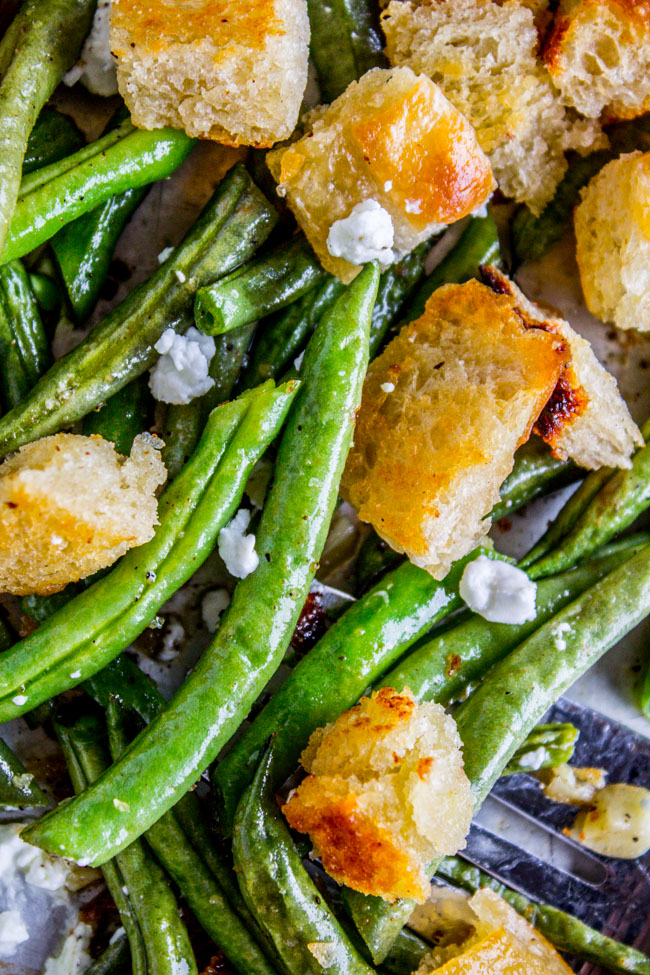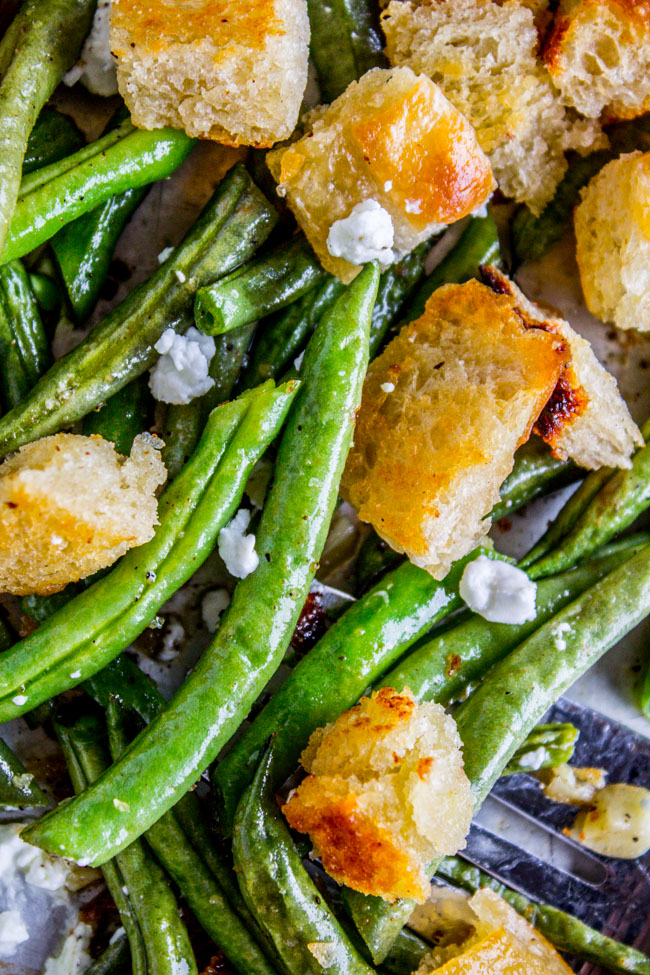 print
Did you make this recipe?
Leave a review »
Roasted Garlic Green Beans with Fried Sourdough
Serves 6-8
adjust servings
Ingredients
5

tablespoons salted butter

1/4

cup olive oil

4

cloves garlic, crushed and coarsely chopped

12

ounces (about 7 cups) day-old sourdough bread, cut into 1 inch cubes

1

and 1/2 pounds fresh green beans, trimmed and chopped in half

2

tablespoons olive oil

1

teaspoon kosher salt

1/2

teaspoon black pepper

3-5

ounces goat cheese, crumbled
Instructions
Melt the butter in a small bowl. Add 1/4 cup olive oil.
Stir in the chopped garlic and set aside for at least 15 minutes.
Meanwhile, chop the bread and set aside.
Preheat your oven to 425 degrees F. Line a baking sheet with aluminum foil and spray with nonstick spray.
Trim the knobby ends off your green beans. (the part that might still have some stem attached.) The other tapered end is tender and doesn't need to be trimmed. Chop the beans in half or thirds, depending on how big they are. Rinse them off in a colander and pat dry with a paper towel.
Dump the green beans on the prepared pan.
Ue the colander to strain the butter and olive oil mixture into a 12-inch skillet. Add the garlic to the green beans on the pan.
Turn the heat to medium. When the butter is hot, add the cubed sourdough. Stir every couple minutes until the bread is crispy, about 10-12 minutes total.
Meanwhile, drizzle the pan of green beans and garlic with 2 tablespoons olive oil and sprinkle with the salt and pepper. Use your hands to make sure all the beans are covered in oil.
Roast at 425 for 6 minutes. Stir the pan and return to the oven for another 6 minutes.
Check the green beans with a fork. If they are crisp tender, take them out, otherwise stir again and return to the oven for another 3 minutes. (Total roasting time should be 12-15 minutes.)
Transfer the green beans to a warm serving platter. Top with fried sourdough and sprinkle with goat cheese.
by The Food Charlatan

If you make this recipe,
share it on Instagram
 using the hashtag
#TheFoodCharlatan
so I can see it!
Other side dishes you will love!
Lemon Green Beans with Feta and Fried Pecans: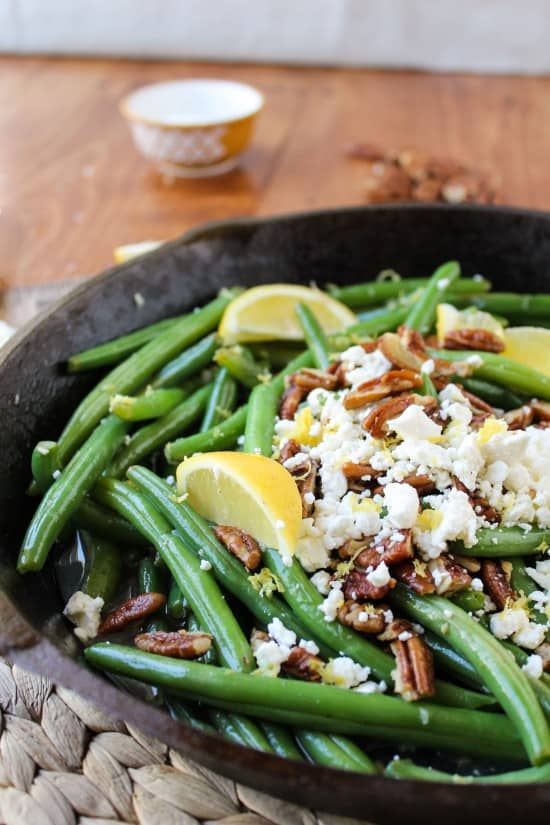 Roasted Sweet Potatoes and Brussels Sprouts: << you can even make this one ahead of time!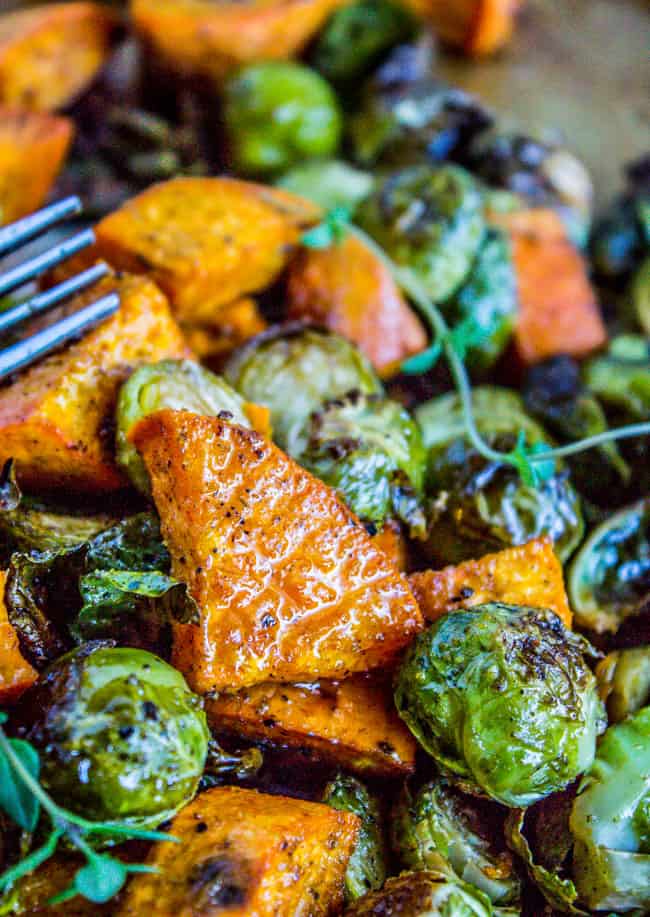 Sauteed Asparagus with Cherry Tomatoes: <<These are quick and delicious!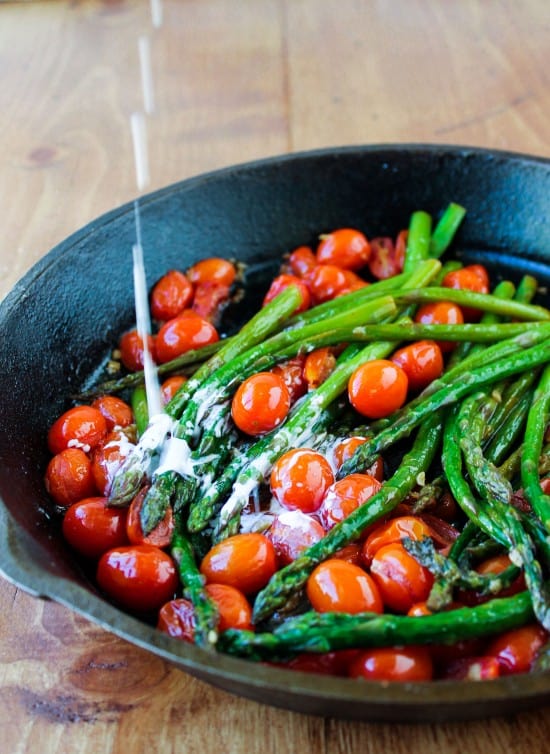 Broccoli with Feta and Fried Almonds << have you ever fried almonds?? Life changing!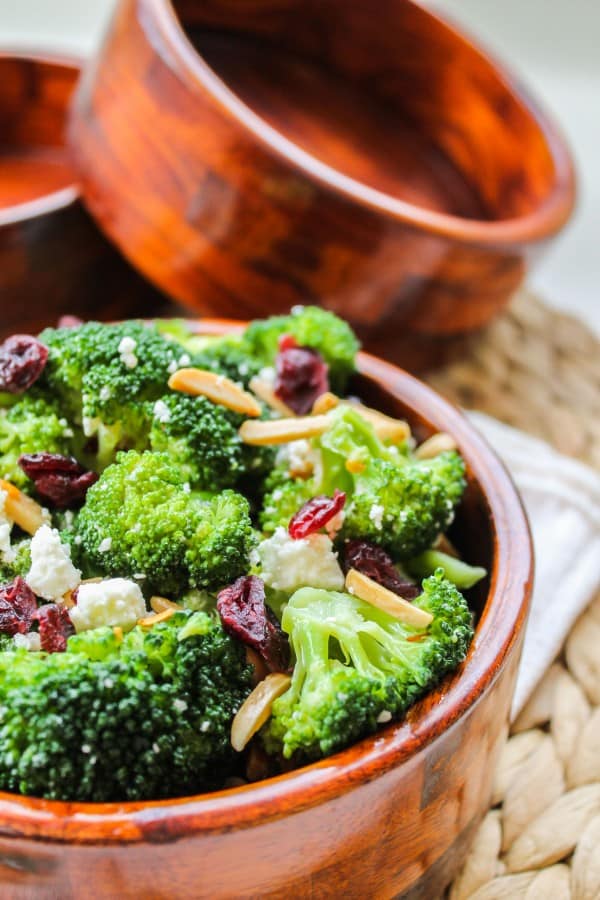 More green bean recipes from friends!
Balsamic Garlic Roasted Green Beans and Mushrooms from Let's Dish Recipes
Lemon Butter Green Beans from Diethood
Roasted Green Beans with Parmesan and Basil from Rachel Cooks
We are a participant in the Amazon Services LLC Associates Program, an affiliate advertising program designed to provide a means for us to earn fees by linking to Amazon.com and affiliated sites.