These are thick and ultra-chewy oatmeal cookies, made with brown sugar and some KILLER mix-ins, are you ready? Dried tart cherries, dark chocolate, and toasty pecans. These cookies totally caught me by surprise and now I am OBSESSED.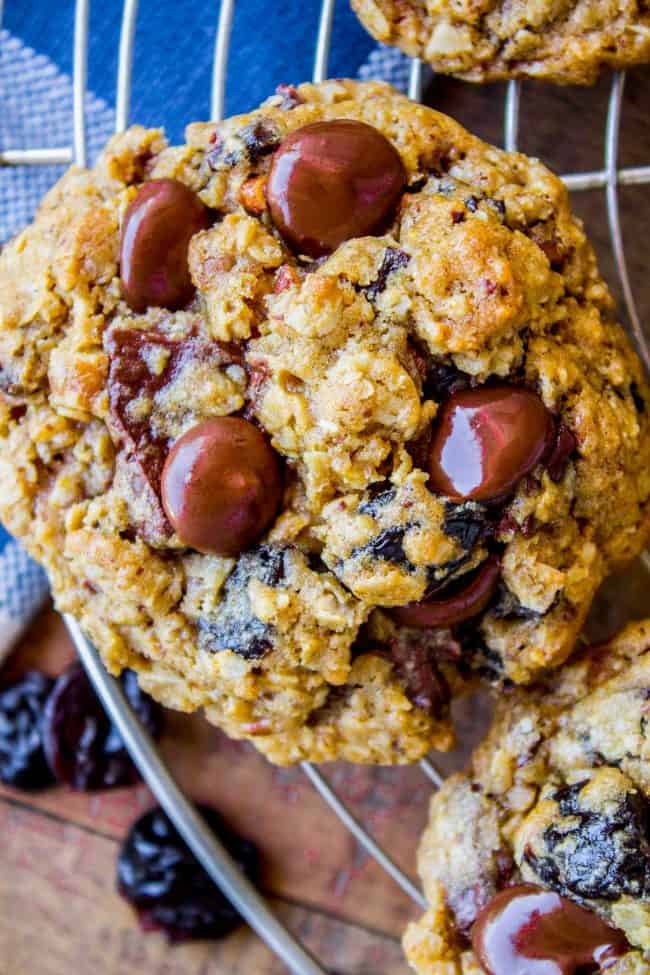 My mom just sent us kids a list of gift ideas for my dad. His birthday is in December, so all the gift giving tends to happen once a year for him. Here are some of the things he put on his list:
almonds, bulk
Pack of low-rise white athletic socks
Paint my bathroom.
Smart Phone w/ good camera
H&R Block Tax Software, Premium Federal and State 2017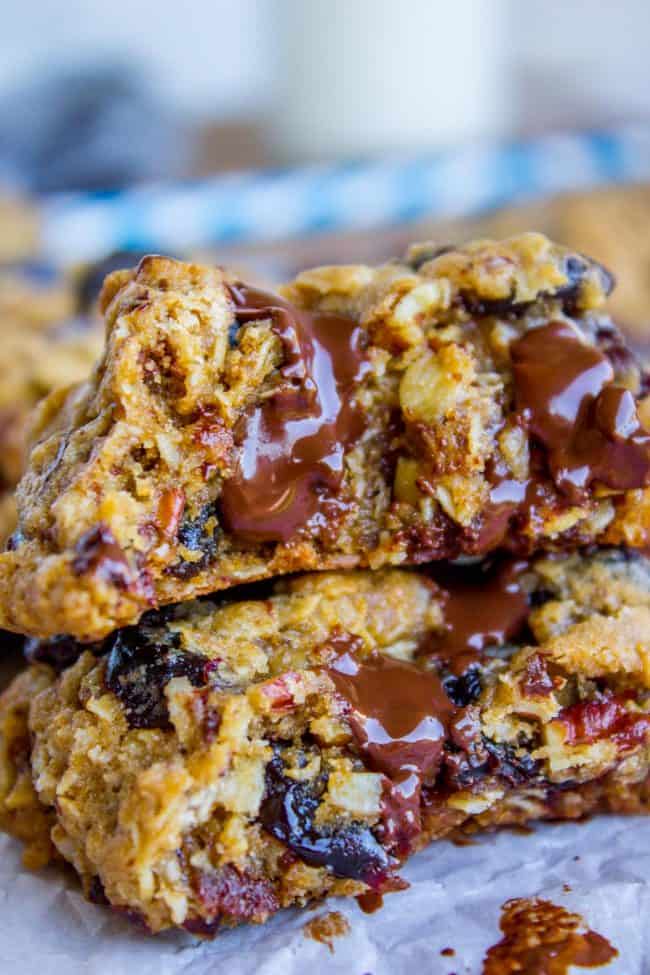 I can't even decide what to make fun of first. H&R Block? I mean who doesn't want tax software for their birthday? Or maybe the almonds. Nothing would make me happier on my birthday than getting a giant bag of almonds (???) Also, did you notice the smart phone request? He doesn't have one. He uses a flip phone, and by uses I mean he absolutely NEVER uses it, nor does he have it anywhere near his person. Ever. (None of us are bitter about this.)
Also, here's the best part: I just read Eric this list and the first thing he said was, "That's your dad's list from last year I'm pretty sure." No, Eric. No it isn't. It's just basically the same as last years. Oh Dad. I love you.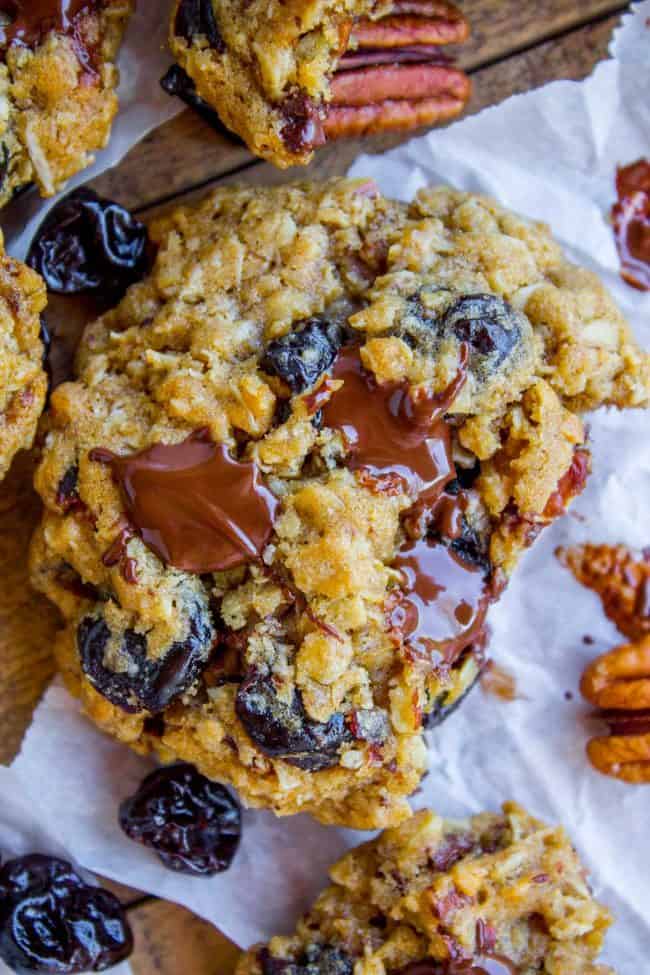 Honestly, I was not very excited about trying these cookies. (Dried cherries? Come on. Give me the goods.) My sister-in-law Reesy has been going on about them for ages, "they're the best cookie ever" "You won't believe how good they are" etc etc. Well I've heard it all before Reesy, but dried tart cherries MESSING UP a beautiful chocolate-and-oatmeal cookie sounds like a huge disappointment.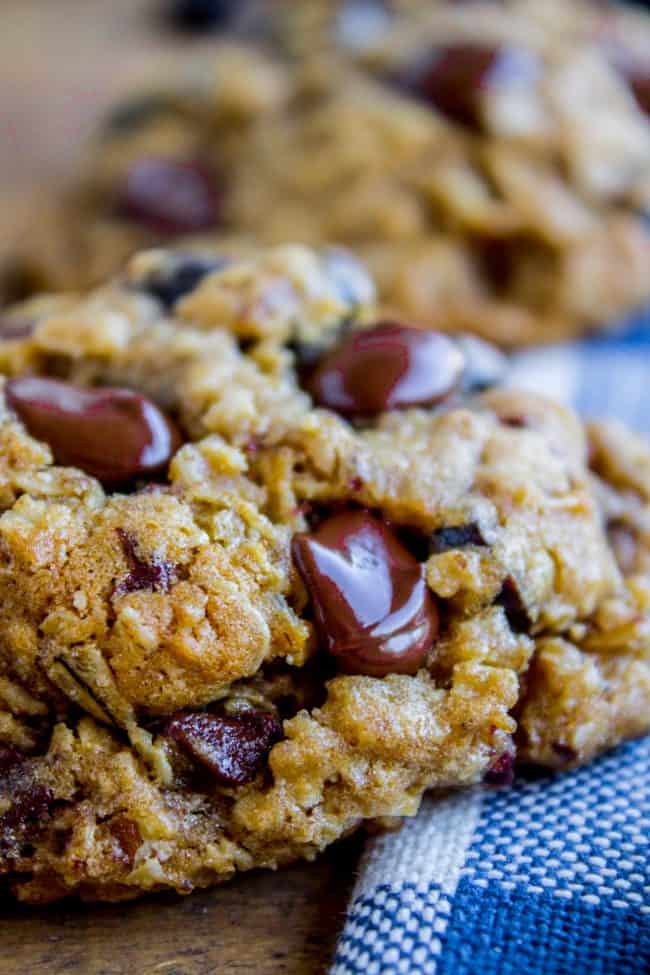 I am also a recent convert to nuts in cookies. I'm freaking 30 years old now, yet the childhood aversion to nuts in cookies is STILL holding strong, even though I love nuts in most situations. It was these Texas Cowboy Cookies (which also feature pecans. You gotta try these, it's a top recipe on my site. They have a ton of mix-ins, just like today's recipe, and also just like today's recipe, I didn't trust them at first.) and also these Levain Bakery Chocolate Chip Cookies from A Bountiful Kitchen that convinced me to repent of my no-nut ways. (Brownies, however, should NOT have nuts. In ANY situation. I'm sorry, it's just the truth. If you are family members with a nuts-in-brownies lover, go halfsies like for these Nana's Famous Fudge Brownies.)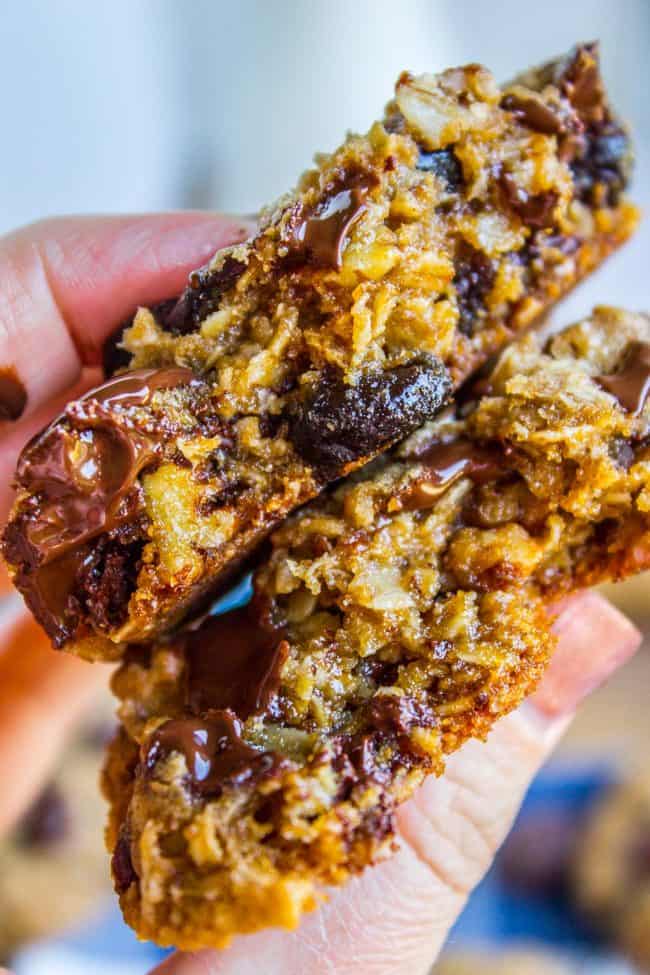 Well guys, I went through the full repentance process on these cookies. And now I'm going to knock on your door and tell you all about them. They are AMAZING. So soft and chewy, so tender, with just the right amount of cherry flavor and chocolate to balance it out.  I could not stop eating them.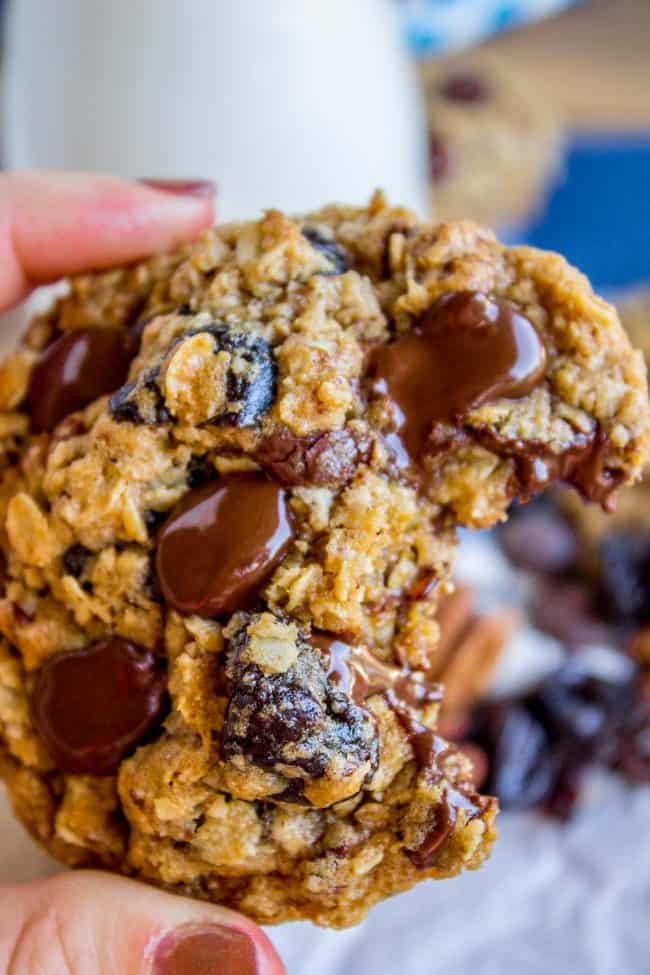 My parents and my brother were visiting one afternoon after I had baked these. I offered some to everyone and my dad and brother both said, no thanks, I'm watching my girlish figure, or some lame excuse. Finally they broke down and tried them after my mom would not stop talking about them, and they both had to admit that they were amazing. And then we ate ALL of them.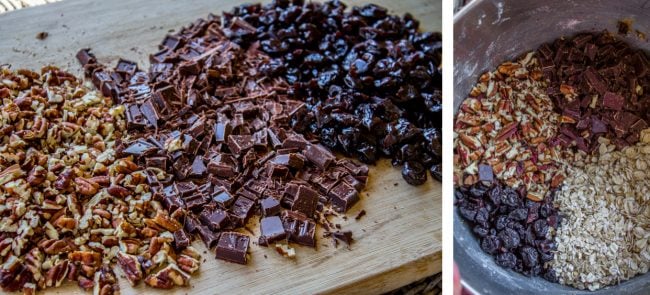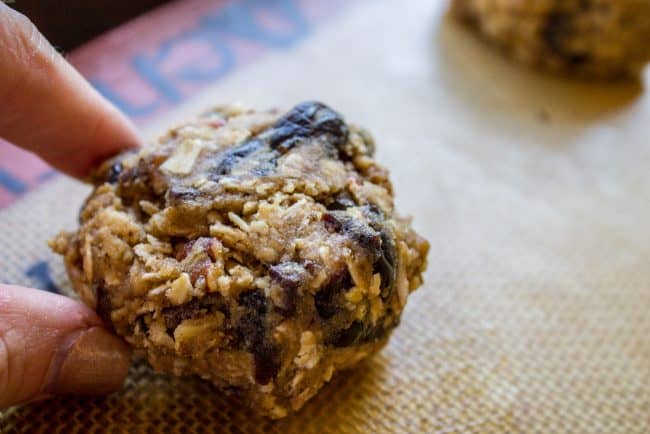 1/4 cup of dough per cookie, please.
One last hallelujah about these cookies: NO CHILLING REQUIRED. Guys, I know sometimes you need a cookie in your mouth like yesterday, but the fact of the matter is that chilling the dough almost always makes for a 100x better cookie. But not so with these ones! They are actually better when not chilled. I tried it, and when I put them into the oven cold, they didn't spread enough and just stayed in little balls of sad half baked dough. You want to make sure that they are not going to flatten into a complete pancake when baking though, so make sure the butter that you cream is soft, but not TOO soft.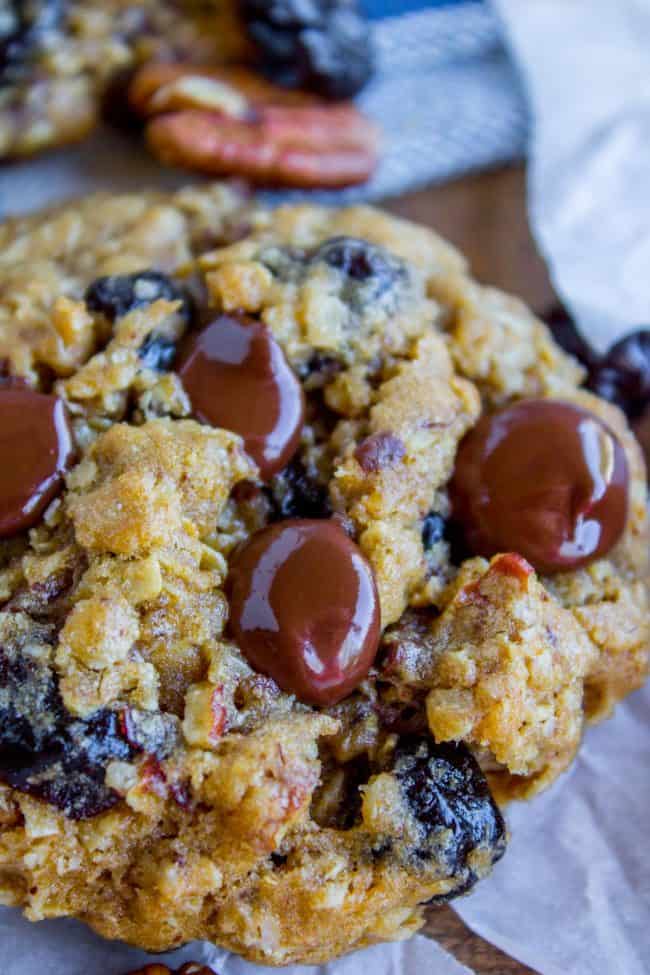 These would be such a perfect cookie to add to cookie plates this Christmas! Your neighbors will love you!
Facebook | Pinterest | Instagram | Twitter

One year ago: Roasted Garlic Green Beans with Fried Sourdough
Two years ago: Slow Cooker Brown Butter Carrots
Six years ago: Italian Sausage with Tomatoes and Penne

Dark Chocolate Cherry Oatmeal Cookies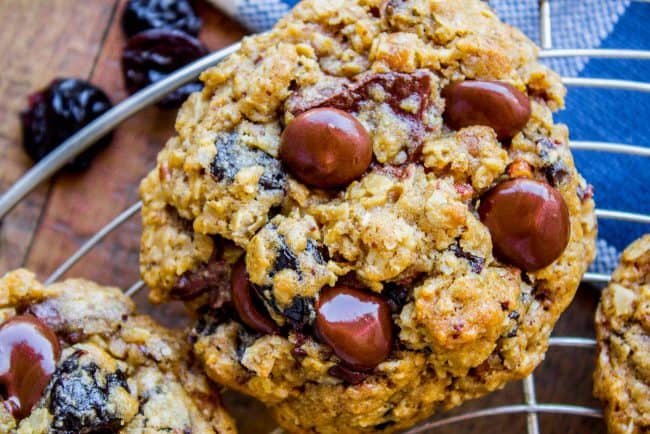 These are thick and ultra-chewy oatmeal cookies, made with all brown sugar and some KILLER mix-ins, are you ready? Dried tart cherries, dark chocolate, and toasty pecans. These cookies totally caught me by surprise and now I am OBSESSED. 
Ingredients
3/4

cup

salted butter

,

not too soft (1 and 1/2 stick)

1 & 1/2

cups

dark brown sugar

,

packed

1

large

egg

1

teaspoon

vanilla extract

1

cup

all purpose flour

,

spooned and leveled

3/4

teaspoon

baking powder

1/2

teaspoon

baking soda

1/2

teaspoon

salt

1

cup

old fashioned oats

1 & 1/4

cup

quick oats

1

cup

dried tart cherries

,

coarsely chopped

4

ounces

bittersweet chocolate

,

3/4 cup, chopped

1

cup

pecans

,

toasted and chopped

dark chocolate chips

,

to top cookies
Instructions
Let your butter sit out of the fridge for like 10-15 minutes.

In a

large bowl

or stand mixer, beat together the butter and brown sugar until lighter and fluffy, about 1-2 minutes. Scrape down the sides and bottom of the bowl.

Add the egg and vanilla extract. Beat well.

Add 1 cup of flour to the bowl but don't mix it in. Use a small spoon to stir the baking powder, baking soda, and salt into the flour. Then use the spoon or mixer to mix in the flour until it is not quite combined.

Add the old fashioned oats, quick oats,

cherries

*, chocolate, and chopped pecans.

Gently fold in the mix ins. Make sure all the flour streaks are gone. Don't over mix, once it comes together you're good to go.

Fill a 1/4 cup measuring cup with dough. Shape the dough into balls and place them on the cookie sheet. You can only fit about 8 cookies per sheet. Make sure there are about 2 inches in between the cookies.

Bake at 350 for about 12-13 minutes, or until the edges are set. There can be a little bit of shine in the center of the cookie, but it shouldn't look completely shiny.

Top immediately with dark chocolate chips.

Let the cookies cool on the rack for about 5 minutes, then remove them to a cooling rack.
Notes
You can get dried tart cherries at the grocery store next to the raisins and other dried fruit. I like to get the big bag at Costco.

This recipe is from Eric's sister Reesy, who adapted it from Cook's Illustrated. Also featured on Epicurious.
Nutrition
Serving:
1
cookie
|
Calories:
311
kcal
|
Carbohydrates:
38
g
|
Protein:
4
g
|
Fat:
17
g
|
Saturated Fat:
8
g
|
Polyunsaturated Fat:
2
g
|
Monounsaturated Fat:
5
g
|
Trans Fat:
1
g
|
Cholesterol:
31
mg
|
Sodium:
196
mg
|
Potassium:
181
mg
|
Fiber:
3
g
|
Sugar:
23
g
|
Vitamin A:
263
IU
|
Vitamin C:
1
mg
|
Calcium:
59
mg
|
Iron:
2
mg
ALL the cookies!
Texas Cowboy Cookies << these cookies are unstoppable. MAKE THEM!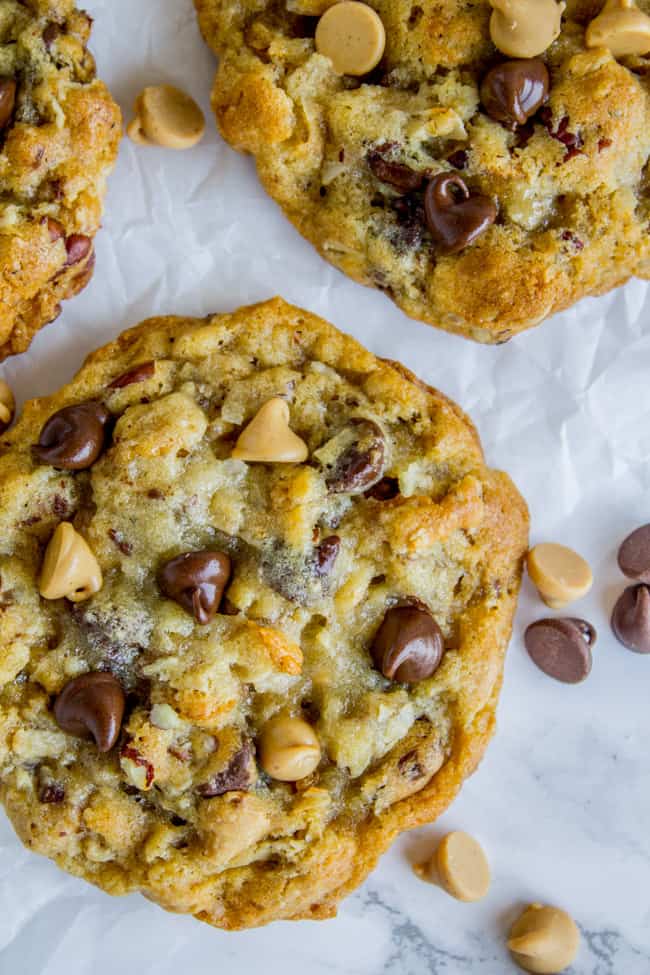 Buried Cherry Cookies: I make these every Christmas without fail. They are SO GOOD!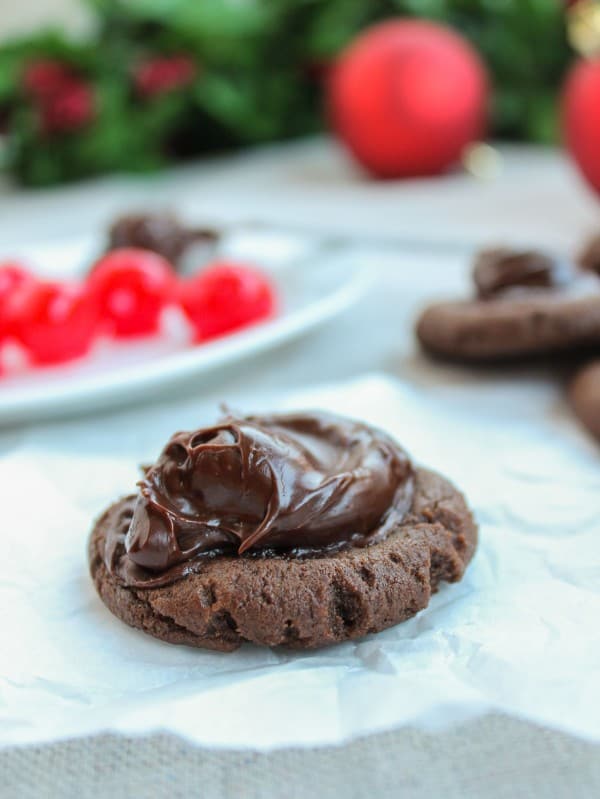 Chewy Peanut Butter Oatmeal Cookies << everyone needs a classic recipe like this.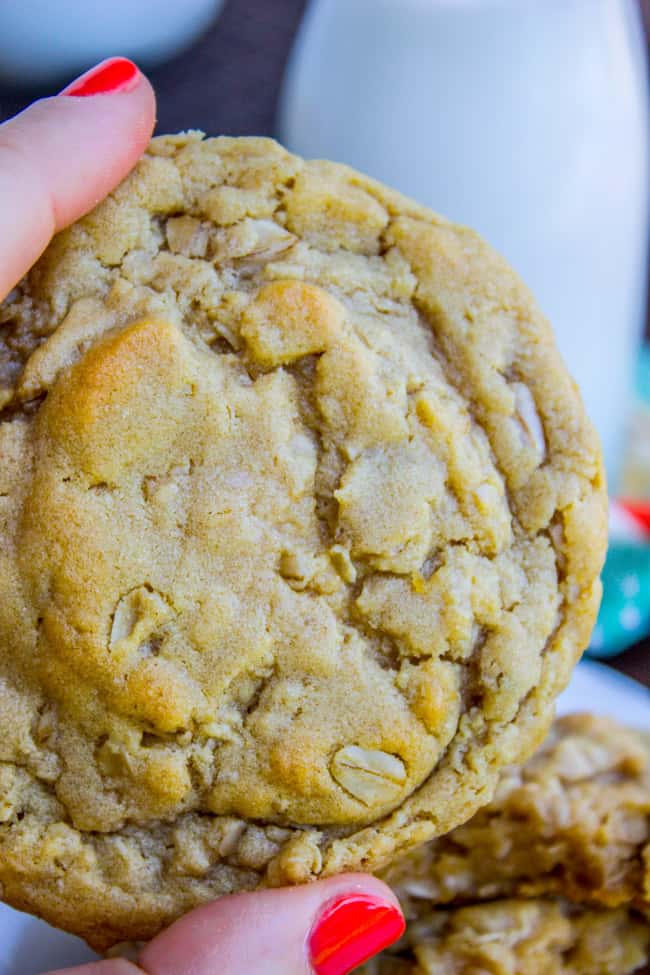 More cherry cookies to love!
Browned Butter Oatmeal Cherry Chocolate Chip Cookies from Whole and Heavenly Oven
Cherry Chocolate Chip Oatmeal Toffee Cookies from Barbara Bakes
Soft-Baked Maraschino Cherry Chocolate Chip Cookies from Noble Pig