Happy Halloween everybody!! Are you guys doing anything fun? We thought about taking Charlotte trick-or-treating, but considering that she can't consistently say anything longer than 2 syllables and the fact that we would never give her (much) of the candy she collected, we decided against it. Call us scrooges.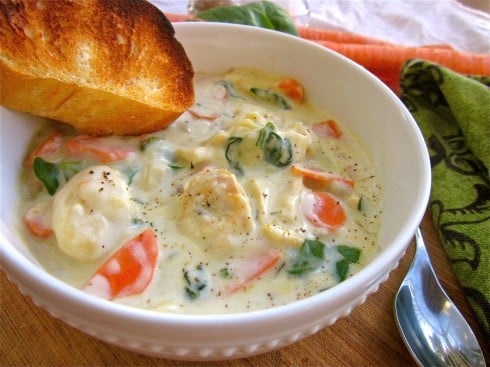 I'm recuperating from a cleaning binge. I haven't cleaned my house since July. I'm not kidding. It was pretty bad. Eric's a clean guy for the most part, meaning that he will take care of dishes and clutter and even clean the toilet when I ask him too, but more subtle things like mopping the floor or dusting tend to get left behind. One friend came over a few weeks ago and as she walked in the door she told me it smelled really nice. That was when I had to confess that the sink full of dishes had started to smell, so on my way back to the couch I lit a candle to cover it up. You do what you gotta do when you're pregnant, man.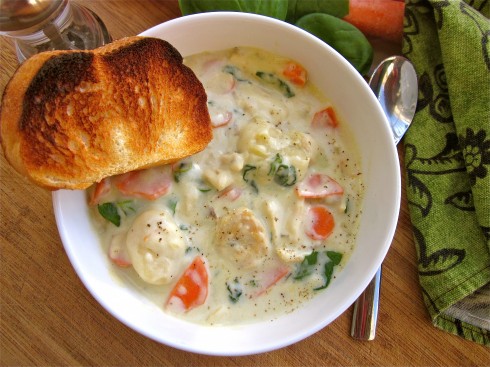 Check it out. Not only am I cleaning, I even made dinner. It is definitely soup weather around here, as it will be for about the next 8 months because we live in Utah. But I'm not complaining, at least not about the soup part. Oh, and soup+gnocchi? Could life get any better than that? Not unless you add Reesy Rolls.
P.S. If anyone is in need of a fun last minute Halloween dessert idea, check out Dracula's Dentures. Super easy and super awesome.
Chicken Gnocchi Soup

Source: Mel's Kitchen Cafe
Serves 4-6
Note: This soup is thick. If you want it thinner, add more water or broth. Also, gnocchi is usually found in the pasta aisle, as I found after asking 4 different grocery store employees.
1 tablespoon olive oil
1 medium onion, diced (about 1/2 cup)
1 cup chopped carrots
1/2 teaspoon dried thyme
2 cloves garlic, finely minced
1/4 cup all-purpose flour
2 cups fat free half-and-half (or regular is fine)
1 cup lowfat milk
1 cup low-sodium chicken broth
1 teaspoon salt
16 ounce package gnocchi
1-2 cups cooked, shredded or diced chicken breasts
1 cup fresh spinach, coarsely chopped
Salt and pepper to taste
In a 4- or 5-quart pot, heat the olive oil over medium heat until hot and rippling. Add the chopped onion, carrots and thyme. Cook until the onion is translucent and carrots are slightly tender, stirring often, about 4-5 minutes. Stir in the garlic and cook, stirring constantly, until fragrant.
Whisk in the flour and cook, whisking or stirring constantly, until the flour is lightly golden, 1-2 minutes. Slowly whisk in the half-and-half. Whisk in the milk and chicken broth. Add salt. Stir while bringing the mixture to a boil over medium to medium-high heat. Cook, stirring often, until the mixture is slightly thickened, 5-7 minutes.
Stir in the uncooked gnocchi and simmer over medium-low heat for 3-4 minutes, stirring occasionally. The soup should thicken up quite a bit while the gnocchi is cooking. Stir in the chicken and spinach and cook for 1-2 minutes until heated through. Season with salt and pepper to taste and serve.