These easy make-ahead green beans are perfect for the holidays! Who's got time for elaborate side dishes? These are simple yet delicious. The garlic bread crumbs and almonds add tons of flavor.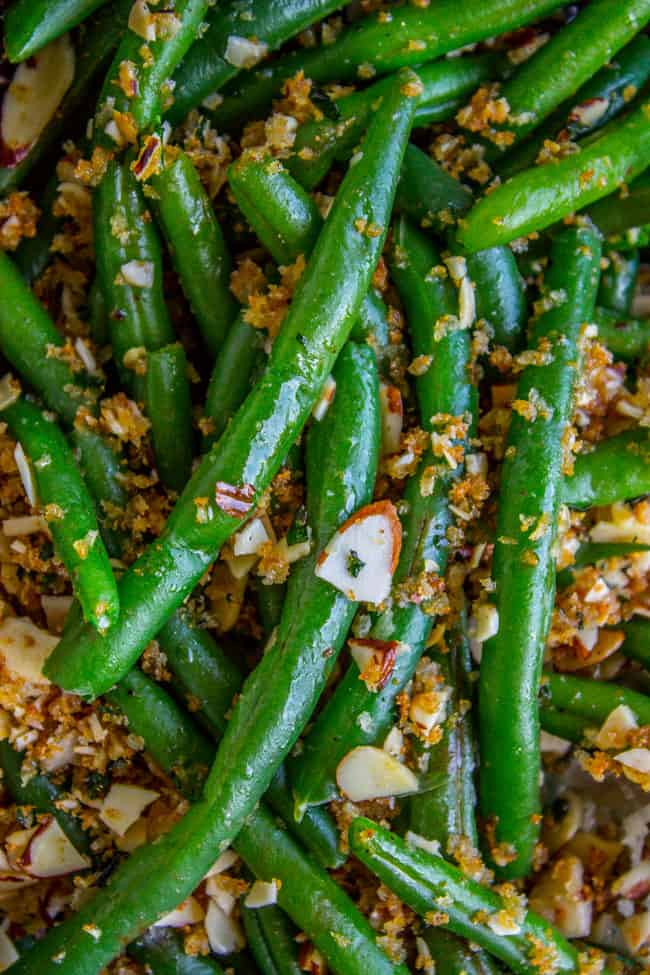 "Eric, you have a bug on your face! Oh wait. Never mind. It was just a piece of lint or something. But you seem very unconcerned…Weren't you freaked out that I thought there was a bug on your face??"
Eric: "NO. I knew it wasn't a bug. There was a one in a hundred chance it was a bug. You think EVERYTHING'S a bug."
The struggle is real guys. I probably have burned more calories over the years bending over to check if some speck on the floor is a bug, than I have in all the formal exercise I have done in my entire life.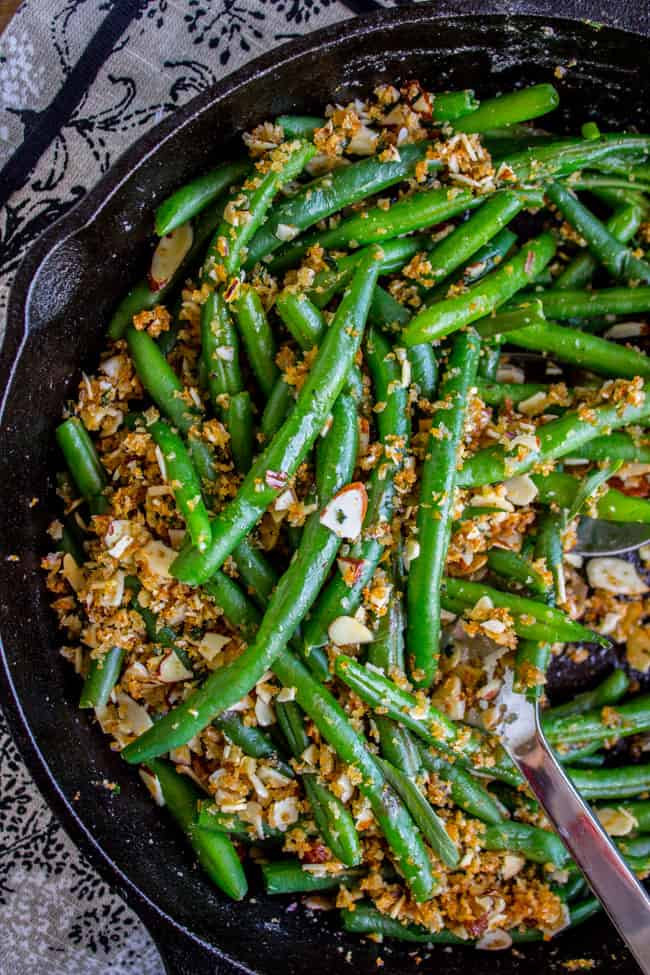 Speaking of exercising, I'm on day 21 of working out every day! I haven't been that consistent in years. I do it every day except Sunday, so it's not really 21 consecutive days, but close enough right. (Everybody needs a day of rest, right??) I've lost zero pounds because I haven't changed my diet at all. (And my diet still includes these. Ahem.) But it's lots of fun! Sometimes! Kinda!
What do you guys do for exercise? I don't have a gym membership so I do everything at home. I love doing dance workouts. Alone. With the door shut. And the drapes closed. Eric thinks I'm ridiculous for never working out when he is around, but that's because he's never seen how ridiculous I look.
(I love Saskia's Dansschool, the Fitness Marshall, and any zumba that's easy enough for me to follow. Do you guys have any recommendations? Here is my youtube workout playlist.)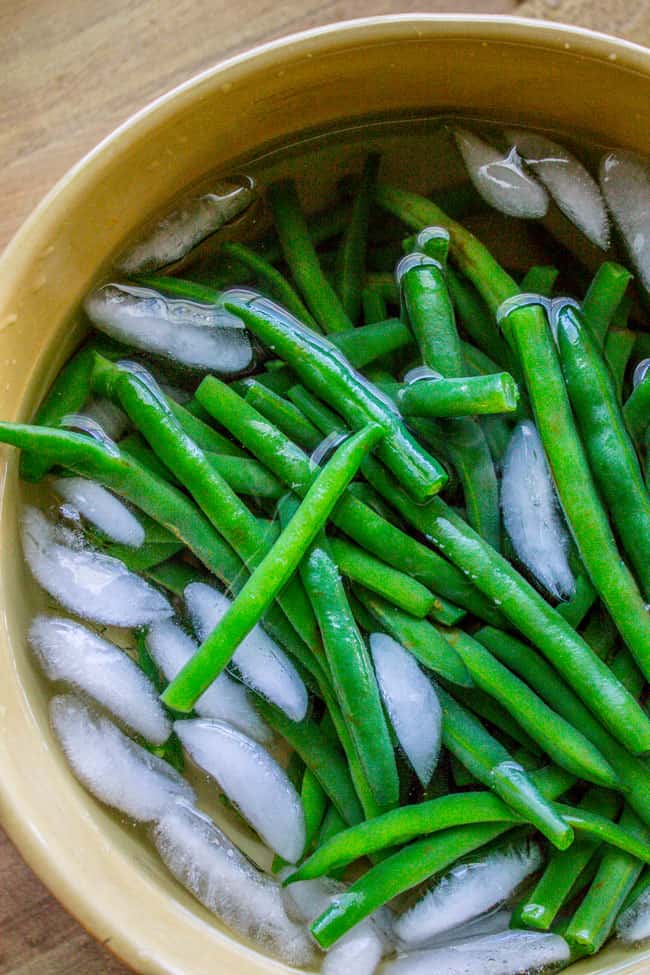 Maybe if I eat these green beans every day and keep exercising I'll start losing weight? Oh wait, I added buttery bread crumbs, never mind. (Also, for the record, I don't think I'm fat. Just trying to be healthy and get closer to my pre-pregnancy weight. I clarify this in an effort to not add to the insane, insane standards women put on themselves.)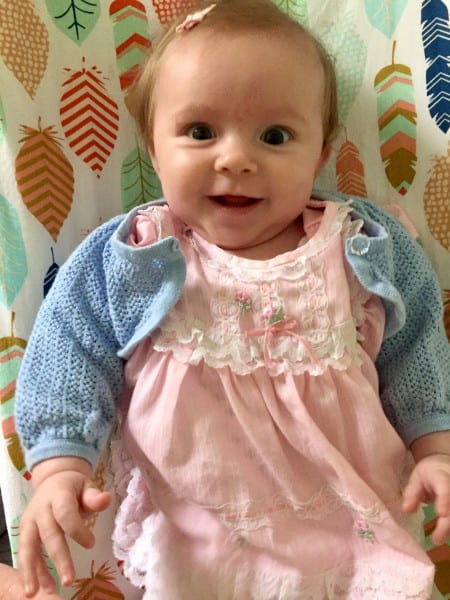 Valentine is almost 5 months old now, and worth every pound! (and every hour of lost sleep!) Fun fact: I wore that pink dress when I was a baby. My mom saved it for me! Crazy right??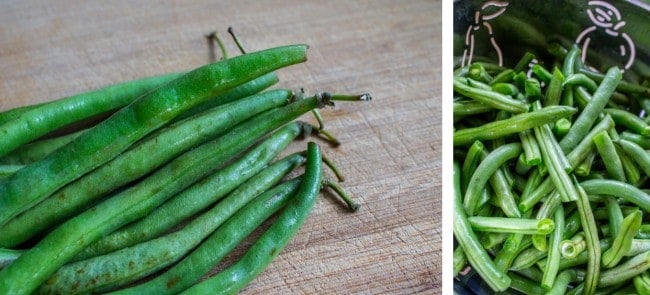 (This is the end of the green bean that you're supposed to trim.)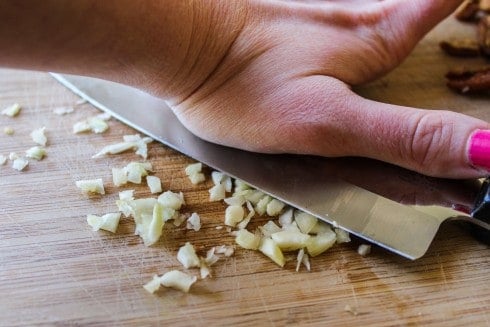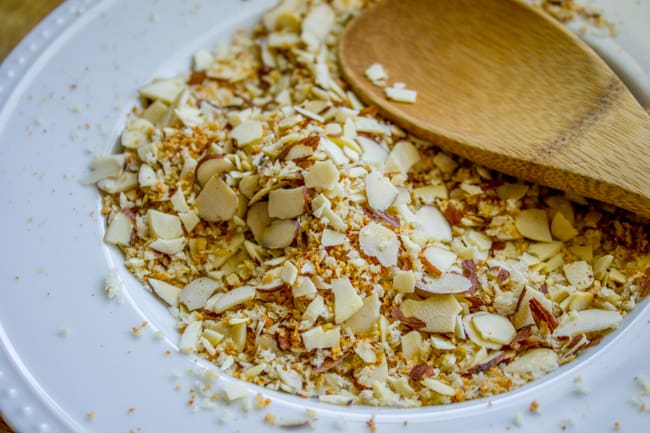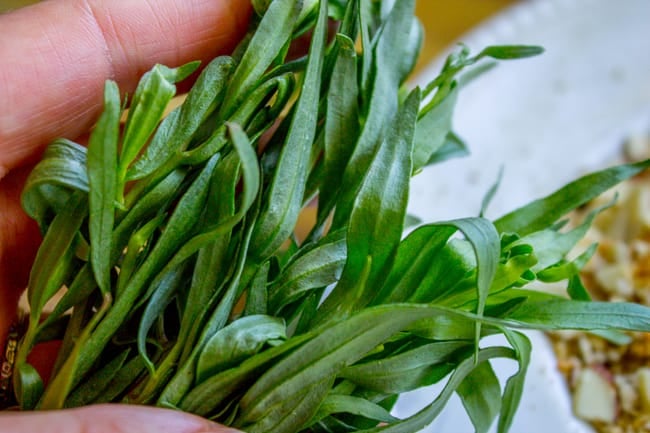 (Have you ever cooked with fresh tarragon?? It's so good! Try it out! If you aren't a fan, any herb can be substituted.)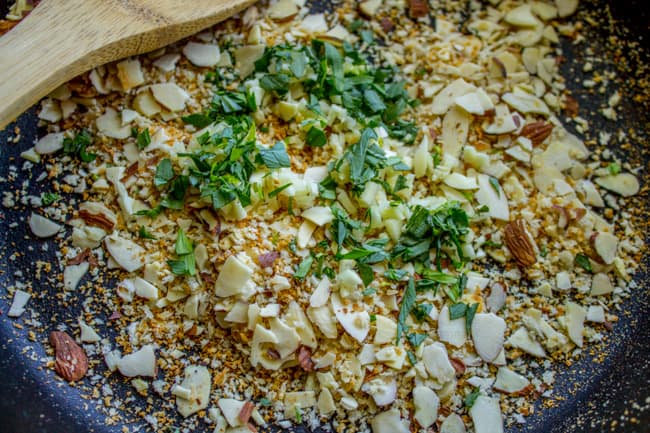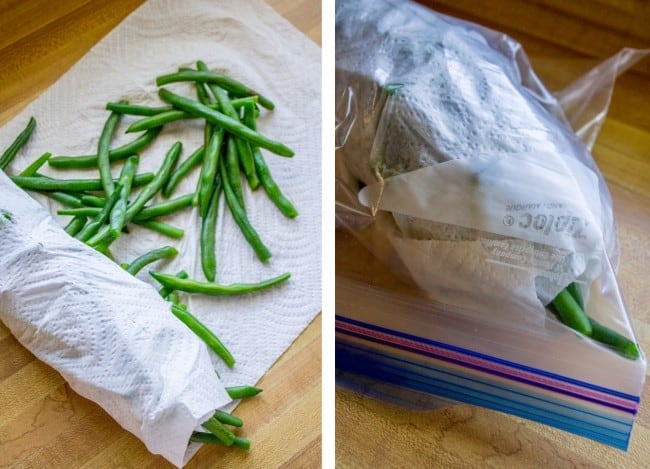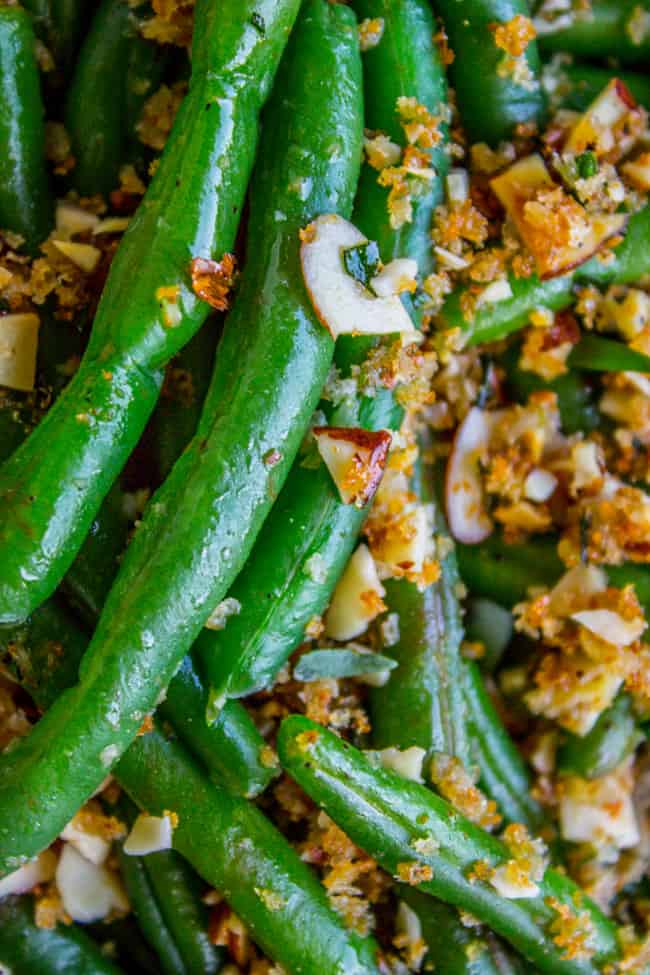 So Easter is coming up! I've got another make ahead recipe for you. These green beans are super delicious. Of course you can't make them completely ahead of time, the almonds and bread crumbs must be done last minute. But by par-boiling the green beans (up to 2 days in advance!) you save yourself a lot of trouble on the day you are hosting. All you have to do is reheat them and do a simple butter sauce that takes less than 5 minutes. Awesome right??
Check out my Easter Recipes category for more ideas, as well as my Easter Flavors board on Pinterest.
If you make any of my recipes, share it on Instagram using the hashtag #TheFoodCharlatan so I can see it! I love that.
Facebook | Pinterest | Instagram | Twitter
Two years ago: Easy Strawberries and Cream Appetizer
Three years ago: Cheeseburger Soup
Four years ago: Creamy Lemon Pasta with Bacon and Peas

Make Ahead Green Beans with Garlic Bread Crumbs and Almonds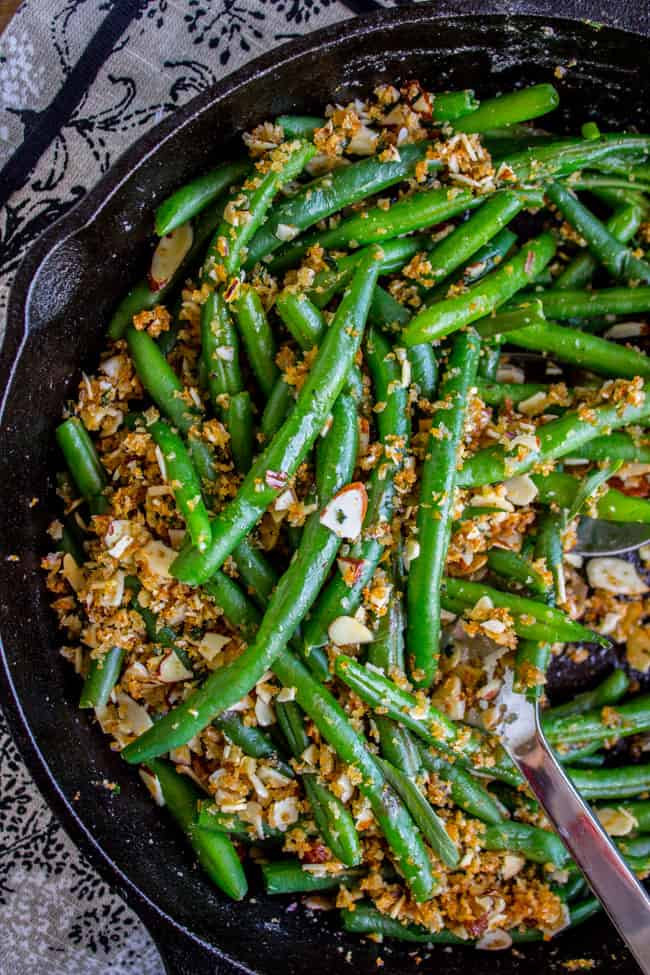 These easy make-ahead green beans are perfect for the holidays! Who's got time for elaborate side dishes? These are simple yet delicious. The garlic bread crumbs and almonds add tons of flavor. 
Ingredients
1

pound

green beans

,

ends trimmed

2

teaspoons

salt

,

for the boiling water

water and ice

2

cloves

garlic

,

minced

2-3

teaspoons

fresh tarragon

,

minced

1/4

cup

sliced almonds

1/3

cup

panko bread crumbs

1/4

teaspoon

salt

,

or more

pepper to taste

1/4

cup

butter

,

(1/2 stick)
Instructions
Heat

a large pot

of at least 2 quarts of water over high heat. Add 2 teaspoons salt (Taste it. It should taste like seawater.)

Wash and trim green beans. When the water is at a rolling boil, add the green beans and cover with a lid.

If you are making these ahead of time: boil for 3 to 4 minutes, until crisp tender. While it boils, fill a large bowl with ice water. Drain the beans and transfer to the ice bath. When the green beans are no longer warm to the touch, drain them again. Lay out the beans on paper towels and pat dry. Wrap the beans in dry paper towels, place in a large tupperware or ziplock, and store in the fridge for up to 2 days.

If you intend to serve the beans right away: boil covered for 5-6 minutes, until crisp tender. Don't bother with an ice bath. Drain them and put them on a platter. Salt and pepper to taste, then keep warm (I set mine in the microwave. Not on.)

Mince the garlic and chop the tarragon. Set aside.

In a large dry skillet, add the sliced almonds and stir over medium heat for about 1 minute. Add the panko bread crumbs and stir for 1 more minute, until toasted and fragrant. (Don't walk away! This goes from toasty to burned pretty quick. Keep stirring.)

Remove from heat and transfer to a bowl. Add the garlic and tarragon, 1/4 teaspoon salt (or more), pepper, and set aside.

(To reheat refrigerated green beans: Add 1/4 cup water and the cold green beans to the same skillet and stir over HIGH heat until hot. Salt and pepper to taste. Transfer to a platter, discard any liquid.)

In the same skillet: melt 1/4 cup butter over medium-high heat. Add the almond mixture and stir frequently until fragrant, about 1 to 2 minutes.

Top the green beans with the almonds and serve immediately.
Notes
You can toast the almonds and bread crumbs up to 2 days in advance, but don't add the herbs and garlic until the day you are serving.
If you don't like tarragon, any herb can be substituted.
Source: This recipe is adapted from Cook's Illustrated. Do you have that book? A worthy investment.
Nutrition
Serving:
1
g
|
Calories:
177
kcal
|
Carbohydrates:
11
g
|
Protein:
4
g
|
Fat:
14
g
|
Saturated Fat:
8
g
|
Polyunsaturated Fat:
1
g
|
Monounsaturated Fat:
4
g
|
Trans Fat:
1
g
|
Cholesterol:
31
mg
|
Sodium:
1452
mg
|
Potassium:
255
mg
|
Fiber:
3
g
|
Sugar:
3
g
|
Vitamin A:
966
IU
|
Vitamin C:
11
mg
|
Calcium:
70
mg
|
Iron:
2
mg
Source: This recipe is adapted from Cook's Illustrated. Do you have that book? A worthy investment.
Lemon Green Beans with Feta and Fried Pecans: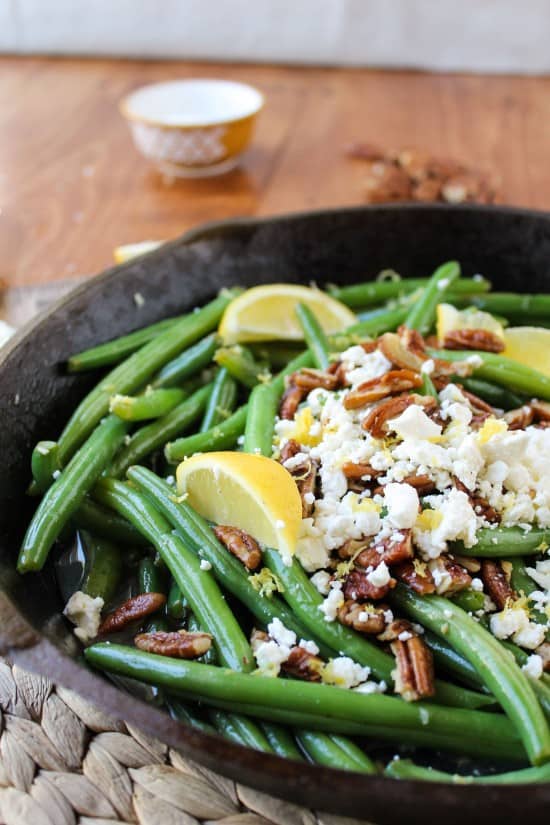 Balsamic Browned Butter Asparagus << this is an old recipes, but it's so so good!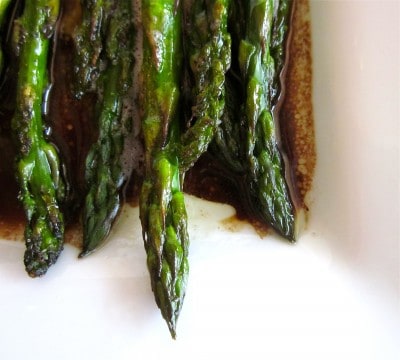 Roasted Garlic Green Beans with Fried Sourdough: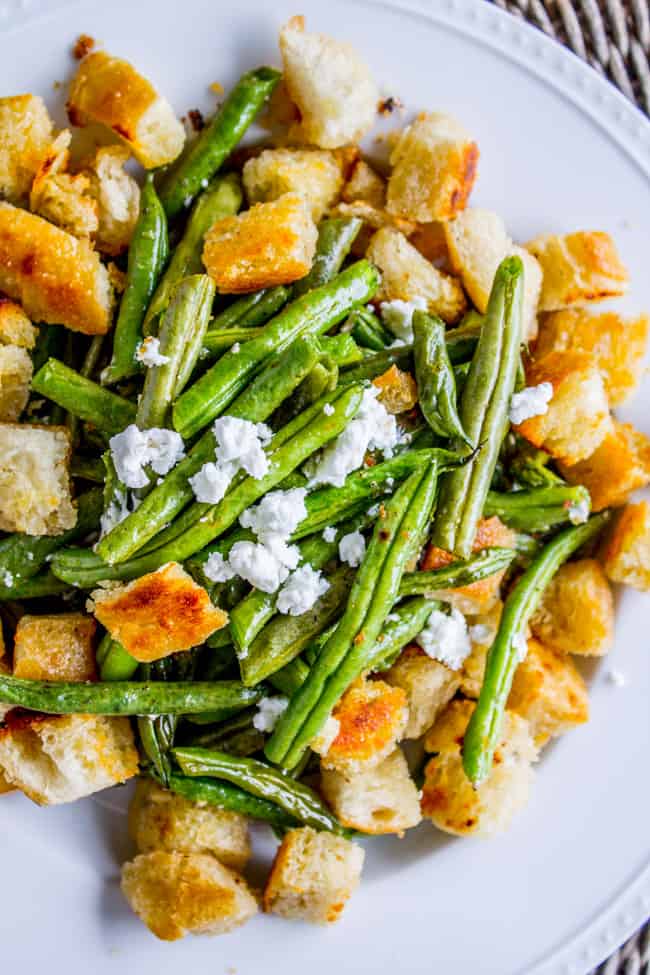 Broccoli with Feta and Fried Almonds: << my FAVORITE way to eat broccoli!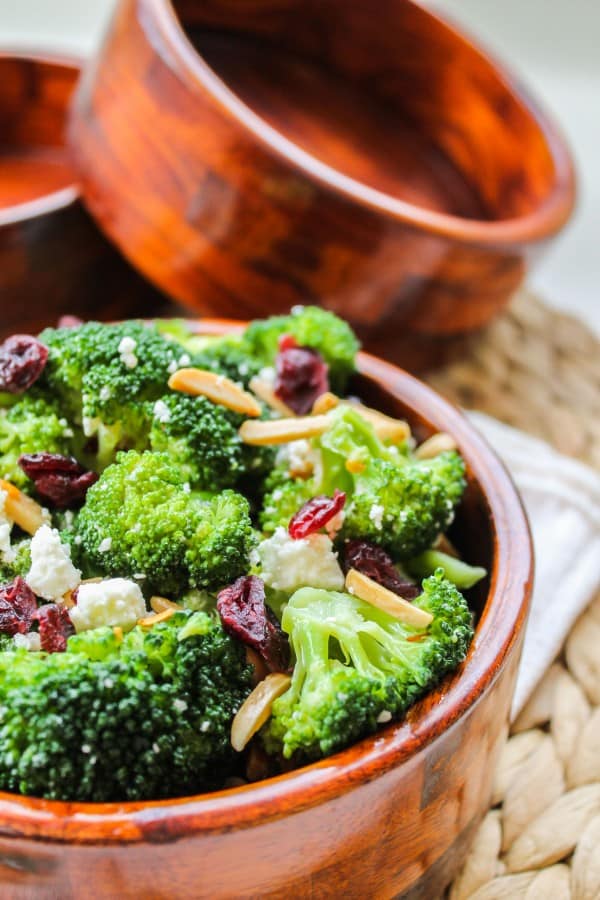 More green beans to love!
Garlic Lemon Green Beans from She Wears Many Hats
Green Bean and Bacon Bundles from That Skinny Chick Can Bake
Slow Cooked Southern Style Green Beans from Big Bears Wife
Sweet and Sour Green Beans from Southern Plate < you've got to check out this post! The recipe looks great, but also I miss blog posts like this, where the author just chats about what's on her mind. I think it's what makes blogging fun!
This post contains affiliate links. Thanks for your support!