This French Silk Pie is the stuff of dreams! It is the classic recipe with a few enhancements: a really thick graham cracker crust (no pie shells here, please) and stabilized whipped cream so that your pie looks perfect even on day two. You must try it!!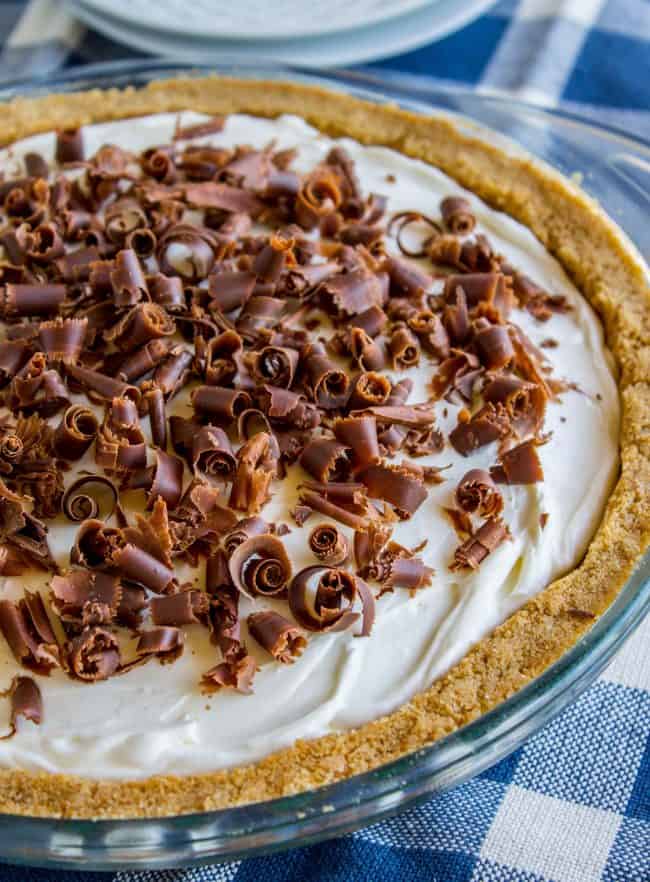 Originally posted Feb 22, 2018
My dear mother-in-law Kris sent me this email a while back:
"Hi Karen!
"I'm sending you this [French Silk Pie] recipe my mom made all the time when I was growing up. She made this in a graham cracker crust though, not a regular pastry crust. It's much better in a graham cracker crust. It's super easy, very very rich and really delicious. I've made it a lot ever since I left home. It was a favorite dessert in college and our early married life because I  usually had everything on hand in my pantry. I think you'll love how delicious it is. I was looking through my hand written recipes and found this one. It's right next to Almond Roca Bars!
"Be sure and serve it with whipped cream."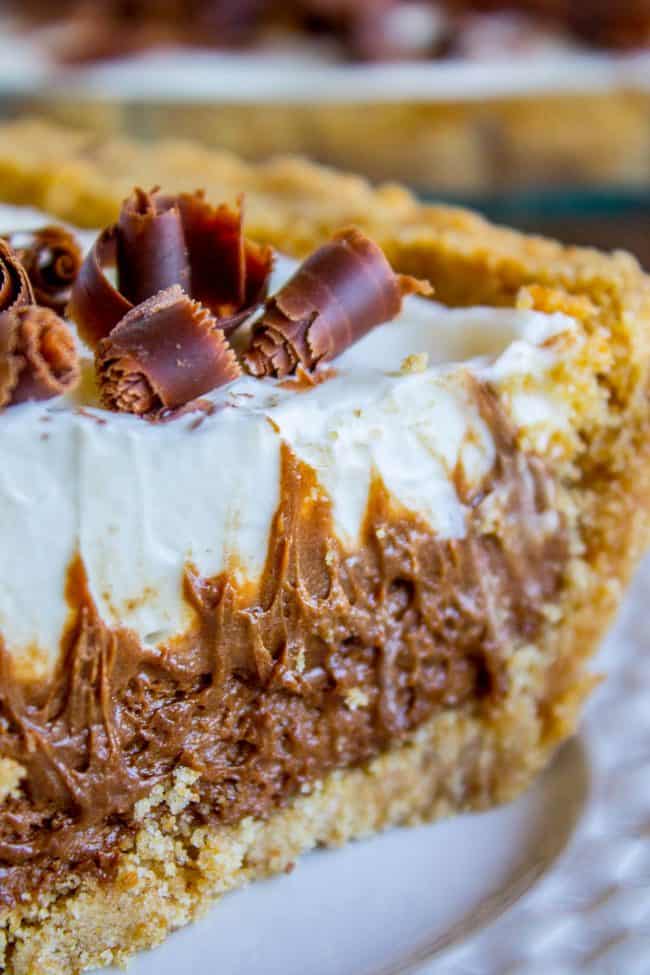 Pretty convincing recommendation right?? At least it was for me! (Those of you who are long time readers know that when Kris gives you a recipe, it's gonna be a good one.) This pie does NOT disappoint. It's one of those classic recipes that you've heard of but might never have taken the chance to try (it was for me). Well folks. It's a classic FOR A REASON.
How to make French Silk Pie with Graham Cracker Crust
I made a couple of very slight changes on this version: I made a thicker graham cracker crust (because I'm obsessed with graham crust. I think this is how I'll make them all from now on!) and I used stabilized whipped cream. That's just a fancy way of saying that I added cream cheese to my whipped cream. (Cream cheese! The secret ingredient in so many things!! Creamy Mashed Potatoes! The Softest Sugar Cookies of Your Life! Make Ahead Scrambled Eggs! Pound Cake!)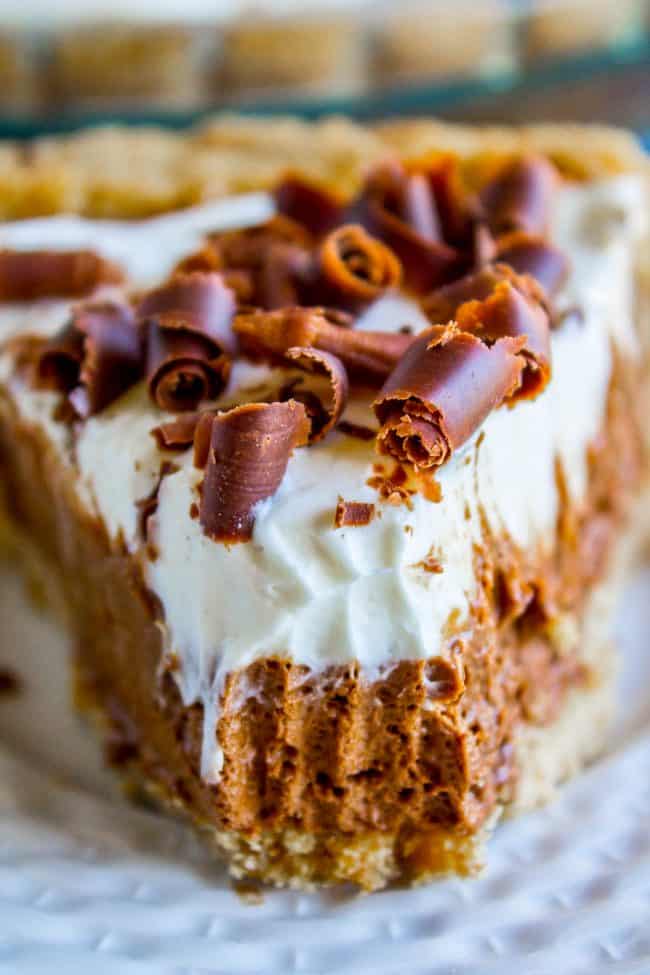 You know how you can keep Cool Whip in the fridge for a couple days and it won't deflate or get separated? Real whipped cream breaks down when it's not perfectly fresh. I used cream cheese whipped cream because I wanted the whipped cream to look and act more like Cool Whip, but not actually be Cool Whip.
(Not that I have anything against Cool Whip, actually. Stuff is delicious.) But I wanted to go au naturale here, mostly because this pie has "French" in the title and I thought the entire country might come swooping down on me. Just kidding, no it's really because the whipped cream is a star ingredient in this pie, not a background filler ingredient, so you really want the perfectly creamy-vanilla flavor to shine, you know? Sorry Cool Whip, you are really good but just not French Silk level.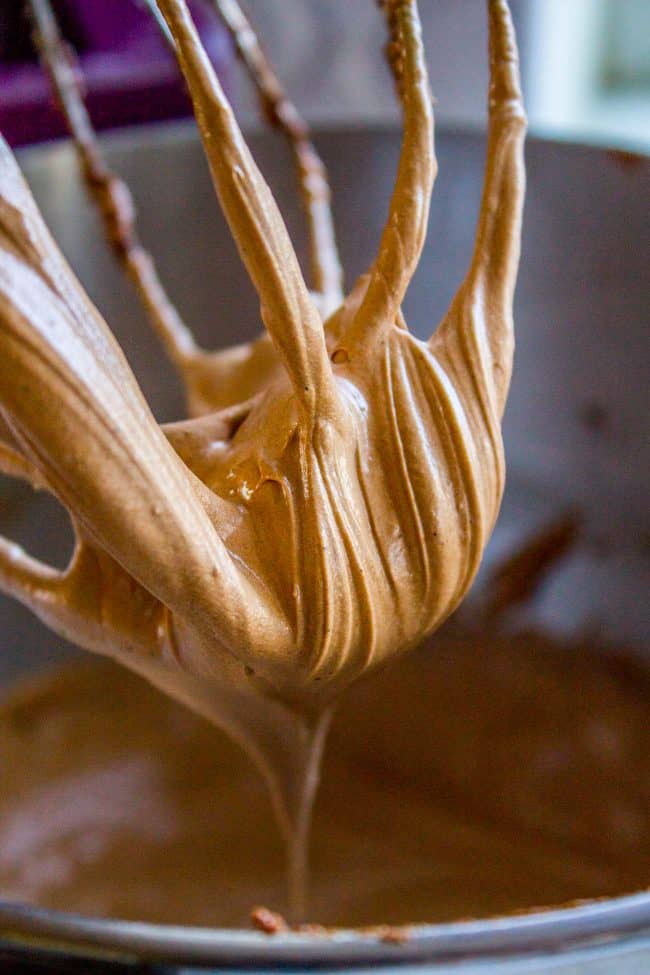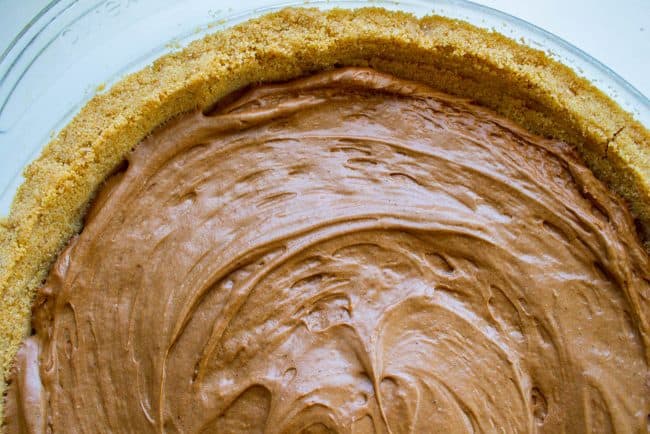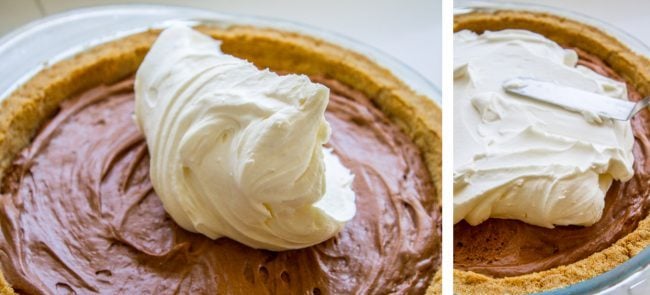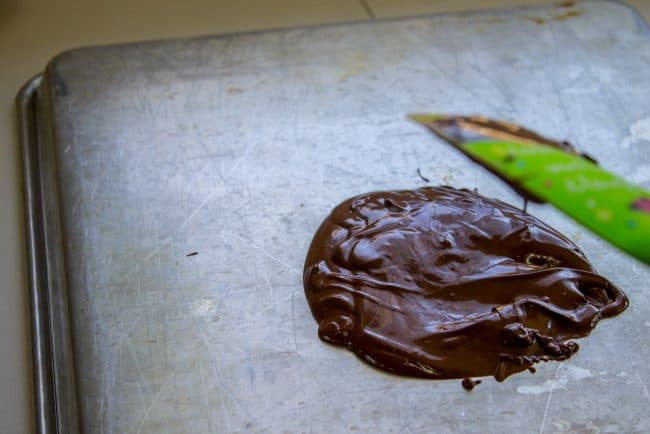 I almost forgot to talk about the eggs! The eggs are not cooked in this recipe. (GASP!!) So maybe don't feed it to your great grandma. OR, use farm fresh eggs and you are pretty much guaranteed to be safe. If you are really, really worried about it, you can pasteurize your own eggs.
One more thing, don't forget the chocolate curls! They are really easy to make and totally amp up the impressiveness of your pie. Enjoy!
You might like these other chocolatey recipes!
Facebook | Pinterest | Instagram | Twitter

French Silk Pie with Graham Cracker Crust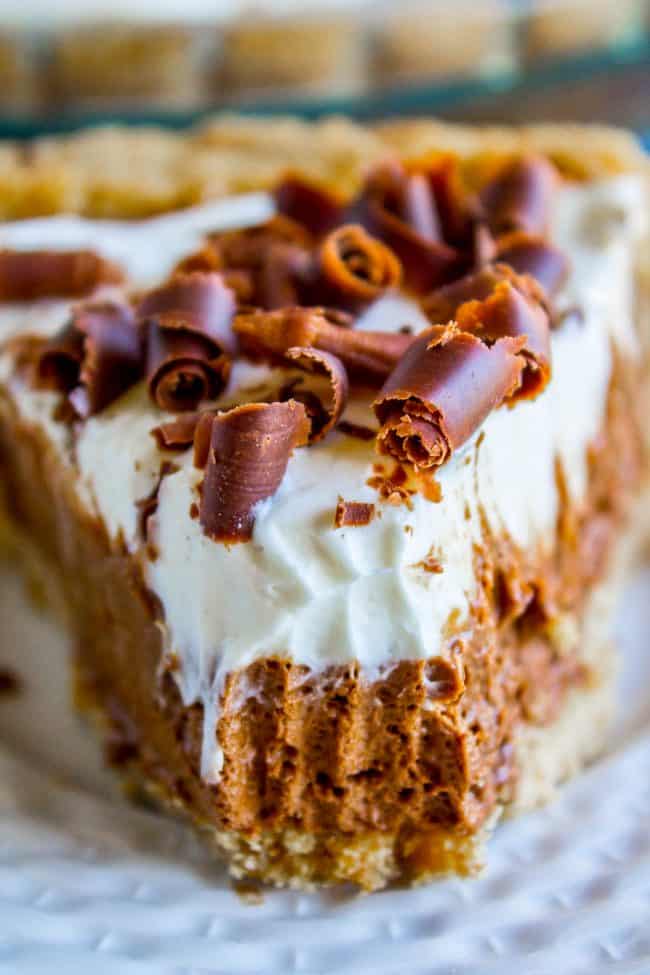 This French Silk Pie is the stuff of dreams! It is the classic recipe with a few enhancements: a really thick graham cracker crust (no pie shells here, please) and stabilized whipped cream so that your pie looks perfect even on day two. You must try it!!
Ingredients
For the crust
2 & 1/4

cups

graham cracker crumbs*

1/2

cup

granulated sugar

9

tablespoons

butter

,

melted**
For the filling
2

ounces

unsweetened baking chocolate

1/2

cup

salted butter

,

softened (1 stick)

3/4

cup

granulated sugar

1

teaspoon

vanilla extract

2

large

eggs

,

preferably farm fresh
For the whipped cream
4

ounces

cream cheese***

,

softened

1/4

cup

powdered sugar

1

teaspoon

vanilla

1

cup

heavy cream
For the chocolate curls
1/3

cup

dark chocolate chips

,

or semisweet

1

teaspoon

shortening
Instructions
For an extra crispy crust, preheat the oven to 350 degrees F. (This is optional.You can chill the crust if you like.)

Crush the graham crackers in a large

food processor

until fine (You can also add the graham crackers to a ziplock and crush with a rolling pin.)

Add the 1/2 cup sugar and 9 tablespoons melted butter and pulse to combine throughly. (or put it all in a bowl and mix it up.)

Press the mixture into the bottom and up the sides of a pie pan. I like to use a glass or a measuring cup to press it into the corners.

Bake at 350 for 10 minutes. Put it in the fridge or freezer to cool. If you don't feel like baking, just stick it in the fridge to chill while you make the filling.

Now make the filling. Add the unsweetened chocolate to a small bowl and microwave in 30 second increments until it is mostly melted, then stir until completely smooth. Set aside to cool.

In a large bowl or stand mixer, beat the softened 1/2 cup butter until light and fluffy, 1-2 minutes. (If you are using a stand mixer, use the whisk attachment, not the paddle.) Make sure to scrape the bottom and sides.

Add 3/4 cup sugar and 1 teaspoon vanilla. Beat well, scraping sides.

Once the chocolate is cool (completely cool! You don't want to curdle your eggs!) add it to the bowl and mix it in, scraping the sides.

Add the first egg. Beat on medium speed for 5 minutes. Set a timer! Don't skimp! If you don't beat it long enough it won't get fluffy. Stop to scrape the sides at some point.

Add the second egg. Repeat the same process; scrape at least once and beat 5 minutes.

If your crust has cooled completely you can pour the filling in now. Otherwise cover the bowl and put it in the fridge until the crust is cool.

Once you put the filling in the crust, you can either cover tightly and refrigerate, or add the whipped cream right away. Adding the whipped cream ahead of time does make it a little more tricky to cover tightly, but it's not the end of the world.

To make the whipped cream, add the cream cheese to a clean bowl or stand mixer. Beat (with the whisk attachment, if you have one) until it is completely smooth with no lumps. Add the powdered sugar and vanilla and beat well.

Add about half of the cream and beat until incorporated. Add the remaining cream and beat on high until stiff peaks form.

Spoon the whipped cream on top of the chocolate filling. Refrigerate until ready to serve. (You can also refrigerate the whipped cream separately and spoon it on at the last minute if you prefer.)

The chocolate curls are so easy to make if you have the time. In a small bowl, add 1/3 cup chocolate chips and the shortening. Microwave in 30 second intervals until almost melted, then stir until smooth. Use a spatula to spread the chocolate in a thin layer on the back side of a baking sheet. Freeze for 5 minutes (or refrigerate for 10-15.) When the chocolate is hardened, use a

tool to scrape

curls off of the chocolate. You can use a paring knife, a metal spatula, a vegetable peeler, etc. Decorate the whipped cream with the chocolate curls!
Notes
*This is exactly one and a half packages, or 13.5 full graham cracker sheets. No need to measure; add one full package (9 full sheets), then open another package, break it in half and toss it in. 
**calling for 9 tablespoons of butter is like, so annoying. Sorry everyone. It's one tablespoon more than one stick. I almost just used one stick, but in a fit of excess I threw it in from the butter dish on my counter. Feel free to just use one stick. I think your pie will be fine. 
***You don't have to use cream cheese if you don't want to! Skip it and make regular whipped cream. Increase the cream to 1 and 1/2 cups and just beat the heck out of it, adding the sugar and vanilla as usual. 
Nutrition
Serving:
1
g
|
Calories:
704
kcal
|
Carbohydrates:
61
g
|
Protein:
6
g
|
Fat:
50
g
|
Saturated Fat:
30
g
|
Polyunsaturated Fat:
2
g
|
Monounsaturated Fat:
13
g
|
Trans Fat:
1
g
|
Cholesterol:
167
mg
|
Sodium:
454
mg
|
Potassium:
217
mg
|
Fiber:
2
g
|
Sugar:
44
g
|
Vitamin A:
1444
IU
|
Vitamin C:
1
mg
|
Calcium:
96
mg
|
Iron:
3
mg