Soft Ginger Cookies

Eric got home yesterday and I said, "Try one of these Soft Ginger Cookies I made!!" He took one bite and said, "These are too soft to be Gingersnaps."
Seriously? Apparently he can't eat cookies and have a conversation at the same time. Although I can't really blame him. These cookies are so dang good, you can get through half a batch in one sitting. Every time I gorge myself on cookies I remember our friend Mark back in Indiana. He and his wife are the super-healthy type (we call them granolas). One time we had them over for dinner. I busted out the dessert after we had eaten, and offered Mark some of whatever it was. He said no, he couldn't possibly, he had been eating cookies all day. Finding this hard to believe, I asked him just how many he had eaten. "Two!!" he said, in a can-you-believe-it voice. Eric and I have never let him live it down.
I love the taste of gingersnaps, but hate the fact that they snap. I always prefer soft cookies. So this recipe is the perfect solution. If you like your cookies snappy, just bake them a little longer.

print
Did you make this recipe?
Leave a review »
Soft Ginger Cookies
Ingredients
2 1/4

cups all-purpose flour

2

teaspoons ground ginger

1

teaspoon baking soda

1

teaspoon ground cinnamon

1/2

teaspoon ground cloves

1/4

teaspoon salt

1/2

cup butter, softened

1/4

cup butter-flavored crisco

1

cup white sugar

1

egg

1

tablespoon orange juice

1/4

cup molasses

4

tablespoons white sugar, for rolling
Instructions
Preheat oven to 350 degrees F. Sift together the flour, ginger, baking soda, cinnamon, cloves, and salt. Set aside.
In a large bowl, cream together the butter, crisco, and 1 cup sugar until light and fluffy. Beat in the egg, then stir in the orange juice and molasses. Gradually stir the sifted ingredients into the molasses mixture. Cover and refrigerate for at least one hour. (Sorry, this step not skip-able. If you bake them right away you get ginger frisbees.)
Shape dough into walnut sized balls, and roll them in the remaining 4 tablespoons of sugar. Place the cookies 2 inches apart onto an ungreased cookie sheet.
Bake for 8 to 10 minutes in the preheated oven. Allow cookies to cool on baking sheet for 5 minutes before removing to a wire rack to cool completely.
by The Food Charlatan

If you make this recipe,
share it on Instagram
 using the hashtag
#TheFoodCharlatan
so I can see it!
Source:
Allrecipes.com
UPDATE: I finally snagged my husband's great-grandmother's original Gingersnap recipe. I've come around to enjoying the SNAP part of gingersnaps…with lots of milk :)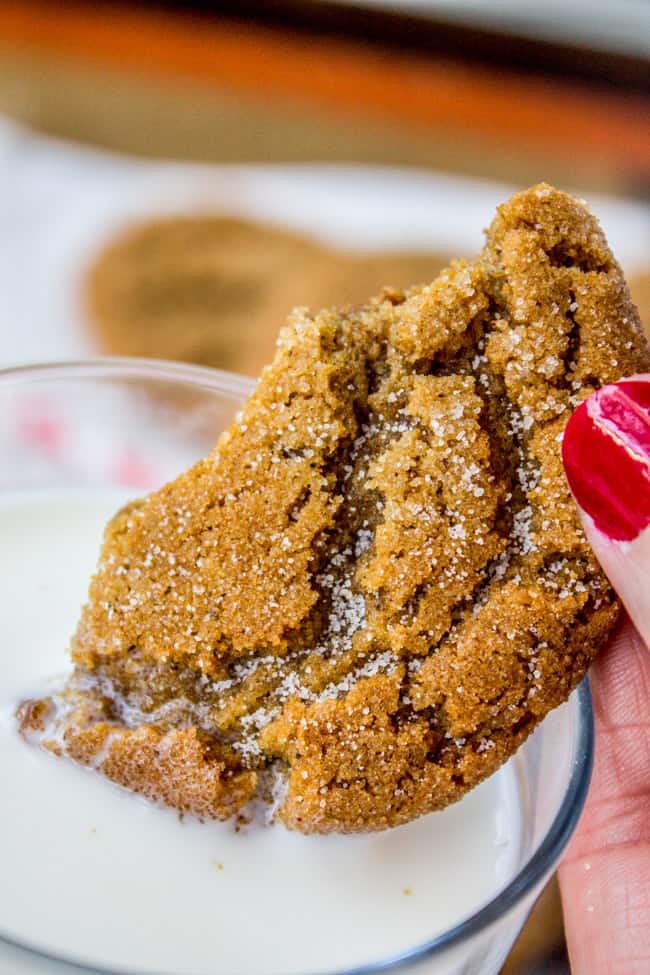 We are a participant in the Amazon Services LLC Associates Program, an affiliate advertising program designed to provide a means for us to earn fees by linking to Amazon.com and affiliated sites.