Two of the best desserts known to man, combined in one. It's a thick, custard-y, vanilla-y cheesecake with a gingersnap crust and a crunchy, not-quite-burnt caramel shell on top, just like Crème Brûlée. This is the best cheesecake I've ever made.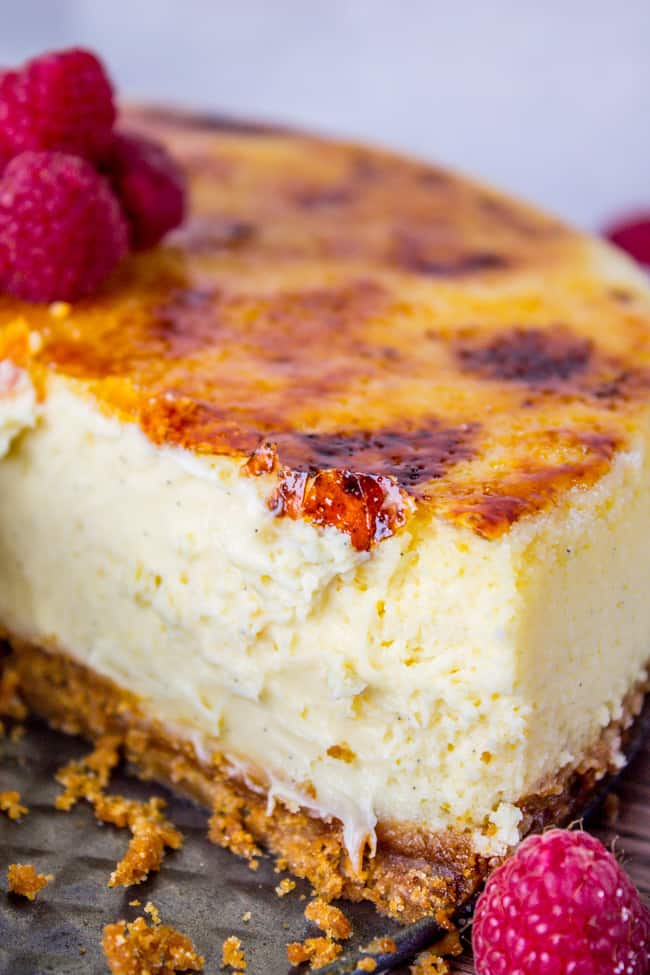 So the other day I saw my 8-year-old nephew Landon, and we exchanged an epic high five. It hurt WAY more than a high five with an 8-year-old should, and I was feeling like a total wuss. But then I looked down and saw that my palm was BLEEDING.
Who high-fives while holding an EXTREMELY SHARP number 2 pencil?? Watch out for those nephews, guys. They have no mercy.
I have been double checking every high five since that day. No sharp pencil? Okay, we're good, let's high five.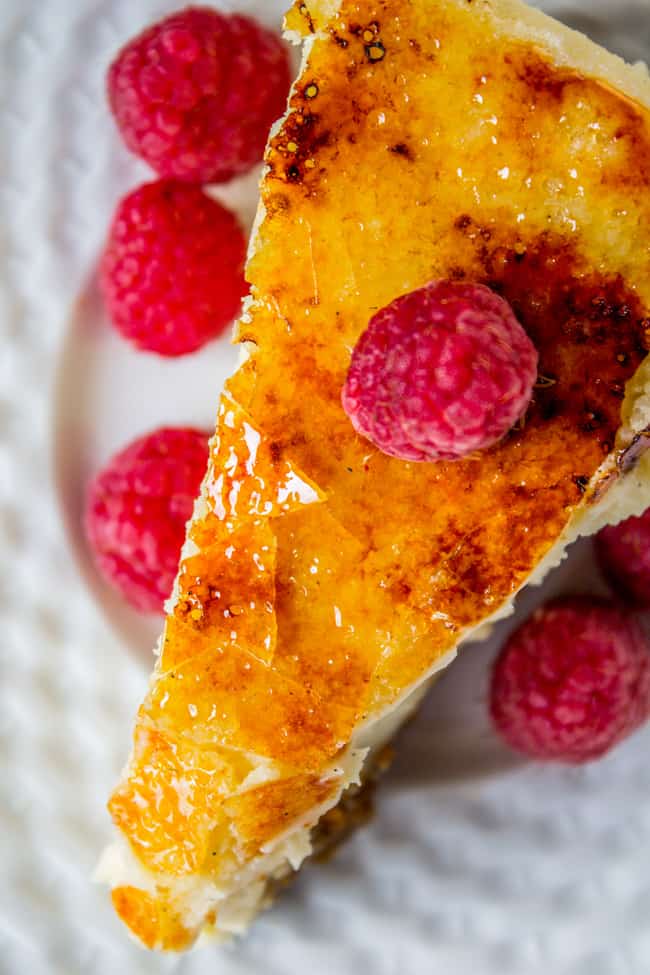 Are you guys ready? For 2 desserts in one? After I made this cheesecake for the second time, I asked my cousin Lani to come over and try it. She is my official taste-tester because she is not afraid to tell me if a recipe sucks. (True friends are hard to come by. You're the best Lani. Thanks for eating my food. I know it's a rough job.)
She took one bite and said, Karen, I think this is the best thing you have ever made.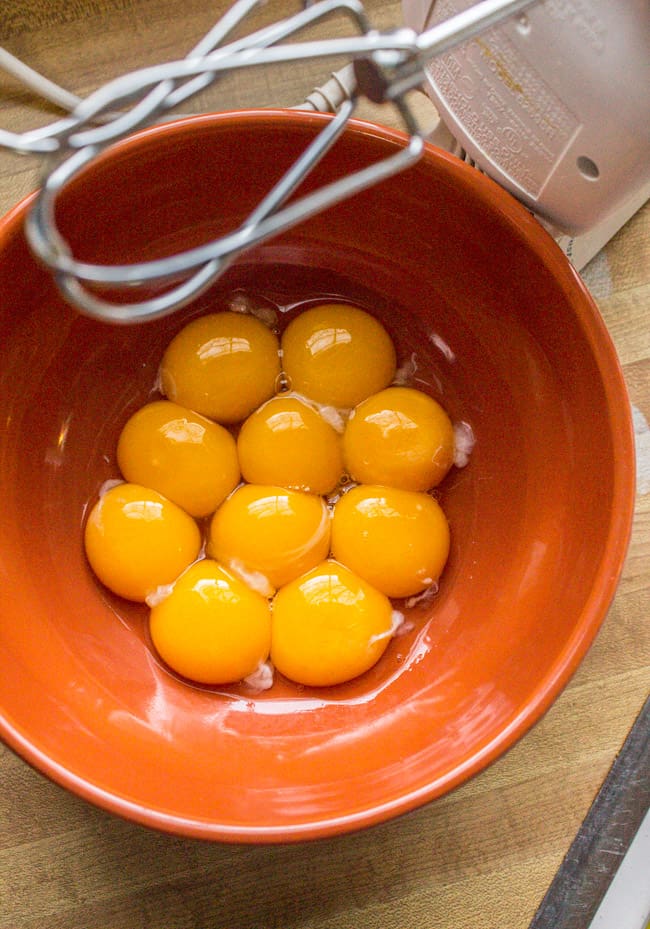 Then we got really excited with the torch and tried to caramelize the outer edges of the cheesecake. It sorta worked.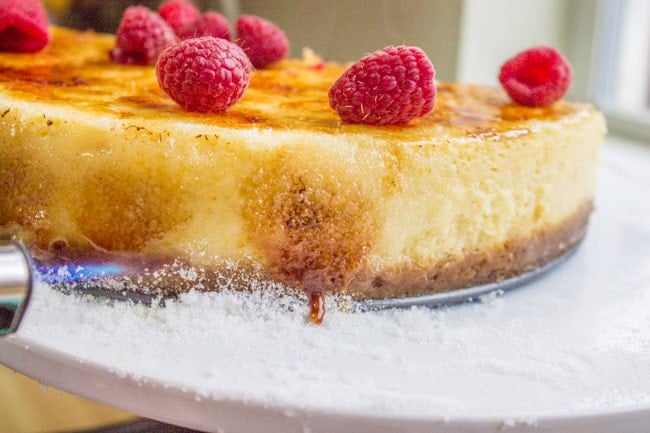 (If you want to try this, the best method is to wet your hands and moisten the side of the cheesecake, then use your other hand or a spoon to press sugar onto the wet part. Then torch. But probably none of you are as desperate for caramelized sugar as we are.)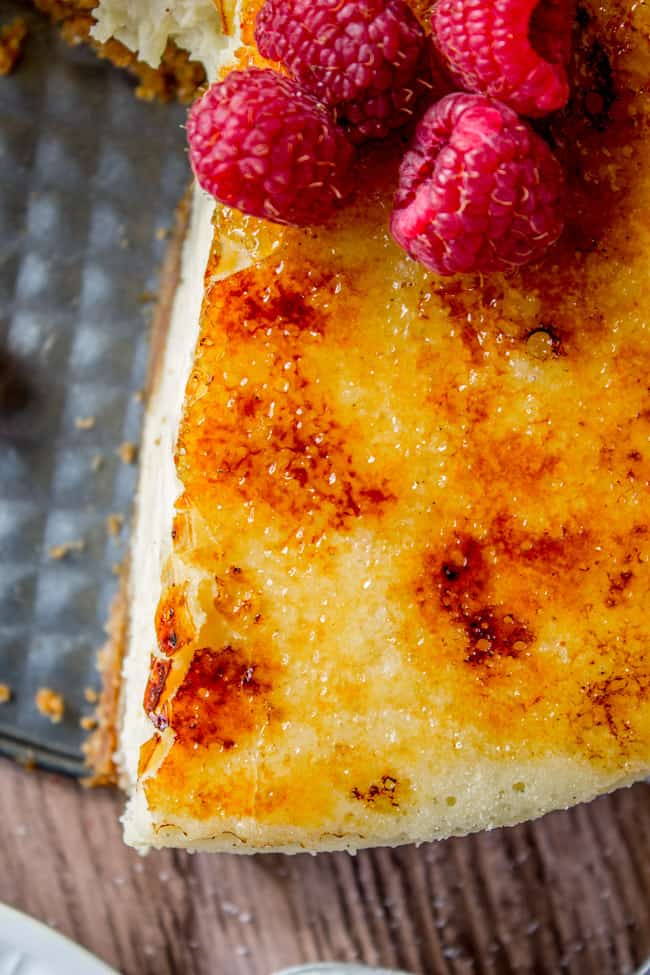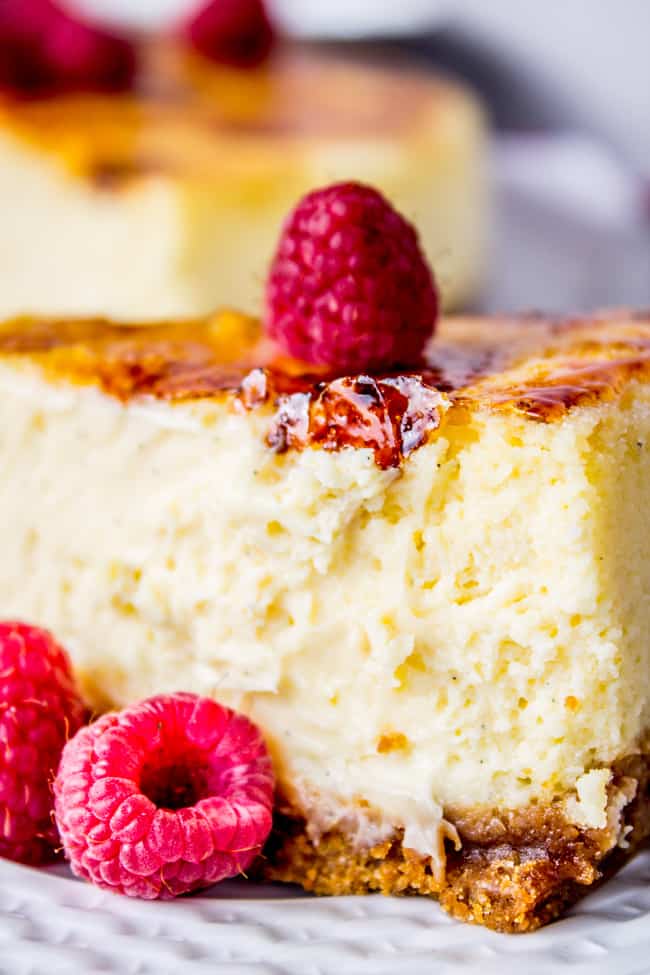 After our fire-fun, Lani went home, but I got this text from her several hours later, "All I can think about is that cheesecake! Best dessert I think I have ever had." I think she liked it.
The idea for this cheesecake has been floating around in my head for a few years now. The first hurdle was getting a kitchen torch, because this recipe is impossible to make without it. Someone gave me a torch for Christmas last year, but I had no fuel (If you don't have a kitchen torch, here's a affiliate link to one with great reviews). Finally got some butane at Home Depot a few weeks ago, and I'm kicking myself that I didn't do this sooner, because oh. my. gosh. This cheesecake. Guys.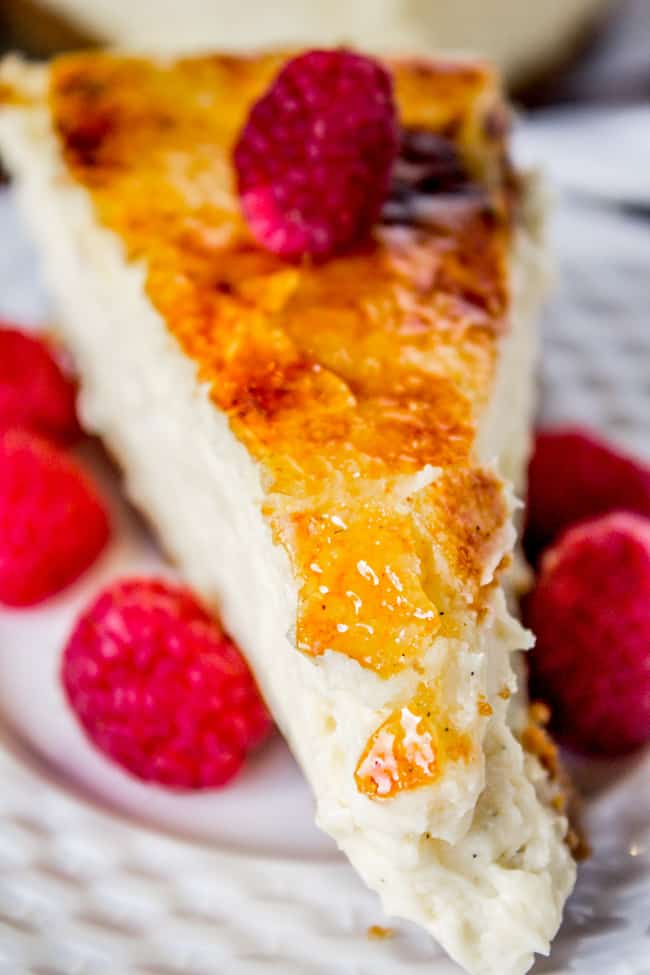 The photos don't do it justice. We need audio. If you could hear the crack of that caramelized topping when you tap your fork into it. Oh man. I'm telling you.
You can tell from the photo above that it's a little softer than a regular cheesecake. It still holds it's shape and everything, just as a cheesecake should, but it's meant to be a little more soft and custard-y, like crème brûlée.
If you are stumped for what to get your special someone for Valentine's Day this year, I say just make them this. No one is going to argue with this cheesecake. Skip dinner and eat the whole thing. I can't think of anything more romantic.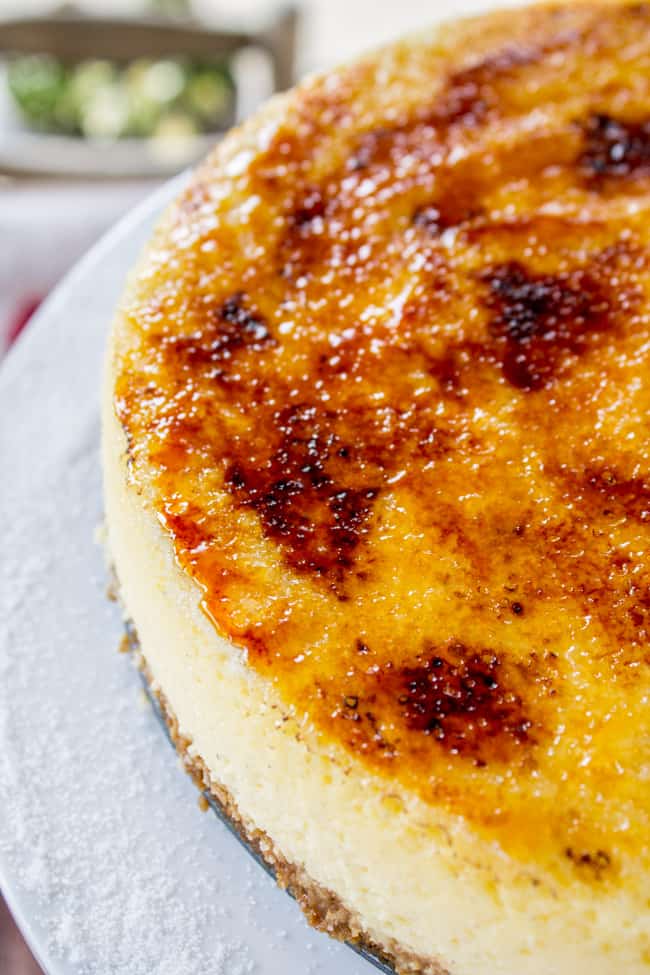 If you make this cheesecake, snap a photo and share on Instagram using #TheFoodCharlatan. I would be so happy to see it!!
(If you don't have a kitchen torch, here's an affiliate link to one with great reviews on Amazon.)
Facebook | Pinterest | Instagram

Crème Brûlée Cheesecake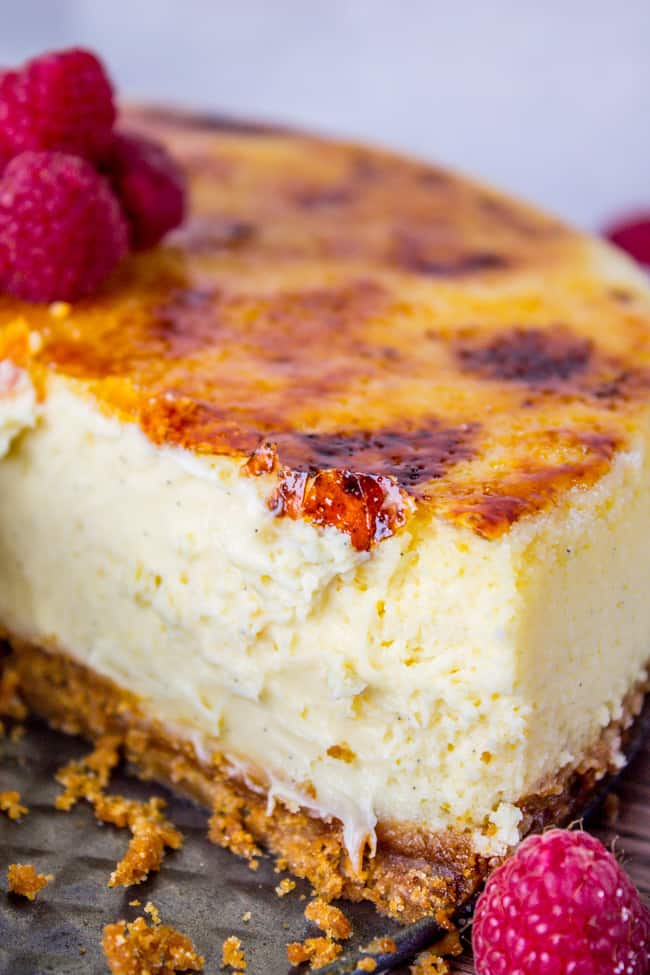 A thick, custard-y, vanilla-y cheesecake with a gingersnap crust and a hard caramel shell on top, just like Crème Brûlée. This is the best cheesecake ever.
Ingredients
For the crust:
1 & 3/4

cups

gingersnaps

,

about 35*

2

tablespoons

sugar

1/4

teaspoon

salt

5

tablespoons

butter
For the cheesecake:
3

(8-oz. packages)

cream cheese

,

room temperature

1 & 1/3

cups

sugar

1

tablespoon

vanilla bean paste

,

**

1/4

teaspoon

salt

1 & 1/2

cups

heavy cream

10

large

egg yolks

2-3

tablespoons

superfine sugar

,

**** for torching

raspberries

,

to garnish
Instructions
For the crust:
Preheat the oven to 350 degrees F. Prepare a 9-inch springform pan. Tear off an 18-inch square of heavy duty aluminum foil. (Reynolds is best) Set the pan in the center of the square and carefully wrap the foil up over the edges of the pan, crimping at the top so that it is secure. Repeat with a second sheet of foil. Be very gentle so it doesn't tear. Repeat again with a 3rd sheet of foil.**

Use a food processor to pulse the gingersnaps into fine crumbs. Add 2 tablespoons sugar, 1/4 teaspoon salt, and 5 tablespoons melted butter and combine.

Press the crumbs into the bottom of the prepared pan. Use the bottom of a glass to press it into an even layer. Don't do a side crust. (I'm usually very pro-side-crust, but it's hard to keep it from burning when you are torching the sugar later.)

Bake at 350 for 10 minutes. Be careful not to tear the foil.

Remove from the oven and let cool while you make the filling.
For the cheesecake:
Lower the oven temperature to 325 degrees F.

In a large bowl or stand mixer, beat the cream cheese for 4 minutes, making sure to scrape the sides.

Add 1 and 1/3 cup sugar, vanilla bean paste, and 1/4 teaspoon salt, and beat for another 4 minutes, scraping sides.

Meanwhile, add the cream to a small pot on the stove. Heat over medium low heat until it is warm. You don't want it to bowl.

While that is heating up, crack 10 egg yolks into a mixing bowl. (Save the egg whites for something else!)

Beat the egg yolks for about 2 minutes, until they are pale.

Pour the heated cream through a fine mesh strainer into a large pourable glass measuring cup (or anything that pours).

While the beaters in the egg yolks are on, slowly add the warm cream. If you are not mixing while you do this, the eggs will curdle. Enlist help if you can. Don't try to take a photo during this step. I'm just watching out for you.

Once all of the hot cream has been incorporated with the egg yolks, it's time to slowly pour that into the cream cheese mixture. I find this is easiest to do from a pourable measuring cup, but if you are dexterous enough to do it from the mixing bowl then go for it.

Beat the cream cheese and slowly pour in the egg-cream mixture. Make sure you scrape the sides and get out all the lumps. The batter will be pretty thin.

Transfer the foil-wrapped crust into a large high-sided skillet, or a roasting pan.

Pour the batter into the gingersnap crust, forming an even layer on top.

Fill the skillet or roasting pan with HOT water from the tap. You want the water to go at least halfway up the pan of the cheesecake.

Carefully transfer the water bath to the oven.

Bake at 325 for about 1 hour and 35 minutes. You will know it is done when it is mostly set in the center and doesn't jiggle too much when you shake it. (some movement is ok--it will continue to set as it cools. It just shouldn't be liquidy.) If the cheesecake starts to brown, turn off the oven.

At this point you can either crack the door of the oven and let the cheesecake come to room temperature inside the oven. I removed the cheesecake but left it in the water bath for a couple hours so that there wasn't a drastic change in temperature.

When the cheesecake is mostly cool, remove from the water bath, and remove the foil. Cover the cheesecake with plastic wrap and refrigerate for at least 3 hours or preferably overnight.

When you are ready to serve, remove the plastic wrap and carefully loosen the sides of the pan. I didn't use a knife, just release the spring very slowly.

Sprinkle about 2 tablespoons superfine sugar all over the top of the cheesecake. (Or just the portion you plan to eat. Once the crunchy topping is refrigerated, it doesn't stay hard)

Use the torch to caramelize the sugar. See photos. This can take several minuets if you are doing the whole cheesecake. Keep the torch moving at all times. The sugar is caramelized when it just starts to bubble and smoke.

Let sit for a minute for the sugar to harden.

Garnish with fresh raspberries.
Notes
*You don't have to use gingersnaps! You can use 1 and 3/4 cup graham crackers crumbs or Nilla Wafer crumbs.
**You can also use 1 vanilla bean. Scrape the pod and add it to the cream cheese mixture. Throw the remaining bean in with the cream when you cook it, so that you soak up all the flavor.
***The foil is to keep your cheesecake dry since it will be baked in a water bath. I know 3 layers may seem excessive, but talk to me when you spend half a day making your precious cheesecake and you end up with a soggy crust. Trust me, it's worth the cost of the foil!
****You don't have to buy special sugar, you can just throw some regular sugar into the blender or food processor for 30 seconds or so. Smaller granules help the sugar melt faster when you are torching it. Regular sugar will still work fine though. I've tried both.
Nutrition
Serving:
1
slice
|
Calories:
549
kcal
|
Carbohydrates:
61
g
|
Protein:
6
g
|
Fat:
32
g
|
Saturated Fat:
17
g
|
Polyunsaturated Fat:
2
g
|
Monounsaturated Fat:
10
g
|
Trans Fat:
1
g
|
Cholesterol:
311
mg
|
Sodium:
360
mg
|
Potassium:
146
mg
|
Fiber:
1
g
|
Sugar:
45
g
|
Vitamin A:
1187
IU
|
Vitamin C:
1
mg
|
Calcium:
78
mg
|
Iron:
2
mg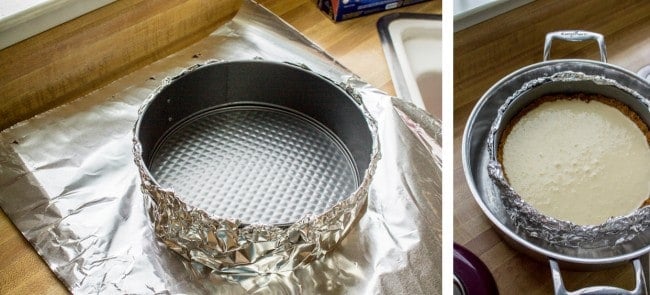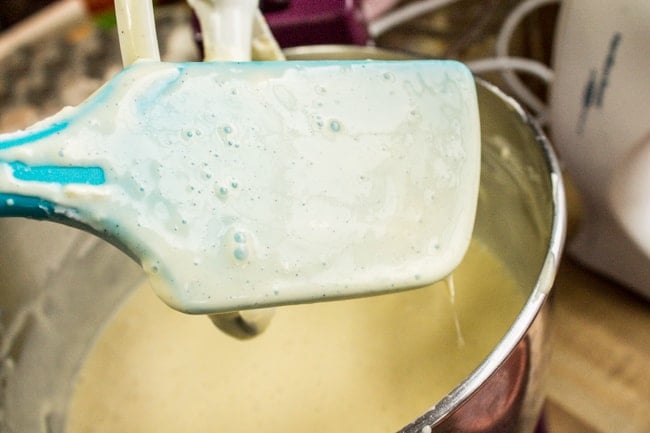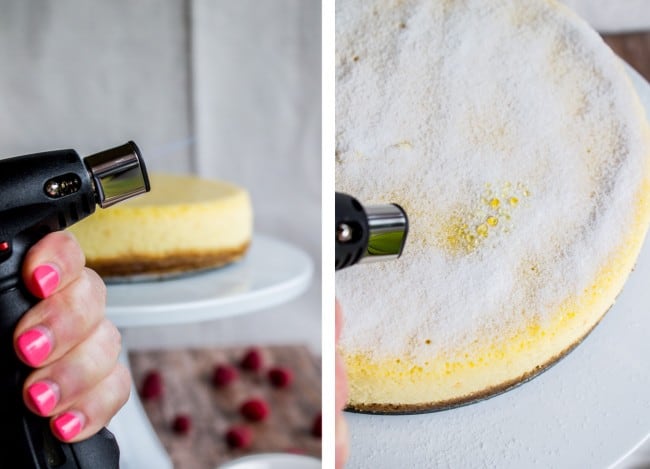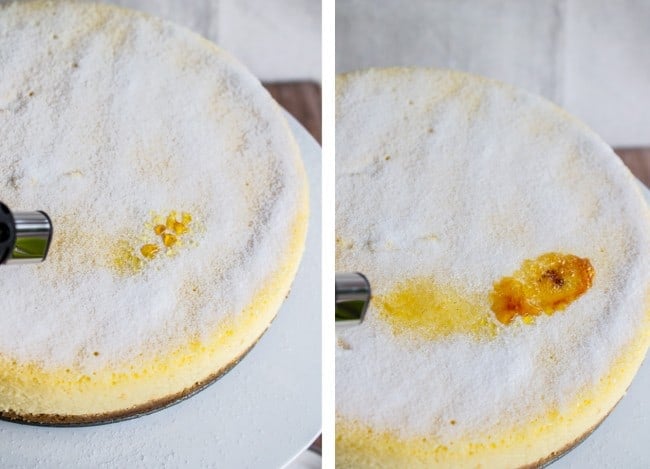 Here are some of my other favorite cheesecakes!
No Bake Cheesecake Parfait Bar: <<this is great for parties! Self-serve. Love this stuff.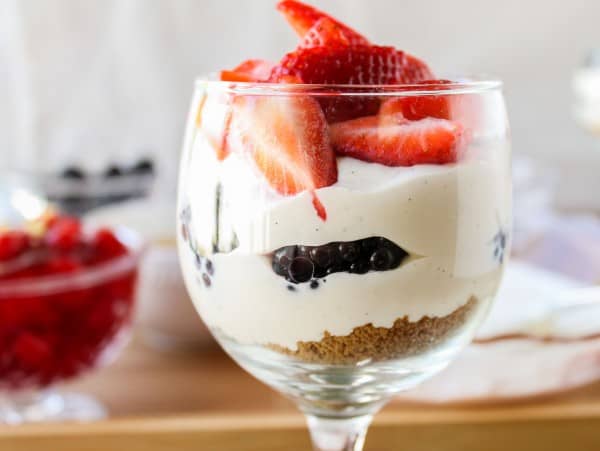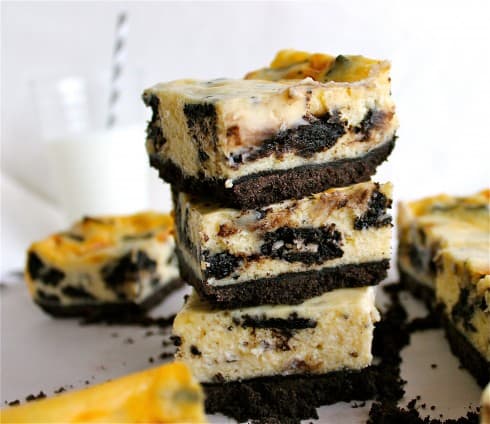 No Bake Dulce de Leche Cheesecake with Caramelized Peaches: this one's for you guys in Australia. I can only dream of fresh peaches right now.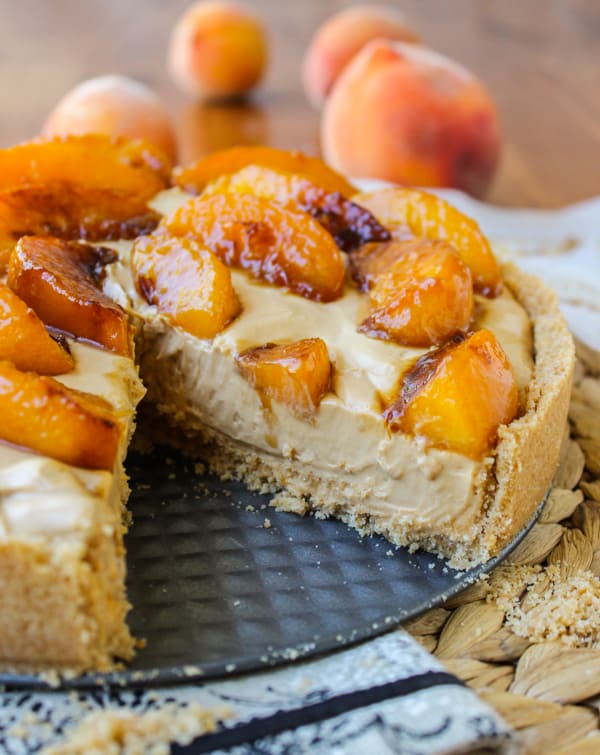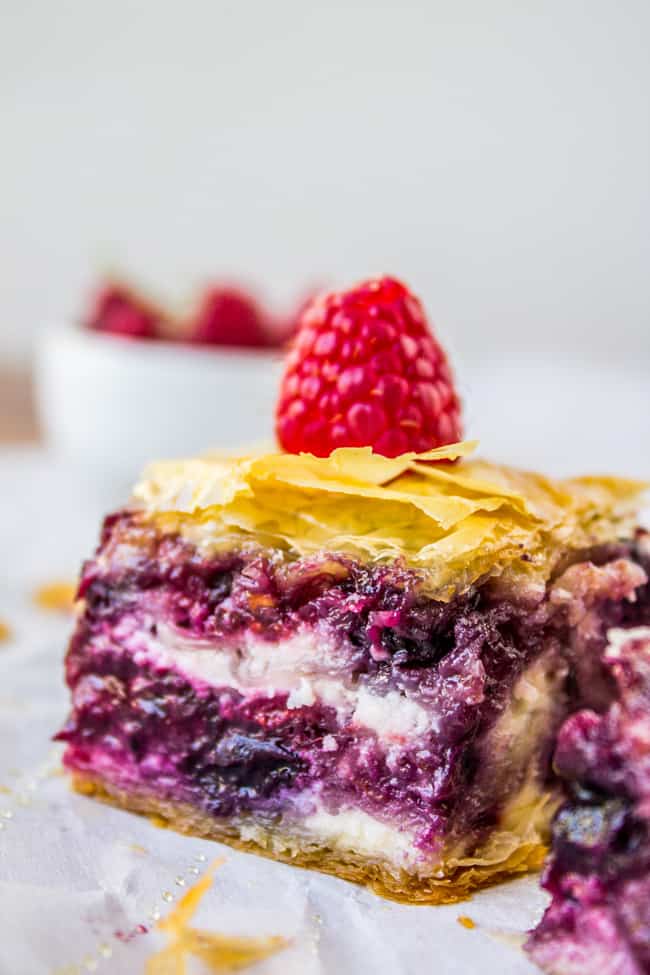 More recipes from bloggers I love!
Crème Brûlée from The Pioneer Woman << the classic.
Perfect Cheesecake from Simply Recipes << this recipe is originally from Dorie Greenspan
(I sort of combined the two recipes above to create my Crème Brûlée Cheesecake)
Crème Brûlée Cheesecake Bars from Cooking Classy << I want to try them as bars next!