This is the easiest weeknight dinner ever! Sheet pan chicken thighs are so versatile and delicious. We're pairing this baked rosemary chicken with potatoes, carrots, and zucchini, with a hint of lime! It totally hits the spot and is done in 40 minutes. It's low carb to boot!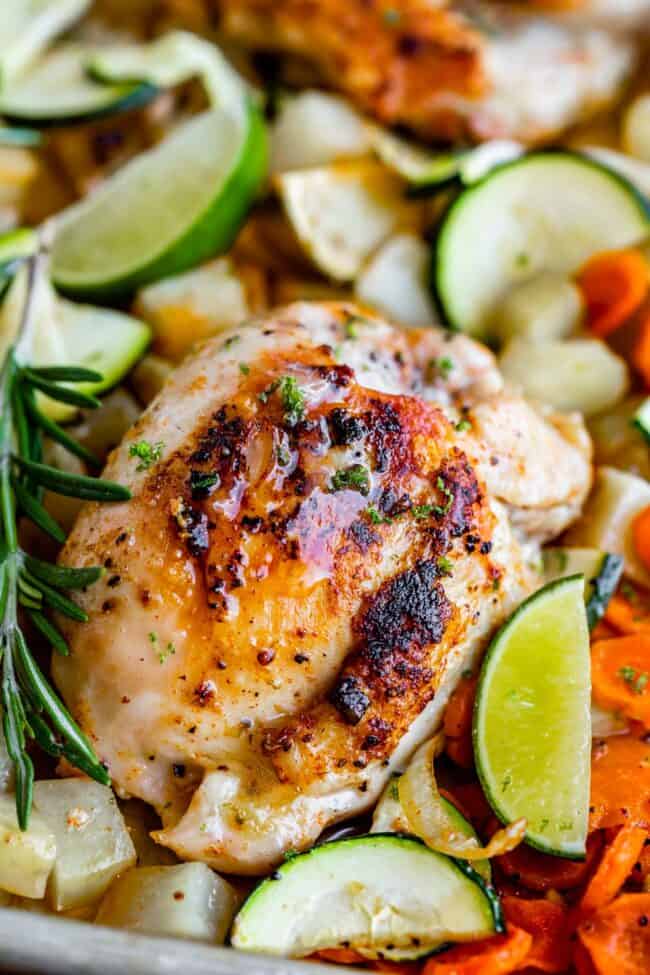 An angel arrived on my doorstep this morning in the form of a friend with some toilet paper.
I heard the knock on the door and in that moment my heart was struck with the fear that only my fellow stay at home mom's can understand: It was 10am, a perfectly acceptable time for a random someone to knock on my door, and there I was still in my pajamas, barely feeding my kids breakfast.
I hadn't even changed into yoga pants to pretend that I had already worked out that morning, or at least planned to "soon." Nope, just a ratty T-shirt of my husband's and a pair of striped PJ pants.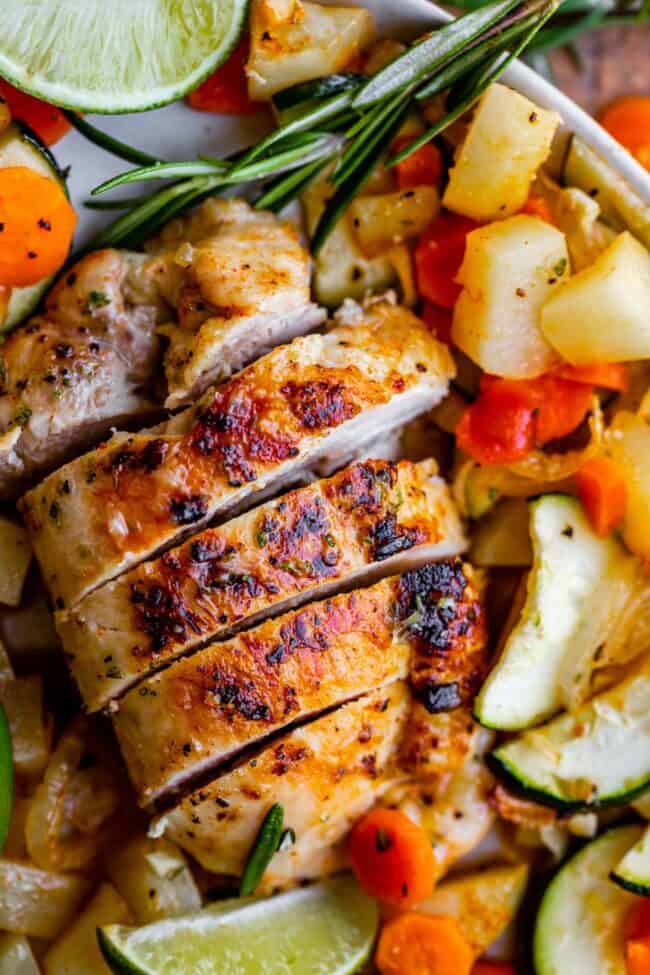 I couldn't see who was at the door, but I did see a minivan, which meant that I could trust whoever it was to be friend rather than foe: surely this fellow mom warrior has had to answer the door in pajamas before too?
So I open the door to find my neighbor Grace, with a pack of toilet paper just for me. Honestly, no other item or person arriving at my door right then could have made me happier.
Being pregnant and barely half-momming it all summer, my normal routine has been a bit off. Normally going to the store is no problem, and when we run out of something, I buy more. Actually, we rarely run out of paper goods like tissue and toilet paper, because I have a system where I'm always buying ahead on things I know we always need.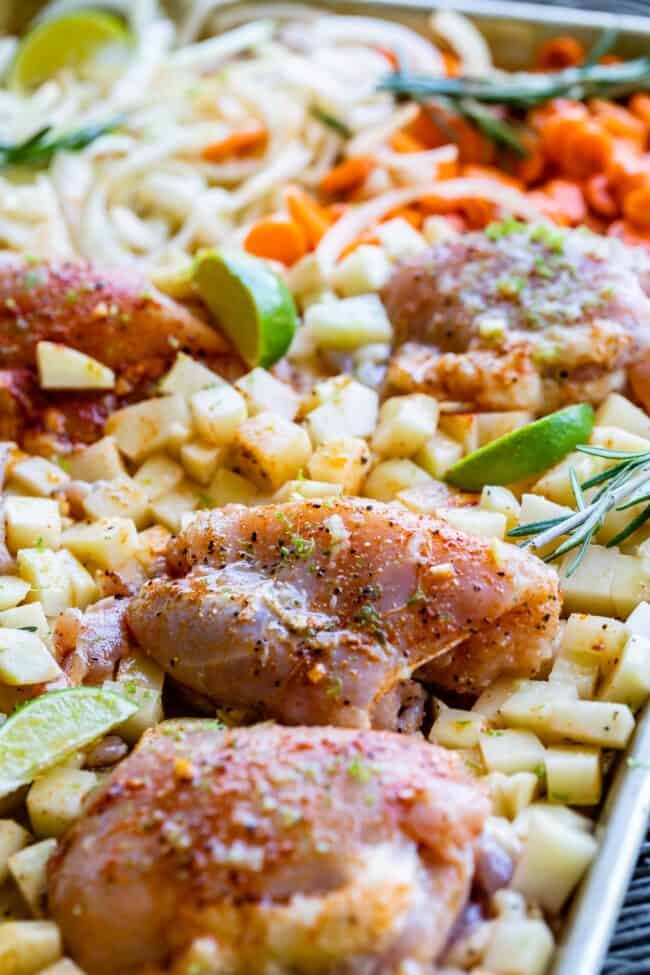 But things went a little off the rails this summer when I was sick for so long. (Morning sickness: not just for the morning.) The kids and I went for a short bike ride last night and ran into Grace and her kids, who live around the corner. I mentioned that we've been out of toilet paper SINCE SUNDAY. Today is WEDNESDAY you guys. And what exactly have I done the last 3 days that is more important that buying toilet paper??
I really don't know, but I do know that if you ever find yourself in this conundrum, be sure to complain about it to a nice friend, because maybe they will show up on your door step with toilet paper. Oh my gosh, I'm just kidding, get your lazy butt to the store, future Karen!! Bless you, Grace, you are aptly named.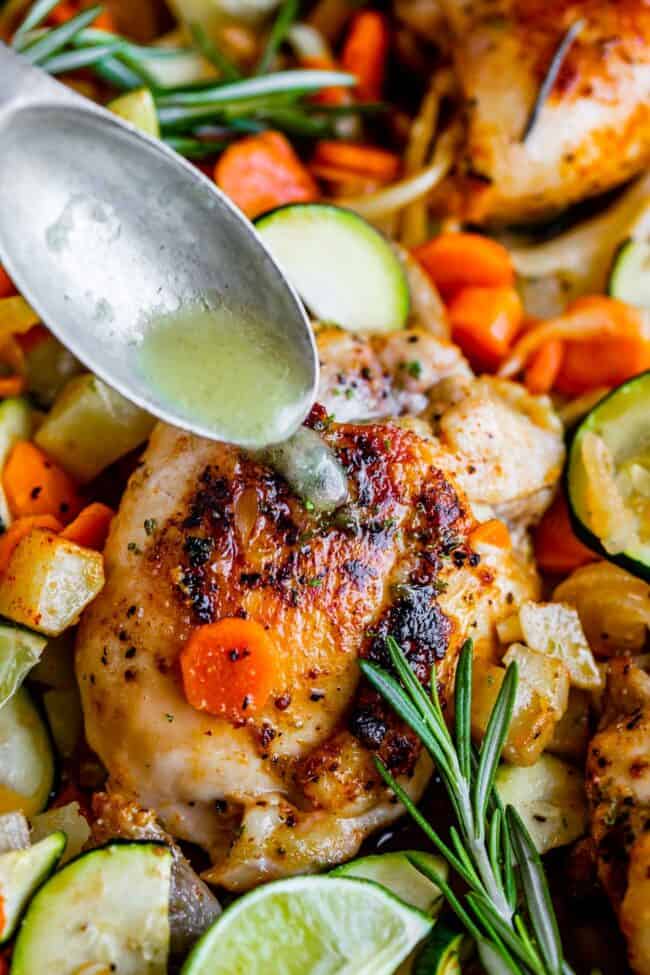 In other news, I finally made my family dinner! Even if I can't provide basic toiletry necessities, at least we're not starving.
It's such a relief to be back in the kitchen. I can't even tell you how much I missed it! This sheet pan chicken and veggies recipe is based on one given to me by my friend Sarah, who blogs over at Feeding Your Fam. Check out her recipes, she's got some amazing posts! She's going to be helping me occasionally with upcoming recipe ideas from here on out. Sometimes I get stuck in a creativity rut, so I'm excited to have someone helping me out!
How to make sheet pan chicken thighs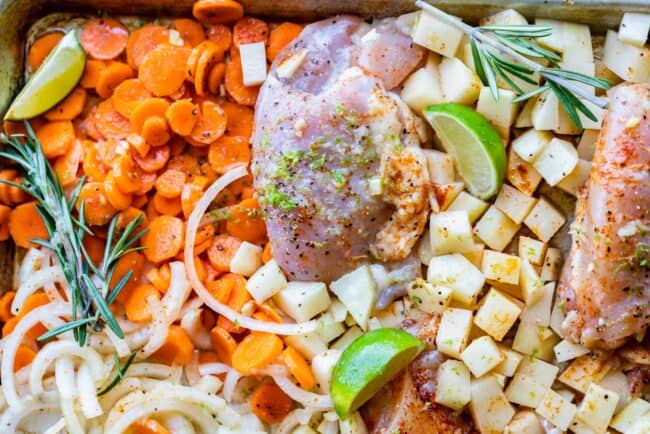 I LOVE making sheet pan chicken thighs. It is such a no-fuss way to get dinner done. It's a healthy option too. For this recipe, we're using chicken thighs, which are a lot tastier than chicken breasts in my opinion. You can get them at the market these days boned and skinned, making your life even easier.
Add the chicken, potatoes, carrots, and onions to a pan and drizzle with olive oil. Then add a few seasonings (garlic, paprika, cumin, rosemary, lime). Roast at 425, add the zucchini, and finish in the oven. It takes about 40-45 minutes start to finish and it's SO delicious.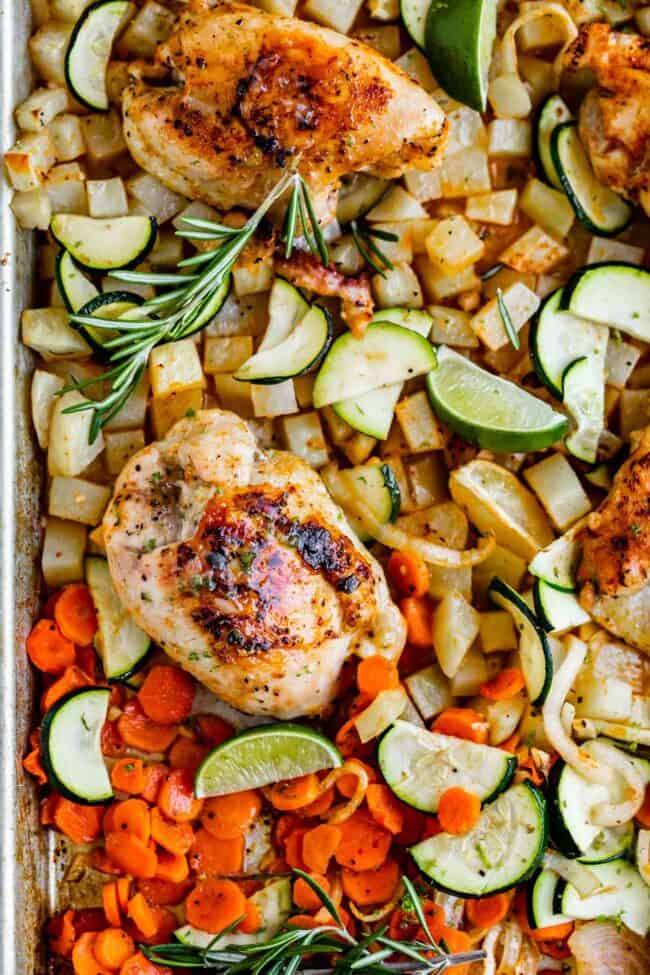 Rosemary chicken thighs FTW
Fresh rosemary is really kind of magical when you put it in the oven. You don't even have to chop it up or do anything special with it. Just toss a few sprigs on the pan, and your chicken will come out with a subtle but very tasty rosemary flavor throughout the entire bird. If you don't have fresh rosemary, a teaspoon or two of dried rosemary will work ok too.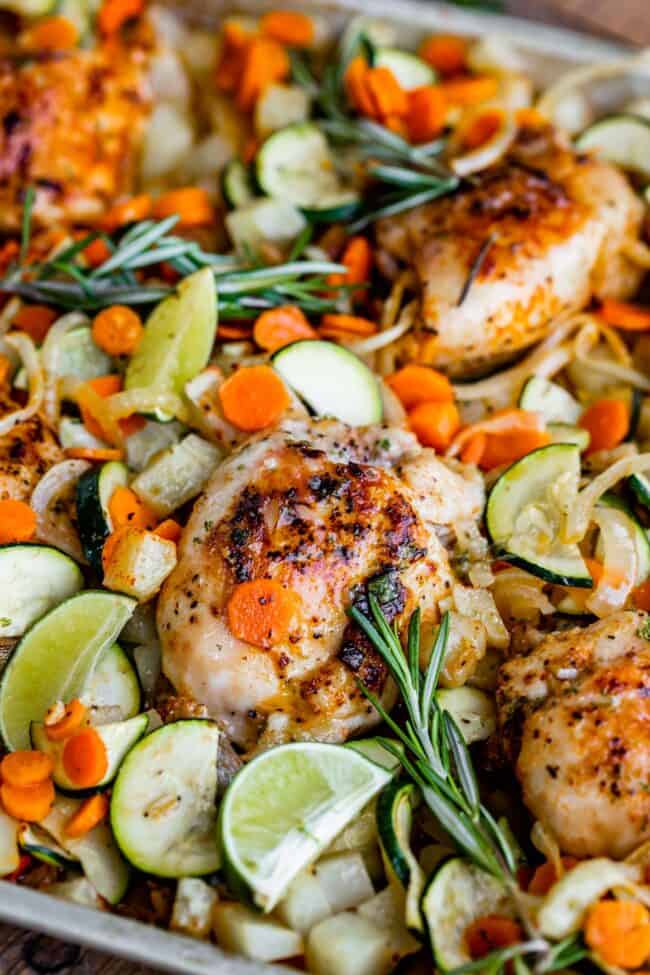 The lime wedges baked with the chicken also infuse it with flavor. So good! I never would have thought to pair rosemary with lime, but it is a really great combination that took me by surprise.
How to sear chicken
Full disclosure my friends: chicken does NOT bake in the oven and come out with the beautiful sear marks you see on the chicken in these photos. When you bake chicken, it turns a pasty white color. If done well, it's juicy and delicious, and I promise no one will care what color it is once they try it, but if you are serving guests and presentation is important, take a couple minutes to sear the chicken in a pan on the stove first.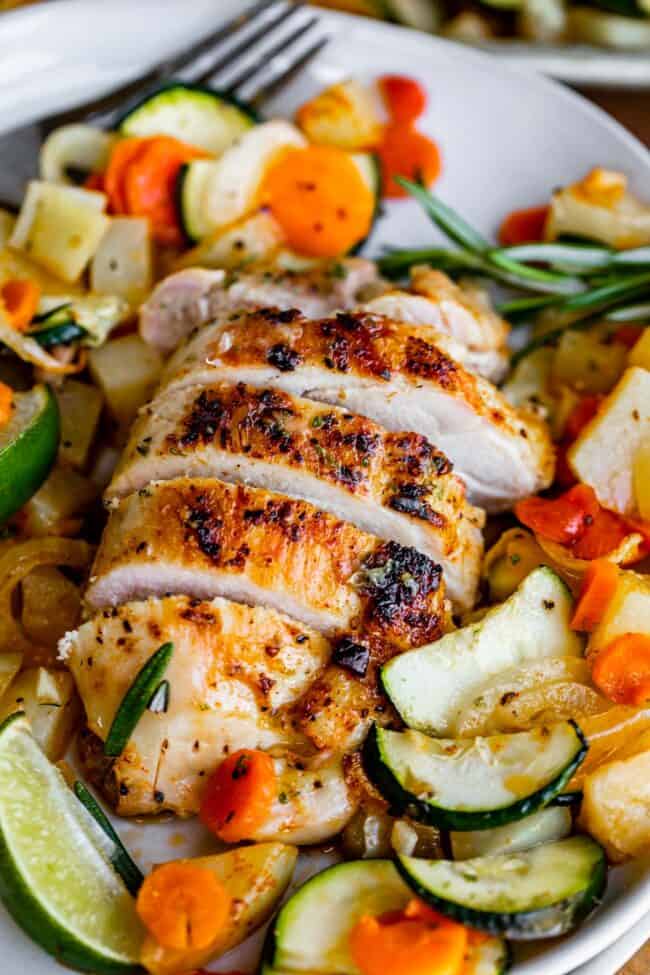 Heat a skillet over medium high heat and add 1 tablespoon olive oil. Sear the raw chicken on one side for 1-2 minutes until browned, then flip and sear the other side. Then continue with the recipe. Full notes are in the recipe. The chicken will not be cooked on the inside, just browned on the outside for an extra flavor boost.
This step is optional. If you plan to put pictures of your chicken on your food blog for thousands of people to see, I recommend searing. If you're making dinner for your family, you can skip it. ;) Enjoy!!
Facebook | Pinterest | Instagram
Easy chicken dinners FTW!
Sheet Pan Curry Chicken and Carrots with Basmati Rice
30 Minute Pesto Penne with Chicken and Cherry Tomatoes
More 30 minute chicken dinners from other bloggers!
Easy Skillet Apricot Chicken from Family Food on the Table
Best Chicken Tacos Ever from Bless this Mess
Skillet Orange Chicken Recipe from Spend with Pennies

Sheet Pan Rosemary Lime Chicken and Veggies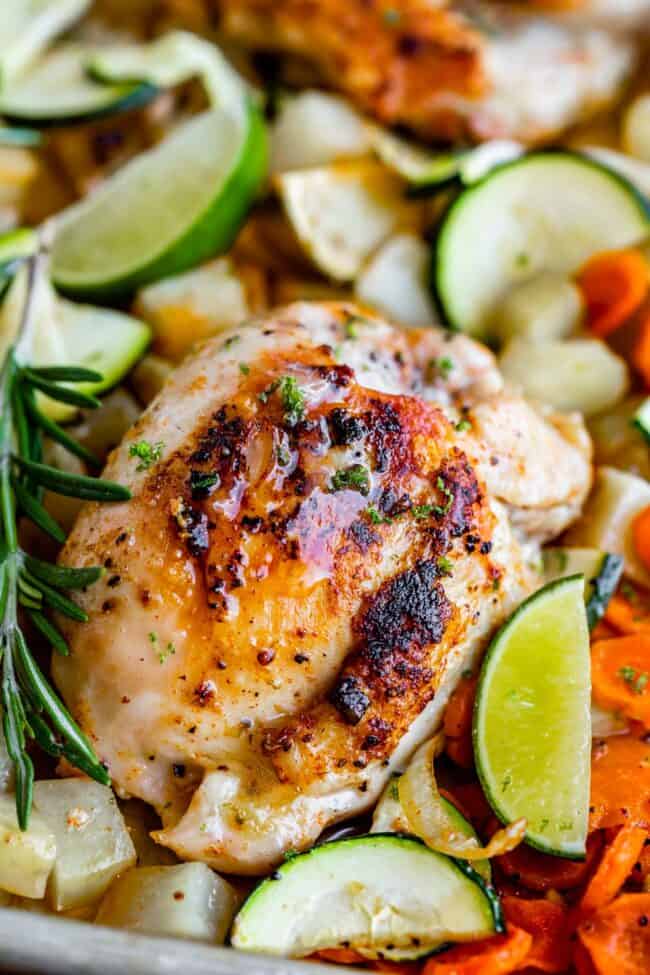 This is the easiest weeknight dinner ever! Sheet pan chicken thighs are so versatile and delicious. We're pairing this baked rosemary chicken with potatoes, carrots, and zucchini, with a hint of lime! It totally hits the spot and is done in 40 minutes. It's low carb to boot!
Ingredients
6

boneless skinless chicken thighs

,

about 2 lbs

3

large

potatoes

,

about 1.5 lbs

1

cup

carrots

,

sliced thin (3 small or 2 medium)

1/2

onion

,

sliced thin

1

zucchini

,

sliced

2

cloves

garlic

,

smashed and minced

1/4

cup

olive oil

1 & 1/2

teaspoons

salt

1/2

teaspoon

pepper

1/2

teaspoon

paprika

1/2

teaspoon

cumin

1/2

teaspoon

garlic powder

3

limes

,

divided

3-4

sprigs

rosemary

,

fresh

1-2

tablespoons

olive oil

more rosemary and limes

,

to garnish
Instructions
Preheat your oven to 425 degrees F.

Prepare a

large baking sheet

by spraying with nonstick spray (line with foil first for easy clean up)

Place the chicken on the baking sheet.

Peel and chop the potatoes into 1/2 to 1-inch pieces. Peel and slice the carrots. Slice up half an onion. Arrange all the vegetables on the baking sheet around the chicken.

Slice the zucchini and place it on the baking sheet also, but don't mix it with the others, we're going to remove them once they are coated with oil.

Smash and mince 2 cloves of garlic, and sprinkle over the veggies and chicken.

Drizzle the pan with 1/4 cup olive oil.

In a small bowl, combine 1 and 1/2 teaspoons salt, and a 1/2 teaspoon each of pepper, paprika, cumin, and garlic powder. (These spices are optional. You can just use salt and pepper if you want.)

Sprinkle the spices over the chicken and veggies, and use your hands to get it all coated well with oil and spices. Try to keep the zucchini separated.

Remove the zucchini to the small bowl that you had the spices in.

Zest 1 lime over the chicken and veggies. Cut it in half and

use a juicer

to sprinkle lime juice over the whole pan.

Slice the second lime into wedges and scatter over the pan.

Place 3-4 fresh rosemary sprigs on the pan.

Place the baking sheet in the oven and roast at 425 F for 20 minutes.

While the chicken is cooking, make a simple glaze from the last lime. (This is optional, it will be good without) Juice the lime into a small bowl. While whisking, slowly drizzle in about 1-2 tablespoons of olive oil. (If you do this without whisking, the oil will not emulsify.) Sprinkle with salt and pepper. Set aside.

After 20 minutes, remove the pan of chicken from the oven and shut the oven door. Use tongs to flip each piece of chicken, making sure the chicken ends up on the pan and not on top of veggies.

Spread the oiled zucchini over the other vegetables.

Return the pan to the oven and continue baking for another 10-15 minutes, until

a meat thermometer

inserted into the thickest piece of chicken registers 160 degrees F. (Chicken is done at 165 degrees F, but it will continue to raise in temperature the first few minutes out of the oven, ending up at about 165. Say NO to dry chicken you guys.)

Let the chicken rest for about 4-5 minutes after removing from the oven.

Discard the baked lime and rosemary.

Serve the chicken and vegetables with the lime glaze. Garnish with more lime wedges and fresh rosemary.
Notes
Chicken that is roasted in the oven with this method will not sear. It cooks nicely and will be juicy, but if you want brownish blackish sear marks, you will have to take the extra step of searing before roasting. In a medium skillet, heat 1 tablespoon olive oil over medium high heat. Sear the raw (unseasoned) chicken thighs on one side for about 1-2 minutes, then flip and sear the other side until browned, adding oil as necessary. Continue with the recipe as stated.
Nutrition
Serving:
1
g
|
Calories:
682
kcal
|
Carbohydrates:
61
g
|
Protein:
51
g
|
Fat:
27
g
|
Saturated Fat:
5
g
|
Polyunsaturated Fat:
4
g
|
Monounsaturated Fat:
16
g
|
Trans Fat:
1
g
|
Cholesterol:
215
mg
|
Sodium:
1123
mg
|
Potassium:
2058
mg
|
Fiber:
9
g
|
Sugar:
6
g
|
Vitamin A:
6578
IU
|
Vitamin C:
81
mg
|
Calcium:
101
mg
|
Iron:
5
mg