One-Skillet Chicken Pot Pie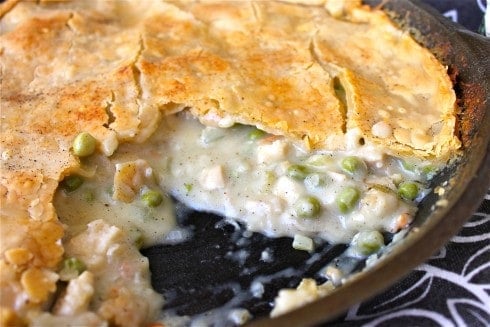 It's funny how living in a desert makes you forget what spontaneous greenery looks like. I grew up in California, but having just arrived from Utah I am only now fully appreciating how verdant it is here. There are plants all over the place, just popping up out of nowhere with no one to water them. The same thing hit me when we went to live in Indiana. Only when we had an 8-week "drought" in late summer and everyone's grass died did I realize that they don't even use sprinklers there.
(okay, side note, I just wrote "drout" and stared at it for like a minute before I came up with an alternative spelling. Drowt. I think I'm getting stupider as time goes by.)
We are still homeless. Bumming off my brother, actually. I can see how people go to live in their in-law's basement for "a couple months" and don't move out for 5 years. It's kind of nice not having to pay rent. Also the fact that my brother lives in an actual house with an actual yard. It makes ignoring entertaining my 2-year-old much easier.
Here's hoping we find a place soon. Free rent is great and everything, but Charlotte said it best the other day when she looked up at me with big eyes and said, "I want to go home." Me too.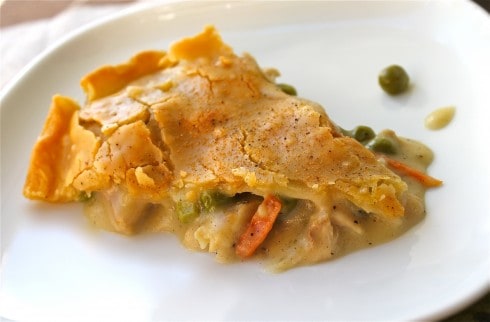 Necessity breeds invention, and that's where this pot pie came from. We were doing our best to clean out the fridge and freezer before we left, and I found one pie crust, chicken, carrots, and celery. And here you have it, a one-crust pot pie. The best part though is that it's all in one skillet. Homemade chicken pot pie lands you with a sink full of dishes, but not this one. Awesome!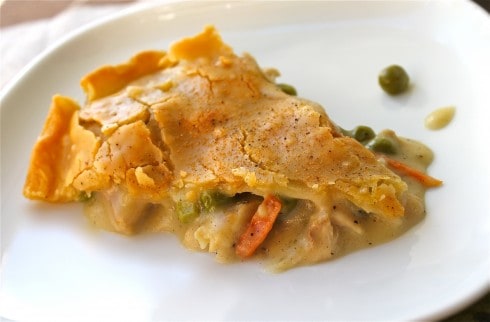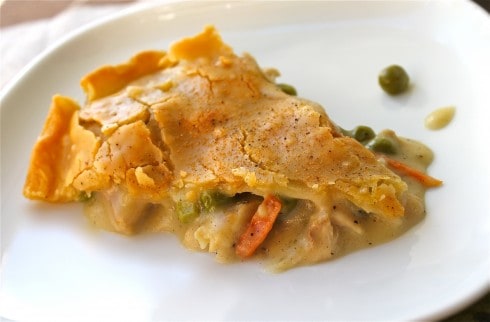 print
Did you make this recipe?
Leave a review »
One-Skillet Chicken Pot Pie
Serves 6
adjust servings
Ingredients
1/2

cup butter

1/2

cup chopped onion

1

cup chopped carrots

1/2

cup chopped celery

2/3

cup all-purpose flour

3/4

teaspoon salt

1/4

+1/8 teaspoon black pepper

1/4

+1/8 teaspoon celery seed

1 14-ounce

can chicken broth

1

cup milk

1 1/2

or 2 cups cooked chicken

1

cup frozen green peas

1

(9 inch) unbaked pie crust
Instructions
Preheat oven to 350. In a 9 or 10 inch cast iron skillet, melt the butter over medium heat. When the butter is hot, add the onions, carrots, and celery. Saute until the carrots are crisp-tender, about 8 minutes.
In a small bowl combine flour, salt, pepper, and celery seed.
When the vegetables are soft, tilt the skillet to one side so that the butter pools at the bottom. Use a whisk to stir in the flour mixture. Combine until a thick paste forms, then slowly add the chicken broth and the milk. You don't need to keep the skillet tilted for this part, but try to mix together the flour/butter with the liquid as much as you can before stirring in the veggies. Cook the mixture until it thickens, just a couple minutes.
Add the chicken and the peas, then turn off the heat.
Lay the pie crust over the skillet, pinch the edges or just squish them down a bit, and sprinkle the top with a little salt and pepper. Promptly place it in the oven. (You don't want your crust to get soggy.) Bake in the preheated oven for 40-45 minutes, or until the crust is golden brown. Let set for 10 minutes before serving.
by The Food Charlatan

If you make this recipe,
share it on Instagram
 using the hashtag
#TheFoodCharlatan
so I can see it!
Source: adapted from
Allrecipes.com
; skillet idea from
Picky Palate
We are a participant in the Amazon Services LLC Associates Program, an affiliate advertising program designed to provide a means for us to earn fees by linking to Amazon.com and affiliated sites.