Cheeseburger Soup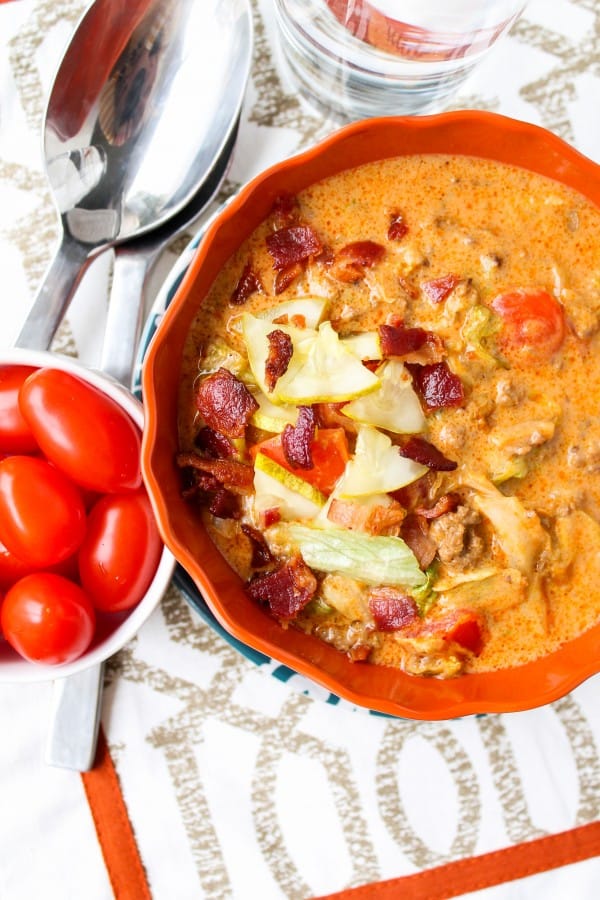 The other day I saw something small on my kitchen floor and bent over to pick it up. I'm on a constant quest to keep the floor spotless, because Truman is still in the stage where he puts everything in his mouth.
But then I realized that it was a piece of lettuce. And I was THIS CLOSE to putting it back.
We're bringing "tricking our kids into eating vegetables" to a whooooooole different level over here, guys.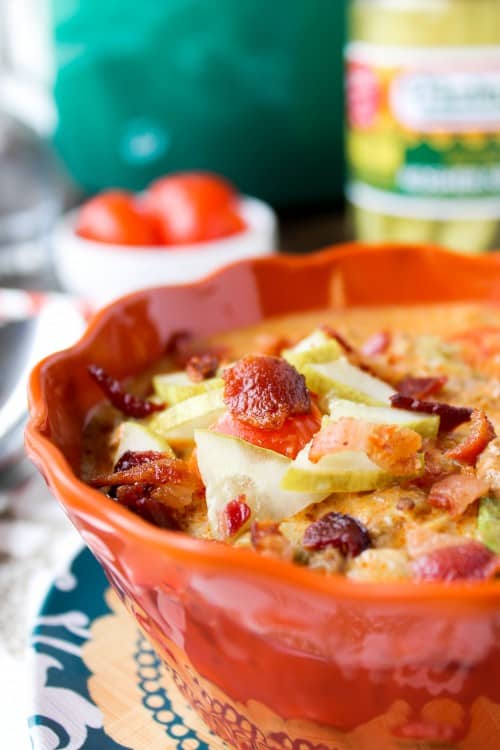 Speaking of baby boys, my friend Claire over at Lemon Jelly Cake just had a sweet little boy a few weeks ago. Today I'm posting over there to give her a break so that she can get some freaking sleep snuggle with her baby. (The recipe is now available below.)
Claire asked me to make something that I would bring to a new mom in real life, and I instantly thought of soup, because it's warm and comforting and fills you up when you need 5,000 calories per meal to keep up with nursing. Or was that just what I told myself way back when?
It really does taste like a bacon cheeseburger, pickles and all. And I don't even like pickles. This soup is best served immediately because it has fresh iceberg lettuce in it. (Don't be weirded out. Just trust me.)
Oh, and did I mention that this soup is ridiculously fast? I mean, for soup. But you can have it done in like 45 minutes, tops.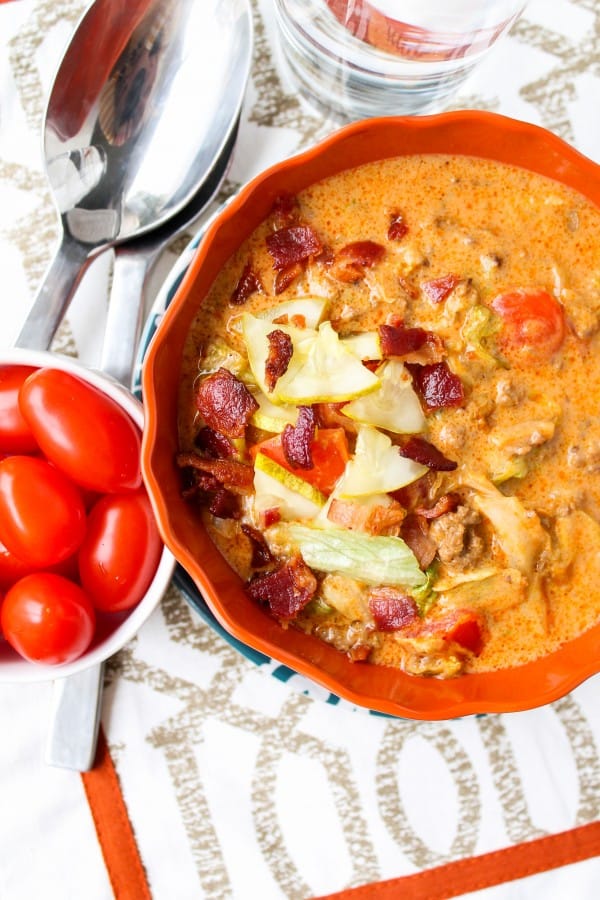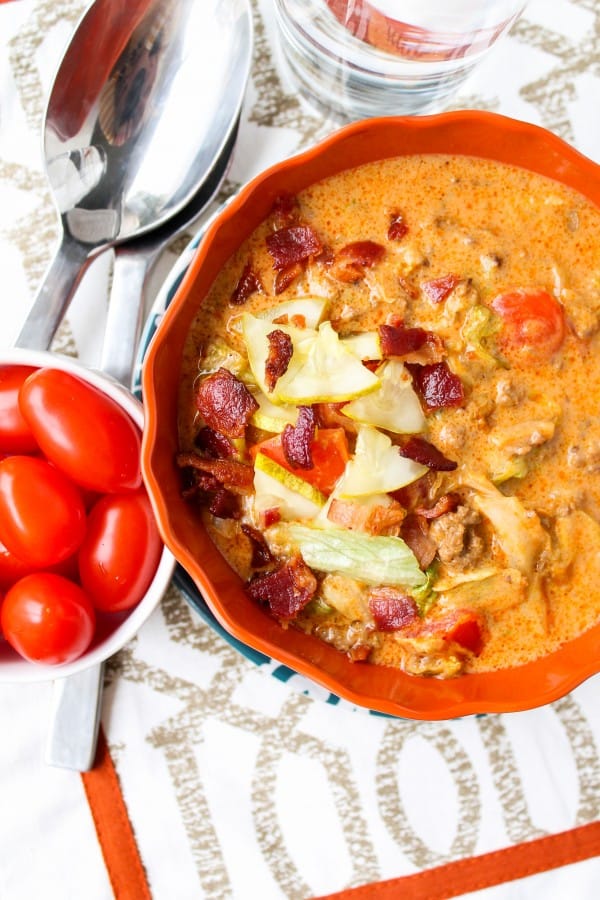 print
Did you make this recipe?
Leave a review »
Cheeseburger Soup
Ingredients
1/2

large onion, chopped

1

pound ground beef, the leaner the better

3

tablespoons tomato paste

2

tablespoons Worcestershire sauce

1

tablespoon yellow mustard

16

ounces reduced sodium beef broth (2 cups)

8

ounces velveeta made with 2% (half of a small block)

1/2

head iceberg lettuce, chopped

1/2

cup diced grape tomatoes, or more

chopped pickles, for garnish

cooked and crumbled bacon, for garnish
Instructions
In a large stock pot or dutch oven, add the onion and ground beef. Cook over medium heat for about 10 minutes, or until meat is browned and onion is cooked through. Use a spoon to remove the grease.
Add the tomato paste, Worcestershire sauce, and mustard, and stir that together for about 2-3 minutes.
Add the beef broth and velveeta. Stir until the cheese has melted, about 5 minutes.
Add the grape tomatoes and lettuce, (it will look like WAY too much, but it will cook down, don't worry) and cook until the lettuce has just barely wilted, about 2 minutes.
Garnish with chopped pickles and cooked bacon.
by The Food Charlatan

If you make this recipe,
share it on Instagram
 using the hashtag
#TheFoodCharlatan
so I can see it!
Source: from Savoring Sarah, a blog that has been taken down.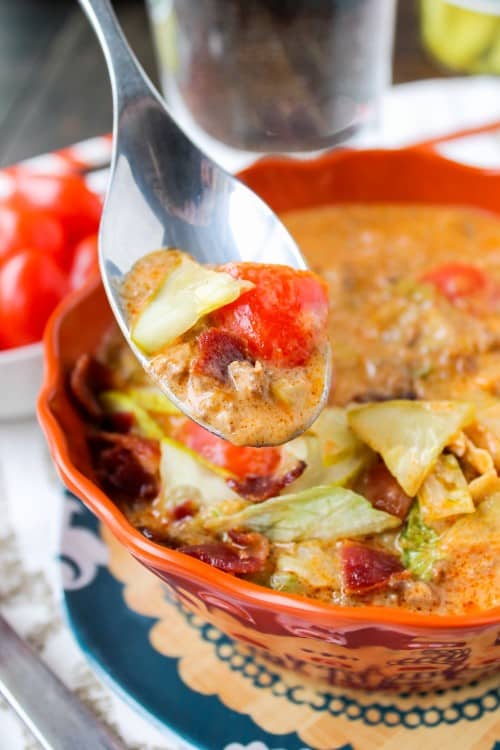 We are a participant in the Amazon Services LLC Associates Program, an affiliate advertising program designed to provide a means for us to earn fees by linking to Amazon.com and affiliated sites.