This chocolate pie is silky, smooth, and really lets the honey flavor shine. It is the perfect make-ahead dessert, and super impressive for the holidays or anytime of year! Because it's always time for chocolate. Let's be real.
Hi guys! I published this recipe for Chocolate Honey Chiffon Pie back in 2012, and it's STILL a huge favorite of mine. I just made it twice in the last month. I wanted to update the photos, but this old story is classic Karen-at-her-stupidest so I don't have the heart to rewrite the post. Get ready to feel really smart: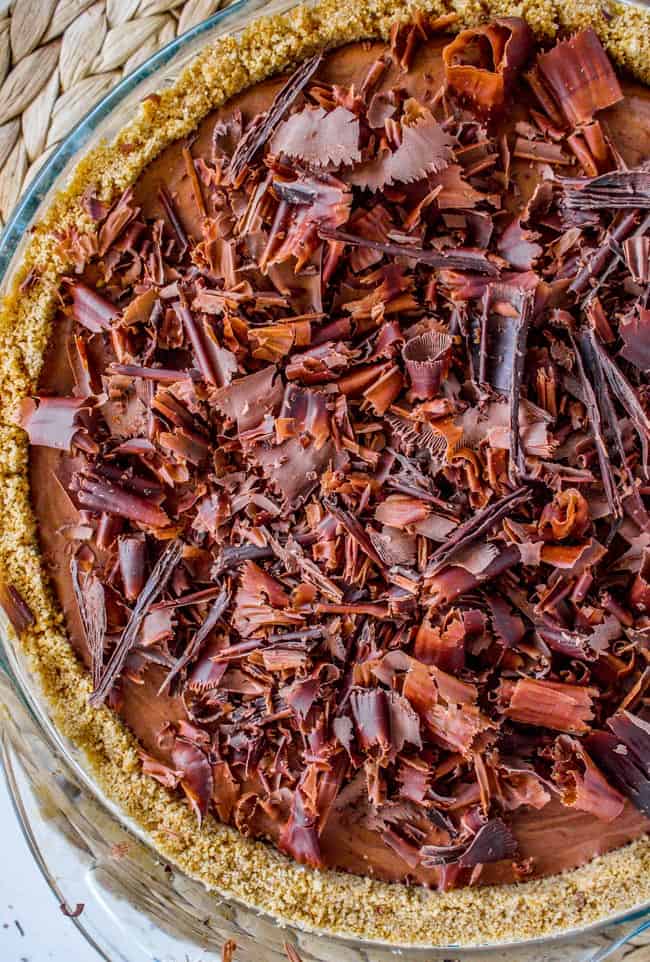 I went to Ikea today. Land of genius ideas, cheap merchandise, and a maze-like layout. This last characteristic is a blessing when you are cruising Ikea with friends and are pretending to be hipster-European-apartment-dwellers with only 150 square feet of living space, but more like a curse when you want to stop in for one item. Like today.
I had Charlotte in the stroller so I went straight for the elevators. This is what I saw on the wall: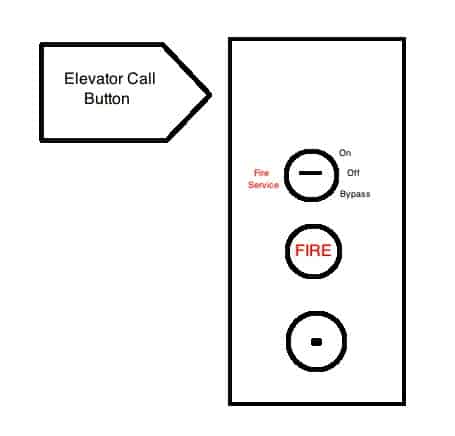 Do you see that blank spot at the top, the spot with the giant arrow pointing at it?
I stared at it. Really? A touch-sensitive elevator button? Well of course. This is Ikea, people. They are just so high tech. Of course they have an invisible touch-sensitive elevator button. With absolutely no markings on it. And a giant arrow pointing to where it is, if you just believe.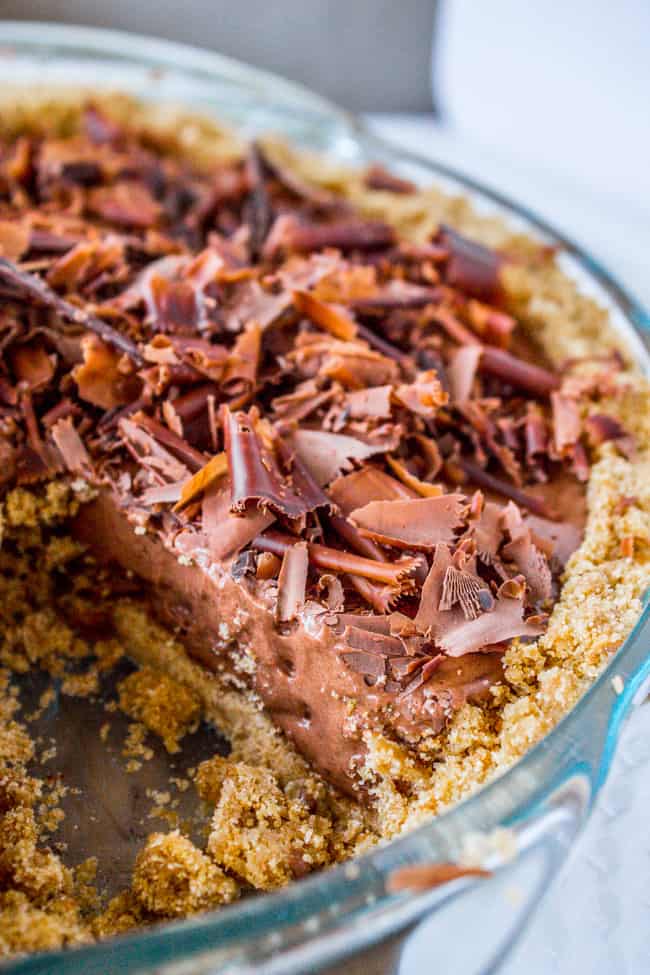 So of course I touched it. Rubbed it, for good measure (I couldn't tell exactly where it was). And you know what? I heard a ding. A movement. Something. I waited faithfully. Nothing happened. This process is repeated at least 2 more times.
Finally two ladies come up with their kids in tow. I say, This elevator button is like touch sensitive or something! But I can't get it to work. These crazy Europeans. Maybe you guys can figure it out? One of them goes up and pushes the elevator call button, which is of course the one on the bottom. (And may I just point out, not where the arrow is pointing.)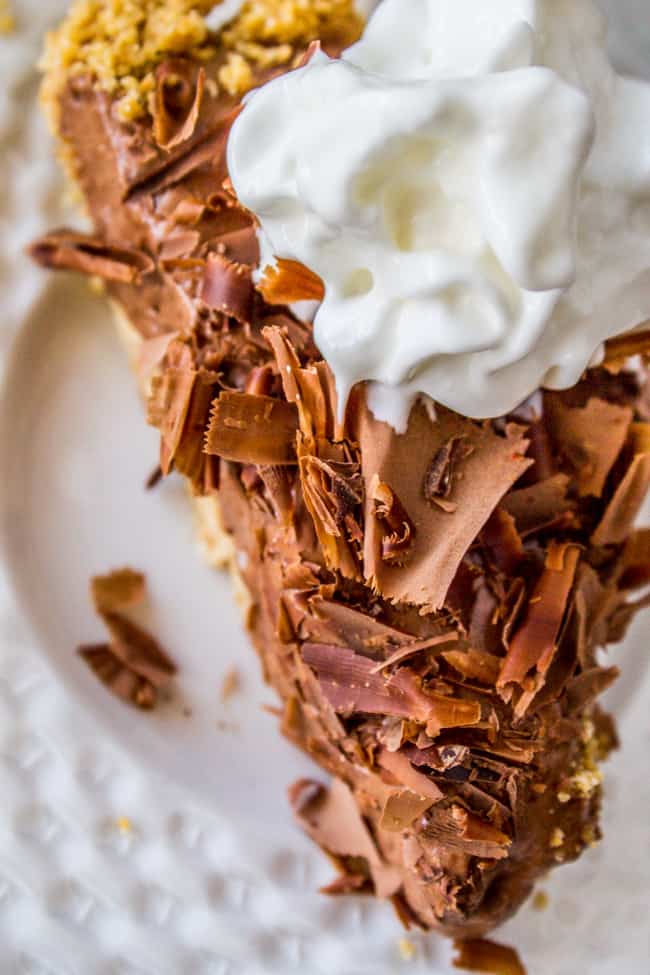 This lady must be the nicest person on the planet; she made small talk and tried to help me not feel like a total moron. Thanks for being nice, Becca, whoever you are. I hope one day you tell your grandkids the story about The Idiot at Ikea Who Thought Elevators Were Magic and Needed to be Rubbed Like Genies.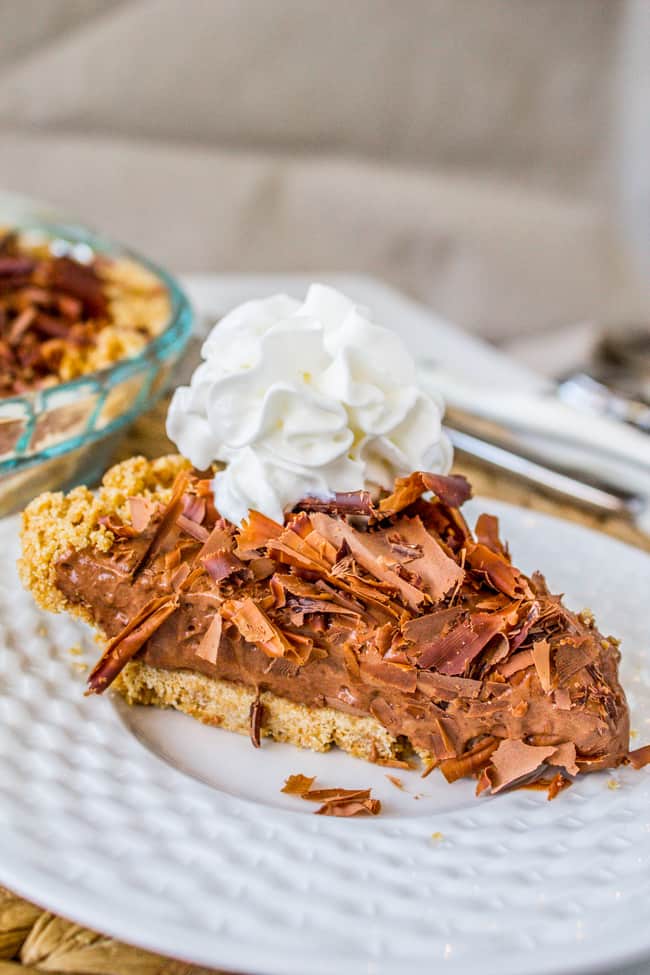 Okay, current Karen is back. A few notes on the pie: don't be afraid! This recipe might look intimidating but I can throw it together in under half an hour these days. Just make SURE you are whisking hard when you add the egg yolks otherwise they will curdle. There are some process shots below. I love this recipe because you can really taste the honey in it, and chocolate and honey is not a combination I usually have. (Why not??) This would be perfect to make for Christmas dinner! Everyone will love you!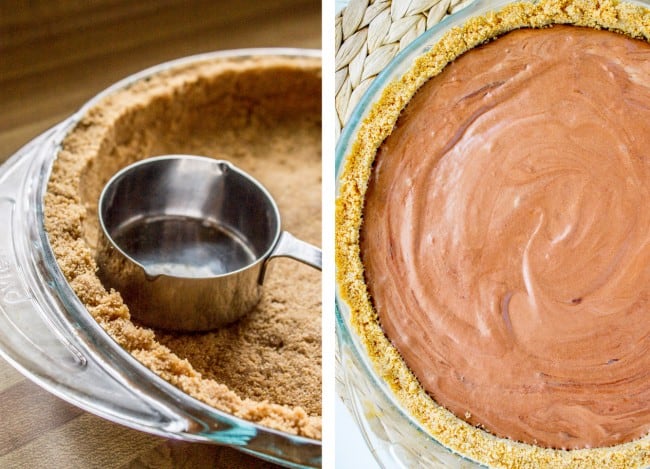 A measuring cup is so helpful when pressing crusts.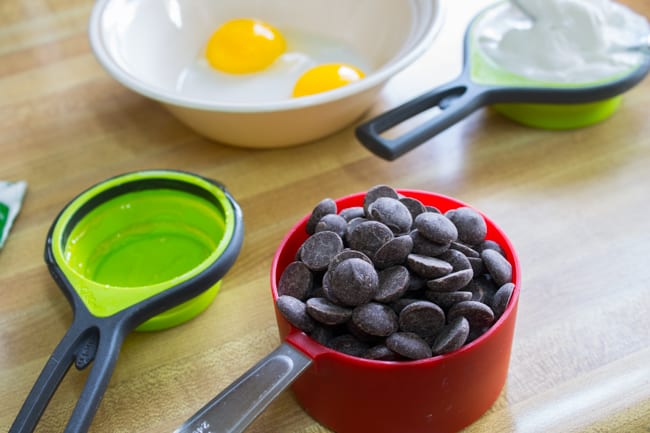 Make sure you have everything measured out and ready. Pretend there's honey in the green one :)

Here's my makeshift double boiler. Who's done this?? Works like a charm!
Here are my egg whites after beating in the honey, then folding it in.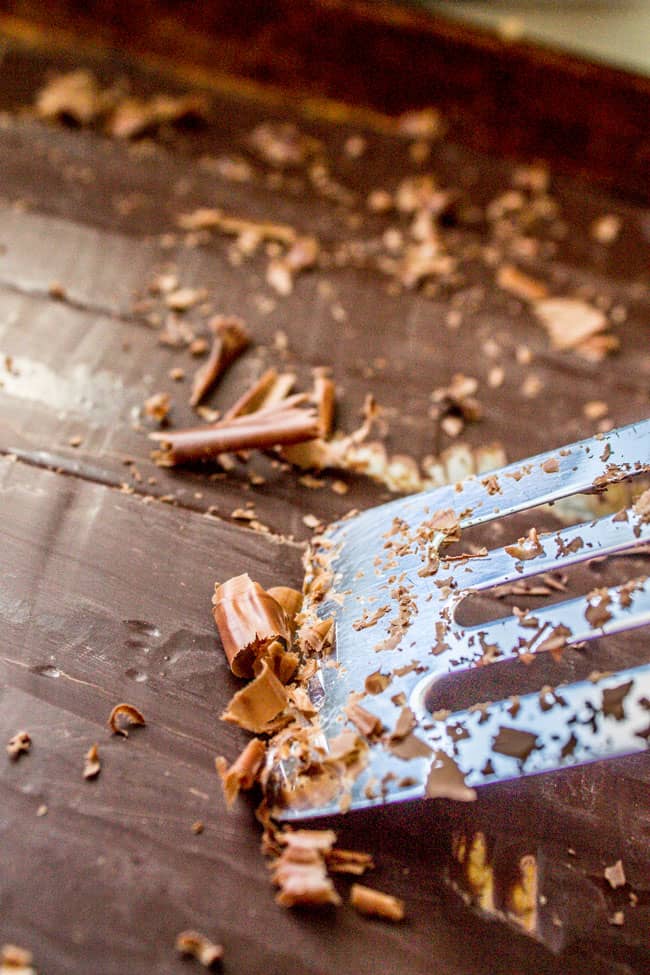 Your chocolate curls don't have to be perfect. Mine aren't! They will look impressive anyway.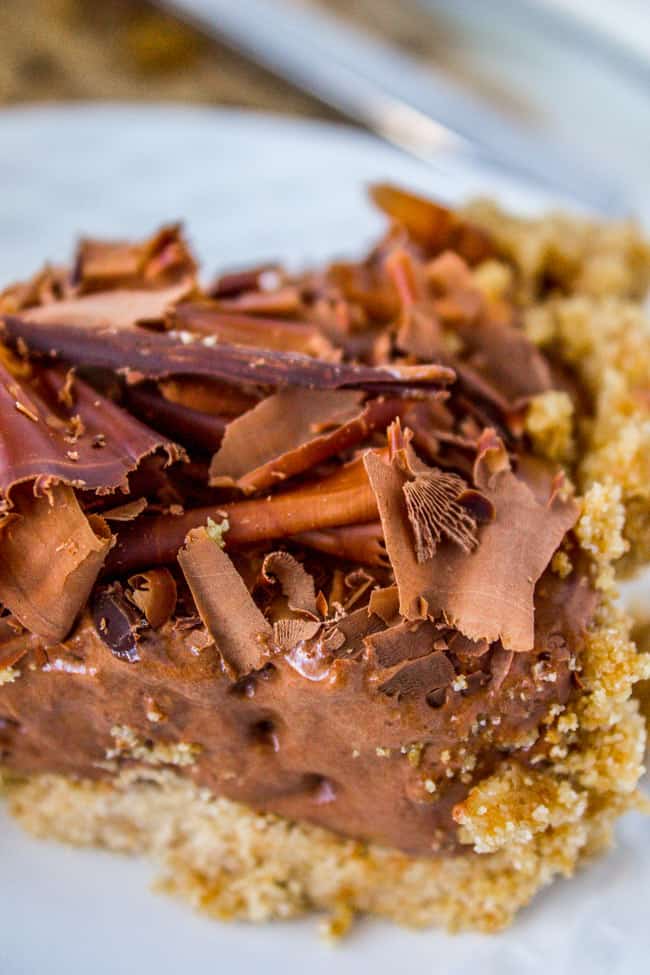 Oh, and here's one of my original photos for old time's sake :)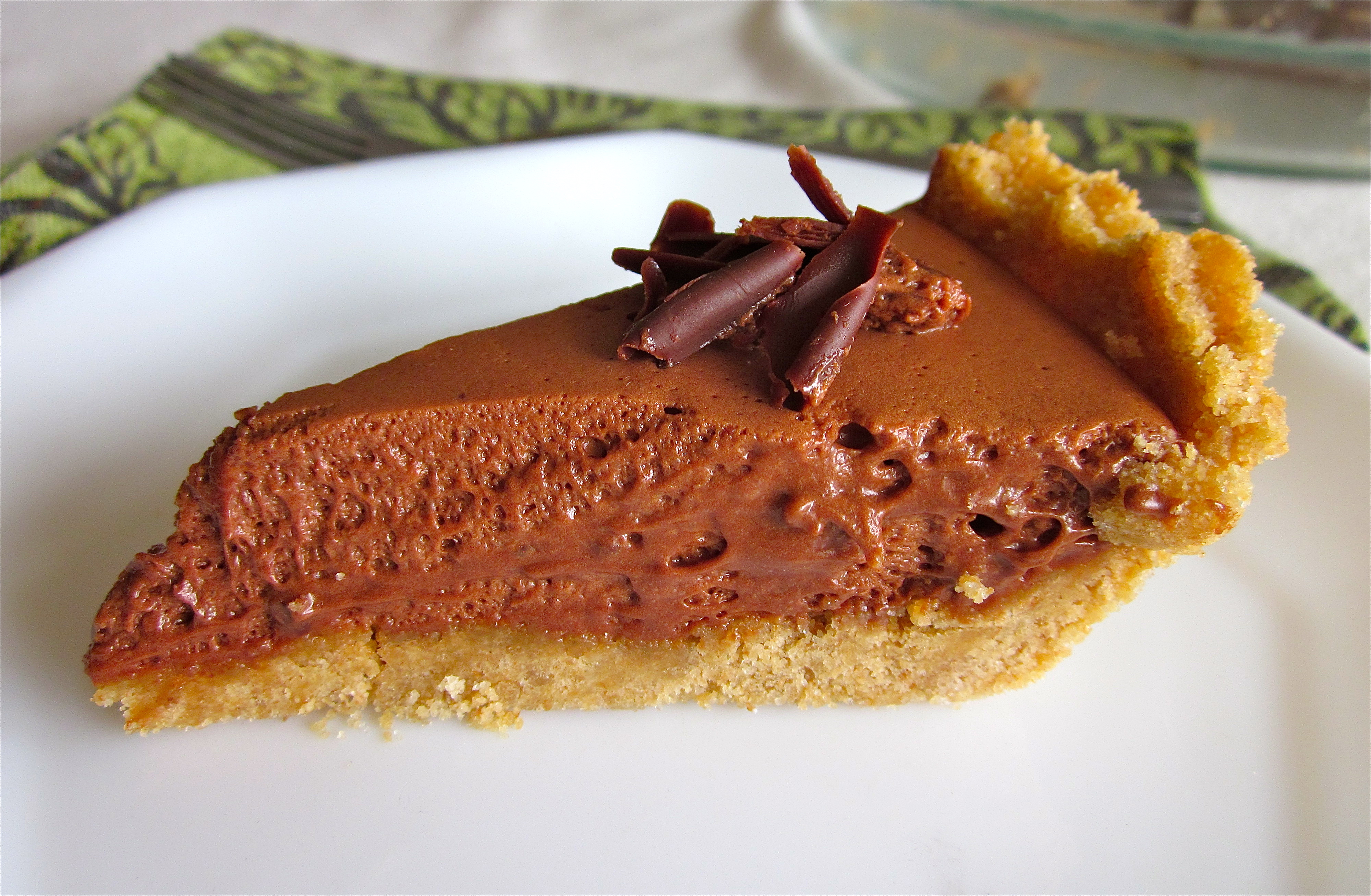 And a few pictures from the first time I photographed this pie with my trusty point and shoot, back in 2012 when Charlotte was tiny. Yes, I am LICKING MY PLATE. No shame. This pie is THAT good. (Thanks Kristy for the photos!)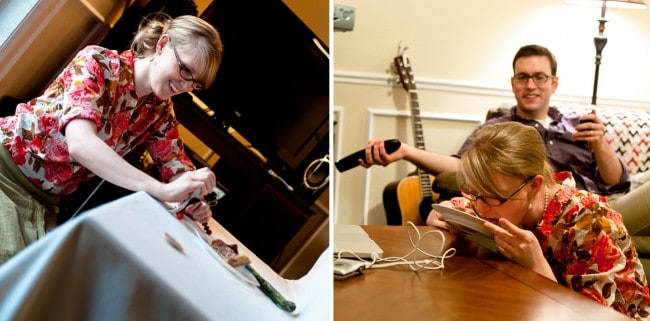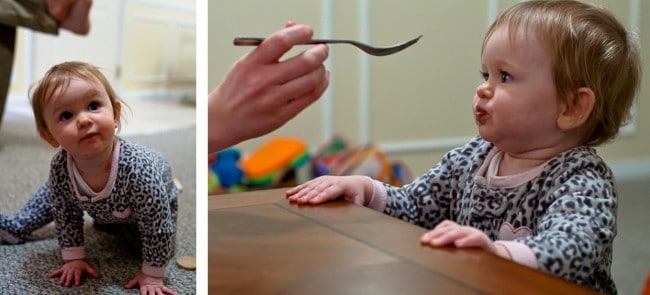 If you love chocolate, you will love these other desserts!
Facebook | Pinterest | Instagram

Chocolate Honey Chiffon Pie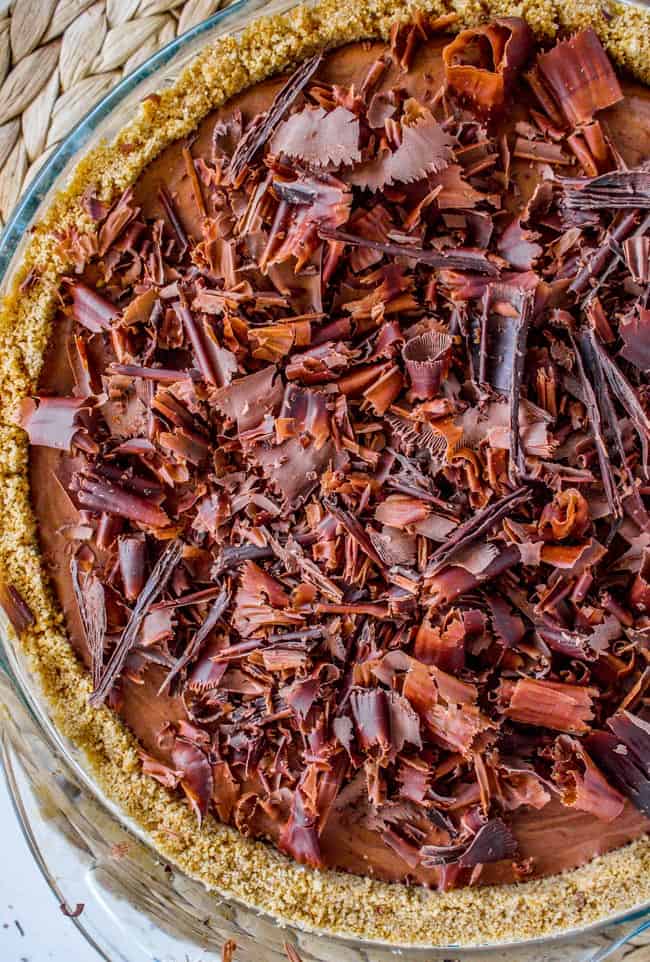 This chocolate pie is silky, smooth, and really lets the honey flavor shine. It is the perfect make-ahead dessert, and super impressive for the holidays!
Ingredients
For the graham cracker crust:
1 & 1/2

cups

finely ground graham cracker crumbs

,

9 full sheets

1/3

cup

white sugar

6

tablespoons

butter

,

melted
For the filling:
2

large

eggs

,

at room temperature

1/2

cup

sour cream

6

ounces

dark chocolate chips

,

1 cup

1/4

teaspoon

salt

1/3

cup

honey
For the chocolate curls:
1/2

cup

dark or semisweet chocolate chips

,

about 3 ounces

1

teaspoon

shortening

whipped cream

,

to garnish
Instructions
For the graham cracker crust:
Use a food processor to crush the graham crackers, then add the sugar and butter and combine well. (Or if you don't have a food processor, put the crackers in a ziplock and crush with a rolling pin, then mix it all together in a bowl.)

Press the mixture into an 8 or 9 inch pie plate. Use a measuring cup to press into the edges of your pie plate.

Stash it in the fridge while you make the filling.
For the filling:
Separate the eggs. Break the whites into a large bowl or stand mixer. Put the yolks in a small bowl and set nearby.

Spoon the sour cream into a 1/2 measuring cup and have it nearby; you'll need it handy when working with the chocolate.

Fill your smallest saucepan with about 2 inches of water and set over high heat on the stove. Place a metal or glass bowl on top of the pan. Let the water come to a bowl. Make sure you use hot pads when you touch the bowl. (This is a homemade double boiler. I don't have one. If you do, then use that!)

Add 6 ounces of chocolate (1 cup) to the bowl and stir occasionally until melted.

As soon as the chocolate is melted, remove it from the heat (leave the pan boiling), add the yolks to the center of the chocolate, and whisk vigorously. You have to move fast! Don't let those eggs curdle on you. If you can get someone else to add the yolks while you are stirring, that's easiest, but not necessary.

Replace the bowl of chocolate over the pan of boiling water and whisk for about 30 seconds, or slightly more, until the mixture forms a ball and pulls away form the sides of the pan. Immediately remove the bowl from the heat. Stir in the sour cream and beat with a whisk until smooth.

While the chocolate is melting, begin preparing the egg whites. Add the salt to the whites in the bowl; measure the honey and set it nearby.

Beat the whites until stiff but not dry, then very gradually add the honey while continuing to beat until stiff peaks form. Do not despair if the whites look soft after you add the honey. Beat for 4 or 5 minutes, and they will stiffen beautifully. The bigger the beater and the more powerful the mixer, the easier and quicker this job is, but no matter what type beater you use, it will work if you just keep at it.

When the egg whites are stiff, gently and gradually fold them into the chocolate mixture.

Spoon the mixture into the prepared crust and spread to the edges.

Poke toothpicks all over the pie so that they stick up. Cover with plastic wrap and store the pie in the fridge for at least 3 hours, overnight is better.
For the chocolate curls (optional):
Put 1/2 cup of semisweet chocolate in a small bowl with 1 teaspoon of shortening. Microwave in 30 second intervals until it is melted. Spread melted chocolate very thinly on the back of a metal baking sheet and freeze for 5 minutes.

Using a metal spatula, scrape the chocolate off. I like to use my spatula upside down. When the chocolate is the right temperature it will curl. If it is just coming off in shards, wait a minute. You can always put it back in the freezer if you need to.

Sprinkle the chocolate curls over the pie. At this point you can put it back in the fridge, covered for a day or two.

Garnish with whipped cream and enjoy!
Nutrition
Serving:
1
slice
|
Calories:
448
kcal
|
Carbohydrates:
50
g
|
Protein:
6
g
|
Fat:
26
g
|
Saturated Fat:
16
g
|
Polyunsaturated Fat:
1
g
|
Monounsaturated Fat:
6
g
|
Trans Fat:
1
g
|
Cholesterol:
77
mg
|
Sodium:
305
mg
|
Potassium:
274
mg
|
Fiber:
2
g
|
Sugar:
35
g
|
Vitamin A:
427
IU
|
Vitamin C:
1
mg
|
Calcium:
110
mg
|
Iron:
2
mg