This Dulce de Leche Cream Pie is a really impressive Thanksgiving (or anytime) dessert you can make with very little effort! It is so easy and is a huge crowd pleaser. Who can say no to sweet caramel-like filling and mountains of whipped cream? And don't forget the crunchy Pecan-Graham Crumble on top!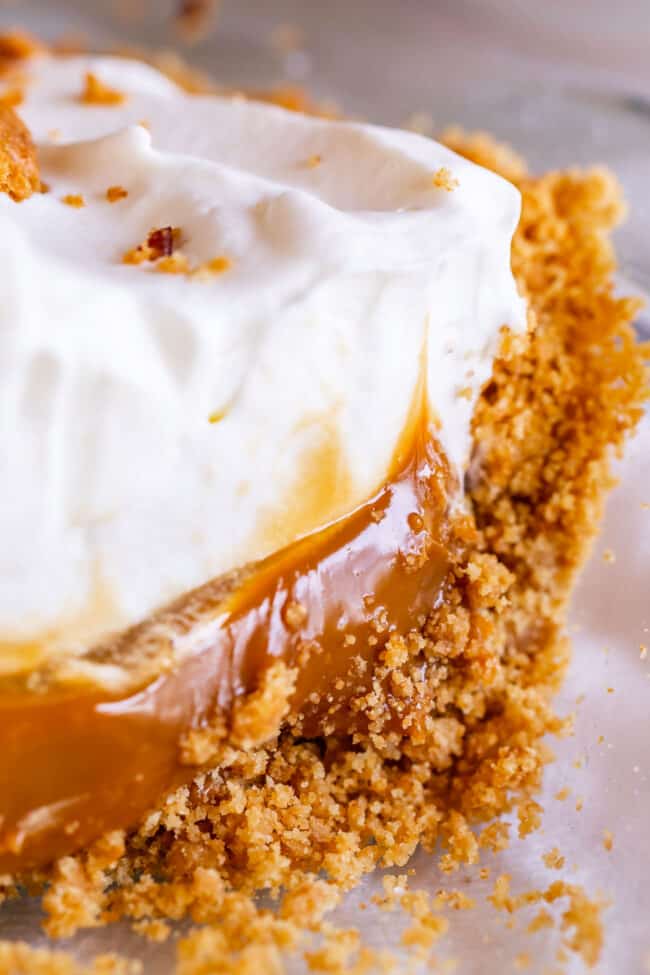 I had a really detailed dream last night about my dream house. It was this country farmhouse that was really cool, but also really old and in need of some serious renovation. What gives, subconscious?? I can't even get a completed dream house in my dreams!?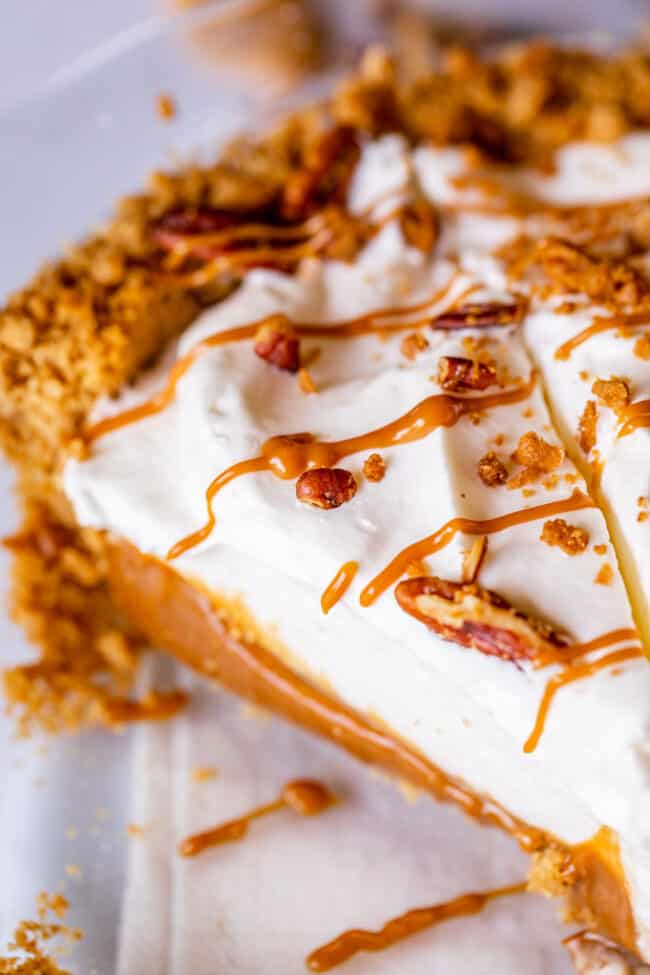 The vivid dreams are one of the weirdest parts about being pregnant. I normally never (ever) remember my dreams, but that all goes out the window when you're pregnant. It's so weird waking up every day feeling like you were just in the middle of a movie or something. (A crappy movie, in this case.)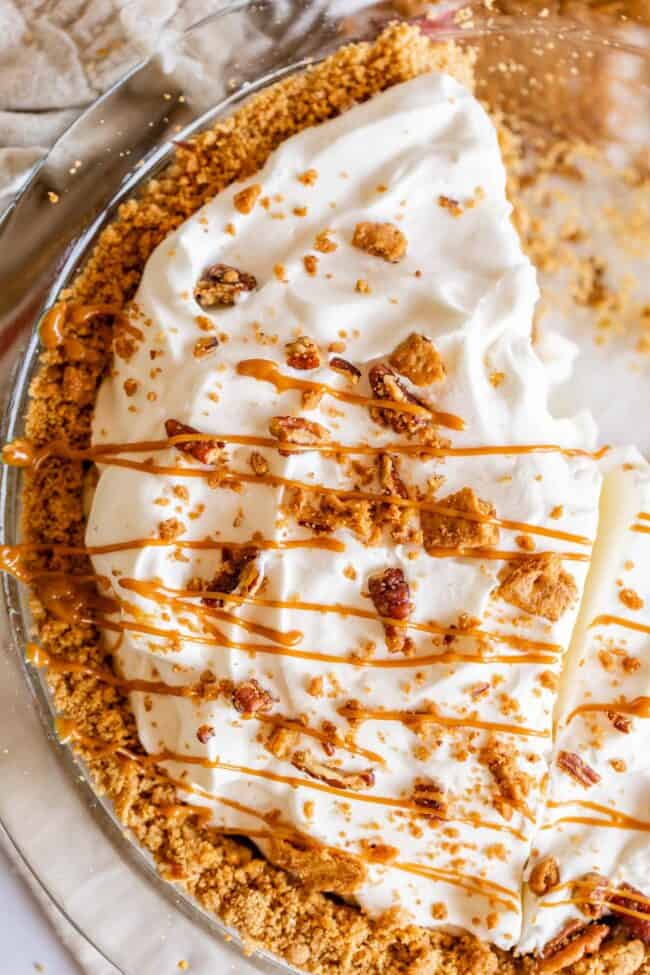 Well folks, we are almost exactly 6 weeks out from Christmas! I like to freak people out a bit by telling them exactly how long they have to get their ish together and prep for all the holiday cheer. This baby is due just a few days before Christmas so trust me when I say the countdown is ON. I'm skipping Thanksgiving decor this year and decorating for Christmas this week, because what if the baby comes early and then I can't decorate at all?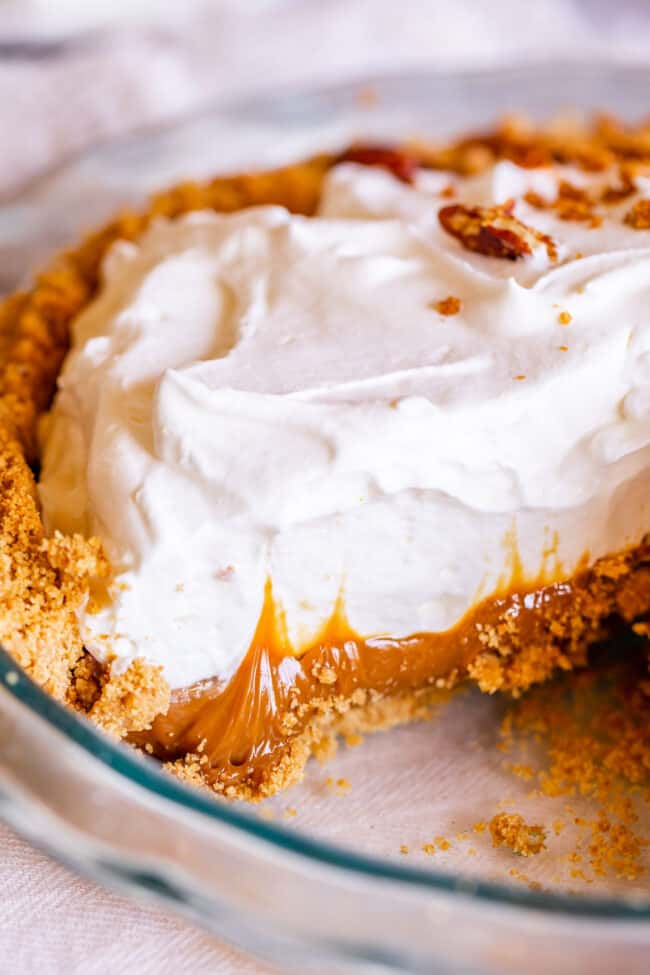 But don't worry, even with all the Christmas prep going on around here, I haven't forgotten about Thanksgiving! One of the best food holidays of the year if you ask me! I am sending out ALL of my favorite Thanksgiving recipes to my email subscribers in the coming weeks to help prepare for the big day, so if you aren't on my email list, sign up now so you don't miss out!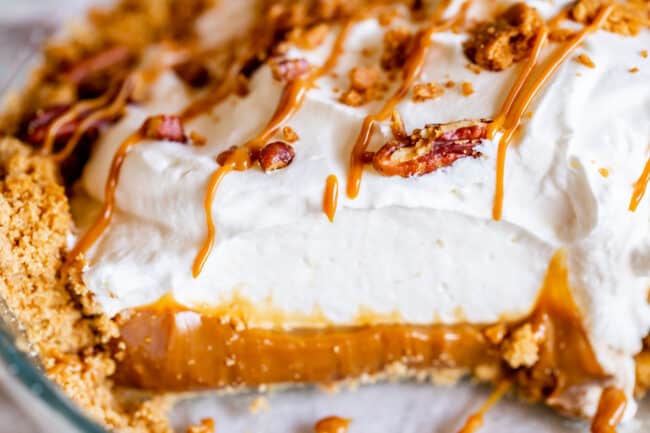 First up: PIE.
Dulce de leche makes one heck of a pie
Here's the first pie I'll tell you to make this Thanksgiving: Dulce de Leche Cream Pie. This recipe is so simple it barely counts as a recipe. There are four parts: a thick graham cracker crust, salted dulce de leche filling, whipped cream, and pecan-graham-crunch topping that you are going to want to eat in a bowl like cereal. But don't, save it for the pie, trust me. (unless you have leftovers. Then cereal it up.)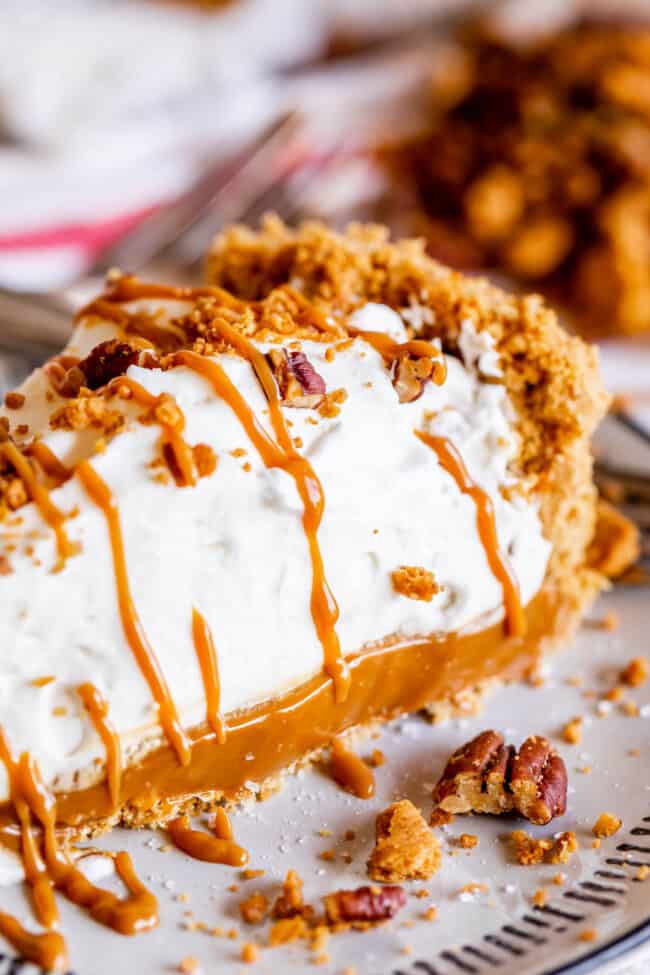 I wrote an entire post earlier this week about How to Make Dulce de Leche (click here) from a can of sweetened condensed milk. You can do it in the Instant Pot in 40 minutes, on the stovetop in 3 hours, or in a slow cooker in 8 hours. You literally throw cans of unopened sweetened condensed milk in a pot of water and let them boil for a while; it could not be more simple.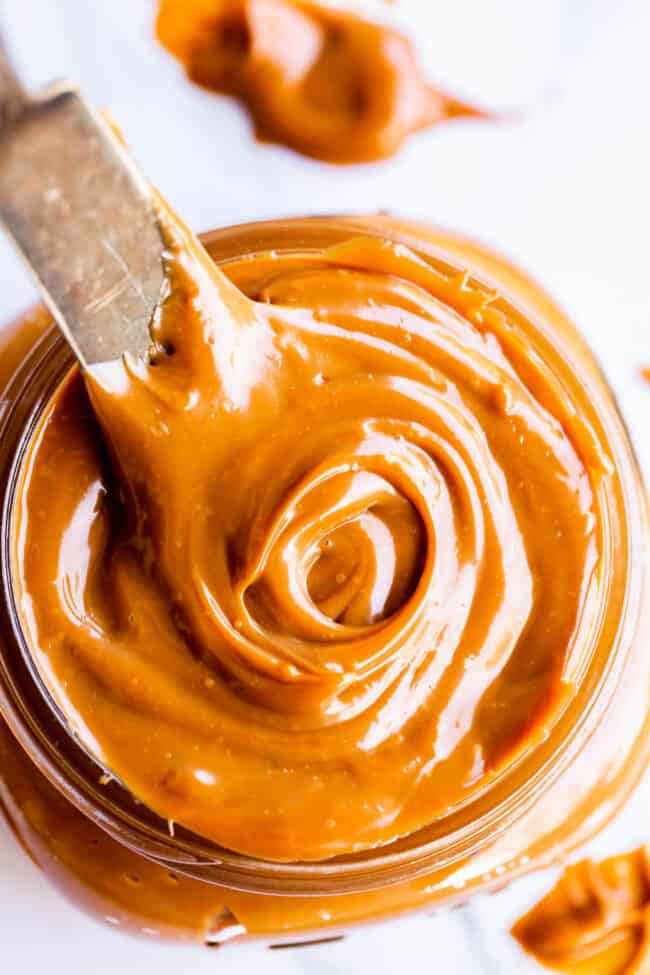 Dulce de leche is similar to caramel but has a more mellow, butterscotch-toffee like flavor. It's great as a pie filling because it is so much thicker than caramel. It will not ooze out of your slice after you cut into your pie. The consistency is more like peanut butter.
How to Make Dulce de Leche Pie

First start with a simple graham cracker crust. We are making a SUPER thick graham cracker crust for this pie, because well, aren't we all about the crust?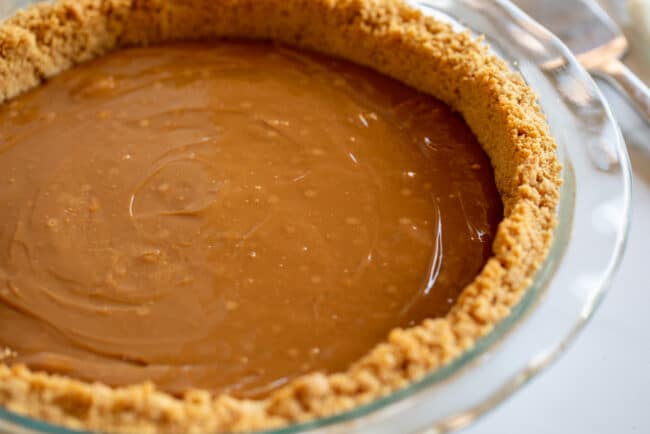 Next add a layer of salted dulce de leche. Just like everyone loves salted caramel, the salt brings out the rich flavor of the dulce de leche and really takes it up a notch. Use flaky sea salt, or any kind of salt that has bigger grains or flakes (not table salt) so that you get little punch of flavor every now and then instead of it being infused in.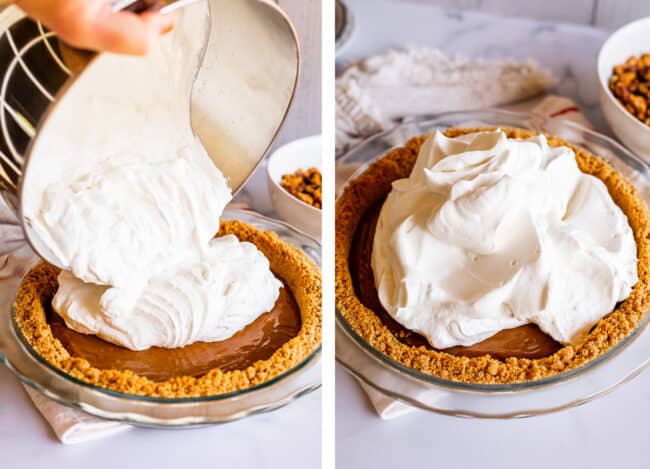 Then we add the mountain of whipped cream! Normally I like to sweeten my whipped cream with a healthy amount of powdered sugar, but since we are pairing this with straight up dulce de leche, it doesn't need as much. 2-4 tablespoons is really all you need, taste it as you go to see what you like. A splash of vanilla and you are good to go. If you REALLY wanted to make this the easiest pie ever, you could add Cool Whip instead of fresh cream. No judging here :) but whipped cream only takes a few minutes and I think it tastes so much better. You do you though. Sometimes you just gotta git er done.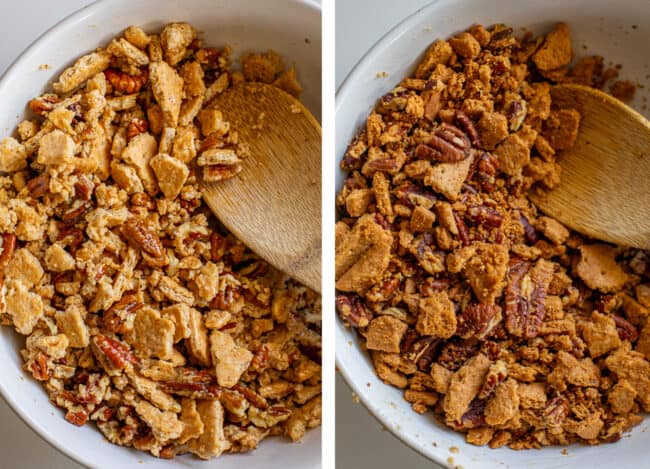 And lastly, the Pecan Graham Crumble. This sounds way fancier than it is. We are literally just crunching up some pecans and graham crackers together, dousing it in butter, and baking it until it gets nice and crispy.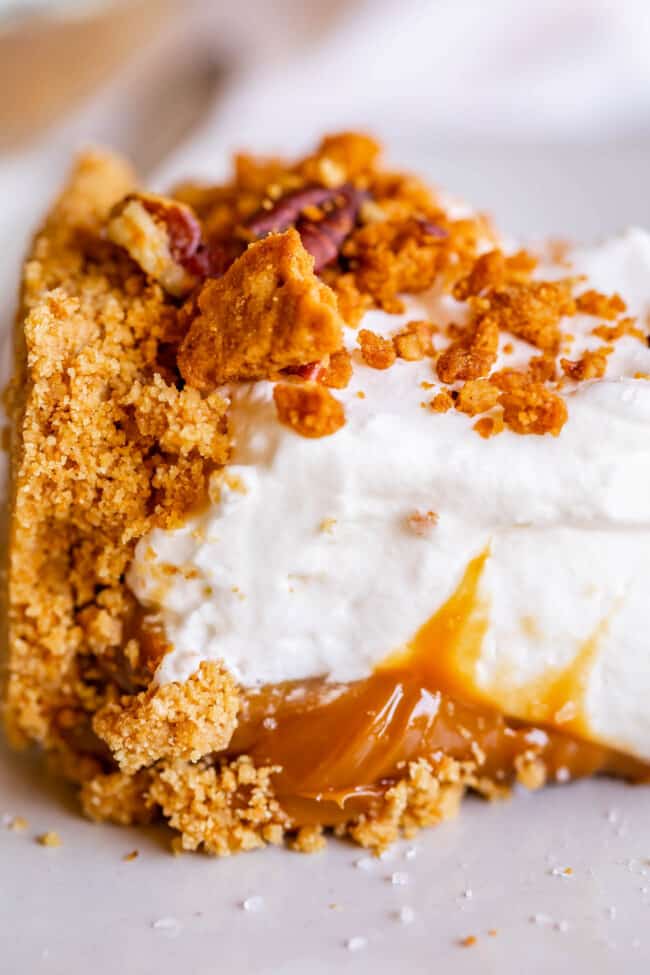 It's so easy, and if you want to double this part of the recipe and save the leftovers for topping your ice cream, you would be very smart indeed. I ended up with a ton of this (still have some) because the first time I made it I totally over baked it. Too browned for blog photos, but not enough that we didn't eat it! I really am going to market this stuff as cereal here pretty soon.
Happy Thanksgiving menu planning everyone!
More pies for Thanksgiving that you will love!
How to Make Dulce de Leche (Slow Cooker, Stovetop, Instant Pot) << here's the recipe you need to make the dulce de leche for today's pie! Also I like to just eat it with a spoon…
The Best Zesty Key Lime Pie Recipe << I just posted this one and I'm still obsessed!
Butterscotch Pie with Meringue Topping << butterscotch custard and a tall meringue topping! Simple and delicious!
Classic French Silk Pie with Really Thick Graham Cracker Crust << see, I'm all about the crust.
Crème Brulée Pumpkin Pie << you will never go back to non-bruléed pie again!
Chocolate Honey Chiffon Pie << this is one of my favorite pies of all time.
Apple Custard Pie with Cinnamon Streusel << the only way I will eat apple pie.
Cheesecake Pecan Pie << who could say no to this combo??
Cranberry Custard Pie << a holiday favorite! I'm a sucker for cranberries.
Salted Chocolate Caramel Tart from Brown Eyed Baker
Chocolate Chess Pie with Graham Cracker Crust from Crazy for Crust
No Bake Oreo Pie from Oh Sweet Basil
Facebook | Pinterest | Instagram

Dulce de Leche Cream Pie with Pecan-Graham Crumble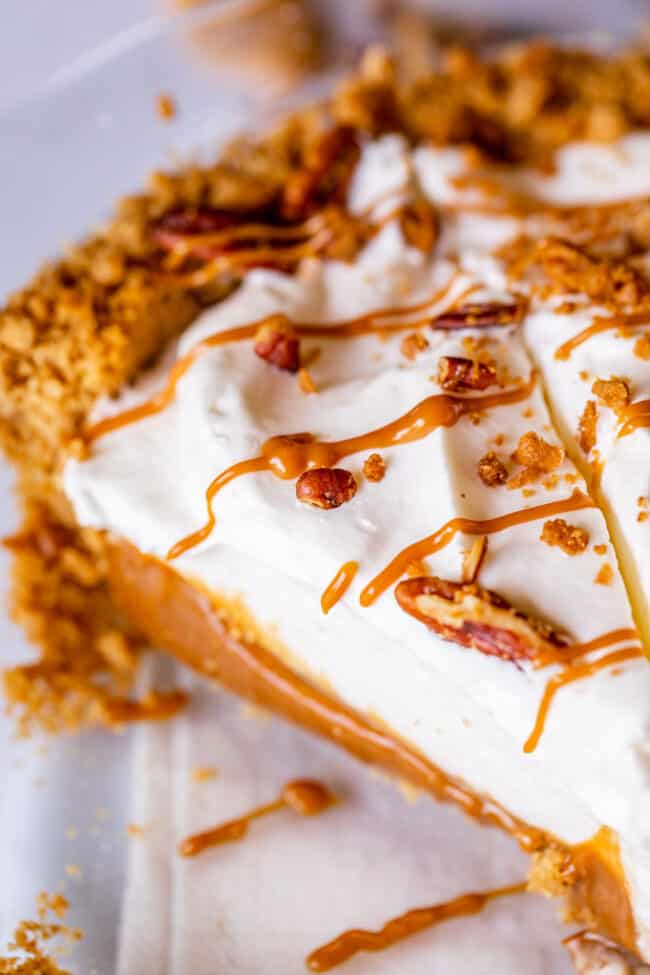 This Dulce de Leche Cream Pie is a really impressive Thanksgiving (or anytime) dessert you can make with very little effort! It is so easy and is a huge crowd pleaser. Who can say no to sweet caramel-like filling and mountains of whipped cream? And don't forget the crunchy Pecan-Graham Crumble on top!
Ingredients
For the dulce de leche
2 (14-oz)

cans

sweetened condensed milk*

1/2

teaspoon

flaked sea salt

,

fleur de sel
For the crust
2 & 1/4

cups

graham cracker crumbs**

2

tablespoons

sugar

1/4

teaspoon

salt

,

any kind

7

tablespoons

butter

,

melted
For the Pecan-Graham Crumble
6

full sheets

graham cracker

3/4

cup

pecans

1/4

cup

butter

,

melted (half stick)
For the whipped cream
2

cups

heavy cream

,

very cold

2-4

tablespoons

powdered sugar

1 & 1/2

teaspoons

vanilla

more

dulce de leche

,

to drizzle* (or salted caramel topping), optional
Instructions
Make Homemade Dulce de Leche (click here)

from the 2 cans of sweetened condensed milk. I have

an entire post

dedicated to how to do this! It's so easy. You can do it in 40 minutes in

the Instant Pot

, 3 hours on the stovetop, or 8 hours in the slow cooker. OR, if you live in a place where you can find pre-made canned Dulce de Leche in the store (usually sold right next to the sweetened condensed milk) you can use two cans of that.

Open your 2 cans of dulce de leche and scrape it all into a bowl. Stir out any lumps with a whisk. Stir in 1/2 teaspoon flaky sea salt, or add salt to taste. Set aside if your graham cracker crust is not done.

Meanwhile, make the crust. Preheat the oven to 350 degrees F.

Crush 13.5 full size sheets of graham crackers in a large food processor until fine, to make 2 and 1/4 cups. (You can also add the graham crackers to a ziplock and crush with a rolling pin.)

Add 2 tablespoons sugar and 1/4 teaspoon salt to the food processor (or add it all to a bowl and combine)

Add 7 tablespoons melted butter to the food processor and pulse to combine throughly, scraping the sides. (or add butter to the bowl and combine.)

Press the graham mixture into the bottom and up the sides of

a 9 inch pie pan

. I like to use a glass or a measuring cup to press the graham mixture into the corners. Make sure the crust around the edge goes up at least 1 inch.

Bake the crust at 350 for 10 minutes. (Leave the oven on to make the Pecan-Graham Crumble) Let cool completely. After it's cooled at least 10-15 minutes from the oven, you can put it in the fridge or freezer to chill if you are in a hurry.

Pour the salted dulce de leche into your cooled graham cracker pie crust and smooth out the top. Cover the pie tightly with plastic wrap and refrigerate 2-4 hours until completely chilled. (If your dulce de leche was warm when you put it into your pie crust, your pie will obviously take longer to chill!)

Meanwhile, prepare the Pecan Graham Crumble. Preheat your oven to 350 degrees F if it's not already on. Add 6 full-size sheets of graham cracker to a large ziplock, along with 3/4 cup pecans. Use a rolling pin or something else heavy to roughly crush the grahams and pecans. See photos, but really how coarse you crush them is up to you and how you will like it on your pie.

Melt 1/4 cup of butter in a medium bowl. Add the pecan and graham cracker crumbles and stir together so that it's all coated in butter.

Spread the mixture out onto a baking sheet. Bake at 350, stirring every 3-4 minutes. Leave it in for a total of 9-12 minutes, or until it is as crispy and browned and you like it. Keep an eye on it so it doesn't burn! Remove from the oven and let cool completely.

Make the whipped cream. When your pie is chilled and you are ready to serve it, add 2 cups of cream to a large bowl or stand mixer.

Add 2 tablespoons powdered sugar and 1 and 1/2 teaspoons vanilla.

Beat on high for 2-5 minutes until soft peaks form. The more powerful your mixer, the shorter amount of time it will take. Taste it and add a little more powdered sugar if you like, keeping in mind that you are pairing it with very sweet dulce de leche.

Pour all the whipped cream on top of the dulce de leche.

Sprinkle with the Pecan-Graham crumble. Reserve some for topping individual slices, if you want.

Drizzle with salted caramel, or additional dulce de leche from a 3rd can. (To get a nice drizzling consistency, warm about 1/2 cup of dulce de leche in the microwave until it is smooth, and then stir in 1 tablespoon of cream or milk at a time until it is a consistency you like.)

Store this pie in the fridge! See notes for make ahead instructions.
Notes
*You need 2 cans of dulce de leche just to go in the pie. I drizzled extra dulce de leche (warmed and thinned with cream) to the top of my pie. This is optional. You will need to turn 3 cans of sweetened condensed milk into dulce de leche if you want a drizzle for the top. OR you can just drizzle the pie with salted caramel topping.
**This is exactly one and a half packages, or 13.5 full graham cracker sheets from a 14 ounce box. No need to measure; add one full package (9 full sheets), then open another package, break it in half and toss it in. (I recently bought the family size pack and found out that those graham crackers are a completely different size (a bit smaller). So you will have to measure out the crumbs if you buy a family size pack.)
Make ahead instructions: This pie can be made in advance. Follow instructions through step 12. Cover the pie well and chill for up to 3 days. Store the Pecan Graham Crumble covered on the counter for up to 5 days.
I prefer to wait until the last minute to add the whipped cream since it takes hardly any time to put together, but if you are taking the pie to an event or something, you can add the whipped cream a few hours ahead of time. Whipped cream tends to deflate after a while, so the closer you can whip it to serving time, the better. Do not add the Pecan Graham Crumble until just before serving, or it will get soggy.
Nutrition
Serving:
1
g
|
Calories:
893
kcal
|
Carbohydrates:
88
g
|
Protein:
12
g
|
Fat:
56
g
|
Saturated Fat:
30
g
|
Polyunsaturated Fat:
4
g
|
Monounsaturated Fat:
18
g
|
Trans Fat:
1
g
|
Cholesterol:
157
mg
|
Sodium:
730
mg
|
Potassium:
517
mg
|
Fiber:
2
g
|
Sugar:
67
g
|
Vitamin A:
1628
IU
|
Vitamin C:
3
mg
|
Calcium:
359
mg
|
Iron:
2
mg