These are simply the BEST homemade waffles, guys. I've been making this classic waffle recipe for 10 years. They are quick to put together and the ingredients are pantry staples. They are crispy on the outside, and soft and fluffy on the inside!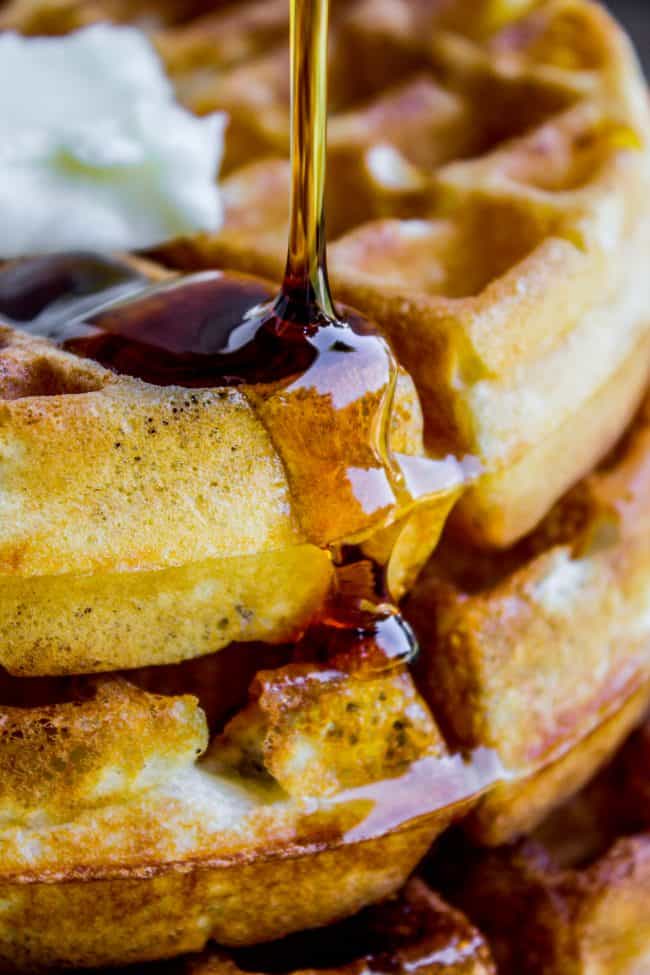 This post was originally published on February 24, 2012. Here's what was on my mind back in the day:
Eric and I went to see a guest pianist at BYU last weekend. We got there a couple minutes late, so we had to wait outside the entrance until we heard applause, so as to not interrupt. There were a few other people waiting with us, including a couple on what must have been a first date. This is how I could tell:
Girl: I like the Renaissance.
Boy: Oh yeah? What do you like about it? The art?
Girl: No, mostly, like, the chivalry . . . and the style.
Boy: So should I call you m'lady for the rest of the night?
Girl: No.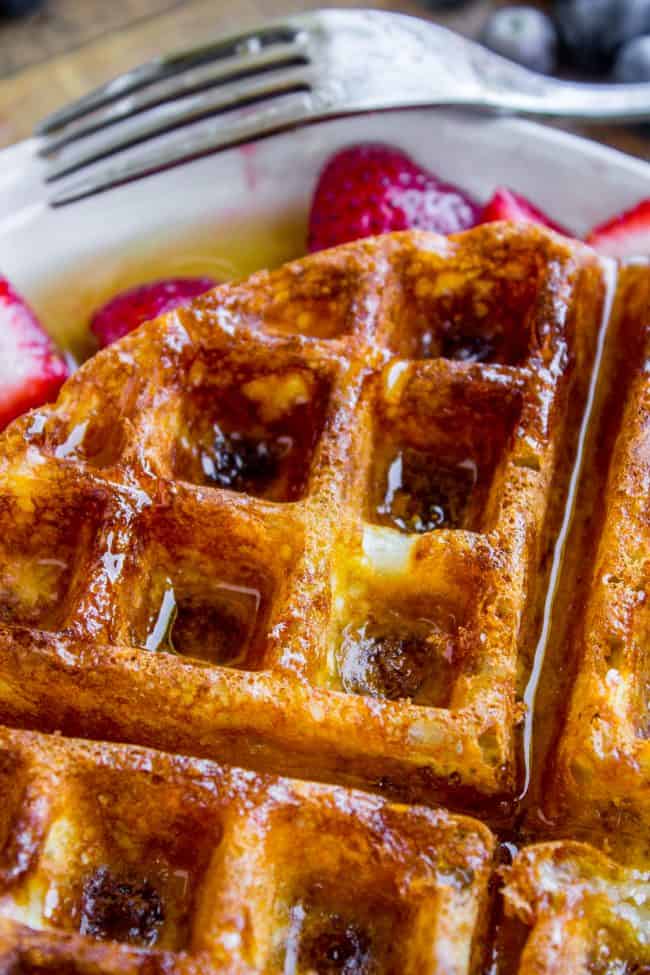 Yikes. It's so fun to eavesdrop on other couples' awkward date conversations. Makes me glad I am happily married, so instead of lame discussions about, like, Renaissance chivalry, we can talk about the consistency of Charlotte's diaper content that day, and come to a conclusion about whether or not she has diarrhea.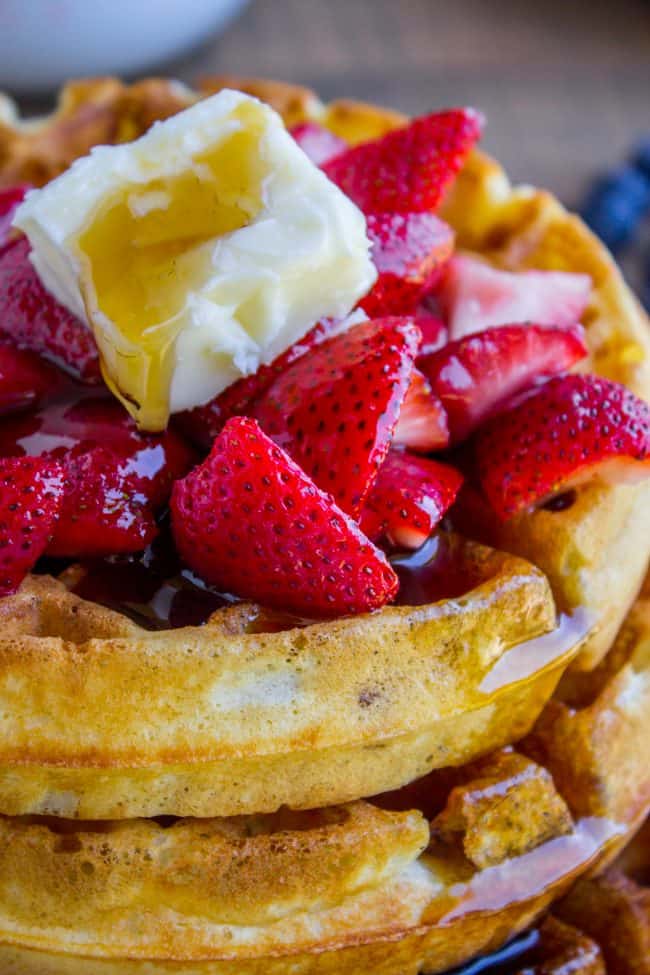 This is another fabulous recipe from Eric's mom, dictated to him over the phone on one of our first dates. Eric wrote the waffle recipe down wrong and we accidentally left out a full cup of milk. Definitely don't do that.
They are the best waffles I have ever tasted. Waffles are always appropriate, day or night, rain or shine. To quote from Parks and Recreation:
Leslie (eating a waffle piled with whipped cream up to her chin): Why would anybody ever eat anything besides breakfast food?
Ron (eating an entire plate of bacon): People are idiots, Leslie.
Hear, hear.
How to make this homemade waffle recipe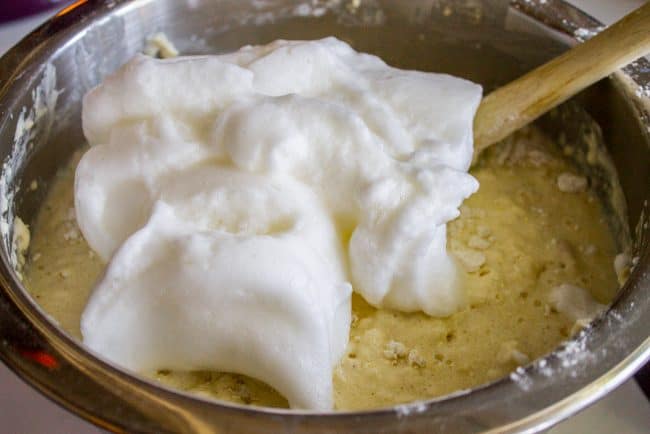 Get those egg whites nice and stiff!! Fluffy waffles ftw!

Here's what happens if you overfill your waffle maker. Don't be like me.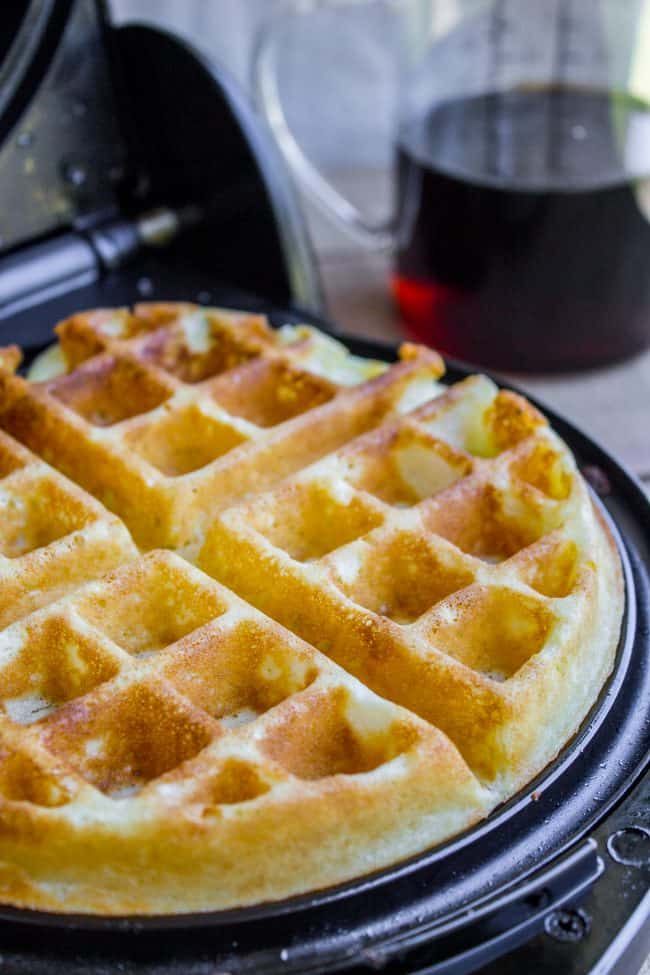 UPDATE July 2018: Here we are 10 years after messing up this recipe the first time, and these waffles are still a stand by in our house. We made them just last Saturday, and Eric said, why don't you reshoot these? The world needs to know about the best waffles.
Someone gave us a waffle iron for our wedding that had this ingenious function of being able to remove the iron part from the electrical mechanisms so that you could clean it easier. They were held up with these metal clasp things. Except that eventually they got worn out, so the burning hot irons would fall on your hands when you were trying to get out a waffle.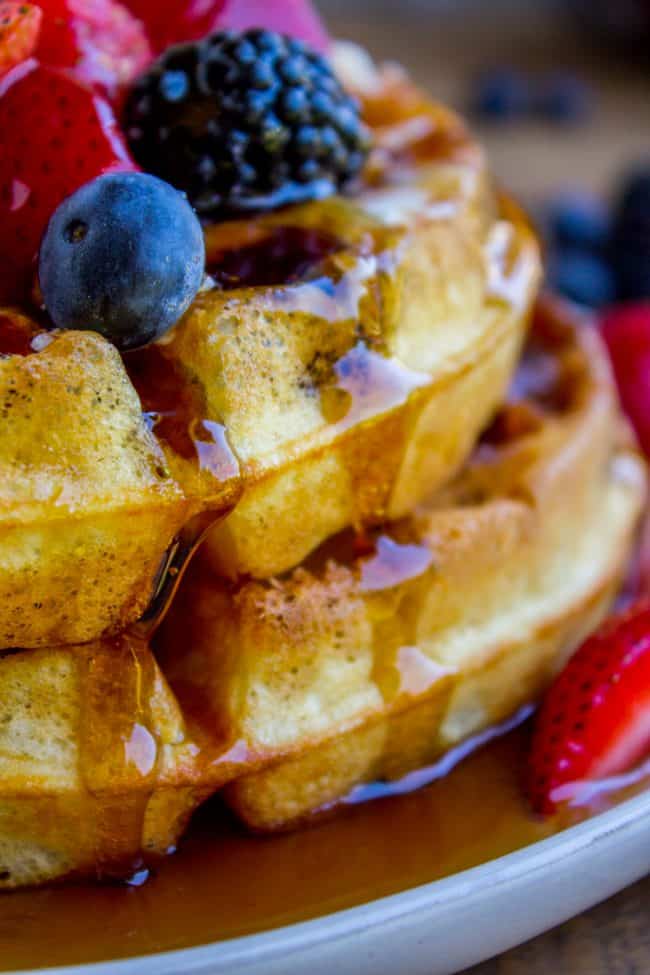 So a few years ago we finally bought a new waffle iron and I did my research. I wanted a good Belgian style one. I decided on this Presto Flipside waffle maker: you flip the whole iron over after you pour in the batter, just like the waffle irons you see in hotels with complimentary breakfast. I love this iron and it hasn't failed me yet!
Besides a decent waffle iron, there are a few tips that are going to take your waffles from good to amazing. The first is to warm the milk (or buttermilk) when you melt the butter. Just put both in the same bowl and microwave it. Have you ever added cold milk to melted butter and watched little butter solids form from the temperature change? When you warm the milk, it mixes completely, giving a better texture.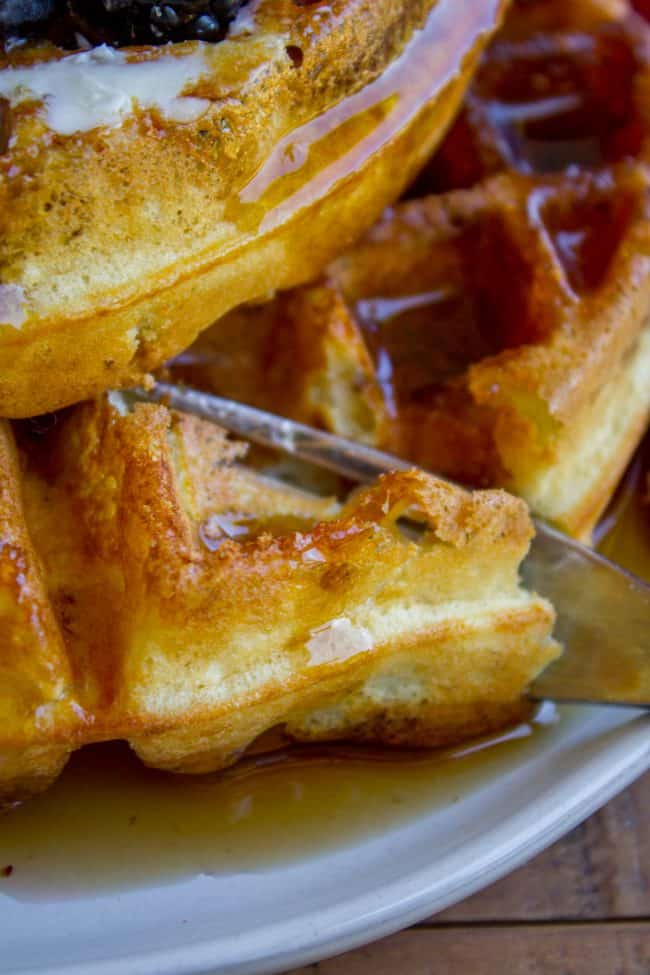 The other tip, that is the oldest in the book, is to whip the egg whites and add them last. This makes for the FLUFFIEST waffles ever!! I know it's annoying to get another bowl dirty, but I'm telling you it's worth it. You need three bowls for this recipe but one of them will just have dry ingredients and you can wipe it out and put it back in the cupboard. I'm lazy like that. So really it's only a 2 bowl recipe.
Here are some topping ideas:
Easy Homemade Maple Syrup (another classic from Eric's mom)
The Best Lemon Curd
Cinnamon Honey Butter
Coconut Syrup!!
Fresh Strawberry Topping
Just for old time's sake, here's the original photo of this same waffle recipe that I posted back in 2012. Boy time flies: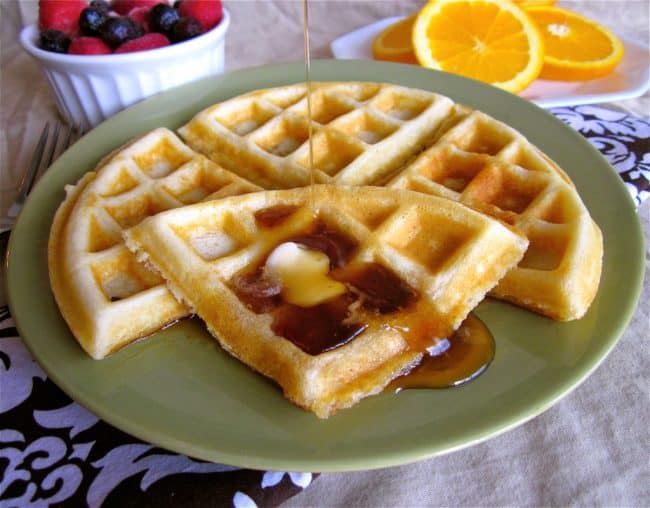 Facebook | Pinterest | Instagram
One year ago: Buffalo Chicken Zucchini Boats
Four years ago: Nutella-Swirled Vanilla Ice Cream with Reese's Style Chunks
Six years ago: Mint Oreo Cupcakes

Classic Waffles Recipe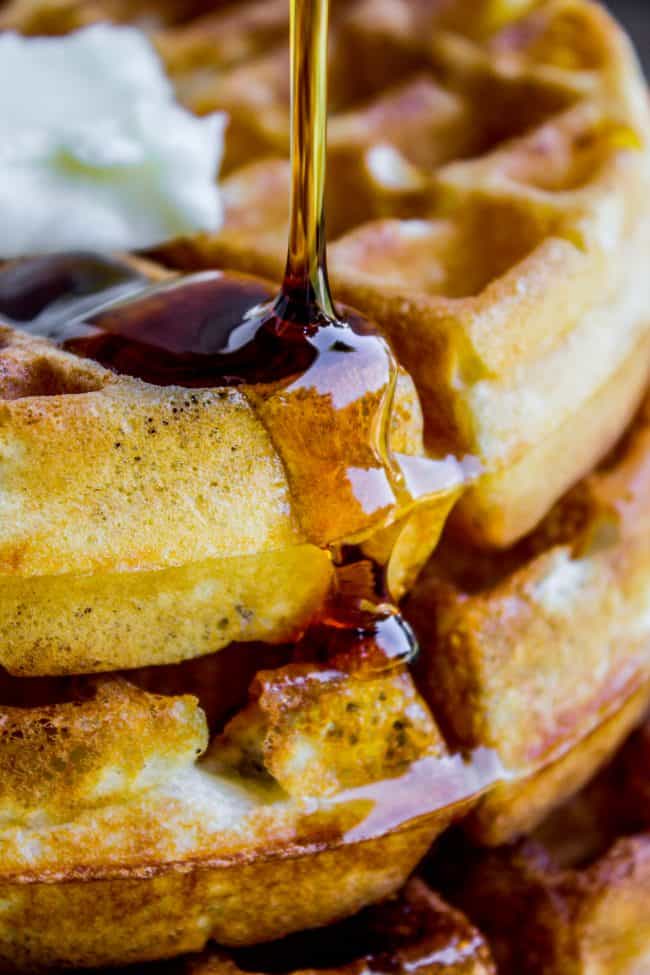 These are simply the BEST homemade waffles, guys. I've been making this classic waffle recipe for 10 years. They are quick to put together and the ingredients are pantry staples. They are crispy on the outside, and soft and fluffy on the inside!
Ingredients
1/2

cup

butter

,

(1 stick)*

1 & 3/4

cup

whole milk

,

or buttermilk

1

teaspoon

vanilla extract

1 & 3/4

cup

all purpose flour

,

spooned and leveled

1/4

cup

granulated sugar

1

tablespoon

baking powder

1/2

teaspoon

salt

2

eggs

,

separated
Instructions
In a large microwaveable bowl, add the stick of butter and the buttermilk or milk. Microwave for 1-2 minutes, until the butter is about halfway melted. Take it out and stir until the butter melts completely.

Add the vanilla.

In a medium bowl, whisk together flour, sugar, baking powder, and salt.

Separate the eggs and add the whites to a stand mixer or a medium bowl.

Add the yolks to the wet ingredients and stir until combined.

Add the dry ingredients to the wet ingredients and stir gently. Don't overdo it! You want to stop mixing when you can still see a few streaks of flour. (Wipe out the dry bowl and put it back in your cupboard.)

Beat the eggs white until stiff peaks form, about 2-5 minutes. Start heating up your waffle iron.

Fold the egg whites into the batter. Do not over mix. Stir until it is barely incorporated, but make sure there are no giant lumps of dry ingredients or parts of the batter that look very soupy.

Pour batter into a

and cook according to waffle iron instructions. Usually it takes 2-4 minutes per waffle.

If you are not eating these right away, or want to serve a group at the same time, heat your oven to 170 degrees F. (sometimes called "keep warm"). Place a cooling rack in your oven and put the cooked waffles on the cooling rack. This way they won't get soggy before you serve them.

To reheat these waffles, use the toaster! These waffles also freeze beautifully. Double or triple the batch, throw the extras in a ziplock in the freezer, and have waffles any time you like. (Thaw on the counter and then toast.)
Notes
*You can substitute the butter for oil if you want. I like to use light olive oil, but you can also use vegetable oil. You will sacrifice some flavor if you use oil.
Source: This recipe is from my mother-in-law Kris! She is the breakfast queen!
Nutrition
Serving:
1
g
|
Calories:
552
kcal
|
Carbohydrates:
60
g
|
Protein:
12
g
|
Fat:
29
g
|
Saturated Fat:
17
g
|
Polyunsaturated Fat:
2
g
|
Monounsaturated Fat:
8
g
|
Trans Fat:
1
g
|
Cholesterol:
154
mg
|
Sodium:
890
mg
|
Potassium:
239
mg
|
Fiber:
1
g
|
Sugar:
18
g
|
Vitamin A:
1001
IU
|
Calcium:
325
mg
|
Iron:
3
mg
More breakfast recipes you will love!
Liege Waffles with Pearl Sugar << Have you tried these yet? You MUST!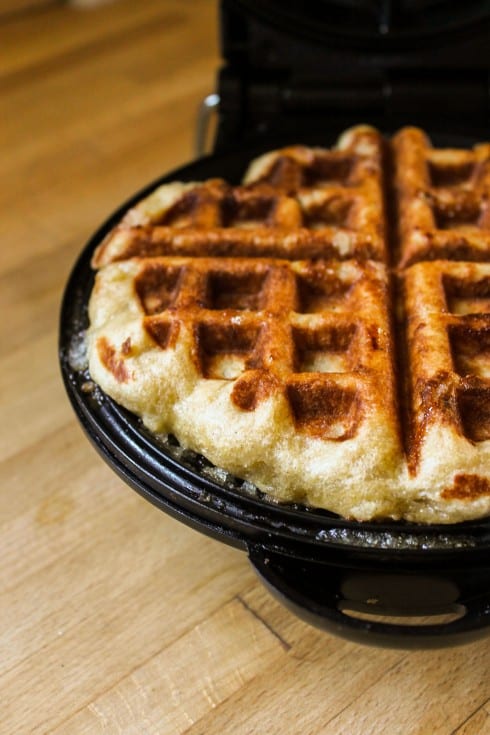 Dark Chocolate Waffles with Ganache and Strawberries << sooo decadent.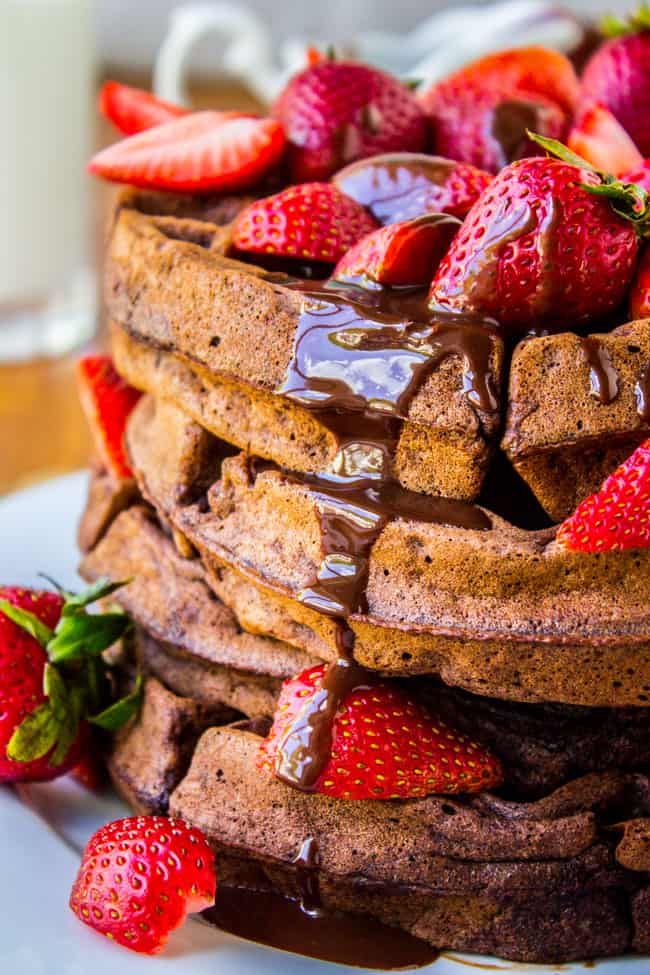 And if waffles aren't your thing…these are the Best Pancakes I Have EVER Made!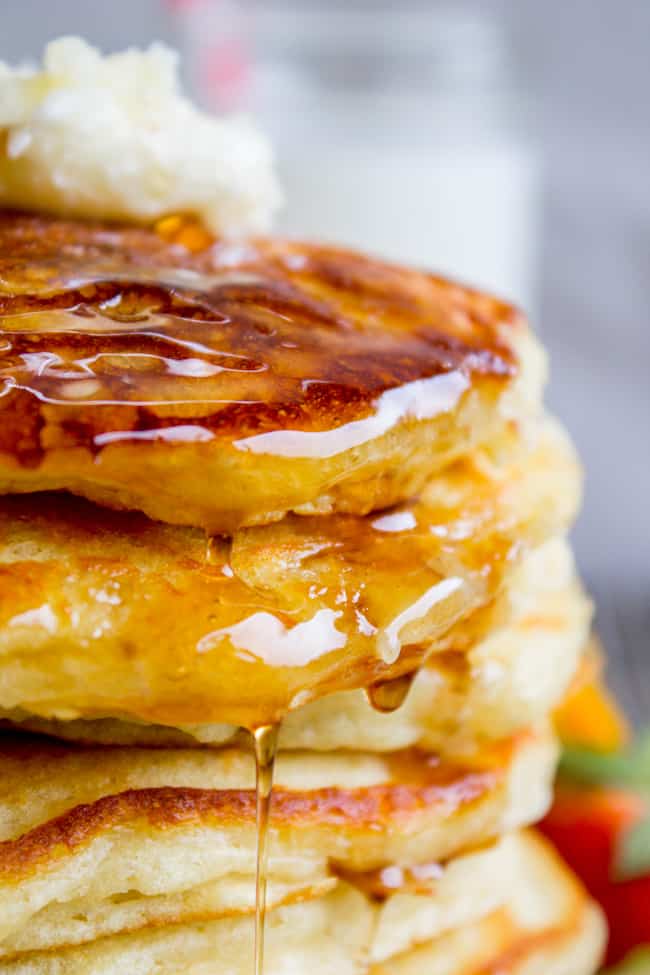 More great waffle recipes from friends!
Strawberry Shortcake Waffles from Well Plated
Light and Fluffy Whole Wheat Waffles from Barbara Bakes
Brownie Waffles from Rachel Cooks