This Coconut Syrup is just like the kind they serve over pancakes and waffles in Hawaii! It is thick and rich and supremely coconut-y. Plus: stupid easy. Perfect for a lazy Mother's Day!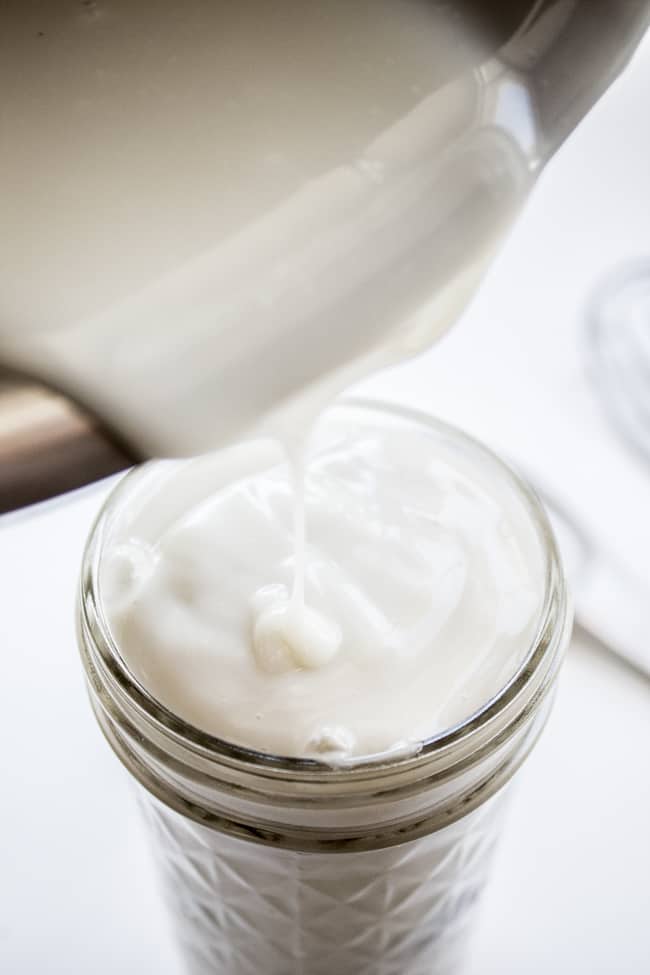 I got coconut syrup in my hair today. In my bangs, actually. Apparently I run my fingers through my bangs to sweep them out of my eyes like every 10 seconds. I never really noticed that I did this before, but it's hard not to take note when your fingers keep getting caught in the now-dried, hours-old coconut syrup that you still haven't washed out of your hair.
This is probably why I get looks at the grocery store. Not only are my children disheveled, but their mother looks like someone who's been playing with her food. Shamefully accurate.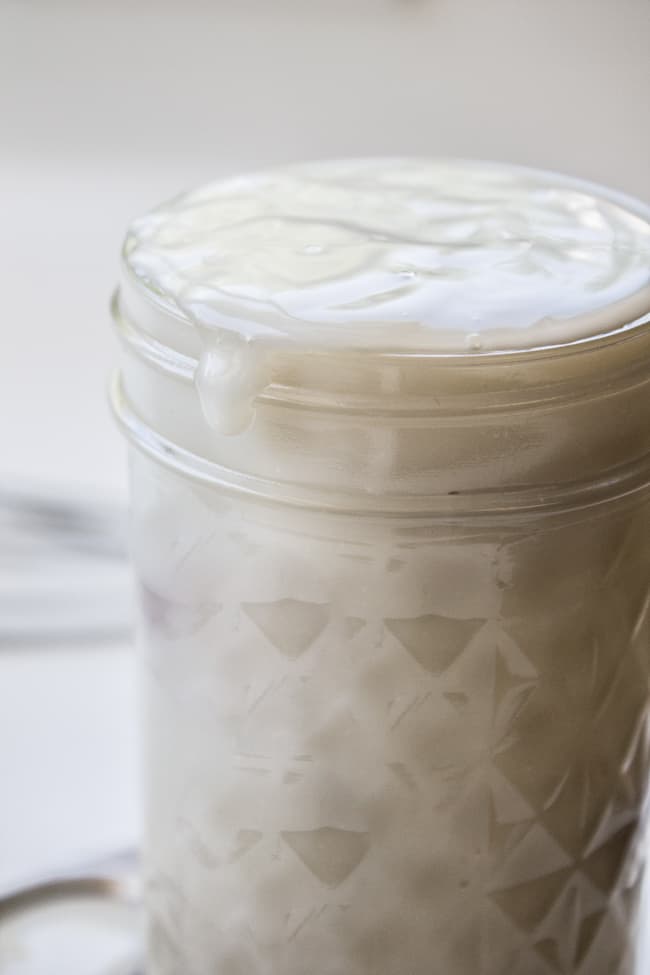 I probably had BBQ sauce or frosting on my face the other day at the store, too. It would explain why my cashier was checking out my kids to see if she needed to call the cops. I had my nephew with me, who had had a nasty run-in with the edge of a counter. The first day I saw it, it was just a knot with a split down the middle, right on his temple. By the time we went on our grocery trip a day later, it had morphed into a full-on black eye. It looked pretty gnarly. Poor kid.
The checkout lady asked what happened of course, and I told her. Then she turned her attention to my son Truman, who needed a haircut so bad that his eyes were literally covered in hair. But she still managed to spot his little strawberry patch right between his eyebrows. "Oh, did he fall too?" NO I SWEAR IT'S A BIRTHMARK!! THIS BLACK-EYED KID ISN'T EVEN MINE! I'M INNOCENT!! Just ignore the syrup-bangs please.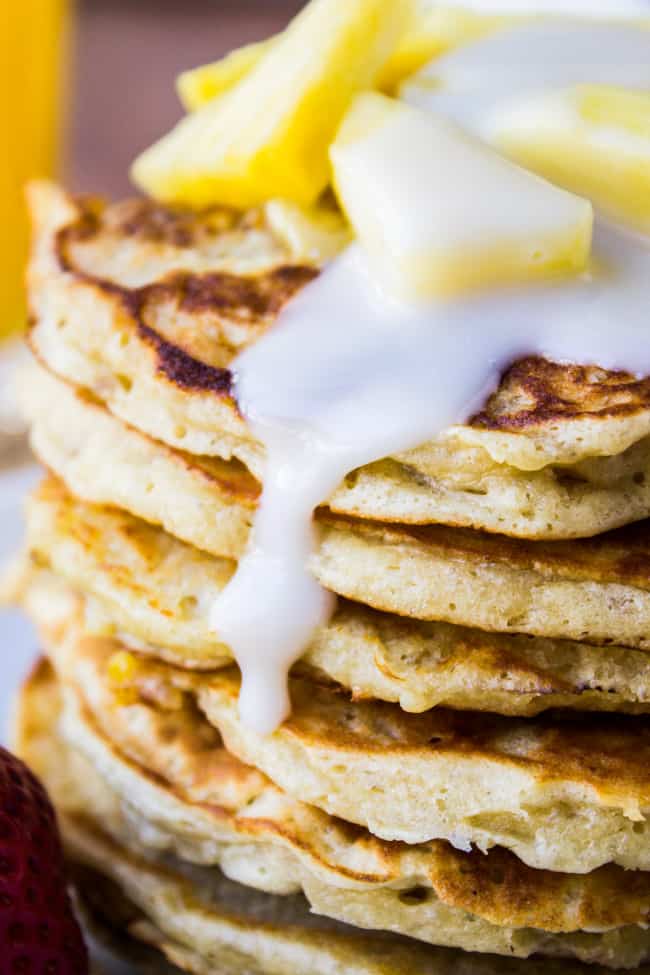 This Coconut Syrup Recipe takes me right back to Hawaii
Have you been to Hawaii? Eric and I went for our honeymoon, but I want to go back. We didn't get to see a ton because we were on a budget. Eric's parents just went a few weeks ago, and his mom told me about an amazing breakfast she had: Banana Macadamia Pancakes with Coconut Syrup. I did some research, and it seems like Bananacadamia (Let's make this a thing!) pancakes are a popular thing there. I've never had them, but this recipe is so amazing that I can't imagine how they would be better. I mean, besides the fact that there are no beaches or palm trees in sight.
Creative ways to use Hawaiian Coconut Syrup
But first up: the syrup. This coconut syrup gets a whole post to itself, because after trying it I knew I would be using it for more than just Bananacadamia Pancakes. (That recipe will be up on Thursday) (Here it is). I'm thinking Italian Sodas, fruit dip, (Try a banana with this syrup. Or pineapple! So. good.) regular old waffles, jazzing up my oatmeal. What would you put it on? I want to experiment using this with some grilled meat too. Coconut syrup for days!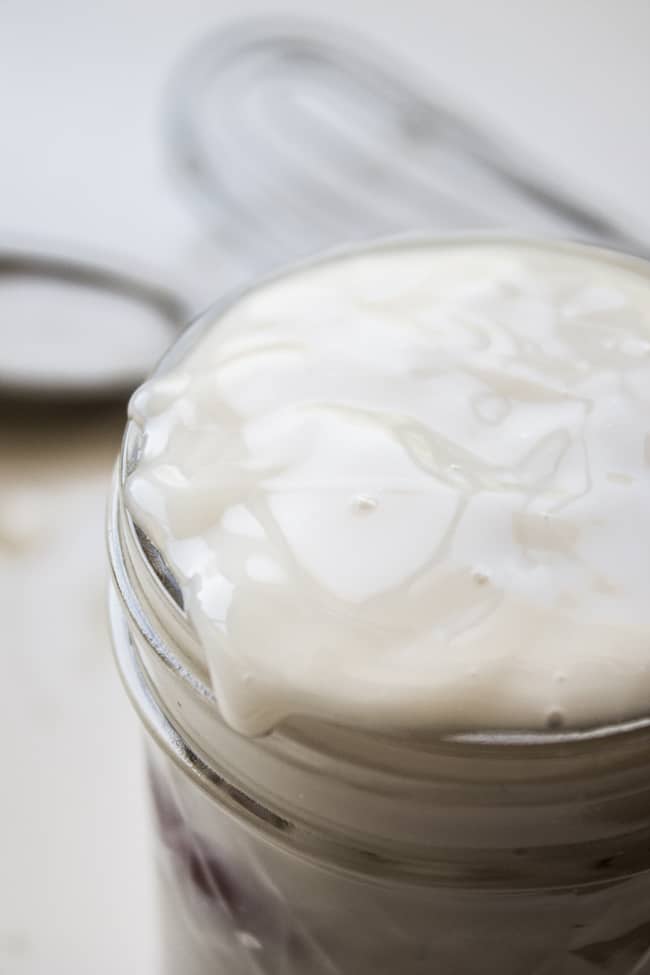 On that note. You should know that I just swiped my fingers through my syrupy bangs again.
P.S. If you want to make the pancakes mentioned and are going shopping before my post goes live on Thursday, the ingredients you'll need for the Banana Macadamia Pancakes (besides regular pancake stuff like flour, baking soda/powder, etc.) are: 2-3 ripe or overripe bananas, 1/2 cup roasted salted macadamia nuts, eggs, butter, and buttermilk. (Here's the link to the pancakes)
Do you guys give up? Or are you thirsty for more?
Facebook | Pinterest | Instagram | Twitter

Coconut Syrup Recipe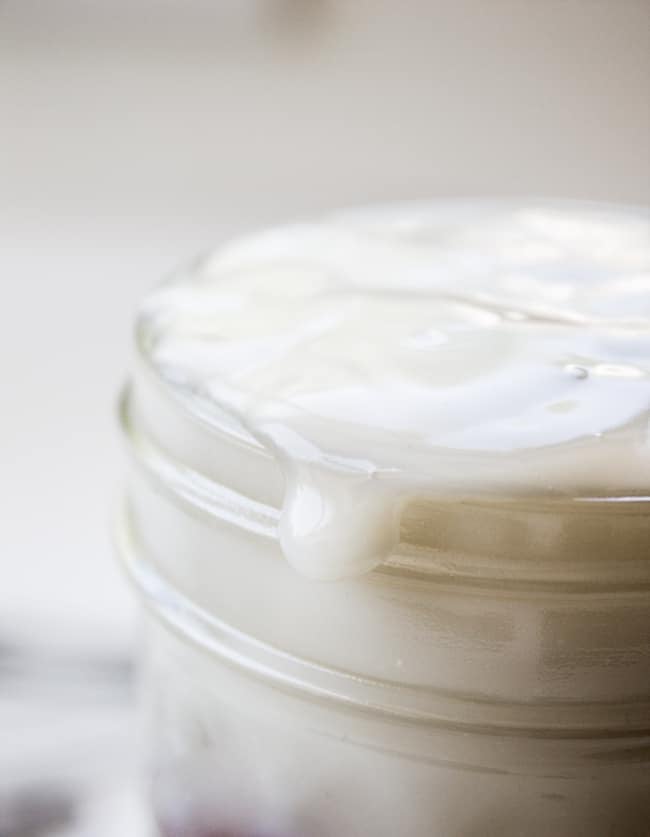 This Coconut Syrup is just like the kind they serve over pancakes and waffles in Hawaii! It is thick and rich and supremely coconut-y. Plus: stupid easy. Perfect for a lazy Mother's Day!
Ingredients
13

ounces

coconut milk

,

not lite

1

tablespoon

cornstarch

1/2

cup

white sugar

1/2

teaspoon

salt

,

or up to 3/4

1

tablespoon

light-colored corn syrup

1

teaspoon

vanilla
Instructions
Open the can of coconut milk. Pour into a small saucepan with the heat turned off. Add the cornstarch and whisk thoroughly.*

Turn the heat to medium once the cornstarch is completely incorporated. Add the sugar, salt, and corn syrup.

Stir very frequently over medium heat until the liquid starts to thicken. If you start to see bubbles from boiling, take it off the heat.

Add the vanilla and stir. The syrup will continue to thicken as it cools.

Serve with your favorite pancakes, waffles, or I bet it would make a great Italian soda or cocktail!
Notes
*Often coconut milk will have separated into a solid of white cream and a watery liquid. If yours has done this, pour the thin liquid into the pan and whisk the cornstarch in before adding the cream. If you add it all at once, the little bits of white cream look exactly like chunks of cornstarch, so it's hard to know if the cornstarch is all whisked in. If in doubt, whisk for a good long minute and you should be safe. If you do end up with chunks of cornstarch (I doubt it), just strain when the syrup is finished.
Nutrition
Serving:
0.25
cup
|
Calories:
152
kcal
|
Carbohydrates:
17
g
|
Protein:
1
g
|
Fat:
10
g
|
Saturated Fat:
9
g
|
Polyunsaturated Fat:
1
g
|
Monounsaturated Fat:
1
g
|
Sodium:
153
mg
|
Potassium:
102
mg
|
Fiber:
1
g
|
Sugar:
15
g
|
Vitamin C:
1
mg
|
Calcium:
9
mg
|
Iron:
2
mg
More Mother's Day brunch ideas!
Gingerbread Pancakes with Lemon Syrup (think outside the Christmas box! These are so good, anytime of the year):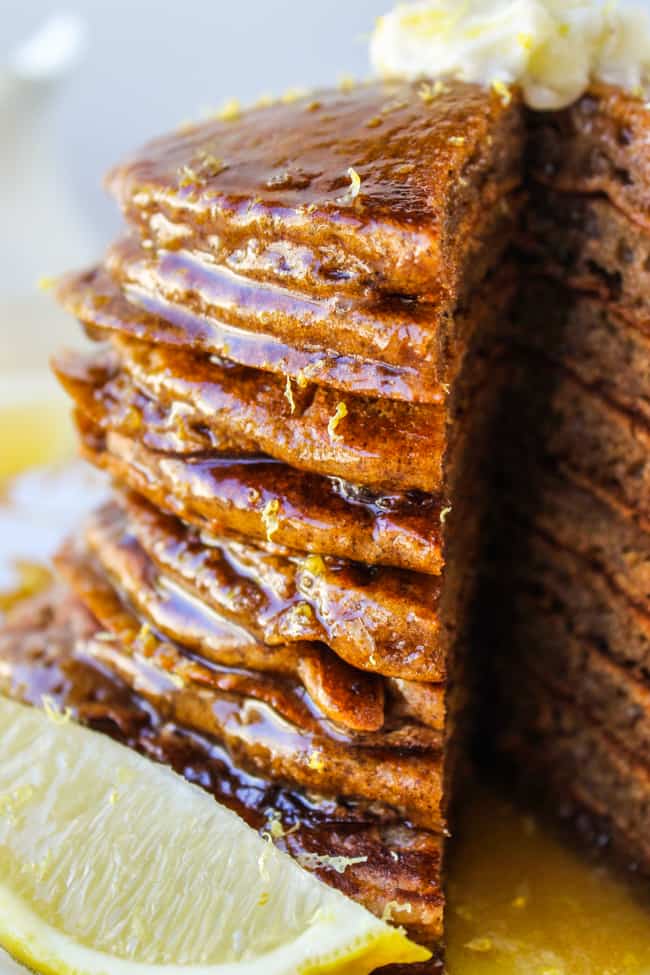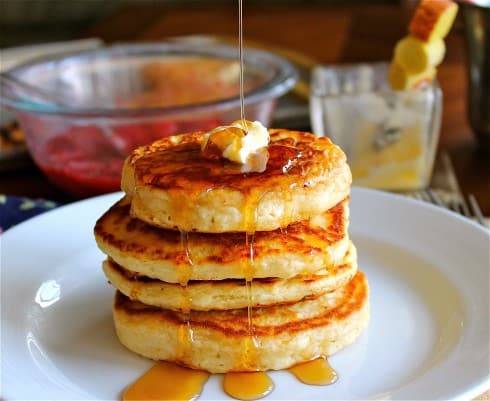 Overnight Blueberry French Toast Casserole: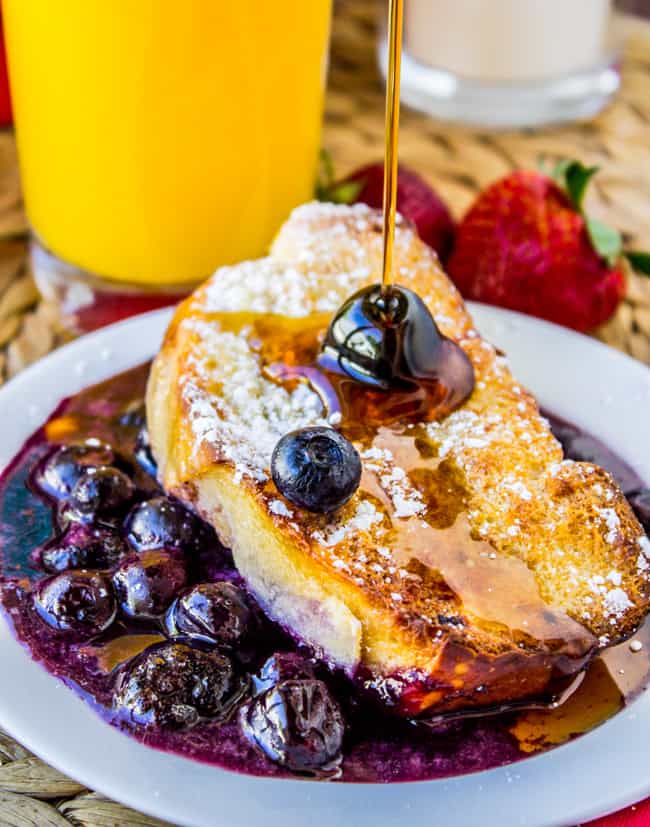 Dark Chocolate Waffles with Ganache and Strawberries: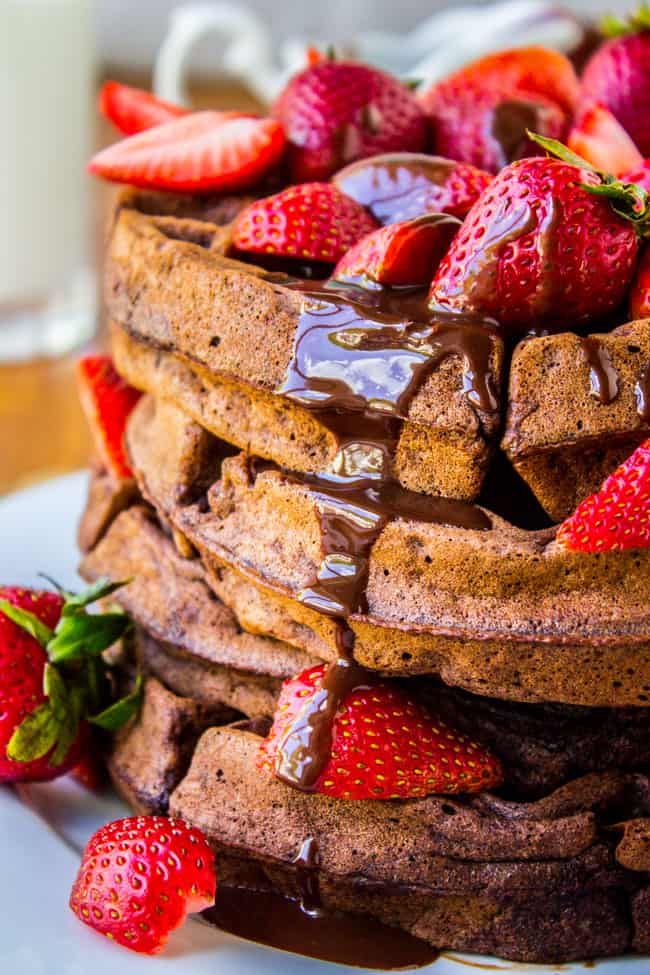 Pancakes from friends:
The Blueberry Pancakes of Your Dreams from Baker by Nature
Whole Wheat Brown Sugar Banana Bread Pancakes from How Sweet Eats
Banana Chocolate Chip Pancakes from Crazy for Crust