Dark Chocolate Waffles with Ganache and Strawberries
These waffles are for CHOCOLATE LOVERS. Or anyone human, really. Crispy on the outside, perfectly gooey from the chocolate chunks on the inside. Then drizzled with chocolate ganache and fresh strawberries. If you want to pamper the women in your life on Mother's Day, I'm telling you friends, this is it.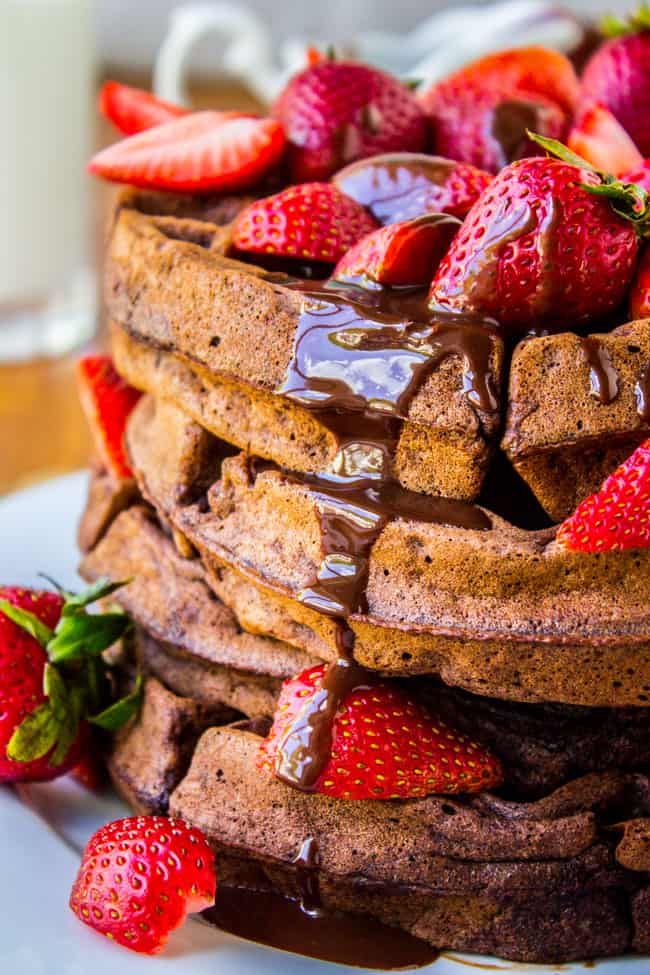 SPOILER ALERT—Don't read this if you are a Grey's Anatomy fan! McDreamy is DEAD. That's right folks, the main character's love interest for 10 years has officially croaked.
I don't watch Grey's Anatomy, but Facebook told me about this monumental news, and I got sucked into reading people's reactions on multiple sites. I can't help myself, it's just kind of funny. Of course if I actually watched the show I'm sure this would put me in a bad mood for a week, but since I don't…it's kind of funny. (Especially because his name is McDreamy.)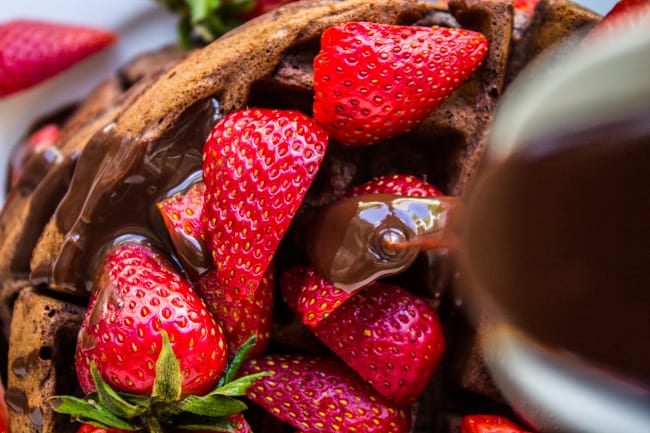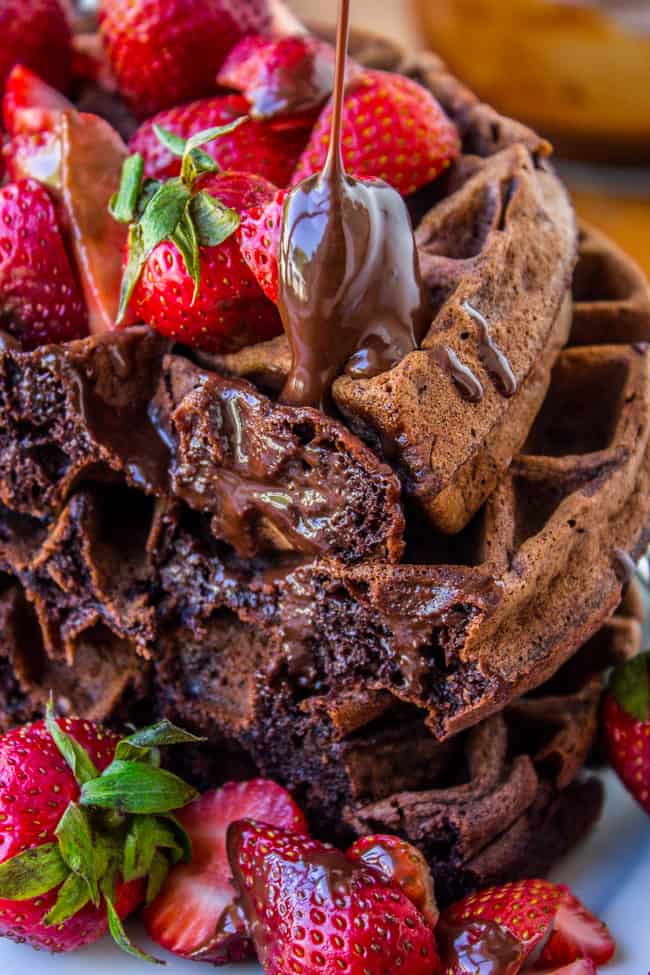 My sister Nikki is an author. She was telling me the other day that one of her agent's interns was reading a draft of Nikki's novel, and when something in the story didn't go the way she anticipated, she almost threw her tablet across the room in disgust.
How awesome is that?? Not that you're making people feel disgusted, or in Shonda Rimes (creator of Grey's) case, anger/sorrow, but that you're making them FEEL something. I think it's probably every writer's dream to be able to reach their audience so viscerally. I'll admit, I'm the same way. I put a lot of effort into the things I write on this blog, and I would be pretty bummed if I thought that you weren't getting at least a chuckle every now and then.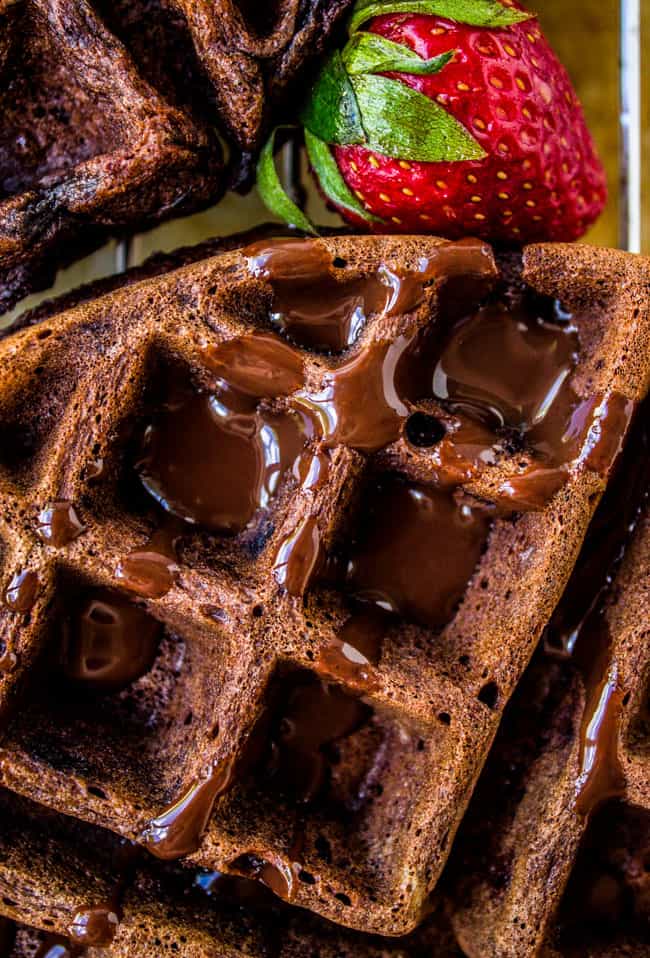 RIP McDreamy, and a round of applause to Shonda, who wrote a story that made thousands of women cry into their ice cream this week. Shakespeare would be proud.
In case you are a McDreamster (is there a name for Dreamy fans?) I have got a CURE ALL for you today! Chocolate, chocolate, and more chocolate, every crying woman's dream.
Can you believe these waffles? They are so good you guys. And so, so chocolatey. The strawberries add the perfect balance. Every time you think you've had too rich of a bite, you can pop in a strawberry and be ready for round 2. Have a glass of milk handy, it's pretty much essential. Make this for Mother's Day! I can't think of anything more perfect to celebrate mom's than giving them All The Chocolate.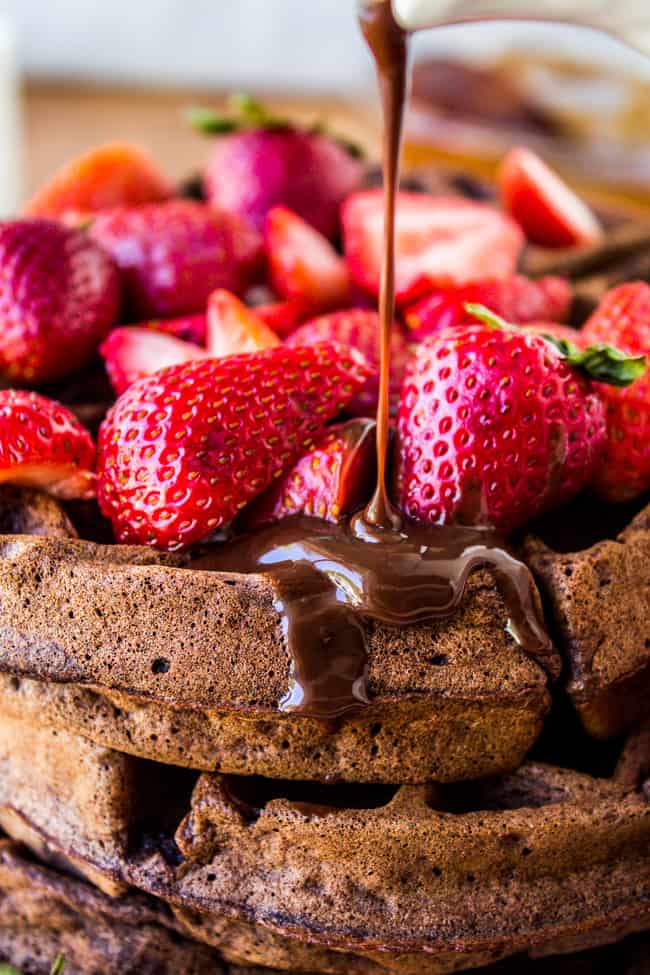 Do you guys give up? Or are you thirsty for more?
Facebook | Pinterest | Instagram | Twitter


print
Did you make this recipe?
Leave a review »
Dark Chocolate Waffles with Ganache and Strawberries
Makes 6 or 7 7-inch waffles
adjust servings
Ingredients
For the waffles
2

cups all-purpose flour

1/2

cup unsweetened cocoa powder

1/4

cup brown sugar, packed

2

teaspoons baking powder

1

teaspoon baking soda

1

teaspoon kosher salt

3

large eggs, separated

2

cups buttermilk

1/2

cup olive oil (lightly flavored)

1

teaspoon vanilla

6

ounces bittersweet chocolate (60-70%), finely chopped

Nonstick spray
For the ganache
1

cup heavy cream

8

ounces semi-sweet chocolate chips

2

tablespoons butter

pinch of salt

strawberries, for serving
Instructions
In a large bowl, whisk together flour, cocoa, brown sugar, baking powder, baking soda, and salt.
Add the egg whites to your stand mixer or another bowl.
Make a well in the center of the flour and whisk together 3 egg yolks, buttermilk, oil, and vanilla. Gradually incorporate the dry ingredients; don't over-mix. A few dry spots are ok.
Beat the egg whites in your stand mixer or with an electric mixer until soft peaks form. Fold in half of the egg whites (don't over mix! Fold, not stir!)
Add the chopped chocolate and the remaining egg whites and gently fold in until combined.
Heat waffle iron and cook according to directions, making sure to coat the iron with nonstick spray.
Turn your oven on to the warm setting (170 degrees F). Place a baking sheet topped with a cooling rack in the oven, and set the waffles on it to keep warm until ready to serve. (This keeps them from getting soggy.) Cover them with foil if it's going to be a while.
Meanwhile, make the ganache. Add the cream to a microwave-safe bowl. Heat for about a minute and a half, stirring halfway, or until bubbles form on the edges.
Immediately add the chocolate chips and let sit for one minute. Then whisk until all the lumps are gone and the mixture is smooth and creamy. Add the butter and salt. If it returns to room temperature and thickens before you serve it, just throw it in the microwave for a bit until it's liquid again.
by The Food Charlatan

If you make this recipe,
share it on Instagram
 using the hashtag
#TheFoodCharlatan
so I can see it!
Source: Adapted from Bon Appetit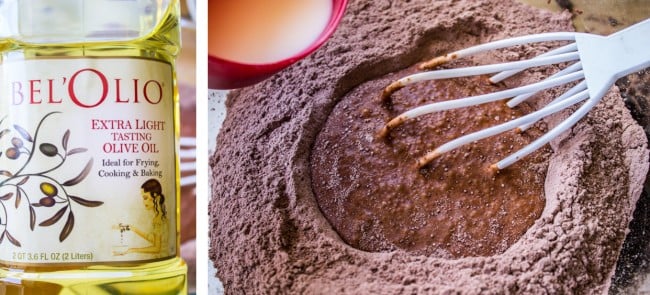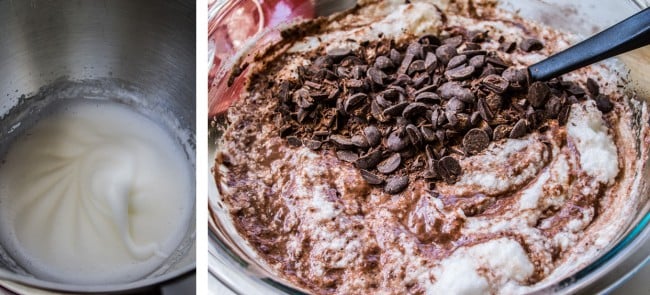 Use a light-tasting olive oil. And be gentle folding in those egg whites! You want nice and fluffy waffles.
More Mother's Day breakfast ideas! 
Did you miss this Overnight Blueberry French Toast Casserole I posted earlier this week? So good!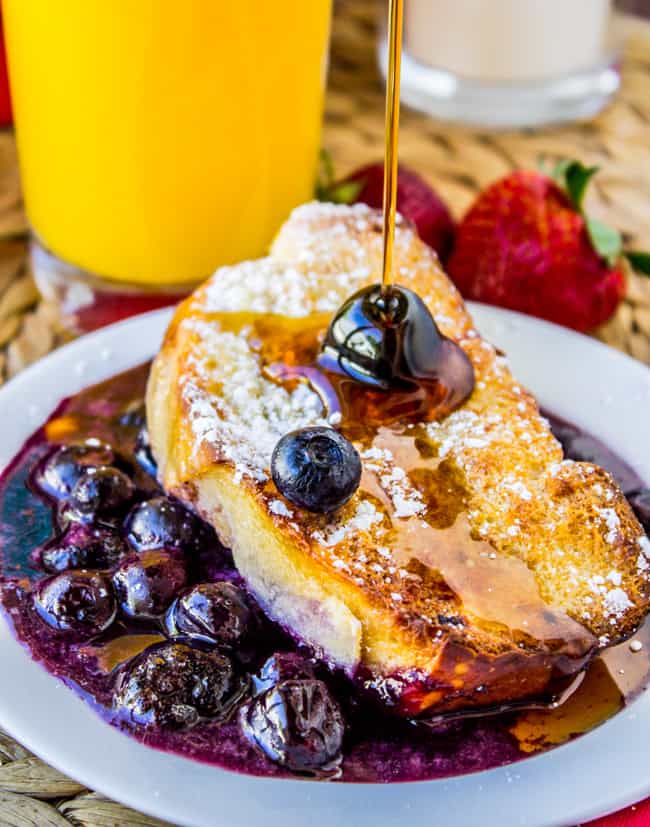 Liege Waffles with Pearl Sugar: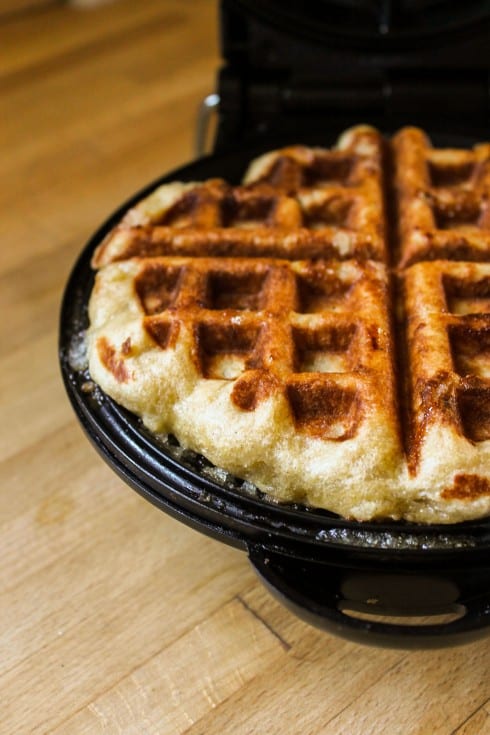 My favorite classic Waffles, recipe is from my awesome mother-in-law: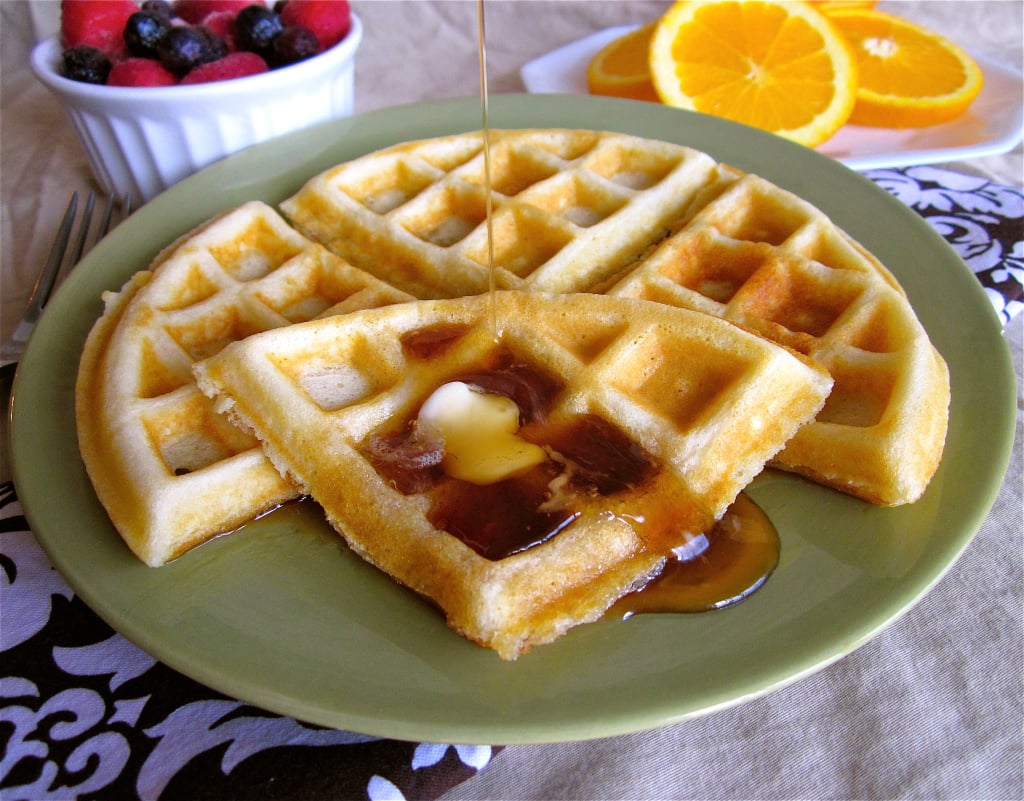 More crazy chocolate waffles!
Dark Chocolate Zucchini Cake Waffles from Candid Appetite
Whole Wheat Chocolate Banana Waffles from Chocolate and Carrots
Dark Chocolate Waffles Cake with Mascarpone Whipped Cream from Foolproof Living
We are a participant in the Amazon Services LLC Associates Program, an affiliate advertising program designed to provide a means for us to earn fees by linking to Amazon.com and affiliated sites.