This simple make-ahead casserole is kind of like a blueberry pie covered in French toast. Buttery, breakfast-y goodness.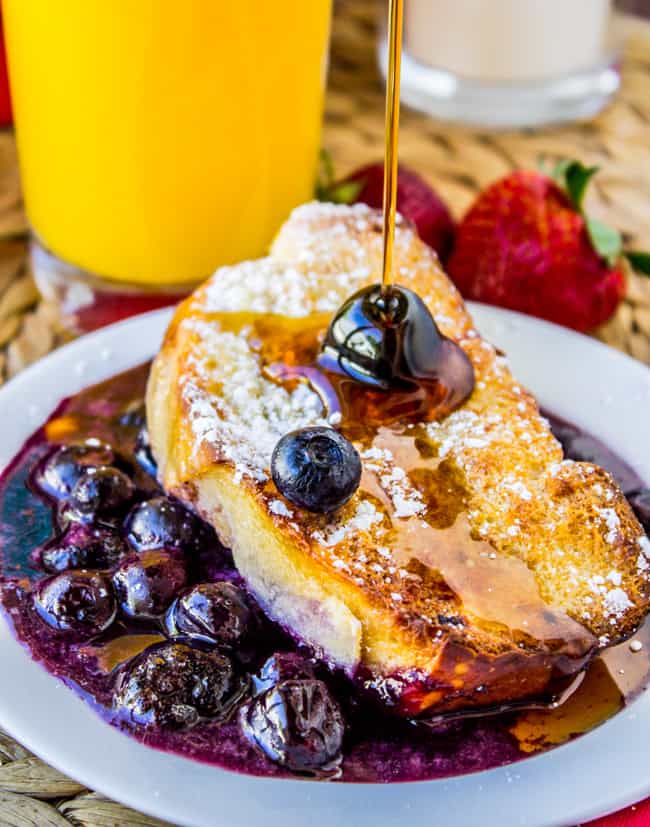 The other day Eric says to me, "Karen, I have something very important to show you." He hooks the computer to the TV and pulls a trailer up from Youtube. "Are you ready for this?"  Uh…I guess?
STAR WARS. We watch it. And then we watch it one more time. And then we watch it again, but this time we pause it on every scene (yes, really) so that we can analyze the characters and try to figure out exactly who BB-8 might be (R2-D2's droid-baby??)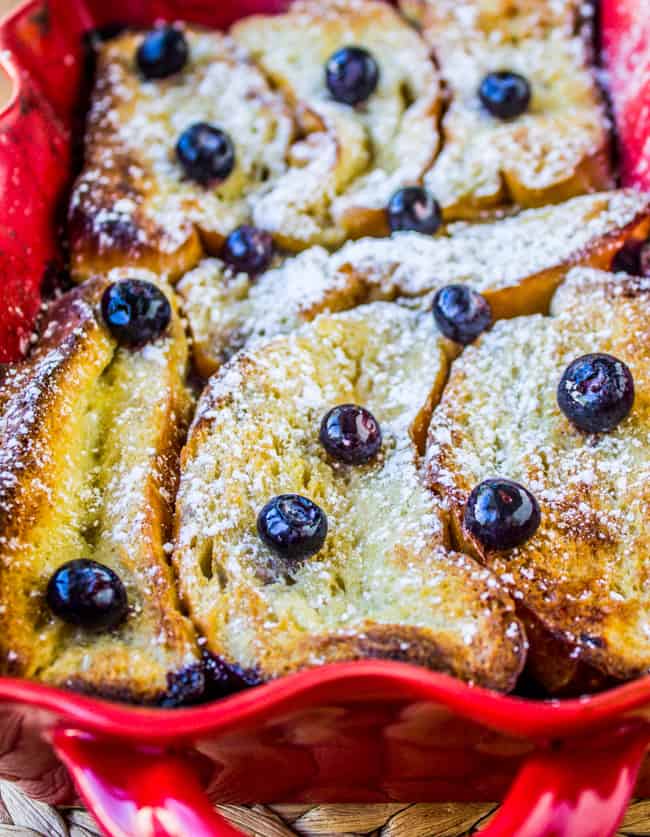 I ask Eric who he thought the girl was, Luke's daughter or Han and Leia's.
"What girl?"
"The girl, the clear main character, the girl whose face they did a close up on like 3 times in a 2 minute trailer, what do you mean what girl?"
"I didn't see a girl."
I think he was distracted by all the X-wings.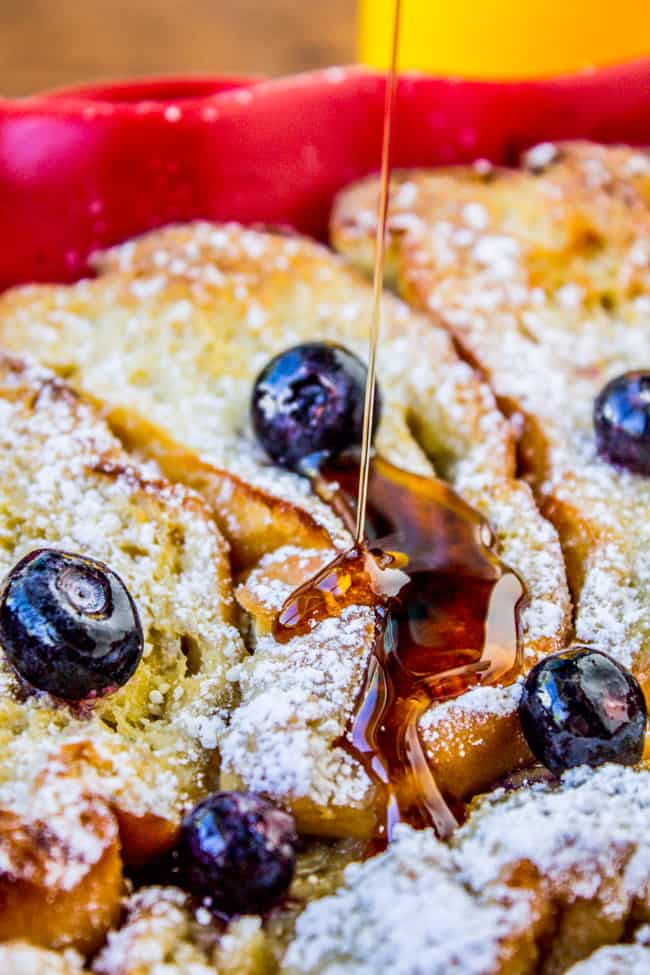 Are you guys into Star Wars? My family was totally into it growing up. In high school I had a 10×10 foot painting of the Millennium Falcon fleeing the Death Star (complete with glow-in-the-dark-paint) stapled to the ceiling over my bed. (My sister's friend painted it as the backdrop of a skit they performed at a summer camp.)
The night before my other sister's wedding was the day that Episode I came out, and we ALL went to see it together, bride and groom included. What better way to celebrate eternal matrimony than with epic galactic tales of good versus evil?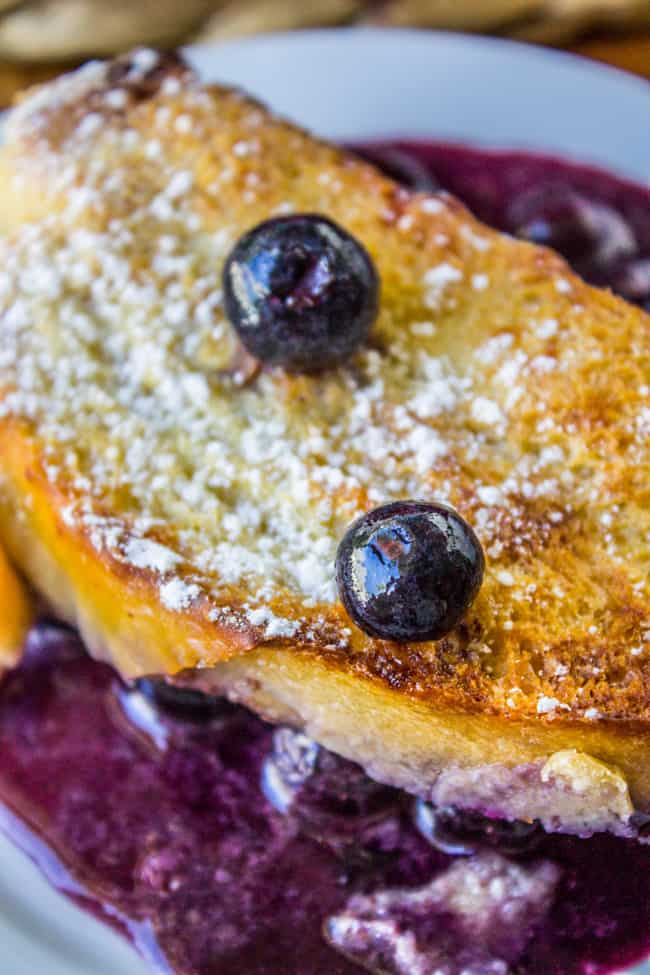 Even though I love Star Wars, I don't consider myself a True Fan. There are no Storm Trooper costumes hidden in my closet, thankyouverymuch. I have SOME dignity.
So Mother's Day is coming up! May 10, in case you were about to google. Since many of you ARE the mom, I have a recipe for you to print out and tape to someone's forehead. Hey, no shame here ladies, sometimes your just gotta get er done. Even your own pampering.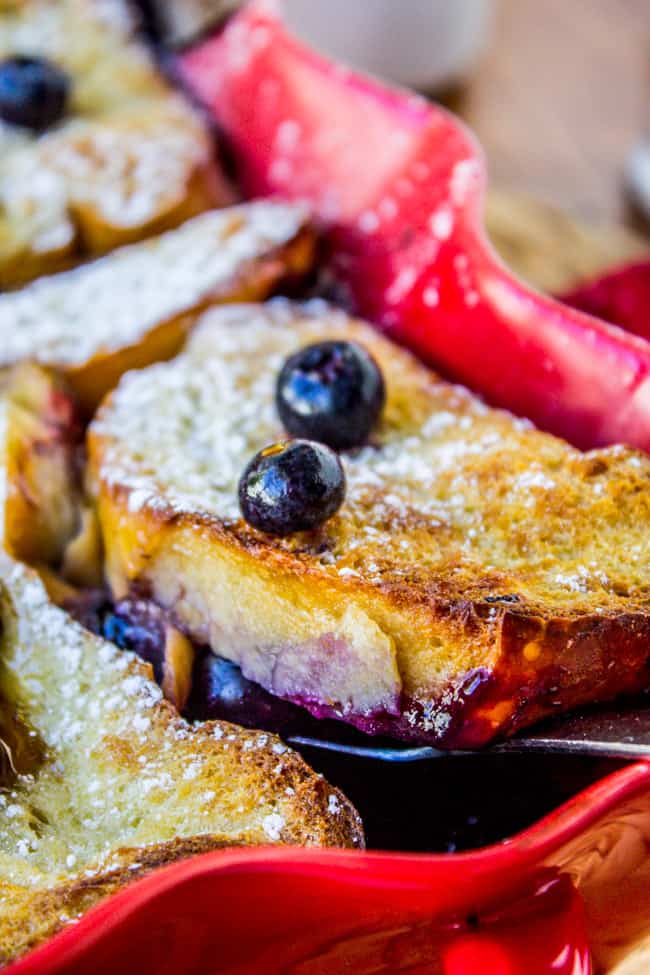 My sister-in-law's kids made her this casserole last year for Mother's Day and I've been meaning to make it ever since, because even the leftovers that I tried were so good. This is not French Toast with some blueberries, this is basically blueberry pie with some French Toast on top. It's AMAZING.
It's the perfect make-ahead dish, make it the night before and then throw it in the oven in the morning. If you are in a rush though, you don't have to let the bread soak ALL night–3 hours worked fine for me.

Overnight Blueberry French Toast Casserole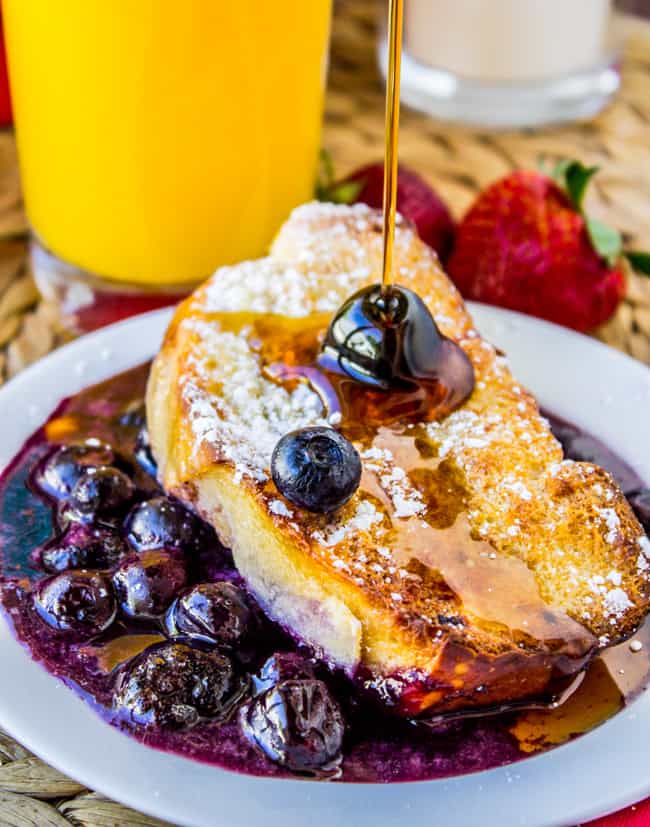 This simple make-ahead casserole is kind of like a blueberry pie covered in French toast. Buttery, breakfast-y goodness. 
Ingredients
8

ounces

French bread

,

I used half of a 1-pound loaf

4

eggs

1/2

cup

milk

1/4

teaspoon

baking powder

1

teaspoon

vanilla

4 & 1/2

cups

blueberries

,

*

1/2

cup

sugar

4

teaspoons

cornstarch

2

teaspoons

cinnamon

2

tablespoons

butter

,

melted (I recommend Land O'Lakes )

powdered sugar

,

to garnish
Instructions
Slice the French bread diagonally into 10-14 slices, each one about 1/2 or 3/4 inch thick.** Arrange in a single layer in a 9x13 inch dish.

In a medium bowl, whisk together eggs, milk, baking powder, and vanilla. Pour slowly over the bread, making sure to get all the bread wet. Turn the slices over and saturate them. Cover completely and chill overnight, or at least a couple hours.

When you are ready to bake, preheat the oven to 425 degrees. Grease a new 9x13 inch pan.

Combine blueberries, sugar, cornstarch, and cinnamon in the greased pan. Stir until combined, then spread it out evenly.

Place the bread wettest side down on top of the blueberries in a single layer. Brush with the melted butter.

Bake in the preheated oven for 24-26 minutes, or until golden brown.

Sprinkle with powdered sugar and serve immediately!
Notes
*I used frozen blueberries, didn't thaw them at all.
** I sliced mine a little thicker and put mine into a 2-quart pan. Whatever floats your boat.
Source: adapted from Always in Season, a collection from the Junior League of SLC
Nutrition
Serving:
1
slice
|
Calories:
334
kcal
|
Carbohydrates:
57
g
|
Protein:
10
g
|
Fat:
8
g
|
Saturated Fat:
4
g
|
Polyunsaturated Fat:
1
g
|
Monounsaturated Fat:
2
g
|
Trans Fat:
1
g
|
Cholesterol:
121
mg
|
Sodium:
297
mg
|
Potassium:
207
mg
|
Fiber:
4
g
|
Sugar:
30
g
|
Vitamin A:
370
IU
|
Vitamin C:
11
mg
|
Calcium:
81
mg
|
Iron:
2
mg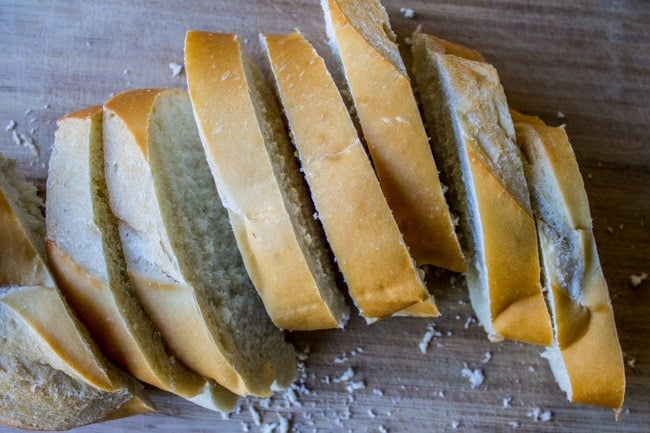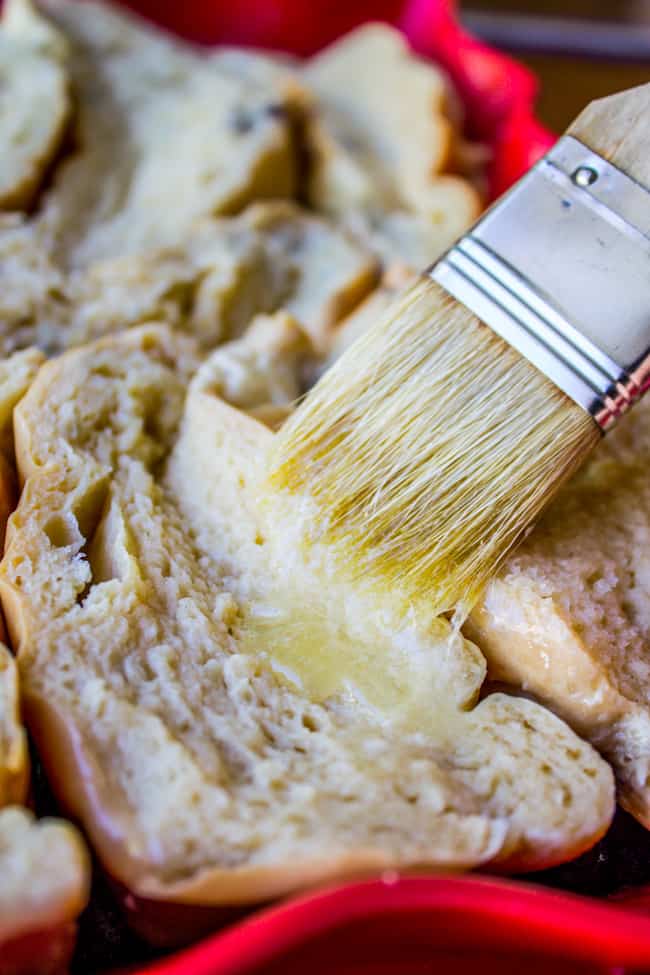 Don't be shy with the butter now.
More breakfast please!
Cream Cheese French Toast Casserole << a reader favorite!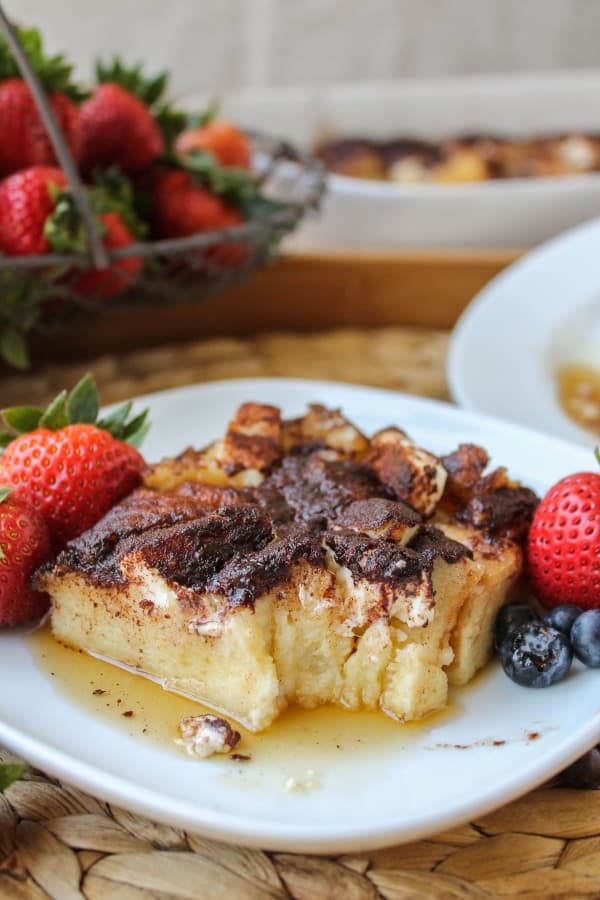 Cranberry Orange Walnut French Toast: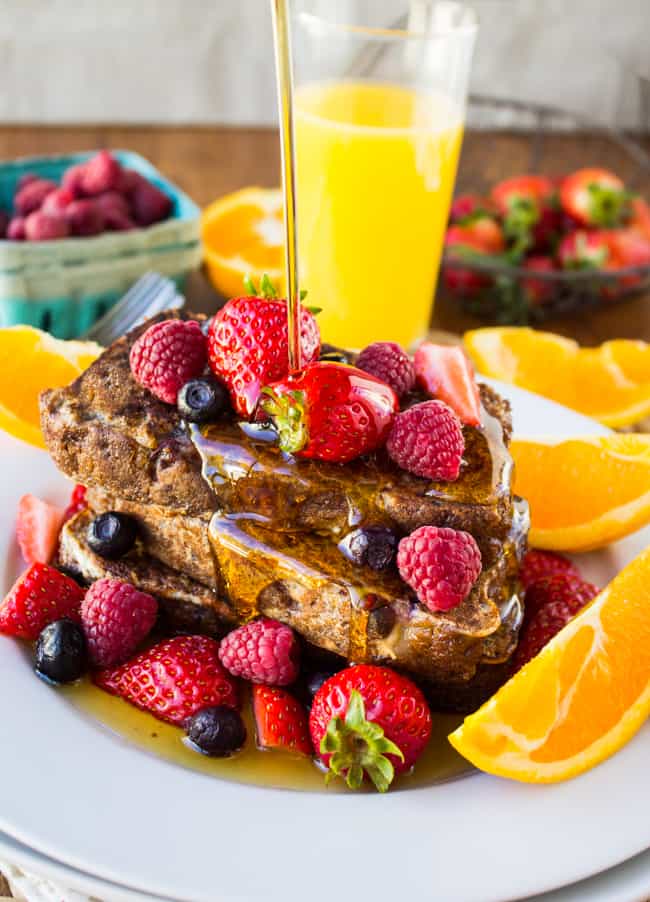 Savory Parmesan French Toast with Hollandaise Sauce: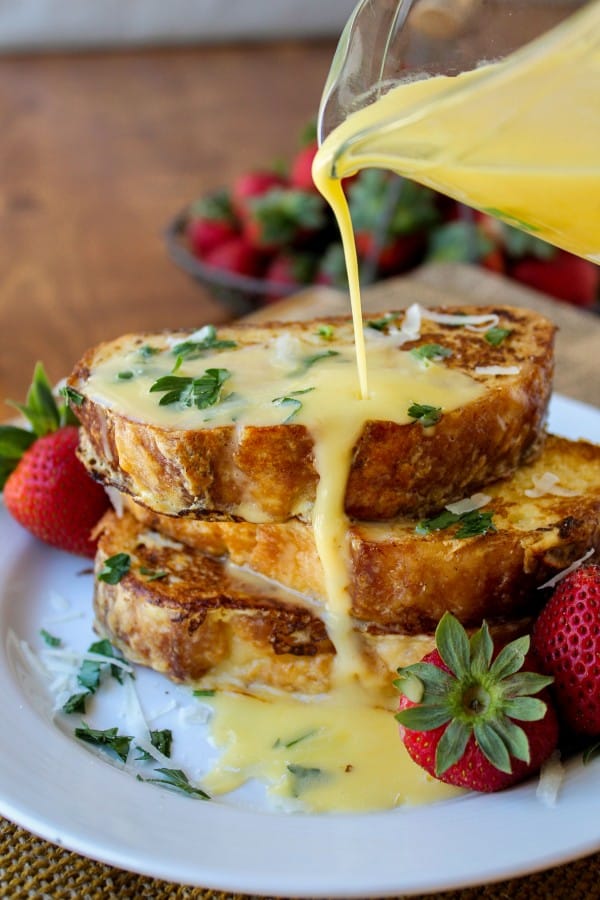 SO many different versions of Blueberry French Toast, these ones look amazing:
Overnight Blueberry French Toast Casserole from Deliciously Yum
Overnight Blueberry French Toast from Recipe Girl
Overnight Blueberries and Cream French Toast Casserole from Cookies and Cups