Horchata is a creamy beverage made from rice and spiced with cinnamon and vanilla. Sounds weird, but I swear it's delicious, especially when paired with spicy Mexican food! Originally published July 21, 2015.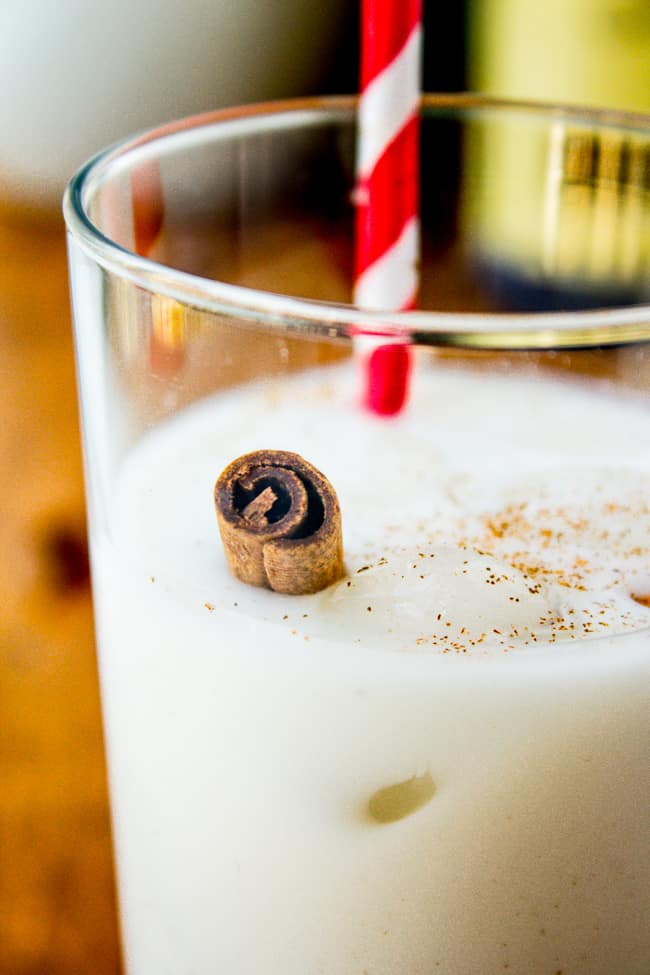 Table of Contents
The Best Vanilla Bean Horchata Drink
Last weekend my brother Nathan and I decided to have a Steak, Shake, and Movie night. So we went to the store to buy steaks and ice cream (literally nothing else, we're purists). On the way back to my car I go to reach for my keys and realize I don't have them.
When I go places without my kids I get so excited about the fact that I don't have to bring diapers, wipes, hot wheels, extra socks, 15 broken crayons, and 1 year old Easter candy (what's in YOUR diaper bag?), that I grab my phone, keys, and wallet and hit the road. Freedom!!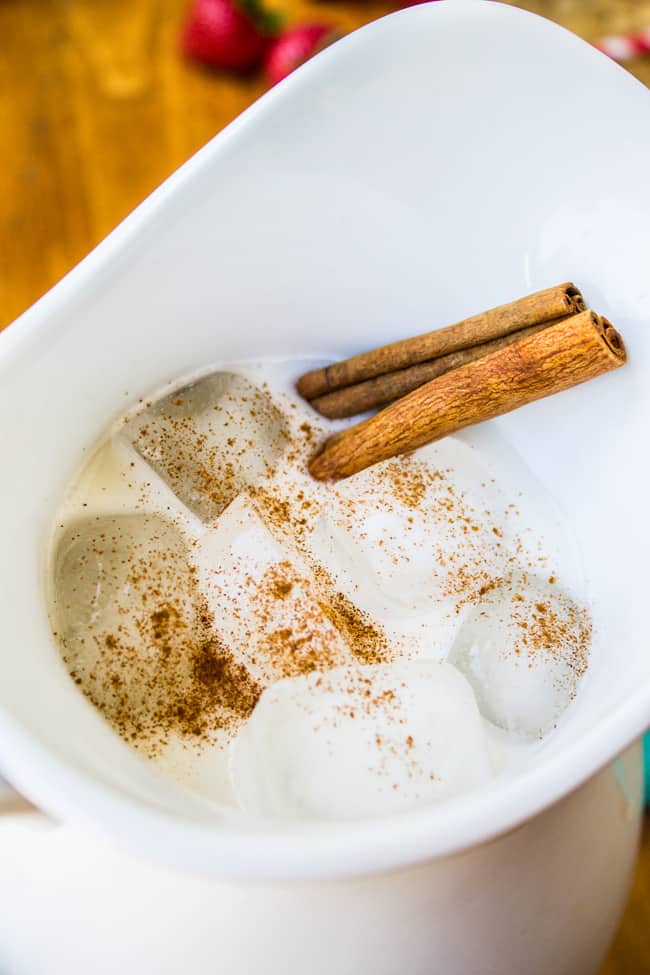 Nathan looks into the car before I do and says, "Keys are inside." Whew, I think, good, locked in the car is better than not knowing where they are.
Then he opened the door. Not locked.
Then I see where the keys are. In the ignition.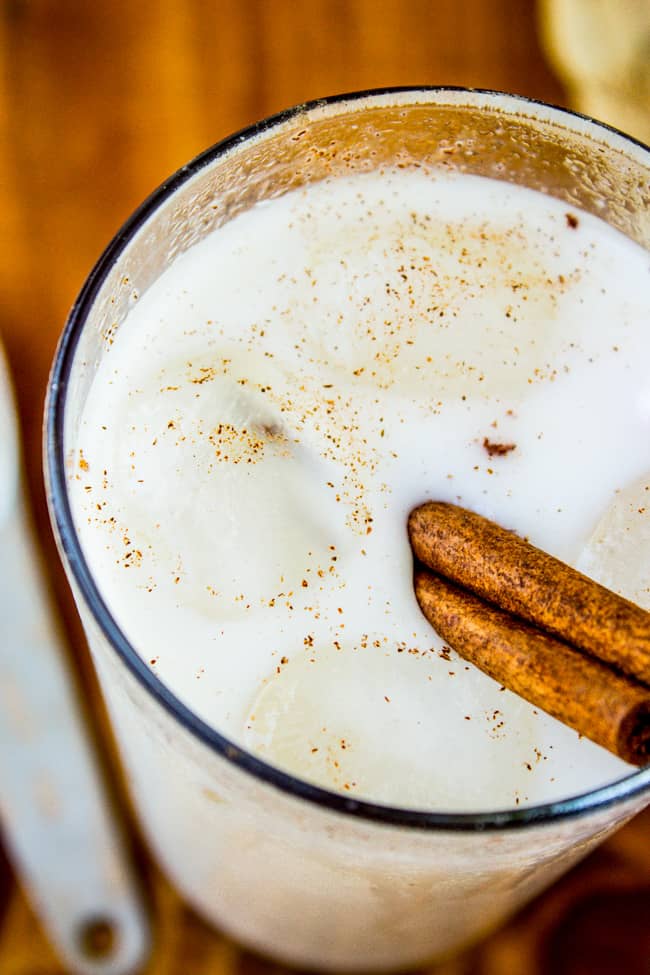 Then I realize that the car is on. Like, ON. Engine running. I drove to the store, put the car in park, got out, didn't lock it, and then bought ice cream. (Priorities?) Also, we stared at steaks for like 10 minutes before picking one. WHAT IS WRONG WITH ME?? Don't stupid people deserve to have their cars stolen??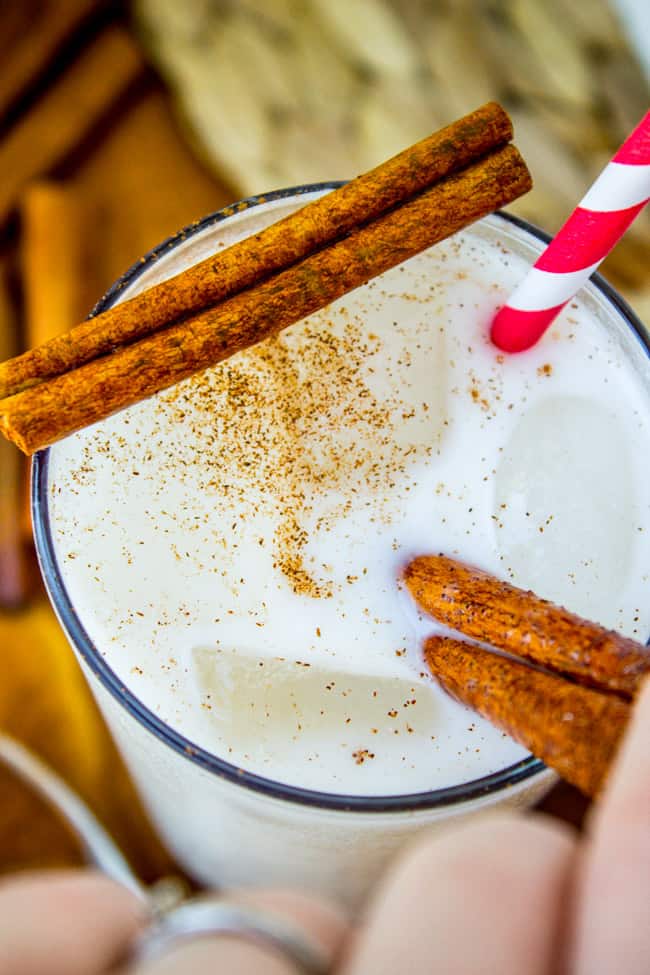 I think I need a drink. But not the kind you're thinking (I'm LDS, hello). Horchata it is!! (Where's my segue award?)
Horchata (or-cha-ta) has been one of my favorite drinks since I was a kid. My family and I would go to the local taquerias and order it there. When you live in California you can find pretty amazing Mexican food. Normally my parents were too cheap to pay for drinks for our entire family at a restaurant, but I'm the youngest and by the time I was a teenager, enough kids were moved out that my brother and I managed to get them to splurge for horchata when it was time for tacos. There is just nothing quite like that creamy soothing sweet taste after a basket of chips and spicy salsa.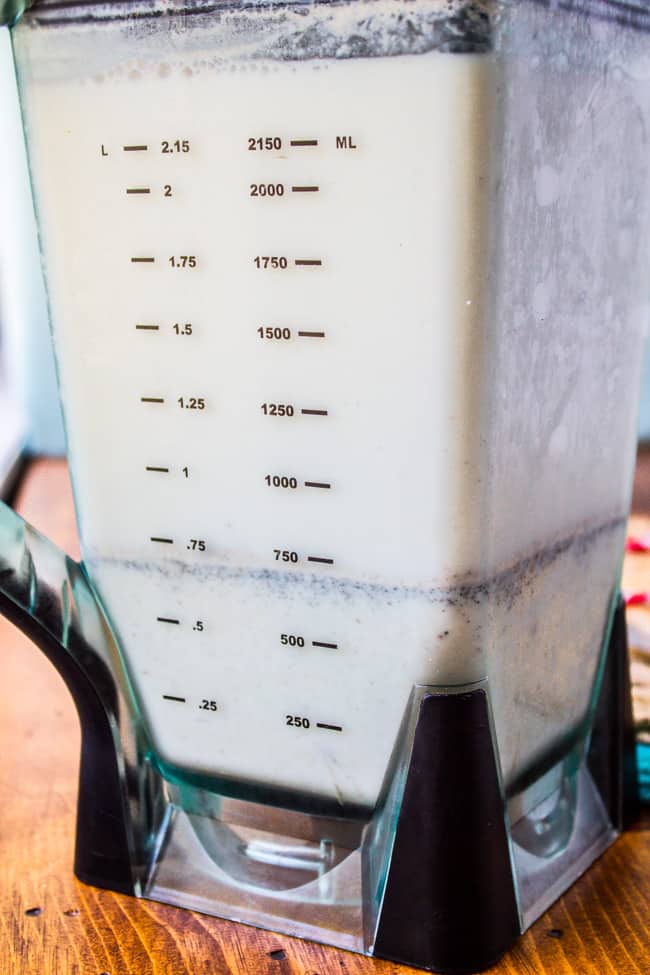 And guess what the secret ingredient is? There are two actually. Sweetened condensed milk (be still my heart) and Nielsen-Massey's Madagascar Bourbon Pure Vanilla Bean Paste. << Please tell me you have tried this stuff. It adds AMAZING flavor to desserts and drinks. It's basically all the benefits of a true vanilla bean, but without the mess or hassle. I buy it by the jug. I'm not even kidding. My current jug is almost gone. I use it in everything. Fun fact: did you know that "Madagascar Bourbon" references the region, not the liquor? Who knew right?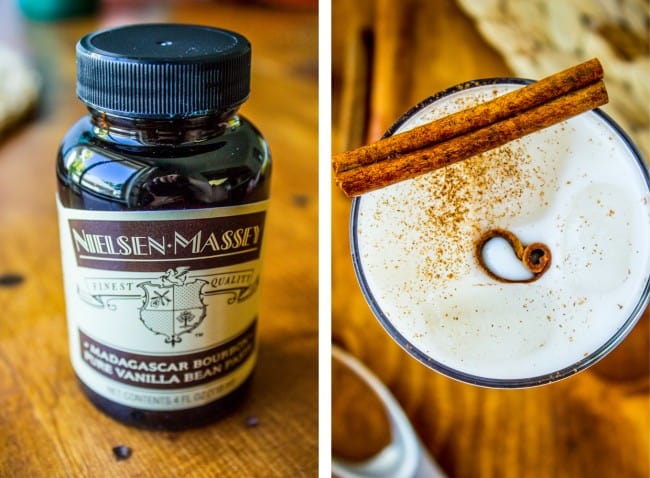 You'll love this Horchata drink
Horchata is easy to make at home, you just have to remember to make it the night before, or at least a few hours in advance. Of course it goes great with Mexican food, but let's not limit ourselves here. I can think of lots of other times I would want to drink horchata. Like every single day of the summer, for example.
What is Horchata?
Horchata is a sweet and creamy drink that tastes mostly like vanilla and cinnamon…but a little bit like rice. That might sound super weird if you've never had horchata before! It's actually a milk flavor and just gives the drink more creaminess.
What does Horchata taste like?
Horchata has a light, sweet, creamy taste; the flavors you'll notice most are vanilla and cinnamon. The flavor of the rice is really mild, but it is what makes horchata so special. If you've had rice milk before, you'll notice some similarities, but it's definitely unique!
Horchata Ingredients
Here's a quick shopping list to help you gather your ingredients. See the recipe card below for the full ingredients and instructions!
Long grain white rice
Cinnamon stick (or cinnamon)
Milk
How to make the best Horchata recipe
Here's a quick overview of how to make this recipe. Full instructions can be found in the recipe card below!
Pour the rice into a mesh strainer and run it under your faucet for a good 30 seconds, or until the water runs clear. Add the rinsed rice to your blender.
Add 4 cups of water and cinnamon stick to the blender. Blend until rice is slightly broken up, about 1 minute.
Refrigerate overnight (7 or 8 hours is best).
Pour liquid through a mesh strainer into a pitcher. Discard rice. Add vanilla, milk, and sugar to taste. Serve over ice sprinkled with cinnamon.
How to store Horchata drink Leftovers
You can refrigerate horchata for up to five days (as if it would ever last that long in my house, no way). You can also freeze it for several months. This is actually genius, I think I'll start freezing it so I can have delicious cold horchata any time the craving strikes!
Best Horchata Recipe FAQs
Does Horchata have caffeine?
No, Horchata is caffeine free. It doesn't contain any ingredients that contain caffeine like coffee, tea, chocolate, etc. Just rice, sugar, cinnamon, milk, and vanilla.
What's the difference between Mexican Horchata and Spanish Horchata?
Mexican horchata, as you've already learned, is based on rice. Spanish horchata is based on chufa nuts, also called tiger nuts, which aren't actually nuts at all! They're made from the roots of a plant called sedge, which grows in wetlands (I mean, so does rice). I've never tried it but apparently it's like sweeter almond milk…sounds so good right?? All the horchatas!!!
This post is sponsored by Nielsen-Massey. When they contacted me about doing a post, I told them about the 32 oz. jug of Nielsen-Massey vanilla bean paste in my cupboard that is 3/4 gone. So needless to say, all opinions are my own! Love their products! Thanks for backing up brands I love, guys. Helps keep The Food Charlatan going. :)

Best Horchata Recipe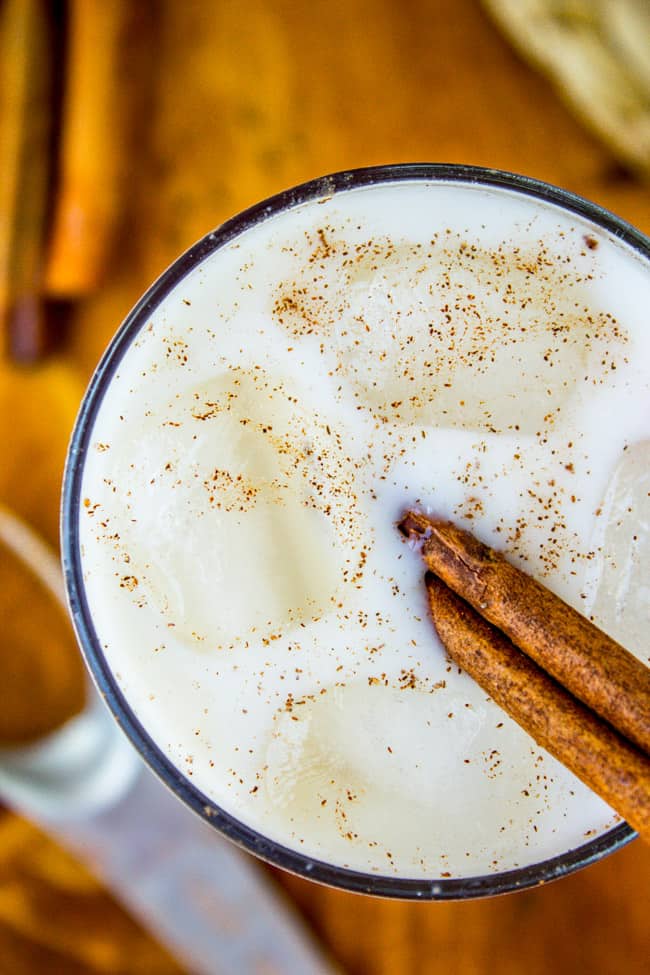 Horchata is a creamy beverage made from rice and spiced with cinnamon and vanilla. Sounds weird, but I swear it's delicious, especially when paired with spicy Mexican food!
Ingredients
2

cups

long grain white rice

,

rinsed

6

cups

water

1

tablespoon

Nielsen-Massey Pure Vanilla Bean Paste

2

cinnamon sticks

,

or 1 tablespoon ground cinnamon

1

14-oz. can

sweetened condensed milk

1

cup

water

,

to taste

1

cup

whole milk

1/4

cup

cream

,

or milk

1/4

cup

sugar

More ground cinnamon and/or vanilla if desired.

Ice
Instructions
Place 2 cups of rice in a mesh strainer and run it under cold water for about 30 seconds, or until the water runs clear. Add it to a 9-cup capacity blender. (Blend in batches if you have a little blender.)

Add 6 cups water, 1 tablespoon vanilla bean paste, and 2 cinnamon sticks.

Blend for about 1 minute, or until the rice and cinnamon sticks have broken up.

Refrigerate for at least 3-4 hours. A full 8 hours is best.

Pour the liquid through a fine mesh strainer into a large pitcher. Discard the rice.

Add the can of sweetened condensed milk, water, milk, cream, and sugar. Stir well and taste it. Add more ground cinnamon and vanilla bean paste if you want. Adjust the sugar to taste.

Pour into glasses filled with ice and serve really cold! Enjoy! Horchata is perfect with any kind of Mexican food.
Nutrition
Serving:
1
cup
|
Calories:
220
kcal
|
Carbohydrates:
42
g
|
Protein:
4
g
|
Fat:
4
g
|
Saturated Fat:
2
g
|
Polyunsaturated Fat:
1
g
|
Monounsaturated Fat:
1
g
|
Cholesterol:
12
mg
|
Sodium:
26
mg
|
Potassium:
92
mg
|
Fiber:
1
g
|
Sugar:
8
g
|
Vitamin A:
144
IU
|
Vitamin C:
1
mg
|
Calcium:
60
mg
|
Iron:
1
mg