This stove top Chicken Biryani is a delicious 30 minute dinner! You could also call it Indian Chicken and Rice. It's so easy to make and is a healthy weeknight dinner that everyone will love!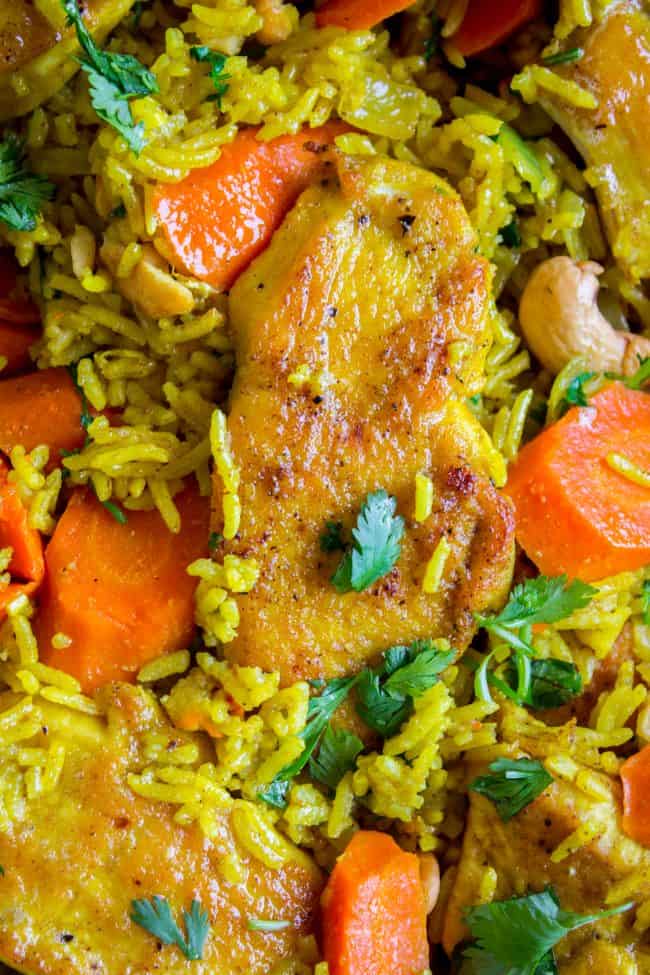 I had a dream I was vacuuming last night. Vacuuming! And I was doing a really good job too, like spring cleaning level vacuuming. Why can't dreams always be something pleasant, like relaxing on a beach somewhere, or petting kittens? I fell asleep on purpose, so that I didn't have to do anything, let alone chores. Come on now brain. Throw me a bone here.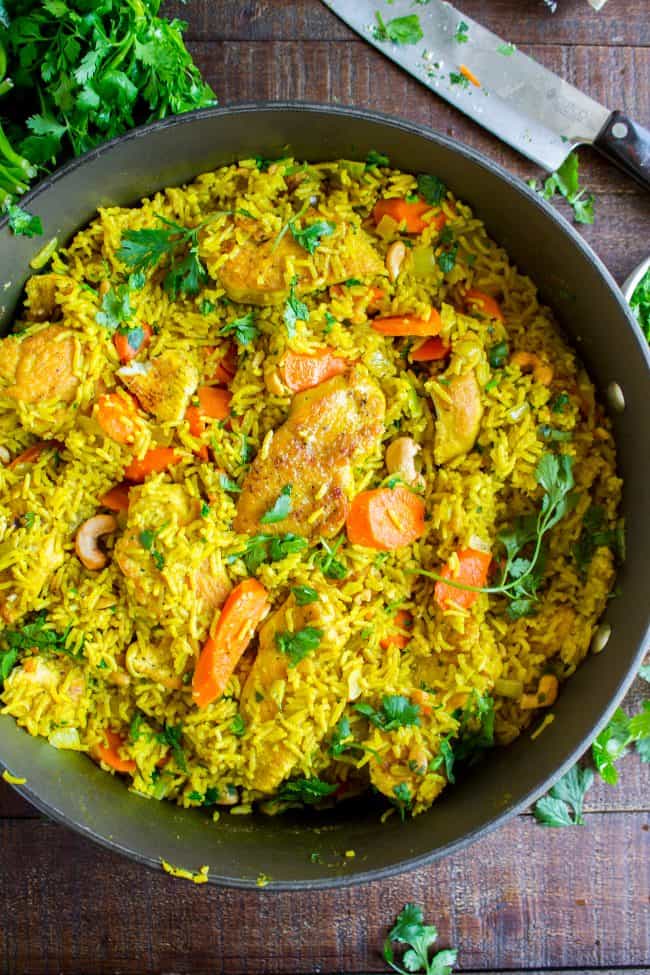 Also, I was vacuuming my childhood bedroom. Go ahead and analyze that one for me.
In other news, I got my hair cut. Why do women get so excited about haircuts?? I'm no exception. It's nice to have something new going on. I cut off about 7 inches. Hard to believe my hair was so long! (No one noticed, and I can't blame them, because I have been rocking the mom-bun pretty much all summer. To Eric's credit, he actually did notice. Better than my dad, who still to this day after 44 years of marriage can't tell when my mom gets her hair done until he hugs her and smells the perm chemicals.)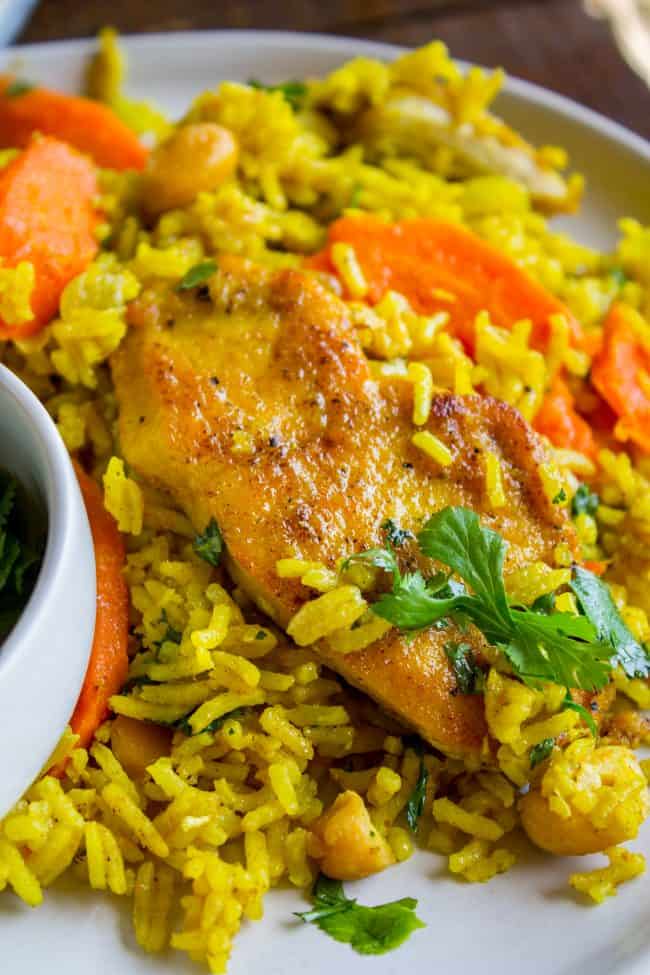 I am delivering on my promise of more easy weeknight recipes! If you've signed up for my emails, then you will have seen the question I ask on my first email, what's your greatest challenge in the kitchen? And SO many of you respond telling me how there is just NO TIME. You've just gotten home from work, the kids have turned into ravenous animals, and you need dinner stat.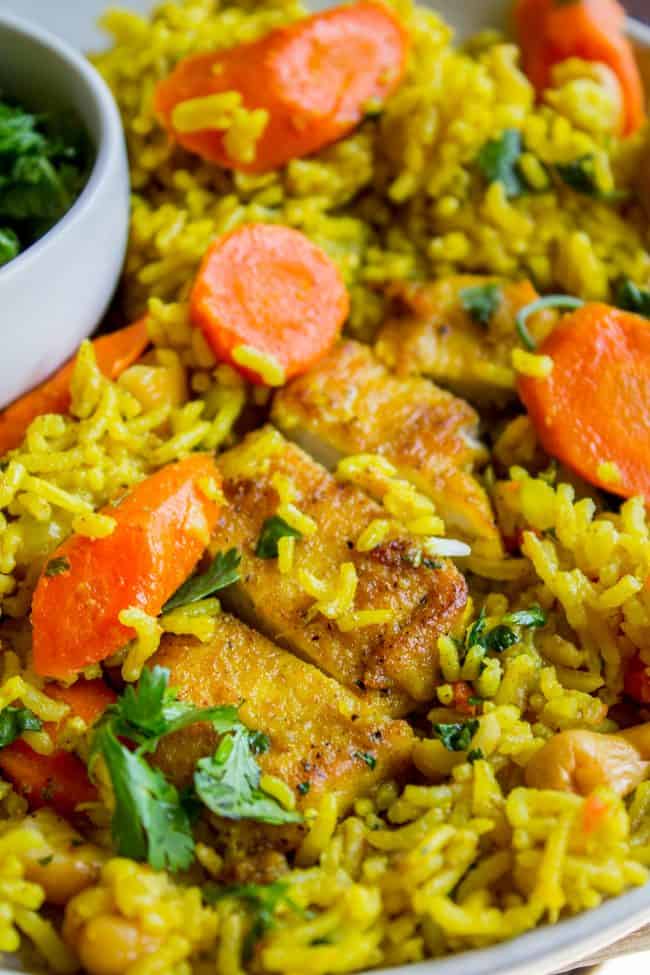 So here's an Indian-inspired dish, which should only take about 30 minutes to throw together. Barring any arguments between kids, or homework meltdowns, or phone calls that need to be taken. Let's be real here.
The funny thing is that as I was in the kitchen putting this recipe together, I kept having thoughts like, ooh, carrots would be good in this. Or, ooh, how about some cilantro and cashews at the end? And when I was finished I realized I had almost the exact same dish as this Sheet Pan Curry Chicken with Basmati Rice. Down to the garnishes. And I didn't even realize it until I was done. I guess I just know what I like??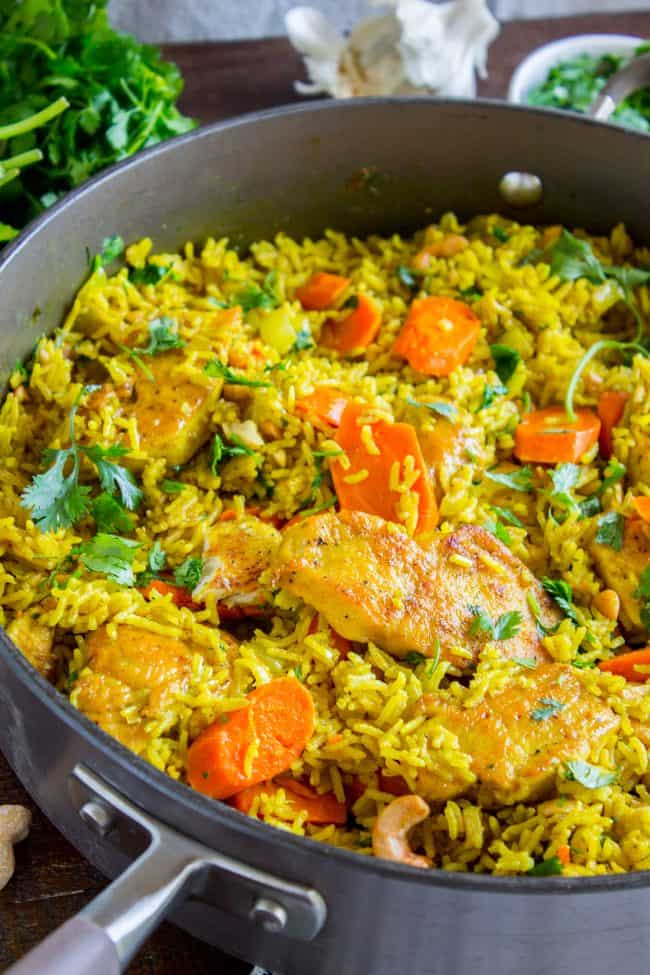 The nice thing about today's chicken biryani recipe is that it really is super quick, and it's all done on the stovetop. Perfect for hot days when you don't want to turn on the oven. (Are you guys still having hot days? California hasn't gotten the memo about fall yet.)
Biryani is a traditional Indian dish of rice cooked with meat and veggies. As with most Indian dishes, there are supposed to be about 100 spices in it, but I wanted to keep this recipe very simple, so we are just using curry powder, which does a nice job of pulling together the flavors we're going for. You could also try adding garam masala, if you have some. That would add even more layers of flavor.
How to make Chicken Biryani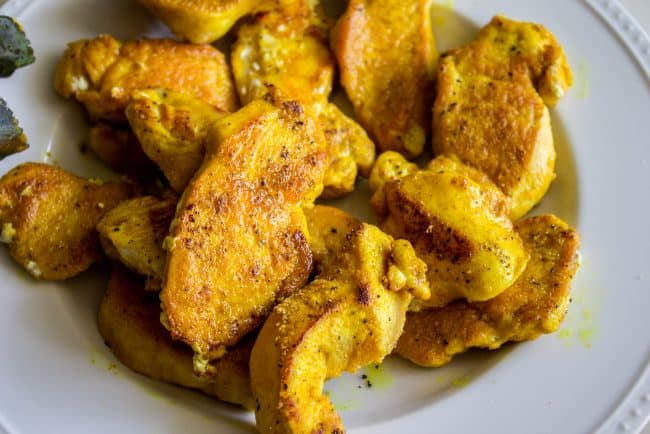 Start by pan-searing the chicken. I love how electric yellow it is. Curry has turmeric in is, which is just so bright!

Then microwave some carrots. Yup, I said microwave. I really love being the food CHARLATAN sometimes, because that means I get to pull crap like throwing my veggies in the microwave instead of doing everything authentically the way I'm sure Indian grandmothers do it. Carrots take a long time to soften on the stovetop, and I don't have time for that. So into the microwave they go, and then finish them in the saute pan. By the time the rice is done they are perfectly tender.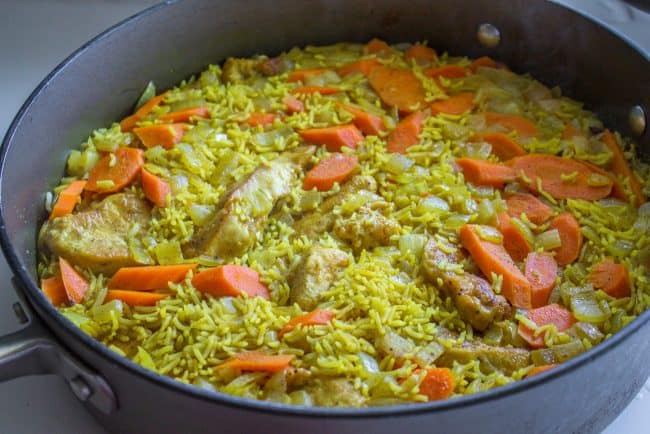 I used traditional basmati rice in this recipe, and I love the aroma and flavor so much, but you can use whatever kind of white rice you have on hand. My second choice would be jasmine rice, so go with that if you have it. But regular ol' white rice will work great too! Brown rice is a whole different animal and needs to be cooked way longer, so you will have to do some experimenting with that one (Hint: you won't need to microwave your carrots.)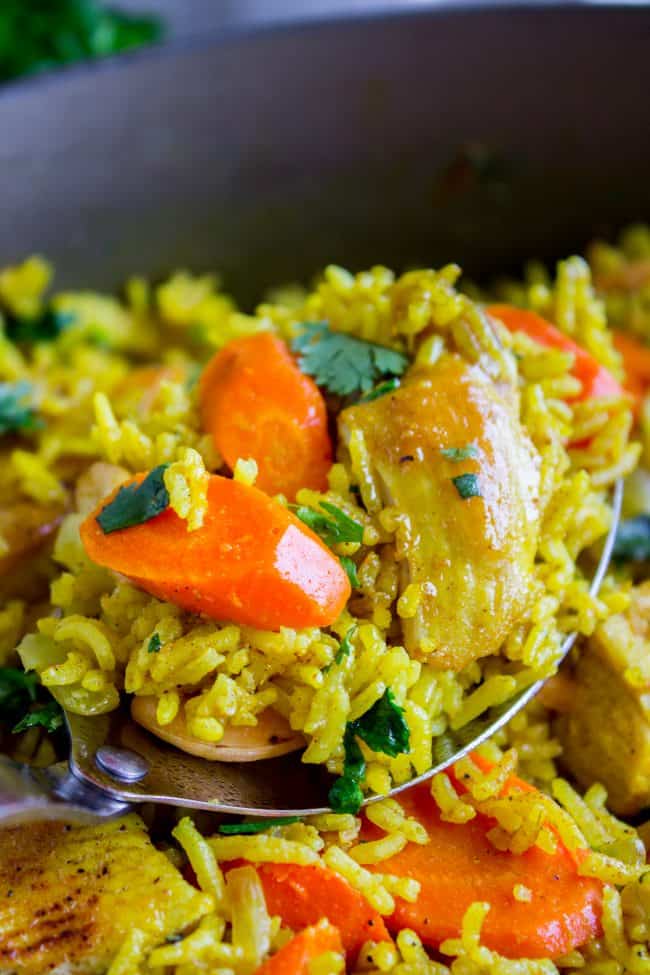 What to serve with Chicken Biryani
Chicken Biryani is so good all by itself, but if you are looking for a side dish to jazz it up, make this Roti (Buttery Indian Flatbread). It is so soft and flavorful. You could also try making Homemade Naan, which is never a bad choice. Use lots of butter! You could also make Raita, which is quick Indian side dish made from cucumbers and yogurt and a few spices. It's really delicious, but if you're feeling lazy you could also just throw some sliced cucumbers and plain yogurt on the table for people to garnish however they want.
Facebook | Pinterest | Instagram
One year ago: Maple Butter Twist Coffee Cake
Three years ago: Cream Cheese Pumpkin Puffs
Five years ago: Almond Sheet Cake

Chicken Biryani (30 Minute Indian Chicken & Rice)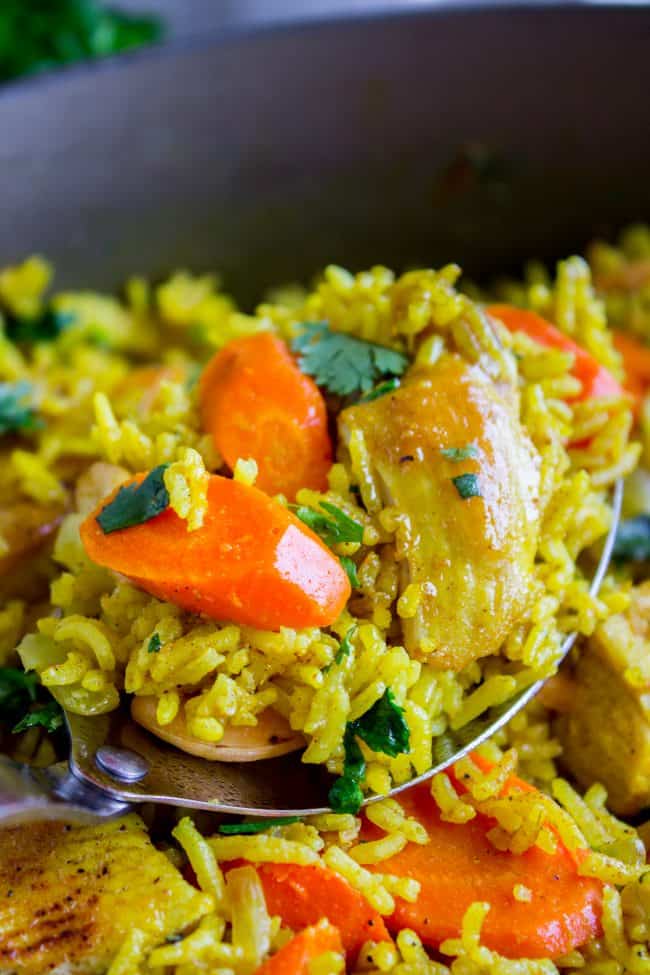 This stove top Chicken Biryani is a delicious 30 minute dinner! You could also call it Indian Chicken and Rice. It's so easy to make and is a healthy weeknight dinner that everyone will love!
Ingredients
1

pound

chicken

,

cut into strips

2

tablespoons

flour

1

teaspoon

kosher salt

1/2

teaspoon

pepper

2

teaspoons

yellow curry powder

2-3

tablespoons

olive oil

1

large

onion

,

chopped

5

large

carrots

,

sliced

2-3

cloves

garlic

,

smashed and minced

2

tablespoons

yellow curry powder

1

teaspoon

ginger powder

2

cups

dry basmati rice

3 & 1/2

cups

water

2

teaspoons

kosher salt

2

tablespoons

butter

1/2

cup

cilantro

,

chopped

1/2

cup

cashews

,

chopped
Instructions
Start by slicing the chicken into strips. Pat the chicken dry with paper towels.

In a small bowl, combine flour, 1 teaspoon salt, pepper, and 2 teaspoons yellow curry powder.

Dredge each piece of chicken in the flour mixture to coat.

In a large, high sided skillet, heat 1 tablespoon olive oil over medium high heat until it shimmers.

Add the chicken to the pan one strip at a time, with about 1 inch in between each piece of chicken, to give it a good sear. Do this in at least 2 batches. If you crowd your chicken into the pan all at once, it will steam instead of sear, and you won't get those tasty brown marks.

Cook the chicken on the first side for about 1-3 minutes, until browned, then flip with tongs and sear on the other side for 1-2 minutes until browned. It's okay if the chicken is still raw in the middle, in fact, that's preferable. It will finish cooking with the rice.

Remove the chicken to a plate and set aside.

Swirl another tablespoon of olive oil into the hot pan.

Add the chopped onions and saute for 3-5 minutes.

Meanwhile, chop the carrots (see photos) and place in a medium bowl with 1 tablespoon of water. Microwave on high for about 3-5 minutes. The carrots should be softening at this point but still inflexible.

Add the carrots (and liquid) to the pan with the onions. Continue cooking 1-2 minutes.

Add the garlic and saute 1 minute, until fragrant.

Add 2 tablespoons curry powder and 1 teaspoon ginger, and stir it all together so that the spices get nice and toasty. Continue cooking for another 1-2 minutes.

Stir in the rice. Add the water and 2 teaspoons salt. Stir it together and add the chicken back into the pan.

Cover tightly with a lid and turn the heat up to high. Keep an eye on it. When it starts to boil, turn the heat down to low. Cook on low for about 17 minutes.

At this point, the rice should not be crunchy, the carrots tender, and the chicken cooked through all the way. Put the lid back on and keep cooking for another few minutes if it's not done.

Add 2 tablespoons of butter and stir it all together.

Stir in chopped cilantro and chopped cashews. You could also stir in golden raisins if you wanted, that would be delicious!
Nutrition
Serving:
1
g
|
Calories:
681
kcal
|
Carbohydrates:
97
g
|
Protein:
17
g
|
Fat:
25
g
|
Saturated Fat:
7
g
|
Polyunsaturated Fat:
3
g
|
Monounsaturated Fat:
13
g
|
Trans Fat:
1
g
|
Cholesterol:
35
mg
|
Sodium:
1897
mg
|
Potassium:
701
mg
|
Fiber:
7
g
|
Sugar:
7
g
|
Vitamin A:
15425
IU
|
Vitamin C:
10
mg
|
Calcium:
108
mg
|
Iron:
4
mg
More international dishes you are going to love!
Sheet Pan Curry Chicken and Carrots with Basmati Rice (Biryani) << here is today's recipe twin. It's cooked on a sheet pan instead of on the stove.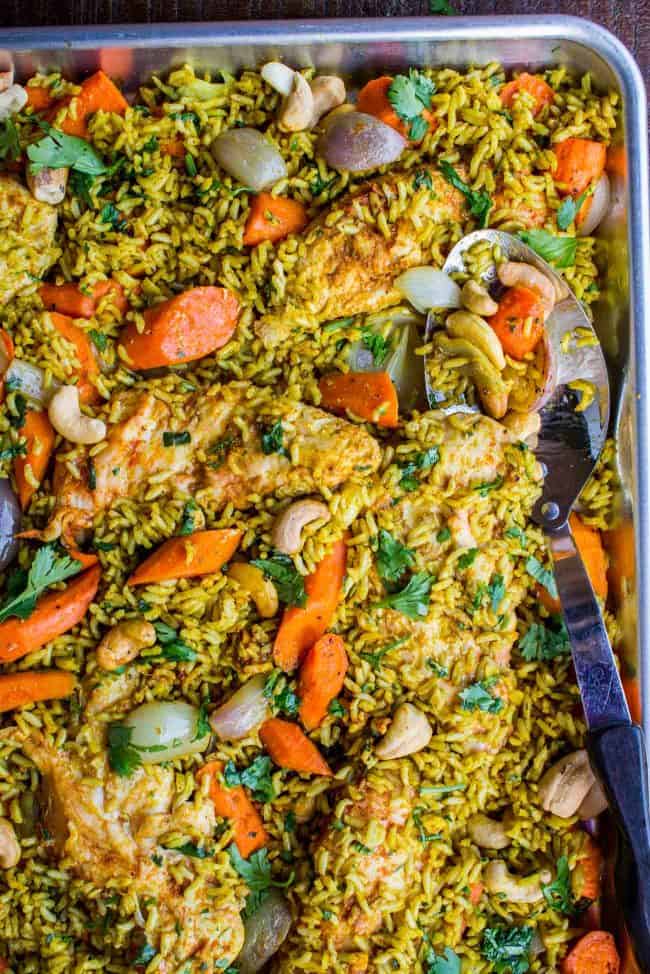 Slow Cooker Basil Chicken in Coconut Curry Sauce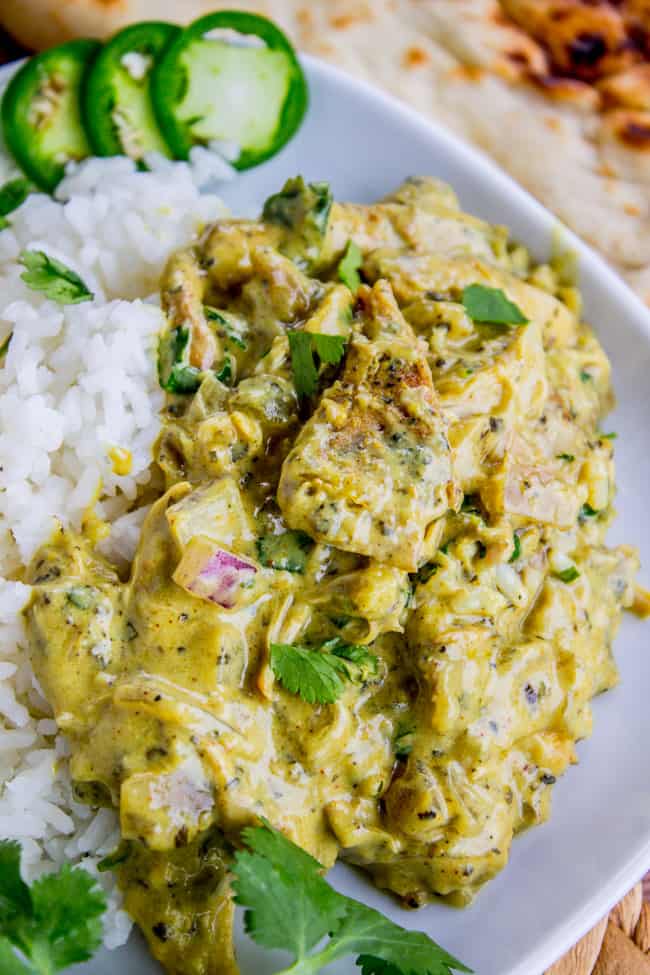 Indian Spiced Cauliflower Rice << a great low calorie side for any curry!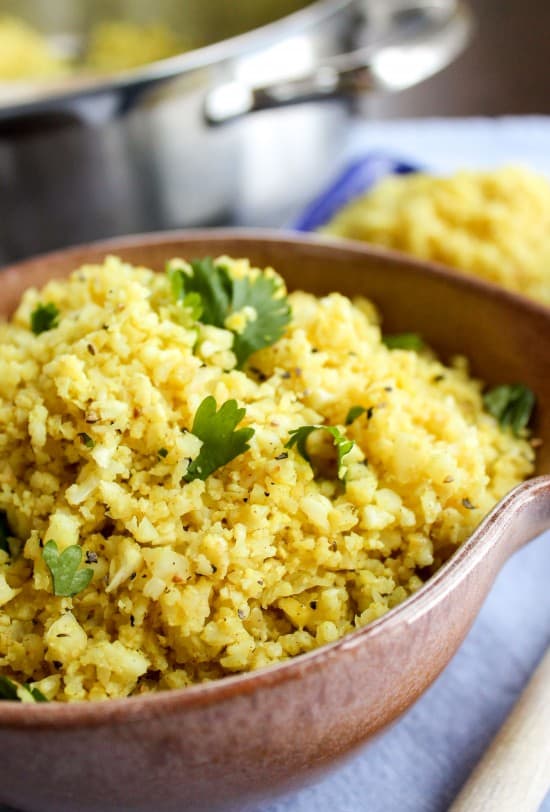 More chicken and rice meals from friends!
Baked Chinese Chicken and Rice from Spend with Pennies
One Pot Chicken Broccoli Rice Casserole from Bless This Mess
Arroz Con Pollo: How to Make Puerto Rican Chicken and Rice from The Noshery