Do any of your husbands constantly watch really boring Japanese movies from the 60s? Well. Count your blessings.
Eric is in charge of our Netflix account. I suppose I could go in and change what movie is being mailed to us next, but I rarely think about it. So I browse Pinterest while he watches sad 3-hour foreign films.
Sometimes he orders us a romantic comedy, meant as a treat for me. I like movies where the couple is together and happy in the end. (I'm just boring like that I guess.) The only problem is that he often doesn't research the movie enough. Instead of the nice lovey-dovey movie we're expecting, suddenly the main character is having an affair with her gynecologist. Or there was the one where a woman was imprisoned for giving her dying son a lethal injection. Or how about the one where the couple splits up over his taking a job as an embalmer. Seriously, I don't know where he finds this stuff.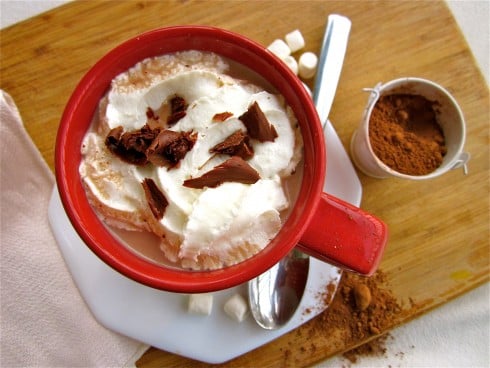 So do you like the artful sprinkling of cocoa in the bottom right of this photo? I know, I have such a great eye for that kind of thing.
Not. I somehow managed to accidentally knock it over by jamming my thumb into it. Word to the wise: licking cocoa off your thumb tastes just as bad as licking vanilla off your finger. (Similarly, it smells deceptively delicious.) Come on, you know you've done that.
This stuff. Oh my gosh. You know how you always want a glass of water after eating a big bowl of ice cream? That's what you need after this hot chocolate. It is the milkshake of hot chocolates. It brings all the boys to the yard. Or something like that. Seriously, it is so good. My main complaint with regular hot chocolate is that it is too thin. You need to swallow twice after a sip of this nectar.
Coconut Tres Leches Hot Chocolate

Source: Mel's Kitchen Cafe
Makes about 4 (1-cup) servings
2 cups milk (anything from fat-free to whole milk)
1 (14-ounce) can unsweetened coconut milk, light or regular
2/3 cup sweetened condensed milk (about 1/2 of a 14-ounce can)
2 tablespoons unsweetened cocoa powder
1/2 teaspoon vanilla
Whipped cream (optional)
Chocolate shavings (optional)
In a medium saucepan, combine the milk, coconut milk and sweetened condensed milk, whisking well to combine. Bring the mixture to a simmer over medium-low heat, stirring occasionally so the mixture doesn't scorch on the bottom of the pan. Once simmering, whisk in the cocoa powder until the mixture is smooth.
Remove the pan from the heat and stir in the vanilla. Serve the hot chocolate in mugs topped with whipped cream, chocolate shavings*, marshmallows, or whatever.
*Throw some chocolate chips in a bowl. Add a small dollop of butter. (Or don't). Melt it in the microwave. Scrape it onto a plate, or anything flat, like a baking sheet. Throw it in the freezer for 5 minutes. Then use a metal spatula to "shave" it off. Viola!