The Very Best Oatmeal Raisin Cookies (Soft and Chewy)
The very best oatmeal raisin cookies you will ever have! They are soft and chewy and I promise you will NOT be wishing those raisins were chocolate chips. (I know you) The trick is to plump the raisins in boiling water, and then add a bit of molasses to the cookie dough. It's to die for!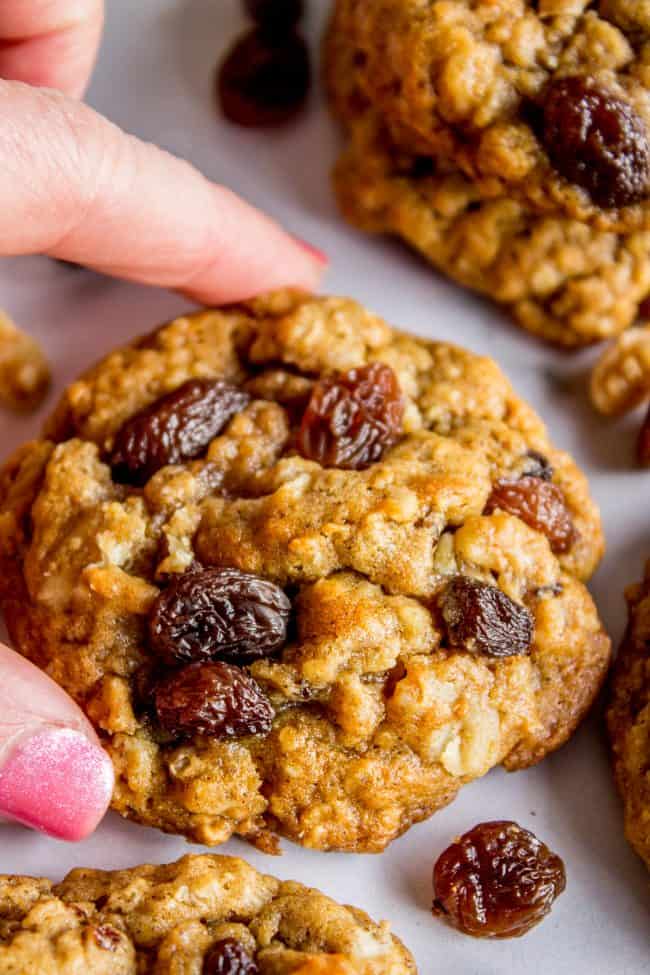 There's a new sheriff in town around here, folks. That's what my new parenting book says to tell my children, anyway. Reading a new discipline book is always a sure fire way to shake things up when parenting gets too boring (har, har).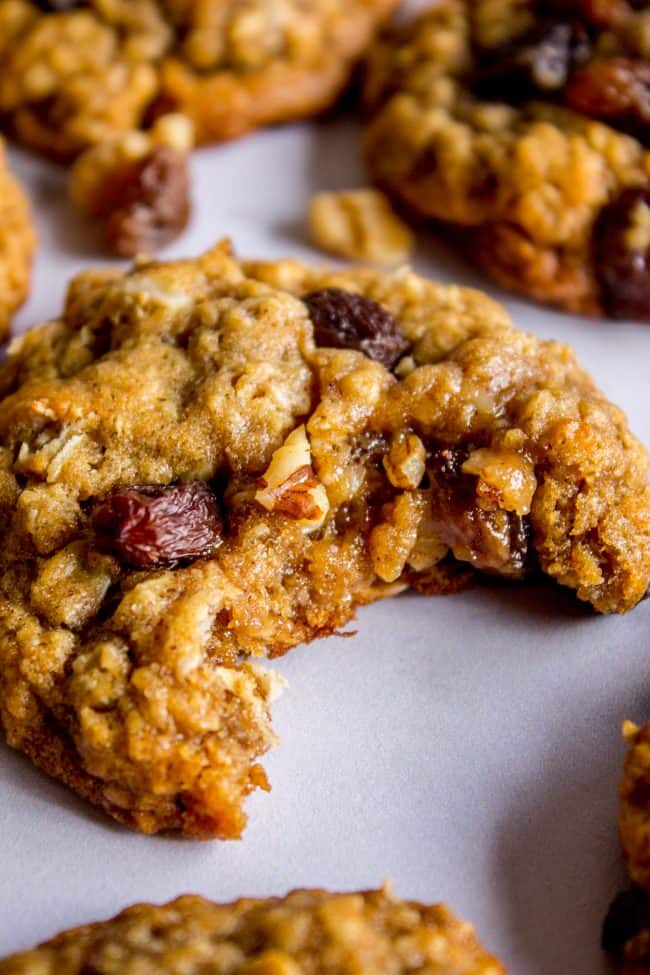 The book basically eschews all the "psychobabble" from the 1960s and tells you to parent the same as your great-grand parents did. (Minus the belt) Lots of common sense. No BS. It's right up my ally, so no surprise I love it. No surprise, my kids are hating it.
You should see the looks on their faces when I tell them there's a new sheriff in town. It's as if I'm torturing them. You would not believe the weeping and wailing and gnashing of teeth going on around here, yours truly included (the Bible just has the best punishment imagery, doesn't it?)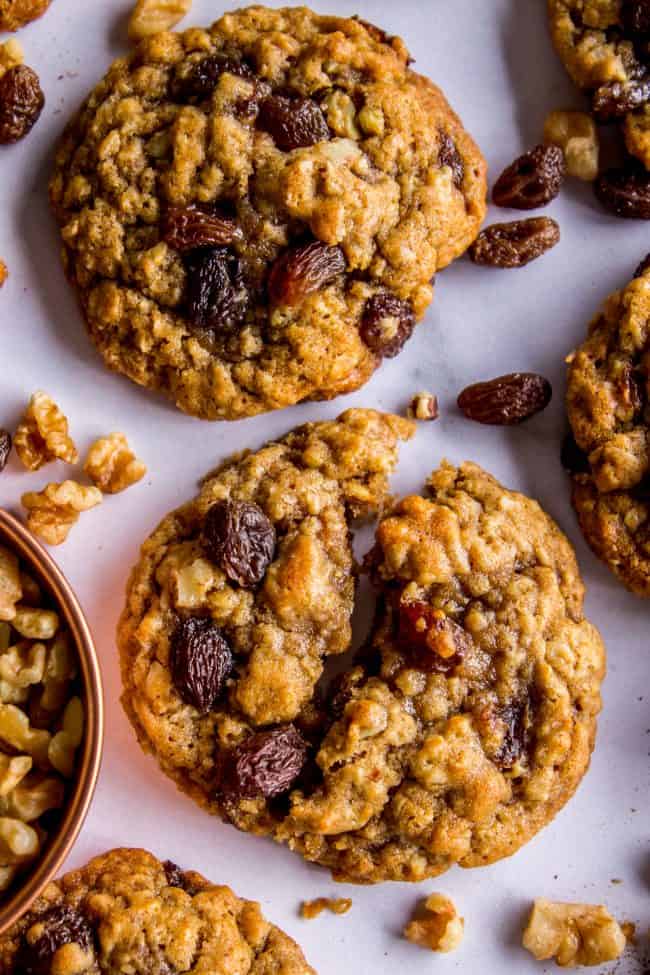 My son Truman should really be loving our new discipline regime, because he's basically an 80 year old at heart. His favorite food is Brussels sprouts (no lie). He will not eat cake. He does not like sugar cookies or anything too sweet. He loves to snack on nuts. He will eat a chocolate chip cookie, but only one.
These oatmeal raisin cookies, though? He can pound them down. "These are really good, Mom." Why thank you, child from 1945.
How to make Oatmeal Raisin Cookies
I saw this joke on Pinterest a while back, "Oatmeal raisin cookies that look like chocolate chip cookies are the main reason I have trust issues." I used to feel exactly the same way, but oh how the times have changed! Why do we have such a bias against raisins these days?? They are so good.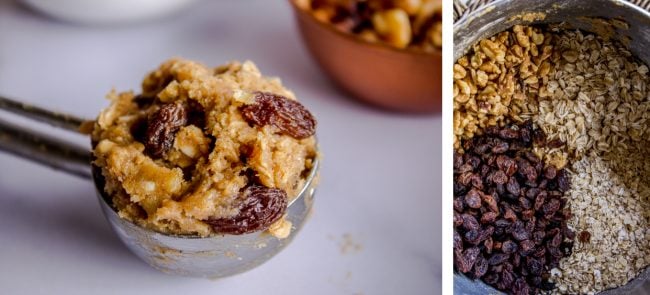 Well, I should qualify that. Raisins are just okay, until you soak them in boiling water for a few minutes. Then they are AMAZING. Plump and juicy raisins are so delicious and pop-able.  You will have to stop yourself from eating them all before you mix them into the cookies.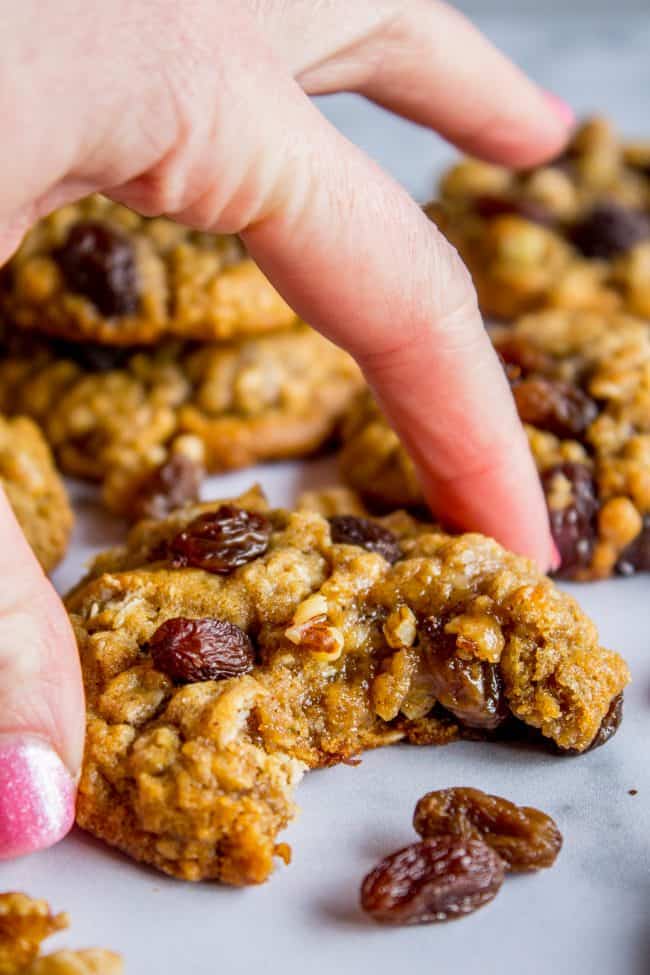 The other secret to making these the BEST oatmeal raisin cookies is to add a bit of molasses to the dough. It totally amps up the flavor in the best, deepest, blackstrappiest way. A little pinch of nutmeg in addition to the cinnamon helps too.
I like to use a combination of quick oats and old fashioned oats in these cookies. If you use only old fashioned oats, the cookies may not bind together as well. Most oatmeal raisin cookies call for less flour and more oats than this recipe, but I tested this multiple times and am in love with the texture of the recipe as written. I don't want a granola bar, I want a COOKIE, thank you very much!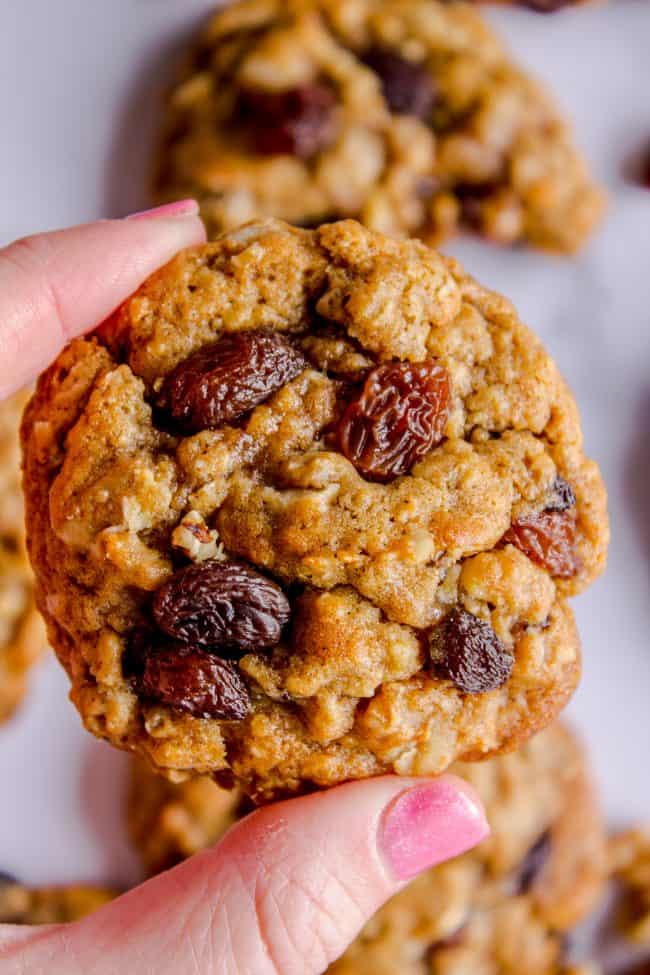 If you have only ever tried Oatmeal Raisin cookies that were bought at the store, you seriously need to try these out. They just do not compare AT ALL. I love me a good Chocolate Chip Cookie, but these Oatmeal Raisins seriously give them a run for their money, trust issues aside. ;)
Facebook | Pinterest | Instagram
Four years ago: Cheesy Buffalo Chicken Dip
Six years ago: Creamy Lime Bars
Seven years ago: Cookie Inception
The Very Best Oatmeal Raisin Cookies (Soft and Chewy)
The very best oatmeal raisin cookies you will ever make! They are soft and chewy and I promise you will NOT be wishing those raisins were chocolate chips. (I know you) The trick is to plump the raisins in boiling water, and then add a bit of molasses to the cookie dough. It's to die for!

Ingredients
1

cup

butter

,

softened (2 sticks)

1

cup

brown sugar

3/4

cup

granulated sugar

2

large

eggs

2

teaspoons

vanilla extract

1

tablespoon

molasses

2 & 1/2

cups

all-purpose flour

,

spooned and leveled

1 & 1/2

teaspoons

baking soda

1

teaspoon

kosher salt

1 & 1/2

teaspoons

cinnamon

1/4

teaspoon

nutmeg

pinch

cardamom

,

optional

1

cup

quick oats

1

cup

old fashioned rolled oats

1/2

cup

chopped walnuts

,

toasted (optional)

1 & 1/2

cups

raisins
Instructions
Start by preparing your raisins and walnuts, if you plan to add nuts. Bring a small pot of water to a boil. Add 1 and 1/2 cup raisins to a small bowl. Pour the boiling water over the raisins. Set aside to plump (at least 10-15 minutes.)

In a small pan, add 1/2 cup walnuts and set over medium heat. Stir frequently for 3-5 minutes, until the walnuts are light brown and fragrant. Don't burn them! Nuts are so easy to burn. Set side to cool.

In a large bowl or stand mixer, beat the butter until is is soft and creamy.

Add the brown sugar and granulated sugar and beat together. Scrape the bottom and sides of the bowl and beat for another 2-3 minutes, until fluffy.

Add 2 eggs, 2 teaspoons vanilla, and 1 tablespoon molasses. Beat well until incorporated, scraping the sides and bottom.

Add 2 and 1/2 cups flour (spooned and leveled!) but don't mix it in yet.

On top of the flour in the bowl, add 1 and 1/2 teaspoons baking soda, 1 teaspoon kosher salt, 1 and 1/2 teaspoons cinnamon, and 1/4 teaspoon nutmeg. Add in a dash of cardamom, but only if you already know you like cardamom. Stir it into the flour with a small spoon.

Use the beaters to stir the flour into the dough, but not all the way. Stop when the dough is still pretty white from the flour. Scrape down the edges.

Add 1 cup quick oats, 1 cup old fashioned oats, and the 1/2 cup of toasted walnuts, if you're using them.

Beat just until the flour streaks are gone. Make sure to scrape the sides and bottom of the bowl to make sure it has all been mixed properly, but do not over mix (or you will get tough cookies).

Drain the raisins through a strainer. Lay out a paper towel on the counter and pour the raisins on top to dry them out a bit. Set aside 1/4 or 1/2 cup raisins to press into the top of the baked cookies, if you want.

Use a wooden spoon to stir the raisins into the dough. If they are still a little wet, they may not mix in very well. Just do your best to get them incorporated.

Cover the dough and refrigerate for 2 hours or up to 48 hours. If you are in a big hurry, you can shape the dough into balls right away, set them on a plate, cover with plastic wrap, and refrigerate for 30 minutes before baking (they will chill faster if they are already shaped into balls).

When you are ready to bake, preheat your oven to 350 degrees F.

Use

a 2 inch cookie scoop

(< this is the one I have) to shape the cookie dough, or just use your hands. Your cookie dough balls should be about 2 inches across, or a little bigger than a golf ball.

Place the cookie dough on the prepared baking sheets with about 2 inches in between each cookie. I was able to fit 12 on

a half sheet baking pan

.

Bake at 350 for 11-12 minutes. The cookies should be firm on the edges and slightly golden. They should not be too shiny. A little bit of shine is okay right in the center, but not much. If the whole top of the cookie is still shiny, leave it in for 2-3 more minutes.

Remove the pan from the oven.

For an extra thick cookie: Immediately after you take them out of the oven (seriously, don't wait) use two spoons to gently push each cookie together. I just used two regular spoons, the kind you eat cereal with. Push the cookie together so that it comes up a bit in the middle. That's how you're going to get a soft, thick center. If you wait even just a minute after taking them out of the oven, the brown edges will start to crisp up, and you won't be able to shape the cookies. Work your spoons all the way around the edges so that your cookie is a nice circle shape. Work quickly to shape all the cookies before they crisp on the edges. (See photos of this process on my recipe for

30 minute Chewy Chocolate Chip Cookies

.)

Press extra raisins into the top of each cookie, if desired. (You can use ones that you plumped or ones straight from the bag.)

Remove to a wire rack and let cool completely. But not before eating at least one!

Store covered on the counter.
Notes
You can make this dough ahead of time and freeze for later. Shape the dough into balls, seal in a ziplock, and freeze for up to 3 months. No need to thaw before baking; put them frozen into a preheated oven and add 2-3 minutes to the bake time. Once the dough has been frozen, there is not as much need to use spoons to smoosh them together, although you can if you want.
Nutrition
Serving:
1
cookie
,
Calories:
202
kcal
,
Carbohydrates:
30
g
,
Protein:
3
g
,
Fat:
8
g
,
Saturated Fat:
4
g
,
Polyunsaturated Fat:
1
g
,
Monounsaturated Fat:
2
g
,
Trans Fat:
1
g
,
Cholesterol:
29
mg
,
Sodium:
196
mg
,
Potassium:
126
mg
,
Fiber:
1
g
,
Sugar:
13
g
,
Vitamin A:
208
IU
,
Vitamin C:
1
mg
,
Calcium:
20
mg
,
Iron:
1
mg
More classic cookies you are going to love!
Texas Cowboy Cookies << these are one of the most popular recipes on my site! You will love all the mix ins.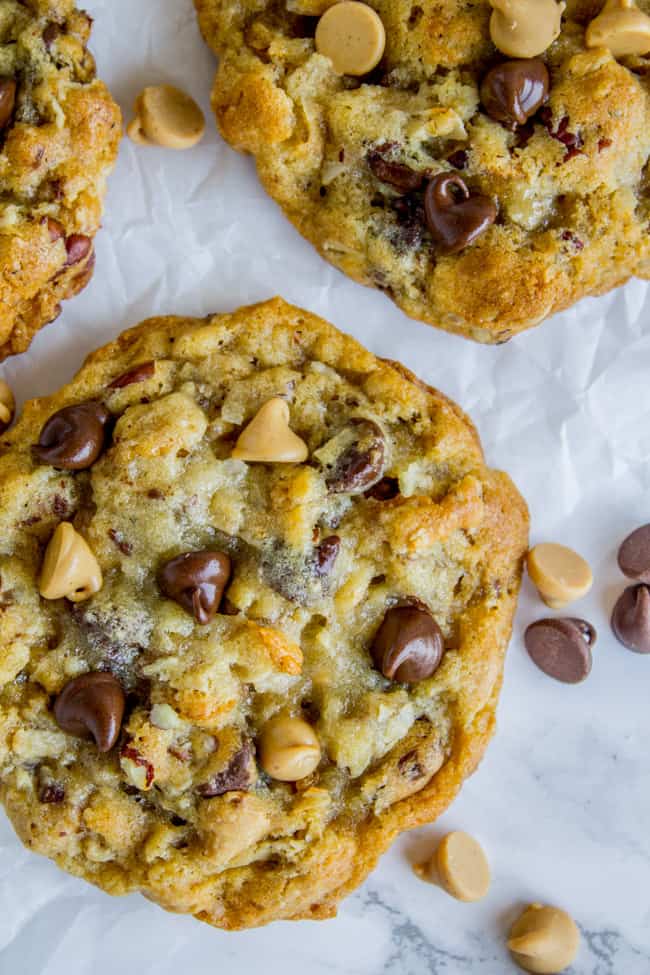 Skinny Oatmeal Chocolate Chip Cookies << another super popular recipe on the site. You guys love your oatmeal cookies!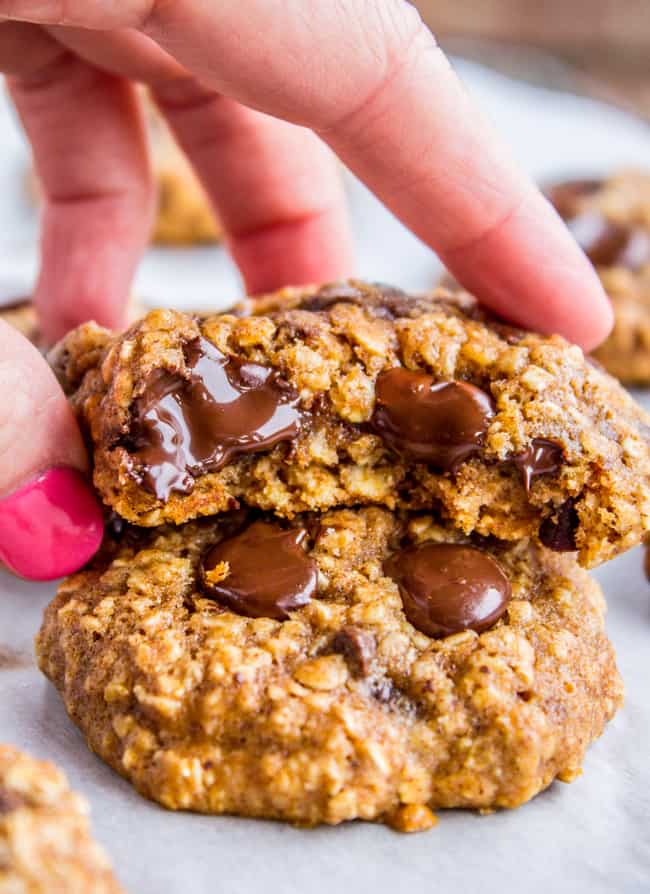 Chewy Peanut Butter Oatmeal Cookies << these are SO soft and chewy! I love them!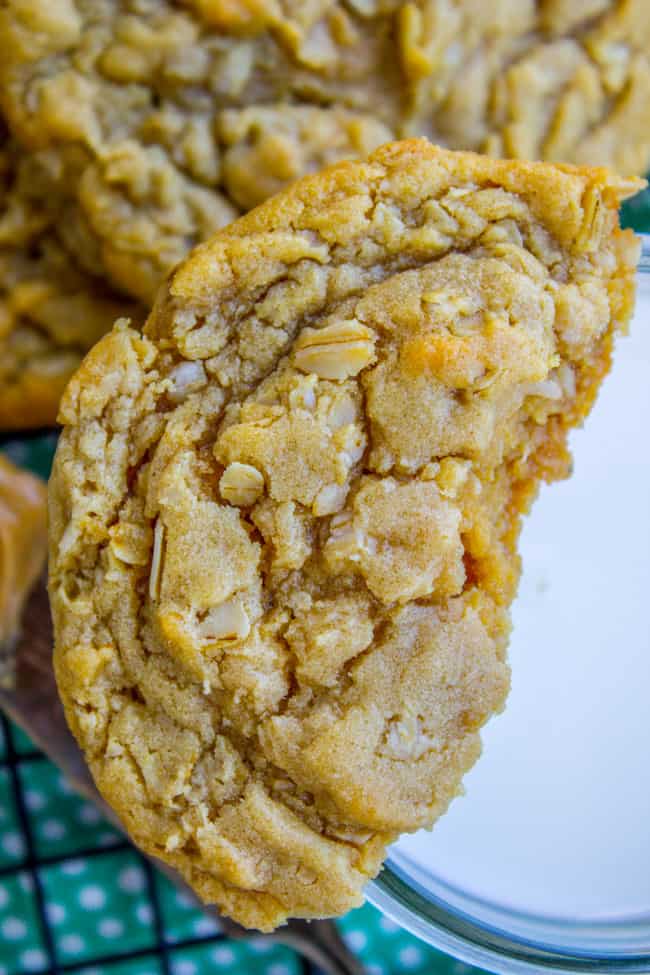 More Oatmeal Raisin ideas from other bloggers!
No Bake Oatmeal Raisin Cookie Balls from Family Food on The Table
Healthy Oatmeal Raisin Cookies (No Sugar Added) from Sugar Free Mom
Whole Wheat Chewy Oatmeal Raisin Cookies from Rachel Cooks
We are a participant in the Amazon Services LLC Associates Program, an affiliate advertising program designed to provide a means for us to earn fees by linking to Amazon.com and affiliated sites.