Double Chocolate Cookies with Caramel Bits
Warm, gooey, ultra rich chocolate cookies with little bits of caramel and dark chocolate in them. These cookies will satisfy your chocolate cravings in one bite, but I bet you'll have more than that. Don't even bother making these if you don't have a glass of milk!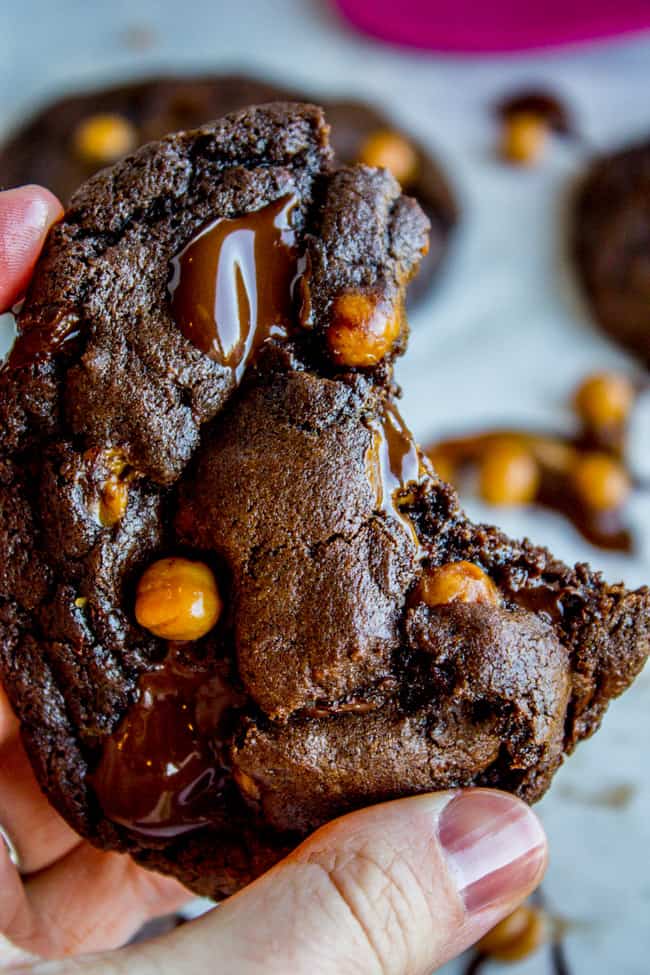 So you're in the parking lot, and you see an empty space up ahead. Then you pull up a little closer and see that the stupid minivan next to your precious spot did SUCH a terrible job parking that there is zero space for you, unless you get all Gumby-like getting out of your car. And then you shake your fist at the idiot who can't park and start making your way to the back of the lot.
Guys, I have a confession. IT'S ME. I'm the idiot who can't park her minivan. I'm the one you're shaking your fist at. I'm the who's making you rack up steps on your Fitbit because you had to walk twice as far. I'M SORRY OKAY. Minivans are hard.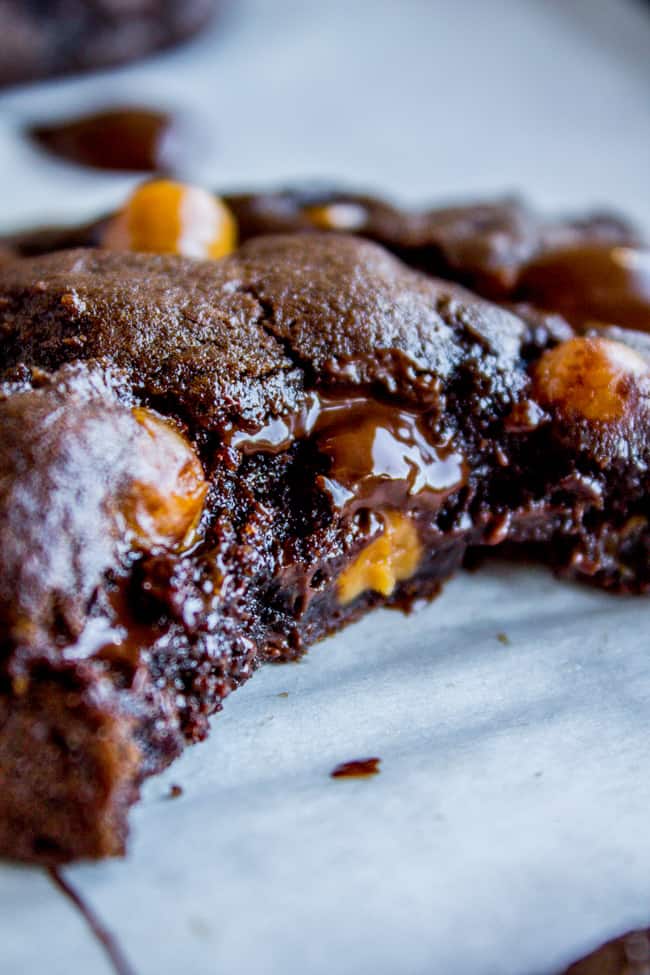 Some of us just didn't get the hand eye coordination gene. Did you know they're starting to make cars that can parallel park FOR you? Adept parkers are thinking, are you kidding me, are we THAT stupid as a society? And I'm over here doing a slow clap. It's the Karens of the world that they are marketing to. (Seriously though when are they coming out with the regular Parking button? Apparently I can't even handle that.)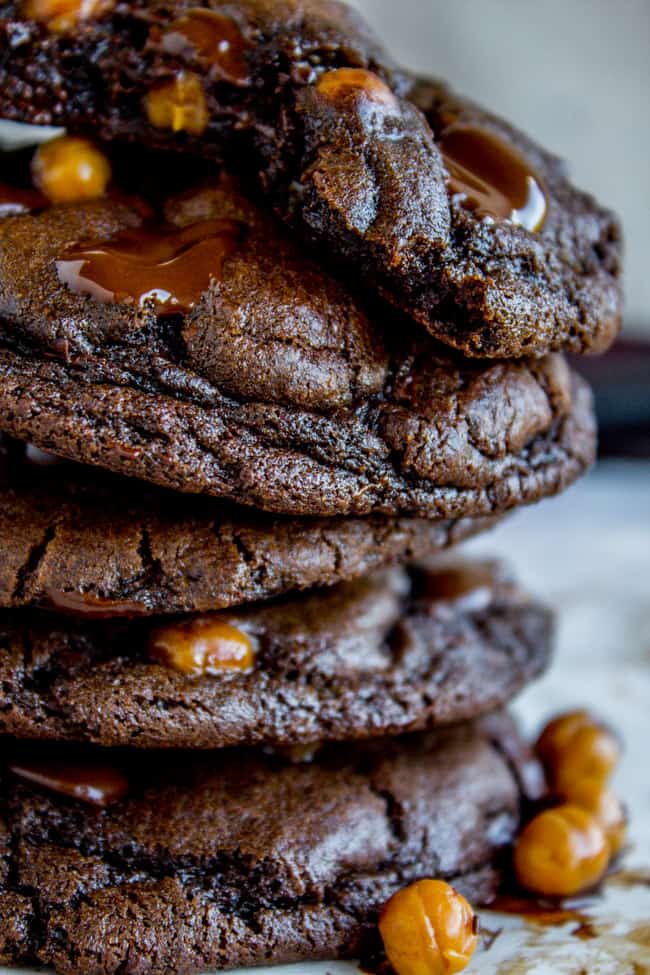 Well next time you have to park by me, let me know and I will bring you these cookies to make up for it. Cookies solve all the world's injustices, right?
My friend Lara made me some cookies over Christmas that had these amazing chewy-somethings in them, and I couldn't figure out what it was. I texted her and she told me they were Caramel Bits. Like regular vanilla caramels, but chip-ified, so you can stir them into cookie dough. How genius is that?? Kraft, I love you.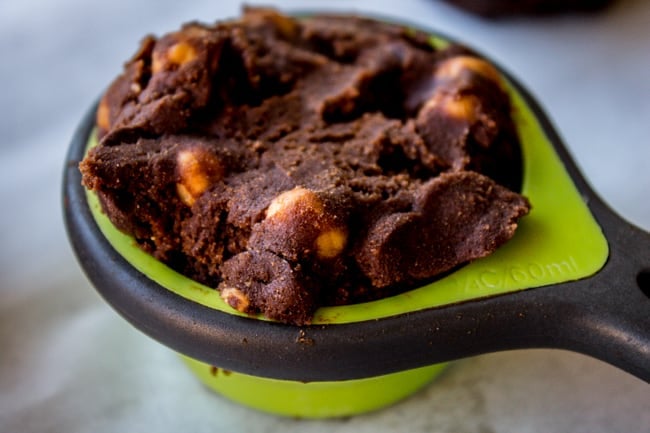 I started dreaming about a super dark and tender chocolate cookie with tiny bites of caramel throughout. And that's exactly what this is my friends. Seriously my new favorite cookie. It satisfies the chocoholic in me quite nicely.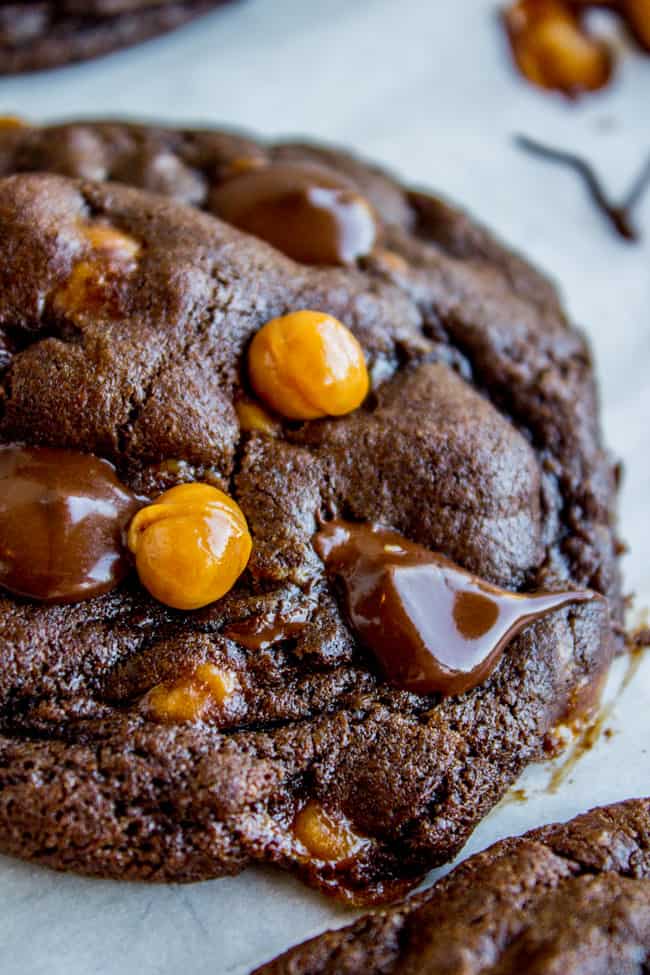 The base recipe is adapted from my friend Christy's book, The Girl Who Ate Everything. Christy is an awesome blogger who's been around for years and years. Her blog and the book are perfect for when you need crowd pleasing recipes. (When do you not need crowd pleasing recipes??) Christy mentioned on Instagram yesterday that there are only 2 copies of her book left! Ah! Go get it!!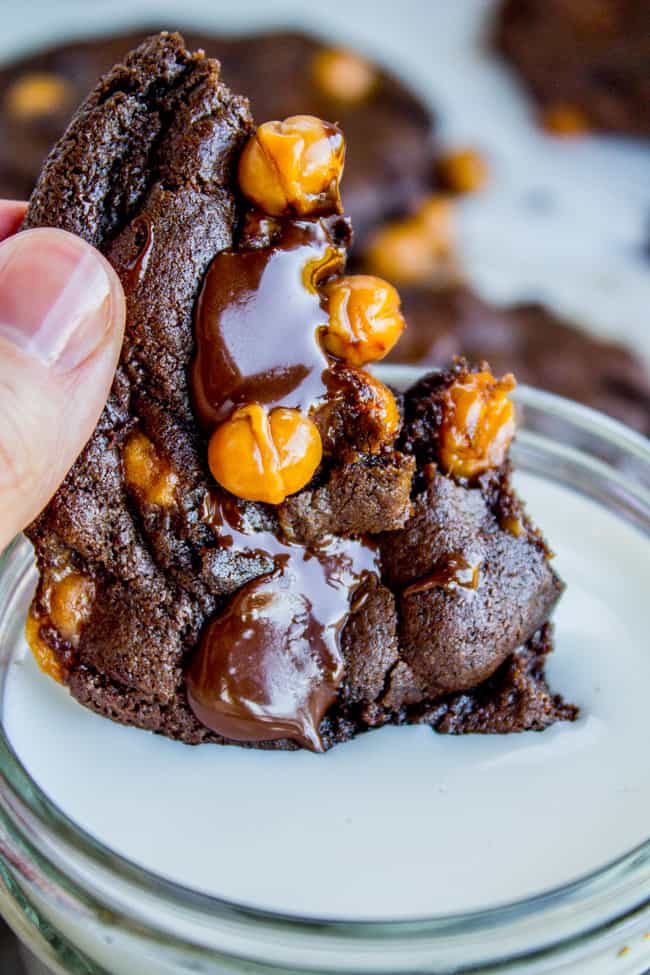 If you make any of my recipes, be sure to share them on Instagram using the hashtag #TheFoodCharlatan so I can see it! I love that.
Facebook | Pinterest | Instagram | Twitter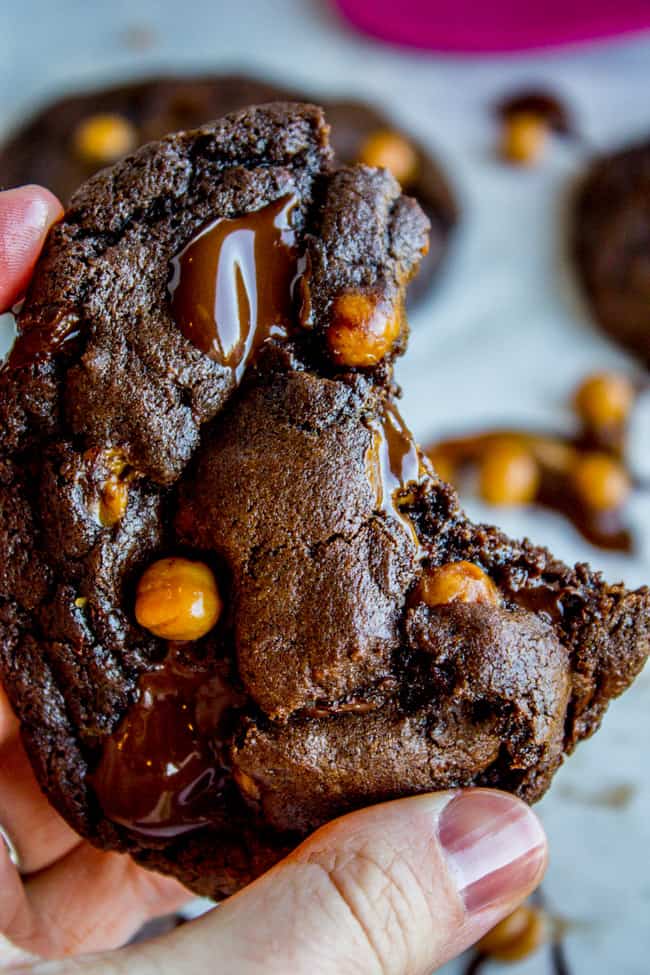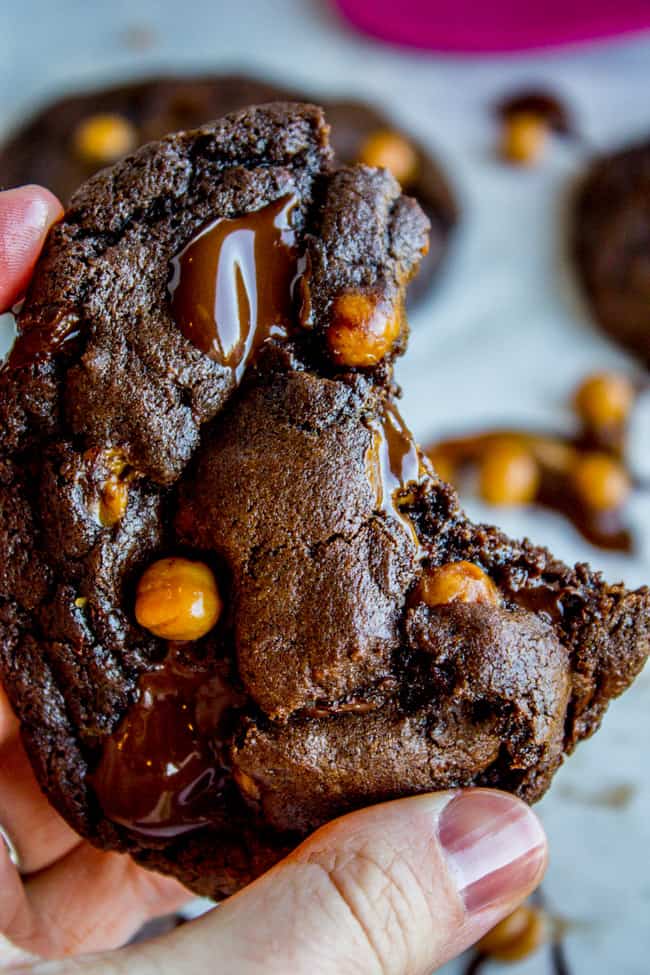 print
Did you make this recipe?
Leave a review »
Double Chocolate Cookies with Caramel Bits
Makes 18-20 large cookies
adjust servings
Ingredients
1

and 1/4 cups (2 and 1/2 sticks) salted butter, melted

1

cup sugar

1

cup dark brown sugar

2

large eggs

1

tablespoon vanilla extract

2

cups flour, spooned and leveled

1

cup cocoa powder

1

teaspoon baking soda

3/4

teaspoon kosher salt

1/2

cup dark chocolate, chopped

1

and 1/2 cups caramel bits*
Instructions
Melt the butter in a microwave safe bowl.
Add the butter to a large bowl or a stand mixer. Add the sugar and brown sugar and stir together.
Beat in the eggs and vanilla.
In another bowl,** whisk together the flour, cocoa powder, baking soda, and kosher salt. (Sift the cocoa if it looks clumpy.)
Stir the dry ingredients into the wet ingredients but not all the way. There should be lots of flour streaks.
Add the dark chocolate and the caramel bits and stir until just combined. Don't overdo it or you will make the dough tough.
Chill the dough for 2-3 hours, or you can throw it in the freezer for about an hour. You just want to make sure the dough is nice and cold.
Preheat the oven to 350 degrees F. Line a baking sheet with parchment paper or a silpat.
Shape the dough into large oblong balls. I use a quarter cup to measure them out. Shape the ball into an oval shape or "tall" cookie. This makes them spread slower in the oven and turns out a thicker, chewier cookie.
Place on a cookie sheet at least 2 inches apart. I only put 6-8 cookies on an 11x17 cookie sheet.
Bake for about 10 minutes or until they are not shiny in the middle. The edges should be firm to the touch. Don't over bake!
Let the cookies set up on the pan for about 5 minutes before removing to a wire rack to cool.
by The Food Charlatan

If you make this recipe,
share it on Instagram
 using the hashtag
#TheFoodCharlatan
so I can see it!
Source: I adapted this recipe from The Girl Who Ate Everything cookbook.
Other cookies you will love!
Mint Chocolate Chip Cookies << These are soooo good. Perfect for St. Patrick's Day coming up!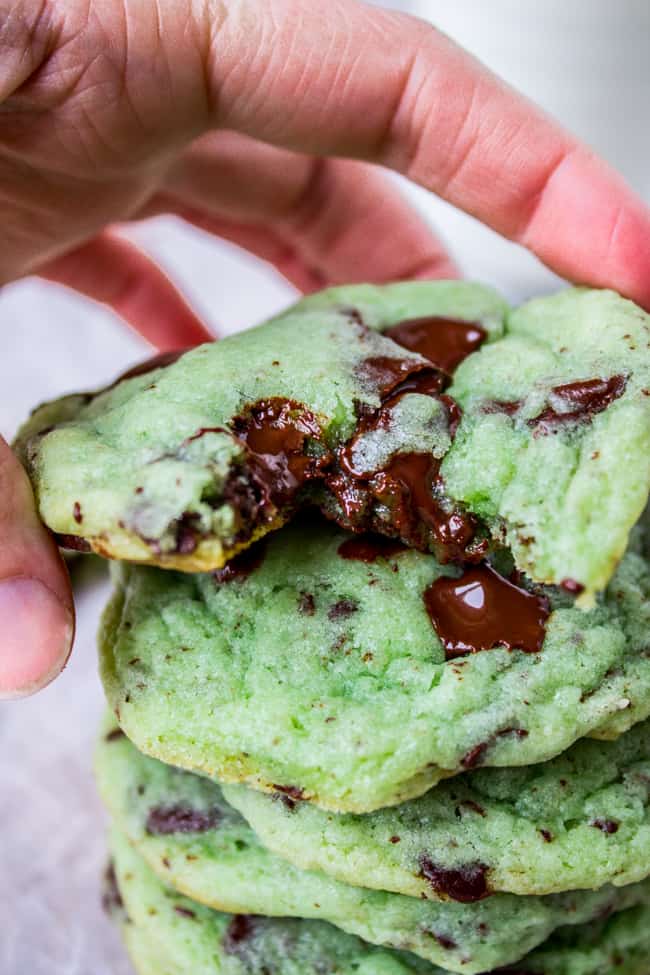 Texas Cowboy Cookies << These have been super popular lately!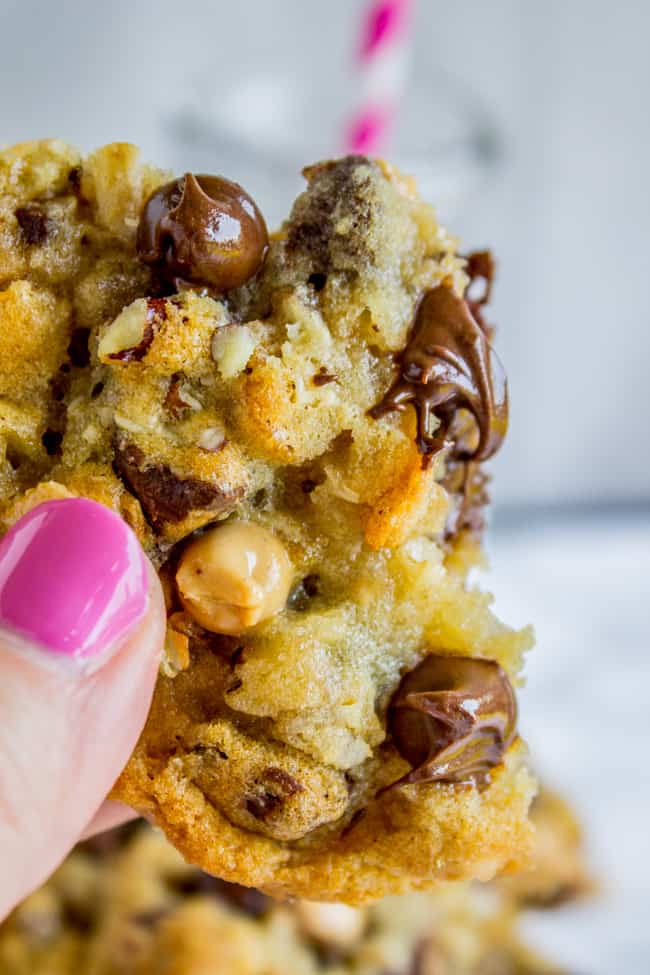 Brown Butter Chocolate Chip Cookies << If you've never browned butter for your cookies before…oooh man. Do it.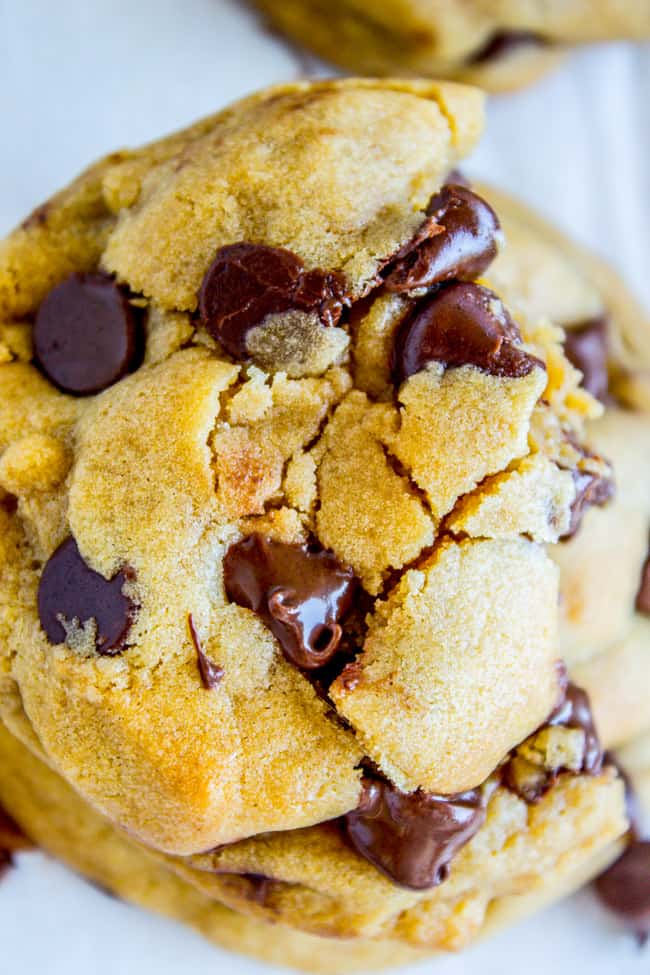 More chocolate overload from friends:
Salted Caramel Hot Chocolate Cookies from Beyond Frosting
Double Chocolate Macadamia Cookies from Crazy for Crust
Mom's Double Chocolate Cookies from The Recipe Rebel
This post contains affiliate links. Thanks for your support!
We are a participant in the Amazon Services LLC Associates Program, an affiliate advertising program designed to provide a means for us to earn fees by linking to Amazon.com and affiliated sites.