Cinnamon Caramel Swirl Bars
Turns out cinnamon and caramel is the best combo ever. These bars are rich and gooey.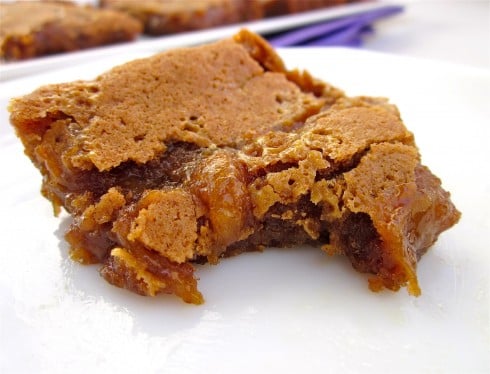 Isn't Mother's Day great? I've always thought it was a fun holiday, and that was even before I became a mom. I have to say, it's even better now. I woke up this morning (very late) to fresh flowers, waffles, a new book, and two tickets to see Pink Martini.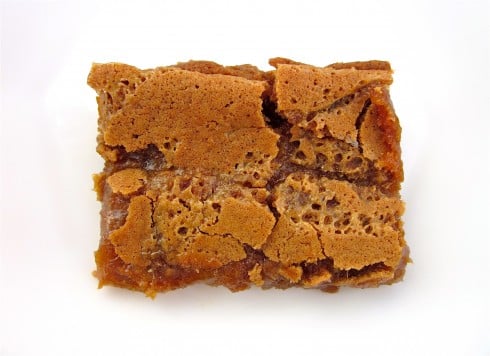 Honestly, Eric could have stopped after the sleeping in and the flowers and I would have been quite content. Now, after making me an elaborate dinner (Barbacoa Beef! I will share the recipe later this week), he is lying around moaning about how tired he is and how he doesn't know how I do it every day. (I just keep my mouth shut and don't mention that since I never do any dishes and rarely clean anything, it's really not that hard being a stay at home mom.)
Here's my little Charlotte. Her smiles make every diaper and tantrum worth it. That awesome dress was sewn by her great-grandma Georgia, who was quite an amazing woman. She made it a good 30 years ago, for my older sister Nikki. I love it. It's pretty easy to find your toddler when she's the only one at church who looks like she just stepped off the pioneer handcart. I told a friend at church that my Grandma had sewn the dress, and he said, Well the minute I saw it I knew you hadn't exactly gotten it at Baby Gap.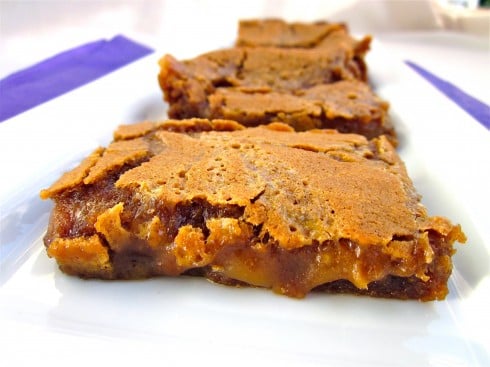 Okay, so these bars. Kind of indescribable, but here goes. I brought these to a barbecue last week and everyone forgot about them until we had finished eating and were completely stuffed. I opened them up anyway, and the pan was literally half gone in less than 5 minutes. One of my friends said that they taste like straight up brown sugar. Which is essentially what they are. Plus cinnamon and caramel. How is it that I have never even thought of combining cinnamon and caramel? It's a fabulous idea. Good luck keeping your hands off these goobers. We are on our second batch already. Happy Mother's Day to all you mom's out there, and especially to you Mom!
Facebook | Pinterest | Instagram | Twitter
Cinnamon Caramel Swirl Bars
Turns out cinnamon and caramel is the best combo ever. These bars are rich and gooey.
Ingredients
2 & ¼

cups

flour

1

tablespoon

baking powder

1

tablespoon

cinnamon

¼

teaspoon

salt

,

+ 1/8 teaspoon

2 & ¼

cups

brown sugar

,

firmly packed

3/4

cup

butter

,

melted

3

eggs

1 & ½

tablespoons

vanilla

1

cup

pecans

,

chopped, optional; I left them out

1

14-oz package

caramels

,

unwrapped*

1/4

cup

milk

,

*
Instructions
Preheat oven to 350°F. Mix flour, baking powder, cinnamon and salt in medium bowl. Set aside. Beat brown sugar, butter, eggs, vanilla and pecans in large bowl until well blended. Add flour mixture; mix well. (Add pecans now if you are using them.) Reserve 1/3 of the batter. Spread remaining batter into lightly greased foil-lined 13x9-inch baking pan. Bake about 20 minutes or until center is set.

Meanwhile, microwave caramels and milk in microwavable bowl for 2 or 3 minutes, or until caramels are completely melted, stirring after every minute. Cool 5 minutes or until slightly thickened. Pour over baked layer in pan, spreading to within 1/2 inch of edges. Drop reserved batter by spoonfuls over caramel layer. Cut through batter with knife several times for marble effect.

Bake 15 to 20 minutes longer or until center is set. Cool in pan on wire rack. Lift from pan. Cut into bars.
Notes
*companies continue to change packaging sizes...Now all I can find are 11 ounce packages of caramels. The recipe still works fine, but cut your milk down to 3 tablespoons.
Source: adapted from Mccormick.com
Nutrition
Serving:
1
bar
,
Calories:
320
kcal
,
Carbohydrates:
46
g
,
Protein:
4
g
,
Fat:
14
g
,
Saturated Fat:
6
g
,
Polyunsaturated Fat:
2
g
,
Monounsaturated Fat:
5
g
,
Trans Fat:
1
g
,
Cholesterol:
54
mg
,
Sodium:
214
mg
,
Potassium:
109
mg
,
Fiber:
1
g
,
Sugar:
31
g
,
Vitamin A:
322
IU
,
Vitamin C:
1
mg
,
Calcium:
93
mg
,
Iron:
1
mg
I made a pumpkin version of this recipe for fall! Try out these Fudgy Pumpkin Caramel Swirl Bars! They are SO GOOD.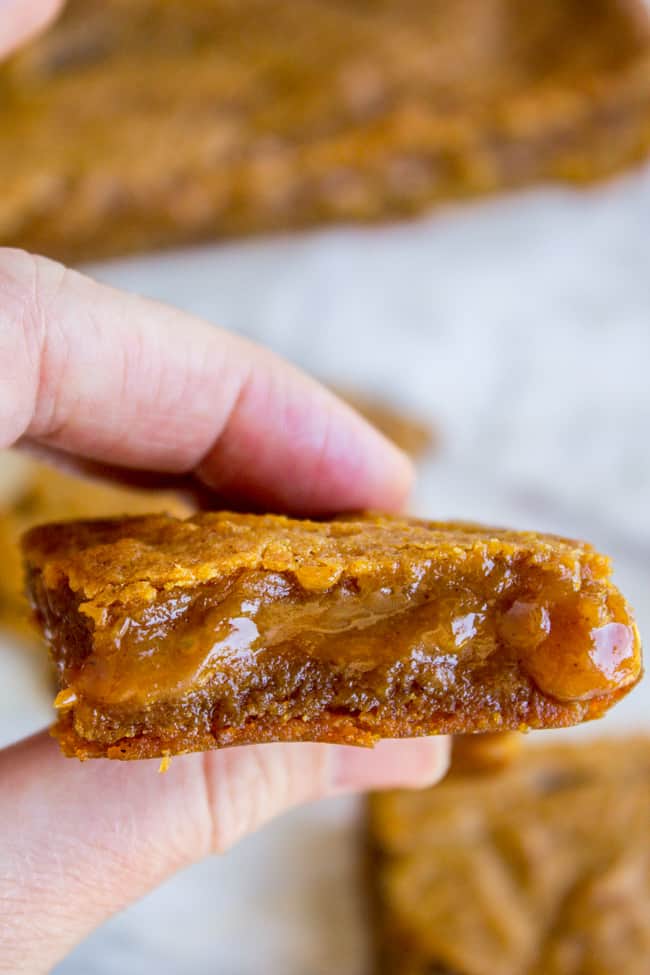 We are a participant in the Amazon Services LLC Associates Program, an affiliate advertising program designed to provide a means for us to earn fees by linking to Amazon.com and affiliated sites.