These are probably the easiest, fastest cookies ever. Add some oil and eggs to a cake mix, whip up a cream cheese frosting, and you're done! These homemade Oreos are so tender and moist!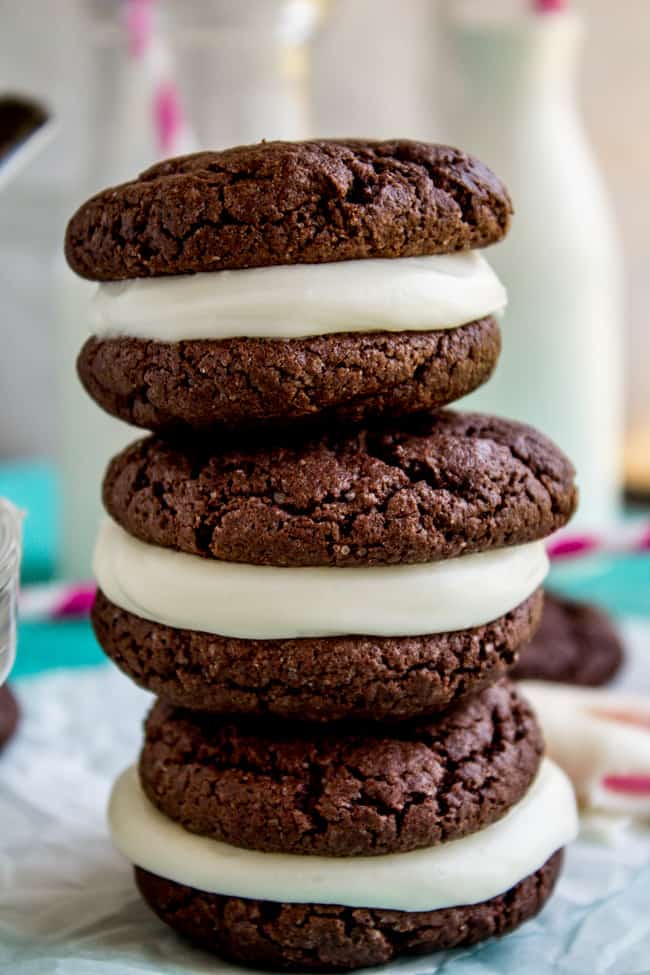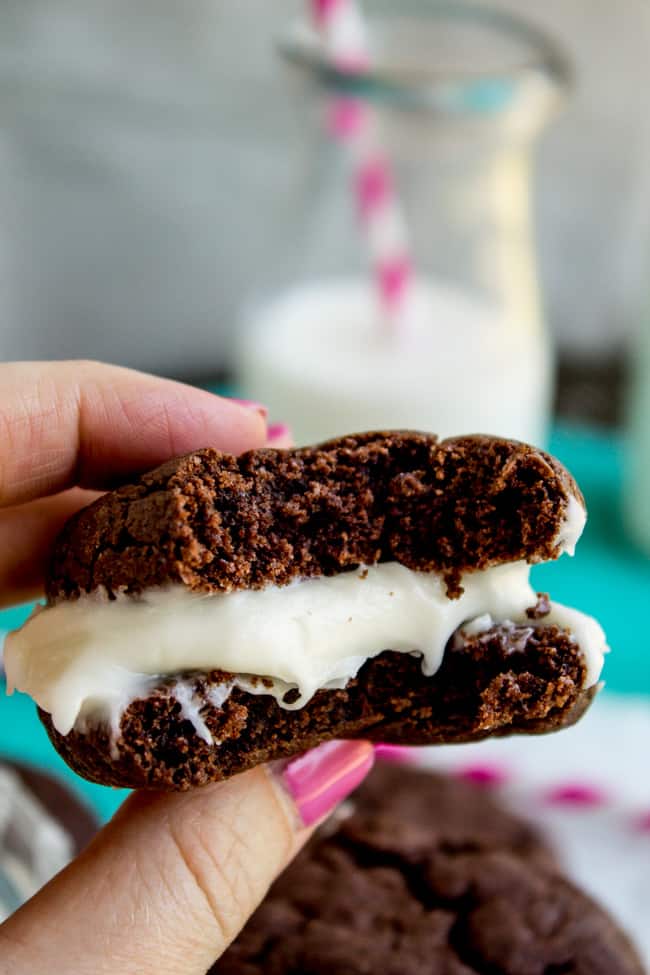 Am I the only one who has the worst time filling out those personality quizzes? You know the ones that are like, would you describe yourself as A) curious B) quantitative or C) passionate?
I never know what to put. I can be curious, quantitative, AND passionate, depending on my mood and the circumstances. I mean isn't everybody??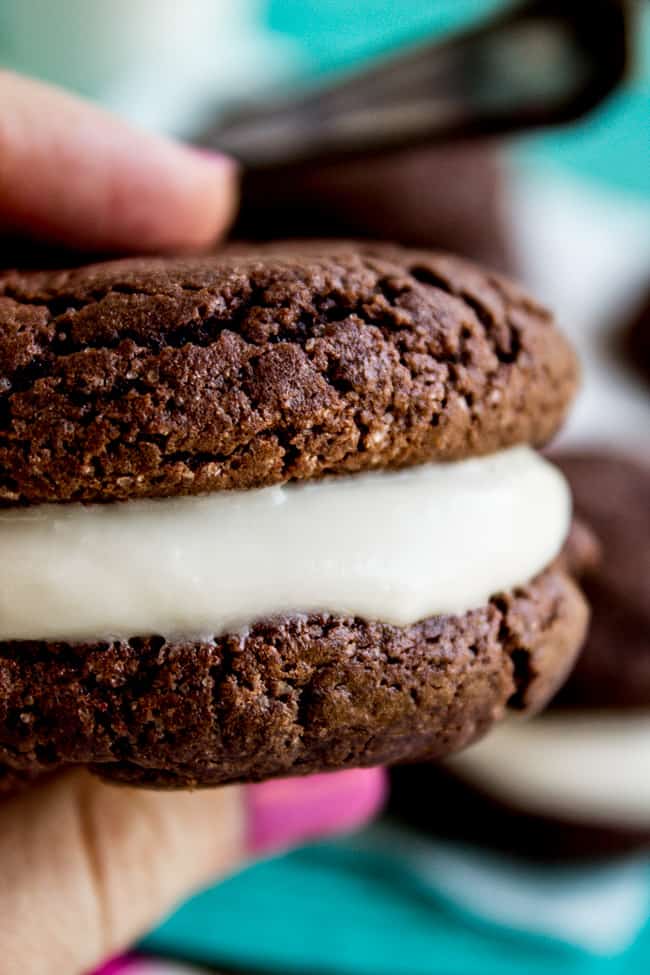 Eric did one at work today with his whole team. At first he thought he was "blue" (why are they always color coded? Why?) Then he decided he was yellow. By the time they had divided up into groups he realized he was red. That's when you know that this is a pointless test, because tomorrow he's probably going to be purple or Native American or something.
(Eric actually has a way better attitude about these kinds of things than I do. Go him. I think that makes him "positive" and "open-minded." Then there's me over here, "snarky.")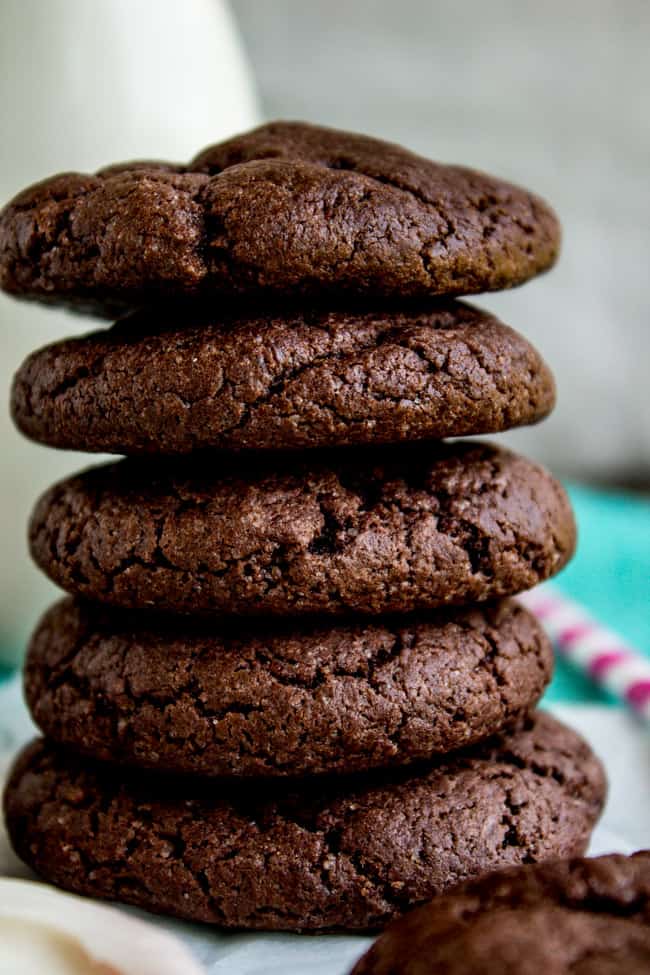 It reminded me of a couple weeks ago when I was hanging out with my sister Nikki and her kids. We were going around answering get-to-know-you questions. Mine was, "Describe your personality in 5 words." I'm the worst at this, but I started thinking and after a minute I come up with "Fun…….Lazy…….Driven–" and Nikki was like urrrr you're out. Lazy AND driven?? Ha! She's right. I lose at personality descriptions.
But I definitely win at cookies today. Just look at these!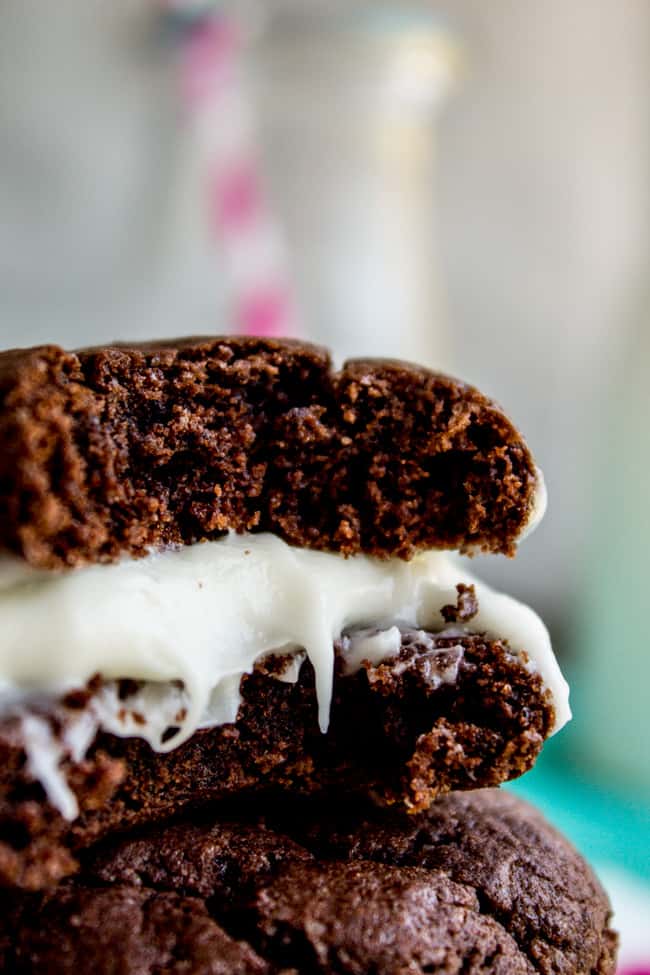 Our friends Amelia and Lawrence came over after the kids were in bed the other night. I had promised them dessert but the clock was ticking and I still hadn't figured out what I wanted to make. (Add "indecisive" to my trait list please.) I kept looking through all my cookbooks and it just kept getting later and later. Finally I remembered these gems: Homemade Oreos.
I literally had them done in less than half an hour. There is just something glorious about going from cookie-thoughts to cookie-consumption in 30 minutes. They are tender and moist. The cookies would be a little boring by themselves (unless you added chocolate chips or another mix-in) but paired with this cream cheese frosting? Oh boy.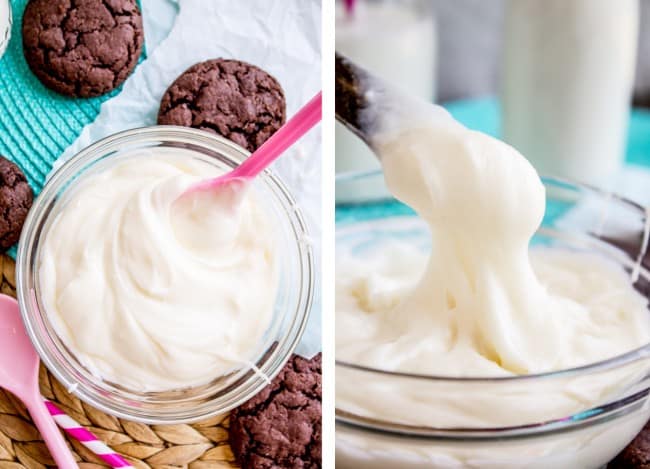 I love to add coconut extract to my cream cheese frosting, but you can also try almond or vanilla.
I thought everyone knew this recipe (have you made it?) but Amelia assured me that she had never had it, so I decided it was time to put it up on the blog. Try them out! And please report back on whether this recipe brings out your A) creative, 2) friendly, or D) industrious side.*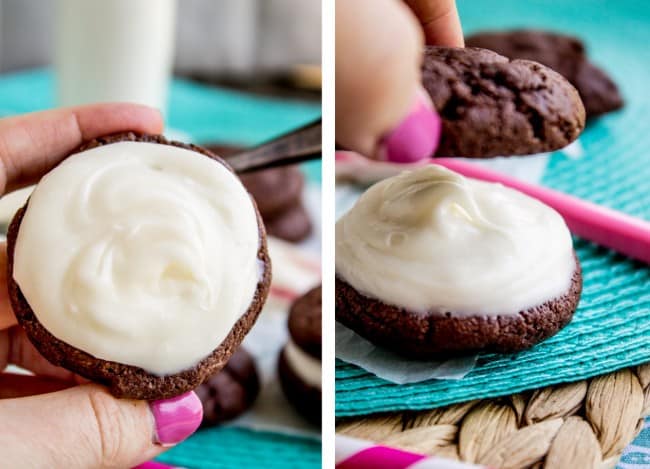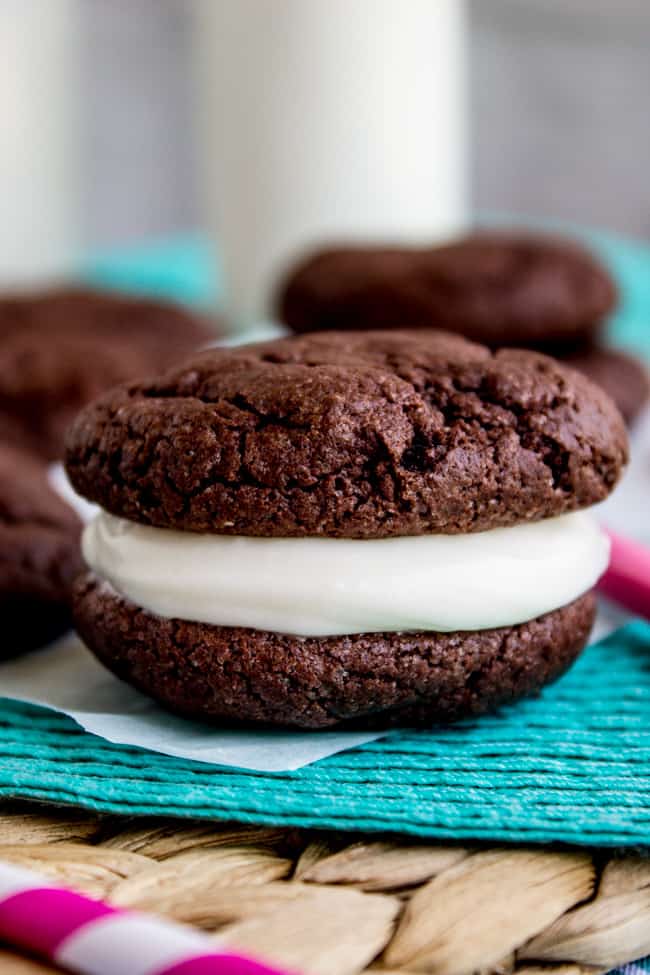 Check out my Cookie board on Pinterest for more awesome recipes!
Facebook | Pinterest | Instagram | Twitter

Homemade Oreos with Cream Cheese Frosting (Cake Mix Cookies)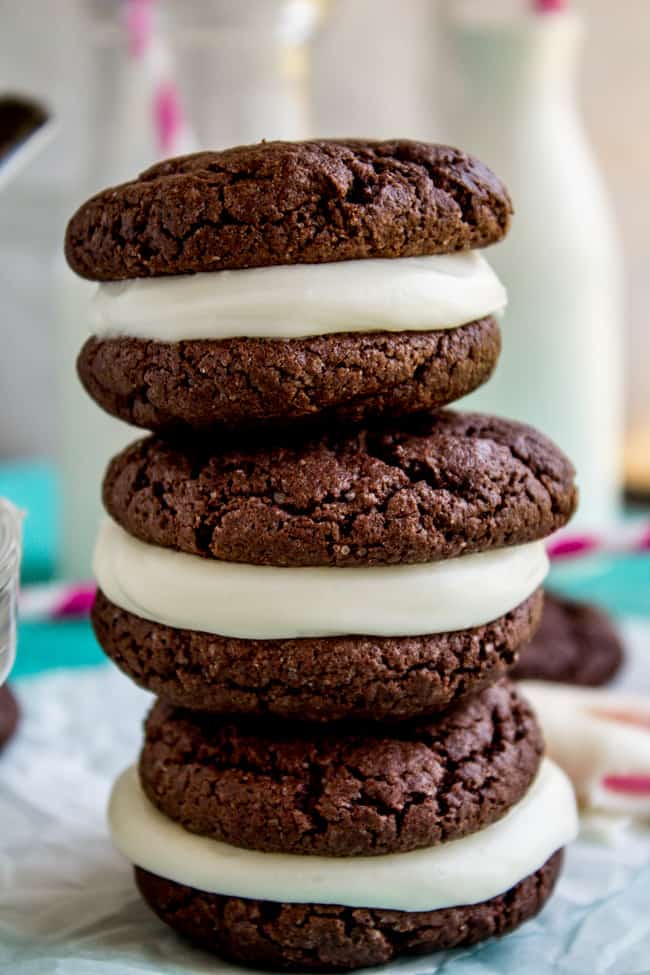 These are probably the easiest, fastest cookies ever. Add some oil and eggs to a cake mix, whip up a cream cheese frosting, and you're done! These homemade Oreos are so tender and moist! 
Ingredients
For the cookies:
1 (15.75-oz)

box

Devil's Food cake mix

1/3

cup

vegetable oil

2

large

eggs
For the frosting
Instructions
Preheat oven to 350 degrees F. Line a cookie sheet with parchment paper or a silpat.

In a large bowl or stand mixer, beat together the cake mix, oil and eggs. Mix until combined.

Use your hands to roll the dough into balls that are a little smaller than a golf ball. Place them about 2 inches apart on the baking sheet.

Bake at 350 for 9-11 minutes. Take them out when they have just barely stopped shining on top.

Make the rest of the dough into cookies and bake.

Clean out your mixing bowl (or get a new one) and make the

Cream Cheese Frosting.

I used 2 cups of powdered sugar, but you can use more to taste.

Use a spatula or knife to spread frosting on the bottom of a cookie. Top with another cookie.

Eat with a giant glass of milk!
Notes
If you are using a stand mixer, don't worry about softening. Just beat it for a while until it's smooth.
Nutrition
Serving:
1
g
|
Calories:
770
kcal
|
Carbohydrates:
113
g
|
Protein:
4
g
|
Fat:
36
g
|
Saturated Fat:
8
g
|
Polyunsaturated Fat:
14
g
|
Monounsaturated Fat:
10
g
|
Trans Fat:
1
g
|
Cholesterol:
41
mg
|
Sodium:
642
mg
|
Potassium:
219
mg
|
Fiber:
1
g
|
Sugar:
91
g
|
Vitamin A:
61
IU
|
Calcium:
84
mg
|
Iron:
3
mg
Homemade Brownie Oreos: < have I mentioned that I love homemade Oreo recipes? This one uses BROWNIES. Boom.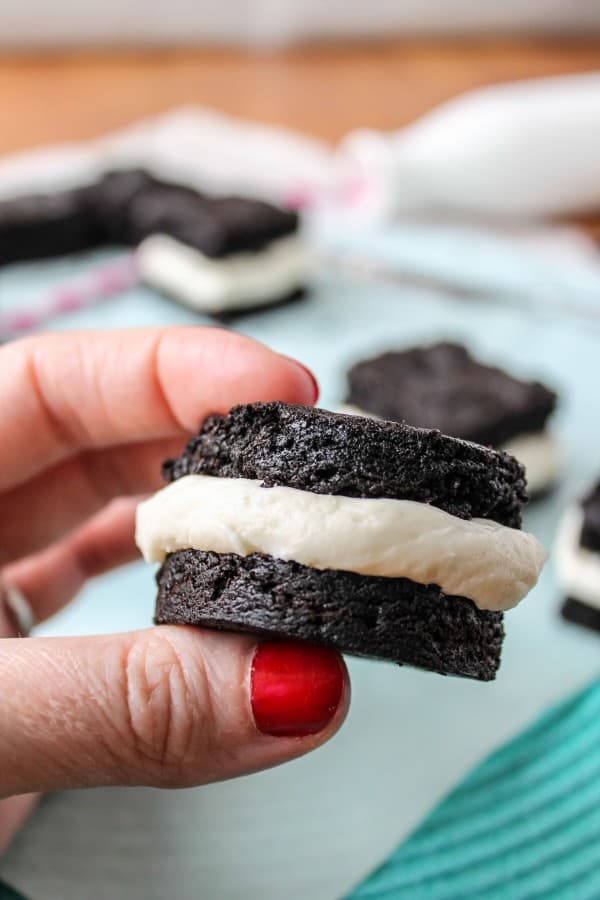 Soft Cinnamon Cookies with Maple Pecan Frosting: << I love these! Perfect for fall.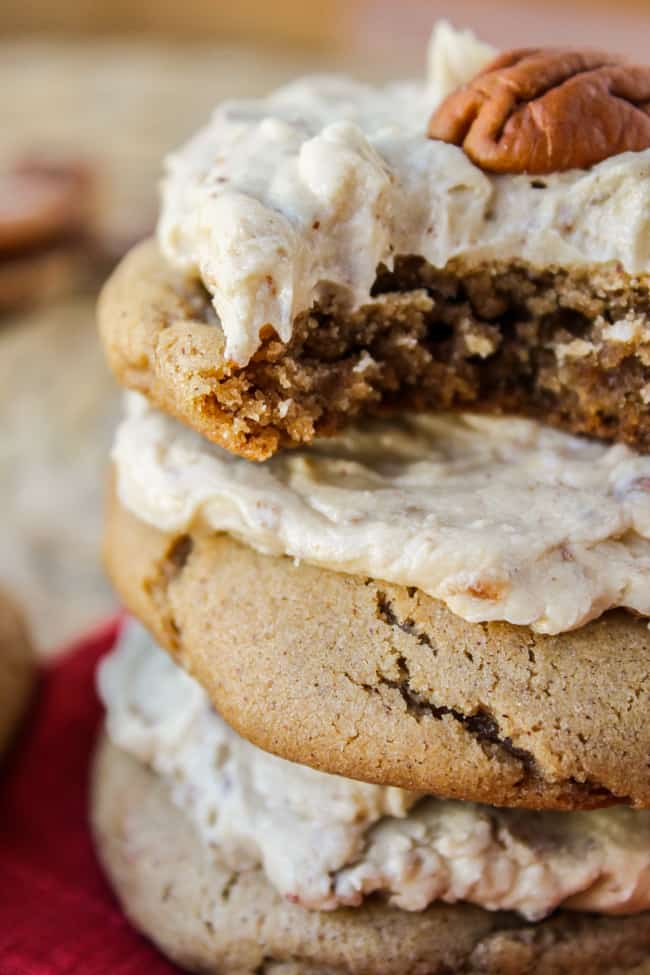 Coconut Frosted Sugar Cookies with Strawberry Hearts: <<personal favorite! These are sooo good.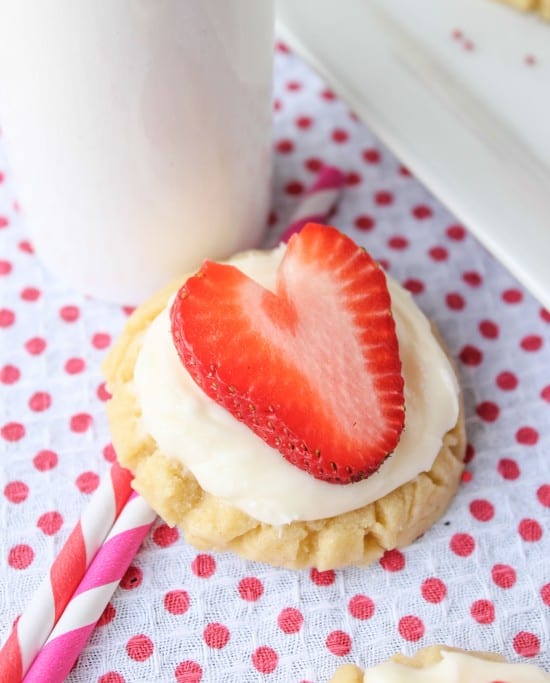 More cake mix cookies you will love:
Cake Mix Cookies: 12 Ways from Taste and Tell
Homemade Oreos from Your Cup of Cake
Rolo Cake Mix Cookies from Lolly Jane
*1000 awesome points if you can name the reference.