This is the perfect spring dessert to feed a crowd! Ultra-thin moist cake topped with fluffy meringue and crunchy almonds, layered with pineapple and strawberry whipped cream! The crispy edges are so irresistible you will want to eat the entire perimeter single-handedly.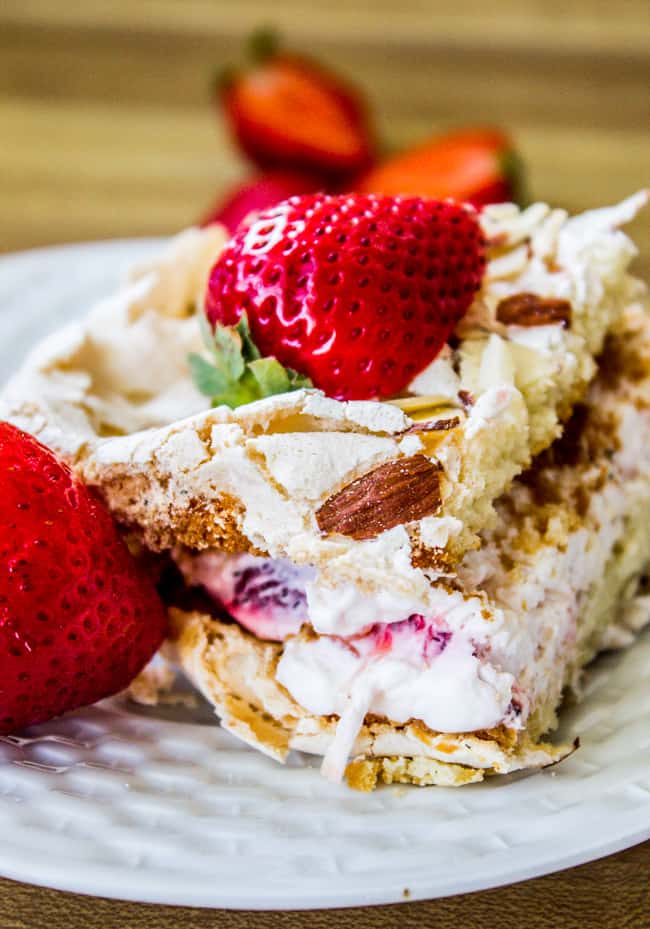 The car that I drive is one of those kind where the headlights are always on. Day or night, if the car is on, the headlights are on. And when you turn the car off the lights stay on for at least a full minute. Who knows why. Perhaps to light the way if your destination happens to be in front of the car?
This feature is single-handedly restoring my faith in humanity. At least once a week when I turn off my car, a random stranger will come up to me, "Your lights are on!" And I say, oh yeah, they turn off by themselves. But thanks! I honestly like it. It makes me feel good and human to have other people try to save me from a dead battery.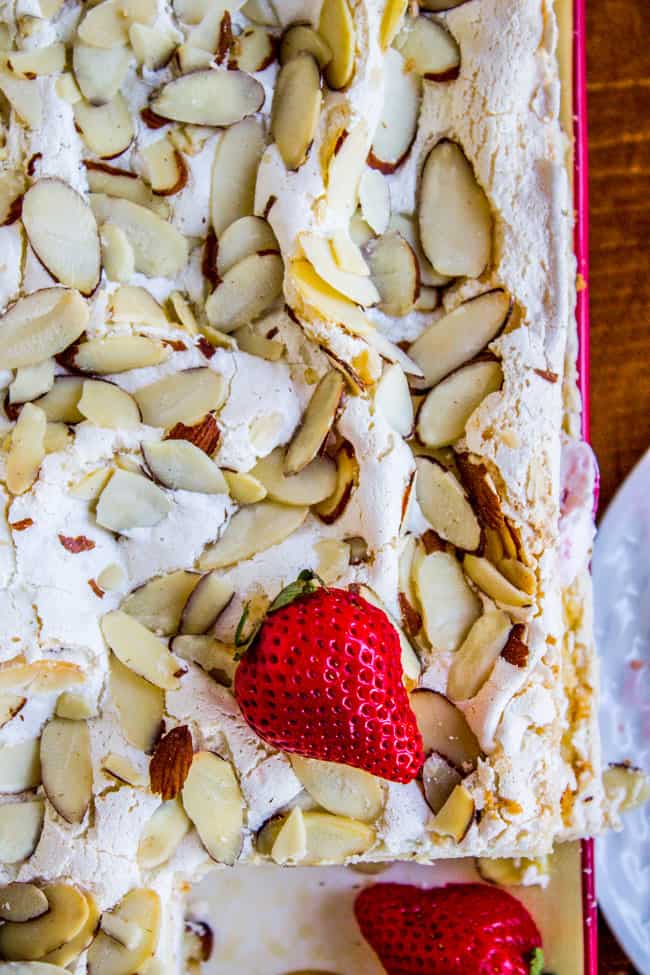 The lights-on-all-the-time feature is especially handy since I have only been pulled over twice in my life, and BOTH times it was because I was driving at night with no headlights (a family trend, apparently). I've never had a speeding ticket, but I've definitely had a cop do the follow-my-pen-with-your-eyes test to see how drunk I was. (Who else would drive around at midnight with no lights on?) "I don't drink! I'm Mormon!" I'm sure he's heard that line before, except this time it's actually true. Have you ever been pulled over?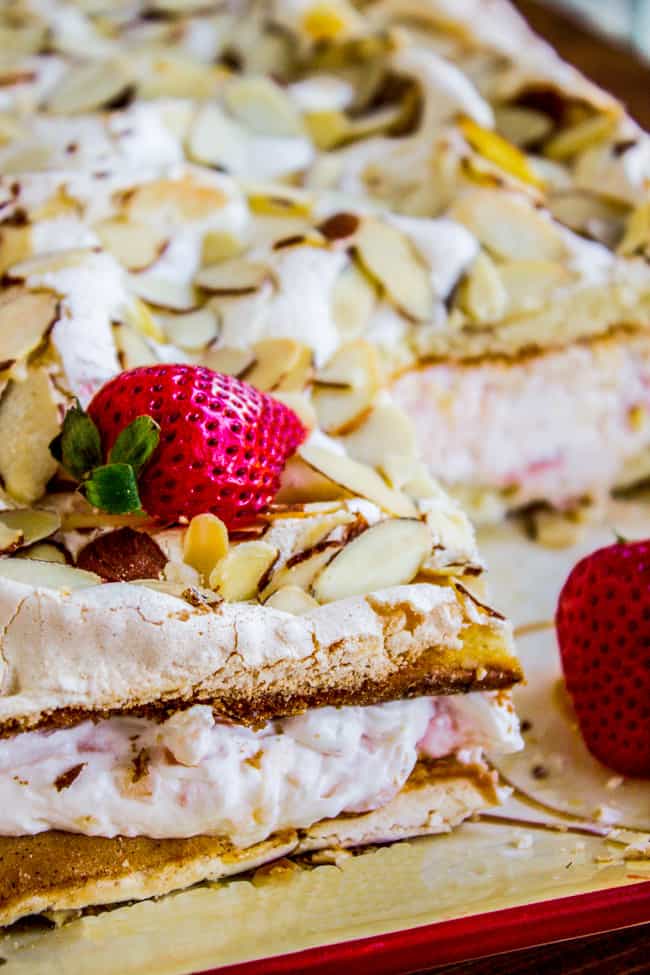 So let's break this Strawberry Pineapple Meringue Cake down a little bit: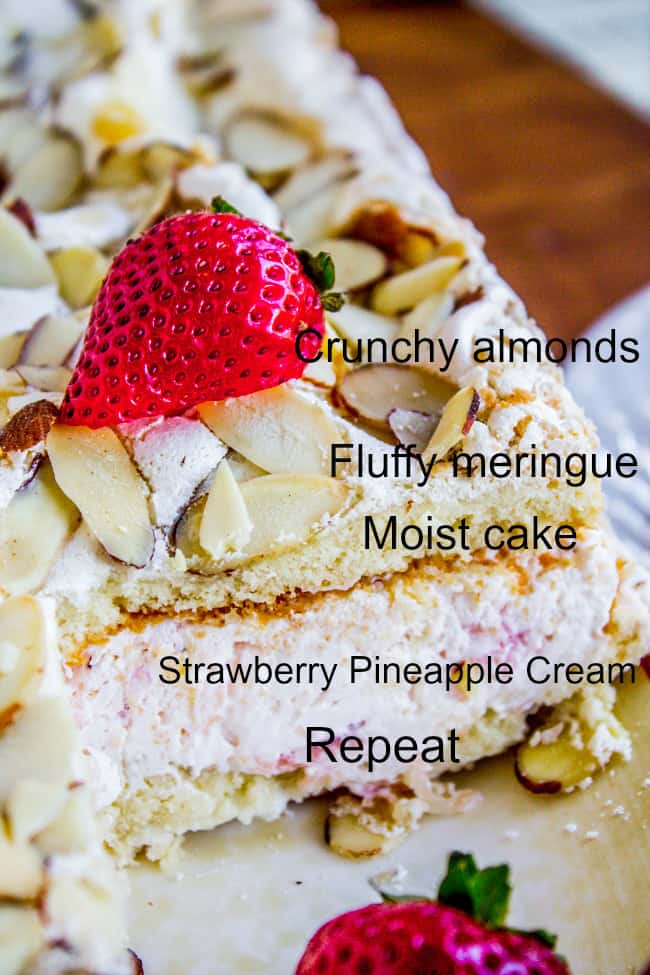 On top you have the crispity crunchy sliced almonds, which are baked on top of the fluffy meringue, which is baked on top of a super duper thin cake. The almonds melt into the meringue which melts into the cake and it unifies into this amazing, amazing thing. THEN, you take these two crunchy-yet-soft-and-moist cakes and layer them with some dreamy strawberry-pineapple whipped cream. THEN you let it sit in the fridge overnight so that the layers melt into each other and I'm telling you guys, it's heavenly.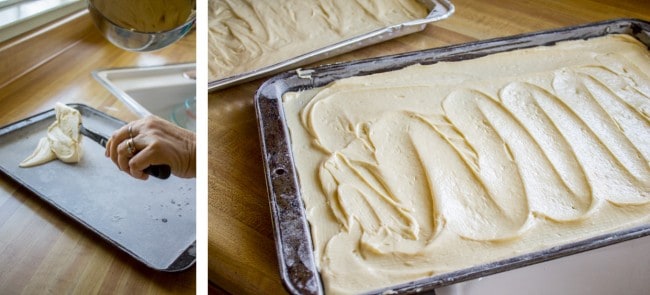 Cake batter…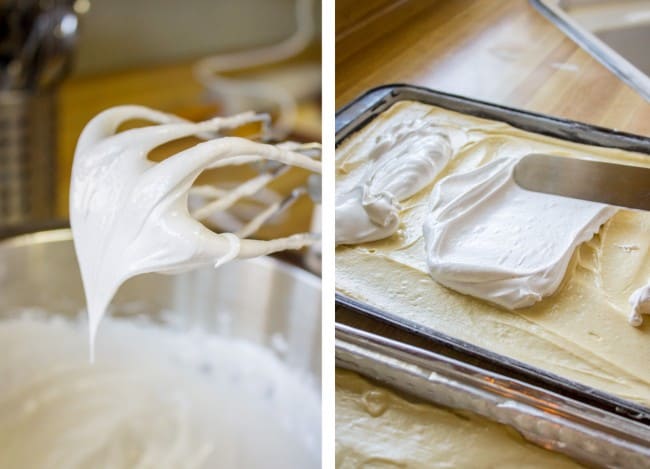 Spread the meringue right on top…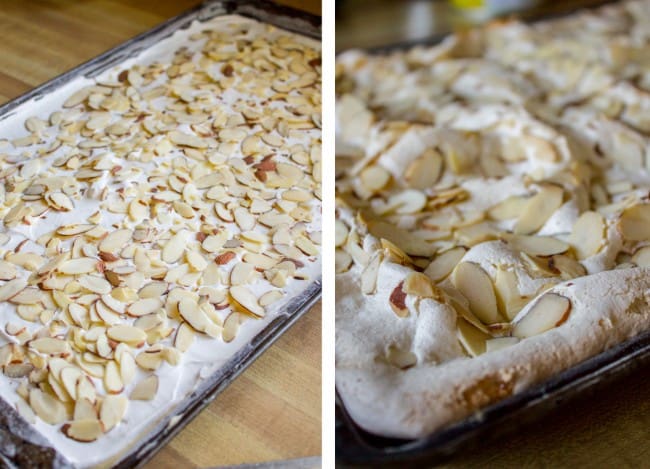 Sprinkle with almonds and bake until golden. It's hard not to just eat it at this point.
This is yet another recipe from my beloved mother-in-law Kris. Her mom used to make this for family events. Now that her mom is getting older, she wanted the recipe so that she could make it herself, but couldn't find it in her mother's stacks and stacks of recipe collections. She described the cake to me numerous times and we even tried to recreate it once, but it just wasn't the same. Finally she called me one day and told me that she had found the old clipping, it was actually in her own recipe stacks. So the next time she came to visit we made it and ate the whole thing and it was glorious.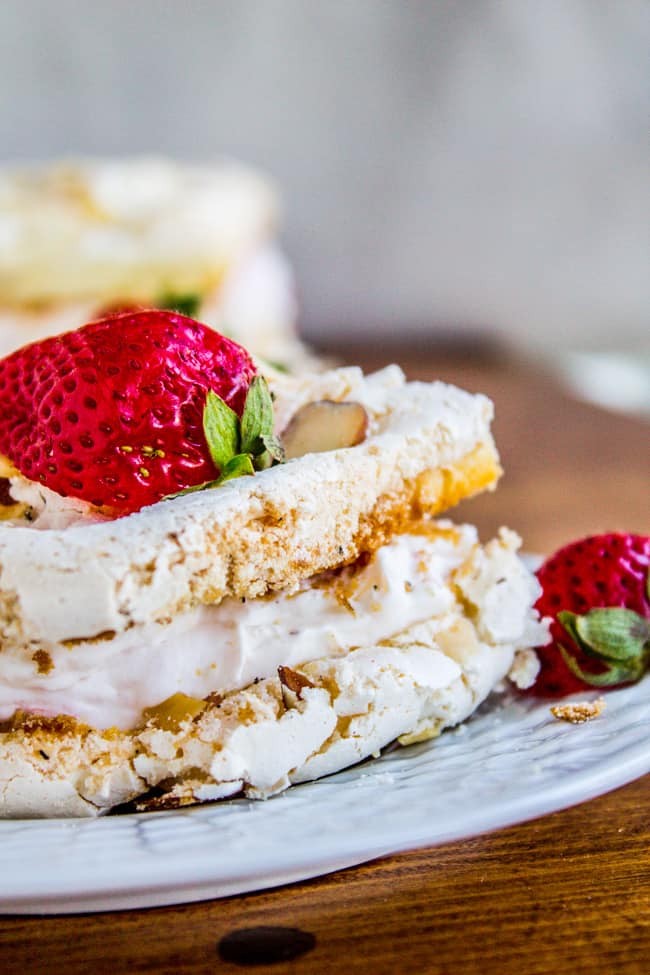 This is the perfect dessert for Easter. It is light, springy, and fresh. You can make it a day ahead so that you can spend time with your family instead of in the kitchen. Plus it makes a HUGE amount, so if you are feeding a crowd everyone will get a piece! To make it you will need two 10×15 inch jelly roll pans.*
I only have one, so I used one disposable pan. To serve it, you will also need a large rimmed platter that the cake can sit on comfortably (the cake will be 10×15, so just make sure it's a little bigger than that.) You can certainly half the cake and make it in one pan, and serve it on a square or large round platter.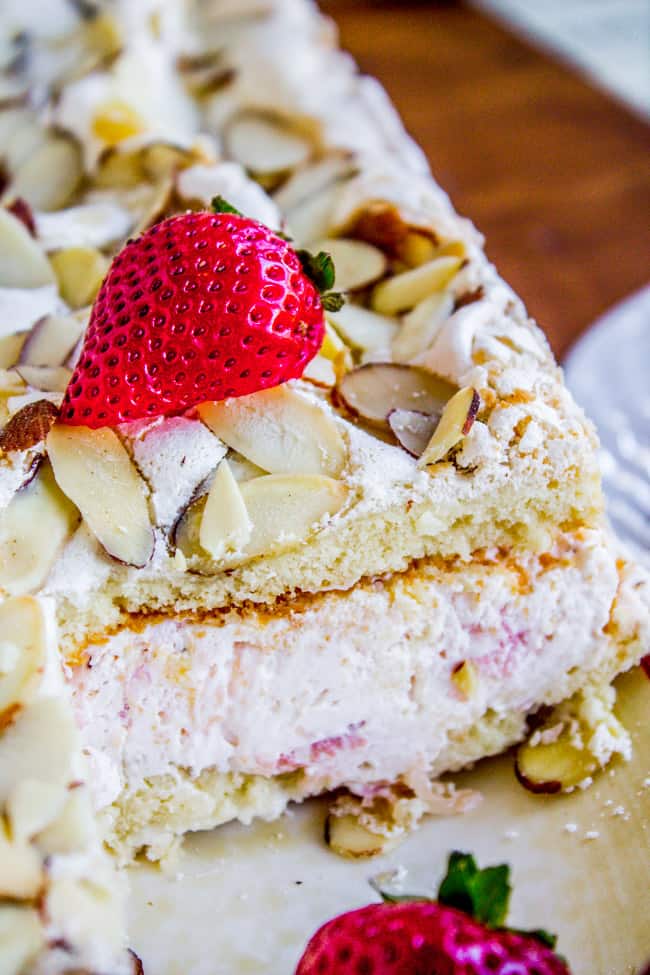 Have you guys figured out your Easter menus yet? I HAVEN'T! Gah. (Click here to see all my Easter recipes on the blog). I think I will make this cake though. It's just such a winner. Let me know if you make it too! Snap a picture and share it on Instagram using #TheFoodCharlatan. I'd love to see it!
Facebook | Pinterest | Instagram | Twitter

Strawberry Pineapple Meringue Cake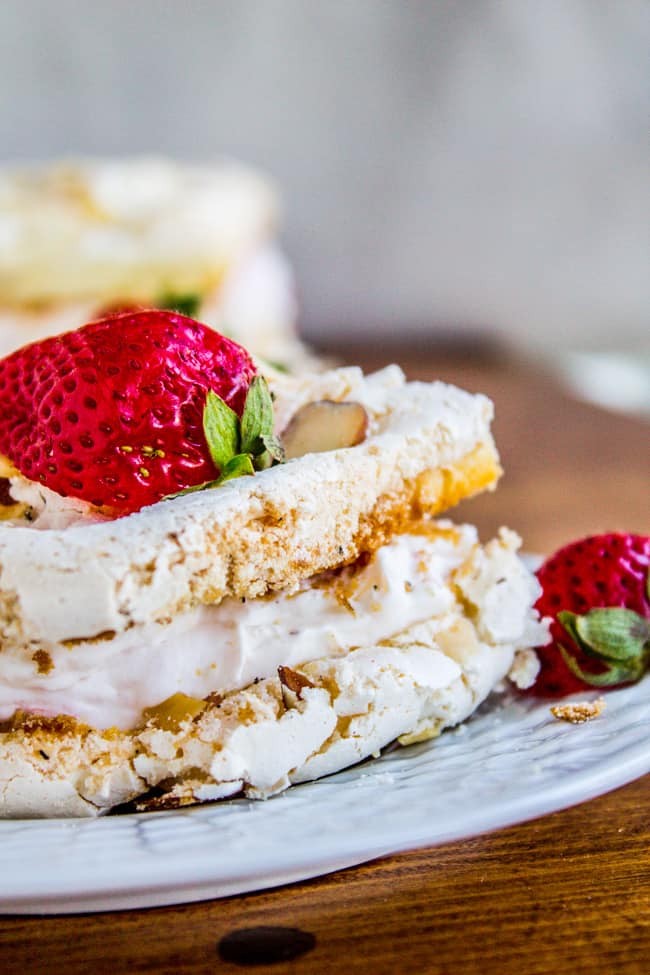 This is the perfect spring dessert to feed a crowd! Ultra-thin moist cake topped with fluffy meringue and crunchy almonds, layered with pineapple and strawberry whipped cream! The crispy edges are so irresistible you will want to eat the entire perimeter single-handedly.
Ingredients
For the cake:
1/2

cup

butter

,

softened (1 stick)

1

cup

sugar

4

egg yolks

2

cups

flour

,

spooned and leveled

1 & 1/4

teaspoons

baking powder

1/8

teaspoon

salt

3/4

cup

milk

1

teaspoon

vanilla
For the meringue:
4

egg whites

1/4

teaspoon

cream of tartar

1

cup

sugar

1

teaspoon

vanilla

2

cups

sliced almonds
For the whipped cream:
2

cups

heavy whipping cream

,

(1 pint)

1

tablespoon

Dream Whip**

1 (20-oz)

can

crushed pineapple

,

drained

2

cups

sliced strawberries

1

cup

sour cream

strawberries

,

more to garnish
Instructions
Preheat oven to 325 degrees F. Prepare TWO 10x15 inch jelly roll pans: grease well with butter or nonstick spray, and sprinkle with a generous amount of flour, tapping it around to make it even. If you are nervous about the cake sticking, you could line the bottom with parchment paper.

In a stand mixer or large bowl, beat the butter until soft. Add 1 cup sugar and beat for 2 minutes until light and fluffy.

Beat in 4 eggs yolks one at a time.

In a medium bowl, whisk together flour, baking powder, and salt.

Add the dry mixture alternately with the 3/4 cup milk, beating in between each addition.

Add 1 teaspoon vanilla and beat for 1 more minute, scraping sides and bottom of bowl. Spread the batter evenly into the 2 prepared pans.

Now make the meringue. In a new large bowl (or clean the one you just used; dry it very well) beat the 4 eggs whites and cream of tartar until soft peaks form (see photo above).

Gradually add 1 cup sugar and 1 teaspoon vanilla. Beat until stiff.

Spread the meringue evenly over each pan of cake batter.

Sprinkle 2 cups of almond evenly over the 2 pans. (1 cup per pan)

Bake at 325 for 25 to 30 minutes. The cake is done when the meringue and almonds have started to turn golden. When a toothpick is inserted in the center, it should come out dry.

Cool cakes completely in pans.

Now make the whipped cream mixture. In a large bowl or stand mixer, beat the cream and Dream Whip until it is stiff.

Fold in the DRAINED pineapple, 2 cups strawberries, and sour cream.

To assemble: Loosen one of the cakes carefully with a thin spatula. If you can, get someone to help you. Flip the cake almond-side-down onto the serving platter that you are using.

Spread all of the whipped cream mixture on the cake evenly.

For the cake that goes on top, you will need to loosen the cake and flip it almond-side-down onto a piece of foil, or onto other cake pan that is now empty. Then flip it back on top of the whipped cream mixture, almond-side-up.

Cover the cake loosely with foil (You want the top to stay crunchy). Store in the refrigerator for at least 3 hours or overnight.

Cut into squares and garnish with more strawberries.
Notes
*Just so we're all on the same page about the pan sizes: 10x15 is the measurement of the pan from the inside. If you measure rim to rim, it's actually 11x17. Your cake will measure 10x15, so make sure you have a platter that is a little bit bigger than that.
**Dream Whip is a whipped cream stabilizer. I have never experimented with using Cool Whip in place of the whipped cream and Dream Whip, but I'm sure it would work great! You would need 4 cups of Cool Whip for the whole recipe.
Nutrition
Serving:
1
g
|
Calories:
515
kcal
|
Carbohydrates:
51
g
|
Protein:
10
g
|
Fat:
32
g
|
Saturated Fat:
13
g
|
Polyunsaturated Fat:
4
g
|
Monounsaturated Fat:
13
g
|
Trans Fat:
1
g
|
Cholesterol:
101
mg
|
Sodium:
143
mg
|
Potassium:
351
mg
|
Fiber:
4
g
|
Sugar:
32
g
|
Vitamin A:
744
IU
|
Vitamin C:
13
mg
|
Calcium:
160
mg
|
Iron:
2
mg
Other cakes that would be perfect for Easter!
Carrot Cake with Cream Cheese Maple Pecan Frosting: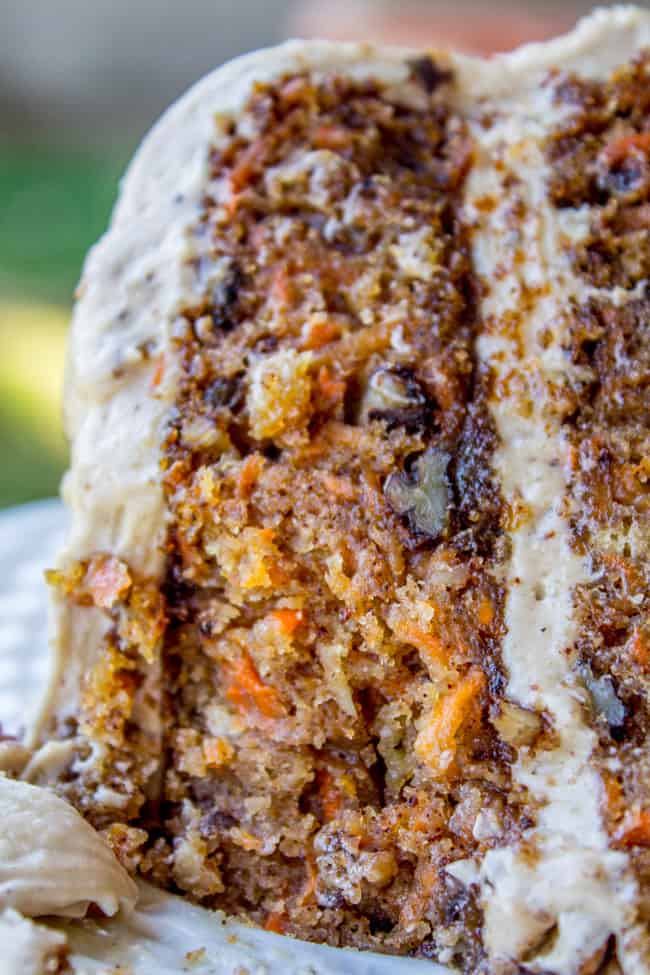 Blackberry Cake with Coconut Cream Cheese Frosting: << this recipe is so, so easy.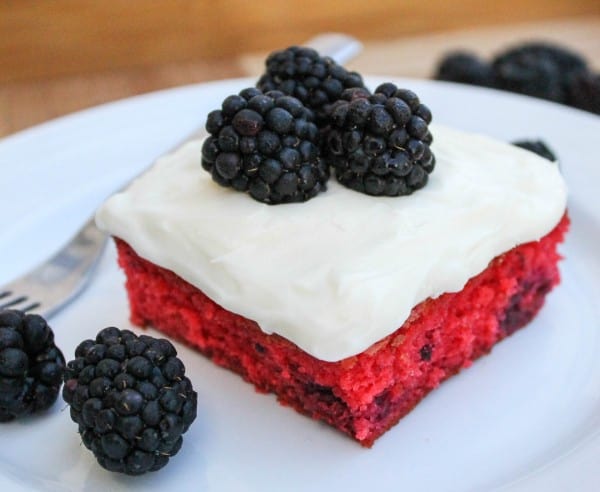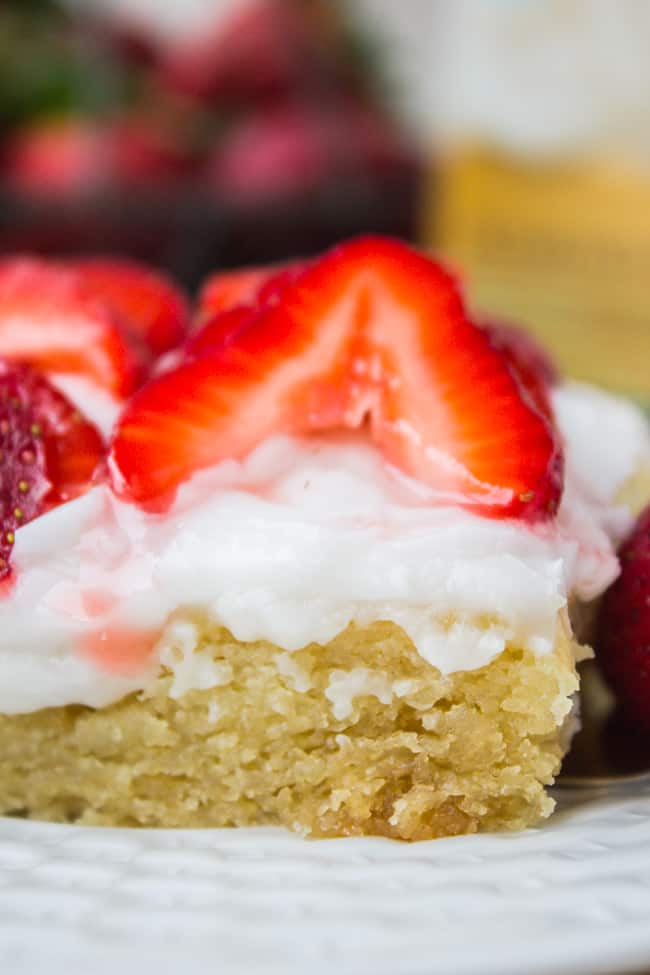 Coconut Layer Cake << doctored box mixes ftw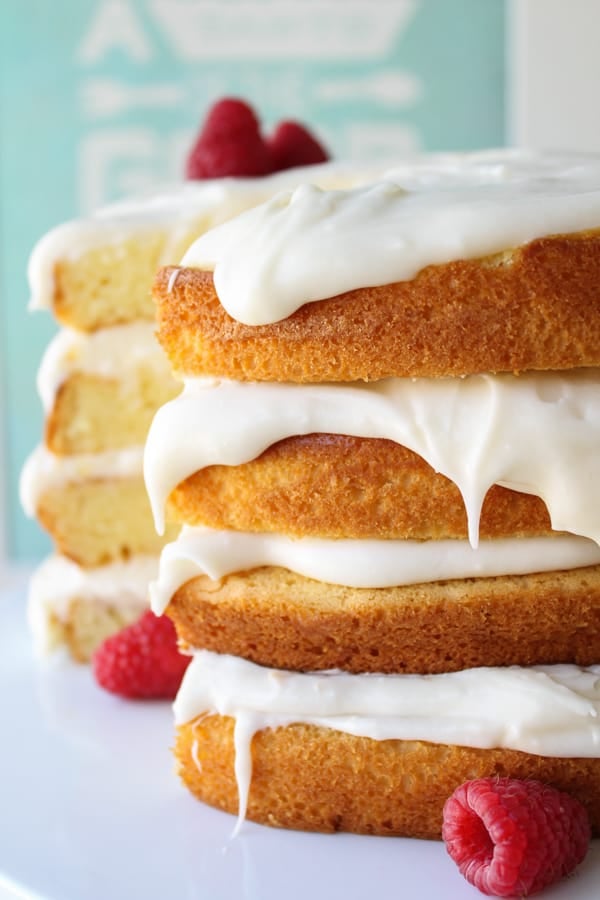 More recipes you will love from other bloggers!
Lemon Meringue Cake from The Cake Blog
Blitz Torte from Good Dinner Mom
Hibiscus Strawberry Curd Tarts with Toasted Meringue from Snixy Kitchen