What could be better than Bacon and Pepper Jack cheese being all rolled up in some buttery, flaky crescent dough??  It could not be easier, and makes the perfect game day snack. Or…dinner?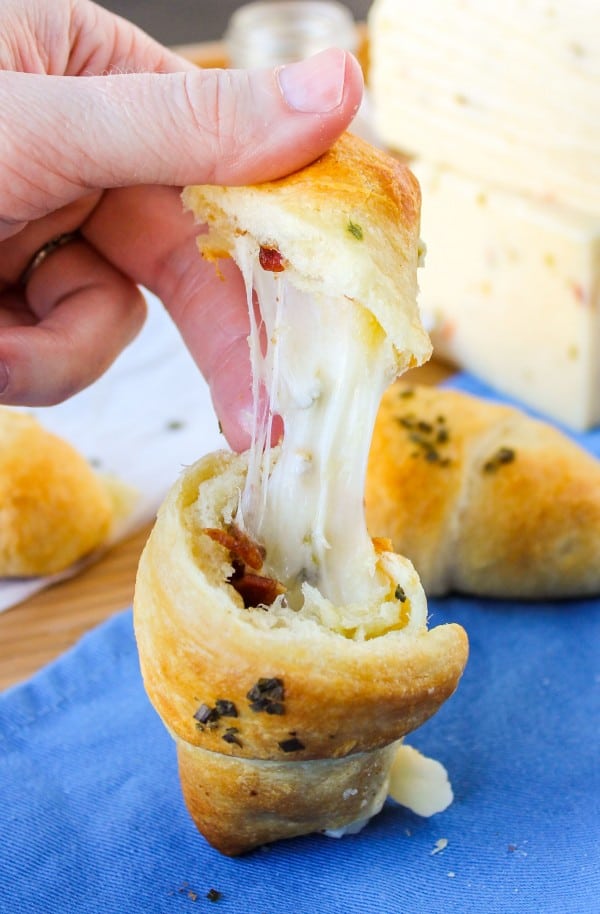 Eric and I live in a really beautiful neighborhood that we have no business being in. Seriously, the house next to us looks like it's straight out of Better Homes and Gardens, down to the adorable shutters and trendy gutter drain. (Yes, really.) And then there's our house. The Ugly rental Duckling of the street. Peeling paint, shabby doorstep, and now a dead lawn to boot. That can happen when you forget to water it …for months at a time.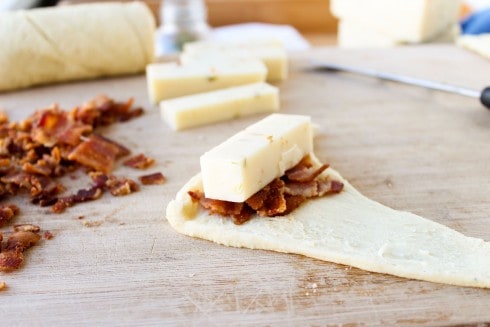 I somehow just found out that Northern California is in a drought, so no one is supposed to be watering their lawns anyway. Hopefully all my neighbors noticed, and instead of thinking we were bad housekeepers thought, Hey, way to save the planet. (also, try not to be disgusted that I didn't know my own state was in a drought. I have a hard time watching the news.)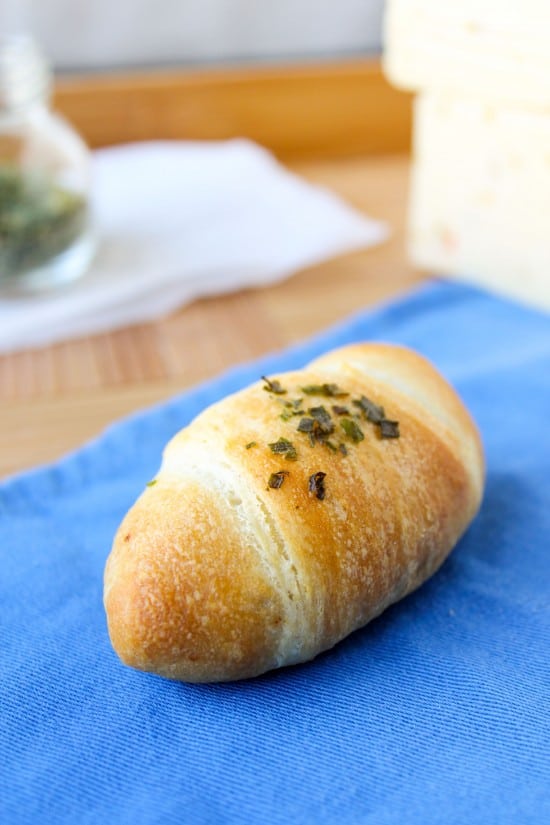 In other watery-related news, all of the soap dispensers in my house are empty. Every. Single. One. We're even past the point of adding a little water to the last teaspoon of soap to stretch it out further. When I use the bathroom I walk all the way to the kitchen to wash my hands, only to remember that that soap dispenser is also empty, and that's when I resort to using dish soap. #firstworldproblems I also want to point out that in the time it took me to type this paragraph, I could have filled every dispenser in the house 3 times. What's wrong with me??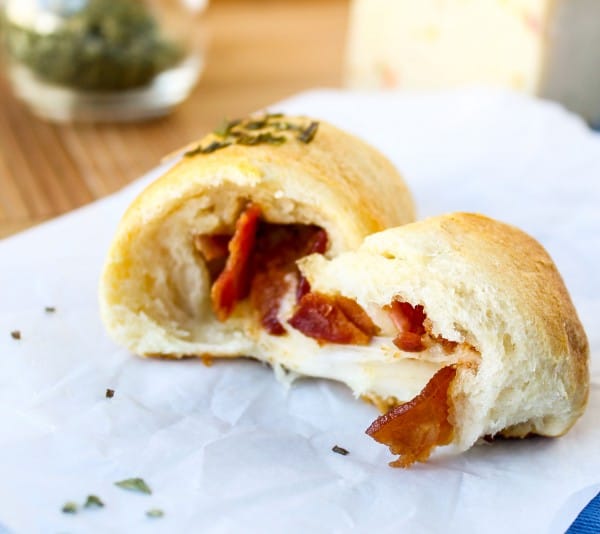 Check out these little guys. I felt so proud of myself for even remembering to make you something for the Super Bowl, but I guess I should have posted this last week since apparently the party started last Sunday. I don't watch much TV, but Eric had the Niners game on (sniff…I'll pretend to care for my family's sake) and they kept showing lame commercials with famous people. I asked Eric what was with all the completely nonsensical unfinished commercials, and he told me that they are teaser commercials for the Super Bowl. Teaser commercials! I don't know whether to be impressed or disgusted.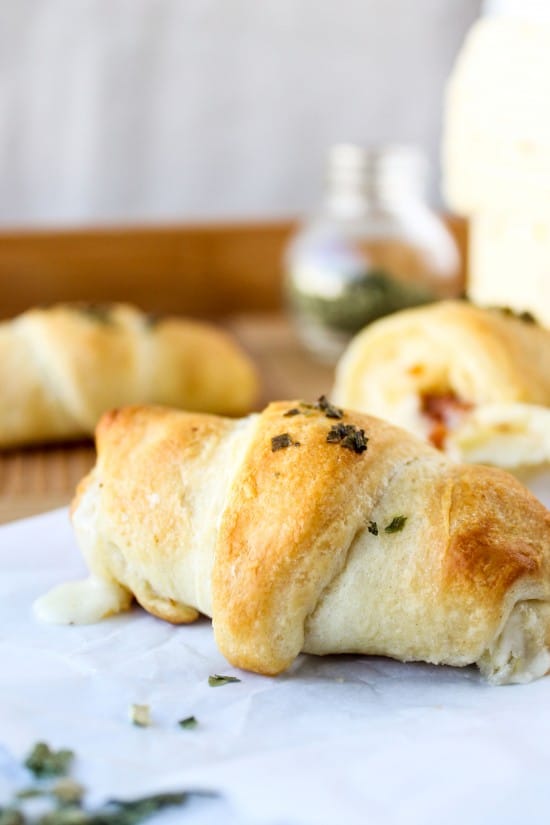 Whether you will be religiously watching the game or just gorging on cheesy-carby food while sitting in the same room with everyone else (this is me), you should definitely add these little rolls to your menu. They are so easy and so…well, bacon. What more do I have to say? I don't think we will ever run out of things to put inside these magical crescent rolls, and for that I am forever grateful. This recipe only has 3 ingredients, 4 if you count the chives I threw on top in an attempt to make them look a little more grown-up. So easy! But just in case you need help with easy things (like filling soap dispensers), there are some how-to shots below.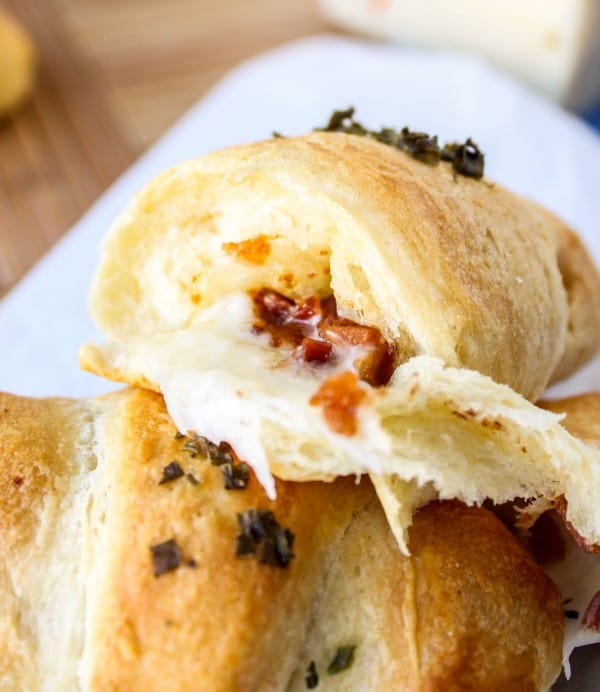 PS–Guys. Why can't I get into Twitter? Are you guys on Twitter? I have an account, and look, I even have a little blue bird over on my sidebar so that you guys can follow the sweet nothingness that I tweet. Every time I start reading my own feed I get bored that there are no pictures and think to myself, "Why am I not on Pinterest right now?" What am I missing?? Tell me the secret! @foodcharlatan
Do you guys give up? Or are you thirsty for more?
Facebook | Pinterest | Instagram | Twitter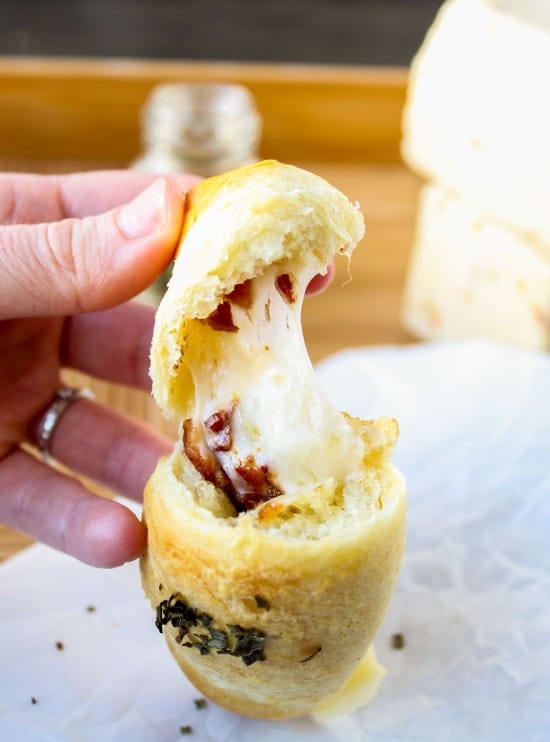 Bacon & Pepper-Jack Stuffed Crescent Rolls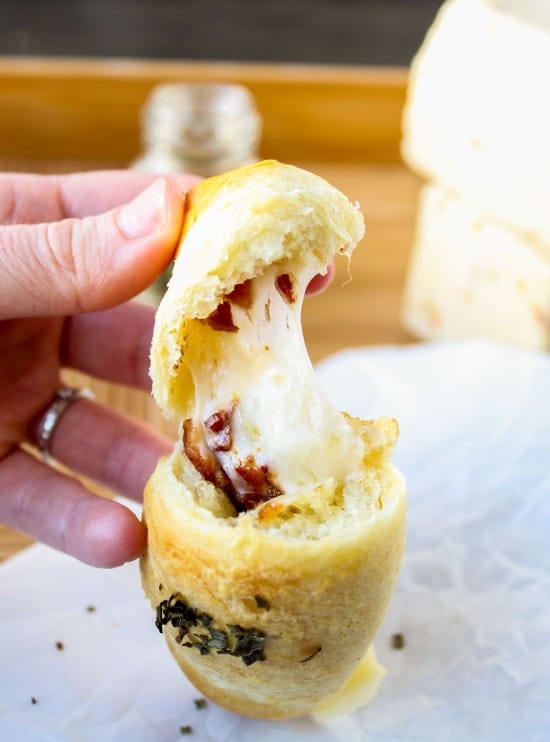 What could be better than Bacon and Pepper Jack cheese being all rolled up in some buttery, flaky crescent dough??  It could not be easier, and makes the perfect game day snack. Or...dinner?
Ingredients
6

slices

bacon

,

cooked and crumbled

8

half sticks

Pepper-Jack cheese

,

from a block

1

8-oz can

refrigerated crescent roll dough

chives

,

dried, optional
Instructions
Cook the bacon until crisp and then chop or crumble it.

Preheat the oven to 375 F.

Cut the pepper-jack into pieces that are about half the size of a stick of cheese. You could also just halve pepper-jack string cheese, if you can find it.

Unroll the dough. Place about a tablespoon of bacon on the wide end of the dough, then top with a stick of cheese. Roll them up and seal the edges so that all the cheese doesn't ooze out.

Place seam side down on a baking sheet that is lined with parchment paper or a silpat. Sprinkle with dried chives, if you want.

Bake at 375 for 10-12 minutes, or until golden brown. Serve by themselves or with ranch or marinara sauce for dipping.
Nutrition
Serving:
1
roll
|
Calories:
73
kcal
|
Carbohydrates:
1
g
|
Protein:
2
g
|
Fat:
7
g
|
Saturated Fat:
2
g
|
Polyunsaturated Fat:
1
g
|
Monounsaturated Fat:
3
g
|
Trans Fat:
1
g
|
Cholesterol:
12
mg
|
Sodium:
116
mg
|
Potassium:
33
mg
|
Sugar:
1
g
|
Vitamin A:
14
IU
|
Calcium:
8
mg
|
Iron:
1
mg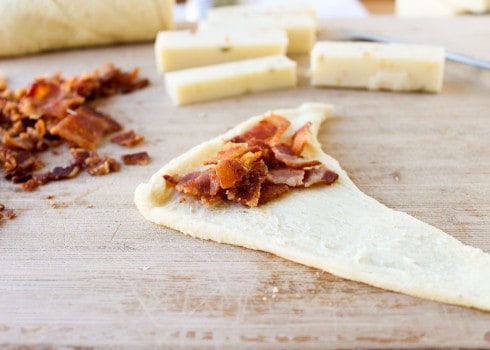 Pile on some bacon…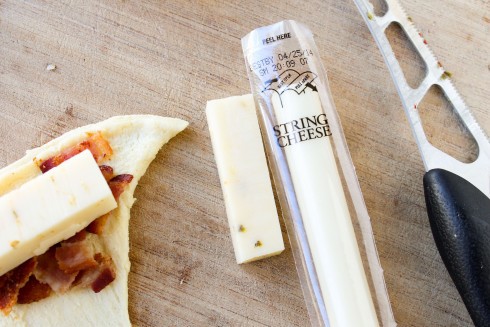 Cut up some pepper-jack.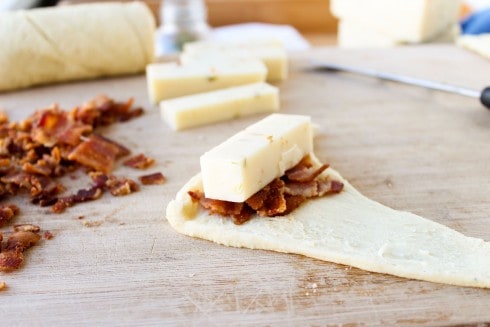 Add the cheese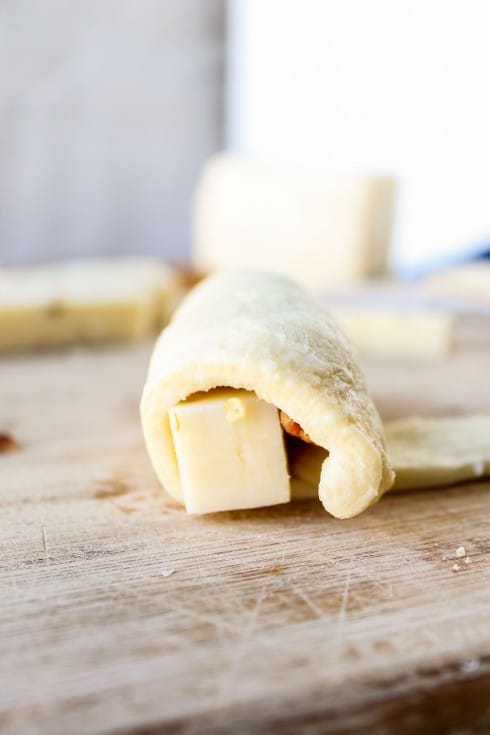 Rooooooll it up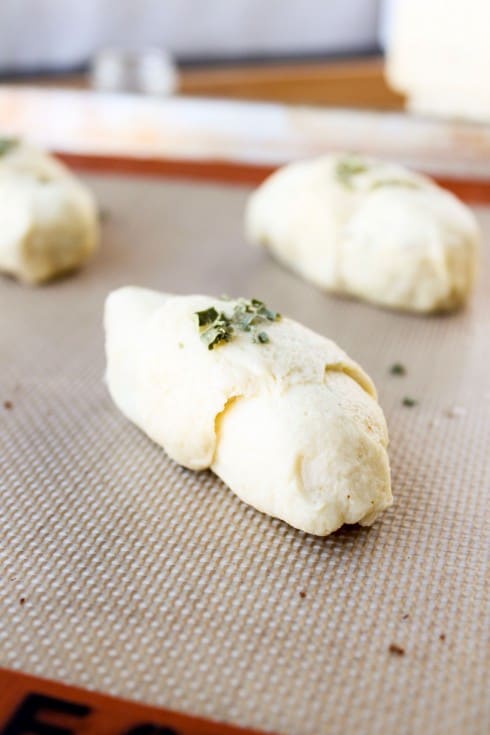 Don't forget to seal the edges, you don't want all that cheese oozing out!