One time my brother's wife Sandi was comparing her love for her kids to my mom's love for her own.  Janice has true compassion, she said. I just have tiny love.  As in, she claimed to love her babies only because they were tiny and cute rather than having true compassion for them. (Yeah right.)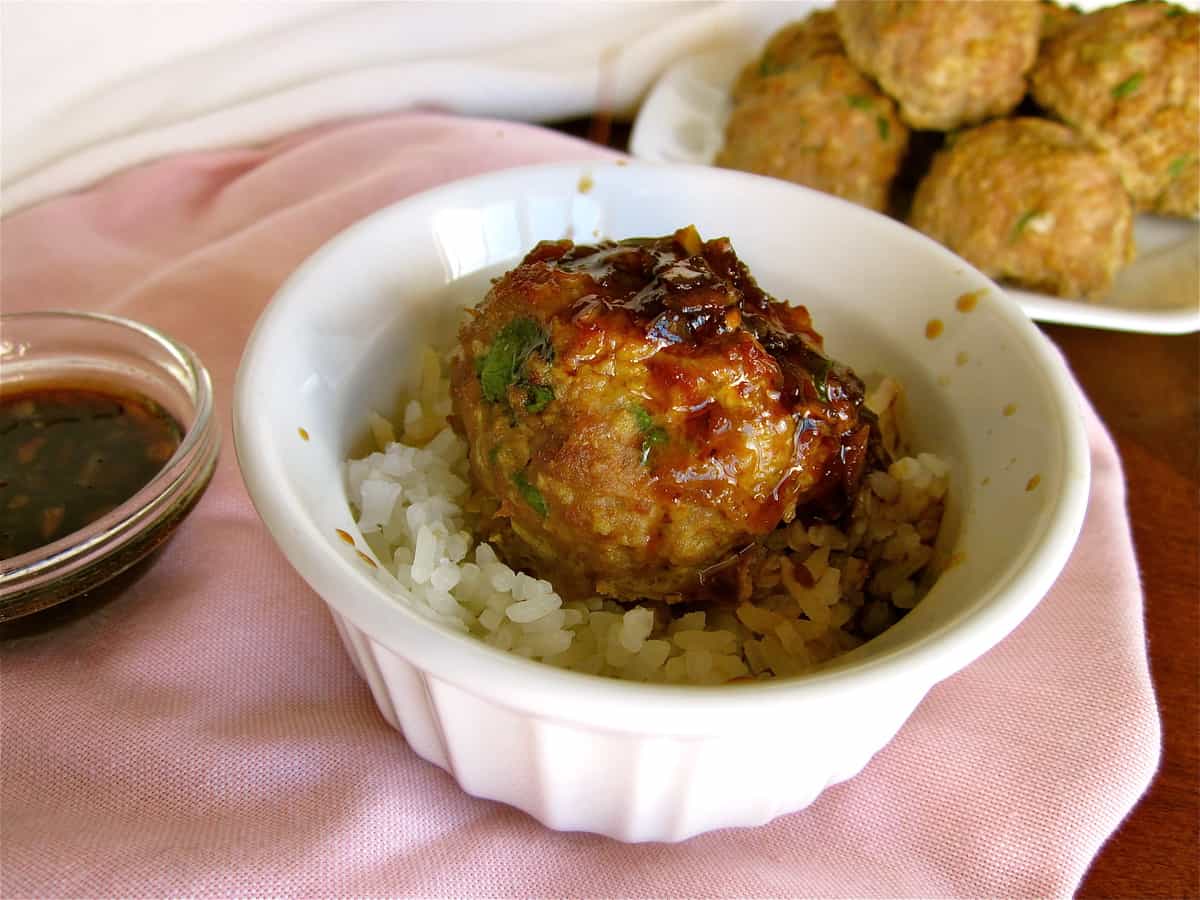 Do you see that bowl on the left, the one with the sauce in it? It is tiny. We are talking a circumference the size of a silver dollar here. I used to think it was the most useless dish that we owned.
When Eric and I got married we registered at Bed Bath and Beyond, land of expensive kitchen gadgets and As Seen On TV gizmos. This was back before I was a cooking fanatic. I wasn't in the kitchen much and couldn't see why Eric was registering us for stupid items like olive oil dispensers (which I now use probably every day of my life) and tiny tiny bowls. What the heck are we going to use that for? It's not like we are Martha Stewart and need to put our salt into a pretty bowl before we dump it in our food.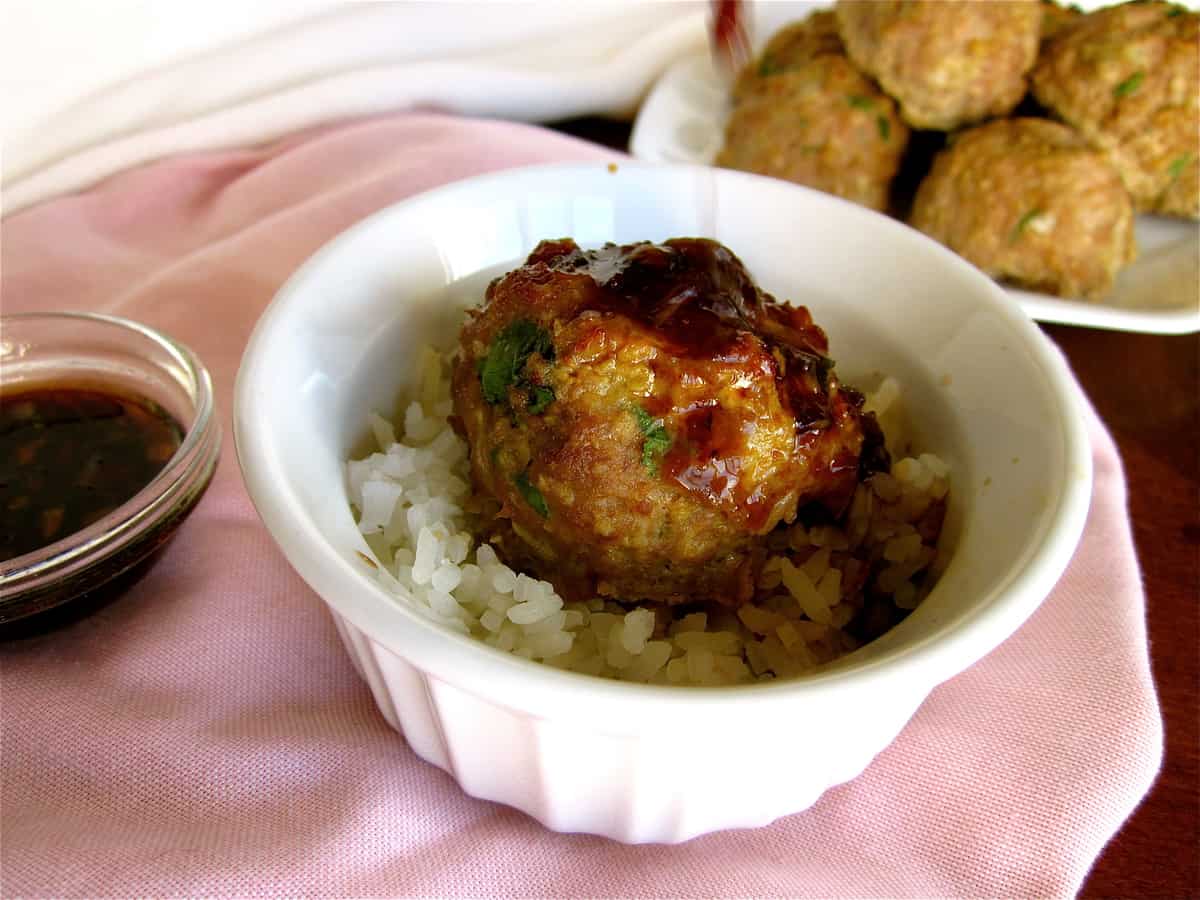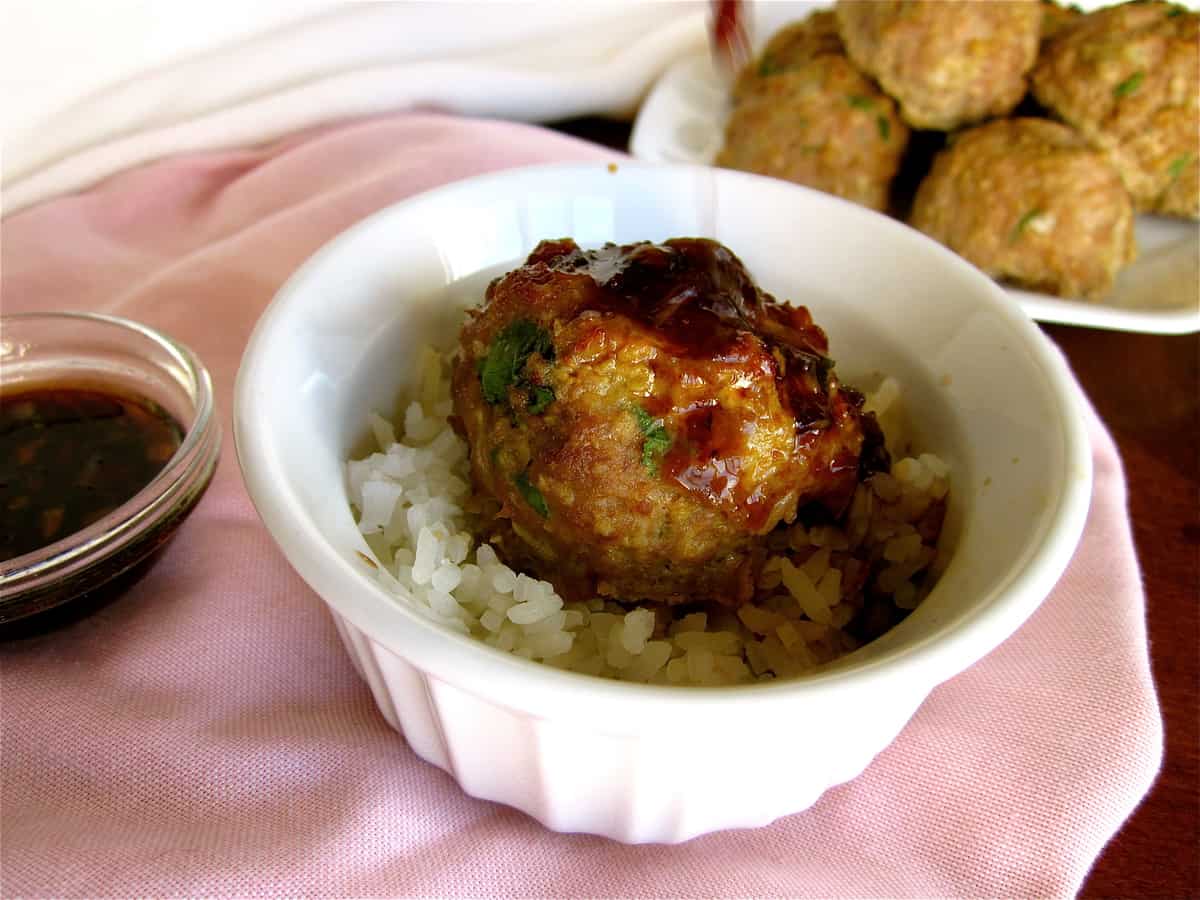 But he insisted, and sure enough, out of all the things on our registry, the tiny bowls were chosen. For years I nagged him about those bowls. Every time we moved I would try to sneak them onto the give-away pile but he always caught me.
Then one day he was doing the dishes and accidentally pulverized one of his tiny bowls in the garbage disposal. At first I viewed it as an opportunity to get rid of the other one. But he just looked so depressed. He turned to me and said Karen. Look at how tiny this bowl is. I have tiny love for it.
How could I resist that? Long live tiny love.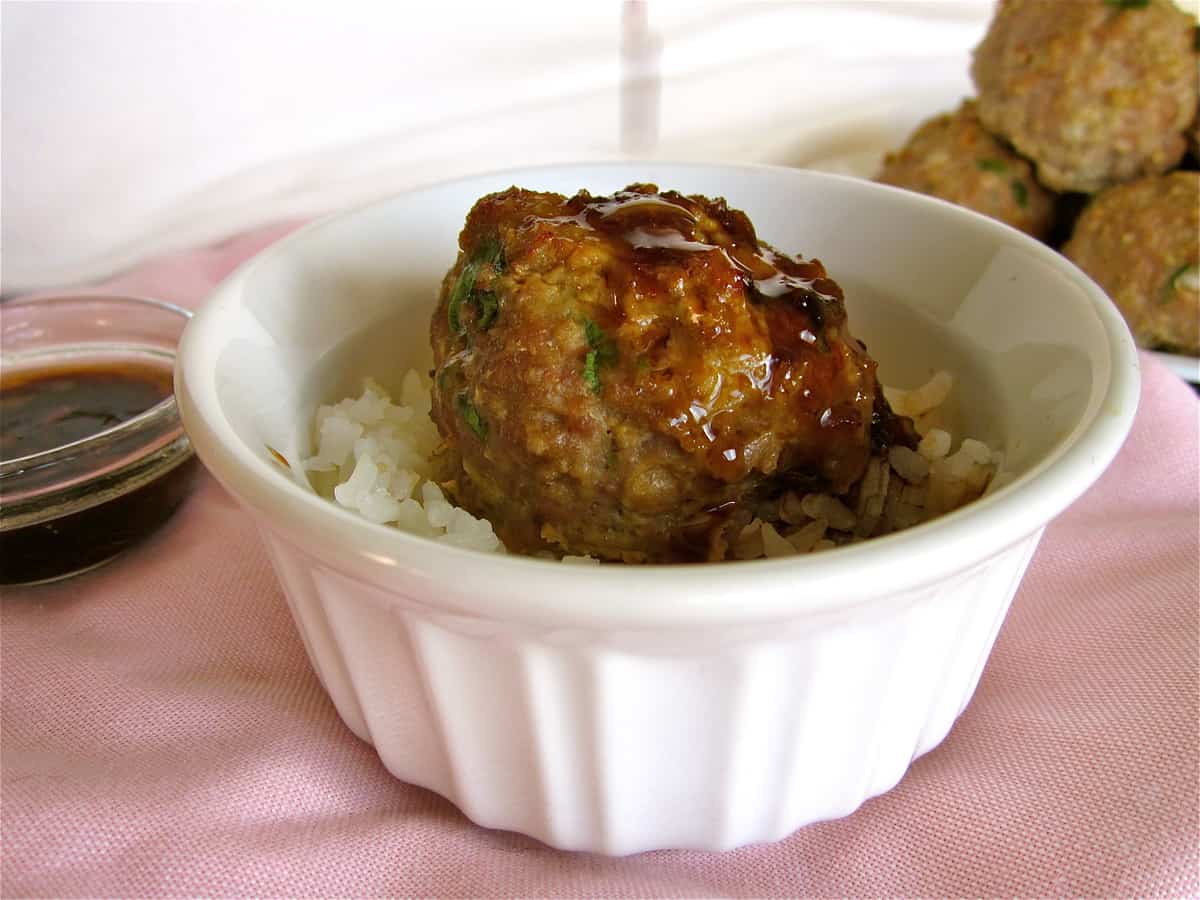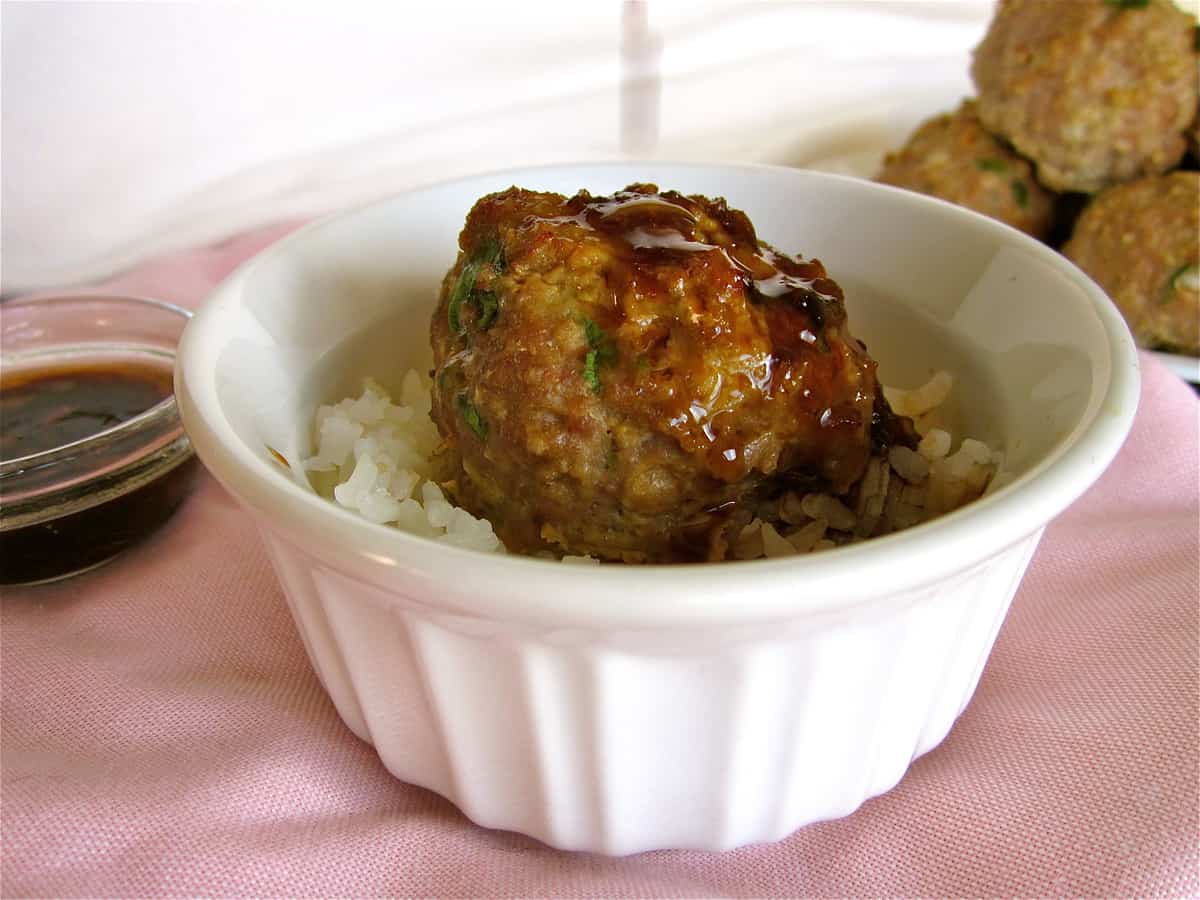 These meatballs are awesome. The dipping sauce totally makes it. I served it with jasmine rice and it was perfect.
Asian Turkey Meatballs with Lime Sesame Dipping Sauce
Source: Skinnytaste.com
1/4 cup panko crumbs
1-1/4 lbs 93% lean ground turkey
1 egg
1 tablespoon ginger, minced
1 clove garlic, minced
1/2 teaspoon salt
1/4 cup fresh cilantro, chopped
3 scallions, chopped
1 tablespoon low sodium soy sauce
2 teaspoons sesame oil
Dipping Sauce
4 tablespoons low sodium soy sauce
2 teaspoons sesame oil
2 tablespoons fresh lime juice
2 tablespoons water
1 fresh scallion, chopped
Preheat oven to 500.
Mix ground turkey, panko, egg, salt, scallions, ginger, cilantro, 1 tbsp soy sauce, and 2 tsp oil and mix with your hands until combined well. Shape 1/4 cup meat mixture into a ball and transfer to a baking dish. Repeat with remaining mixture. Bake until cooked through, about 15 minutes.
For the dipping sauce mix together lime juice, water, soy sauce, and remaining 2 teaspoons of oil in a bowl. Add scallions.
Transfer meatballs to a serving dish. Stir sauce, then drizzle meatballs with 1 tablespoon sauce.
Serve meatballs with remaining sauce, about 1 tablespoon per person. I made jasmine rice to go with this and it was great.
Makes 12 meatballs.