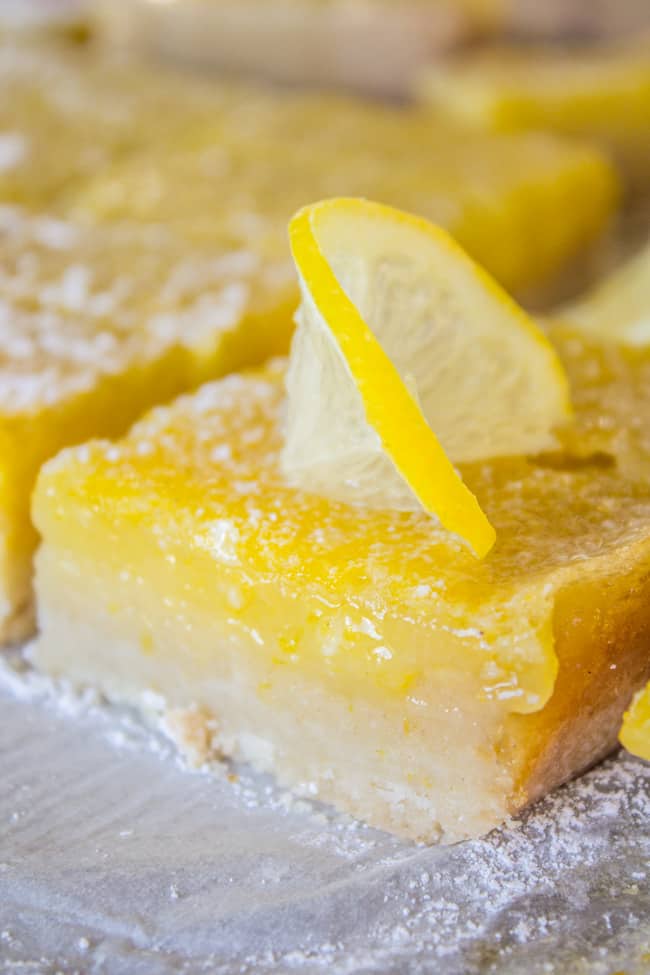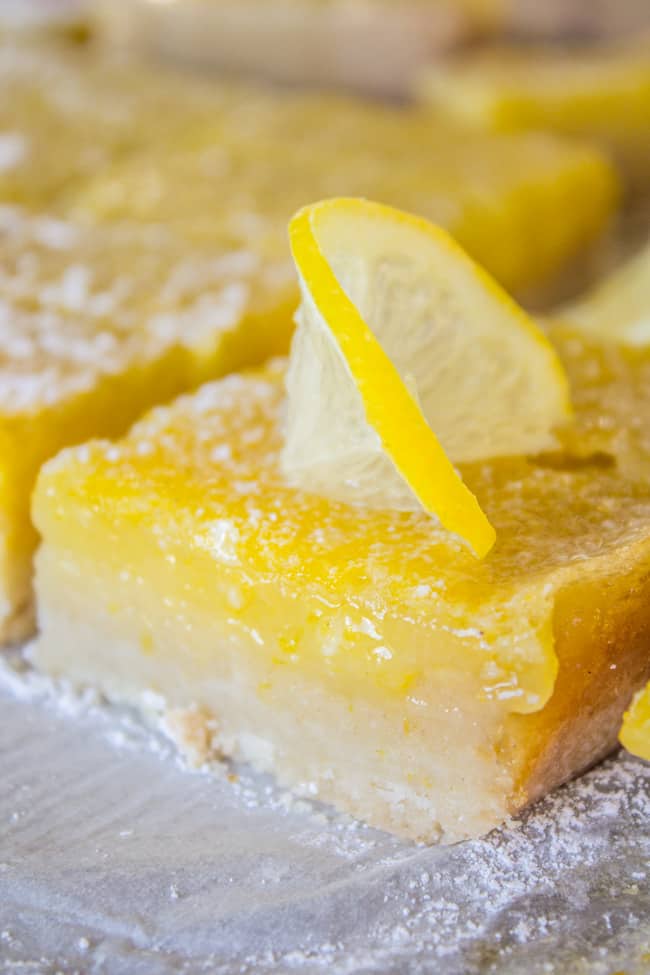 Did you make this recipe?
Leave a review »
Lemon Squares
Makes 1 8x11 inch pan (serves 10-20)
adjust servings
This is the BEST recipe for Lemon Squares I have EVER tried! The shortbread crust is thick and tender, and the lemon custard on top is super tart and creamy. You will never go back!!
Ingredients
For the crust
1

cup butter, softened

1/2

cup white sugar

2

cups all-purpose flour OR a gluten-free blend (I used Bob's Red Mill), spooned and leveled

1/4

teaspoon salt (or a few shakes more, to taste)

zest of one lemon
For the custard
1

and 1/2 cups white sugar

1/4

cup + 2 tablespoons all-purpose flour OR a gluten-free blend (I used Bob's Red Mill), spooned and leveled

3/4

cup fresh lemon juice (about 4 medium lemons)

4

large eggs

zest of 2-3 lemons (more zest=more tart. I add tons.)

powdered sugar, for dusting
Instructions
For the crust:
Preheat oven to 350 degrees F. Prepare an 8x11 inch pan by lining it with parchment paper or spraying with nonstick spray. Or you could use foil, make sure you spray it with nonstick spray.
In a medium bowl (or stand-mixer), beat together softened butter with 1/2 cup sugar, salt and zest.
Add 2 cups flour, either all-purpose or a gluten-free blend. Make sure you use a scoop or spoon to place the flour in your measuring cup, then level it off. You don't want to pack your flour.
Beat in the flour. It won't come together in a ball probably, but you want to get big clumps that are sticking together. Make sure the butter and flour are incorporated.
Press into the bottom of the prepared 8x11 inch pan. Wet your fingers a little if the dough sticks to your hands.
Bake at 350 for 24-26 minutes, or until golden around the edges.
For the Custard:
In a bowl (or using stand mixer), whisk together the remaining 1 and 1/2 cups sugar and 1/4 cup + 2 tablespoons flour. You can use the unwashed bowl you just used for the crust, but only if you scrape it out pretty well. You don't want clumps in your custard.
After whisking the flour and sugar, whisk in the lemon juice, eggs, and zest.
When the crust is done, pour the custard over the top. You don't have to wait for the crust to cool.
Bake for an additional 26-28 minutes in the preheated oven. The edges should be set with the center still a little wiggly (just a little). The bars will firm up as they cool.
Cover and refrigerate for at least 3 hours until they are cold, then dust with powdered sugar right before serving. Don't bother doing it before because it will just seep into the custard and you won't see it.
Store covered in the fridge.
by The Food Charlatan