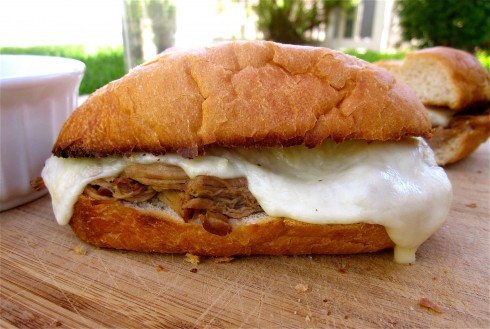 This is by far the best French dip sandwich I have ever had. We ate French dip all the time growing up, except that my mom had five kids and was going to school, so we usually had them with deli meat and au jus from a package. You can't really beat that in terms of rapidity. But if you plan ahead, this recipe is a tastier option. The preparation is really fast, and even when the meat is done all you have to do it broil it real quick. I haven't tried it yet, but the fabulous ladies over at Our Best Bites say this is a great freezer meal; I am definitely going to have to try that. Don't you just love when you can make an easy meal even more simple?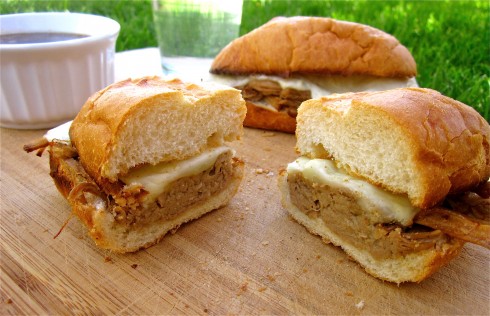 Today I'm listening to The High Road by Broken Bells. A few weeks ago Eric gave his phone to Charlotte during church to keep her quiet. Somehow she managed to access iTunes and play this song (very loudly) for at least 5 seconds (and of course it was during the sacrament, the part when we are supposed to be as quiet as possible, so 5 seconds of the chorus of a song translates into an eternity). At least it's a fabulous song. She has good taste.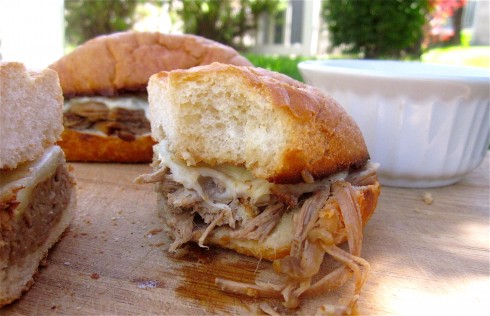 French Dip Sandwiches
Source: Our Best Bites
1 2.5-3 pound beef roast (you can use a frozen roast if you want)
2 tablespoons olive oil
salt and pepper
2 1-ounce packages dry onion soup mix
2 cups water
2 cans beef broth
8 large buns (or more…)
Swiss, provolone, or mozzarella cheese, shredded or sliced.
optional: mayonnaise, horseradish sauce
Heat oil in a large pot over medium-high heat. Rub roast with salt and pepper. (You are welcome to trim some of the fat from your meat. Just don't do all of it; the fat is what makes it tasty.)
When very hot, carefully place roast in pan and sear on all sides. You're not cooking the meat, you're just browning it quickly on all sides to add flavor and seal in the juices. I highly recommend a splatter shield for this unless you like being scalded by drops of burning oil.
Place in slow cooker and sprinkle with onions soup mix. Pour water and beef broth over roast.
Cook 8-10 hours on low or 4-5 hours on high and another 3-4 hours on low. The longer it cooks, the more tender it will be. It's done when you can shred easily with a fork. When meat is ready, do just that: shred with a fork.
Place meat in crusty rolls. Top with cheese and broil open-faced in the oven or toaster oven for a few minutes, until bread is golden and cheese is melty. Be very careful here. The first time I made this, I had mine in for less than a minute and scorched my bread. If you are toasting the top half of your bread (which I recommend), those halves will need to come out before the meat-and-cheese halves. Don't set a timer and leave. Turn your oven light on and watch it.
Ladle au jus into small bowls for dipping and enjoy! I like mine with lots of mayonnaise and a teensy bit of horseradish sauce. Yummm.
Freezer Directions:
Prepare roast through the searing step; after meat has cooled, place in a plastic freezer-safe container (think Gladware), cover with onion soup mix and boullion, and freeze. When ready to cook, pop it straight into the crockpot (frozen), add 2 cups of water, and set to high until warm or, even better, simmering. Turn to low; cook for a total of 8-10 hours.
Serves 6-8