Steak and Chimichurri Toasts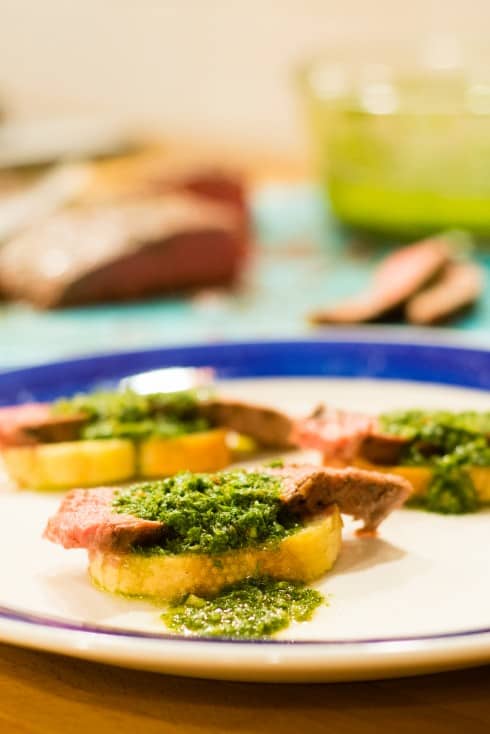 I am so pathetic when it comes to making decisions. This year for our anniversary the only thing I wanted from Eric was to not have to make any decisions about what to do for our anniversary. Romantic, I know.
We are still house hunting. It's easy to drag your feet when you are staying with family, especially family as awesome as mine. For every new place that we look at, we have this conversation afterward: "So what did you think?" "It was okay. I could live there I guess." And then we go home and that's all. My sister-in-law Sandi keeps telling us that "we'll just know" but I'm not so sure. I'm guessing that we will stay here until they start dropping hints that we need to beat it, then play rock paper scissors on the next house we look at. If he wins, we take it, if I win, we don't.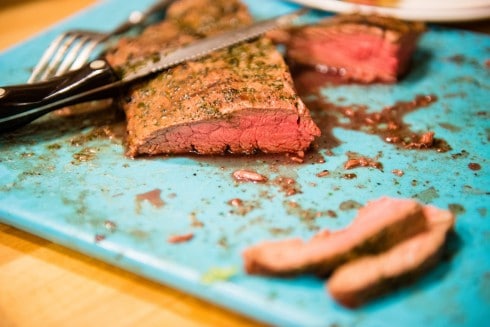 Playing rock paper scissors is how we make a lot of decisions actually, especially for things like Milkshakes vs Smoothies, Romantic Comedy vs Artsy Foreign Film, or Should We Go To Grad School or Not. Works like a charm.
I felt like a pansy for posting 2 meatless recipes in a row so I thought I would make up for it by offering you some steak: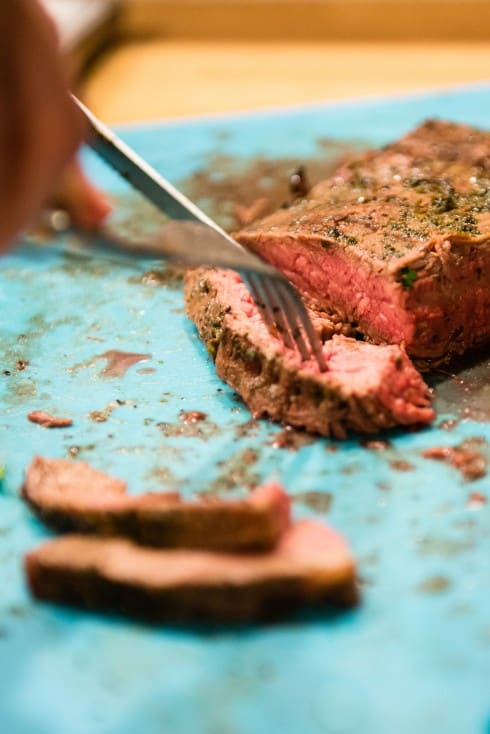 Doesn't it look delicious? It was. We had friends in town, and since steak doesn't grow on trees (I wish) we decided to feed all the screaming banshees kiddos mac n cheese while we had the good stuff. I figured they wouldn't mind since these are some of the pickiest kids on the planet (they don't like pancakes. PANCAKES.) But once they found out we were having "cow meat" as they call it, we had to swat them away like flies. It's like they can tell the difference between steak and dyed orange starch. I don't get it.
If you thought steak was good, try adding chimichurri sauce. Have you been introduced to this stuff?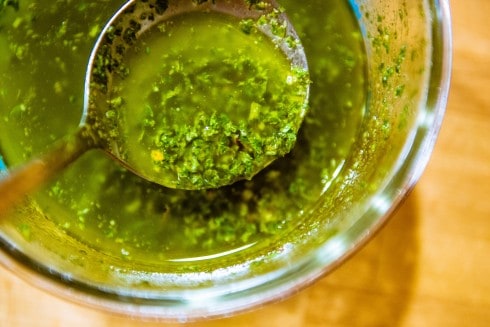 I've been putting the leftovers on everything. Eggs, sandwiches, dipping chips in it. It's all kinds of amazing. I always secretly thought parsley was kind of useless. I've fully repented to the herb gods. You can serve these as appetizers or add some sides and make a meal out of it. Don't skip the baguette toasts though, they add a nice little crunch that will make you want to eat a dozen or so.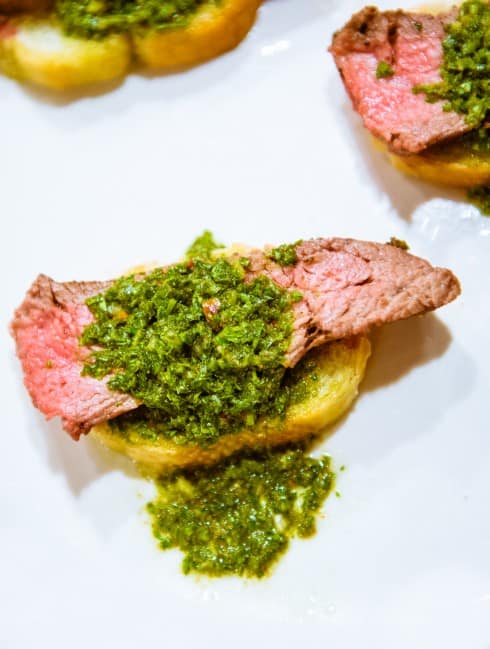 Steak and Chimichurri Toasts
If you thought steak was good, try adding chimichurri sauce. Have you been introduced to this stuff?
Ingredients
1 & 1/2

cups

curly-leaf parsley

,

packed fresh

3/4

cup

olive oil

3

tablespoons

red wine vinegar

2

tablespoons

dried oregano

2

teaspoons

ground cumin

1

teaspoon

salt

2

cloves

fresh garlic

,

roughly chopped

1/2

teaspoon

crushed red pepper

,

dried

2

1 pound pieces

flank steak

1

16 ounce

thin French-bread baguette

,

cut into 40 slices

Additional olive oil
Instructions
Blend parsley, 3/4 cup olive oil, vinegar, oregano, cumin, 1 teaspoon salt, minced garlic, and crushed red pepper in a food processor or blender until smooth. Place meat in large glass baking dish. Sprinkle with salt and pepper on both sides. Brush or rub meat with 2 tablespoons chimichurri sauce. Cover steaks with plastice wrap and throw it in the fridge. Transfer the remaining sauce to a tupperware. Refrigerate the sauce and the meat at least 1 hour. (This can be made 1 day ahead. Keep refrigerated.)

Preheat oven to 450°F. Place bread slices on large baking sheet. Brush with olive oil. Bake until just firm, about 5 minutes. You can also broil these for about one minute, on one or both sides, if you don't feel like heating your oven. Transfer to large platter.

You can broil the meat or grill it. Preheat broiler. Transfer meat to rimmed baking sheet and broil until cooked to desired doneness, about 4 minutes per side for medium. (If you are grilling, it is the same: about 3-4 minutes per side for medium. Make sure the grill is on high heat.) Transfer to cutting board. Let stand 5 minutes. Cut each steak along grain in half. Cut each half crosswise against grain into 10 thin slices. Top each bread slice with 1 piece of meat. Drizzle each with chimichurri sauce; place on platter. Spoon remaining sauce into small bowl and place in center of platter. Serve warm or let stand up to 2 hours at room temperature. You can serve this as an appetizer or main dish.
Notes
Source: my friend Wendy, who got it from Epicurious.com
Nutrition
Serving:
1
slice
,
Calories:
38
kcal
,
Carbohydrates:
1
g
,
Protein:
1
g
,
Fat:
4
g
,
Saturated Fat:
1
g
,
Polyunsaturated Fat:
1
g
,
Monounsaturated Fat:
3
g
,
Cholesterol:
1
mg
,
Sodium:
60
mg
,
Potassium:
19
mg
,
Fiber:
1
g
,
Sugar:
1
g
,
Vitamin A:
202
IU
,
Vitamin C:
3
mg
,
Calcium:
9
mg
,
Iron:
1
mg
We are a participant in the Amazon Services LLC Associates Program, an affiliate advertising program designed to provide a means for us to earn fees by linking to Amazon.com and affiliated sites.