This balsamic grilled chicken is SO full of flavor from the marinade. A quick stint on the grill and a 4-ingredient sauce top it off. Oh, did I mention the spicy honey and bacon? Yeah.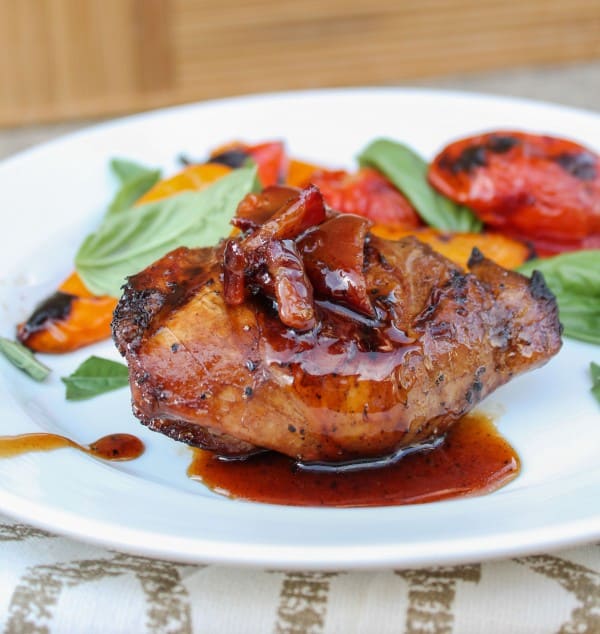 Originally published July 27, 2014
My doctor found a funny mole on my back once a couple years ago. It was melanoma. I feel kind of awkward bringing it up because when people hear the word "cancer" they automatically think of chemo and hospitals and shaved heads, and the alarm bells go off.
Mine wasn't like that. Melanoma is skin cancer, and it was just in the first stages, thank goodness. I didn't even bother telling my mom about it for a few days because I didn't think it was that big of a deal. I mentioned it to her in passing on the phone and she flipped, of course.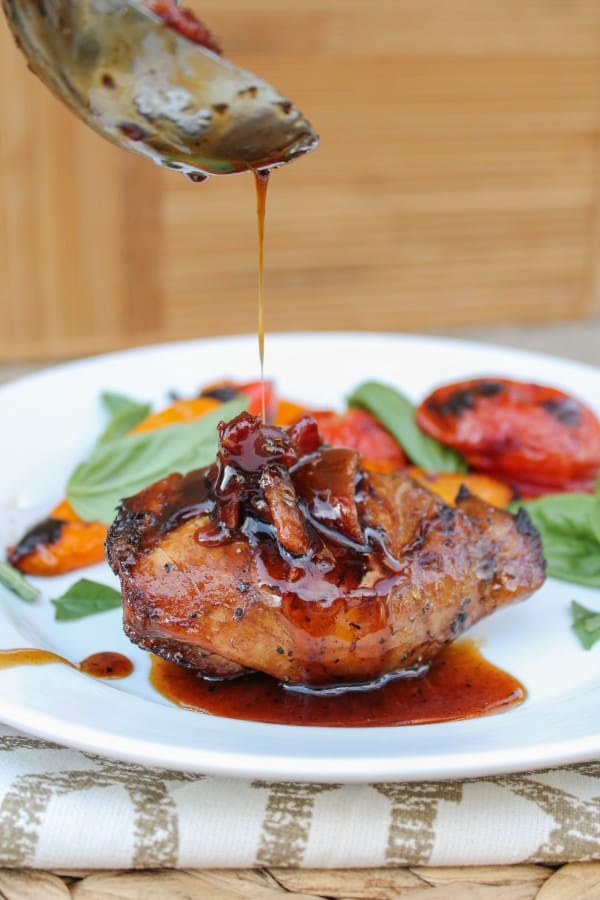 And don't get me wrong, it's not that I wasn't worried. I mean who wants cancer? Especially when you're only 24? Melanoma is pretty common with older folks, whose skin has simply been used up after 80 years of wear and tear. But me? Young, sunscreen-loving, lily-white me?
I had outpatient surgery to have the melanoma removed from my upper back and that was that. The end.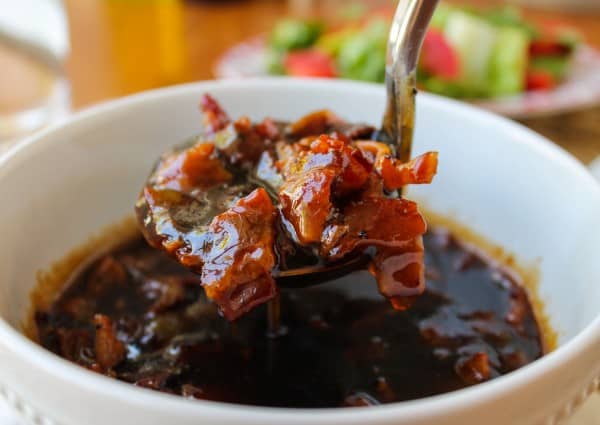 It's strange. It's not like it weighs on me. All I have to do is see a dermatologist every year. At my checkup today the worst I heard was that I apparently have dandruff. For real. She's like, "Use Neutrogena, it will help."
Dandruff? Are you kidding me? It's like they're desperate to diagnose me with something, because I barely have any moles left for them to examine. My skin looks great, they say.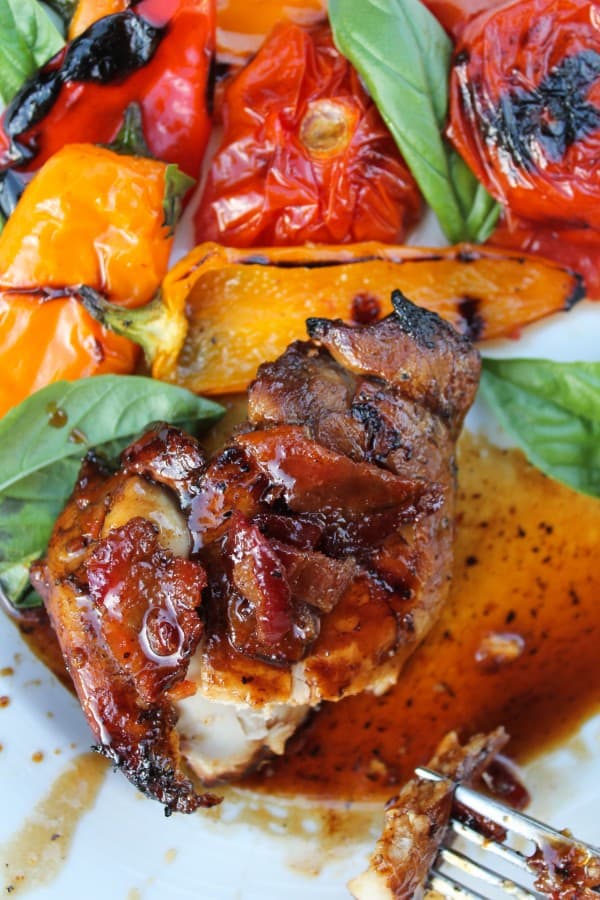 And I feel guilty. That's why I feel weird bringing up the C-word. One Harry Potter scar on my back and I'm good to go. I feel like it doesn't really deserve the cancer title.
Maybe I should just start referring to it as my Dandruff Surgery that I had that one time. And I have to get a checkup every year to make sure I don't need any more Dandruff Surgery. So next year when I talk about my dandruff doctor, who will hopefully still be just a dandruff-finding doctor and not a melanoma-finding doctor, you'll know not to worry too much.
Making Grilled Chicken with Spicy Honey Bacon Glaze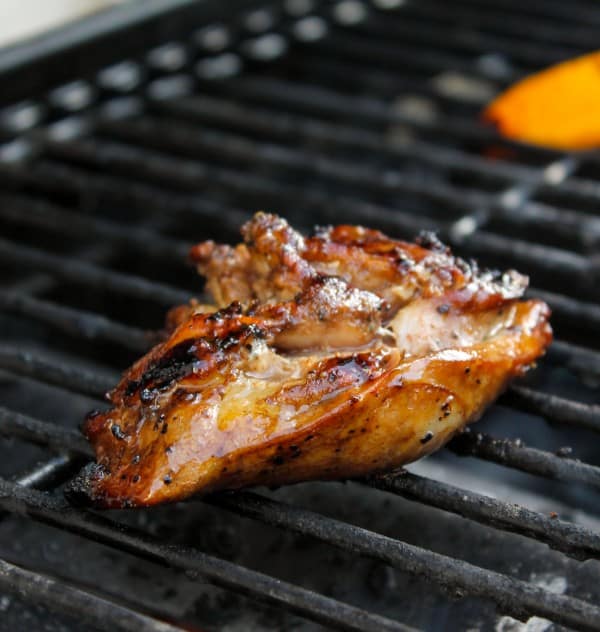 In other not-so-serious news, Eric and I bought a grill for the first time a few weeks ago. Woohoo! We have been grilling up a storm. I found this recipe for Balsamic Grilled Chicken with Spicy Honey Bacon Glaze last summer. It's from The Pioneer Woman, so of course it's amazing. The best part is how easy it is. Marinate some chicken, make a 4-ingredient sauce, and throw it together. Easy! And ridiculously good. The chicken is so tender.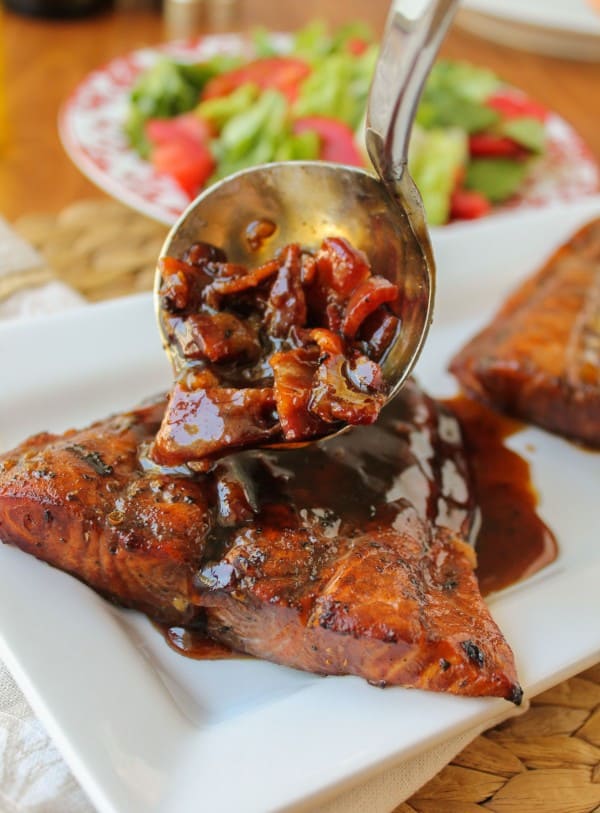 I also like to make this recipe with salmon. Why have I not thought about combining salmon and bacon before this? It's a good choice. Viva la bacon!
Grilled Chicken Marinade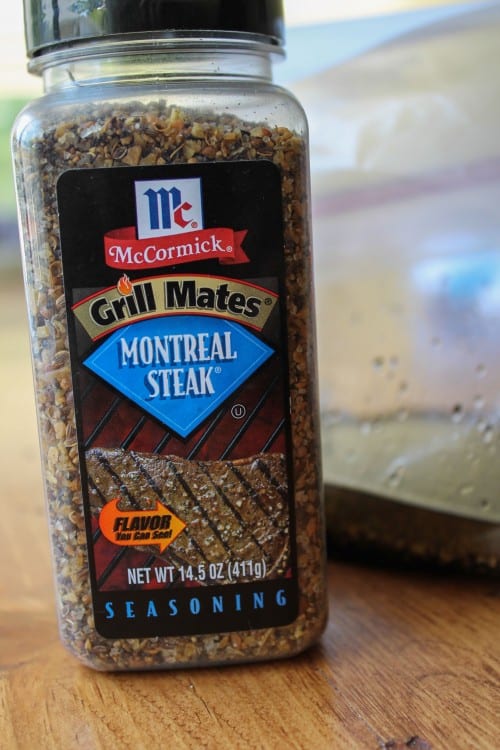 Use the good stuff. McCormick's Montreal Steak seasoning is classic.
Spicy Honey Bacon Glaze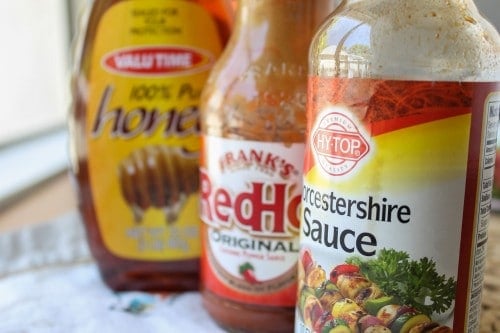 Here's all you need to make the glaze…super easy.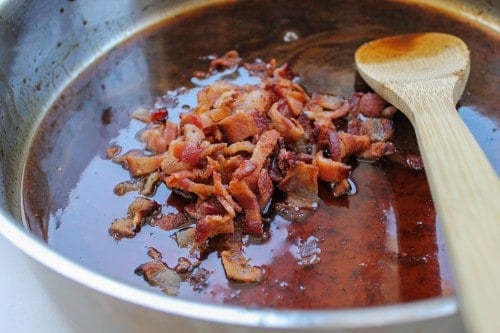 Oh and can't forget the bacon! Duh.
Facebook | Pinterest | Instagram
One year ago: Leftover Hot Dog Pizza with Caramelized Onions
Four years ago: Cream Cheese Chicken Chili (Slow Cooker)
Six years ago: Chicken Shawarma

Balsamic Grilled Chicken with Spicy Honey Bacon Glaze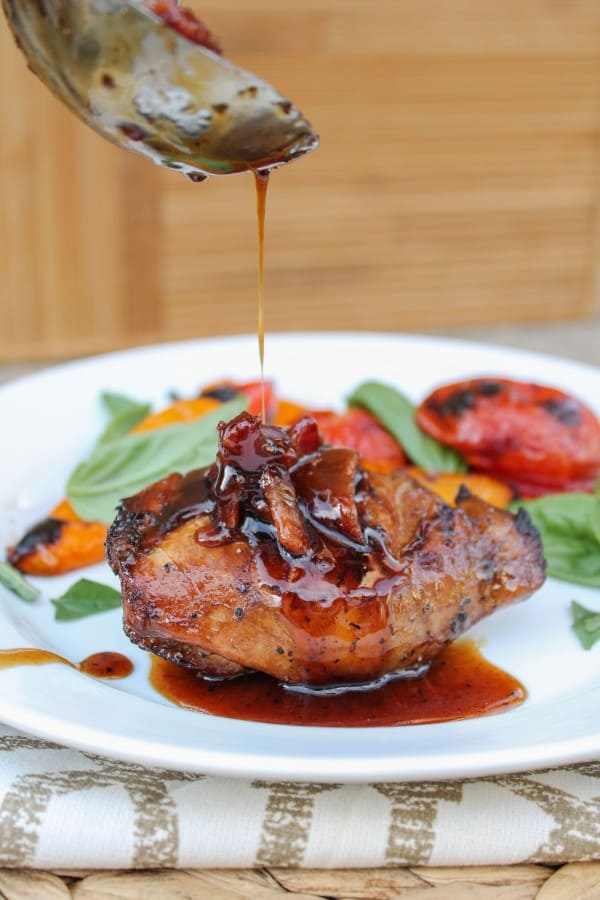 This grilled chicken is SO full of flavor from the marinade. A quick 4-ingredient glaze tops it off. Oh, did I mention the spicy honey and bacon?
Ingredients
4

chicken breasts*

,

left whole or cut into thick strips diagonally

1/3

cup

balsamic vinegar

3/4

cup

olive oil

,

or vegetable oil

3

tablespoons

brown sugar

2

tablespoons

steak seasoning
For the glaze:
6

slices

bacon,

chopped

3/4

cup

honey

3

tablespoons

worcestershire sauce

1

tablespoon

hot sauce

,

I used Frank's
Instructions
In a large ziplock bag, squish together 1/3 cup balsamic vinegar, 3/4 cup oil, 3 tablespoons brown sugar, and 2 tablespoons steak seasoning. Add the chicken breast, thighs, or salmon filets. Seal and refrigerate for a few hours. (If you are marinading salmon, grill them after 1-2 hours at the longest or it will get mushy. If you are doing chicken, you can do it 2-3 days in advance if you want.)

Preheat your grill to medium-high heat.

Make the glaze. In a large pan, cook the bacon until it is crisp, then remove to a paper-towel-lined plate and let cool. If you didn't chop it, crumble it now. Set aside.

Drain the grease from the pan, but don't clean it. Add the honey, worcestershire sauce, and hot sauce. Let bubble over medium heat. Once it is bubbly, add in the chopped bacon. Stir and cook for 1-2 minutes until it has thickened lightly, then remove from heat. The glaze will continue to thicken as it cools down.

Grill the chicken or salmon over medium-high heat. Discard the marinade, or use it to brush the fresh veggies you should be grilling. Don't forget to brush the grill with oil first or it will stick. Cook 2-4 minutes per side, until it is no longer pink for the chicken, or until it flakes tenderly with a fork for the salmon.

Serve topped with the bacon glaze. I like to serve this with grilled veggies on the side, like tomatoes and baby bell peppers. It would also be good with baked beans.
Notes
*I used 2 salmon filets and 3 chicken thighs this time when I made it. If you are doing all salmon, use 4-6 filets. If you are doing just thighs, use at least 5. It doesn't really matter, just however many you can fit in the marinade and have it cover them pretty well. The marinade is a pretty generous amount.
Source: originally from the Pioneer Woman, but I think she took the recipe down. I got the recipe from The Recipe Critic. (Update: it looks like The Recipe Critic took her blog down. But I did find the original recipe posted on The Pioneer Woman's other site, Tasty Kitchen.)
Nutrition
Serving:
1
chicken breast
|
Calories:
678
kcal
|
Carbohydrates:
69
g
|
Protein:
5
g
|
Fat:
45
g
|
Saturated Fat:
7
g
|
Polyunsaturated Fat:
5
g
|
Monounsaturated Fat:
31
g
|
Trans Fat:
1
g
|
Cholesterol:
12
mg
|
Sodium:
429
mg
|
Potassium:
254
mg
|
Fiber:
1
g
|
Sugar:
65
g
|
Vitamin A:
73
IU
|
Vitamin C:
5
mg
|
Calcium:
53
mg
|
Iron:
2
mg
Other grill recipes you'll love: