CrockPot Thai Steak Salad with Peanut-Hoisin Sauce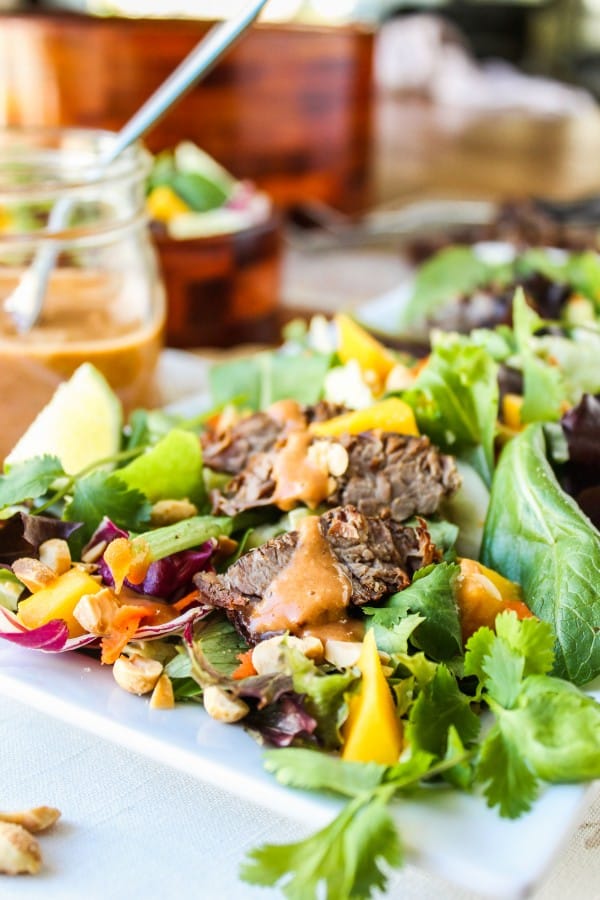 You know that one person you can bond with about the weirdest stuff? For me it's my sister Laura. I visited her in Texas a few weeks ago. No matter how far away we live or how long it's been, there's just no one else I can spontaneously connect with about stupid idiosyncrasies that are (for better or worse) ingrained in my very soul.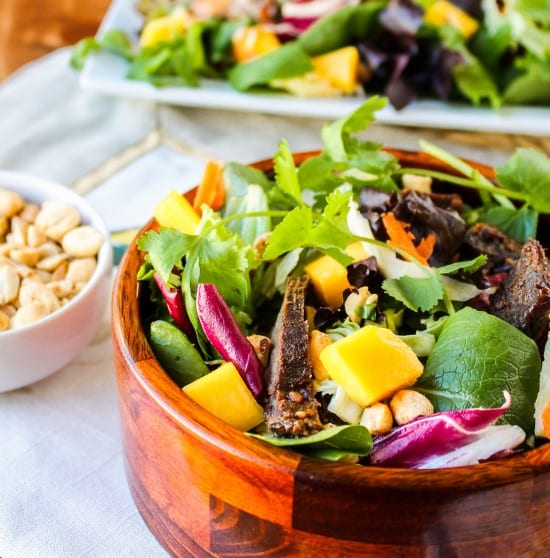 Like being fanatical about scraping mixing bowls perfectly to get every. last. drop. We had an entire conversation (like, edge-of-your-seat-conversation) about the swirly-wrist-scraping technique that Mom always used to avoid wasting batter.
I told her about my utter shock from years ago when my brand new sister-in-law barely scraped out the brownie bowl, then put it directly in the sink without even licking it. "No, she didn't! That's a crime!" "Oh yes he did. My mouth just hung open, no words."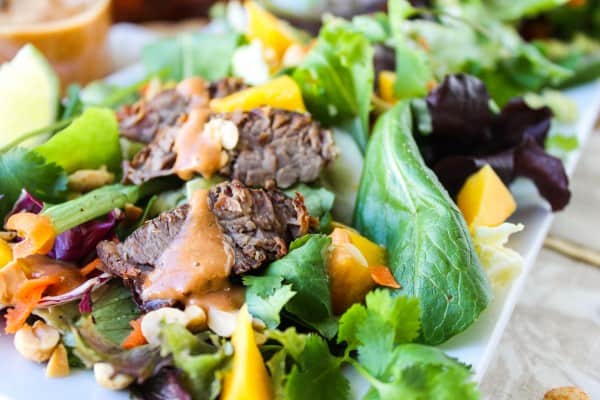 We also bonded over the complete liberation we felt the first time we rolled down the windows in the car…with the air conditioner on. Gasp!! If we had ever tried to do that with my parents in the car, the logic spewing from them would literally reach out and roll up the windows on their behalf.
There was also the moment when we forcefully agreed that Scarlett O'Hara is THEE most annoying heroine of all time. We simultaneously described her: "She's a total–(lip pucker, head tilt)–B." And we actually both said "bee," because neither of us cuss.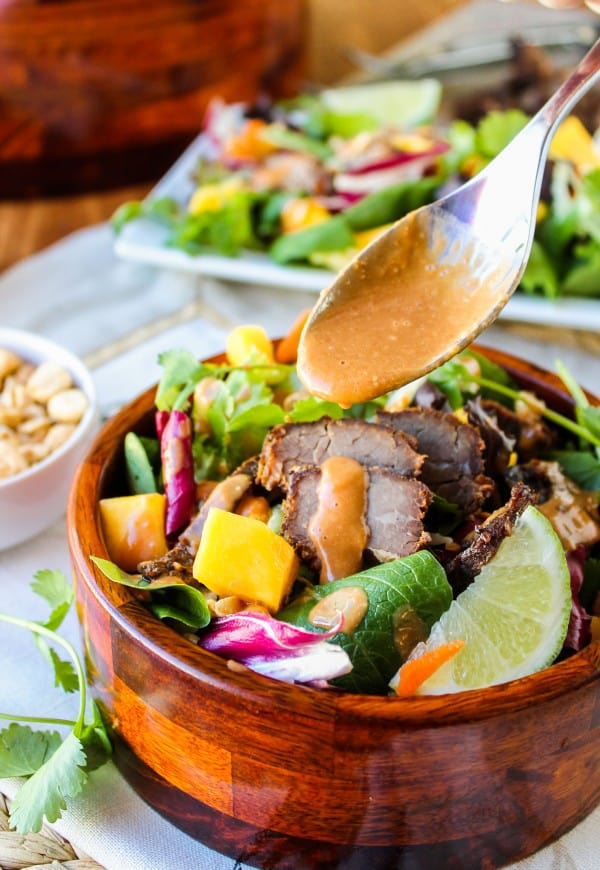 Yeah. We're pretty good together. Now if we could just get Arizona, New Mexico, and most of California and Texas out of the way, then we would be golden. Golden I say!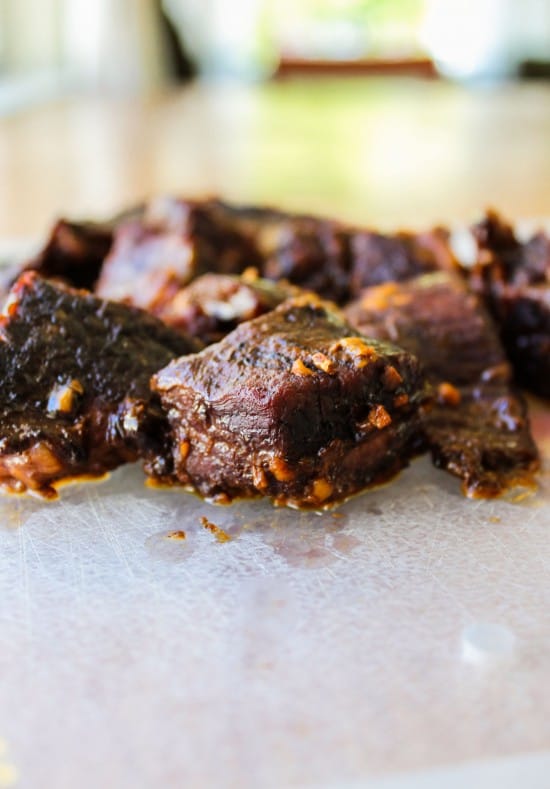 My brother came by right as we were about to eat this the other night. I said, "Have some steak salad" and Eric said "You can have 3 pieces of meat, that's it." He only upped it to 5 after I bullied him. Talk about stingy. The meat is pretty amazing though. I made this steak salad two nights in a row. No regrets. Also, I have a confession, this is not even a steak salad, it's a stew-beef salad, which sounds pretty gross if you ask me, so let's stick with steak salad.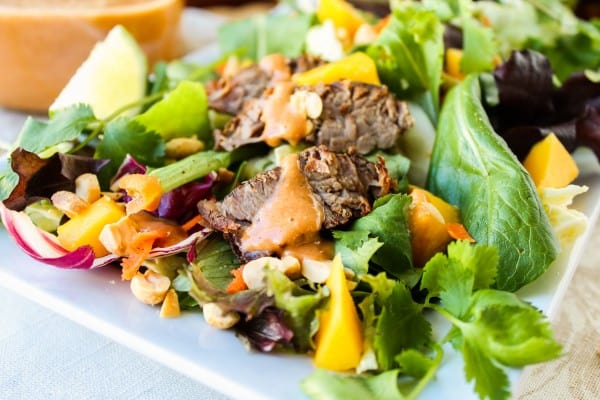 That's the beauty of the CrockPot. You can take cheap cuts of meat and slowly cook it into tender submission. And all you're cooking it in for this recipe is soy sauce, honey, and garlic, so it takes literally about 2 seconds to throw together.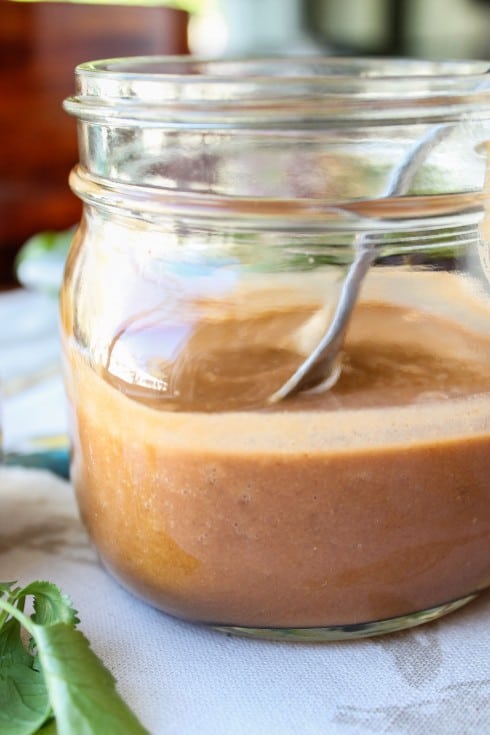 And don't even get me started on the dressing.  I need to just have it on hand so that I actually, you know, eat salad every now and then. This dressing stands alone; it would brighten up even the most boring of garden salads. I almost always have the ingredients on hand, too. Do you hear that, future salad-hating-self??
You don't need to be super picky about your greens for this salad. Pretty much anything green will do (except I wouldn't choose iceberg.) Eric complimented this salad at least 5 times each night we had it. It's like he's trying to tell me something?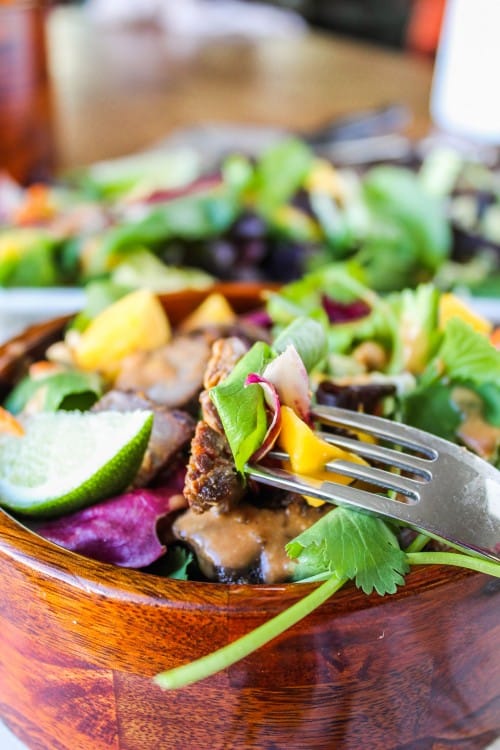 Do you guys give up? Or are you thirsty for more?
Facebook | Pinterest | Instagram | Twitter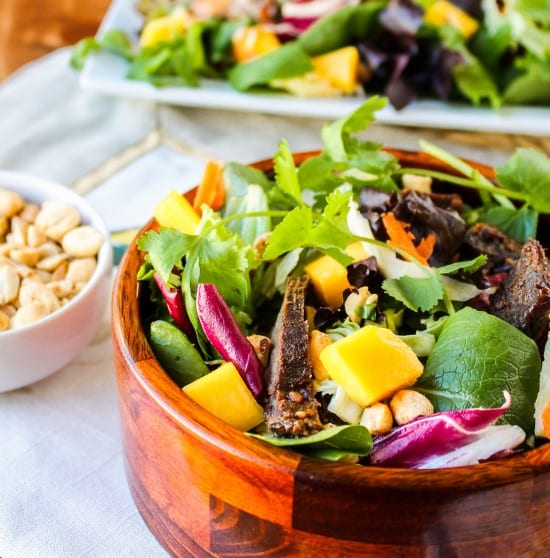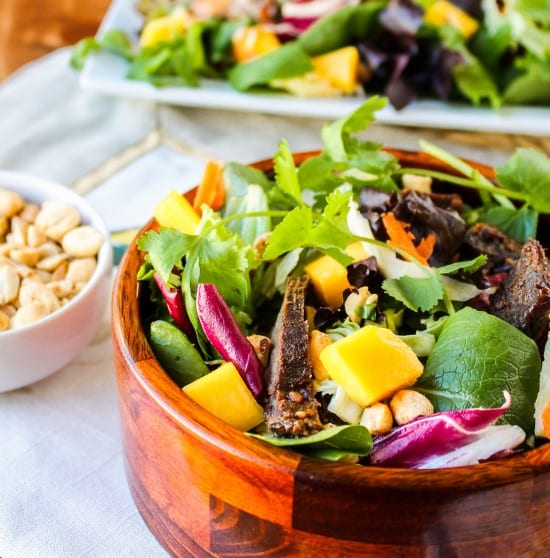 print
Did you make this recipe?
Leave a review »
CrockPot Thai Steak Salad
Serves 3-4
adjust servings
Ingredients
For the steak
1/4

cup soy sauce

3

tablespoons honey

3

cloves garlic, minced

1

pound stew beef or boneless beef chuck steak, cut into 2-inch pieces
For the dressing
1/4

cup hoisin sauce

2

tablespoon creamy peanut butter

1/2

cup water

1

tablespoon fresh ginger, roughly chopped

1

tablespoon tomato paste or ketchup

2

teaspoons fresh lime juice

1

teaspoon sugar

2

cloves of garlic

1/2

teaspoon or up to 2 teaspoons Sriracha sauce, (or other hot sauce)
For the salad
1/2

head savoy cabbage, shredded (or any cabbage)

1 5-ounce

bag romaine with red cabbage and carrots, or whatever greens you want

1

cup cilantro, roughly chopped

1/2

cup peanuts, chopped

2

mangos

fresh lime wedges
Instructions
For the steak:
Spray the inside of your slow cooker with nonstick spray. Add the soy sauce, honey, and garlic, and stir together well. Add the meat, turning to coat all sides. Turn your CrockPot on to high, put the lid on, and cook for 3 hours.
Remove the meat with a slotted spoon to a cutting board. Let sit for 10 minutes, then cut into slices against the grain. Set aside and let come to room temperature, or wrap it up and chill it in the fridge. Drizzle with remaining sauce if it gets dry.
For the dressing:
Add all dressing ingredients to a blender and pulse until completely combined, scraping sides as necessary.
Assemble the salad:
In a large bowl, toss the greens with the cabbage and cilantro. Top each serving with peanuts, mangos, lime wedges, and the steak. Drizzle with dressing and serve.
by The Food Charlatan

If you make this recipe,
share it on Instagram
 using the hashtag
#TheFoodCharlatan
so I can see it!
Source: lightly adapted from Crock Pot Made Simple: Slow Cooker Recipes
Almost forgot, here's a picture of savoy salad if you've never seen it. Any sort of cabbage will do.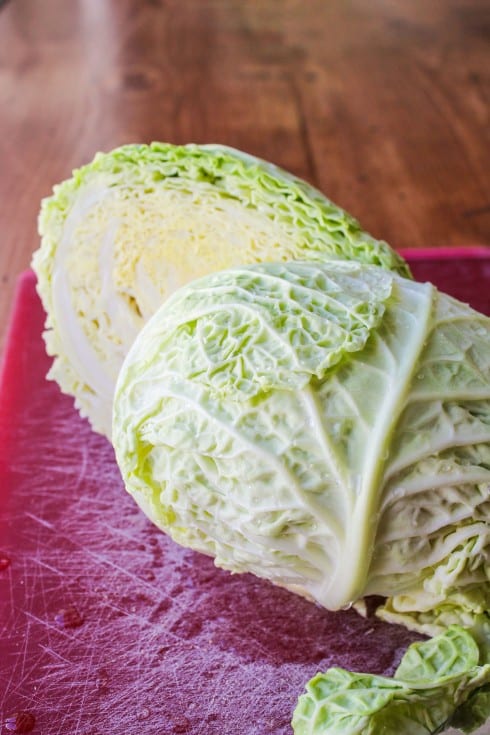 We are a participant in the Amazon Services LLC Associates Program, an affiliate advertising program designed to provide a means for us to earn fees by linking to Amazon.com and affiliated sites.