What's the grossest thing you've ever cleaned? (I mean besides diapers.) Today I cleaned out a fireplace that hasn't seen the light of day since like 1922. (This exaggeration may actually be accurate. I'm not sure exactly when our home was built, but I'm guessing it was in the 20s or 30s.) I had to empty the vacuum 3 times. Three times.  And there were snail shells. What? Snails? In a fireplace? Yes, snails. They left their tracks all up and down the bricks. How did they get there? And if something as big as a snail can get into my fireplace, what else is crawling into my house?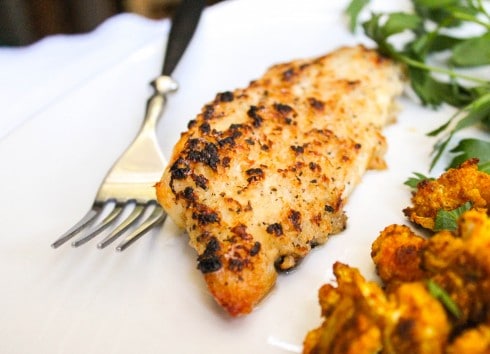 We move in on Saturday. I'm super excited. I've been working my butt off getting it all cleaned and painted and ready. Can I get a round of applause for TSP? Trisodium Phosphate. I didn't even know this stuff existed until my mom told me about it last week, but it is an old home's best friend. You would not believe how much soot and dirt came off those walls.
We painted the built-in wood bookshelves and paneling that surrounds the fireplace. It was oak, and very 70s looking. We painted it white, at the independent advice of 2 people way more stylish than us. I read on a blog somewhere that men always want to keep the wood paneling and women always want to paint it a light color. My brother was using my computer the other day and saw all the pages I had open with before and afters. Sure enough, he said that he liked all the befores better…the afters looked sissy.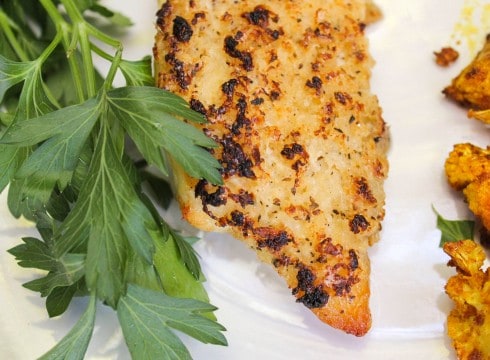 Sissy or not, it's all done now. I congratulated myself out loud when I finished my last touch up today. Good job Karen! You are freaking awesome! Sometimes when no one else is around to give me my compliment fix, I fill in. The paneling took me the better part of a week. (Eric was at work so I was on my own. We would have done it last weekend but we went on a little getaway instead. Still don't regret that.)
Wish us luck moving our piano. Or just show up to help. That would be great too. I'll make you this tilapia if you do.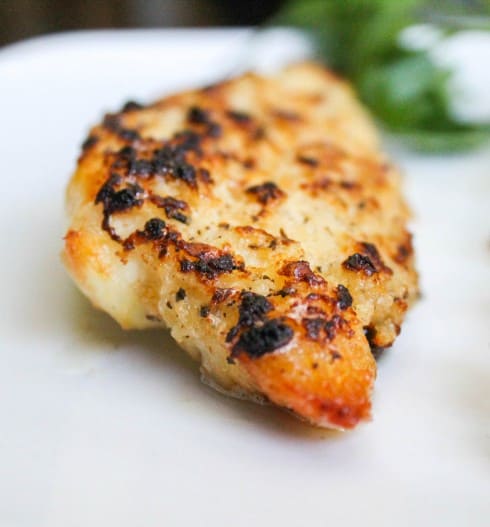 You wouldn't regret it. This is one of the best fish I have ever put in my mouth. It's got 6,240 reviews on Allrecipes. That many people just can't be wrong. Oh and? Done in 15 minutes. Done, I tell you.

Easy Parmesan Tilapia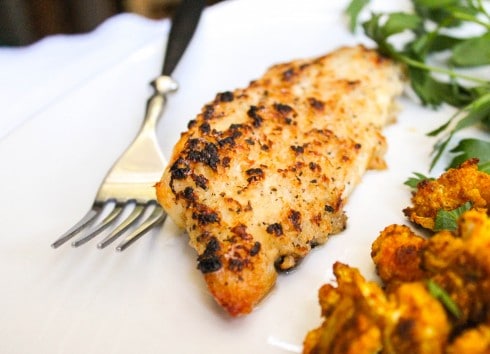 This is one of the best fish I have ever put in my mouth. Oh, and done in 15 minutes!
Ingredients
1/2

cup

Parmesan cheese

1/4

cup

butter

,

softened

3

tablespoons

mayonnaise

2

tablespoons

lemon juice

,

fresh

1/4

teaspoon

dried basil

1/4

teaspoon

ground black pepper

1/8

teaspoon

onion powder

1/8

teaspoon

celery seed

1/2

cup

panko bread crumbs

2

pounds

tilapia fillets

,

(8 fillets)
Instructions
Turn on your broiler. No really, turn it on right now, because making the sauce will literally take you 5 minutes. Line a baking sheet with aluminum foil and coat with nonstick spray.

In a small bowl, mix together the Parmesan cheese, butter, mayonnaise and lemon juice. Season with dried basil, pepper, onion powder and celery seed. Mix in the bread crumbs and set aside.

Arrange fillets in a single layer on the prepared pan. Broil a few inches from the heat for 2 to 3 minutes. Flip the fillets over and broil for 2 more minutes. Remove the fillets from the oven and spread the Parmesan cheese mixture on the top side. Broil for 2 more minutes or until the topping is nice and brown and fish flakes easily with a fork. Don't overdo it. Nobody likes dry fish!
Nutrition
Serving:
1
fillet
|
Calories:
236
kcal
|
Carbohydrates:
3
g
|
Protein:
26
g
|
Fat:
13
g
|
Saturated Fat:
6
g
|
Polyunsaturated Fat:
3
g
|
Monounsaturated Fat:
3
g
|
Trans Fat:
1
g
|
Cholesterol:
78
mg
|
Sodium:
271
mg
|
Potassium:
365
mg
|
Fiber:
1
g
|
Sugar:
1
g
|
Vitamin A:
230
IU
|
Vitamin C:
1
mg
|
Calcium:
96
mg
|
Iron:
1
mg