Sensationally Smooth Chocolate Cheesecake
This silky smooth chocolate cheesecake may be the most decadent dessert you ever eat! The texture is perfection. A half inch of Oreo crust and a thick layer of creamy ganache means this is the last chocolate cheesecake recipe you will ever need!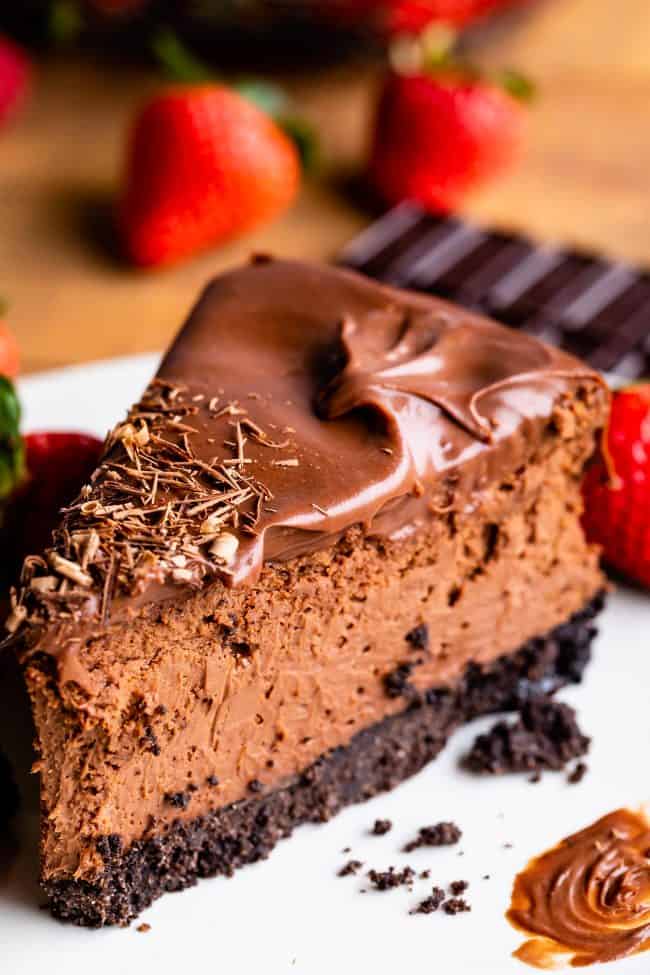 We visited Eric's hometown this weekend, it's a tiny place up in Montana called Sidney. At a family dinner, Eric's Great Uncle Hubert came and sat down next to me on the couch. "Now Karen, can you show me how to get on this Blob of yours that I keep hearing about?"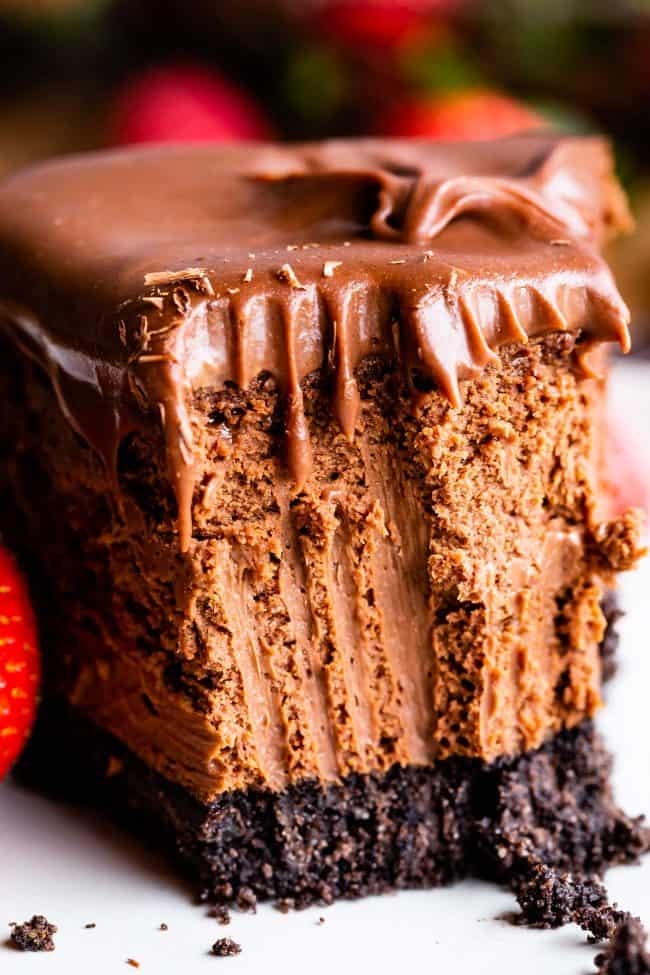 I laughed so hard and told him that it's actually called a blog. "Well, I was 3/4 right," he said. Ha! Touché, Hubert, touché!
Maybe we should just start calling it a blob. That's what you'll turn into eventually, I suppose, if you eat this chocolate cheesecake too many days in a row! I mean just kidding, chocolate cheesecake is totally a healthy choice that you should make today.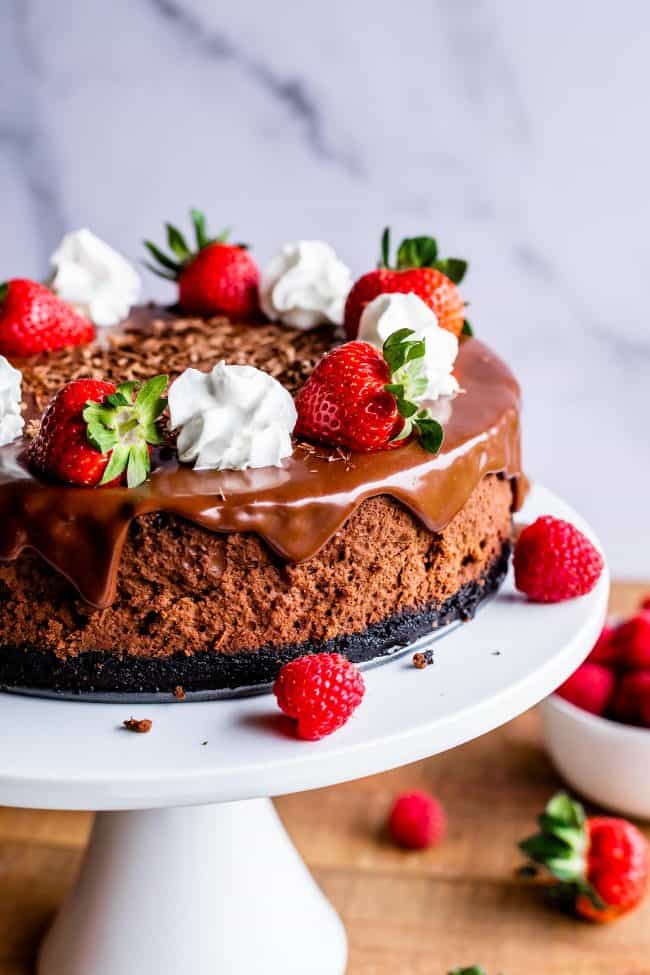 We were up in Montana for Eric's grandmother's funeral. It is sad but nice to be with the family. Nana was having a very hard time, and we are glad she's not in pain anymore. She was the sweetest, spunkiest lady. It was fun to spend the weekend talking about her. Nana shared so many of her amazing recipes with us, and I've added several to the blob, like Nana's Famous Fudge Brownies, Homemade Peppermint Ice Cream, Beef Barley Soup, Nana's Fall-Off-the-Bone Ribs and "Barb"-ecue Sauce (Nana's name is Barbara).
Nothing brings family together quite like the food we make for each other, does it?
I don't know if Nana had a favorite chocolate cheesecake recipe, but I'm sharing mine today! Have you ever made my Crème Brûlée Cheesecake? It's very popular for a good reason! It's one of the best cheesecakes I have ever had. The texture is perfection. It's not a traditional cheesecake because I smooshed together a cheesecake recipe with a crème brûlée recipe. It is a bit softer than a traditional cheesecake, and so rich.
How to make chocolate cheesecake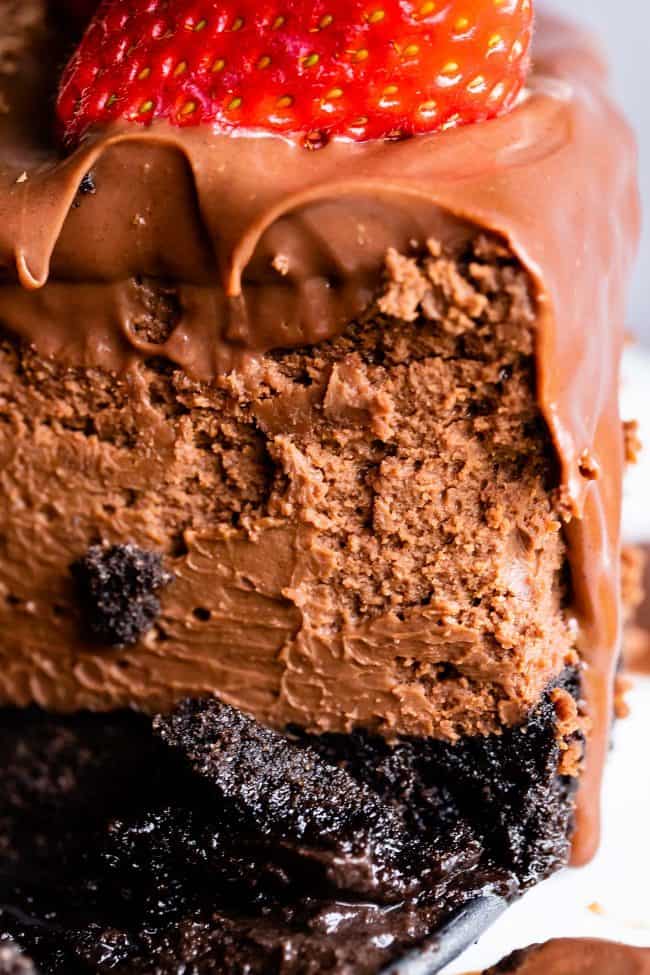 I wanted to create a chocolate cheesecake version. On my first trial I actually tried using my kitchen torch to brûlée the top of this chocolate cheesecake, but wasn't in love with that combo. The burnt sugar flavor is pretty delicate, and chocolate overwhelms it. It kind of just gets lost and doesn't add anything to the cheesecake, I felt. Instead I wanted to bring in the gorgeous texture of the crème brûlée cheesecake, but with a ton of chocolate flavor. Oh, and a ridiculously thick ganache layer on top.

First we start with an Oreo crust. Not just any Oreo crust. 36 Oreos get tossed in a food processor to make a crust that is a good half inch thick, with a little bit of butter and sugar to make it fork tender and melt in your mouth. That's an entire package of Oreos. I told you, guys, we're not messing around here. In fact, you're going to have to buy two packages at the store, because how else are you going to snack on Oreos while making this crust?


Next we make the cheesecake filling. First you beat the cream cheese for several minutes, then add sugar and cocoa and vanilla. Then you beat again before adding melted bittersweet chocolate. Then comes the weird part: Beat 10 egg yolks (yes, seriously, 10) in a separate bowl, and while mixing, pour in hot cream. This is how we are getting a super thick, custard like texture for this cheesecake. It bakes up into a dreamy creamy chocolate cheesecake that is simply delightful.

Look at this gorgeous cheesecake with no cracks! But honestly guys, if your cheesecake cracks, don't sweat it. Just cover it up with chocolate ganache and chocolate curls!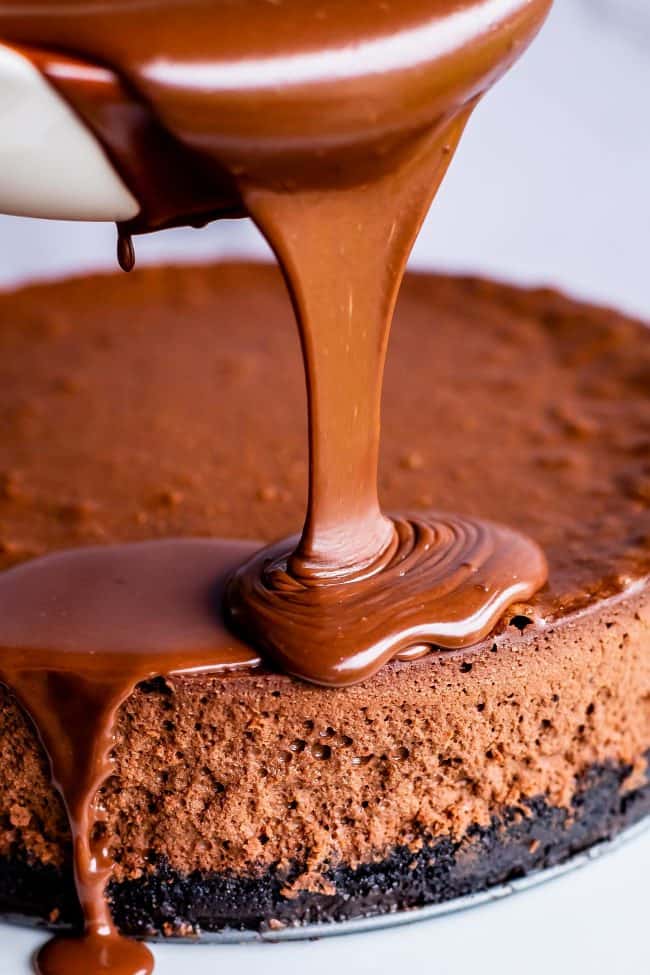 I won't tell anyone if you eat some of this ganache with a spoon.
I am normally a big-slice kind of cheesecake person, but this chocolate cheesecake is so rich and decadent that I can't do more than a tiny slice. It is really great served with strawberries to off-set the richness of the cheesecake.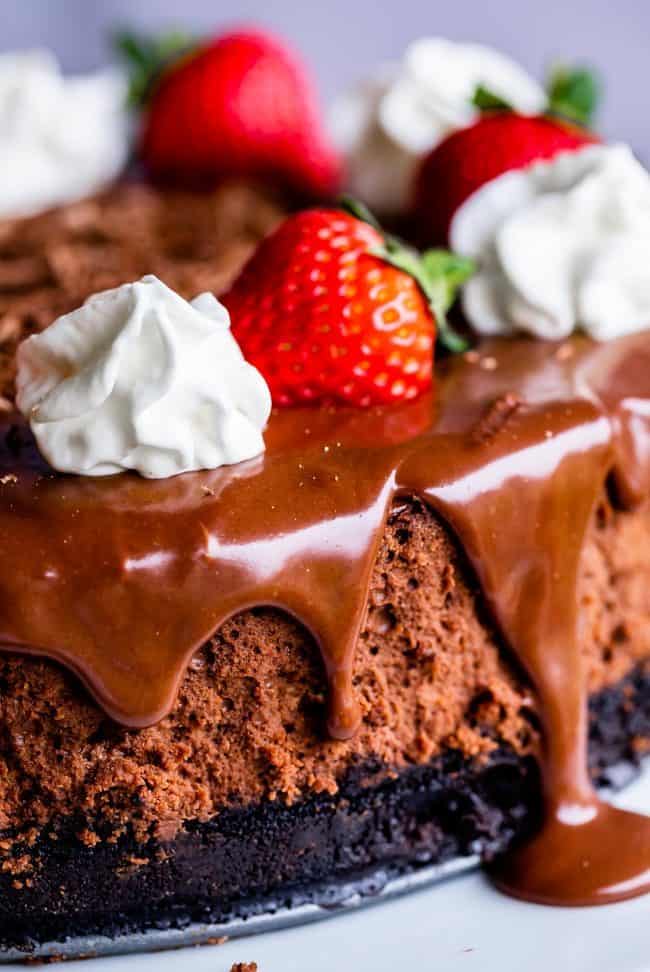 I know it's a ways off, but this would be a perfect dessert to serve either for Easter or for Mother's Day. What mom wouldn't want to wake up to this gorgeous cheesecake? (Children?? Are you listening??)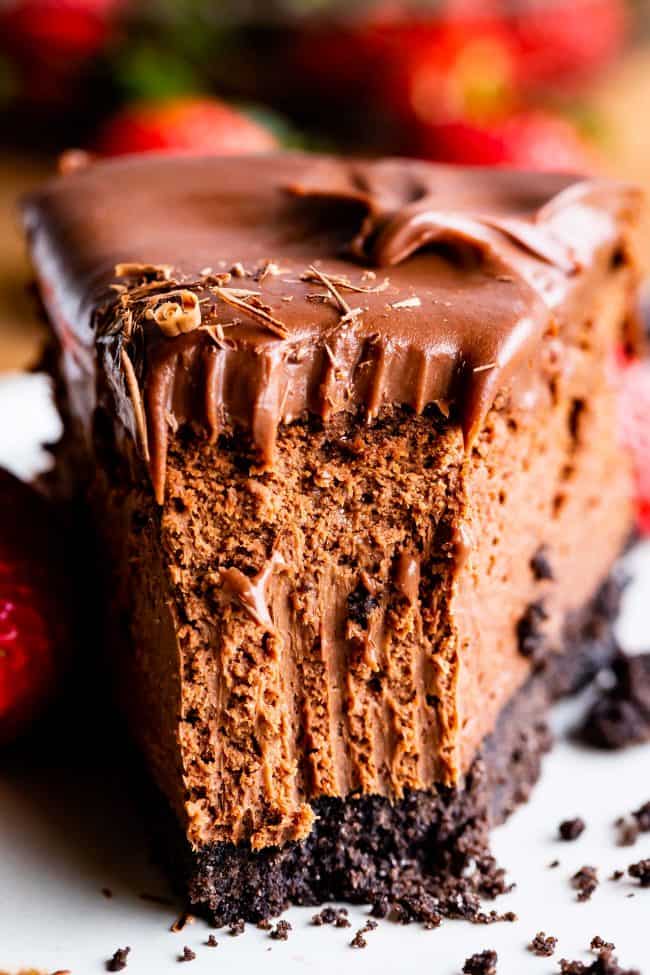 Facebook | Pinterest | Instagram
Three years ago: Carrot Cake with Cream Cheese Maple Pecan Frosting < I just made this again last week! So good.
Four years ago: Traditional Tejano Pinto Beans (Slow Cooker) < this is a family favorite.
Five years ago: Snickers Brownie Bars 
Sensationally Smooth Chocolate Cheesecake
Smooth and Silky Chocolate Cheesecake may be the most decadent dessert you ever eat! The texture is perfection. A half inch of Oreo crust and a thick layer of creamy ganache means this is the last chocolate cheesecake recipe you ever need! 
Ingredients
For the crust
1 (14-oz)

package

Oreos

,

36 oreos

4

tablespoons

butter

,

melted

2

tablespoons

sugar
For the cheesecake
3 (8-oz)

packages

cream cheese

,

softened (24 ounces total)

1 & 3/4

cups

granulated sugar

1/4

cup

unsweetened cocoa powder

1

tablespoon

vanilla extract

1/2

teaspoon

kosher salt

12

ounces

bittersweet chocolate

,

I used 60%

10

egg yolks

,

yes, really

1 & 1/2

cups

heavy cream
For the ganache topping
1 & 1/4

cups

heavy cream

1 & 1/3

cups

semi sweet chocolate chips

1/4

cup

butter

,

(half stick)

1

bar

dark chocolate

,

for chocolate curls
Instructions
FOR THE CRUST:
Preheat the oven to 350 degrees F. Prepare

a 9-inch springform pan

. Tear off an 18-inch square of heavy duty aluminum foil. (Reynolds is best) Set the pan in the center of the square and carefully wrap the foil up over the edges of the pan, crimping at the top so that it is secure. Repeat with a second sheet of foil. Be very gentle so it doesn't tear. Repeat again with a 3rd sheet of foil.*

Use a food processor to pulse the Oreo into fine crumbs. (Or you can use a ziplock and rolling pin.) Add 2 tablespoons sugar and 4 tablespoons melted butter. Pulse until combined, or mix with a spoon.

Press the crumbs into the bottom of the prepared pan. Use the bottom of a glass to press it into an even layer.

Bake at 350 for 10 minutes. Be careful not to tear the foil.

Remove from the oven and let cool while you make the filling. (I stuck mine in the freezer).
FOR THE CHEESECAKE:
Lower the oven temperature to 325 degrees F.

In a large bowl or stand mixer, beat the softened cream cheese for 4 minutes, making sure to scrape the sides and bottom.

Add 1 and 3/4 cup sugar, 1/4 cup cocoa, 1 tablespoon vanilla, and 1/2 teaspoon salt. Beat for another 4 minutes, scraping sides and bottom.

Add 12 ounces of bittersweet chocolate to a medium bowl, breaking it up into pieces. Microwave in 30 second increments until it is mostly melted, stirring each time. Once the chocolate is mostly melted but has a few lumps, don't put it back in the microwave, just stir until the lumps are gone. Set the smooth melted chocolate aside to cool a bit.

Once the chocolate has cooled for a couple minutes, add it to the cream cheese mixture. Beat well, scraping sides and bottom.

Meanwhile, add the cream to a small pot on the stove. Heat over medium low heat until it is warm. You don't want it to boil.

While that is heating up, crack 10 egg yolks into a mixing bowl. (Save the egg whites for something else!)

Beat the egg yolks with

a hand mixer

for about 2 minutes, until they are pale.

Pour the heated cream through a fine mesh strainer into a large pourable glass measuring cup (or anything that pours).

While the beaters in the egg yolks are on, slowly add the warm cream. If you are not mixing while you do this, the eggs will curdle. Enlist help if you can. Don't try to take a photo during this step. I'm just watching out for you. I actually got my daughter to help me, so I skipped step 7 above and just had her hold the strainer over the bowl of eggs while I held the running mixer and pour in the hot cream (see photo.) Beat for 1 minute.

Once all of the hot cream has been incorporated with the egg yolks, pour the egg mixture into the cream cheese mixture and start beating right away. Make sure you scrape the sides and get out all the lumps. The batter will be pretty thin.

Transfer the foil-wrapped Oreo crust into a large high-sided skillet, or a roasting pan.

Pour the batter into the Oreo crust, forming an even layer on top.

Fill the skillet or roasting pan with hot water from the tap. You want the water to go at least halfway up the pan of the cheesecake.

Carefully transfer the water bath to the oven.

Bake at 325 for about 1 hour and 20-25 minutes. You will know it is done when it is mostly set in the center and doesn't jiggle too much when you shake it. (some movement is ok--it will continue to set as it cools. It just shouldn't be liquidy.) A toothpick inserted into the cheesecake 1 inch from the outer edge should come out with no batter on it.

Turn off the oven, but do not take the cheesecake out of the oven. Crack the door open and let the cheesecake come to room temperature inside the oven. (At least 1 hour, or up to 2 hours.)

When the cheesecake is room temperature, remove from the water bath, and remove the foil. Cover the cheesecake with plastic wrap and refrigerate for at least 3 hours or preferably overnight.
FOR THE GANACHE:
When your cheesecake baby is completely cool, make the ganache. (I feel like you're close enough to your cheesecake to give it a name by now, right? You two have been through a lot together.)

To make the ganache, heat 1 and 1/4 cups heavy cream in a small pot or in a medium bowl in the microwave. Heat in 45 second increments or over medium low heat. Do not let the cream boil, but when small bubbles appear on the edges, remove from heat and add 1 and 1/3 cup chocolate chips. Do not stir at first, let the chocolate melt. After a minute or so, use a whisk to incorporate the chocolate into the cream. It will seem chunky at first, but if you keep stirring it will become smooth.

Once the mixture is smooth, add 1/4 cup butter that has been cut into chunks. Stir until smooth.

Pour the warm ganache over the top of the chocolate cheesecake. You don't have to use all of it. You may want to save some to drizzle over individual slices.

Let the ganache set at room temperature for several minutes. Or you can put it back in the fridge to speed it up.

Garnish with whipped cream and fresh strawberries.

You can also garnish with chocolate curls. Use a vegetable peeler to "peel" curls off the edge.

To get clean slices, heat a large chef's knife in a glass of hot water, wipe clean with a towel, and slice. Wipe off the knife in between slices.
Notes
*The foil is to keep your cheesecake dry since it will be baked in a water bath. I know 3 layers may seem excessive, but talk to me when you spend half a day making your precious chocolate cheesecake and you end up with a soggy crust. Trust me, it's worth the cost of the foil!
Nutrition
Serving:
1
g
,
Calories:
1122
kcal
,
Carbohydrates:
70
g
,
Protein:
15
g
,
Fat:
89
g
,
Saturated Fat:
50
g
,
Polyunsaturated Fat:
4
g
,
Monounsaturated Fat:
25
g
,
Trans Fat:
1
g
,
Cholesterol:
329
mg
,
Sodium:
673
mg
,
Potassium:
546
mg
,
Fiber:
5
g
,
Sugar:
53
g
,
Vitamin A:
2665
IU
,
Vitamin C:
1
mg
,
Calcium:
202
mg
,
Iron:
6
mg
Other cheesecake recipes you should definitely make!
Crème Brûlée Cheesecake << this is the recipe that today's chocolate cheesecake it based on. It's my favorite cheesecake of all time!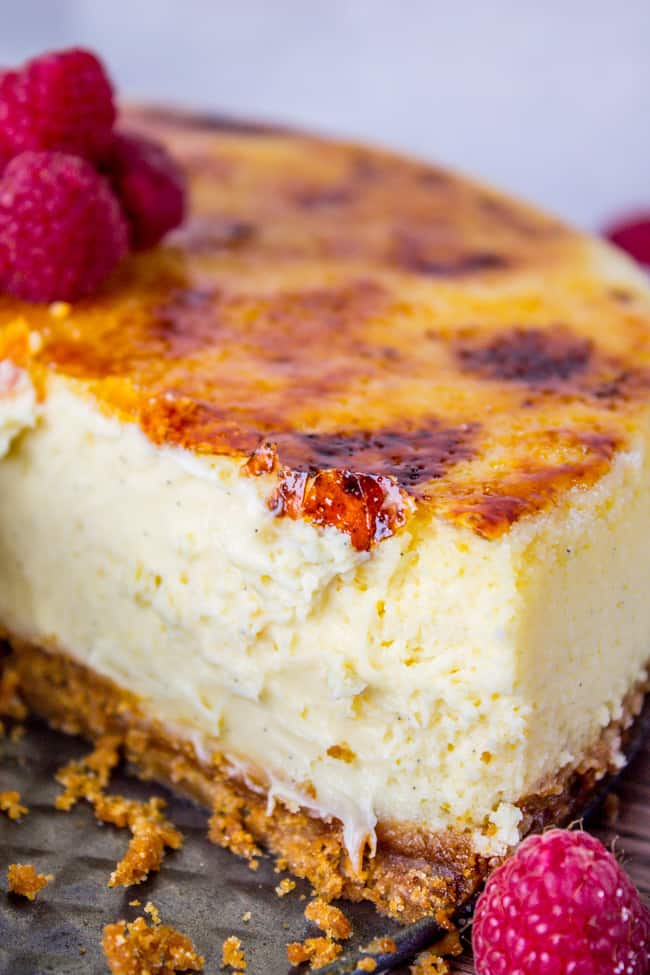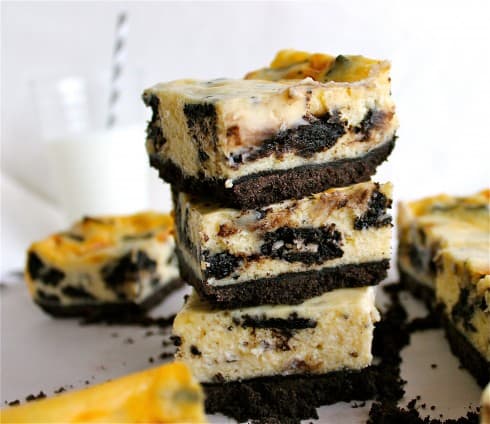 No Bake Dulce de Leche Cheesecake with Caramelized Peaches << this is so easy!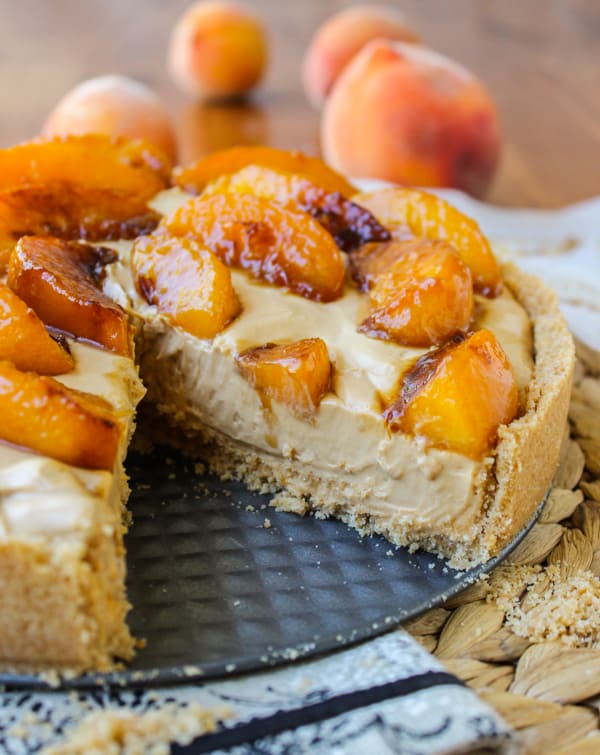 More cheesecake recipes from friends!
Best Salted Caramel Cheesecake from Life Love and Sugar
Pressure Cooker Black Forest Cheesecake from Pressure Cooking Today
Limoncello Cheesecake with Biscoff Crust from A Spicy Perspective
We are a participant in the Amazon Services LLC Associates Program, an affiliate advertising program designed to provide a means for us to earn fees by linking to Amazon.com and affiliated sites.