Oreo Cheesecake Bars
These Oreo Cheesecake bars are absolutely STUFFED with Oreos. The texture of the cheesecake is perfect, and did I mention these are in bar form? That means you can eat them with your hands and it's socially acceptable. WIN.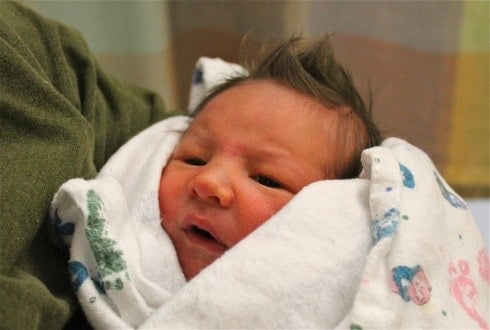 Truman was born last weekend! Isn't he just the best? I mean, I know all newborns look like aliens and Eric and I are the only ones who are blinded into thinking that he's the most beautiful thing that's ever happened (besides Charlotte of course), but his awesome hair definitely helps. I'm sad that it's going to grow, because then I will have to cut it, and since I lack even the most basic hair-cutting skills, it will probably never look this awesome again.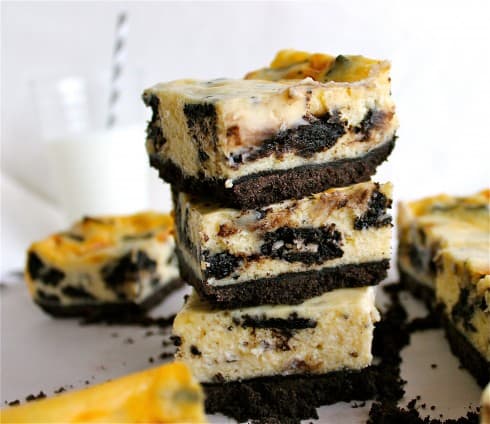 I am not one of those natural childbirth people. If you are, more power to you, but I'll keep my epidural thank you very much. We got to the hospital at 7:40, and at 8:02 Truman was born. I really don't recommend this. Especially since the only drug I had in my system was Tylenol, which kind of has the same effect as, say, drinking water. Now I can say I did it I guess. I can also say that next time I have a baby I am camping out in the hospital parking lot as soon as I feel even a flutter of a contraction.
He had some breathing problems right when he was born, which was really scary, but after a couple days in intensive care he is just fine. We are all home now, and I have to face the fact that my children outnumber me. Pray for me.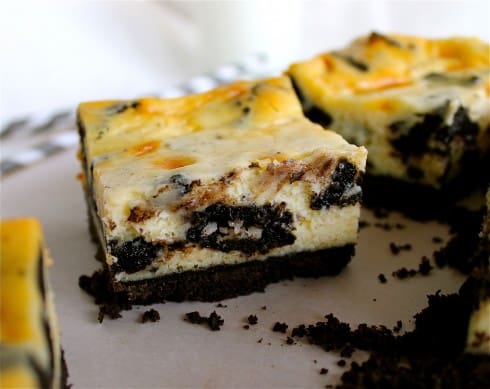 I made these Oreo Cheesecake Bars the day before I had the baby. (He came two weeks early. I wasn't really planning on giving birth this weekend. Otherwise I would have been doing more useful things, like packing bags, so that I could avoid doing that in the 3 minutes intervals in between contractions when I finally decided, hey, maybe we should like go to the hospital or something.)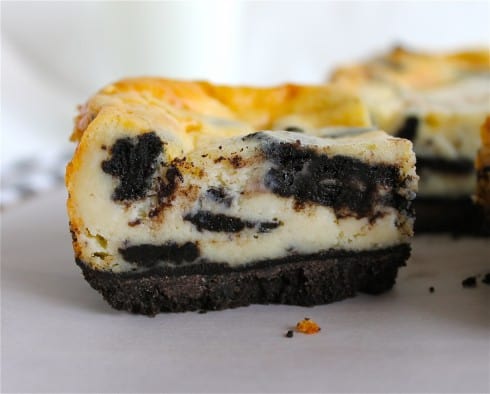 But back to the bars. They were AWESOME. The crust alone calls for 23 cookies, and when it comes to cheesecake I'm all about the crust. Then there are even more Oreos in the cheesecake itself. What more could you ask for? I've never made cheesecake in bar form before, and now I don't know if I'll ever go back. It's so convenient. These were gone in like a day.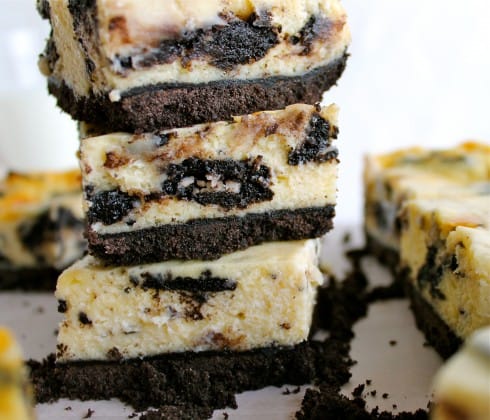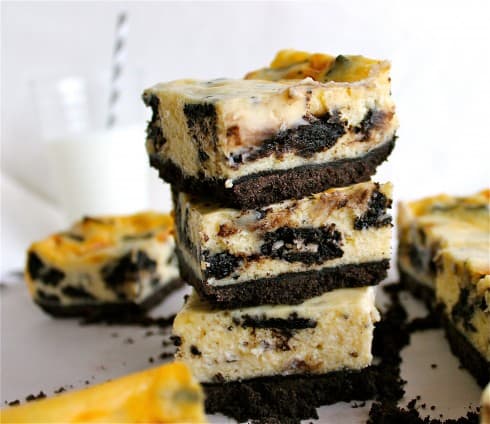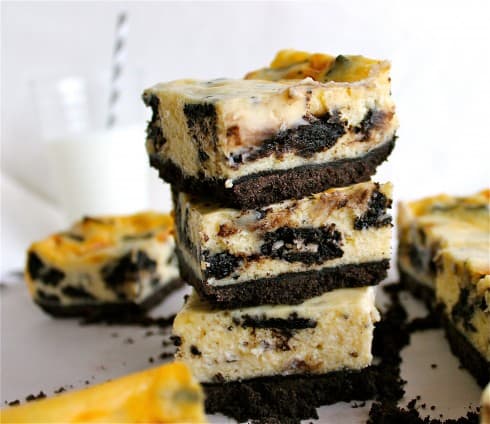 print
Did you make this recipe?
Leave a review »
Oreo Cheesecake Bars
9 bars
adjust servings
Ingredients
For the Crust
23

Oreo cookies

2

tablespoons butter, melted
For the Cheesecake
12

ounces cream cheese, at room temperature

1

cup granulated sugar

3

eggs, at room temperature

6

tablespoons sour cream

1 1/2

teaspoons vanilla extract

12

Oreo cookies, coarsely chopped
Instructions
Preheat oven to 325 degrees F. Line an 8x8-inch square baking pan with foil or parchment paper, allowing it to hang over two of the sides.
Make the Crust: Pulse the Oreo cookies in a food processor until they are turned into fine crumbs. Drizzle the melted butter over the top and pulse a handful of times until the butter is evenly distributed and all of the crumbs are moist. Spread the crumbs into the prepared baking dish and press into an even layer. Bake for 10 minutes then set aside. You can leave the oven on.
Make the Cheesecake: Beat the cream cheese on medium-high speed for about 2 minutes, until smooth. Gradually add the sugar and beat until incorporated.
Add the eggs one at a time, beating well after each addition, and mix until completely combined. Scrape down the sides of the bowl and add the sour cream and vanilla, beating until incorporated.
Fold in the chopped Oreos with a spatula, then pour the batter over the prepared crust, smoothing it into an even layer. Bake until the edges are set but the middle still jiggles slightly, about 40 to 50 minutes.
Place the pan on a cooling rack and let cool to room temperature, about 2 hours, then cover the pan with plastic wrap and place in the refrigerator for at least 3 hours (or up to 24 hours) before serving.
To serve, lift the cheesecake out of the pan using the parchment or foil handles. Use a sharp chef's knife to cut the cheesecake into bars, rinsing off the knife with hot water and wiping it with a warm wet washcloth between each cut. Store leftovers in an airtight container in the refrigerator for up to 1 week.
by The Food Charlatan

If you make this recipe,
share it on Instagram
 using the hashtag
#TheFoodCharlatan
so I can see it!
We are a participant in the Amazon Services LLC Associates Program, an affiliate advertising program designed to provide a means for us to earn fees by linking to Amazon.com and affiliated sites.