This Berry Cheesecake Baklava is a fun spin on the traditional version–the perfect make-ahead summer dessert! If you are not into nuts then this is the baklava for you.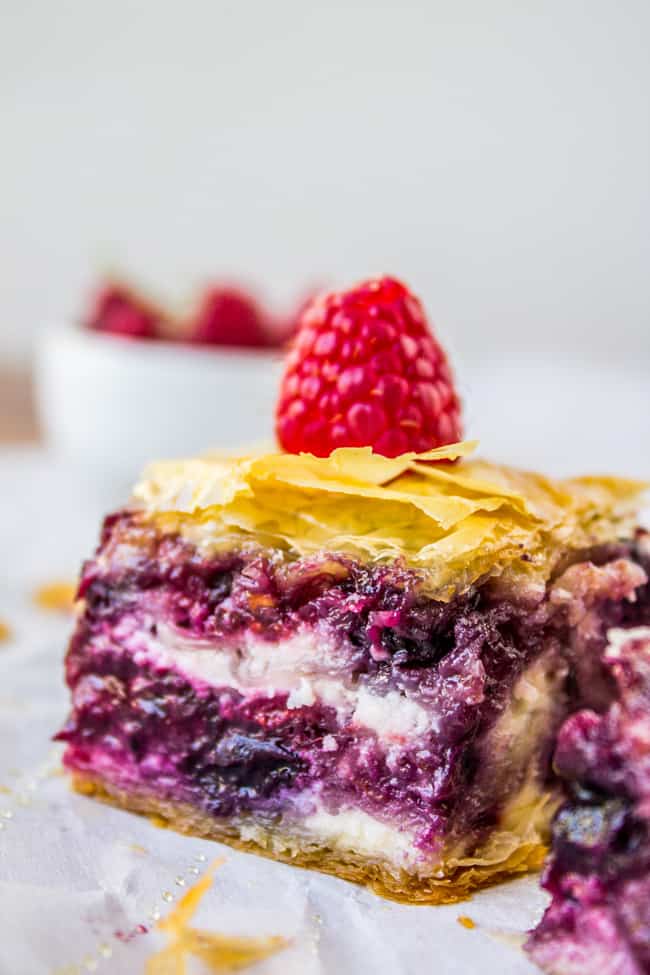 My sister-in-law Jessie got married this weekend! It was such a party. We stayed with Eric's whole family in an Airbnb house. Last summer for his cousin's wedding we all stayed on the same floor of a hotel, and it was not nearly as fun. Once we put the kids to bed we would try to sneak off to someone else's room to play Bananagrams and Scattergories, but hanging out on the floor of a hotel room is just not the same as having a real couch and a kitchen to raid at night.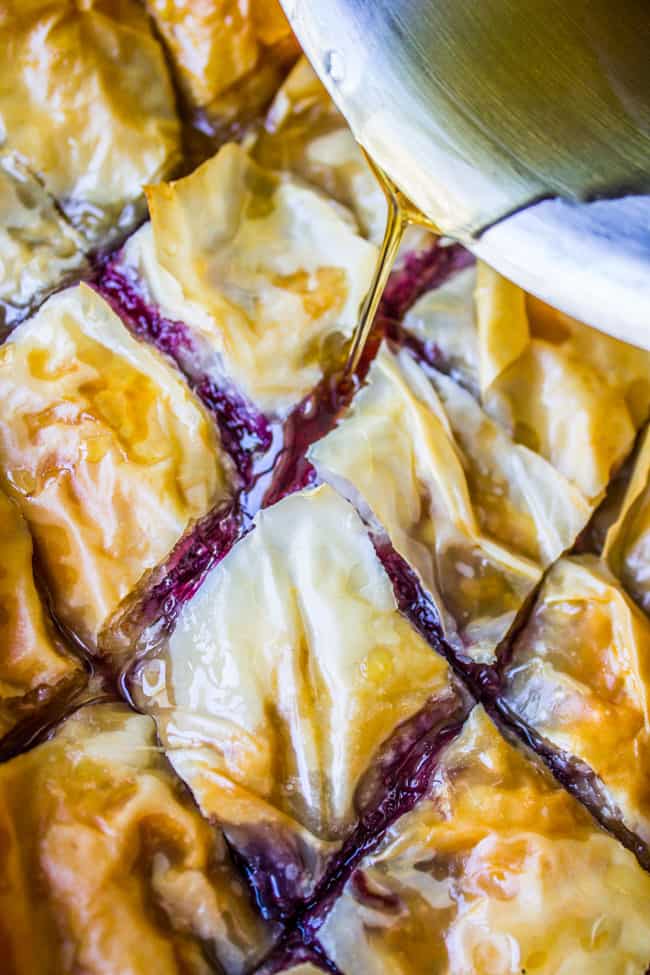 I learned that I am perfectly capable of wrangling grumpy, overheated toddlers in dangerously high heels and a bridesmaid dress (that I love) but that I can't lift my arms above my head in. Truman was so tired at one point that he used his ringbearer pillow as an actual pillow. Nevermind those pesky diamond rings tied on.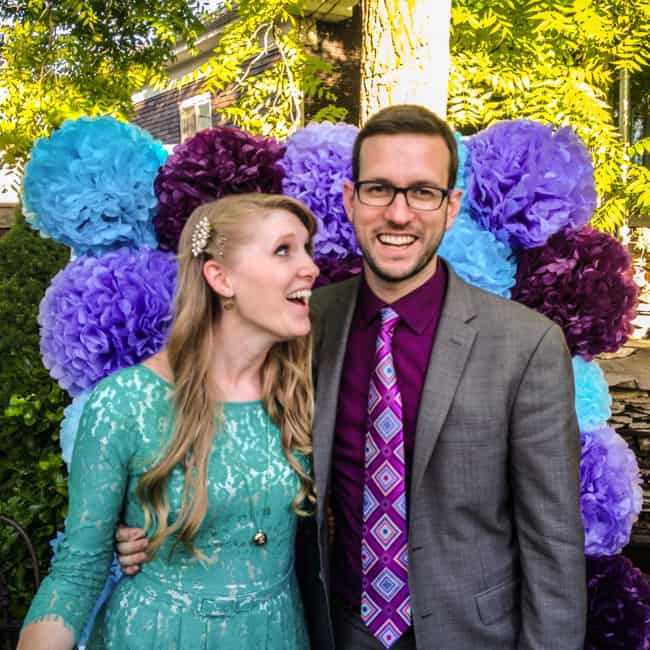 But it was worth it because I got to dance all night with my super hot husband.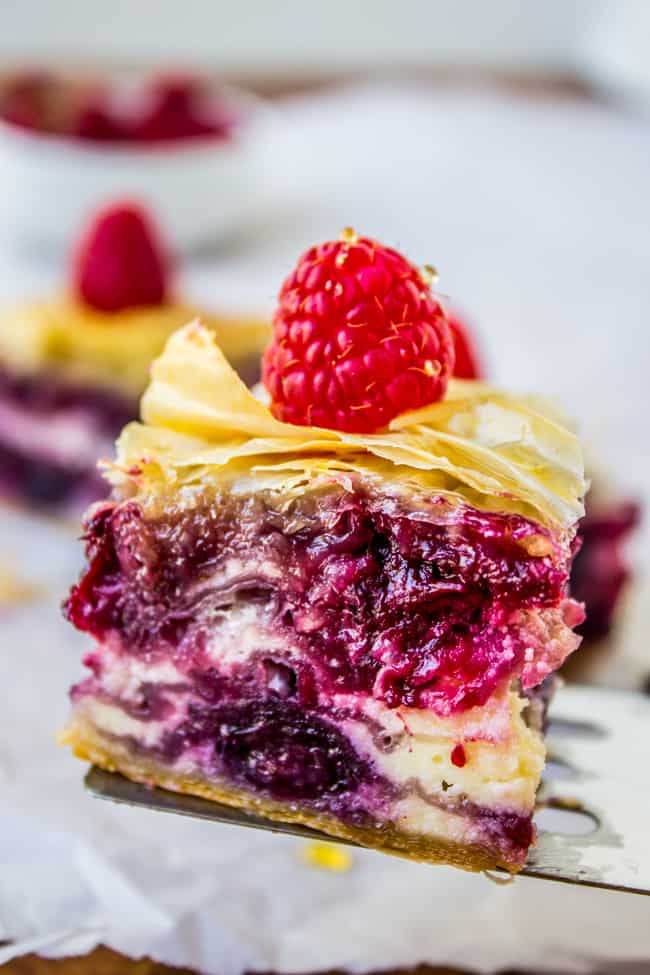 Charlotte has found her calling in life: Flower Girl. I think she's going to go pro. Seriously, I have never seen a 4-year-old enjoy attention quite so much as when she gets to carry a golden basket and throw giant fistfuls of flower petals everywhere.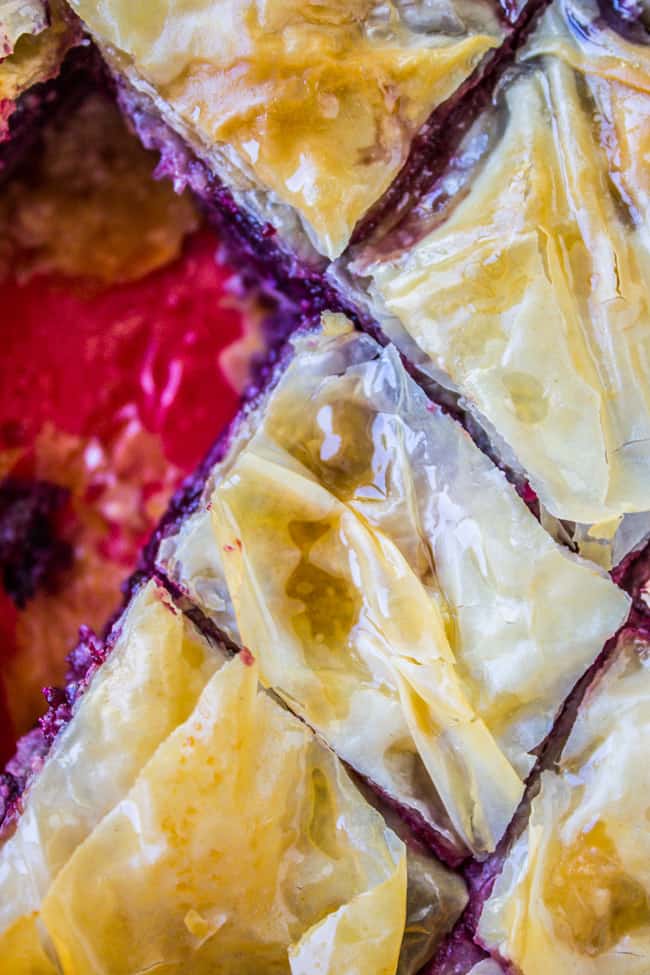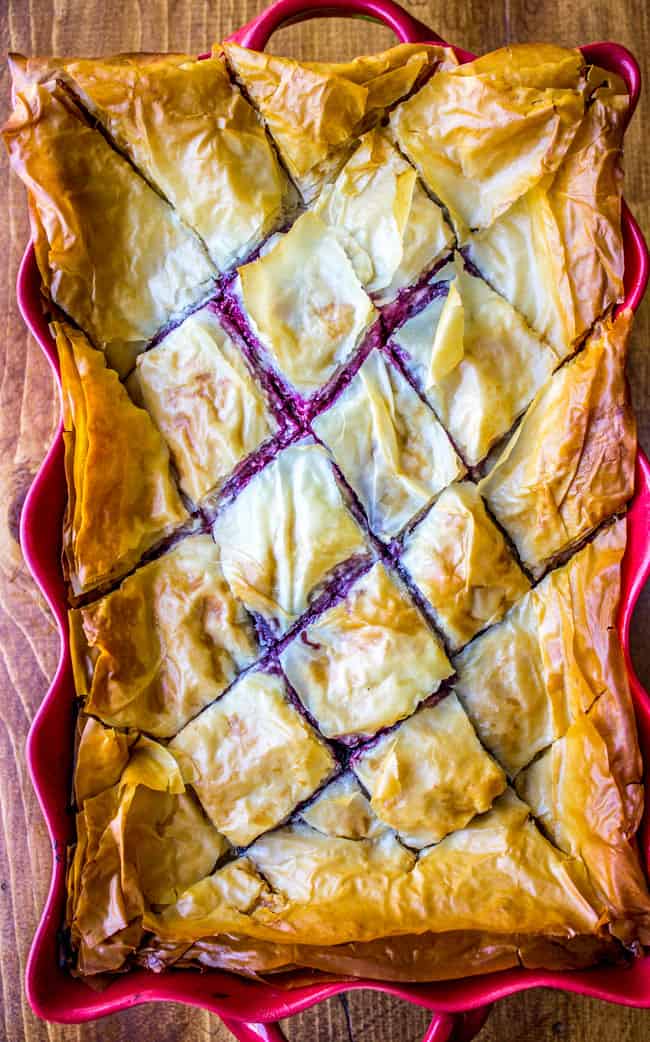 So you guys have had baklava right? I'm in love with the stuff. I have a pretty killer traditional version that I'll share sometime, but first: Berry Cheesecake. It's perfect for summer, since regular baklava seems like more of a Christmasy/fall thing to me. It's layers of paper-thin phyllo dough, brushed with butter and layered with a cream cheese mixture and mixed berries. Did I mention the butter? You get to paint with butter. This baklava is basically like one big edible art project. I like it served cold or room temperature. Don't forget to drizzle with honey!
Do you guys give up? Or are you thirsty for more?
Facebook | Pinterest | Instagram | Twitter

Berry Cheesecake Baklava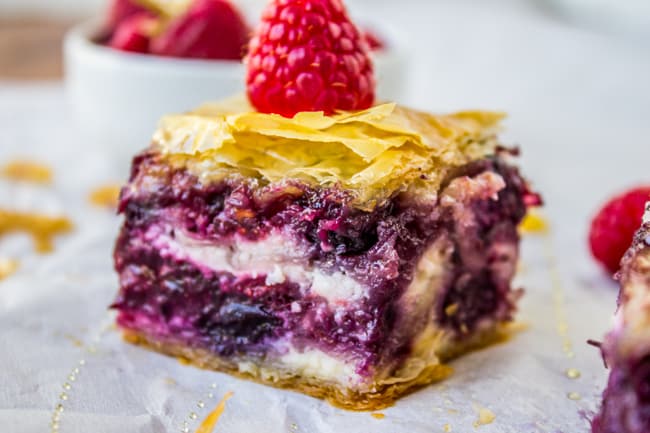 This Berry Cheesecake Baklava is a fun spin on the traditional version--the perfect make-ahead summer dessert! If you are not into nuts then this is the baklava for you.
Ingredients
For the syrup:
1/4

cup

water

1/4

cup

sugar

1/2

cup

honey

1

teaspoon

vanilla
For the cream cheese filling:
8

ounces

cream cheese

,

softened

1

egg

1/3

cup

sugar

1/8

teaspoon

salt
To assemble
1

16-oz package

phyllo dough

3/4

cup

butter

,

1 and 1/2 sticks, melted

2

cups

mixed berries

,

fresh or frozen (unthawed)

fresh berries

,

to garnish
Instructions
Thaw your phyllo dough according to package directions.

Make the syrup. In a small saucepan combine water, 1/4 cup sugar, and 1/2 cup honey. Stir over high heat until the sugar is dissolved, it should only take a couple minutes. Remove from heat and stir in the vanilla. Set aside to cool.

Make the filling. In a bowl or stand mixer beat the cream cheese until it it smooth. Then add the egg, 1/3 cup sugar, and salt. Beat until combined, scraping the sides of the bowl. Set aside.

In a small bowl, melt the butter. Use a pastry brush to butter a 9x13 inch pan.*

Open the package of phyllo dough. Use a sharp serrated knife to cut the entire stack of phyllo dough in half (not lengthwise). Cover with a damp cloth to avoid drying it out.

Layer 2 sheets of the cut phyllo dough in the prepared pan. Brush with butter. Repeat 3 times. (2 sheets, butter, 2 sheets, butter, etc.) Stop when you have 8 sheets total.

Spread 1/4 of the cream cheese mixture over the top. Sprinkle with 1/2 cup berries.

Layer on 2 more sheets, brush with butter, then 2 more sheets and butter.

Repeat steps 7 and 8 three more times.

Continue layering sheets, buttering every 2nd one, until you have at least 8-10 on top of the most recent cream cheese layer. You may have a few leftover sheets.

To sum up: You should have 4 layers of cream cheese with 4 sheets in between each one. The bottom layer should have 8 sheets and the top should have at least 8-10. (You may have a few leftover). Brush every 2 sheets with butter.

Use a sharp serrated knife to slice the baklava into squares or diamonds, but don't push the knife all the way to the bottom of the pan. Leave at least a half inch on the bottom uncut. (That way the syrup doesn't seep all the way through.)

Bake at 325 degrees F for 60-65 minutes, or until golden brown on top.

Immediately drizzle the cooled syrup over the hot baklava, making sure to get the edges. Let cool to room temperature.

Serve with fresh berries and a drizzle of honey. You can serve this at room temperature or chilled. I like it both ways. Store in the fridge, uncovered. If you cover it, the phyllo becomes soggy.
Notes
*I actually used a 2 quart pan, mine wasn't 9x13. If you use a smaller pan you will get a crust on the edges with no cheesecake filling or berries. I liked it that way.
Use any mixture of berries you like! I used a mix from Costco that had blueberries, blackberries, and raspberries.
Nutrition
Serving:
1
slice
|
Calories:
400
kcal
|
Carbohydrates:
38
g
|
Protein:
3
g
|
Fat:
28
g
|
Saturated Fat:
17
g
|
Polyunsaturated Fat:
1
g
|
Monounsaturated Fat:
7
g
|
Trans Fat:
1
g
|
Cholesterol:
97
mg
|
Sodium:
289
mg
|
Potassium:
85
mg
|
Fiber:
1
g
|
Sugar:
36
g
|
Vitamin A:
960
IU
|
Vitamin C:
1
mg
|
Calcium:
41
mg
|
Iron:
1
mg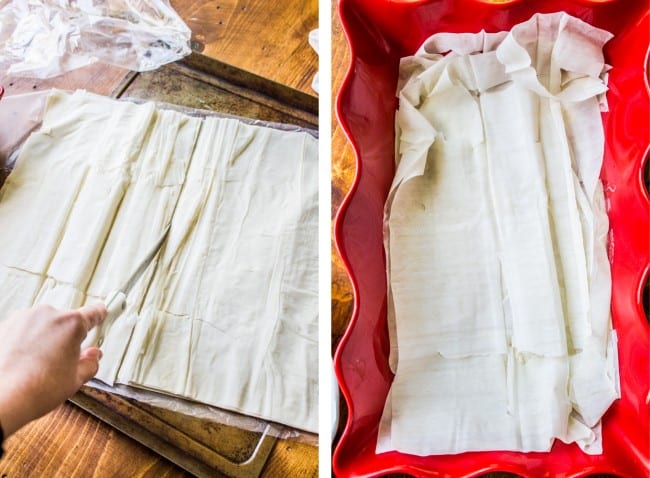 You WILL tear your phyllo dough. Guess what. It doesn't matter.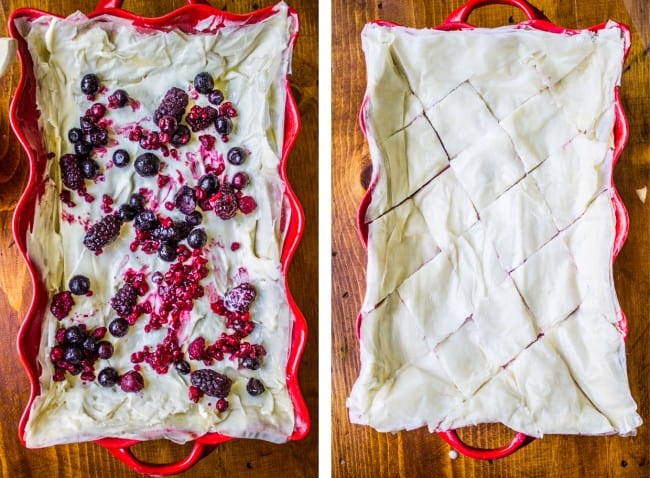 Make sure you slice the baklava before tossing it in the oven.
You might like these summer treats too!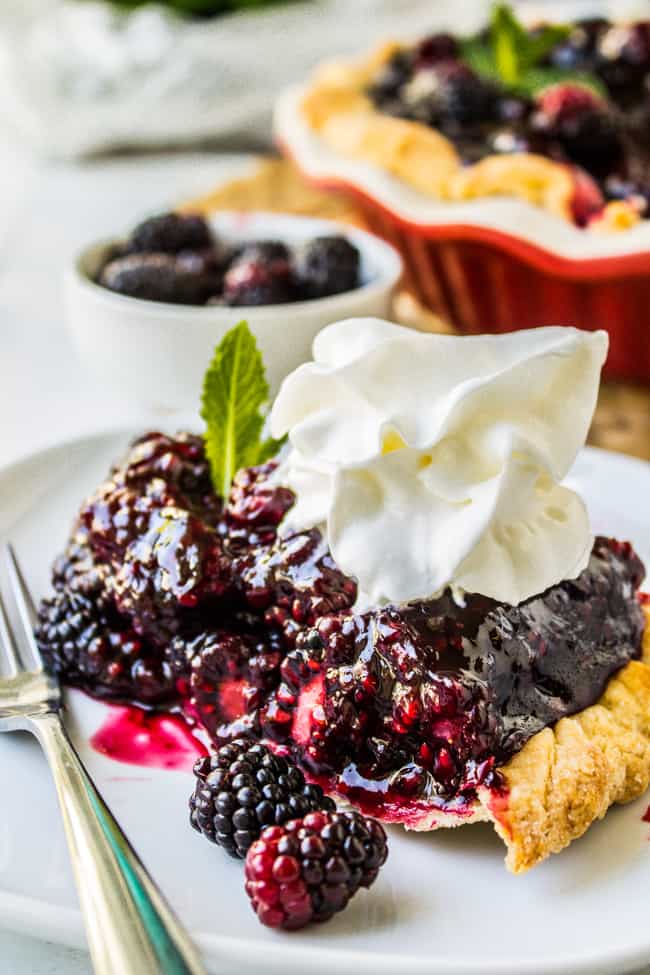 Blackberry Lemon Cheesecake Bars: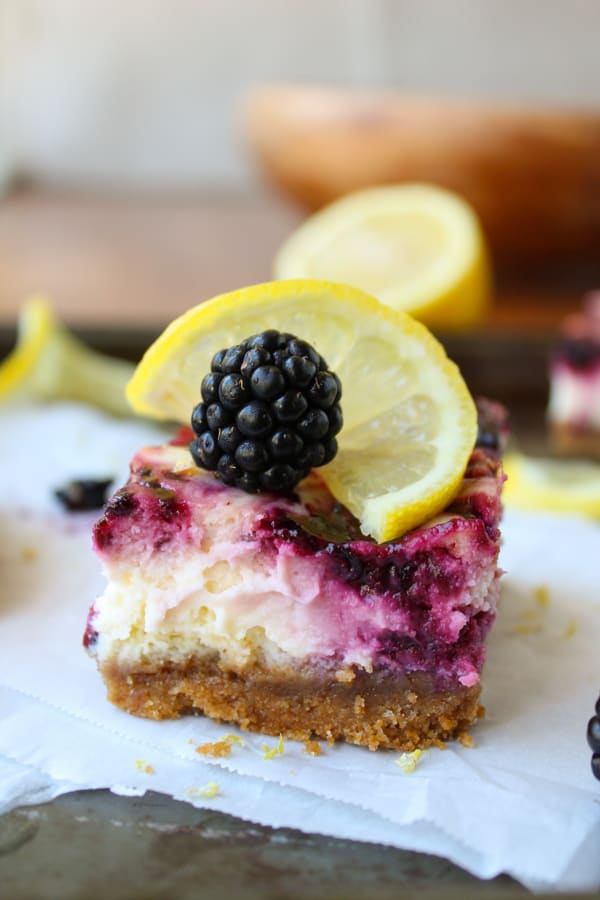 Plum Tartlets with Cinnamon Rye Crust: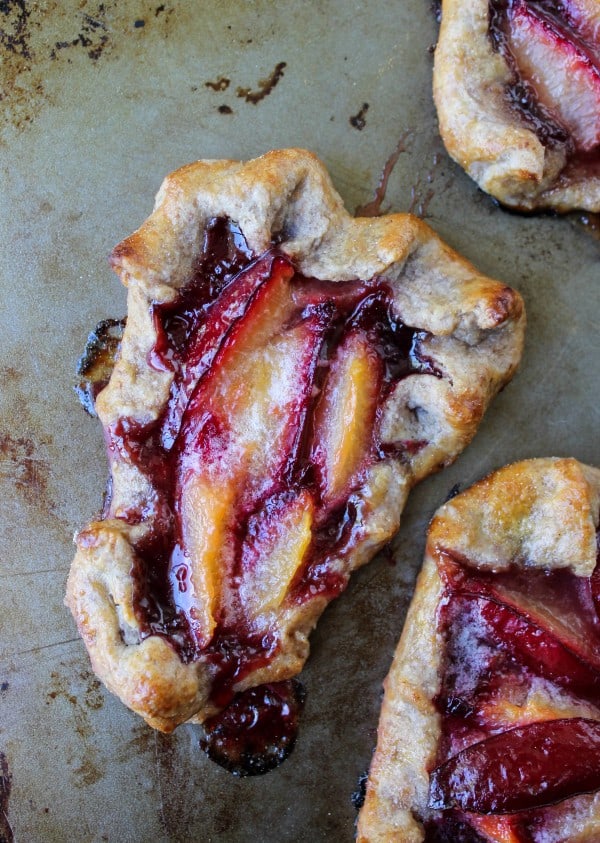 More Baklava from friends!
Pecan Pie Baklava from Crazy for Crust
Salted Chocolate Chip Cookie Baklava from Half Baked Harvest
Baklava Poke Cake from Life Love and Sugar